Our master bedroom refresh is complete and today I am sharing all the details!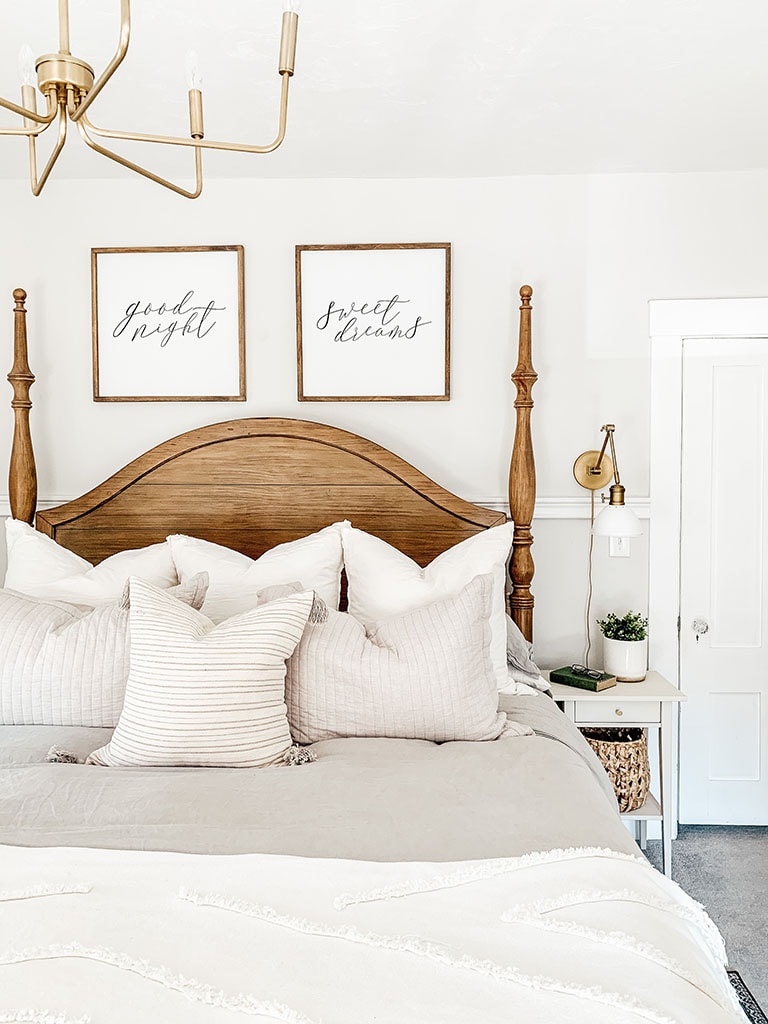 A couple of weeks ago I shared our master bedroom refresh style board and today is the full reveal! Let's just say I am a little obsessed with how it all came together. It feels like we are waking up in a hotel room everyday.
This room was a mix of old apartment furniture and our newish four poster bed. Nothing really worked together. When we decided to move our dresser into the nursery we knew it was time for a refresh.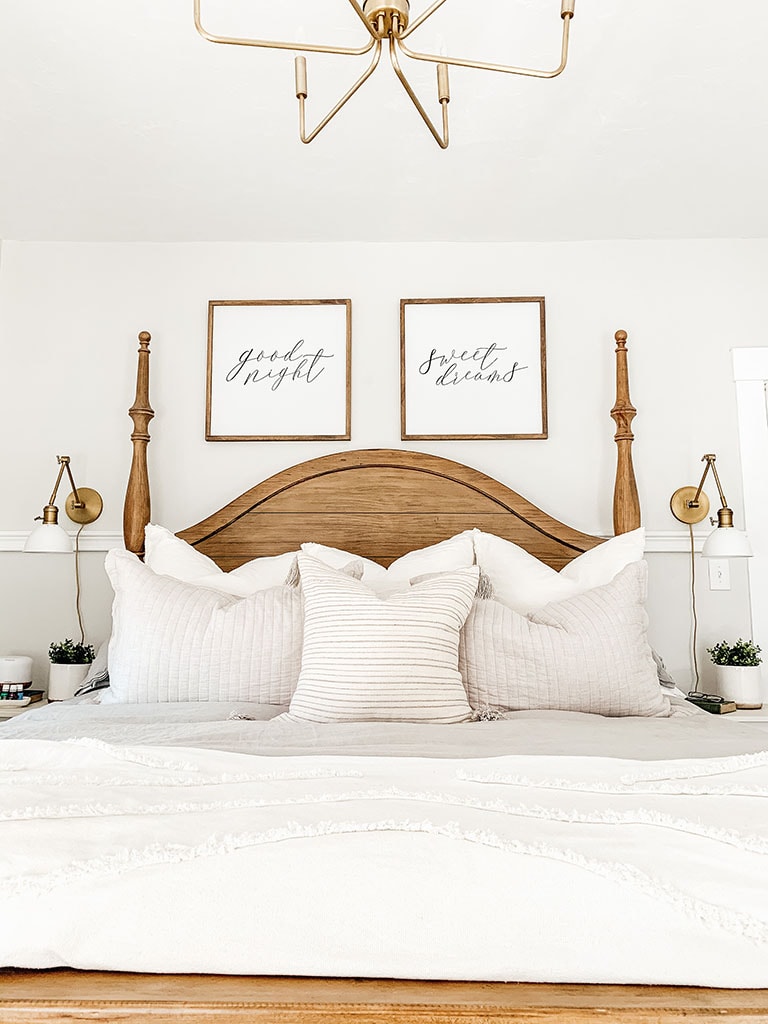 The task with this refresh was to use some of what we already owned. I know many times you see a whole new room and think that you have to go out and buy everything new. But I am here to tell you that is not the case.
You can create a whole new vibe for your space using some of the pieces that you already own, hence the title "refresh". My tip for designing any space is to start with a style board, but I would say that it is a must when reusing existing furniture.
It's as easy as taking photos of the items that you want to keep and then layering in all the new items on one board. This will give you a clear picture of what your space will look like before you spend any money.
With all that let's dive into our "new" space. I will share exactly what we added and why it works so well with the items we already owned.
You can see our master bedroom before here.

" Affiliate links provided for your convenience, please read my disclosure for more information."
Dresser & Chest
The biggest task for this space was finding new dressers. We moved our old dresser into the nursery and needed a replacement. This was one of the hardest items to decide on. My dilemma was trying to find something that would work with our existing four poster wood bed.
I didn't want to do a natural wood finish dresser because I didn't want the look of  multiple wood tones and the heaviness that would bring to the space. I highly recommend never going for the matching furniture set. It's nice to have some contrast between the bed and the dressers/ nightstands.
I finally decided that white was the perfect option. It would look great with the wood and wouldn't make the room feel heavy. With that choice came a new dilemma, finding a white set is way harder than I thought it would be.
Many times white furniture takes on a youthful or nautical theme. I didn't want either of those for this space.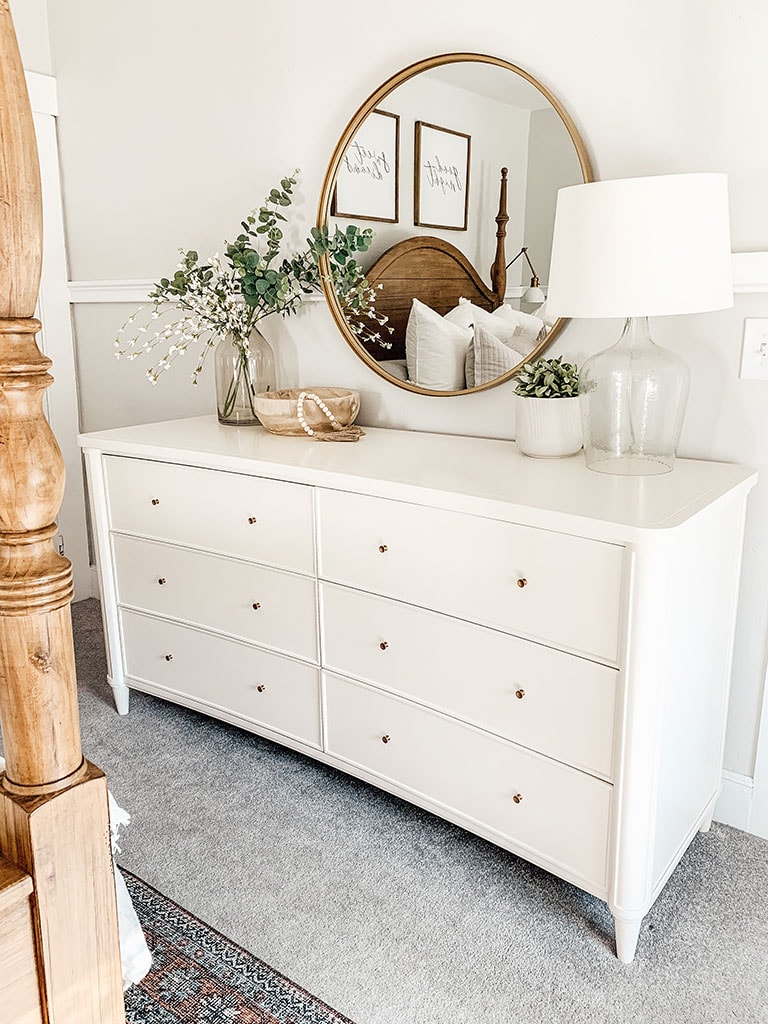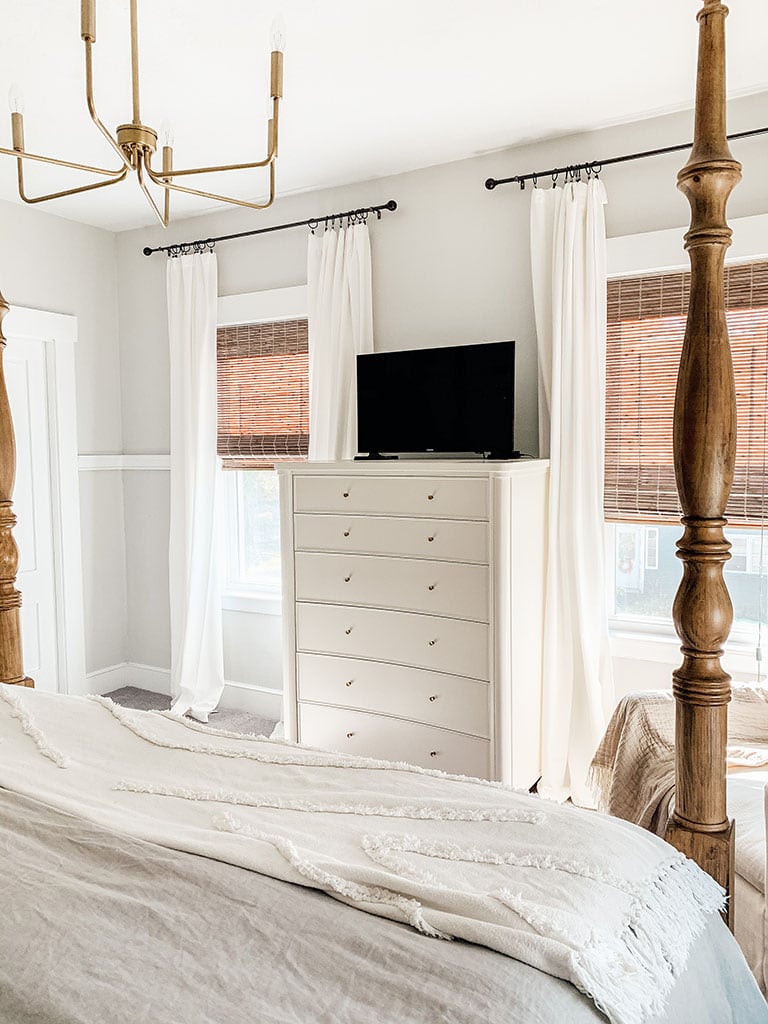 I finally found the perfect dresser and chest from Arhaus. They had a dresser and chest in a beautiful ivory finish with gold hardware that felt modern with a touch of traditional. They couldn't have been more perfect. I will admit they were a little pricier than I wanted to spend but in the end was so worth it. Furniture is one of those items that is worth investing in. The new dressers also gave us so much more storage than we had before so that was a nice plus.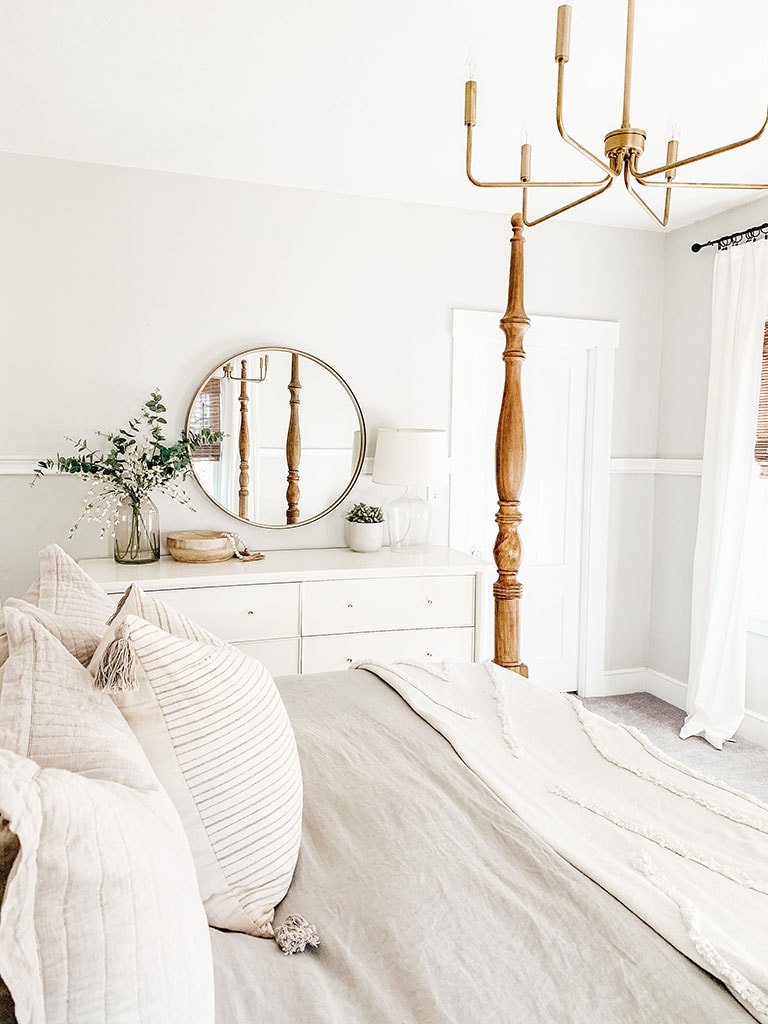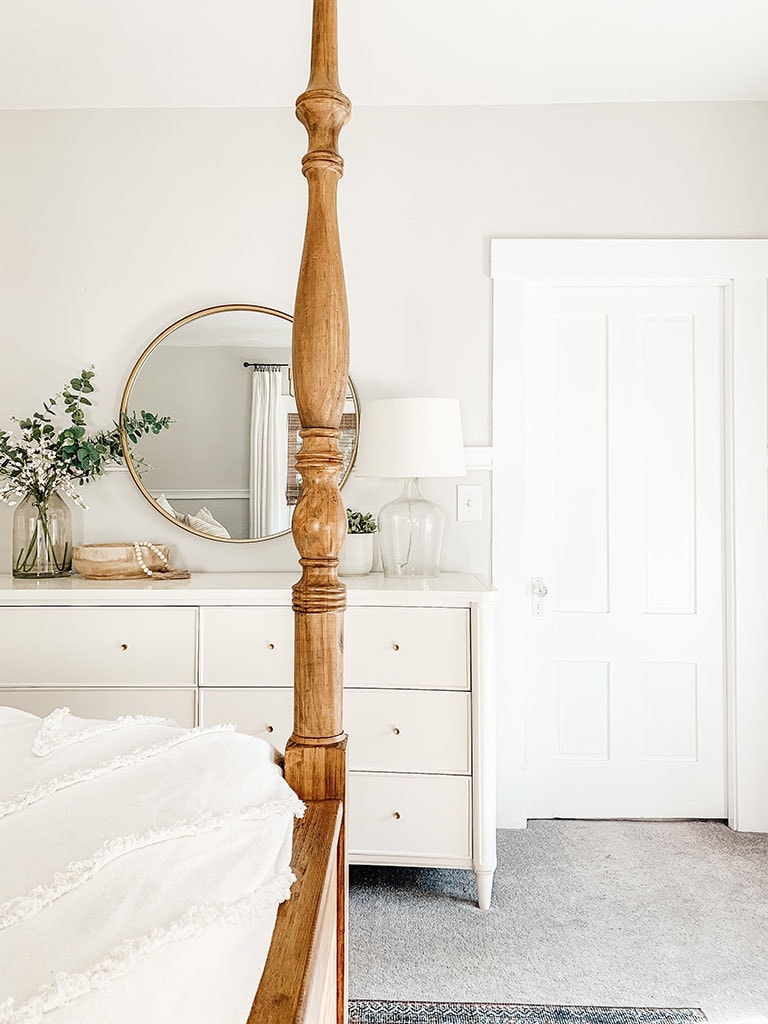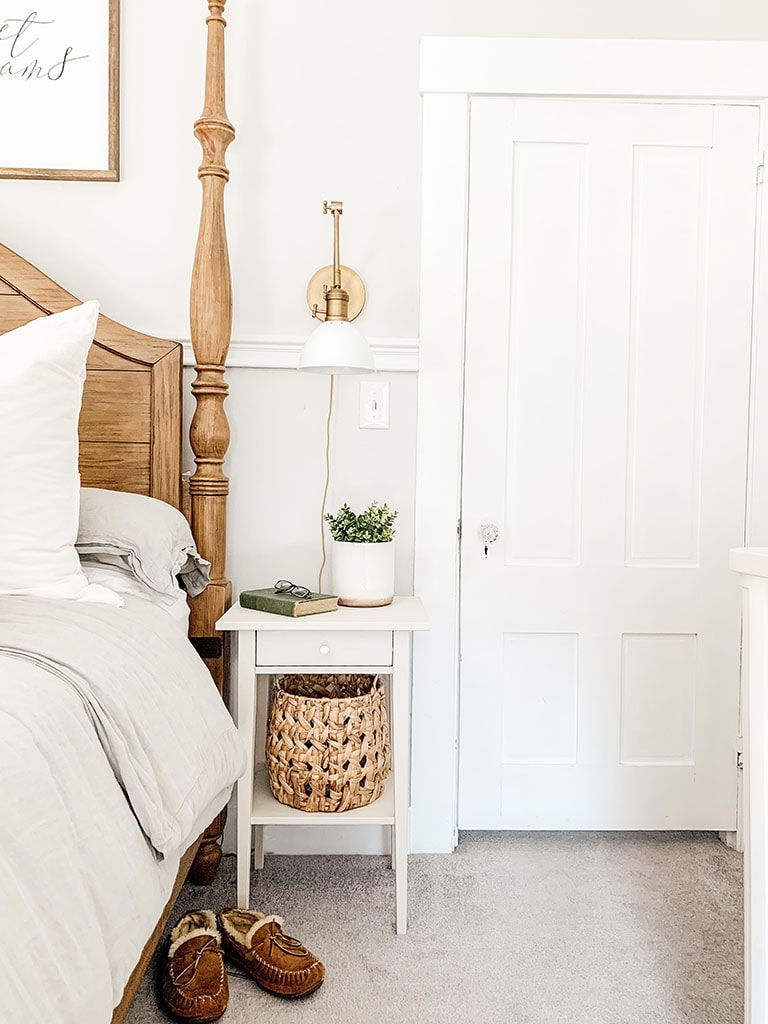 Nightstands
We do not have a lot of room next to our bed for nightstands. We need ones with a small profile. I looked and looked and in the end we decided to paint the nightstands we already owned. I used Fusion Mineral paint in Champlain White and added new gold hardware to compliment our new dressers.
Painting furniture and switching out the hardware on items you already own is a great way to refresh your space.
Related: Fusion Mineral Paint Review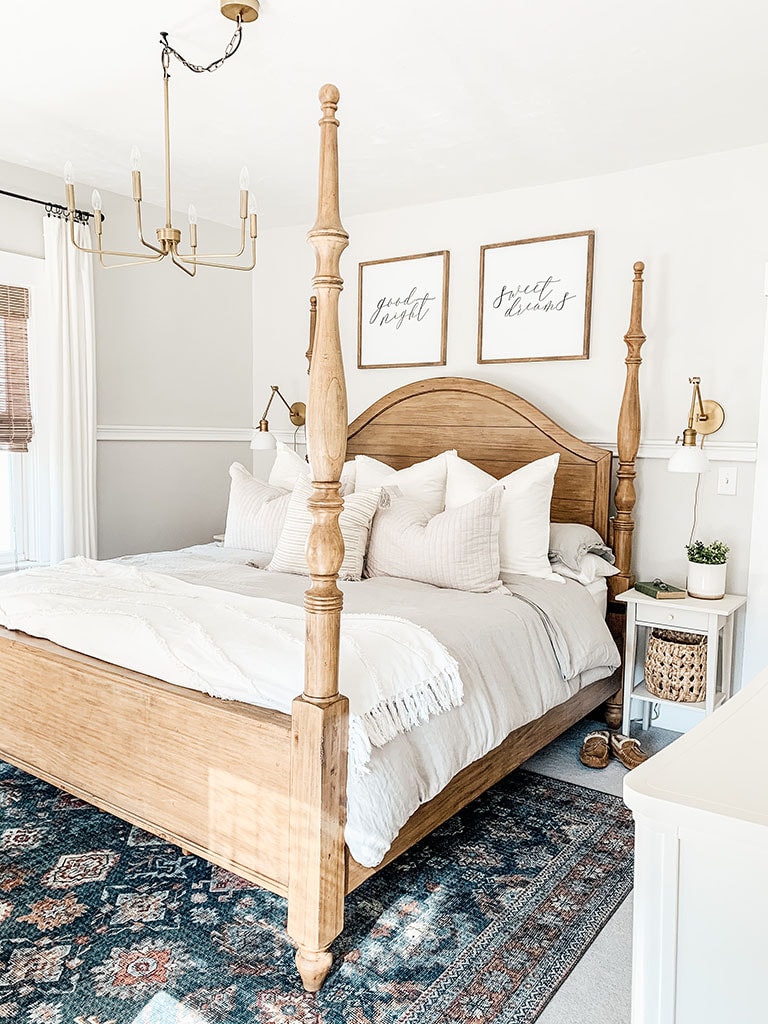 Seating Area
I have always wanted a chair for this corner of the room. We purchased this chair for our home office project a few months ago and I fell in love with it. I knew I needed another one for the bedroom and it ended up being the perfect fit.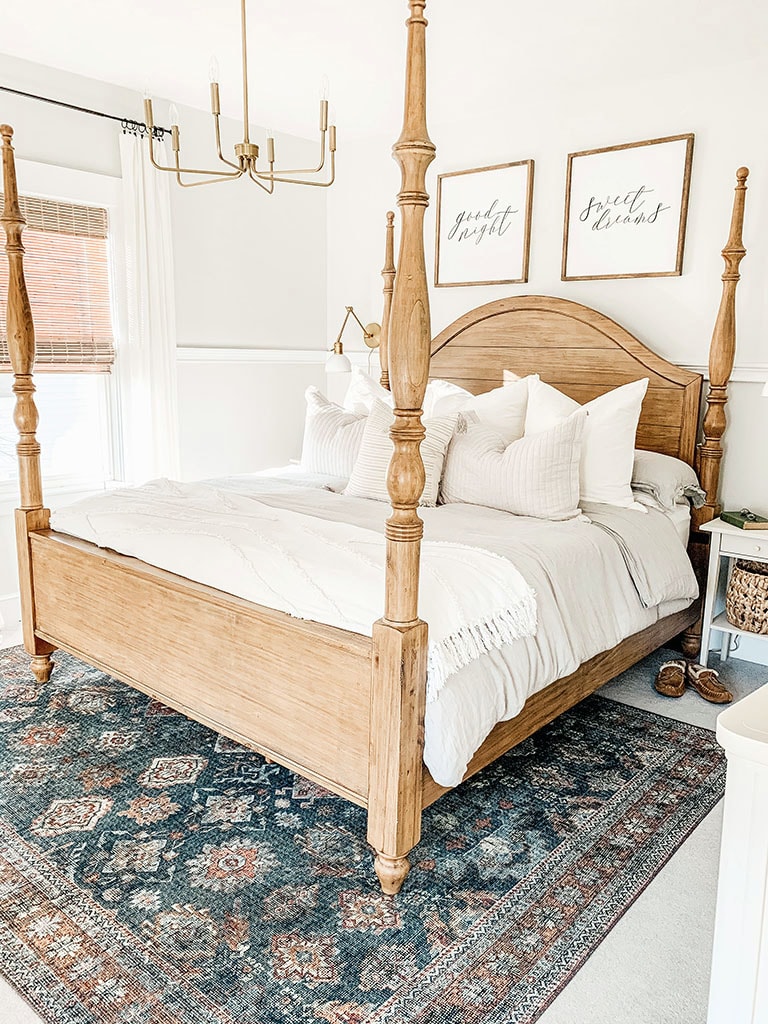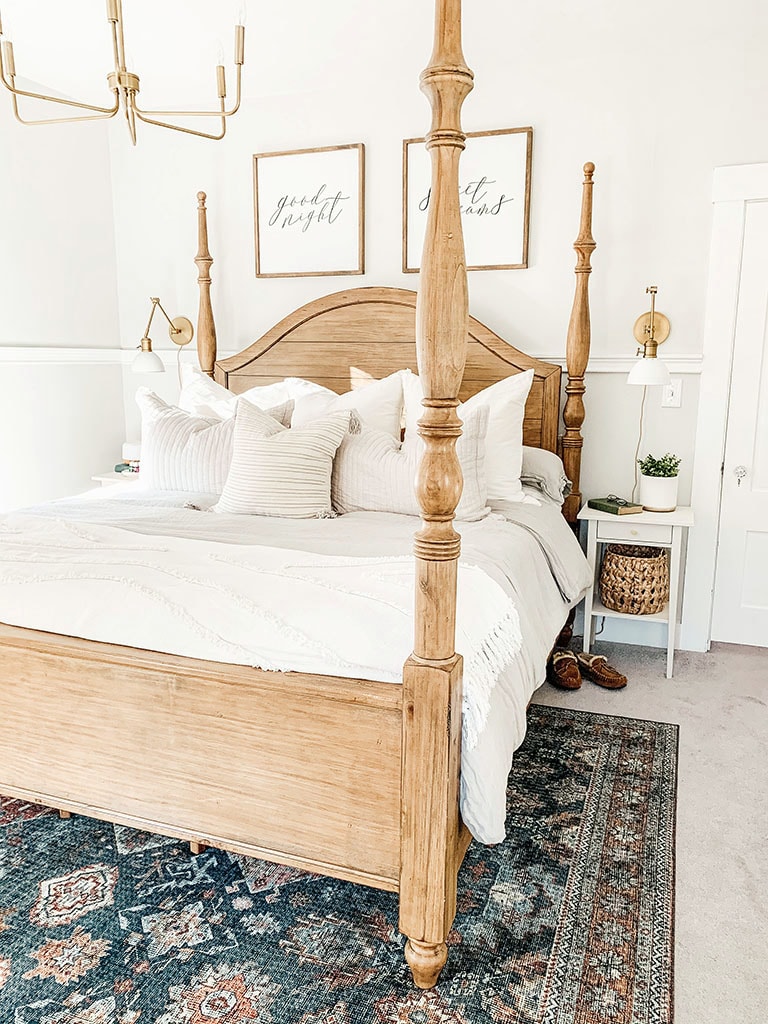 Lighting
The next thing we refreshed was the lighting. I loved the chandelier we originally had in this room. But once I selected the new dressers I wanted to be able to tie in some of those gold elements. We replaced our large wood chandelier with this new minimalist metal chandelier.
I also really wanted to add sconces on either side of our bed. This freed up a lot of space on our tiny nightstands and made a little bit of a statement. These gold and white ones were the perfect fit to tie in all the new elements. We have been loving them so far.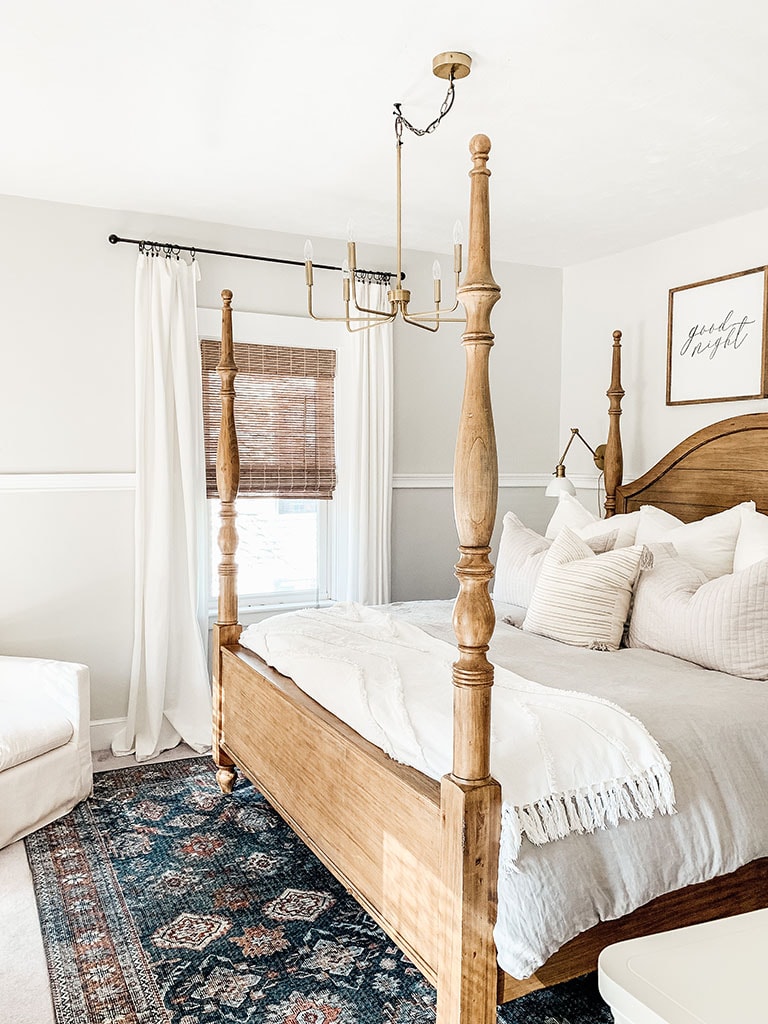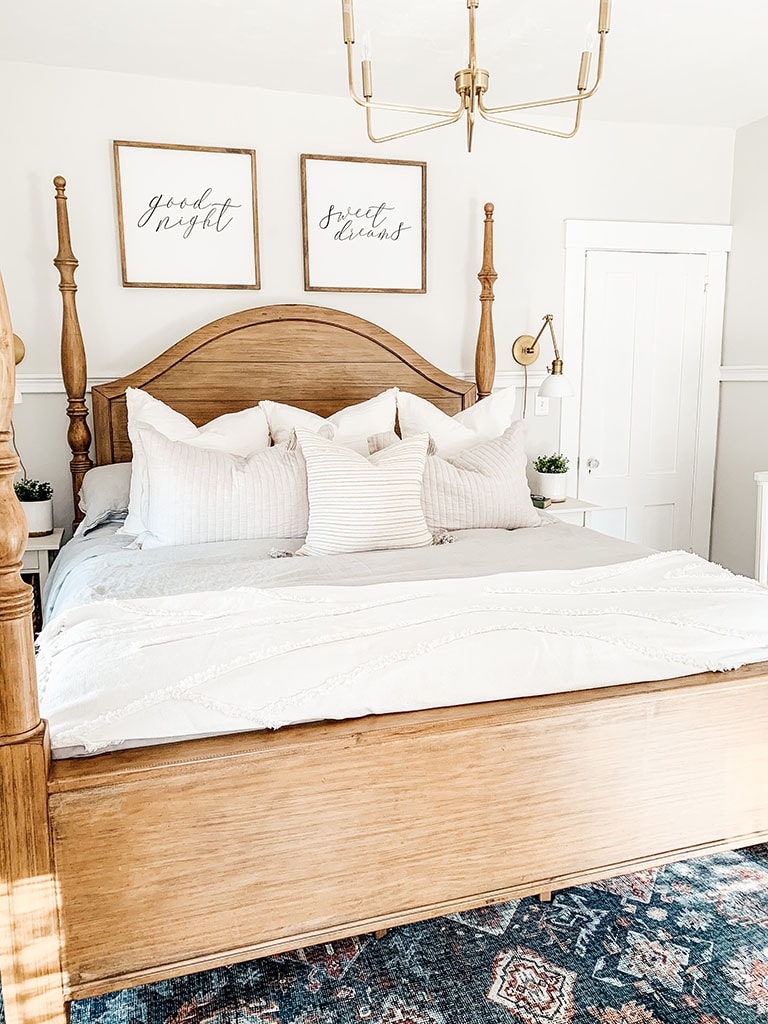 Rug
Lastly we added a rug. A rug is always going to make your space feel cozy and grounded. I didn't have a rug in here before but always wanted to add one. And yes if you have carpet you can still layer in a rug. 
I have been loving these printed rugs because they are inexpensive and thin which is perfect for placing on carpet. This space needed a pop of color among all the neutral and this rug did just that. I love the colors and the pattern and it really tied the whole space together.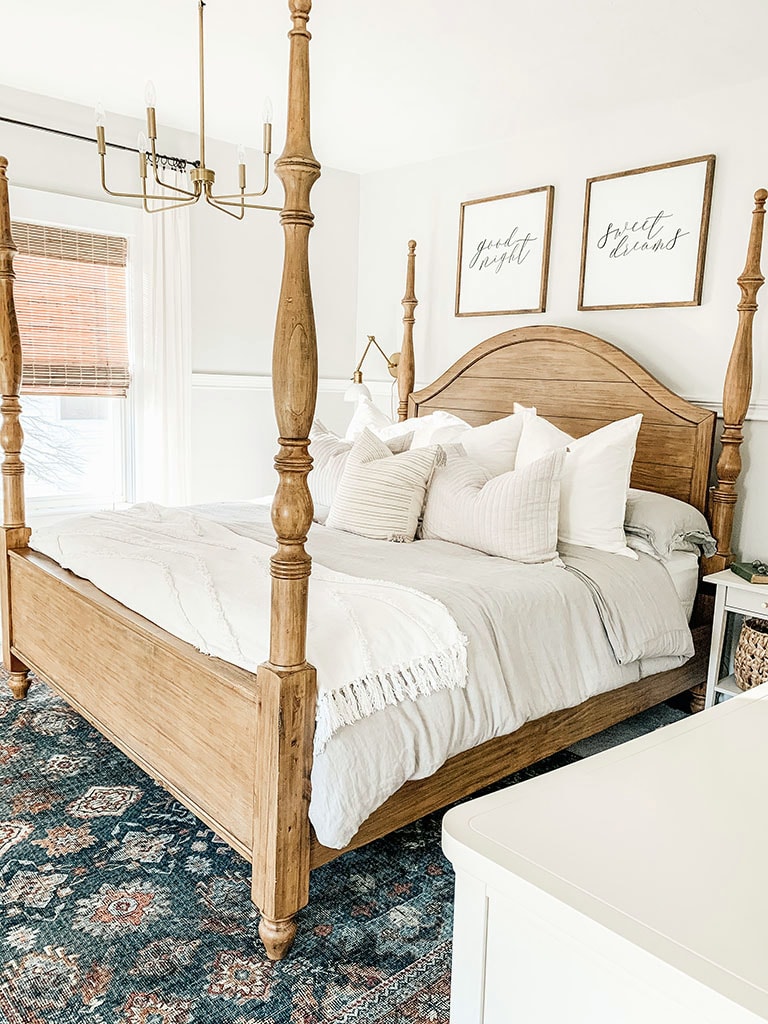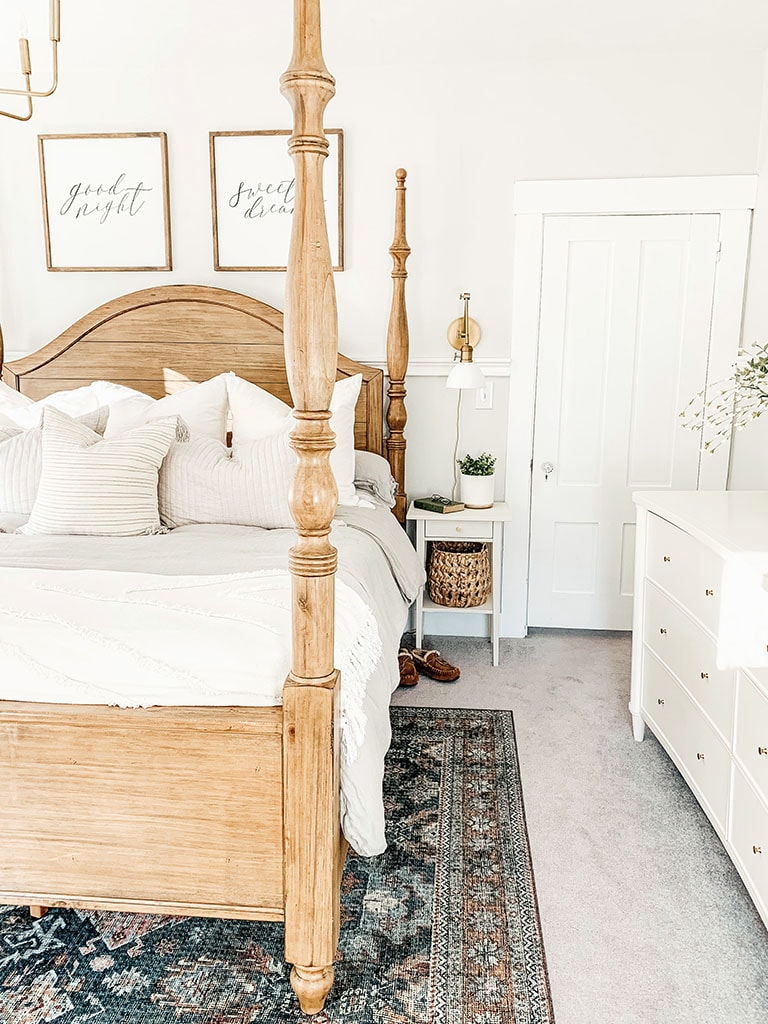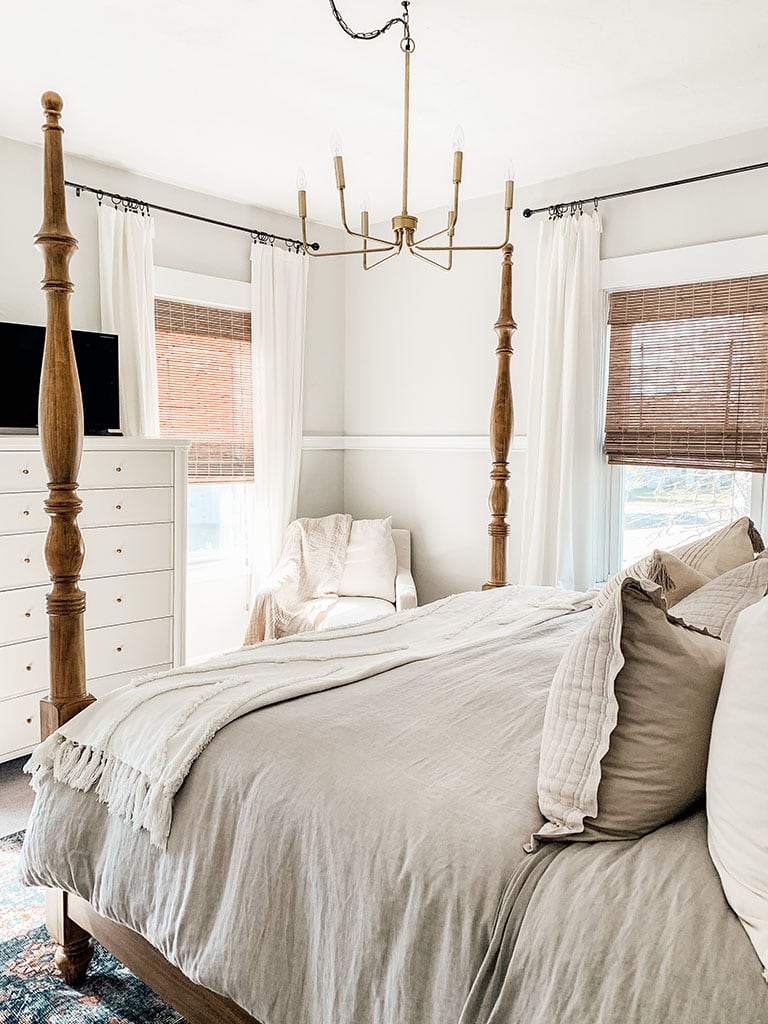 Shop the Master Bedroom Refresh
You can shop these items by clicking the links below!
Henley Dresser and Chest
Mirror | Comes in and out of stock, set up text alerts.
Sconces| Come in and out of stock, set up text alerts.
Nightstands | Ikea Painted with Fusion Mineral Paint Color Champlain
Our bed is from Magnolia Home Furniture ( Here is one that is similar)
Good Night Sweet Dreams (similar sign)
Paint Color: Benjamin Moore Grey Owl lightened by 50% Neutral Paint Colors | My Home Paint Colors
**All bedding is from Target and no longer in stock.
What to Read Next:
Master Bedroom Refresh Style Board
Want to save this for later? Post this Master Bedroom Reveal to your favorite Pinterest Board!