Today I am sharing our master bedroom bedding reveal. Grab a snack and come tour our bedroom! If you are looking for our bedroom sources they are listed at the end of the post.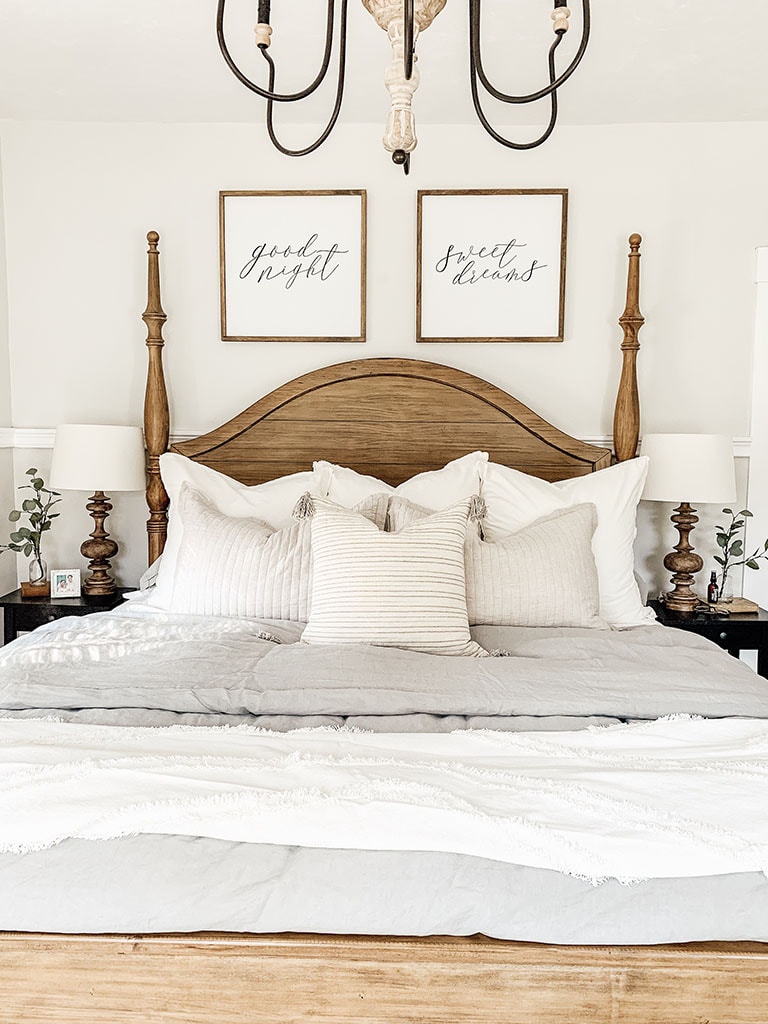 Master Bedroom Bedding Reveal
" Affiliate links provided for your convenience, please read my disclosure for more information."
I shared with you last week in this post exactly how to style a bed so cozy that it looks like it came straight out of a magazine. And today I want to share with you our master bedroom, with all of our new bedding using those same principals. This is also the first time I have shared a tour of our master bedroom here on the blog, so I am extra excited to share today's post with you.
We were in desperate need of new bedding. Our current set was falling apart. I personally love getting new bedding and was excited to give our bedroom a well-deserved refresh. Let's dive into exactly what we picked.
Related Post: How to Style a Bed Like a Pro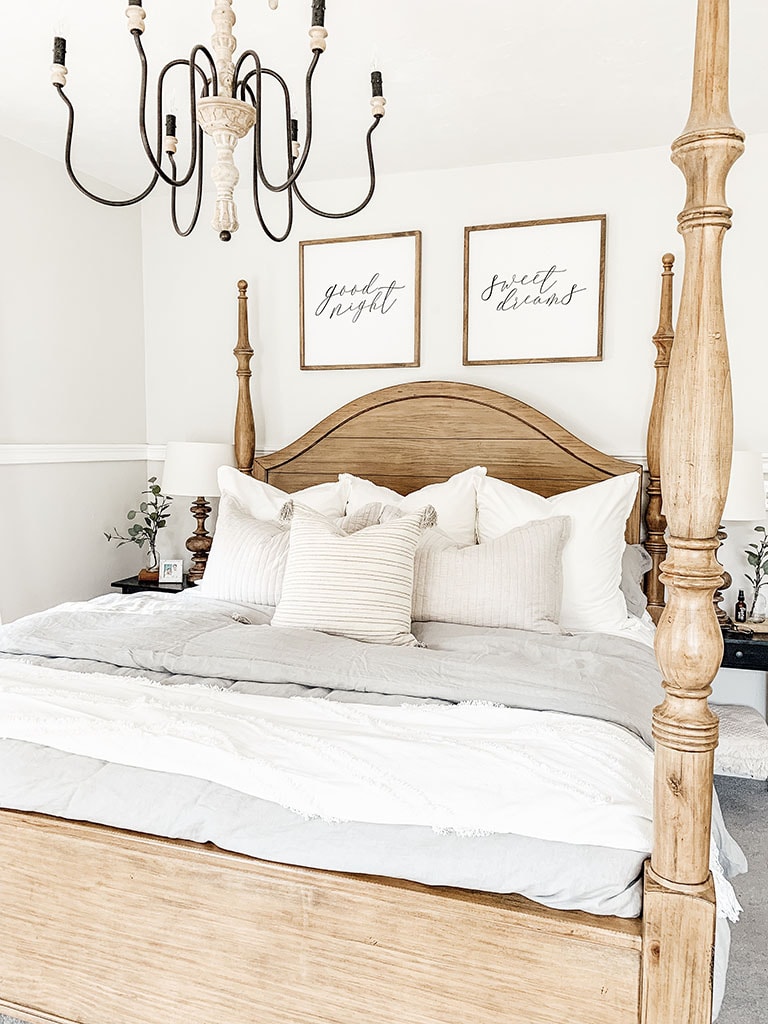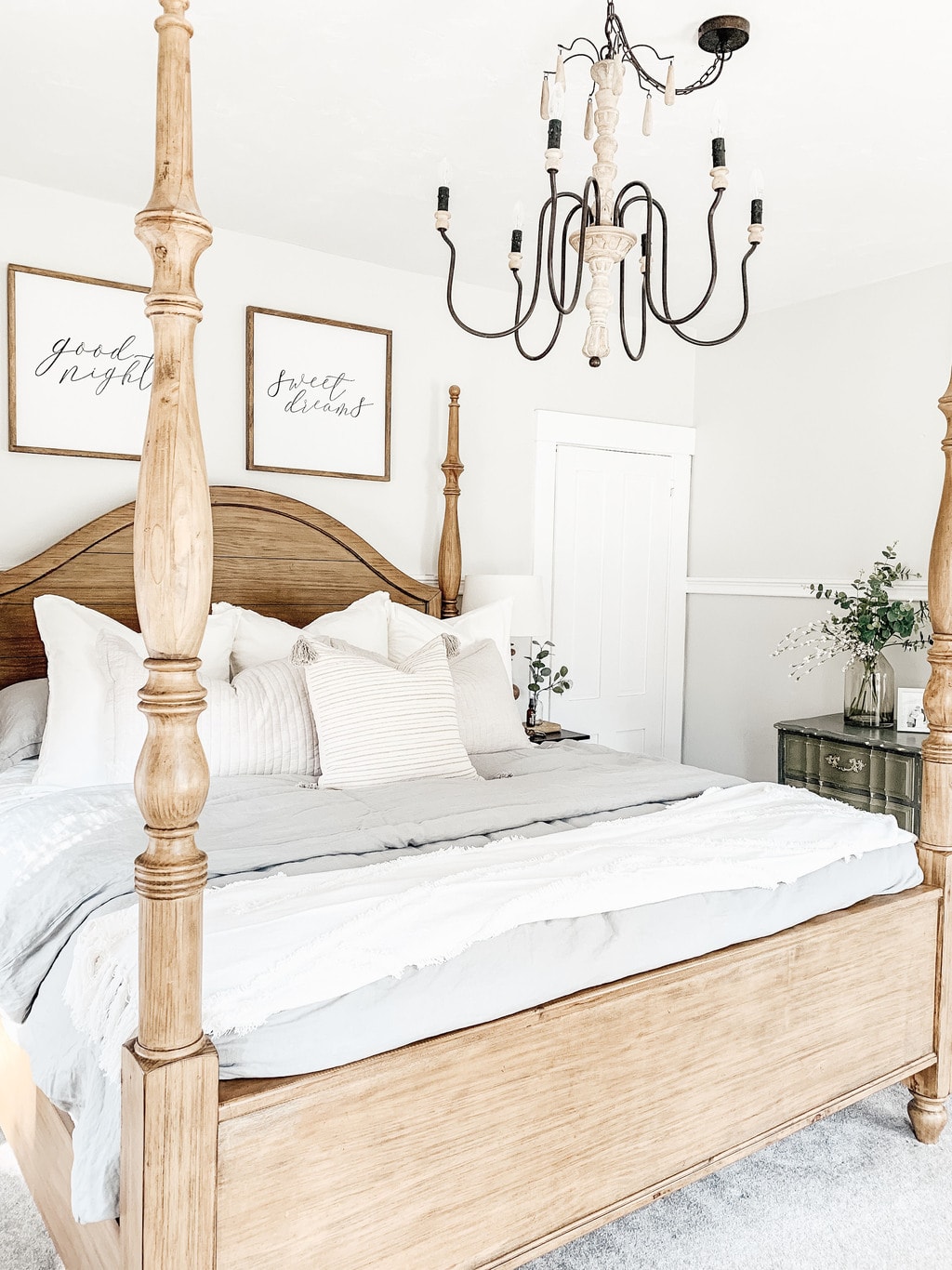 Sheets & Sleep Pillows
It is always important to start with a good base. I ordered a new set of our favorite white sheets. Anytime we need new sheets I always go back to these. I love that they are 100% organic cotton and super breathable. Perfect for hot sleepers. You can find them here.
We also upgraded our sleep pillows. Believe it or not, we have been using standard pillows on our king bed for over 2 years. Getting king pillows has been life-changing, okay maybe I am being slightly dramatic. But they really have been great.
My husband is super picky about the pillow that he sleeps on. These Ralph Lauren Logo pillows are the only ones that he likes and I think they are pretty great too. We just upgraded the size to a king.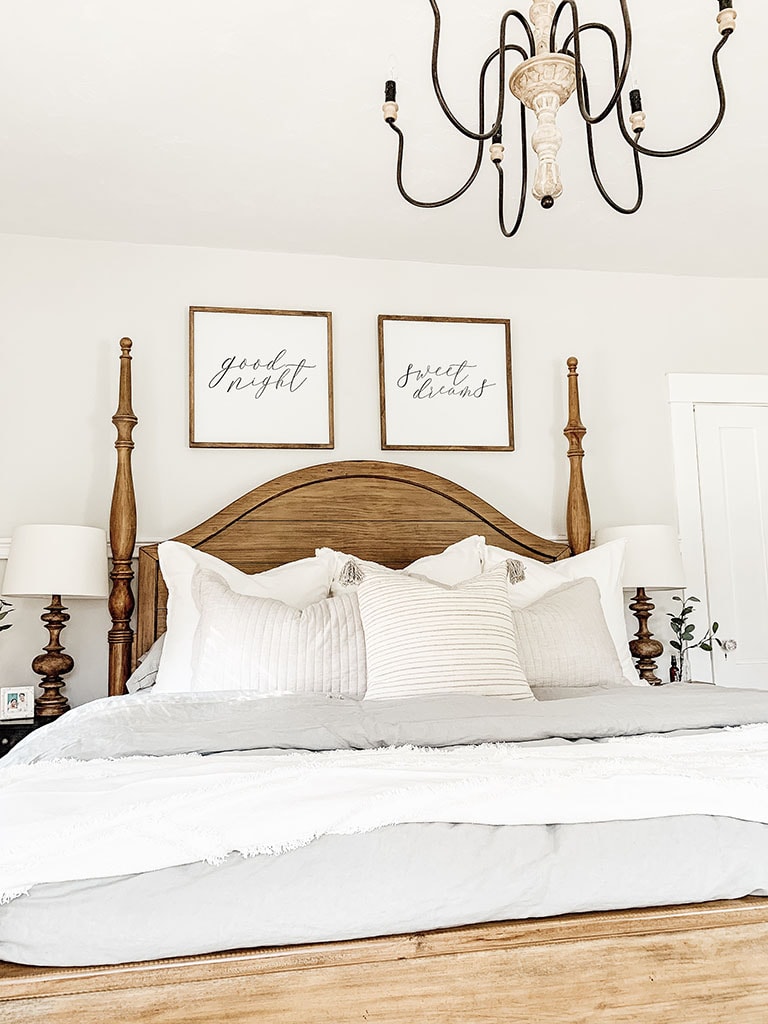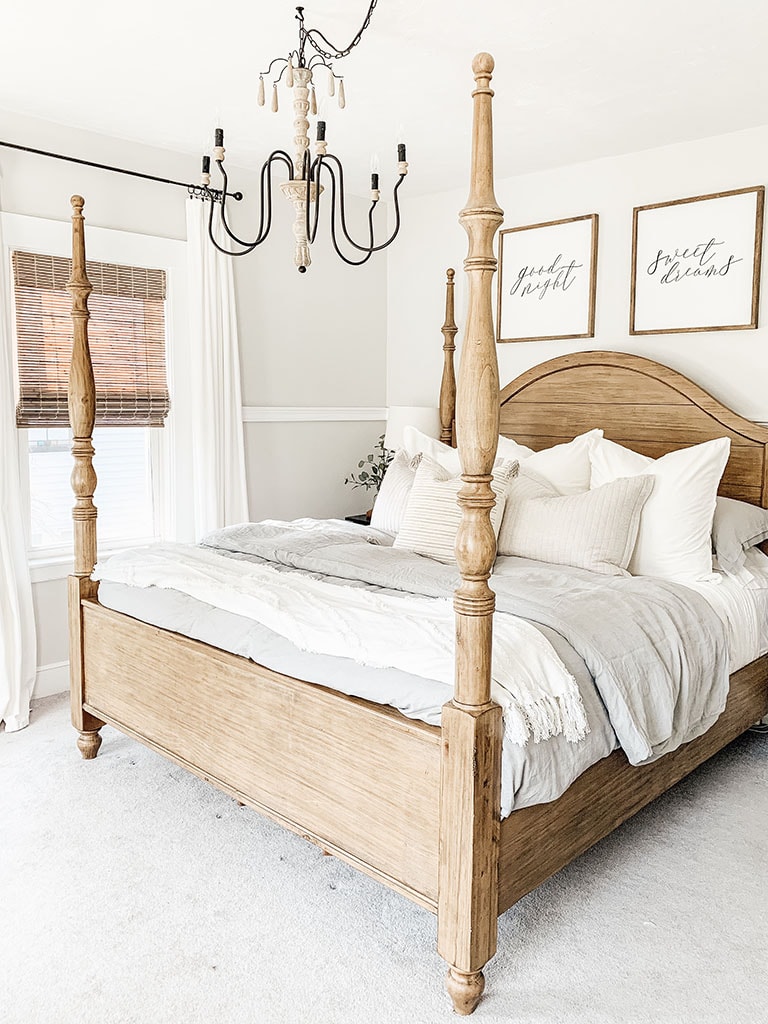 Duvet Cover
The hardest part of selecting our new bedding was choosing a new duvet cover. I was so undecided and actually returned a couple before deciding on this one. We were looking for something solid or maybe something with a stripe.
I kept going back to this one from target. It is the perfect shade of grey for our room and is made from 100% linen. My biggest concern was that it would look too wrinkled. But I am so happy that I decided to buy it anyway. I actually love the relaxed look and that it is a natural fabric.
If you are on the hunt for a neutral color duvet cover I highly recommend it and it also has great reviews online. You can find it here.
Accent Pillows & Throw Blanket
The key to a cozy bed is the finishing touches. Basically all the pillows! I went with three beautiful linen sour cream-colored euro pillows from the Target Hearth and Hand with Magnolia line. I love the worn edge. It gives a beautiful vintage feel. Three is perfect for a king bed, but if you have a queen you can use two.
Next, I chose these cotton-cashmere pillow shams in the pebble color. They offer a nice color contrast and a beautiful texture with the quilted pattern.
Then, I added a throw pillow. I found this pillow on sale at Home Sense and knew it would be perfect. The stripe and tassel detail was giving me all the feels. I do not have a link for this one but I found one that is similar at TJMaxx.
The last cozy piece is this throw blanket. It adds a beautiful texture. When using neutrals and whites, texture is so important. And this throw is perfect. It is from the Opalhouse line at target.
Signs
The final touch to our master bedroom refresh are these signs from my sweet friend Ashlee at Cottage Country Corner. We were looking for something to add above our bed and these signs were the perfect fit. They are such a great addition to our bedroom and I am obsessed with how beautiful they are. The quality of these signs are amazing and I highly recommend visiting her shop.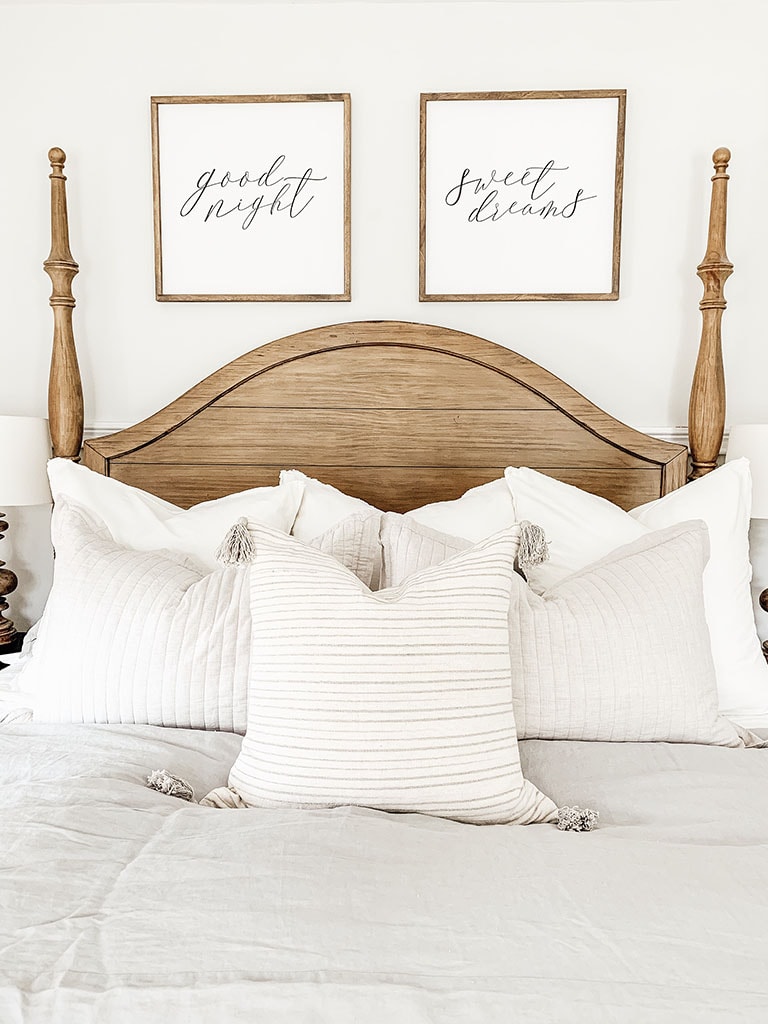 You can shop by clicking the links below!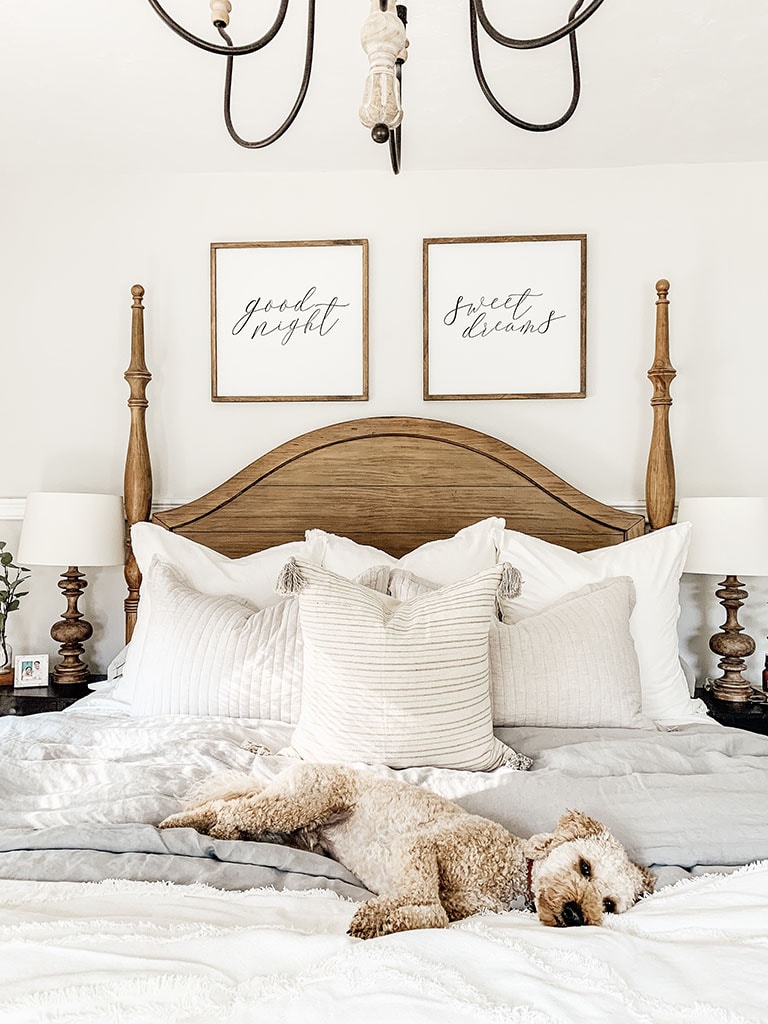 Our Cooper loved his new bedding too. ( Yes our dog sleep with us and I couldn't imagine it any other way)
I hope you enjoyed this little tour of our master bedroom and were able to get some bedding ideas for your own home. Thank you for stopping by the blog ❤
What to Read Next:
Neutral Cozy Decor From Amazon
The Best Neutral Throw Pillows From Amazon