Today I am sharing all the bedding basics to style your bed like a pro!

We are in the market for some new bedding. When we moved into our house and got a king-size bed we went with a duvet cover from Ikea. Which I loved but it didn't last very long. It literally has like 3 buttons left and the duvet insert is falling out of the bottom. Not a great look.
While shopping for our new bedding I thought it would be fun to share my favorite bedding basics. There are some key items that are going to make your bed extra cozy and look like it came straight out of a magazine.
HOW TO STYLE A BED LIKE A PRO
At the end of the post, I have all our current 2022 bedding sources.
" Affiliate links provided for your convenience, please read my disclosure for more information."
I am sharing budget-friendly bedding options. My favorite place to find good quality budget-friendly bedding is Target. Many of the links that I have provided are from there.
1. SHEETS
Sheets are so important and they do not have to be expensive. I prefer to keep my sheets white, but a small pattern or stripe can be very pretty too. Sheets need to be soft, smooth and breathable. Cotton is my favorite material for a good nights rest. I also recommend buying 2 sets. This gives you an extra set when you need to wash one, you can still make your bed. Below are some of my favorite sheets;
Threshold 300 Thread Count Organic Cotton Solid Sheet Set – Threshold –These are my favorite set of sheets. I have tried the really expensive sets and this is hands down my favorite.
Tuft & Needle 100% Hemp Sheets– UPDATE these are my new favorite. Still love the organic cotton above but if you have the budget these are worth it.
Casaluna 300 Thread Count Temperature Regulating Solid Sheet Set
Casaluna 100% Washed Linen Sheets – If you have a little more to spend these linen sheets are a great option. A linen blend is also a great alternative to 100% cotton
2. QUILT
A quilt can be a very versatile addition to your bed set up. I like to place it has the base on top of my sheets. This allows you to fold over your duvet and make it look extra cozy at the end of your bed. The quilt will give your bed a finished look without the sheets being exposed. This is how professionals make their beds look extra thick and cozy.
Functionally on warmer nights when it is too hot to use a duvet you can use the quilt as a lightweight layer. I also like to stick with white for my quilts, but you can choose one with some texture to add interest. Below are some of my favorite quilts;
Garment Washed Microfiber Quilt– This is a very inexpensive option if you are just looking to add an extra layer.
Channel Stitch Velvet Quilt– Love the channel stitch on this one!
Laura Ashley Felicity Quilt Set
Stone & Beam Vintage-Inspired Floral Embroidery Coverlet Set- Love the vintage pattern on this one.
3. DUVET
I am a big fan of duvets over comforters. My favorite part is that you can invest in a great duvet and then switch out the covers when ever you are ready for a refresh. I also like that you can choose your weight when using a duvet and this is typically not something you can do with a comforter. It also makes me feel like a "real" adult.
We got our duvet as a wedding gift and I have never turned back. Below are some of my favorite duvets;
Tuft & Needle Duvet Insert– Hands down the best duvet insert I have ever owned. It does run large so I do recommend getting the Tuft & Needle Duvet cover so that everything fits properly.
West Elm HydroCool Alternative Duvet Insert– This is one of my new favorites I ended up liking it way better than Casaluna.
Casaluna Mid Weight Hypoallergenic Duck Down
Casaluna Light Weight Down Alternative– I prefer a down alternative and this is a great mid-range option.
Room Essentials All Season Comforter Insert–This is a budget-friendly option.
Eastern Accents Luxury Hypoallergenic Down-Alternative Comforter –I have heard great things about this one!
4. DUVET COVER
The duvet cover allows you to get creative with your bedroom style. This is the most fun to pick out and definitely a personal preference. Some tips are to get a duvet cover with corner ties and a zipper enclosure if you can. I have found that the button enclosures tend to fall off.
Here are some of the options that I am considering, excited to show you which one I picked next week! These all fall in the farmhouse/modern farmhouse style.
Linen Duvet and Sham Set Light Grey– This is almost identical to the one that we have and what I will be replacing ours with.
Clipped Linework Duvet Set– Love the small detail line work on this one and it comes in a variety of colors.
Washed Cotten Linen Like, White Stripe Duvet Cover
JLA Home Alexis Ruffle 2-in-1 Duvet Cover Set
Stone Cottage Asher Duvet Cover & Sham Set Grey
5. PILLOW COVERS
Pillows are the most important part of making your bed look cozy and just like the professionals. Below are the number and types of pillows that you can use.
Euro Sham– For a king bed you will need 3 euro pillows ( these are the large square ones) for a queen you can use 2 euro pillows. These can be any color but I prefer white.
Lumbar/ Standard Pillow– You will need 2 lumbar or standard-size pillows. These can be decorative or neutral.
Throw Pillow– I usually use one 20 x 20 or bigger in the middle.
Here are the total pillow counts -(2) sleep pillows with sheet case, (2) sleep pillows with duvet sham, (2-3) Euro Shams, (2) lumbar/standard, (1) throw pillow = 10 pillows or better known as pure cozy bliss!
Euro Shams
Hearth & Hand with Magnolia Euro Pillow Sham Linen Blend
Heavyweight Linen Blend Comforter Sham – Casaluna
Heavyweight Linen Blend Quilt Pillow Sham – Casaluna
Lumbar/ Standard Pillows
Heavy Weight Linen Quilt Pillow
Oversized Striped Lumbar Throw Pillow Gray/Cream
Lumbar Heavyweight Linen Blend Throw Pillow
Related: The Best Neutral Throw Pillows From Amazon
6. PILLOW INSERTS
Now that we have all our pillow covers we need inserts. Here is the most important tip, get an insert 1 to 2 inches bigger than the pillow. This will make it look extra full and firm. For example, if your euro sham is 26 x 26 get an insert that is 28 x 28. Below are some of my favorite pillow inserts and my absolute favorite sleep pillow.
Lauren Ralph Lauren Logo Medium Density King Pillow, Down Alternative – Favorite Sleep Pillow!
Foamily Premium Hypoallergenic Stuffer Pillow Insert Sham Square Form Polyester
Blue Ridge Home Fashions Feather Filled Euro Square Pillow White 2pk
Pillowflex Synthetic Down Pillow Insert for Sham Aka Faux/Alternative
Fjädrar 20″ X 20″ two-pack– These are my favorite pillow insert
7. THROW BLANKET
The last and final touch is a throw blanket for the end of the bed. This can be any style but I typically use a larger-sized blanket. Below are some of my favorites;
Oversized Waffle Weave Bed Throw
I hope that this was a helpful guide on how to style your bed to look just like a magazine. I will be sharing my bedding picks next week so be on the lookout for my master bedroom bedding reveal ( see the post here)! Thank you for stopping by the blog ❤
Updated Bedroom 2022
You can shop our bedroom bedding by clicking on the image or using the links below.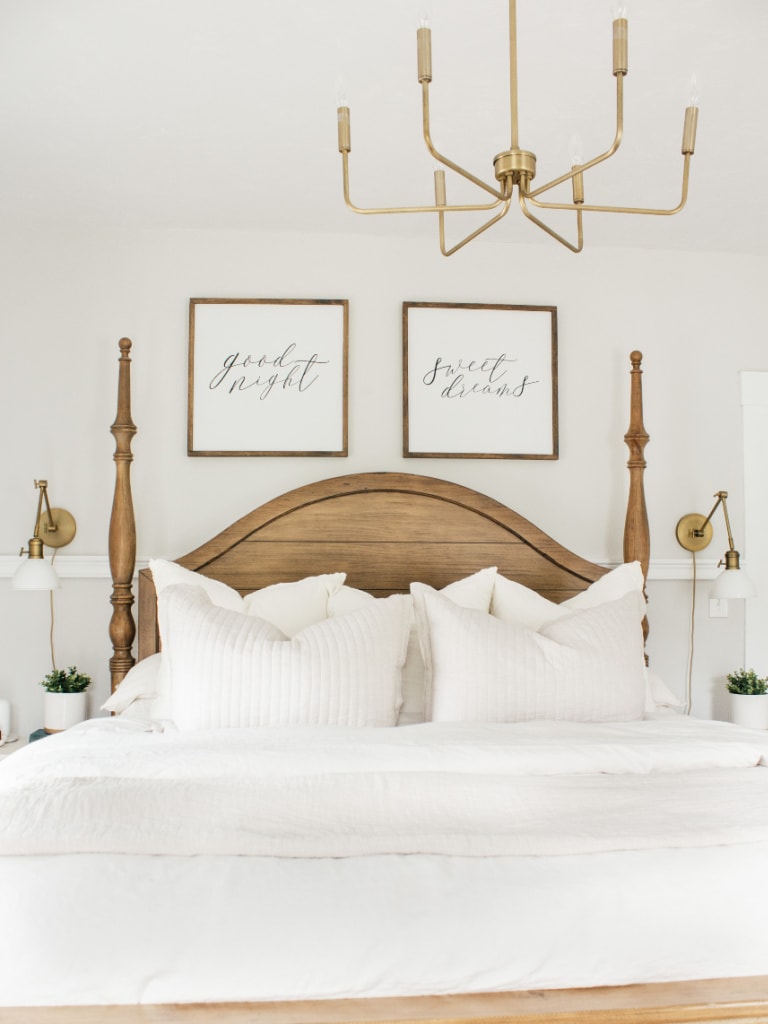 Linen Sheet Set ( Sand)/ Linen Duvet Cover (Sand) / Duvet Insert / Quilt ( Cloud) / Mattress Topper
What to Read Next:
Neutral Cozy Decor From Amazon
Affordable Farmhouse Style Rugs
The Best Neutral Throw Pillows From Amazon
Want to save this for later? Post this How to Style a Bed Like a Pro to your favorite Pinterest Board!