Today I am sharing all my tip and tricks on how to style a dresser.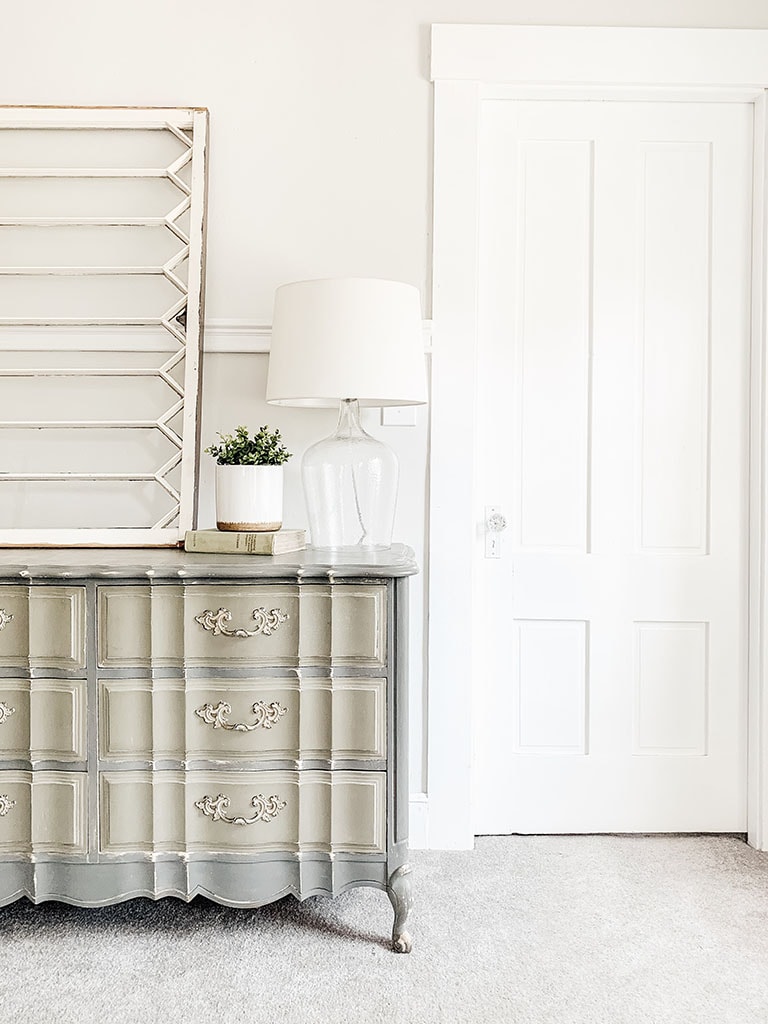 When I was working on my master bedroom refresh, ( you can see the reveal here) I also styled our dresser. And I thought it would be helpful if I shared with you my thought process when it comes to styling a dresser.
This is one of those areas that can be hard to know what to put on your dresser top without it looking cluttered. Hopeful this sneak peek inside my designer brain will help if you have been struggling with where to start.
A little backstory on the dresser. We found it at an antique show. I was on the hunt for a vintage dresser and when I spotted this one it was covered in clothes. It was a clothing vendors booth and I was sure that she wasn't selling it, just using it to showcase her product. If you are a thriftier you have encountered these kinds of pieces. You know the ones that are not for sale. ? I decided to ask anyway and it was my lucky day because she was willing to sell it and even delivered it to my house. It was love at first sight.?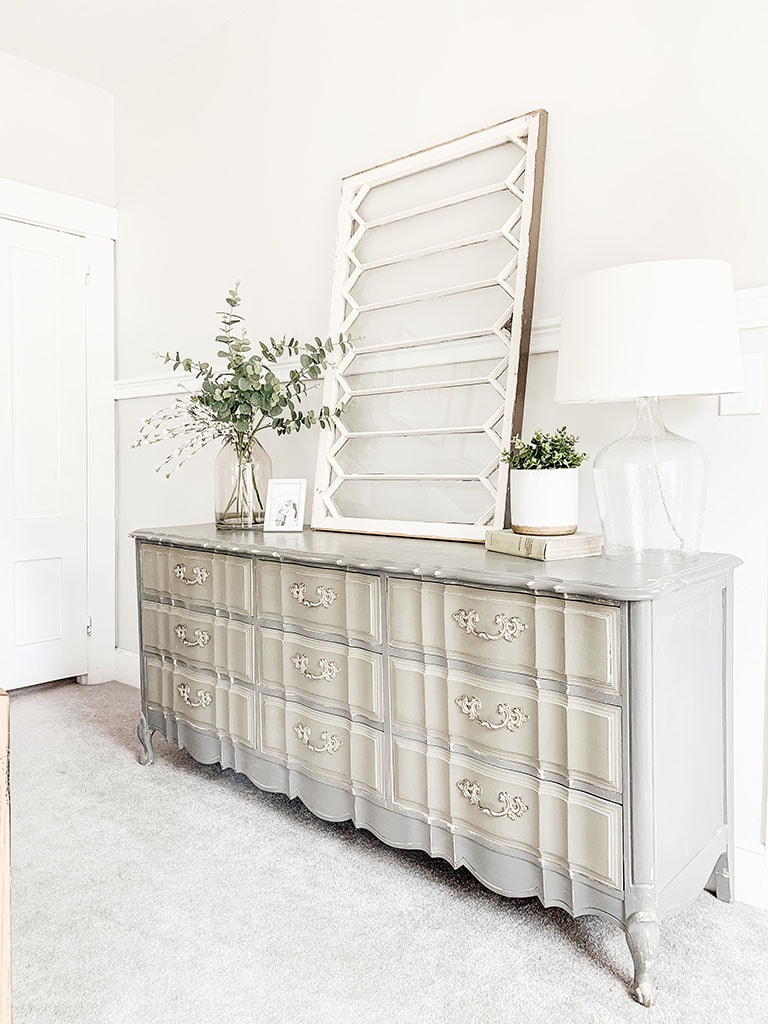 How to Style a Dresser Top
Number One Tip: BALANCE
The key to styling anything, whether it be a dresser, open shelving, or a vignette is BALANCE.  In order to create balance, you need to make sure that there is even visual weight throughout your display. As your eye travels the space or display it should feel visually balanced.
This means using items with varying heights, textures and shapes. And using them in a way that feels even and equal. You do not have to use the exact same items to create balance. You can use two different items that have a similar height. Or two items that are different but the same color.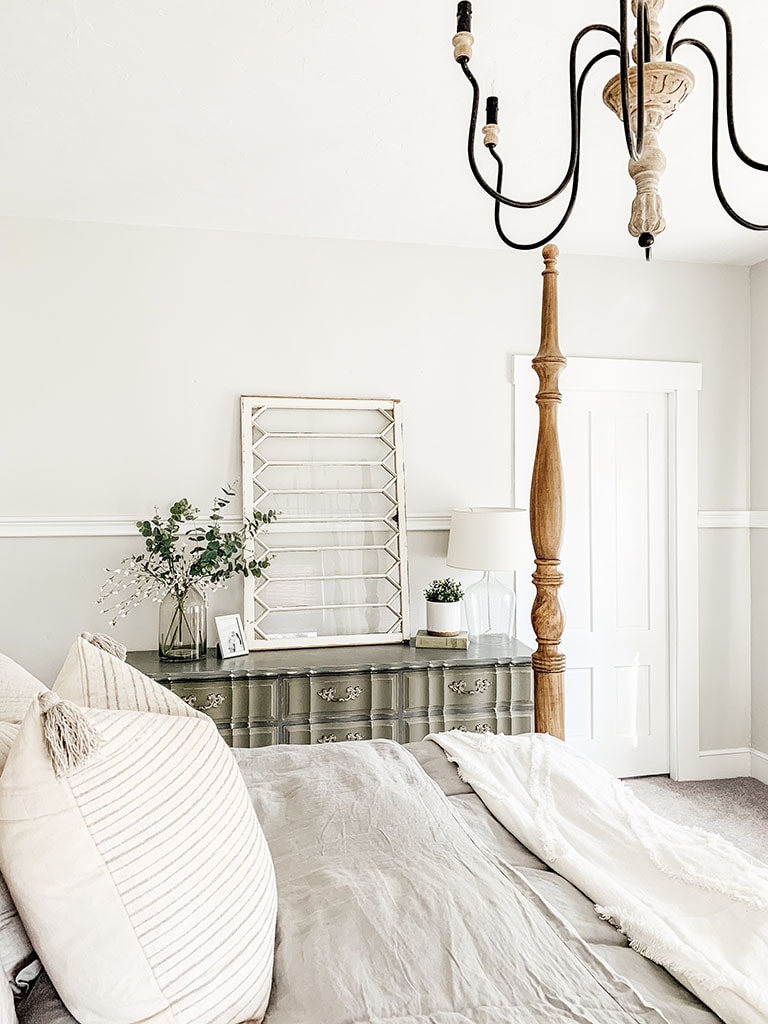 Here is exactly how I styled my dresser keeping balance as the most important piece of the puzzle.
Step 1
1. I started with a large piece for the center. This gives visual height and a center point to work off of. I knew this antique window would be perfect. I loved the character that it gave to our space and although it is a large piece it is visually light with the glass and chippy white paint.
Although beautiful, a challenge that we have with this room is the trim on the center of the wall. It makes it difficult to hang art due to its height. I was able to lean this window on the dresser. Without feeling like I needed to hang something above or below the trim.
Step 2
2. Next, I anchored my ends. With the large window in the middle, I wanted to create symmetry on the sides. If looking left to right you want your eye to go low to high and back down to an equal low. I did this by using a floral arrangement on one end and a lamp on the other.
Like I said before you can create balance without using identical items. The floral arrangement and the lamp are about the same height and create a symmetrical balance on the ends.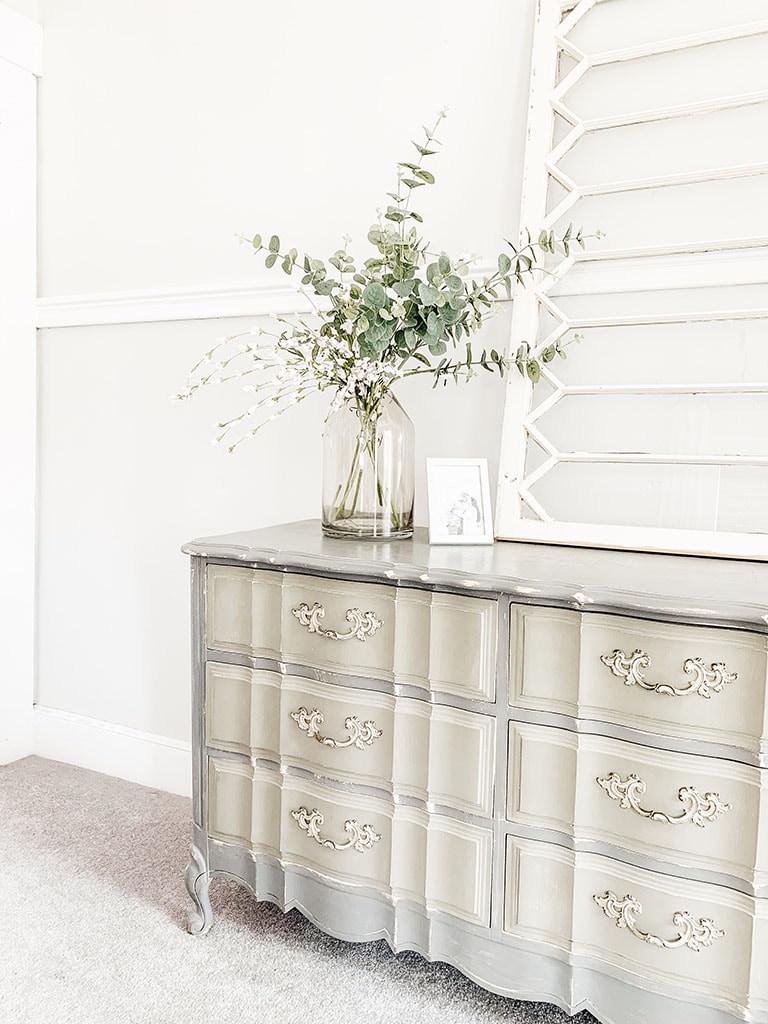 Step 3
3. Then, I added the smaller items. In order to keep this dresser top less cluttered, I only added three more items.  I placed them on the inside of the two ends. With these items, I wanted to create balance with color and texture.
The lamp is glass with a white shade and is very similar to the window. In order to create balance, I needed to find an item similar to the floral arrangement. I used a small plant in a solid white planter. The plant adds a similar texture and color. And the solid planter adds the balance to all the clear glass elements.
The green book gives the plant some height and adds another green element. And for a personal touch, I added a black and white photo in a white frame.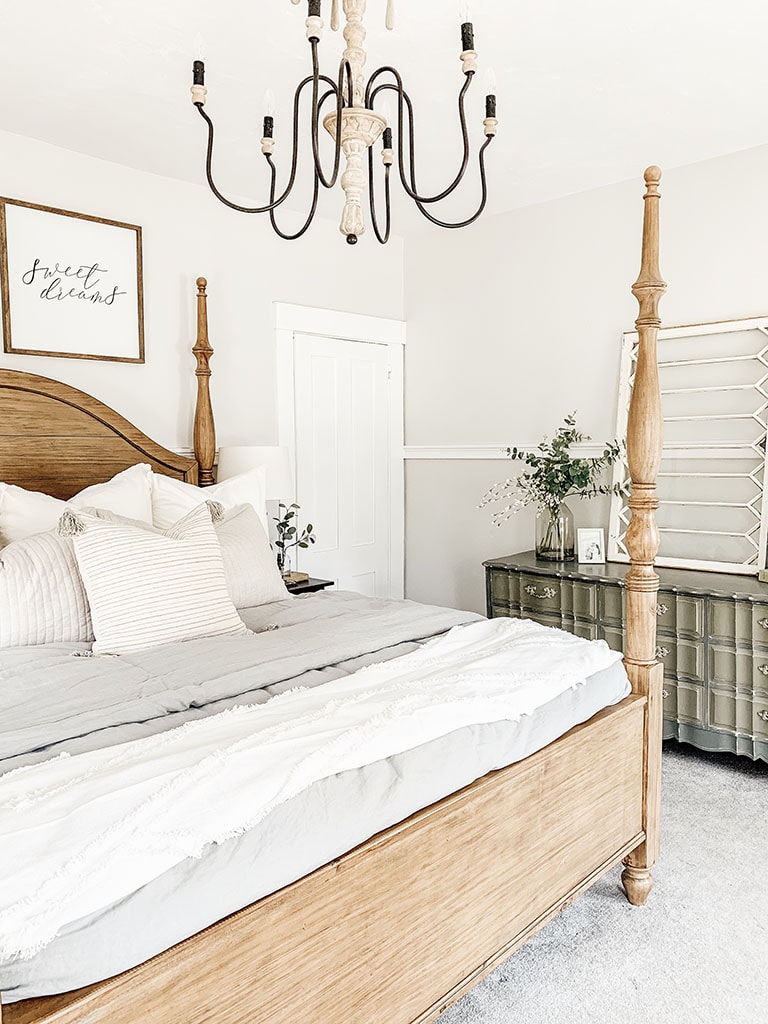 As you can see I  was able to create a beautifully balanced styled dresser, that does not feel cluttered. The process does not have to be complicated and you can achieve a well-styled look with only a few items.  I am all about creating a home that feels designed but also has an element of simplicity. I hope these design tips give you the confidence to style your own dresser.  Let me know if you have any questions in the comments. Thank you for stopping by the blog. ❤
Shop this Space
" Affiliate links provided for your convenience, please read my disclosure for more information."
Vase- ( Similar from Wayfair)
White Planter- (Similar from Target)
Throw Pillow- Home Sense ( Similar from TJMaxx)
Our bed is from Magnolia Home Furniture ( Here is one that is similar)
Paint Color: Benjamin Moore Gray Owl Lightened by 50%
What to Read Next:
How To Find the Best Antiques & My Favorite Shopping Tips
How to Style Open Shelving In Six Easy Steps