We just recently gave our dining room a makeover and today I am sharing all the design detail.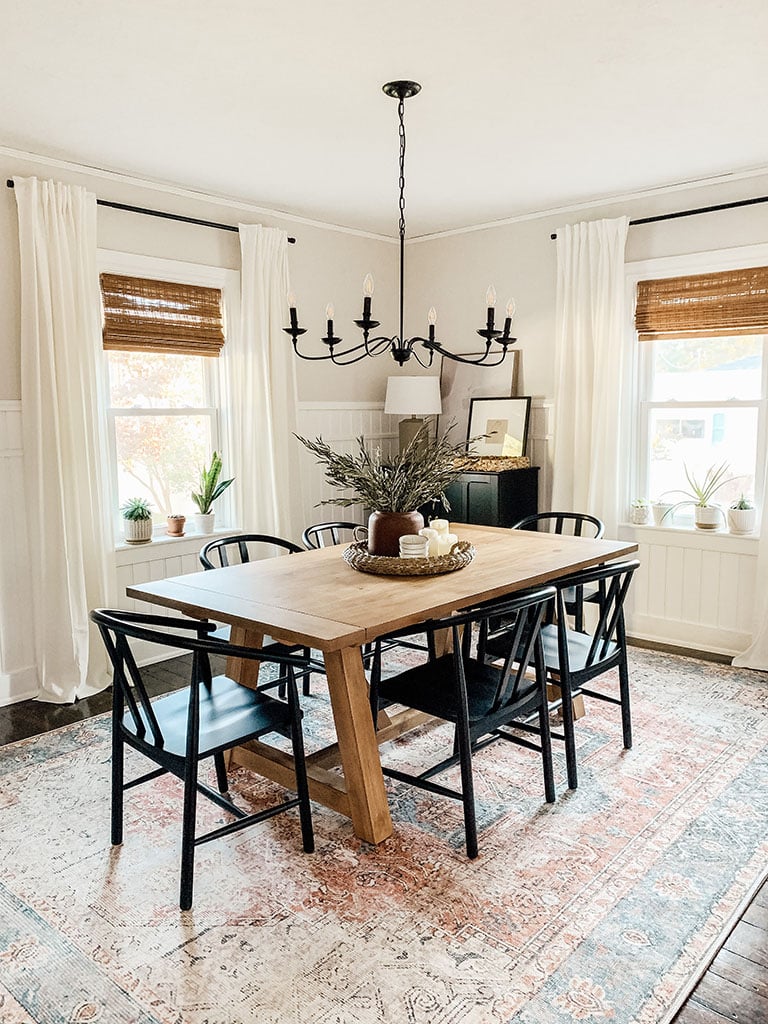 Another room makeover in the books! I shared our design plans a few weeks ago and in just a couple of weekends, we were able to completely transform the space into a modern farmhouse dining room. We actually hadn't really touched this space since we moved in and it feels so good to have it feel like a new cozy retreat.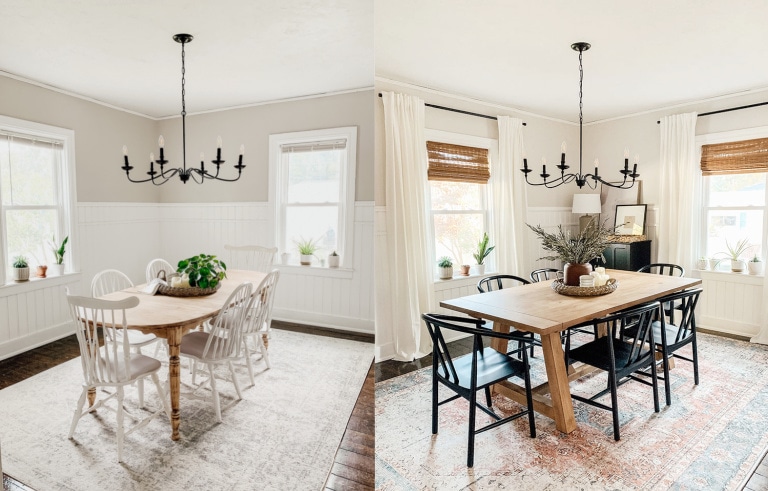 Before & After
Our original space had a chippy faux fireplace mantel, a farmhouse table, and not much else. My goal was to have it look a little more sophisticated, more complete, and a lot cozier. This post outlines exactly what we did to makeover this room and tips and tricks on how you can approach your own dining room.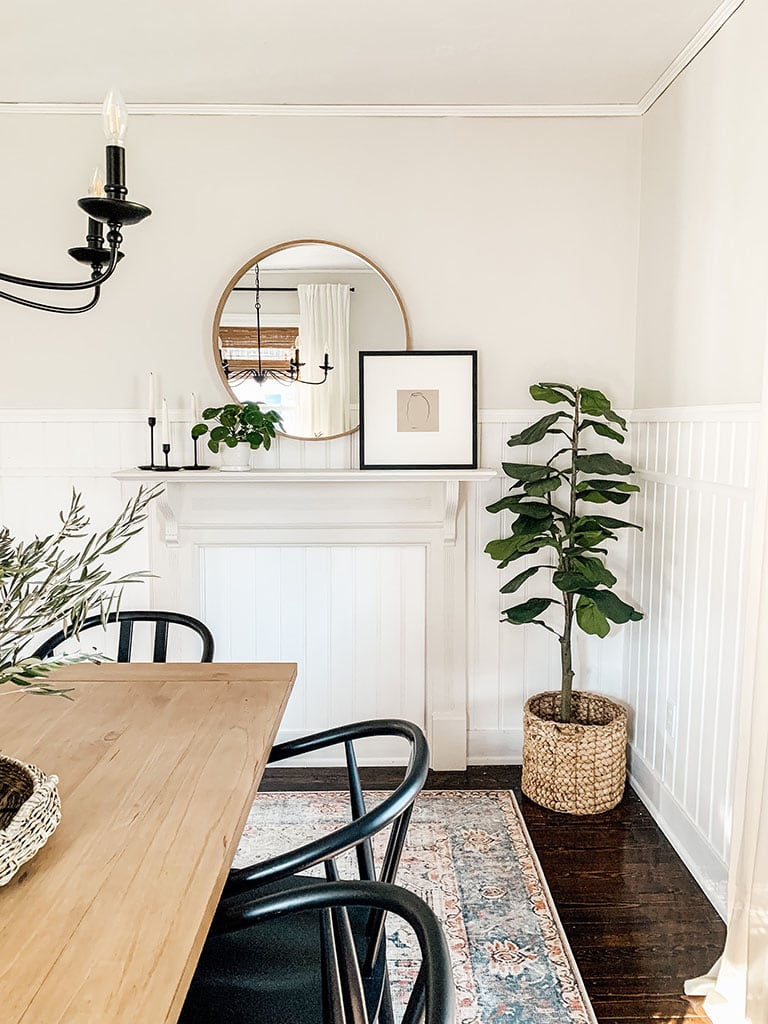 " Affiliate links provided for your convenience, please read my disclosure for more information."
The overall style of the dining room is Modern Farmhouse.
What is Modern Farmhouse Style?
Modern farmhouse is a marriage of all the things you love about farmhouse style mixed with the subtle sleekness of modern design. It's the comfortable, cozy, neutral elements without the rustic and chippy you see in traditional farmhouse style. It is more sophisticated, but still warm and inviting.
What I love about modern farmhouse style is that it is approachable, comfortable and allows you to easily mix in elements from other design styles. Whether it's a traditional rug or a piece of architectural salvage, you can combine them effortlessly.
Regardless of what design style you love I always recommend combining different design styles. The juxtaposition of design elements is what makes for a beautiful design.
The main component of a dining room is the place where you dine! This was the first place I started. One tip I have is to not get a traditional matching set. Your dining room will look more "designed" if your table and chairs are not the same. 
Modern Farmhouse Dining Room Table
I started with the table first.  I went with the Farmhouse Leona Extension Dining Table from World Market. This is a beautiful pine table with a light gray wash finish. I loved the overall design and it has two breadboard extensions that are perfect for hosting. It is also a great price tag. It looks and feels way more expensive than it is.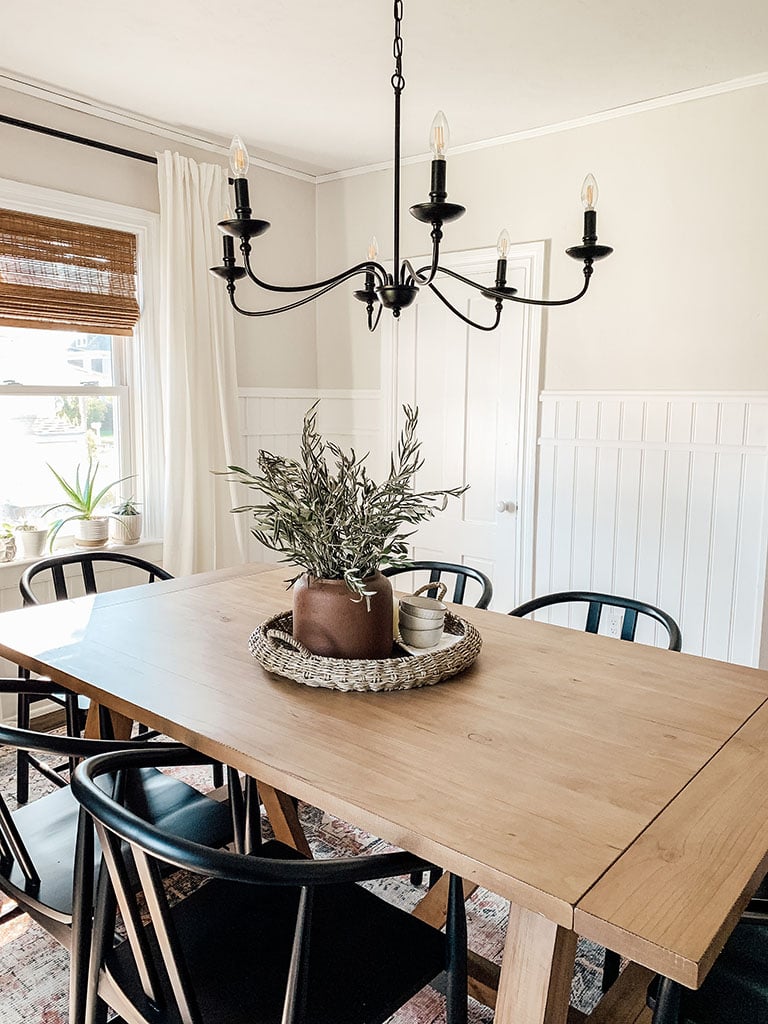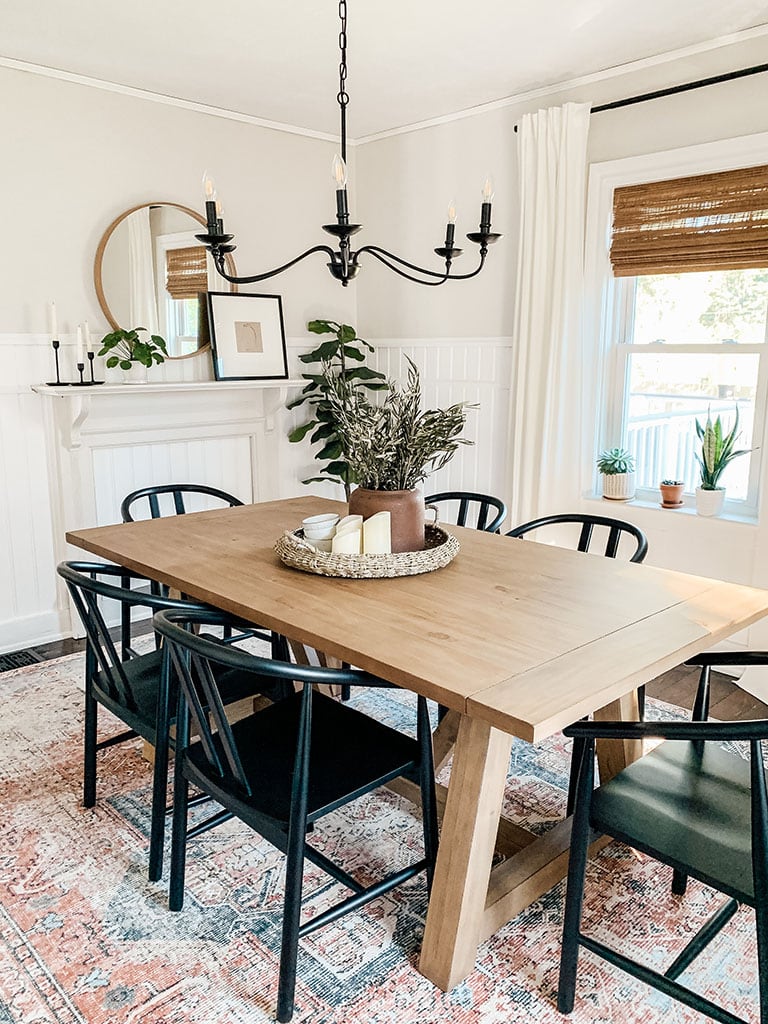 Modern Farmhouse Dining Room Chairs
Once I had the table next up were the chairs. It can be really challenging to find the right dining chairs, especially when you are shopping online. I have sat in some very uncomfortable dining chairs. There is nothing worst than ordering furniture and it ends up being uncomfortable.
So the first thing I was looking for was comfort and the next thing was the finish. I am typically all about light and airy interiors, but this time I knew I wanted to add in some black elements to warm up the space. I found the perfect chairs that met both of those requirements and I am obsessed.
We have the Sculpted Wood Dining Chairs from the Magnolia line at Target. They are very roomy, well constructed for the price and so comfortable. I love the sculpted barrel look of the chairs and it adds the perfect modern farmhouse touch to our space.
These so sell out frequently. I recommend signing up for in-stock alerts. You can check out this post for how to get out-of-stock items at Target. Scroll to the end 🙂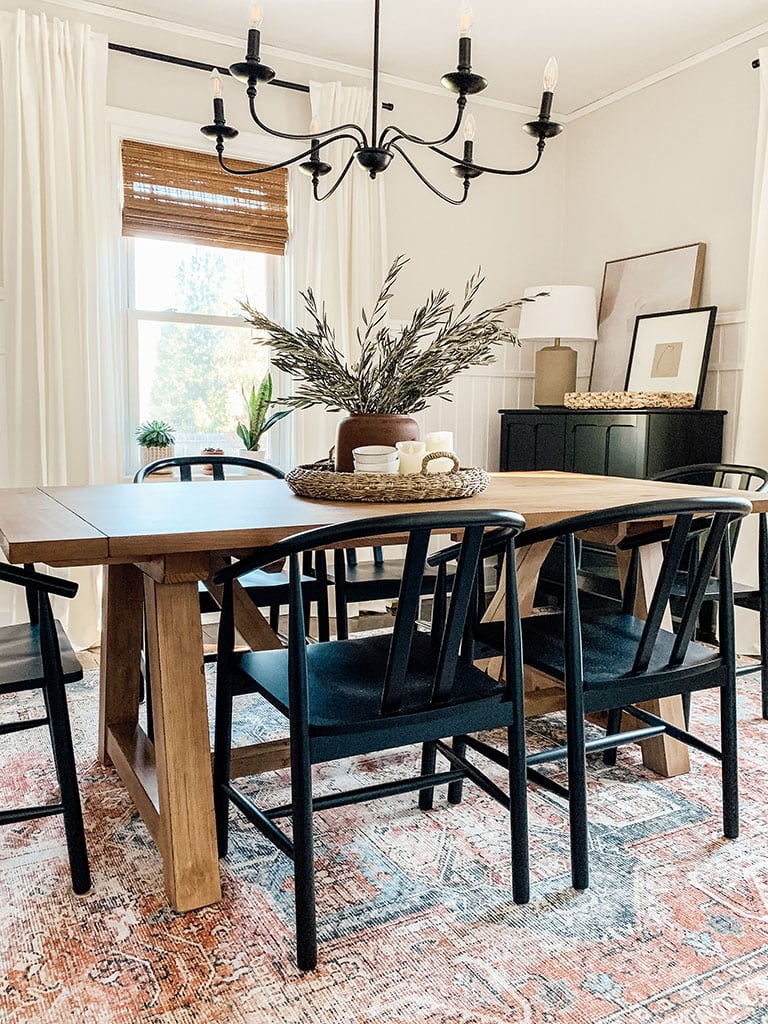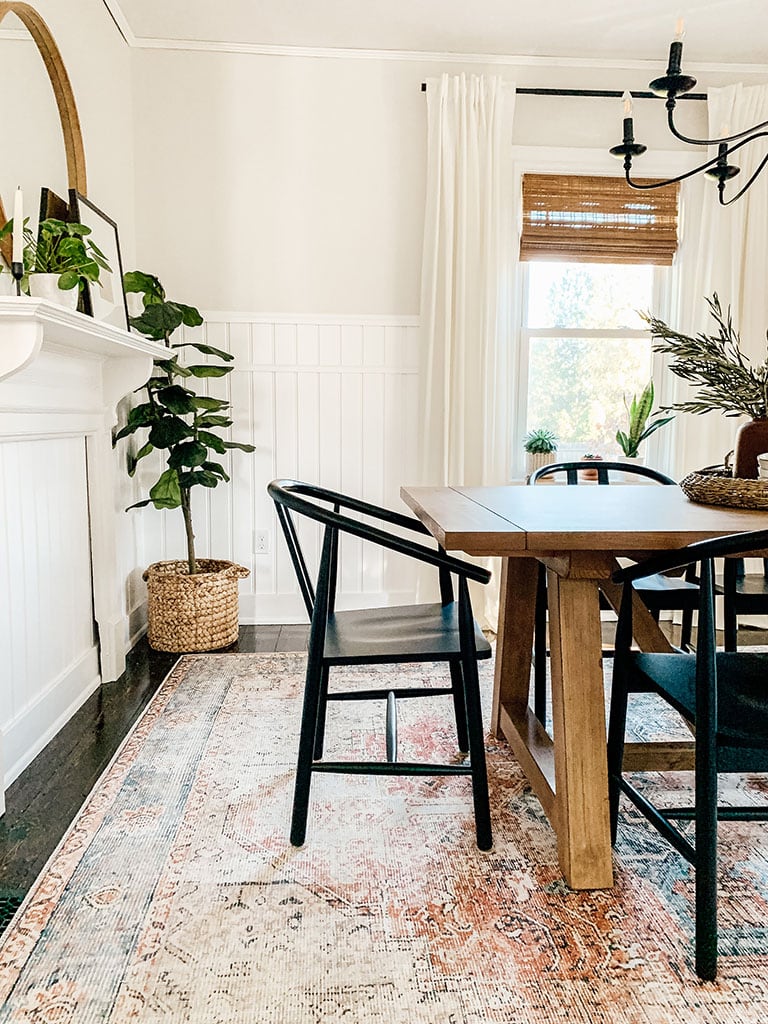 Washable Area Rugs
Next up is the rug. Area rugs are a must for every space. They ground the room and can set the tone for the whole space. You may be thinking but won't it get dirty in a dining room with food, spills, etc. especially if you have kids. That's where washable rugs come in. Washable area rugs allow you to get all the benefits of adding an area rug to your space without the stress of ruining it. You are able to just throw it in the wash!
For our dining room, I went with the Rosman Washable area rug from Boutique Rugs. This was my opportunity to add a little color to the space. It was a little out of my comfort zone but I love the depth and personality it adds.
One tip when buying any rug, especially a washable rug is to get a felted rug pad. This adds comfort, protects your floor, and extends the life of the rug. Washable rugs are thinner than traditional rugs and this adds an extra layer under your feet. This is the felted rug pad I used.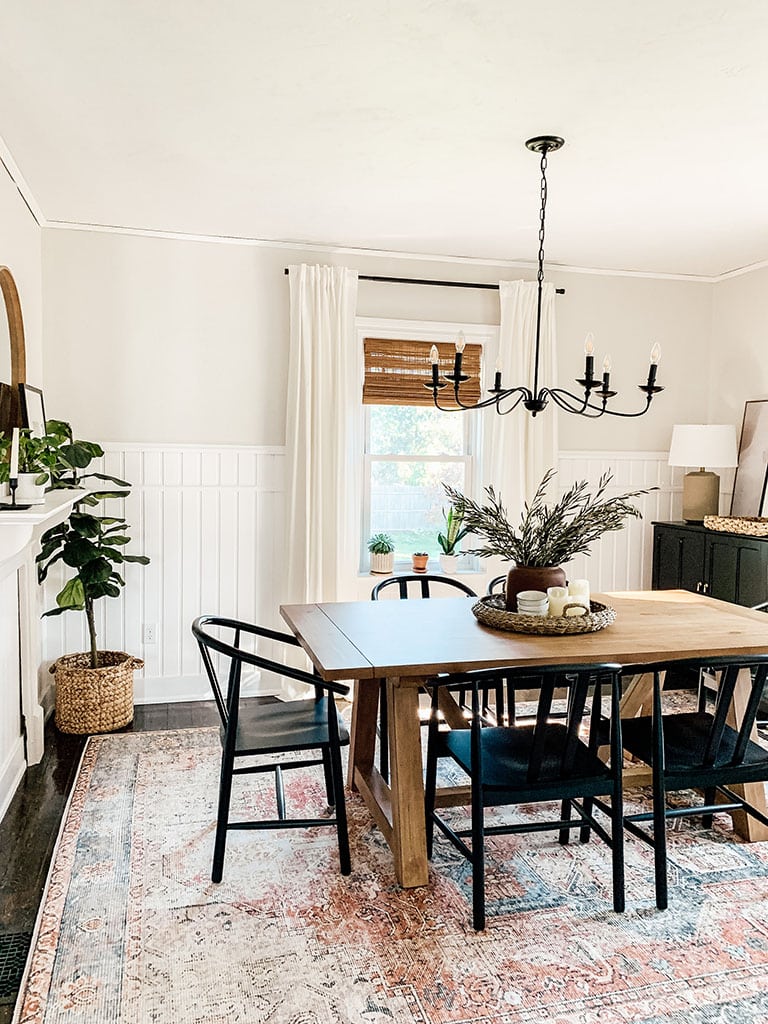 Dining Room Lighting
Statement chandeliers are a must over dining room tables. I wanted to add another black element to the space to keep the design cohesive and this was the perfect opportunity. I went with the classic candelabra style chandelier that is a dupe from a more expensive retailer. It is almost identical and a fraction of the cost.
How high should lights be above a dining table?
Lighting should be hung centered around 34 inches above your dining table.
Dining Room Storage
The next big component is storage. If you have the space I recommend a large sideboard on your biggest open wall.  This can store extra linens, and dishes and gives you the opportunity to add a statement art or mirror above. We, unfortunately, do not have the space for a large sideboard so I went with a smaller cabinet. This still gives us a little storage and a small space to create a styled vignette.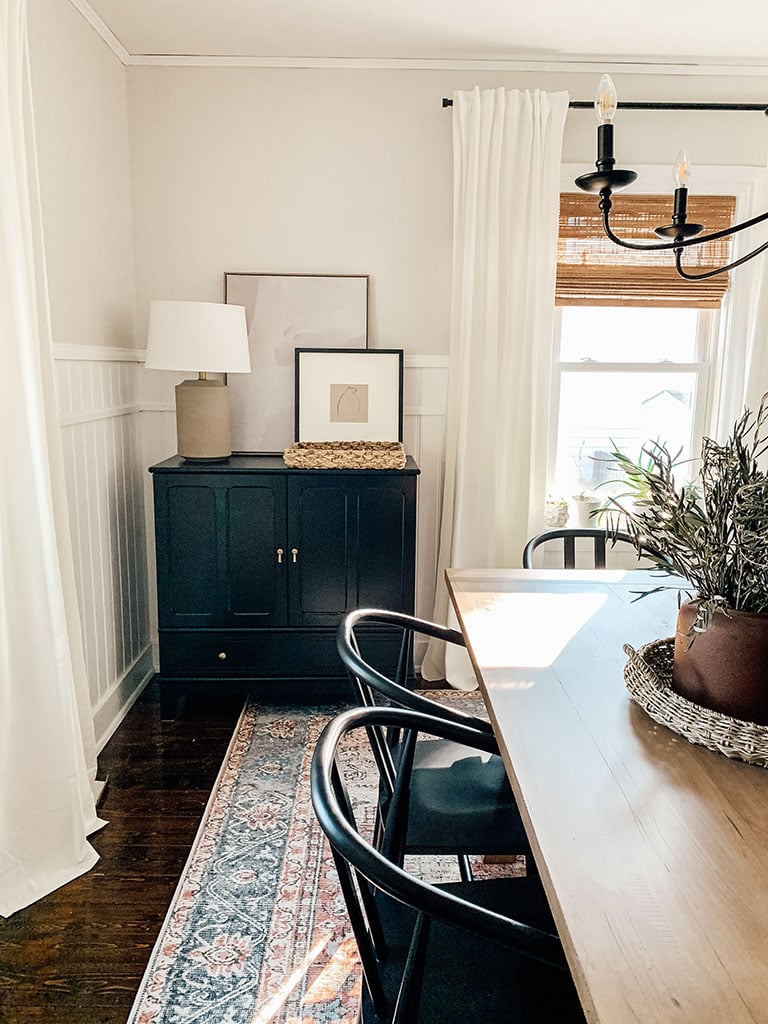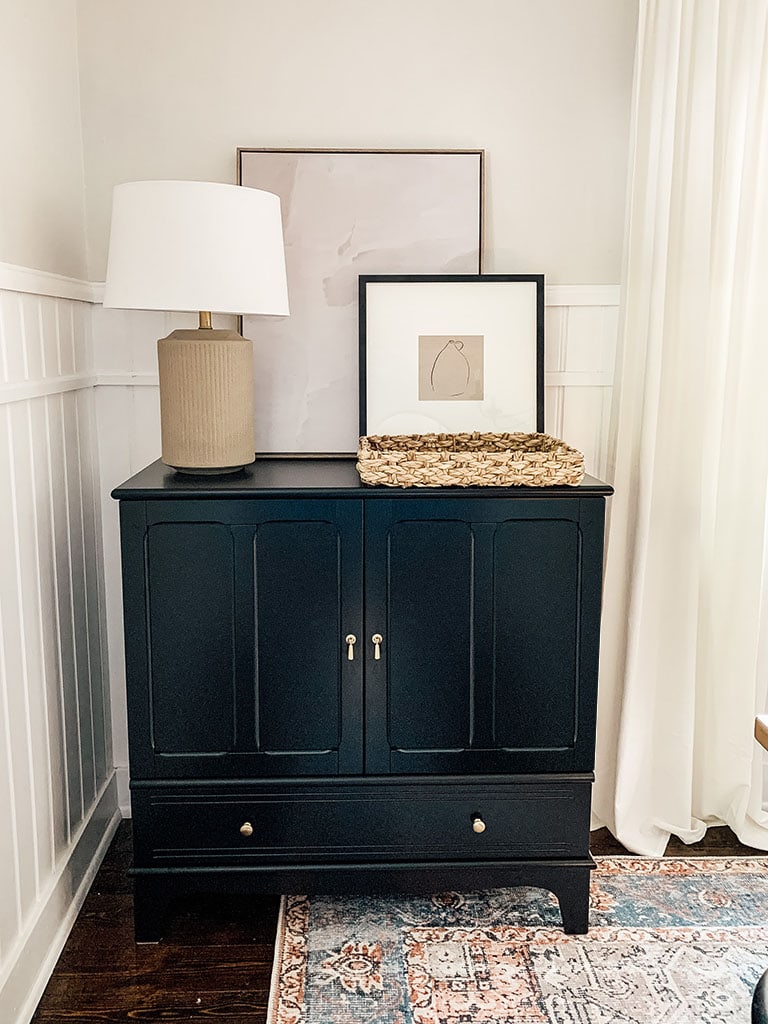 Faux Fireplace Mantel
If you have a smaller dining room and you don't have enough room for a sideboard one option is to add a faux mantel.
In our home, our main wall without windows ends up being too close to the dining table to add a sideboard. In order to add interest and a little character to the space, we added an antique faux fireplace mantel. This was one of the biggest projects for our dining room makeover.
The original mantel was white and chippy. I wanted this space to look a little more refined so we stripped the years of paint and repainted it Benjamin Moore Classic Grey to match the walls. I love how it came out.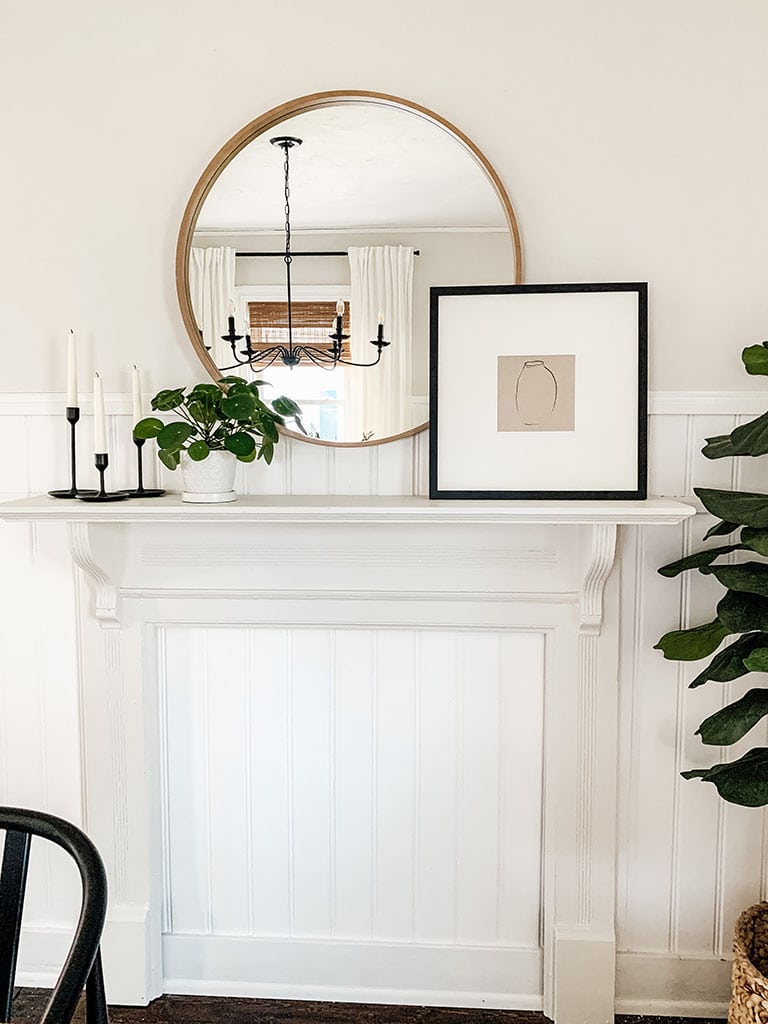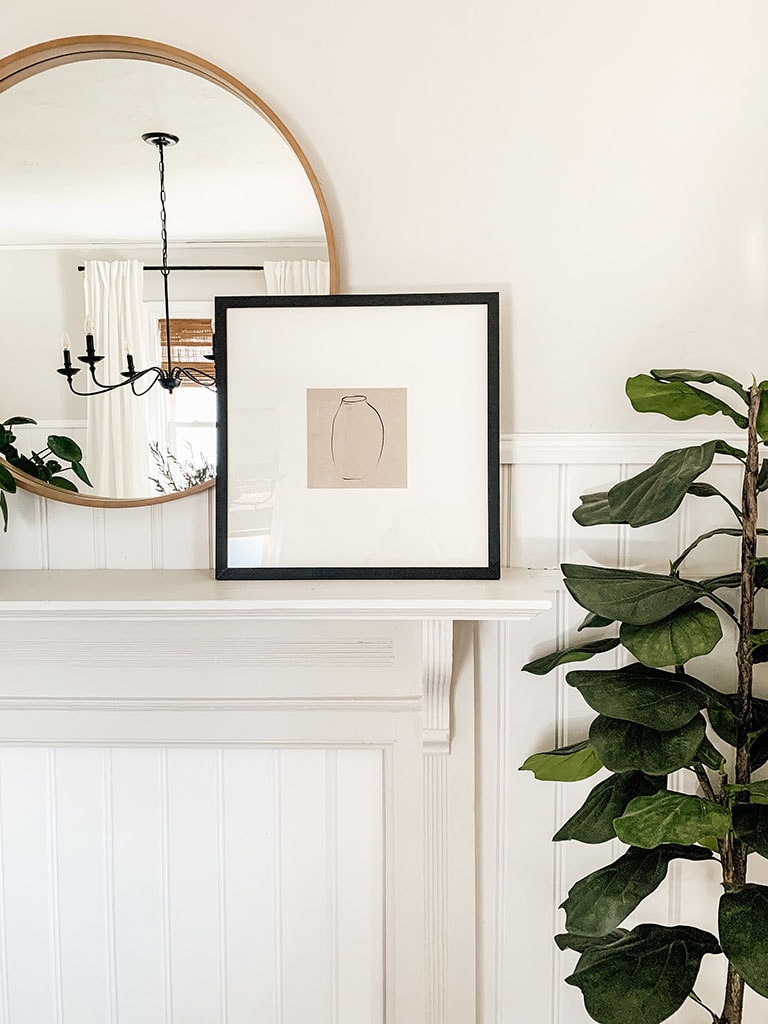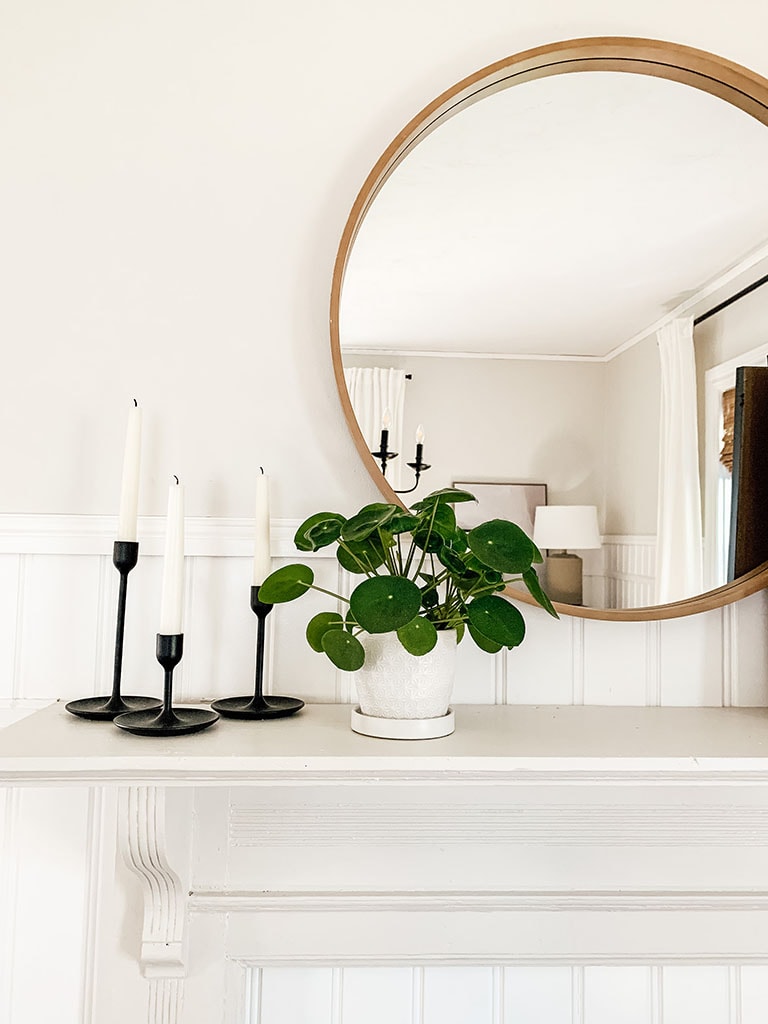 Other Ways to Update a Dining Room
Below are some other design elements that can instantly add new life to your space and what we did to complete our makeover.
Paint/ Wall Detail:
Paint is a very inexpensive way to completely transform your room. I always recommend giving your room a fresh coat when you need a change. We went with Benjamin Moores Classic Gray for the top half of our dining room. This is a neutral light warm gray and it really brightened up the room.
Related: The Best Farmhouse Paint Colors
Adding some type of wall detail is also a great idea for a dining room and adds visual interest as well as character. This can be a feature wall such as shiplap or floor to ceiling board and batten. The other option is a wainscoting detail. Wainscoting is a panel or trim detail that is applied to the bottom half or three-quarters of the wall. This can be beadboard, board and batten, paneling, or just a trim detail. We have beadboard painted Pure White by Glidden.
Related: DIY Skinny Board and Batten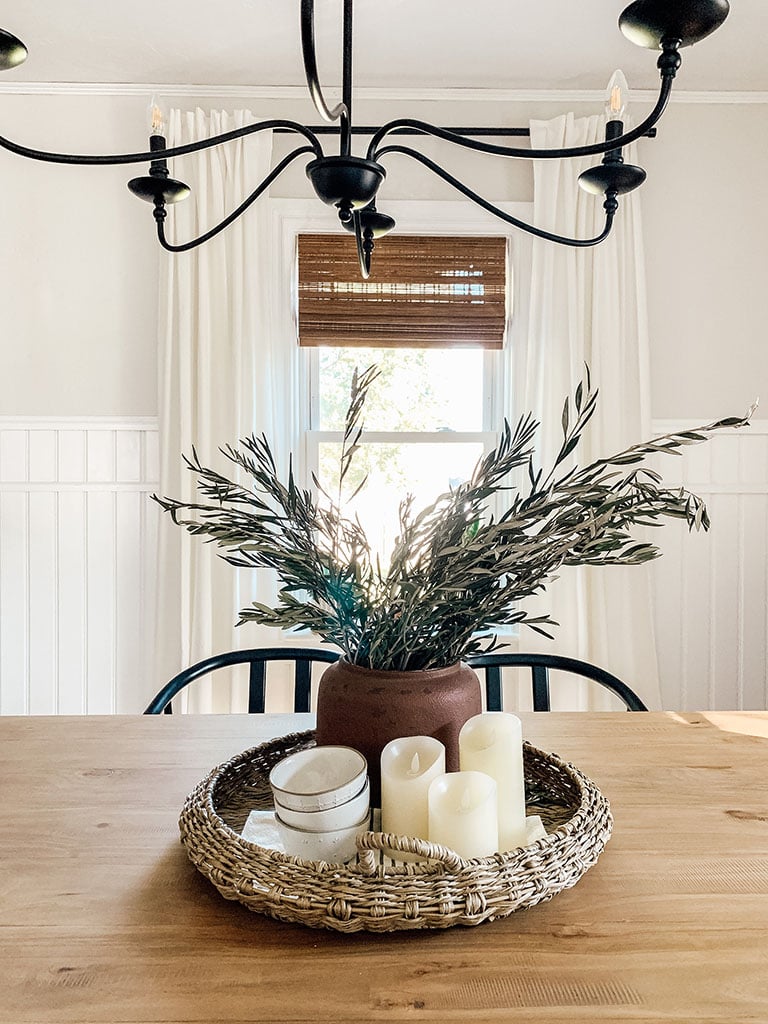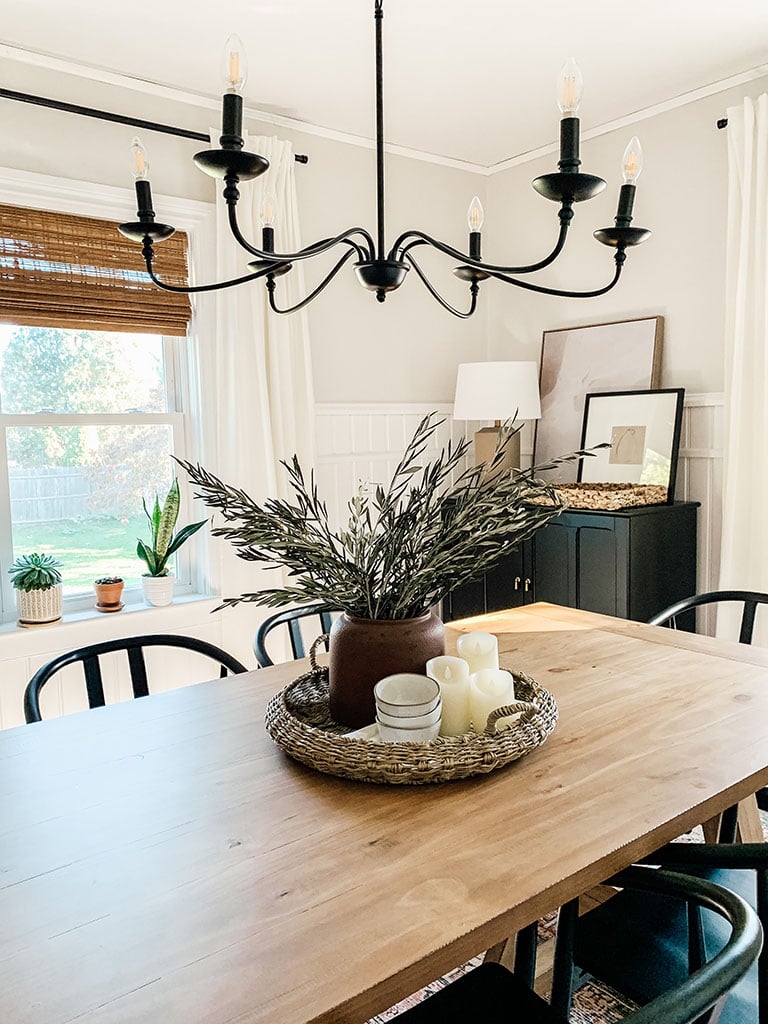 Window Treatments:
Window treatments are another design element that makes a big impact. We only had cheap blinds in this room, even though I knew curtains would be transformative. I honestly think they made the biggest impact in our dining room and I can't believe I waited this long to add them.
We did bamboo roman shades. This added texture and tied in the wood table. Then we added white curtains, hung high and wide. It makes the space feel complete and inviting. Highly recommend making window treatments a priority for every room in your home.
Art/Accessories:
The finishing touches are just as important as the larger furniture. They complete the room. Some ways to incorporate this is by adding a centerpiece/floral arrangement to the center of your table. Add art to your walls or a mirror on your storage piece. You can see examples of this in our modern farmhouse dining room.
Additional Lighting:
Another unexpected element I had in this room was a table lamp. I have never had a table lamp in my dining room before but I have to say it makes the space so warm. The grey ceramic lamp I have is on a dimmer and it is so nice to turn on at dinner time. It creates a whole mood in the space.
This is something you can add on the top of your sideboard or cabinet as I have.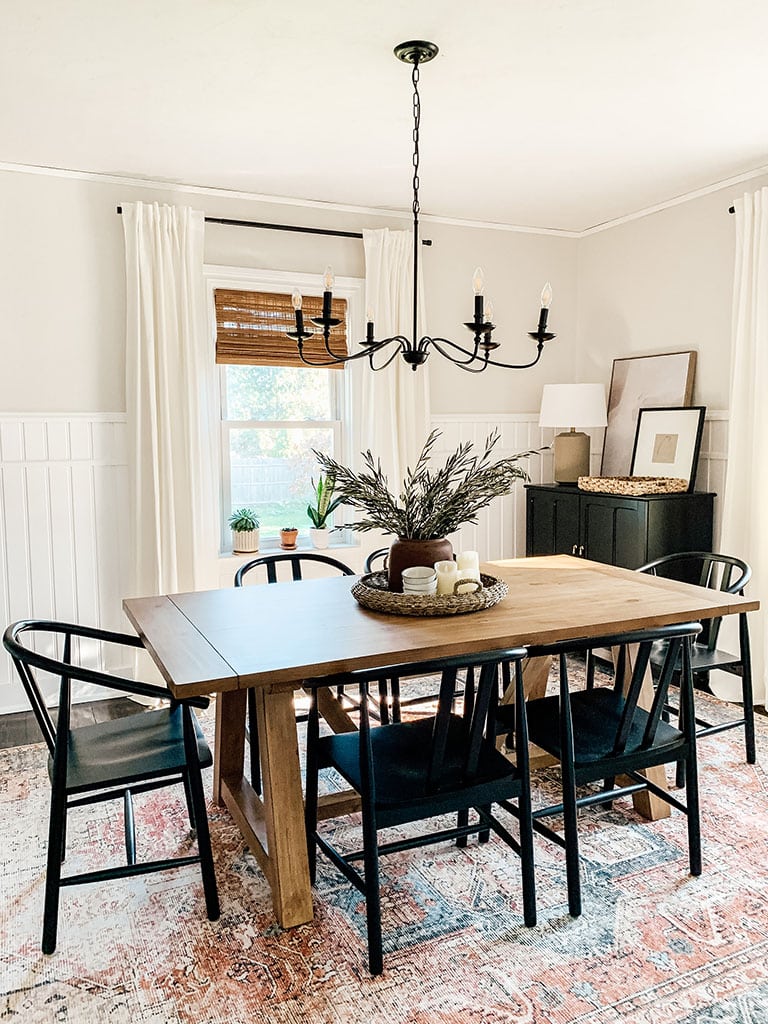 You can shop our Modern Farmhouse Dining Room by clicking the links below!
Classic Candelabra Style Chandelier
18″ x 18″ Vases Framed Under Glass
Farmhouse Leona Extension Dining Table
24″ x 30″ Neutral Abstract Lines Framed Canvas
Paint Color: Benjamin Moore Classic Gray
What to Read Next:
Neutral Paint Colors | My Home Paint Colors
Affordable Farmhouse Style Rugs
Want to save this for later? Post this Modern Farmhouse Dining Room to your favorite Pinterest Board!