Sharing our modern farmhouse dining room style board and design plans.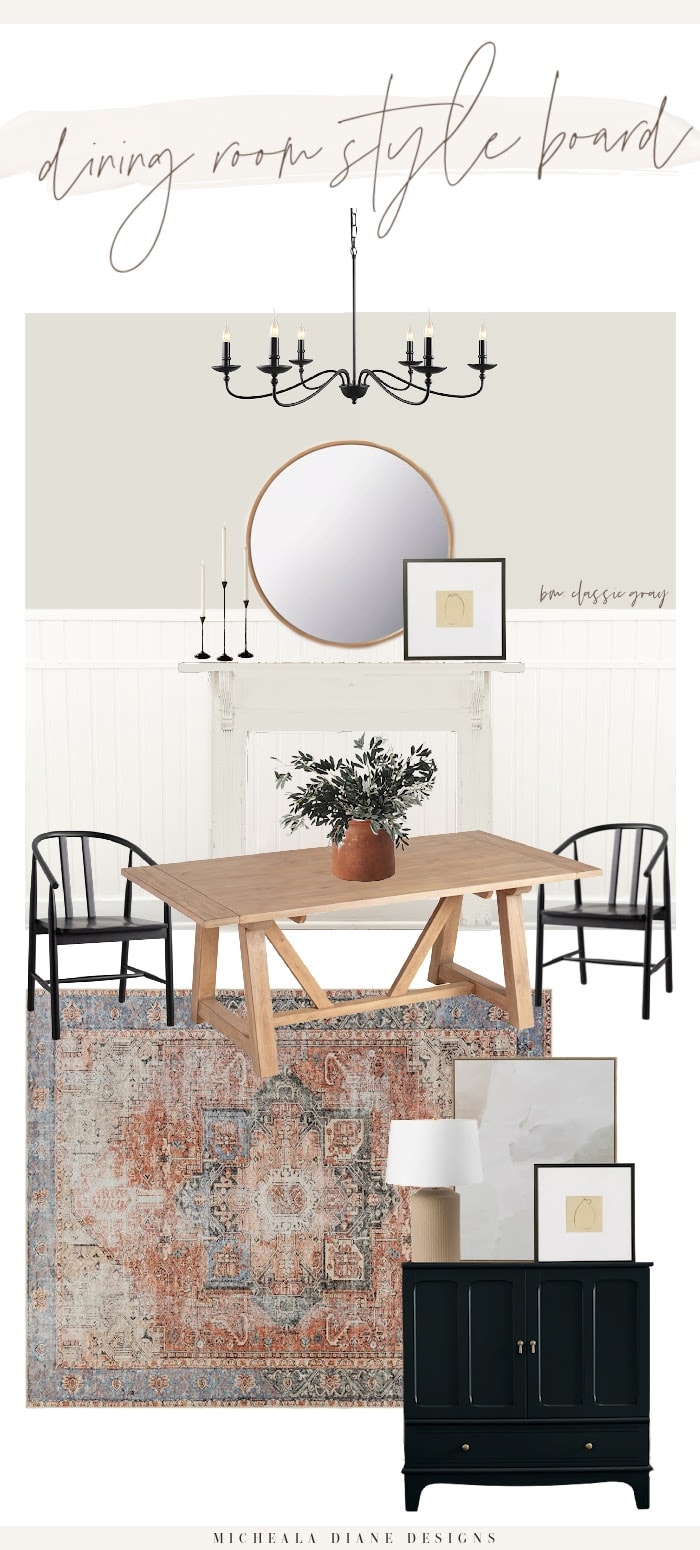 Modern Farmhouse Dining Room Plan
Another design project in the works! We decided to finish out the year with an update to our dining room, just in time for the holidays. Other than the free table we refinished and a little paint we haven't done anything to this room since we moved in 5 years ago. It was time for an update and some new furniture. You can see our current dining room here.
The overall style of the dining room is modern with hints of a farmhouse style. Similar to the rest of our house, but I am going a little bolder with the finishes in this space.
The plan is to paint the walls classic gray by Benjamin Moore, a neutral light warm gray. We are keeping the beadboard as is, it adds beautiful character to the space. Adding in all new furniture, including a storage cabinet, which is a must. We are also adding window treatments, this room previously had none. I know it's going to warm up the space instantly.
Finally, the biggest project is the mantel. I have shared our mantel throughout the seasons here on the blog. It is one of my favorite antique finds, but I have to admit I was getting tired of it.
The plan was to replace it with a long sideboard, but there wasn't enough clearance with the new table. So I decided to keep it and give it a little makeover. We are going to strip the years of old paint and repaint it to match the wall color. This will hopefully give it new life and look a little less chippy farmhouse.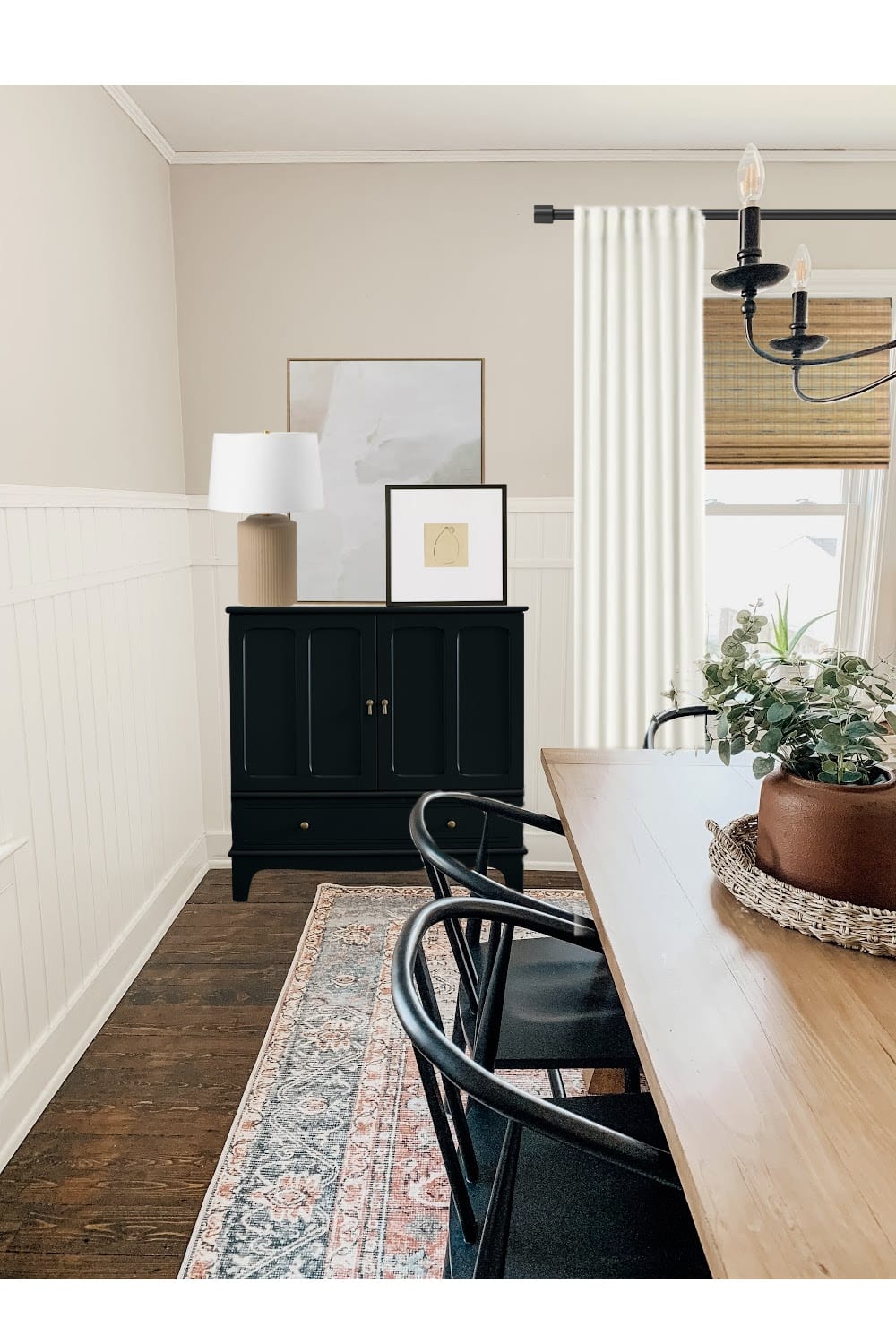 For this project, I also did a little photoshop to see how the space would come together. I usually just do this for my own use but thought It would be fun to share. It's always good to get a visual of how your space will come together. If you ever need help visualizing your own space, don't forget I offer design services. You can email me at [email protected]
I will be sharing the new dining space soon, so be on the lookout. You can sign up for my newsletter to be the first to know when a new blog post goes live. Click here to sign up.
You can shop our Modern Farmhouse Dining Room by clicking the images or links below!
" Affiliate links provided for your convenience, please read my disclosure for more information."
Classic Candelabra Style Chandelier | This is a great dupe for a similar Pottery Barn chandelier for a fraction of the price. I love the classic style.
Round Framed Mirror | I recently used this mirror in my hallway and I love it. A mirror is a great way to fill wall space and also reflects light into your space.
18″ x 18″ Vases Framed Under Glass | This print is perfect for a dining room. You can style them side by side or split them up like I plan to.
Farmhouse Leona Extension Dining Table | I am obsessed with this dining table. We already received it and it is perfection. The table has two leaves that pull out to accommodate larger groups. The price is really great too!
Sculpted Wood Dining Chair | Love the sculpted look of these chairs and I am excited to add some black accents to our space.
Washable Area Rug | This rug really tied the space together and it is washable! Especially with a young baby, a washable rug is a must.
Black LOMMARP Cabinet | I am looking forward to having some storage in my dining room and this was the perfect piece.
24″ x 30″ Neutral Abstract Lines Framed Canvas| Love this abstract art and it is a great price for the size.
Rustic Brown Vase| This vase ties perfectly with the washable rug that I chose. It is always important when you are pulling together a room to coordinate your colors.
What to Read Next:
Neutral Paint Colors | My Home Paint Colors
Affordable Farmhouse Style Rugs
Want to save this for later? Post this Modern Farmhouse Dining Room Style Board to your favorite Pinterest Board!