Today I am sharing an honest review of Fusion Mineral Paint and how we painted the dresser for our sweet babes nursery.
Fusion Mineral paint gifted me the paint for this project, however all opinions are my own 🙂

A few of weeks ago we shared our plans for a gender neutral nursery, you can see them here. One of the items included reusing the dresser we had in our bedroom. I found this dresser at an antique show a few years ago. As much as we loved it in our bedroom the drawers were always just a little too small. We knew it would be perfect for a nursery.
It just needed a fresh coat of paint. I had been wanting to try Fusion Mineral paint forever and this was the perfect project to give it a try.
Fusion Mineral Paint Review Summary
For those of you just stopping by to see if fusion mineral paint is worth the hype, I can tell you it is! This is the best paint we have ever used for painting furniture, even better than chalk paint. It's easy to use for a beginner painter, has great coverage and leaves a beautiful smooth finish.
For more information on the color we chose, how to paint a large furniture piece, and a more detailed review keep reading!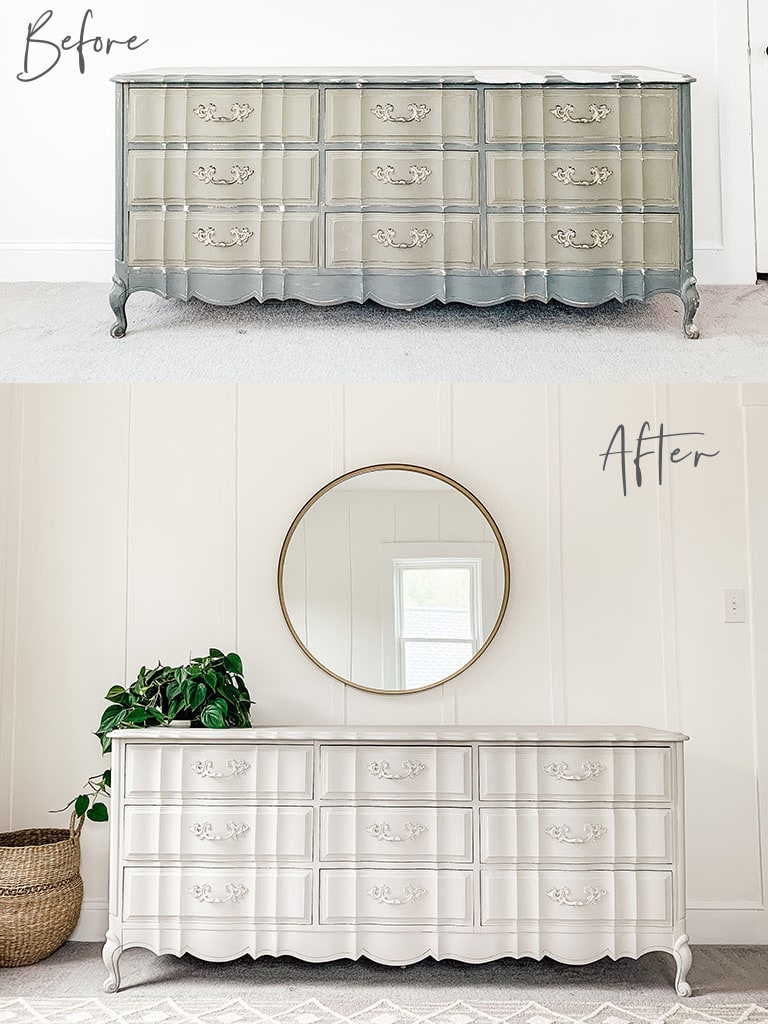 Fusion Mineral Paint Colors
Fusion mineral paint comes in a large variety of colors. There is literally a perfect color for any project that you have in mind.
I had my heart set on a version of white or grey ( shocker I am sure lol). They had many options to choose from and made it hard to choose.
I highly recommend watching the color comparison videos on the fusion mineral paint website. We found this video very helpful when making my selection.
I also recommend getting samples of each of the colors. Mineral fusion paint offers small samples of each color. Even though they are small the paint covers so well that you would be able to paint a small project with it. Think picture frame, small stool or even a small side table.
In the end I sampled three colors on the actual piece of furniture in the space. This is the best way to sample paint colors. The three colors I reviewed were Lamp White, Champlain and Goddess Ashwagandha.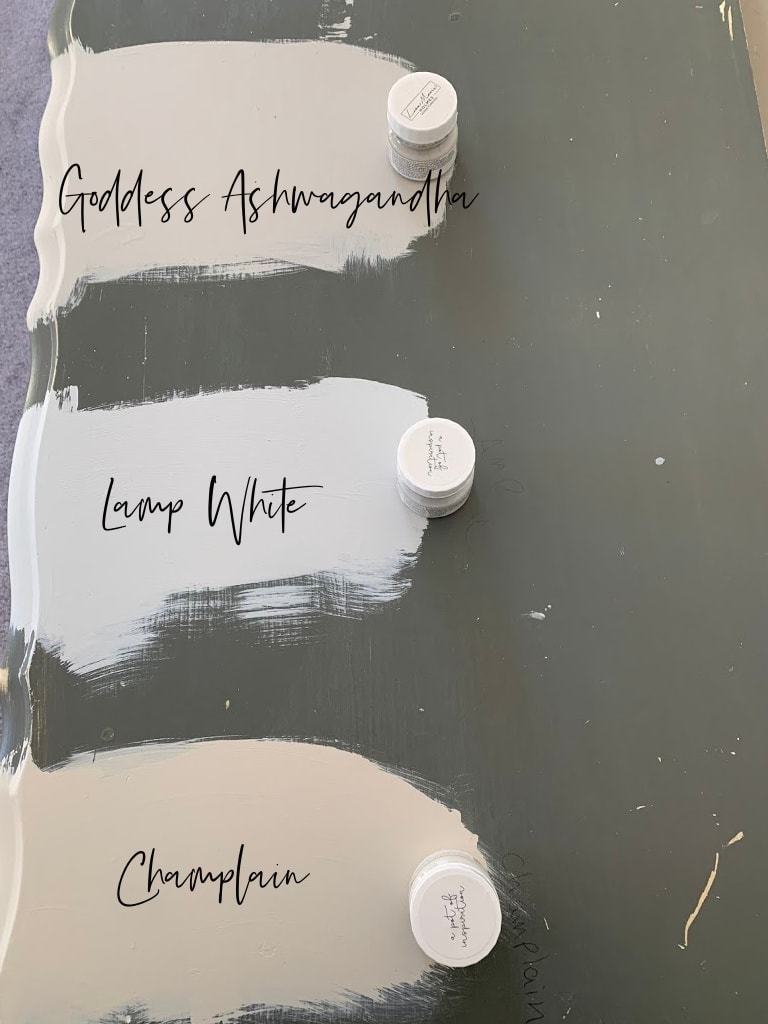 " Affiliate links provided for your convenience, please read my disclosure for more information."
The first color we tested was lamp white. Lamp White is described as a neutral cool white with subtle hints of grey. Similar to how white furniture would look after years of lamp oil use.
I actually thought this was going to be my top pick and the perfect color for our nursery dresser. But it ended up reading a little too much of a cool grey.
It had a blue undertone that just wasn't what we were looking for. Still a beautiful color just not right for our project.
Up next we sampled Champlain. This is one of fusion mineral paint's most popular colors. It can be described as a neutral warm white that goes with anything.
I actually loved this color but it was reading a little too warm next to our slightly warm simply white walls. It had more of a yellow undertone than I was hoping for.
I will note that we ended up using this for a different project and against grey walls it pulls more grey than yellow. This is why I always say how important it is to test a color in the space that it will be going in.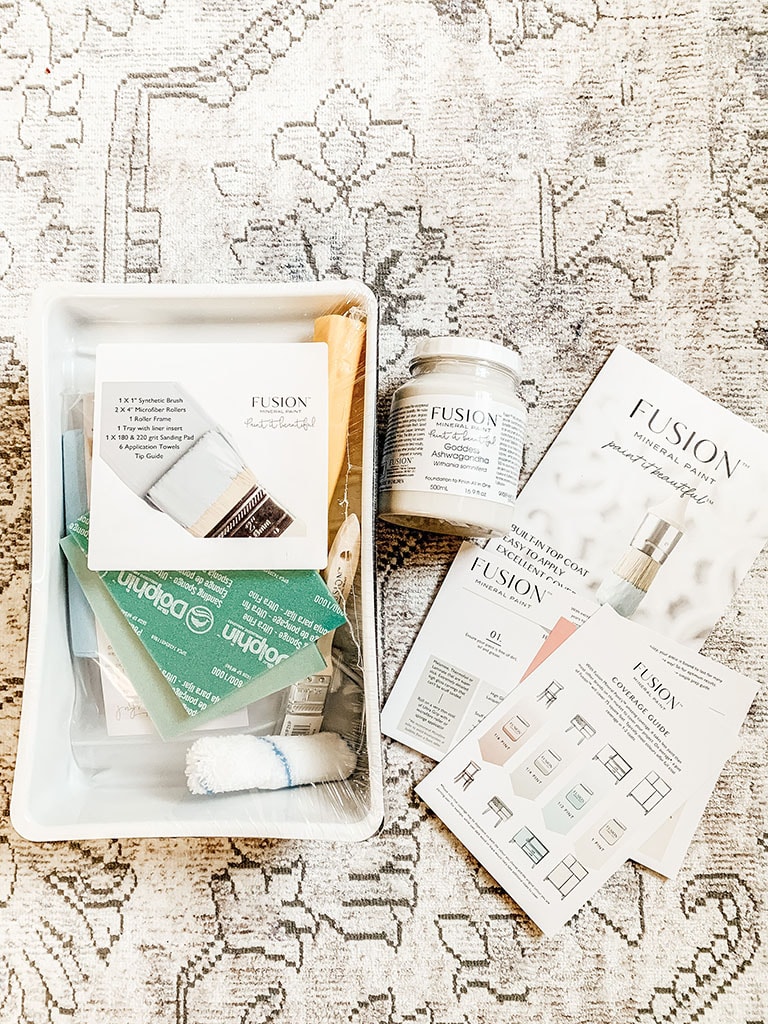 The final color we sampled was Goddess Ashwagandha. This color is part of their Lisa Marie Holmes collection. It can be described as a grounding neutral that is light, warm and airy. The color was inspired by the root of the Ashwagandha herb.
I fell in love with this color. Just like described, it's light and airy. In some lights it looks more white and in others it is a nice warm grey.
It was exactly what I was looking for. Our nursery walls are white and I wanted some contrast but not too much and this ended up being the perfect color.
I actually put a poll up on Instagram and this was my audience's first pick too. If you're not following me over on Instagram, you can find me here. I share the behind the scenes of many of our projects and love including my audience in our decision process!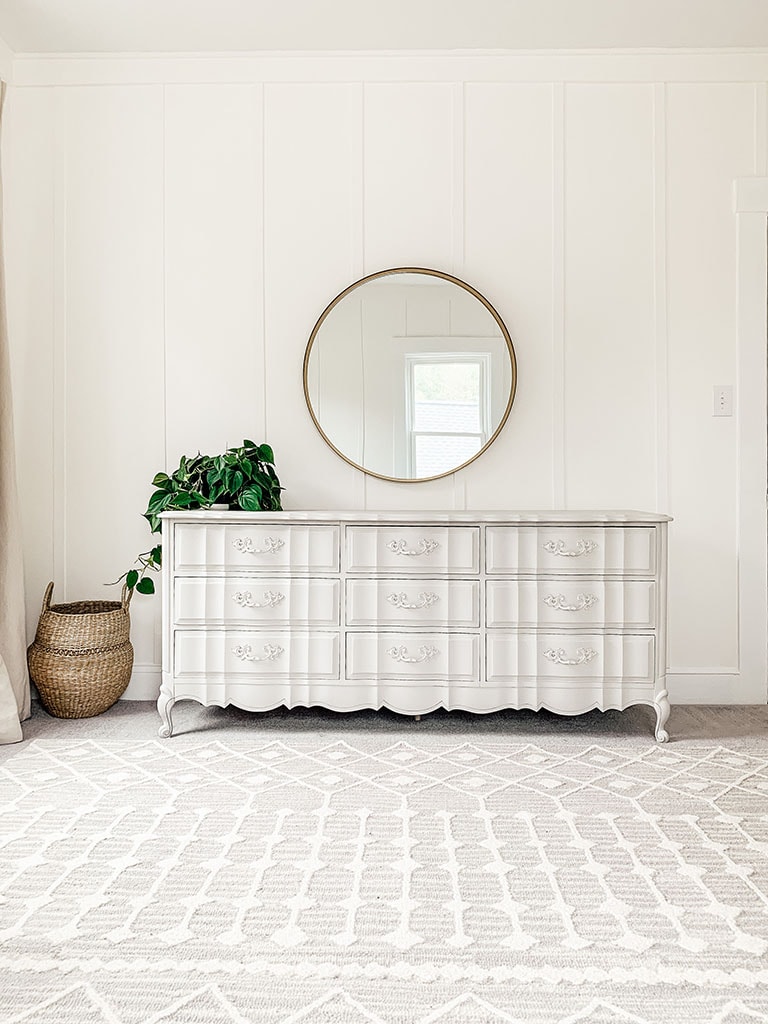 How to Paint Furniture Using Fusion Mineral Paint
We followed the recommendation by fusion mineral paint. You can watch the videos here. Below is what we did step by step:
Step One: Clean all Surfaces & Remove Hardware
The first thing we did was remove the hardware. Then we pulled out all the drawers and gave the entire piece a good clean. I used Thieves household cleaner and a microfiber towel.
You want to make sure you get any grime and dust off before you get started.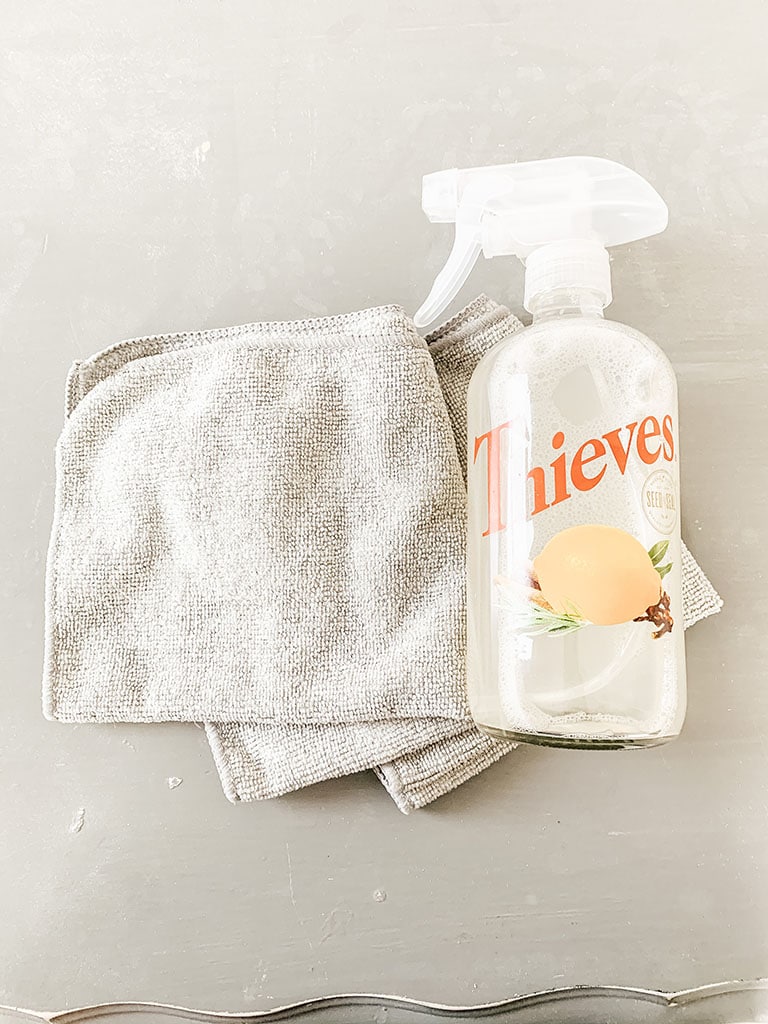 Step Two: Sanded Surfaces
Our dresser had some old paint that had a little bit of a shiny finish, so we sanded both the drawer faces and the dresser with 220 grit sandpaper. This was just enough to take off a little bit of the finish that was on the previous paint and give the mineral fusion paint a good surface to adhere to.
After we finished sanding we wiped all the surfaces again using the same Thieves cleaner and towel.
Do you need to sand before using fusion mineral paint?
One of the biggest questions I hear when it comes to painting furniture is do you have to sand or do prep work before.
When using Fusion Mineral paint you do not always have to sand. If you are working with a piece of furniture that has old paint or a dull finish you do not need to sand.
Fusion Mineral paint has a great article on their website that tells you exactly how to prep your piece based on the material. You can read that here.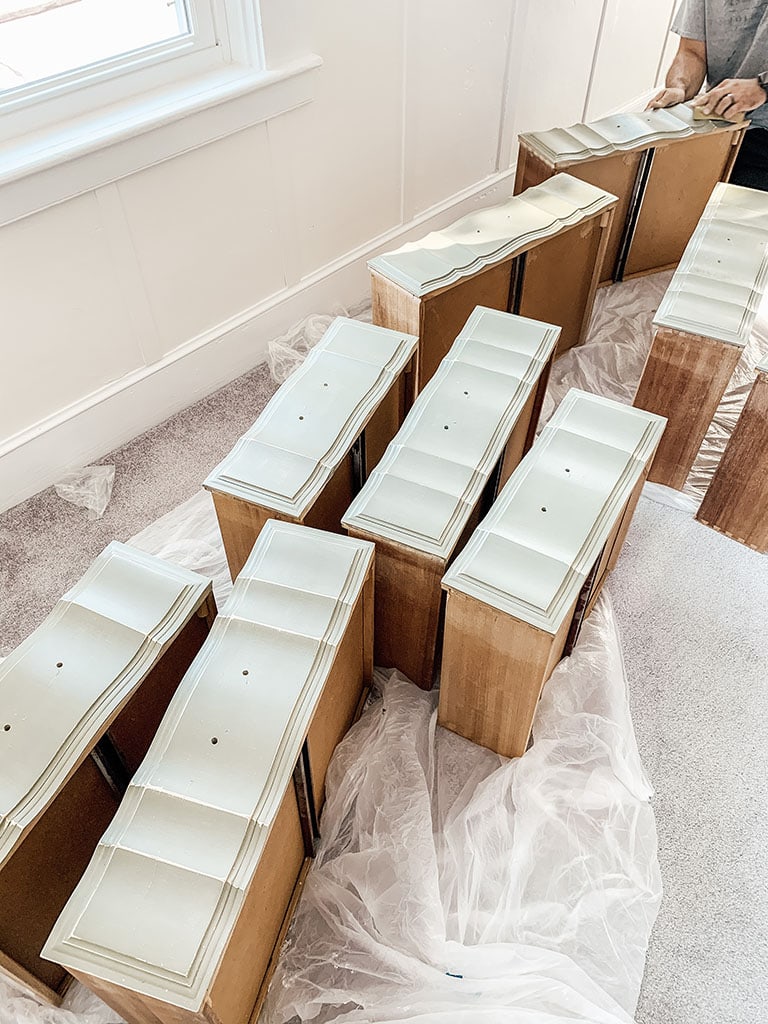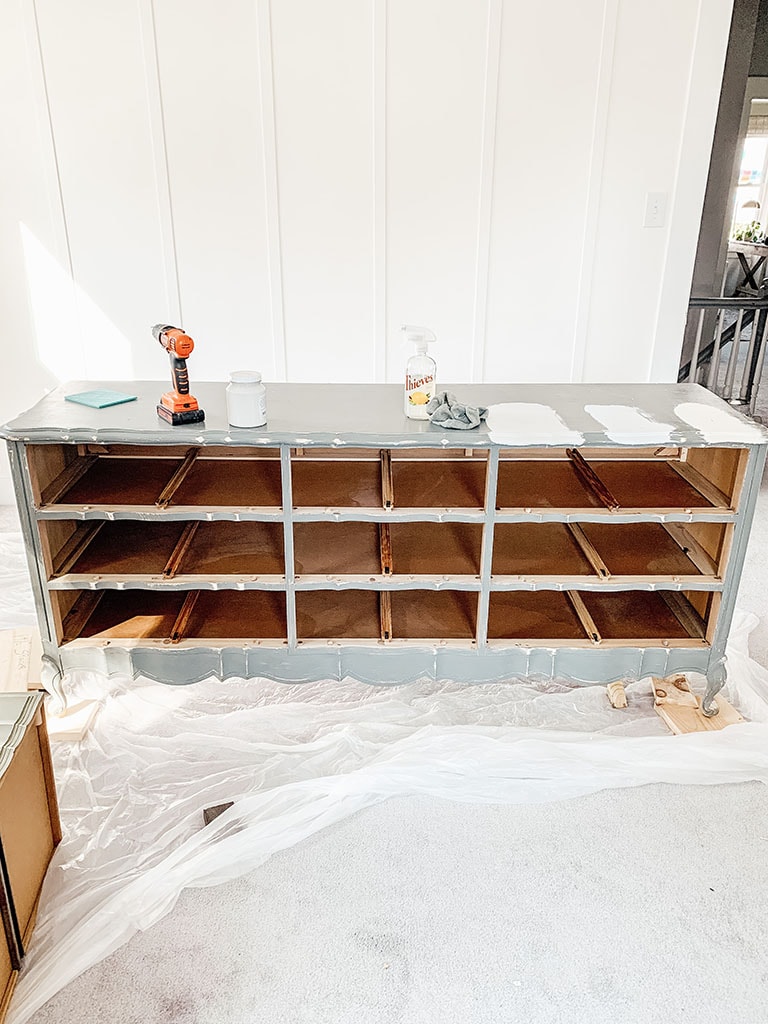 Step Three: Paint Furniture ( 3 coats)
Once our surfaces were all prepped we started painting. Fusion Mineral already has a primer built into the paint so all we had to do was shake up the paint container and get started.
I worked on the drawer faces. I found that using a 1 inch brush worked perfect for getting into all the grooves. The paint goes on very easy. You do not need a lot of paint to get good coverage.
My husband painted the dresser itself using a 2 inch synthetic bristle brush. We both found that doing very light layers worked best. This approach gave us a very smooth finish without any drips.
We ended up doing 3 coats to both the dresser and drawer faces. This gave a nice even finish. A light or white paint color is going to need more coats. If you are using a dark color you can probably get away with 1- 2 coats.
Once we completed all three coats and let it dry overnight we felt like the top could use one last coat. We sanded the top with 400 grit sand paper and painted on one last coat. This gave us a nice smooth finish.
Again Fusion has great resources on their website for a detailed tutorial check out this page.
Should you sand between coats of fusion paint?
You do not need to sand between coats when using fusion mineral paint. If you want a super smooth finish for the top of your piece you can do a light wet sanding at the end. This will eliminate any brush strokes.
Do you have to seal fusion mineral paint?
Fusion Mineral paint has a built in top coat that protects against water damage. If you are putting your piece in a high traffic area then you will want to add a top coat for extra protection. If not you do not need anything extra.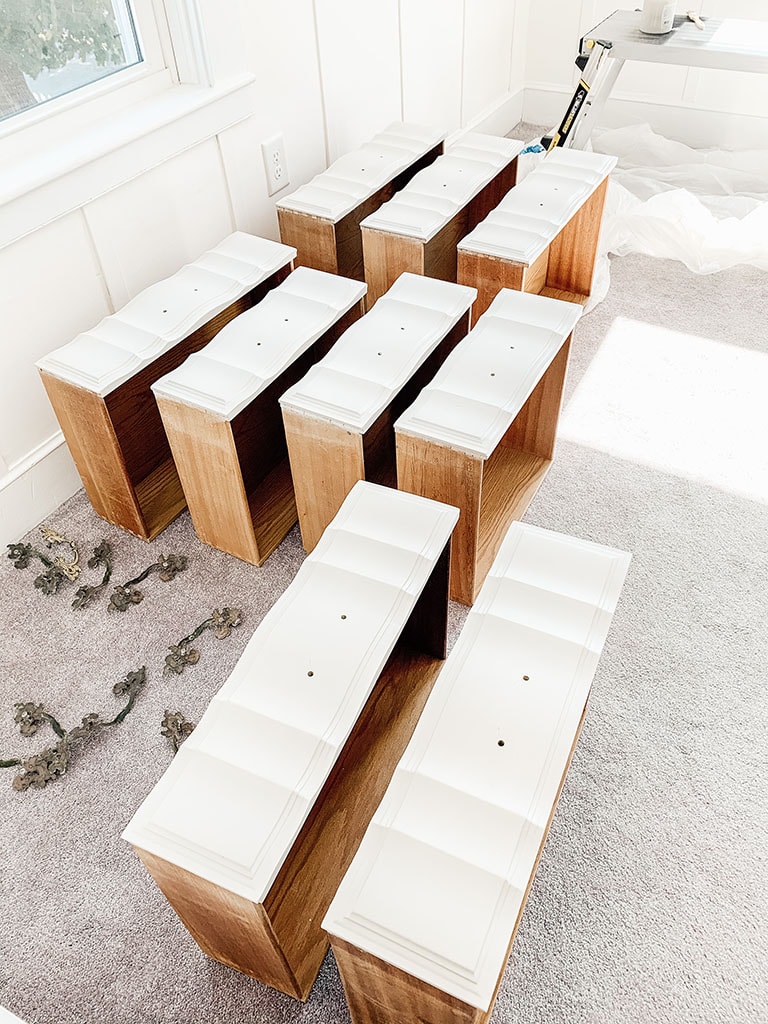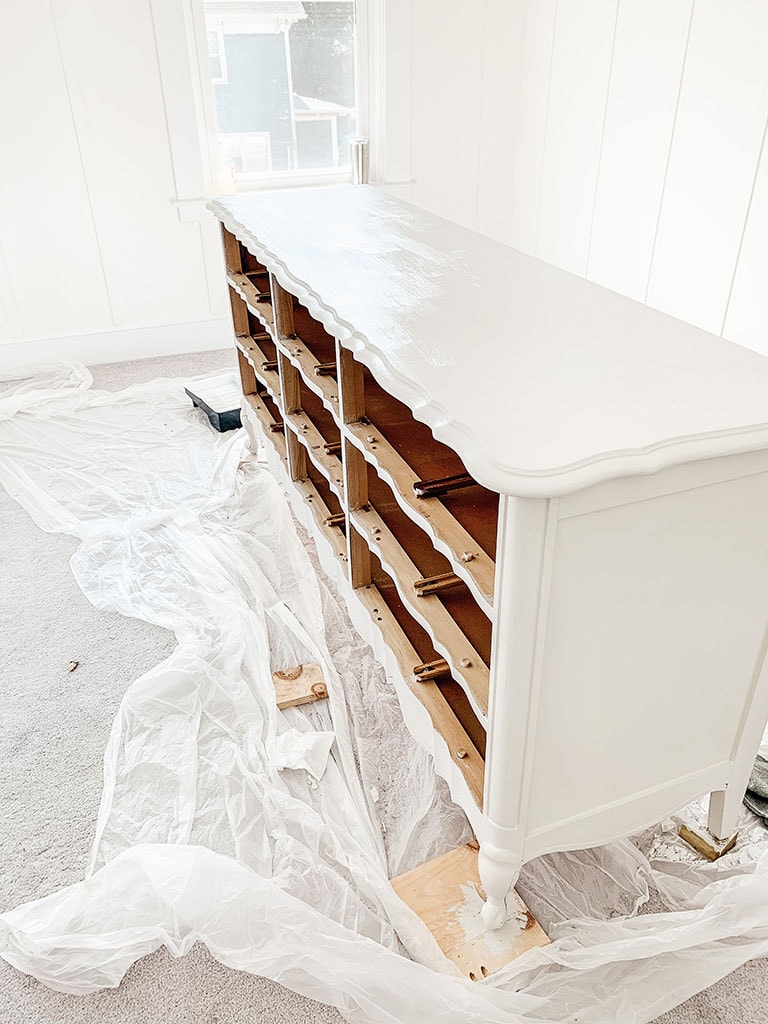 Step Five: Painting Metal Hardware with Fusion Mineral Paint
The last step was to paint the hardware. I wanted the hardware to match the dresser. So I used my Goddess Ashwagandha mineral paint and gave all the hardware two coats of paint.
The paint worked great on the metal hardware. I was unsure that it would work but was pleasantly surprised how versatile this paint is.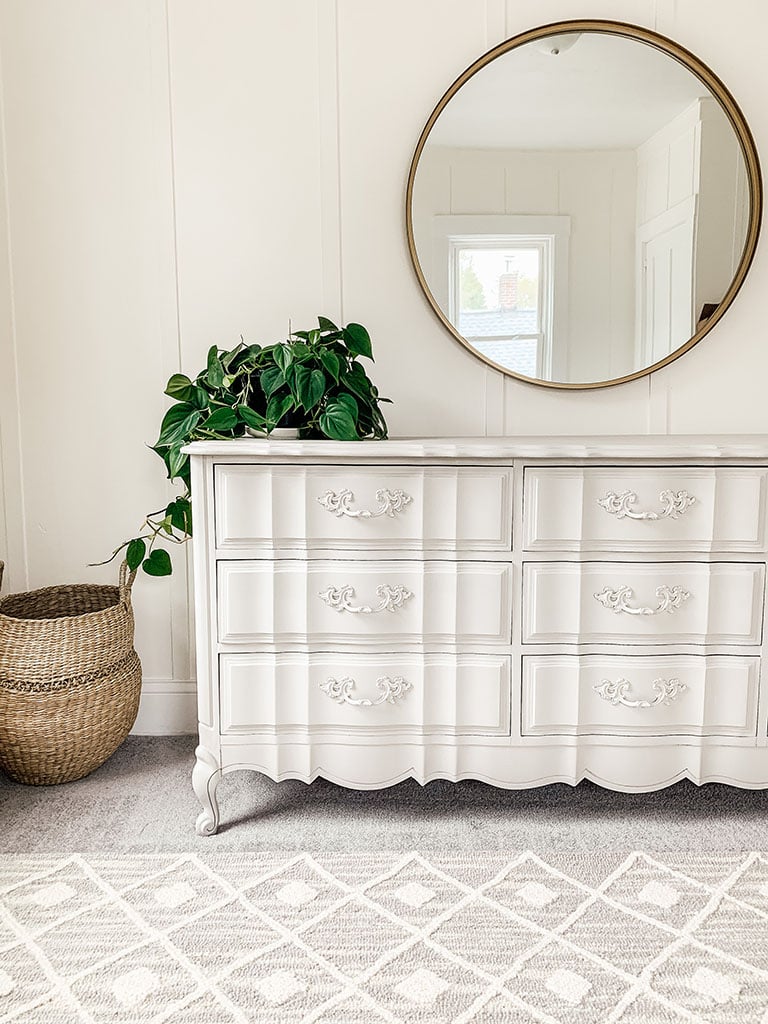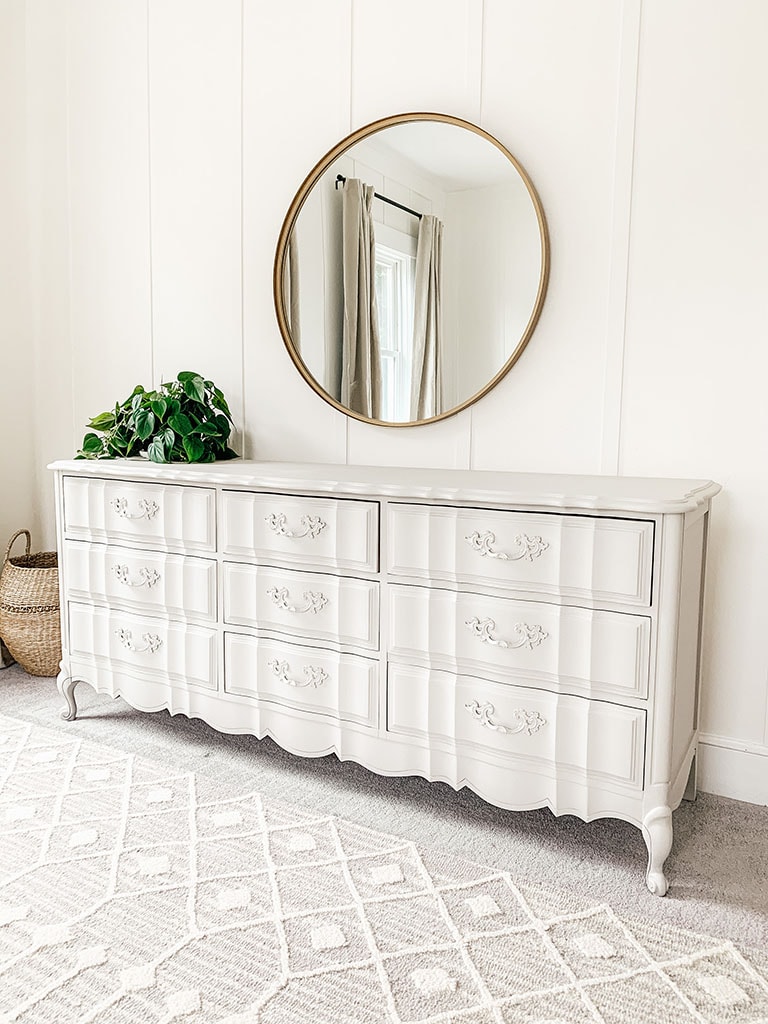 Fusion Mineral Paint Review
It is so easy to work with. We are no painting pros and we were able to create a beautiful piece with ease. I believe this is due to the self leveling properties that this paint has. It makes it so easy to get a great finish. Even when you have no experience painting furniture.
You do not have to spend hours prepping your piece. This paint has a primer and top coat built right in. It also provides great coverage without having to do a ton of coats. I love how easy it was to completely transform this dresser.
Another one of the things I love about Fusion Mineral paint is that there is absolutely no smell. You can paint indoors safely. It is an eco friendly paint with no formaldehyde or ammonia and very low VOC. This is so important to me but especially while I am pregnant. I was able to assist in painting the dresser with no worries.
Overall we love how this project turned out and I think Fusion Mineral Paint has become our new favorite paint.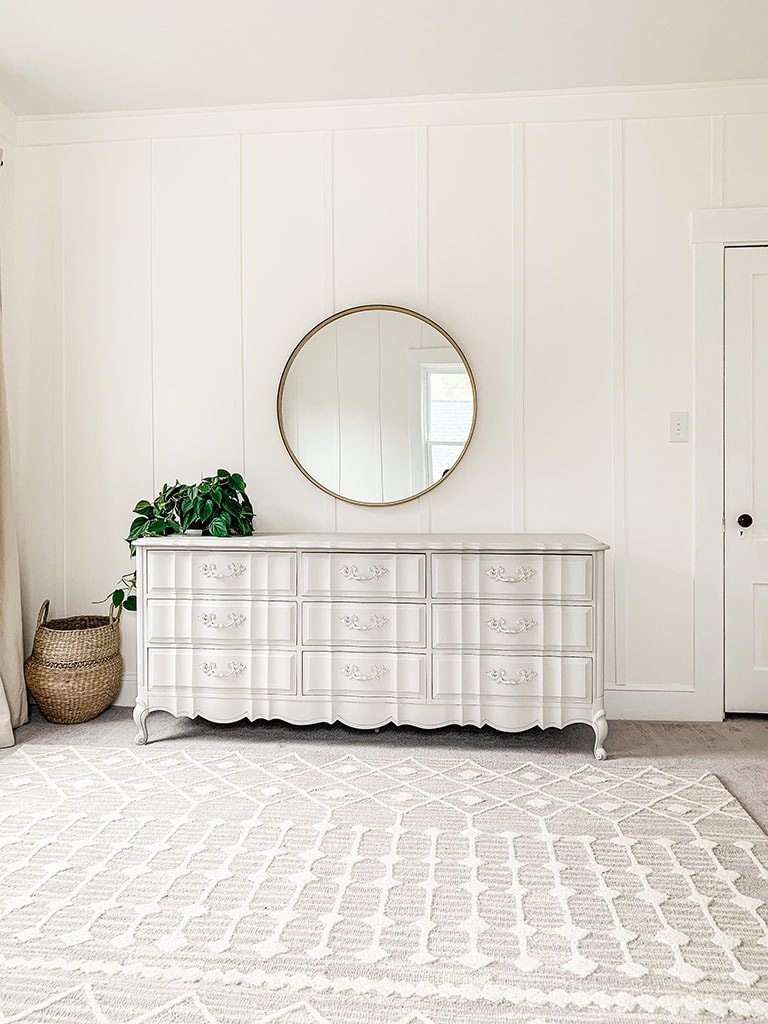 Where to Buy Fusion Mineral Paint
Fusion Mineral paint is sold at a variety of retailers including Amazon! You can find the full list here.
What to Read Next:
Gender Neutral Nursery-Style Board
DIY Dining Room Table Makeover
The Best Farmhouse Paint Colors
Want to save this for later? Post this Fusion Mineral Paint Review to your favorite Pinterest Board!