In this post, I will share our new home office guest room combo. This room is the perfect setup for two workspaces as well as a sofa bed for guests.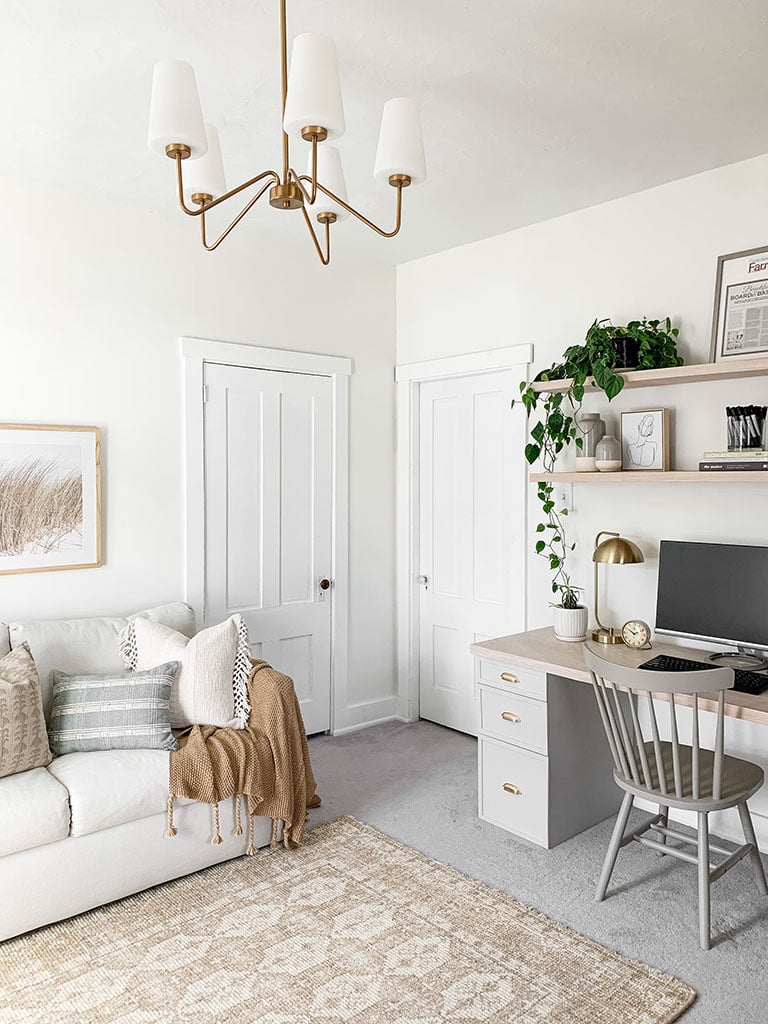 We recently welcomed another little love into our family. In order to accommodate another nursery we needed to do a little rearranging of our bedroom setups. We have a four-bedroom house; the primary, a room for my oldest, a home office, and a guest room.
In addition to the nursery, we really needed a dedicated home office as both my husband and I work from home. My current home office (a space that we completed a couple of years ago you can check it out HERE, ) is too small for both of us so we decided to use that space for the nursery and our guest room for the new office.
The only problem is that we also needed a guest room and possibly a workout space. So at this point, we felt like we were running out of rooms.
We only had one bedroom left to accommodate everything. Here are some things we took into consideration when designing our space. You may be considering these as well;
Is a Guest Room Worth It?
The first thing we asked ourselves is, do we really need a guest room? Is this space worth it for our family's needs?
The first thing to consider is how often are you hosting guests. Do you have a guest who stays at your home multiple times per month? In this case, you may need a dedicated bedroom devoted to just guests.
In our case, we host guests very occasionally. Maybe a couple of times a year, If we go out of town and have someone house-sit. Because of this, we were not willing to completely eliminate a guest space altogether.
We found that instead of dedicating an entire bedroom to just guests we were better off creating a room that serves multiple purposes.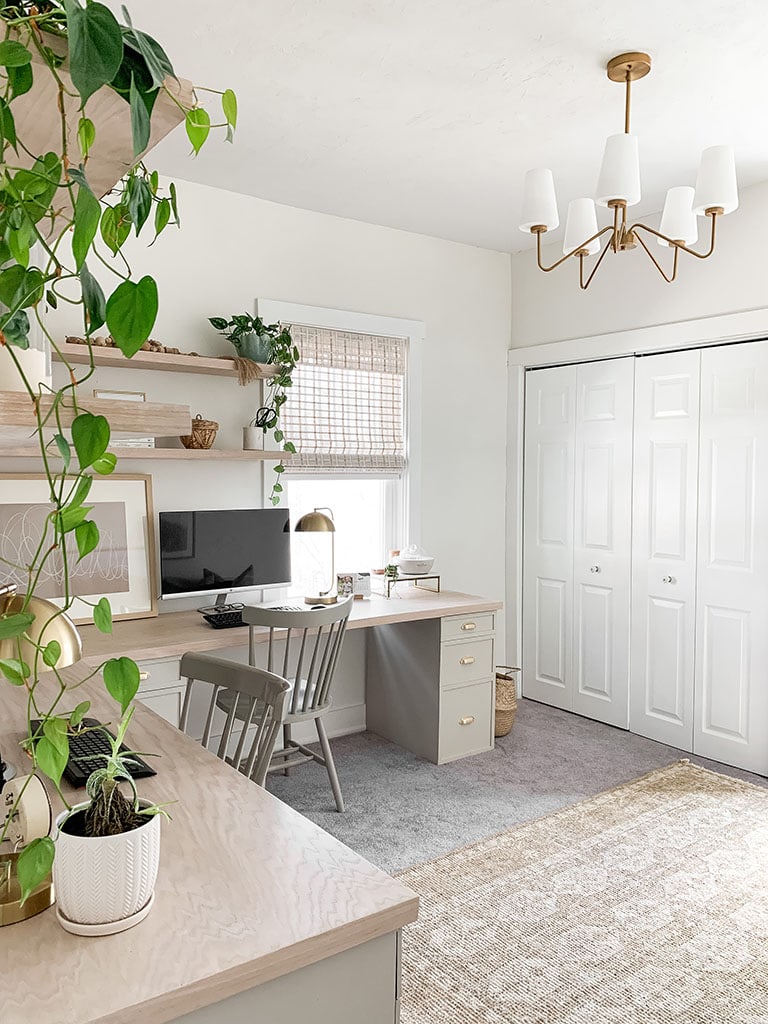 You can shop all the products from our office guest room design at the end of the post.
"Affiliate links provided for your convenience, please read my disclosure for more information."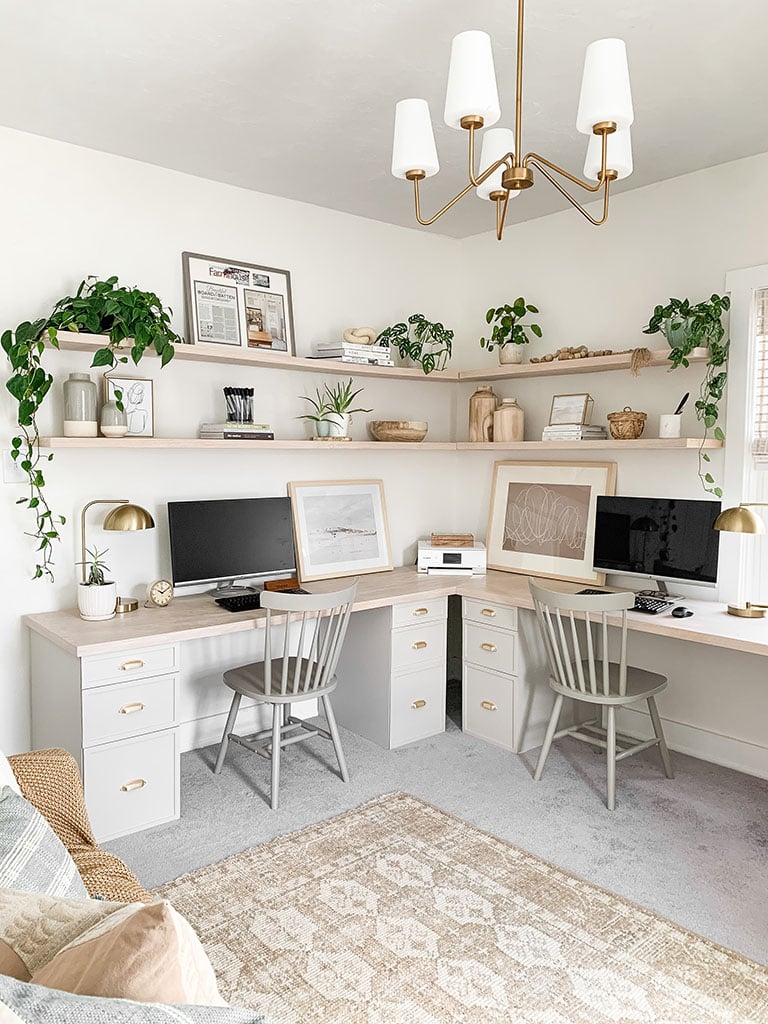 How to Combine a Home Office and Bedroom
Now that we determined that a guest room works best when it serves multiple purposes. We needed to figure out how to combine our home office and guest room.
If you have a space that is large enough you may be able to accommodate a full bedroom set and a nice desk. Our space was just too small to accommodate both functions at all times.
We needed our space to be mainly an office for two and sometimes a guest room.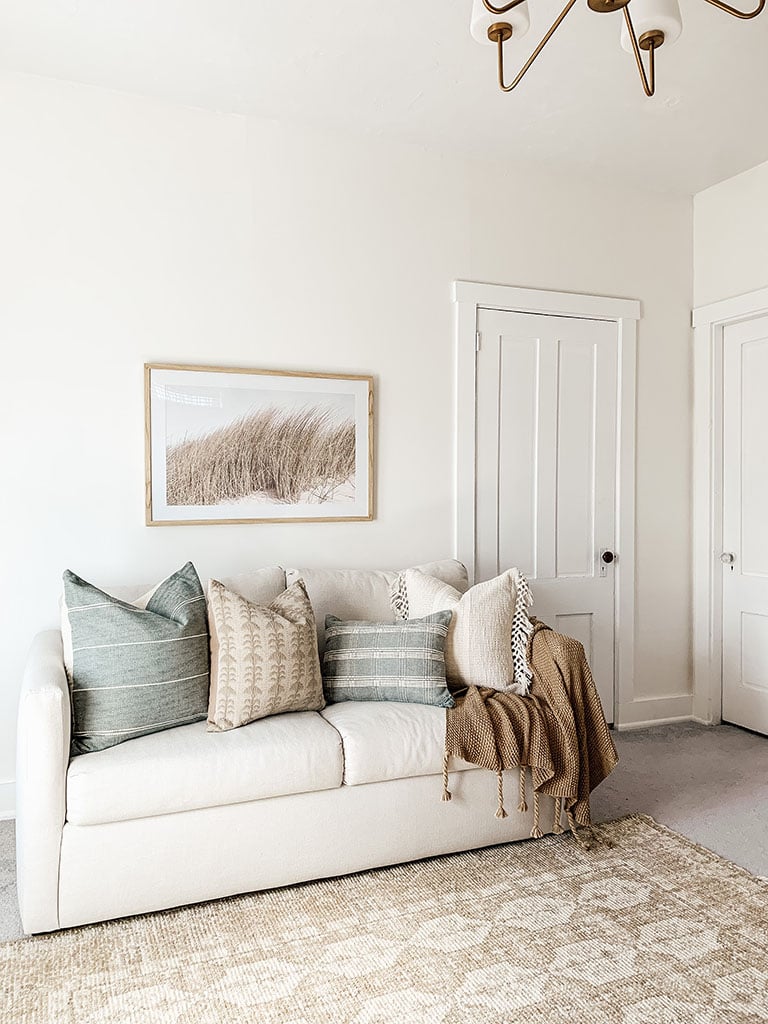 Home Office with Sofa Bed
We decided that the best option for that would be to use a sofa bed. This allowed us to have a nice office layout, plenty of floor space, and a sofa for lounging. When we have the occasional guest we can pull out a full-size bed from our sofa and still have enough room to walk around.
We went with the Godwin 69″ Square Arm Sleeper for its modern look and compact size. The sofa itself is very comfortable. Our guests have had no complaints about the comfort of the bed. We added a nice mattress pad for extra comfort.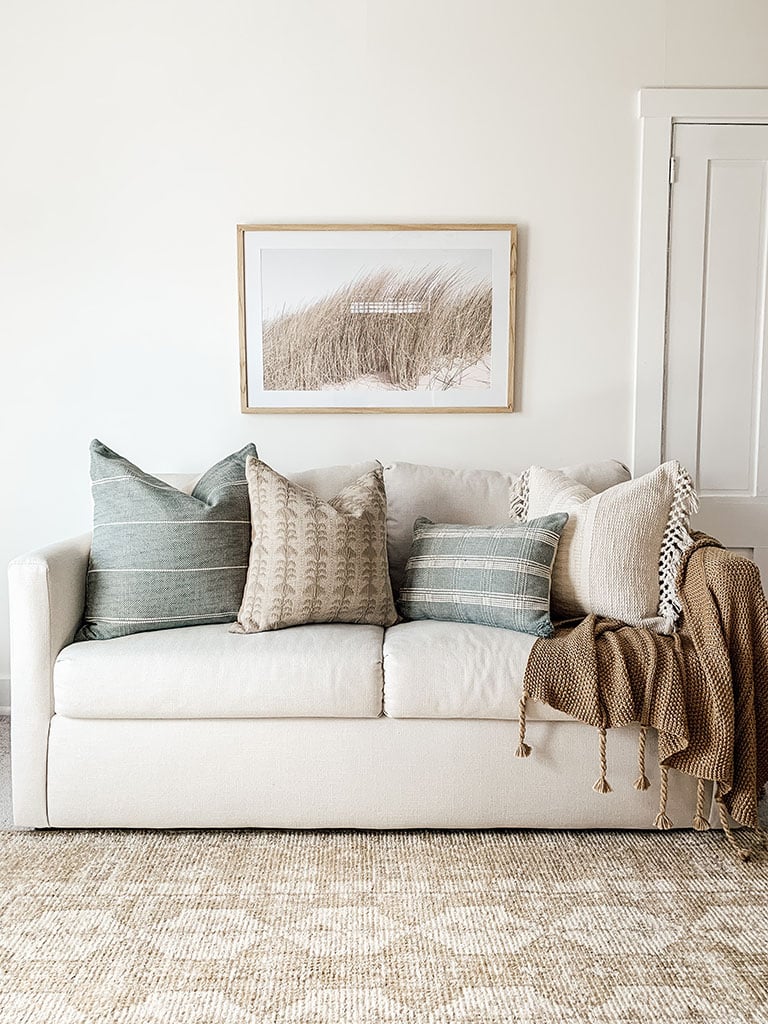 Godwin 69″ Square Arm Sleeper / Home Office Rug / Wall Art  / Block Print Pillow Camel / Windowpane Throw Pillow / Plaid Pillow with Tassel Zipper / Textural Woven Pillow with Trims Cream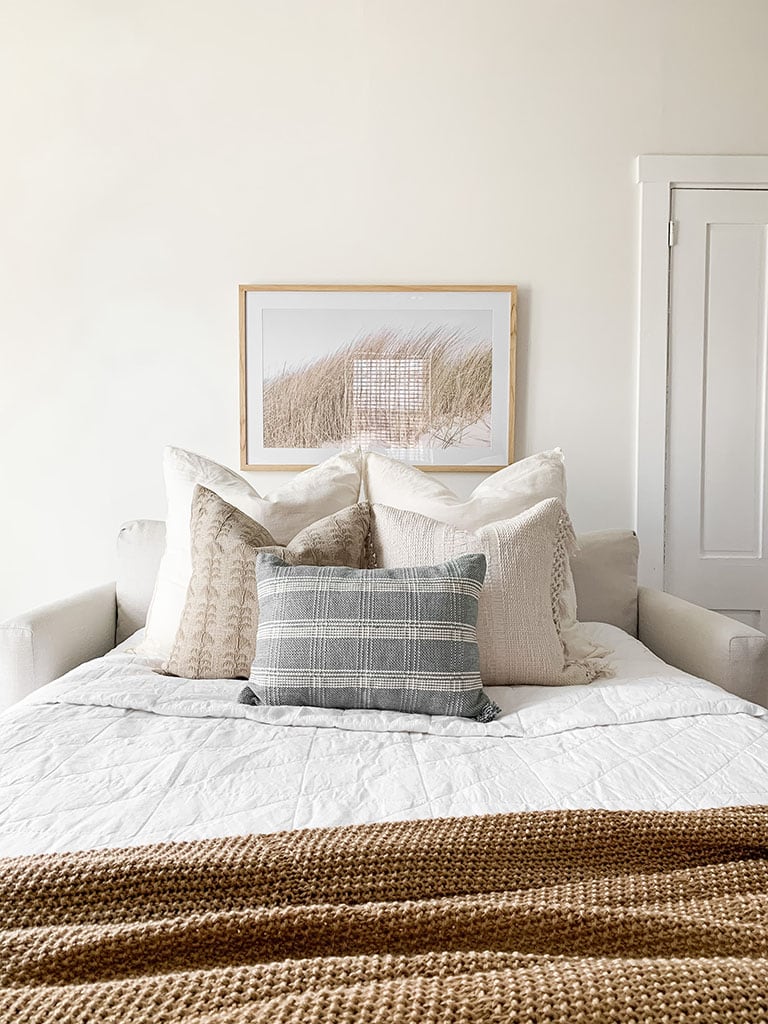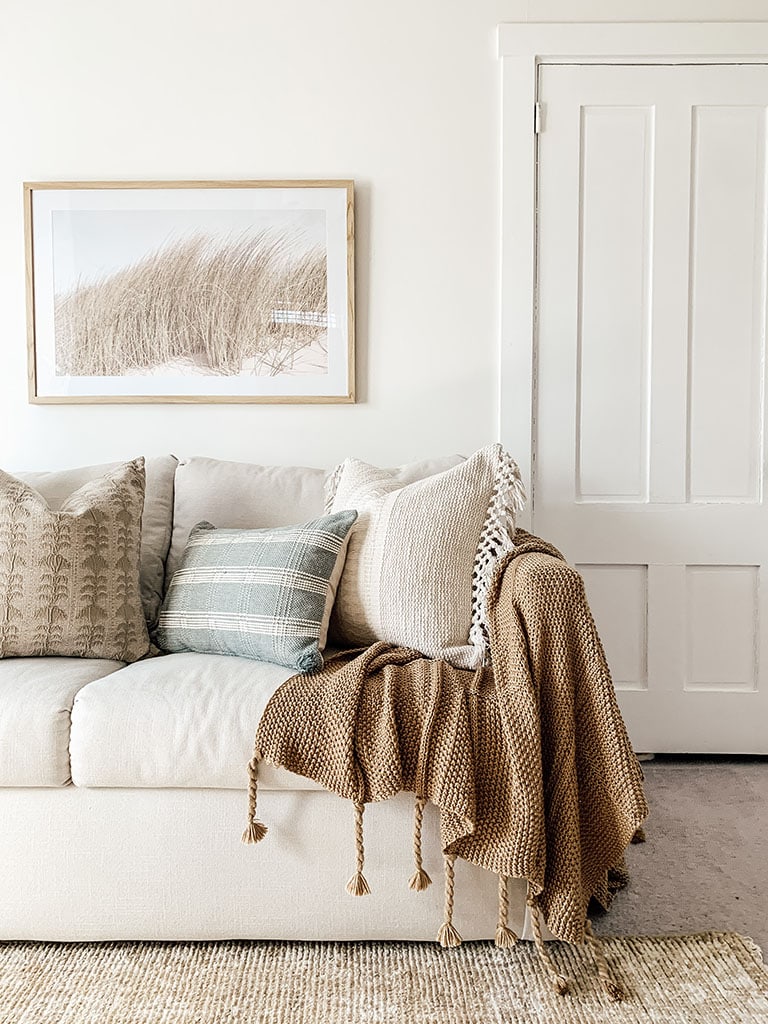 How to Set Up a Home Office for Two People?
Once we had decided on an office guest room combo we needed to determine how we were going to fit the both of us in one office.
There are a few different ways to set up an office for two people; an L-shaped desk, an extra long single desk with two workstations, two separate desks on opposite walls, or two separate desks facing each other.
Since our space needed to accommodate a sofa bed that would need clearance to pull out, we decided to go with an L-shaped desk.
This allowed us to each have our own individual workspaces. Since the desk is along the perimeter of the room it left enough clearance for a sofa bed to be able to pull out.
DIY L-Shaped Desk Tutorial
Once we decided on an L-shaped desk we decided that we wanted to build it ourselves instead of hiring a builder. I am sharing all the details on how we customized our desks in a separate post. You can find the link below.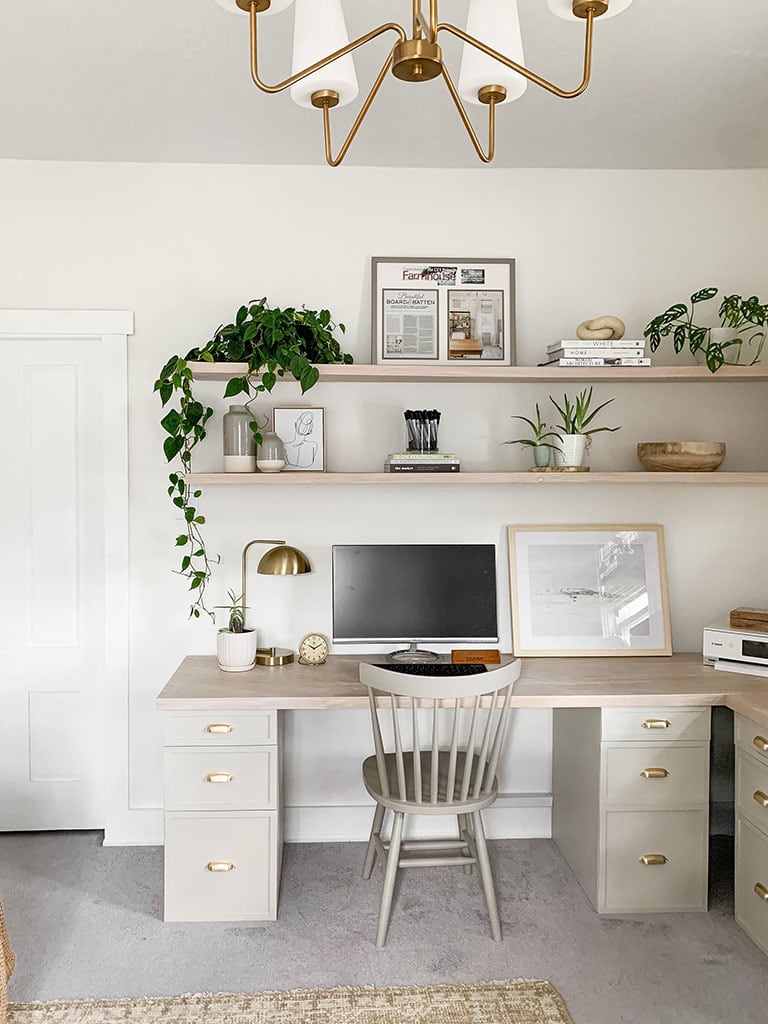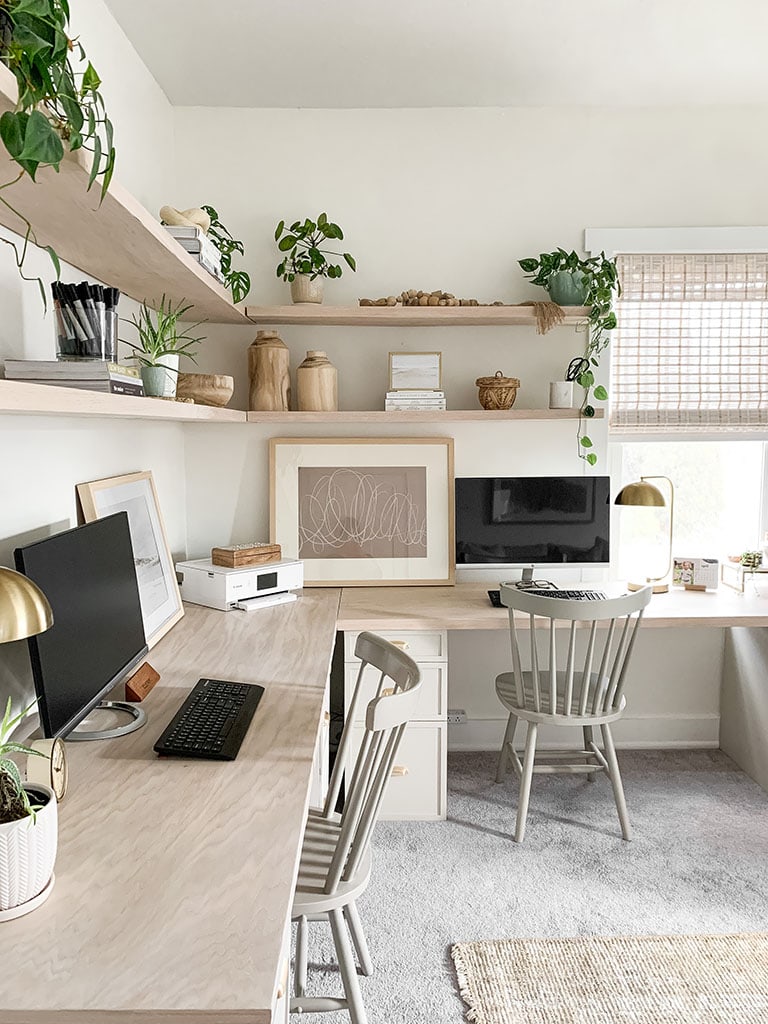 IKEA Alex Desk Hack / Gold Drawer Pulls / Brass Task Lamp / Beach Wall Art / Scribble Art Print / Window Shades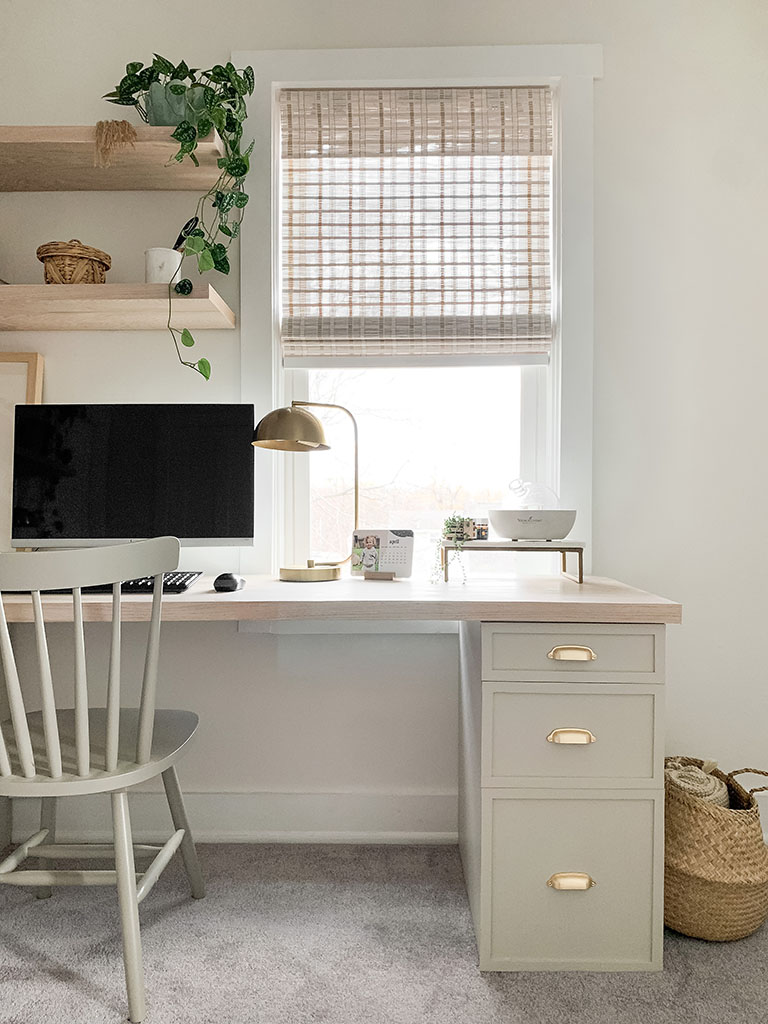 Home Office, Guest Room, Home Gym Combo?
I mentioned earlier in this post that not only did we need a home office for two and a space for the occasional guest we also wanted a workout space.
Due to our layout, we were able to fit an elliptical in the corner. Since we are using a sofa bed instead of a traditional bed we have plenty of floor space to do a workout.
I am so happy with how this space turned out. We were able to take our fourth bedroom and really maximize its purpose. It is now a multifunctional space that is thoughtfully laid out to accommodate all the functions we hoping for.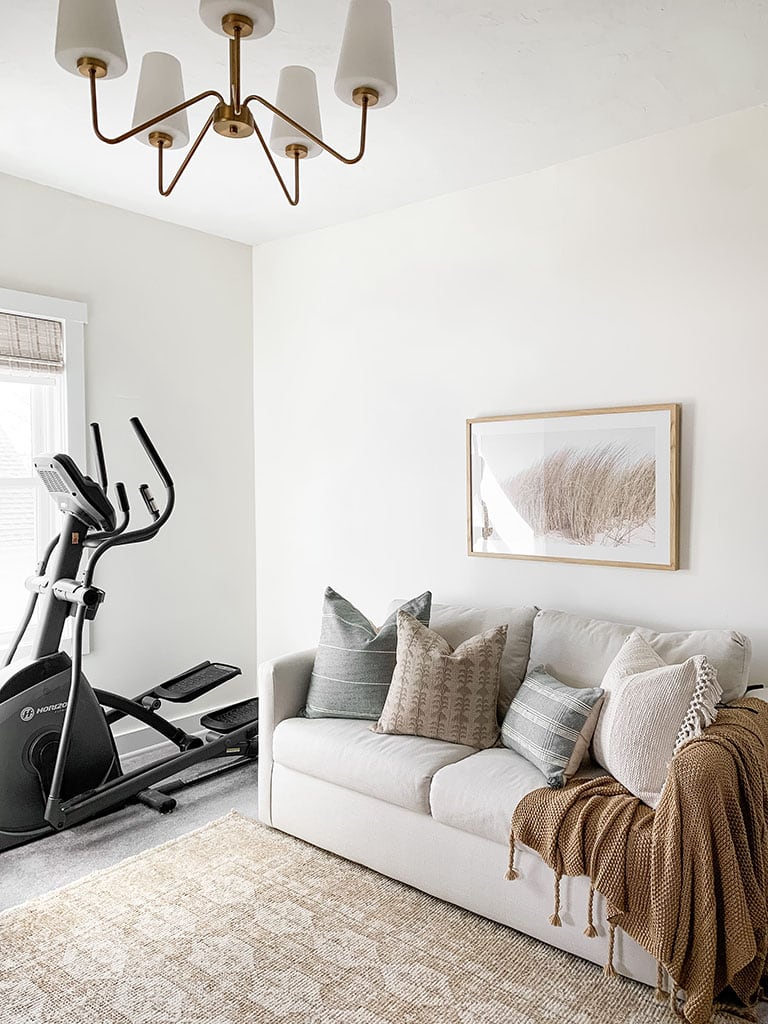 Light Fixture / Horizon Fitness Elliptical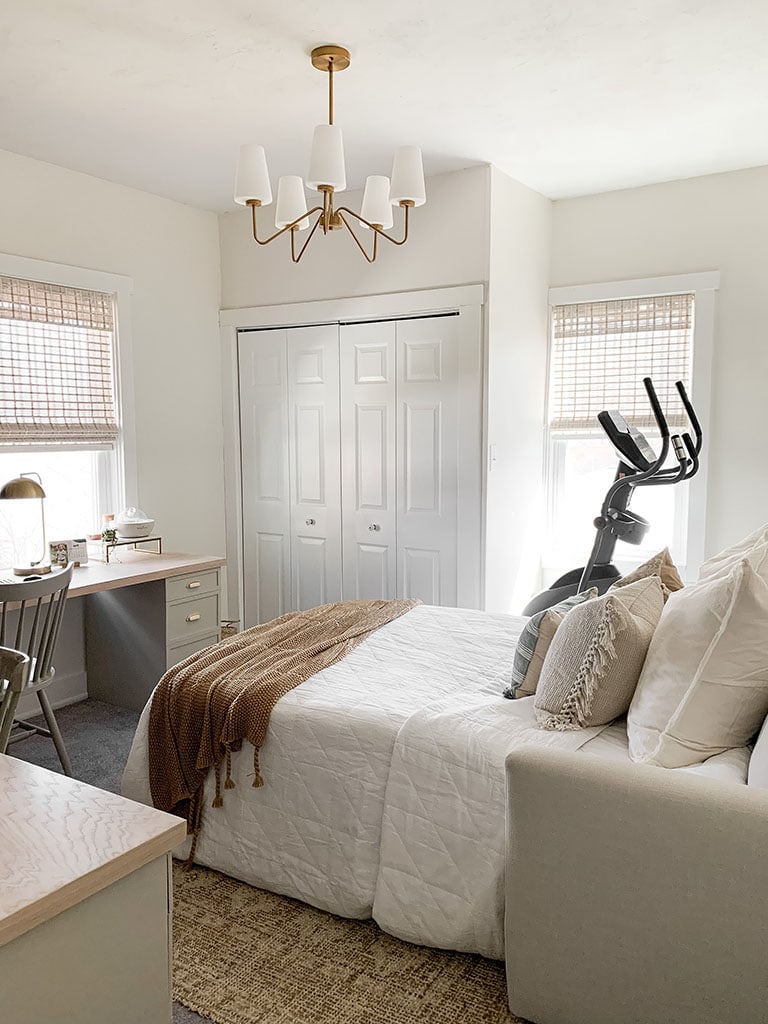 Shop Our Office Guest Room
Below are all the links to shop this post. Some Items are no longer available but I have linked similar items. Similar items will be noted.
Desk Details
Desk Chairs ( Similar)
24″ x 20″ Beach Landscape Framed Wall Art
Canon Printer ( Love this home office printer)
Shelf Details
DIY Thin Floating Shelves– Coming Soon
Wooden Vases ( Similar)
Wooden Bowl (Similar)
Limestone Knot ( Similar)
Canvas Art ( Similar)
Plants
Sofa Bed Details
Woven Block Print Square Throw Pillow Camel
Woven Plaid Throw Pillow with Tassel Zipper
Oversized Woven Windowpane Square Throw Pillow
Textural Woven Throw Pillow with Trims Cream
Windowpane Knit Throw Blanket with Tassels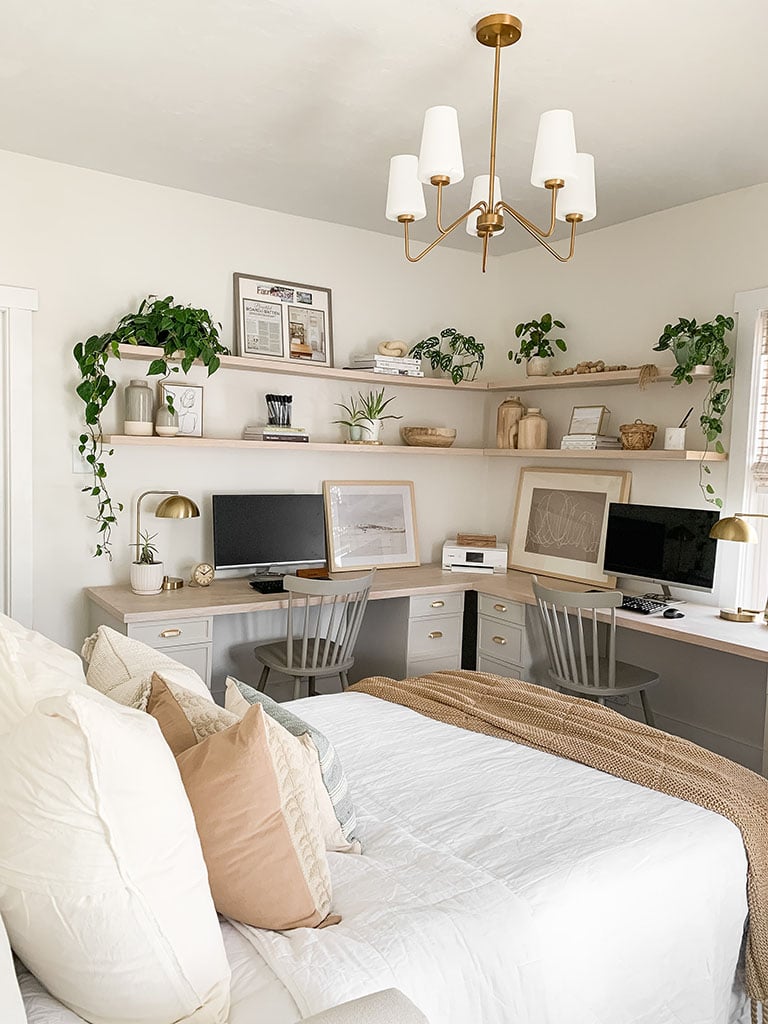 What to Read Next:
Want to save this for later? Post this Home Office Guest Room Design to your favorite Pinterest Board!