Our home office design reveal is finally LIVE! Sharing all the details in today's post.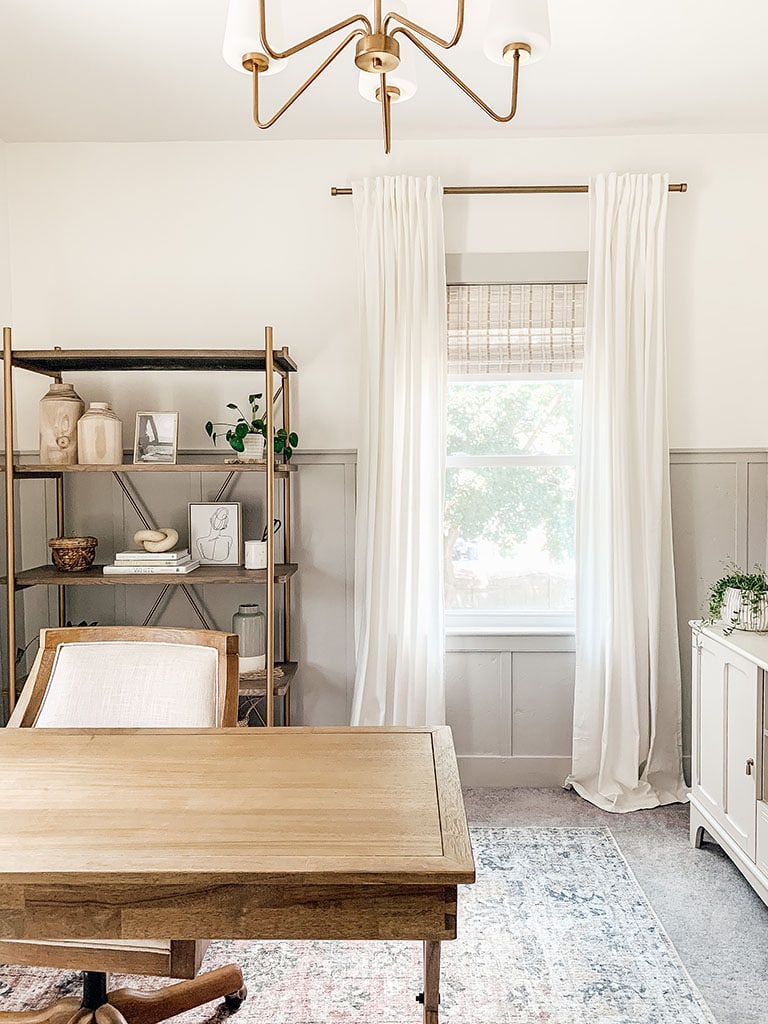 I am so excited to share our home office. This started out as quarantine project. But took a little longer than expected due to product delays etc. but I am so happy that it is complete.
I start every room project with a style board. If you missed the post with our home office style board you can find it here. This pre-planning stage is so important. It helps you get a full vision for the room before you spend any money. If you look at the board vs the actual room its pretty spot on.
One of the bigger projects in this space was the skinny board and batten. It transformed the office and was very inexpensive. We love how it turned out and can't wait to add this detail in some of our other rooms. I have a post with the full tutorial included all the materials and paint colors. You can read all about it here.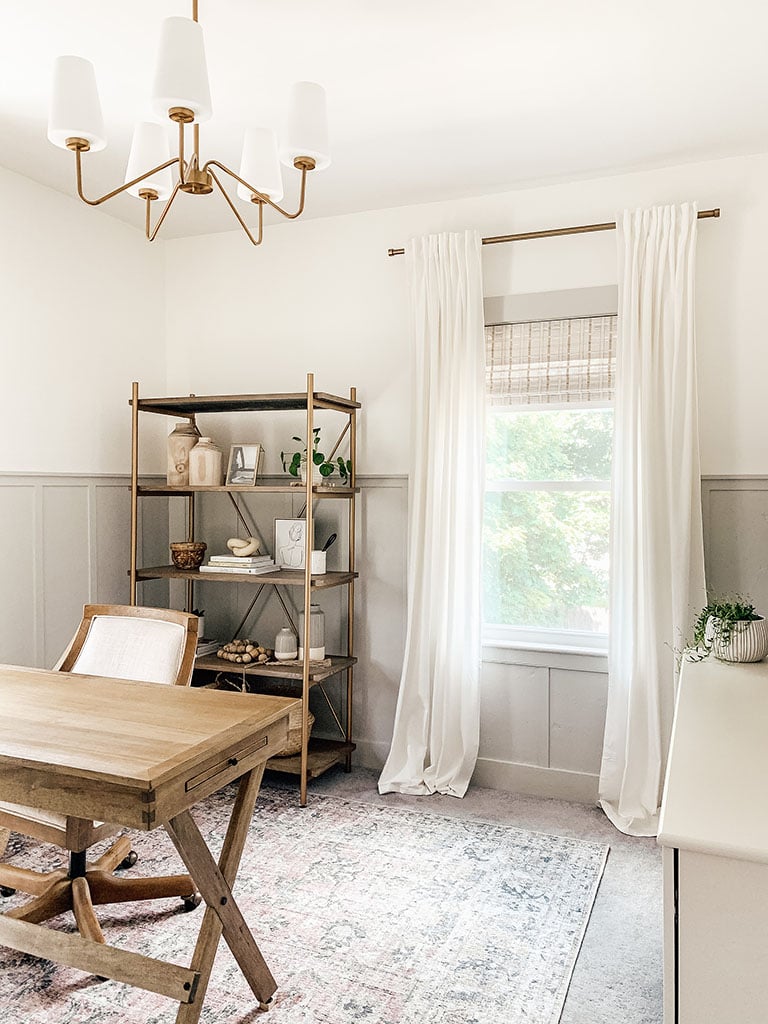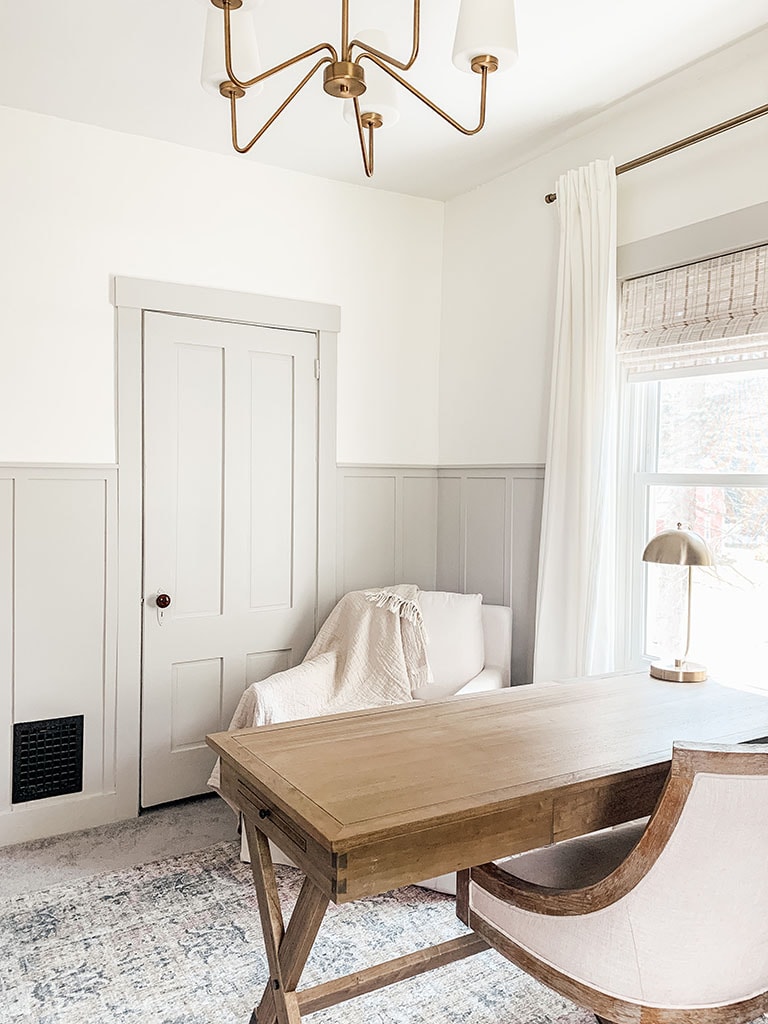 On to the reveal! Having a home office to do all things blogging feels like the next big step in growing my business. This space has become one of my favorites. There are so many elements that I love in this office and some key pieces that I think are super important for any home office.
I am going to share some of my favorite elements and you can shop the entire office at the end of the post.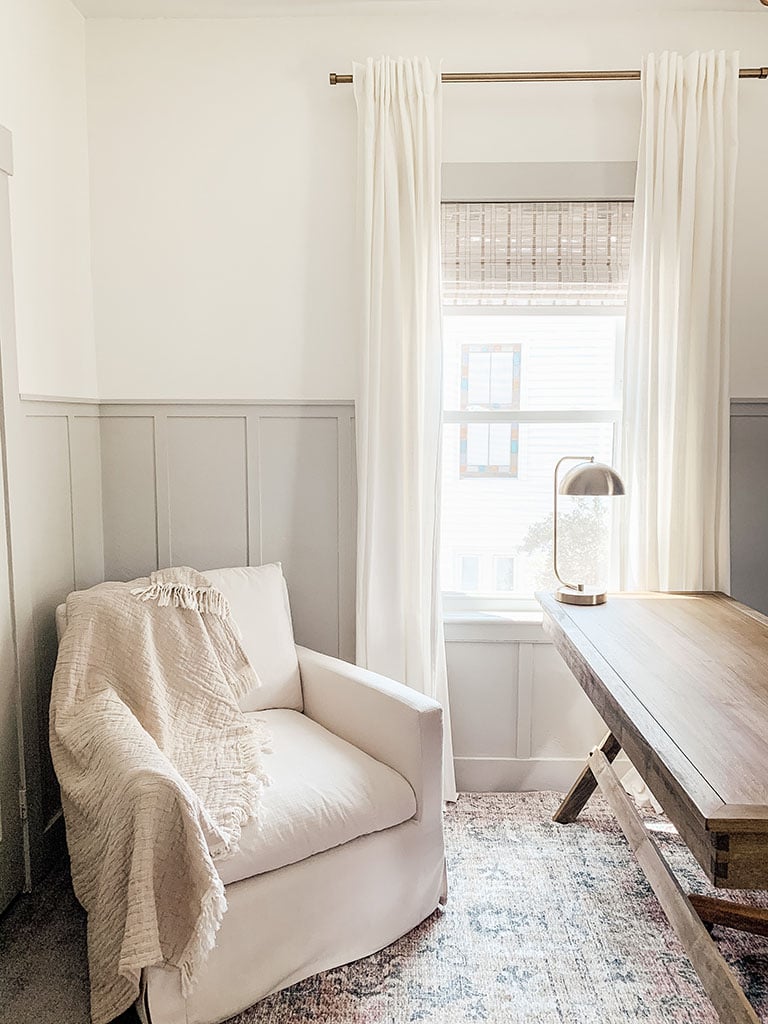 " Affiliate links provided for your convenience, please read my disclosure for more information."
The Chair
My favorite item in my entire office is this chair. If you remember a few weeks ago I was on the hunt for the perfect accent chair and I shared a round-up of some of my favorites. You can see them here. This one was at the top of the list and it did not disappoint.
It is super cozy and has become my favorite spot. The chair is nice and deep and has a swivel base. If you have the space I think having a cozy corner in your office is a must.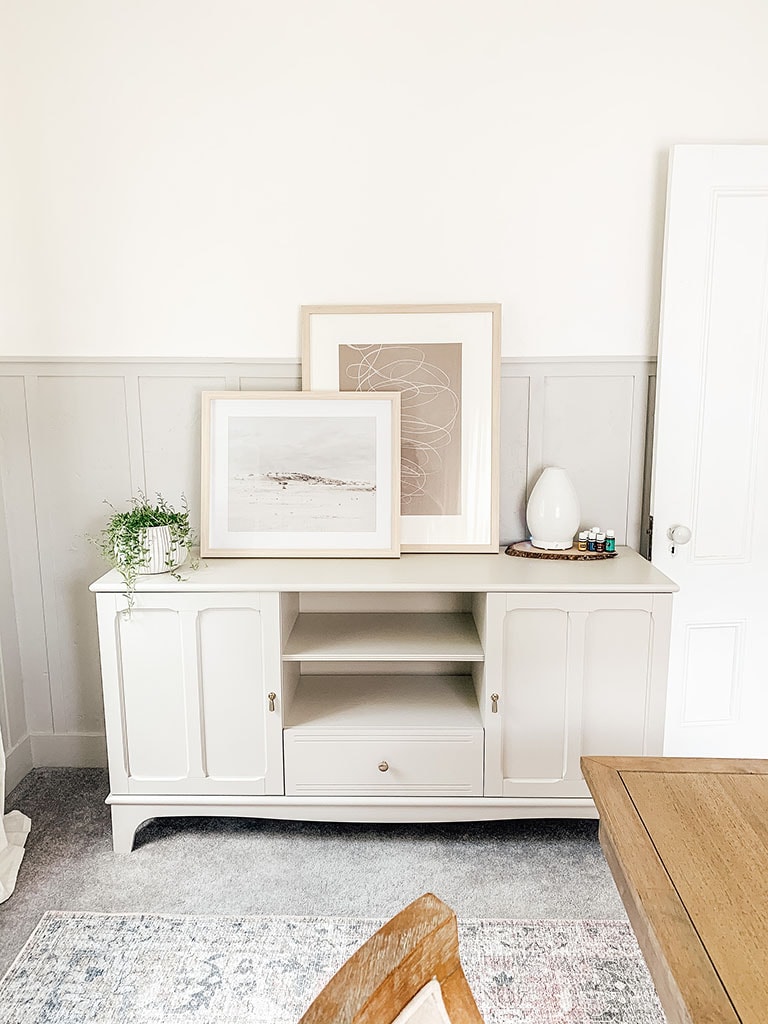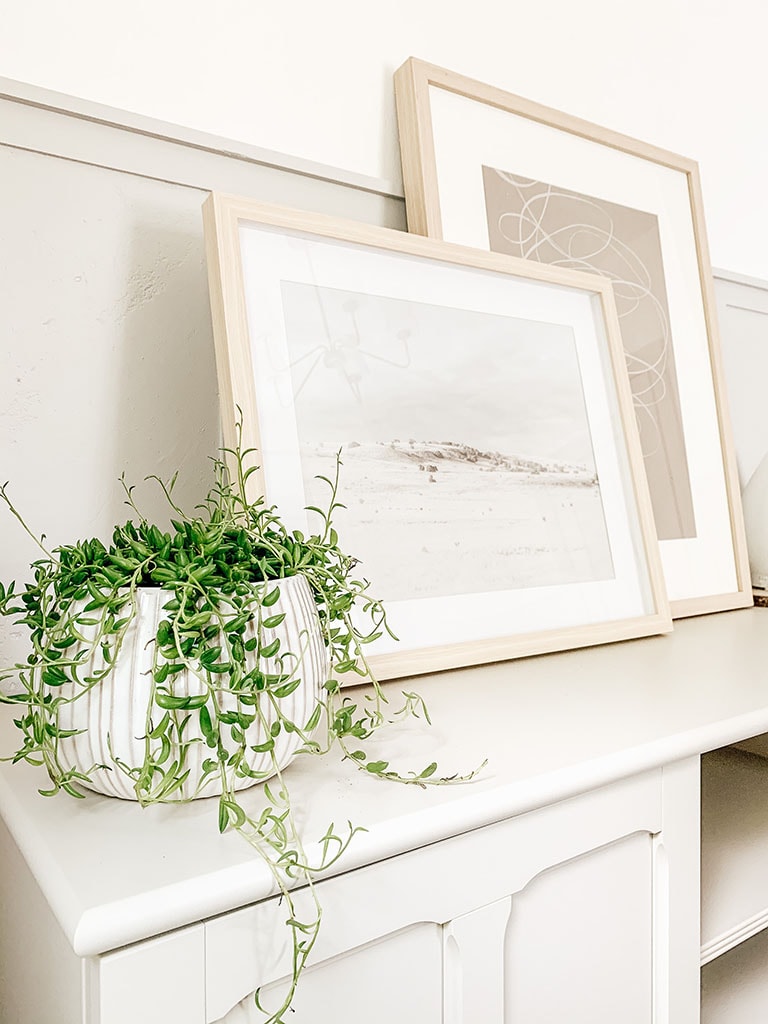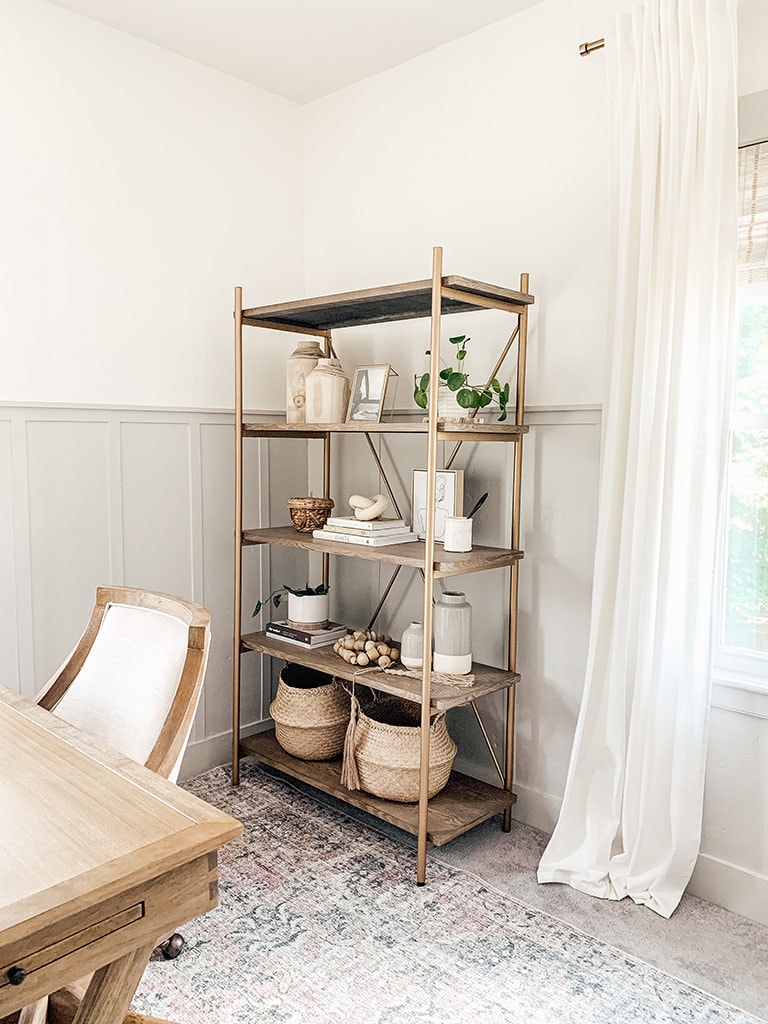 Etagere Bookcase
Another element that I love in this space is this
bookcase
. This gave me an opportunity to be creative. I love styling shelves. An office is the perfect place to have some extra storage and display some of your favorite items.
You can use anything, but I love using a combination of plants, books, art, photographs and baskets. You can find the links for all the items on the shelves at the end of the post.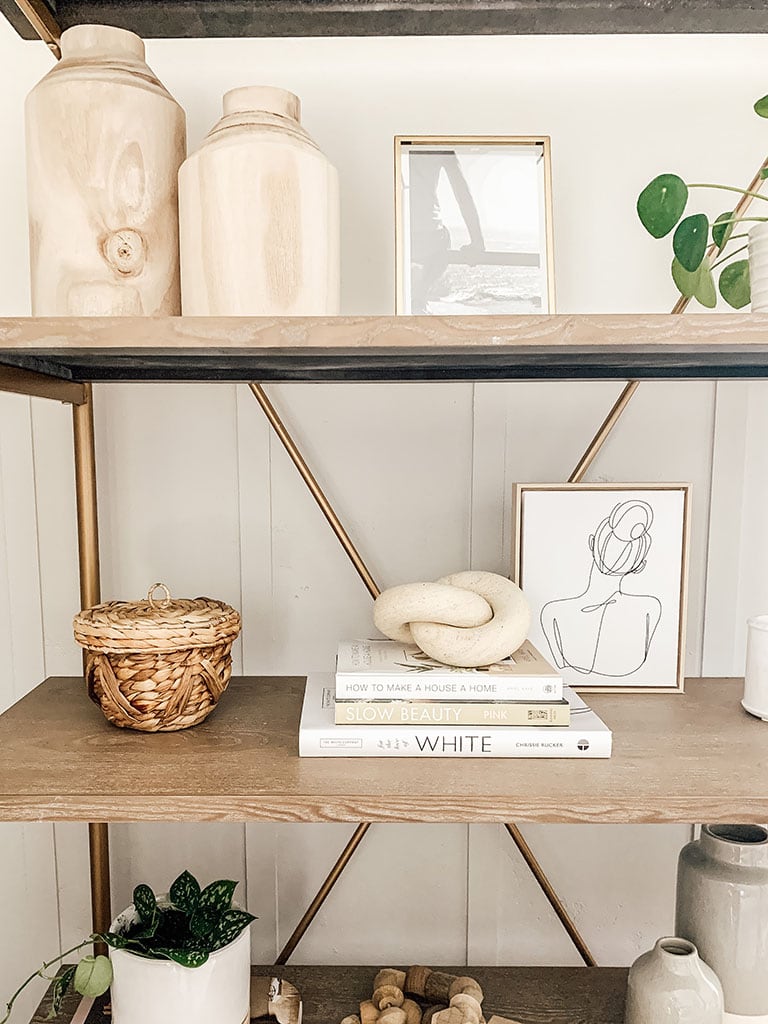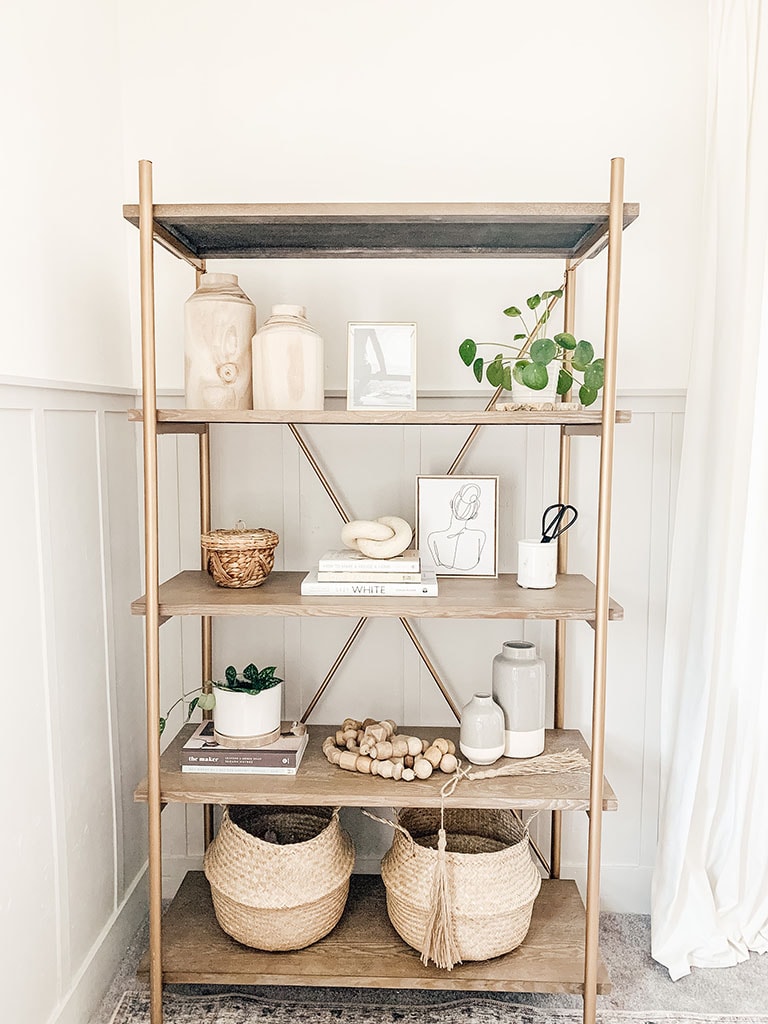 The Desk
Out of
all of
the items in a home office a
desk
is the most important. I love the simple style of this one. The wood tones are perfect for our space and it brings a lot of warmth to the space.
I love the X-crossed legs and it is the perfect size. It has a small drawer for storage and pullout treys on the sides.
Overall
we are
really
happy with this desk.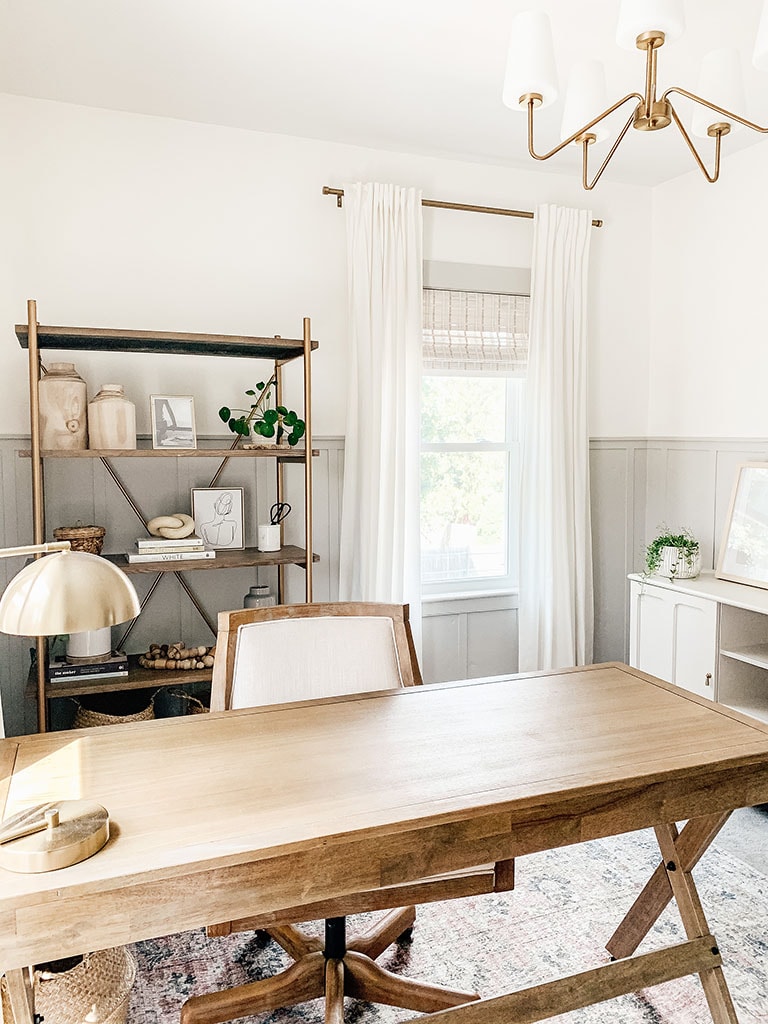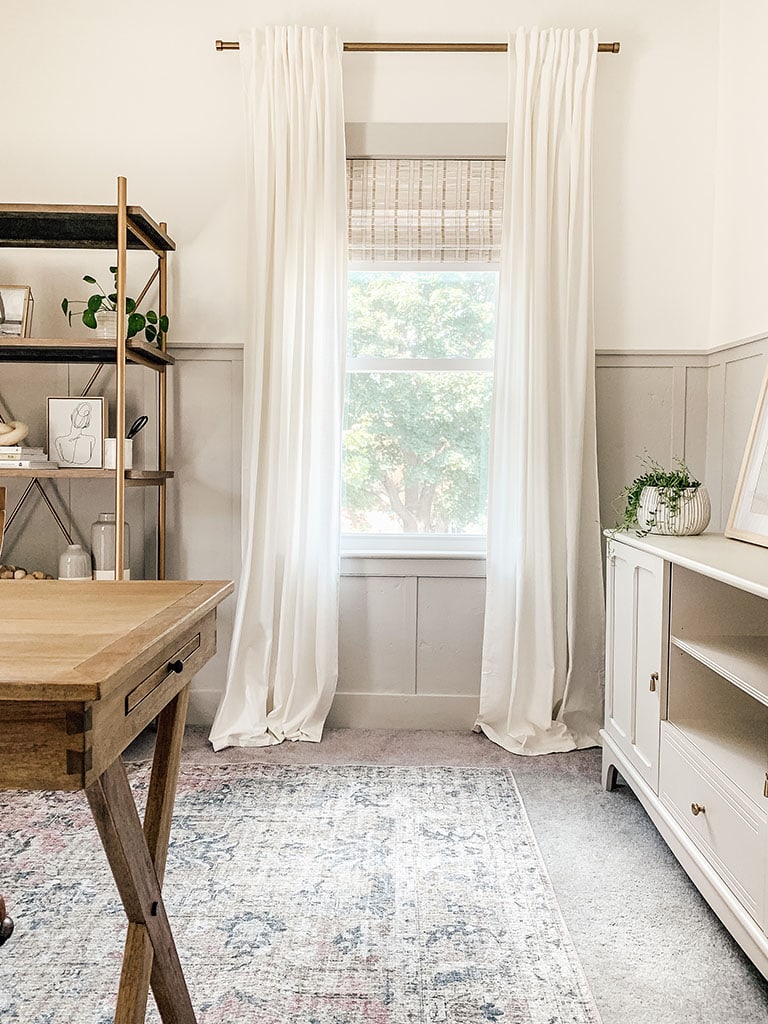 Final Touches
Once you get all the basics for your office like a desk, a place to sit and storage there are some final touches that really elevate your space. When all of these pieces come together your space really starts to feel complete and our office was no exception. I love all the small details as much as the big ones.
The first one is window treatments. Adding curtains to your space will instantly add coziness. We went with an inexpensive pair from Ikea and a warm gold curtain rod. I also added these whitewashed bamboo shades that added additional texture.
Next is the rug. Even if you have carpet like I do I highly recommend adding an area rug. It helps define your space and is a great opportunity to add color and pattern. I went with a printed rug that is thinner than most, which is perfect for placing on a carpet.
Lastly the chandelier. Adding decorative lighting makes a big impact. Replace those basic builder flush mounts with a pendant or chandelier. I went with this classic gold one and it makes the space.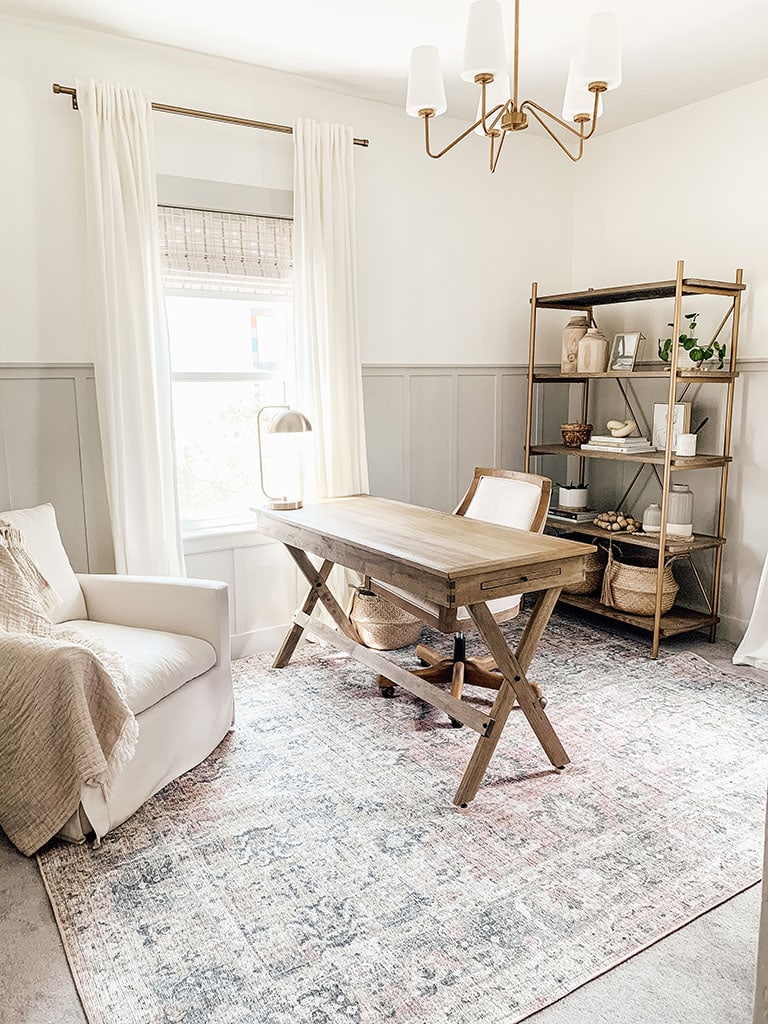 This space came out even better than I imagined. I hope that you enjoyed taking a look into our new space and that it gave you some inspiration for your own home office design. I have listed all the items from our office below and if you have any questions leave them in the comments.
Shop My Office
Light Fixture: Shaded Classic Chandelier 
Desk: Natural Wood Campaign Desk
Desk Chair: Natural Linen Henry Upholstered Office Chair
Bookcase: Rigby 5 Tier Etagere
Cozy Chair: Brynn Armchair
Rug: Blush and Gray Rug
Storage Piece:  LOMMARP Media Unit
Curtains: Ikea RITVA
Curtain Rods: Ivilon Drapery Window Curtain Rod Warm Gold
Shades: Whitewashed Bamboo Roman Shades
Desk Lamp: Valencia LED Task Lamp Brass 
Diffuser: Get this hand blown glass Lustre Artisan Diffuser  with the Welcome Home Starter Kit.
Accessories:
What to Read Next:
Modern Farmhouse Kitchen Makeover Reveal