Our master bedroom is in need of a little refresh and today I am sharing all the details.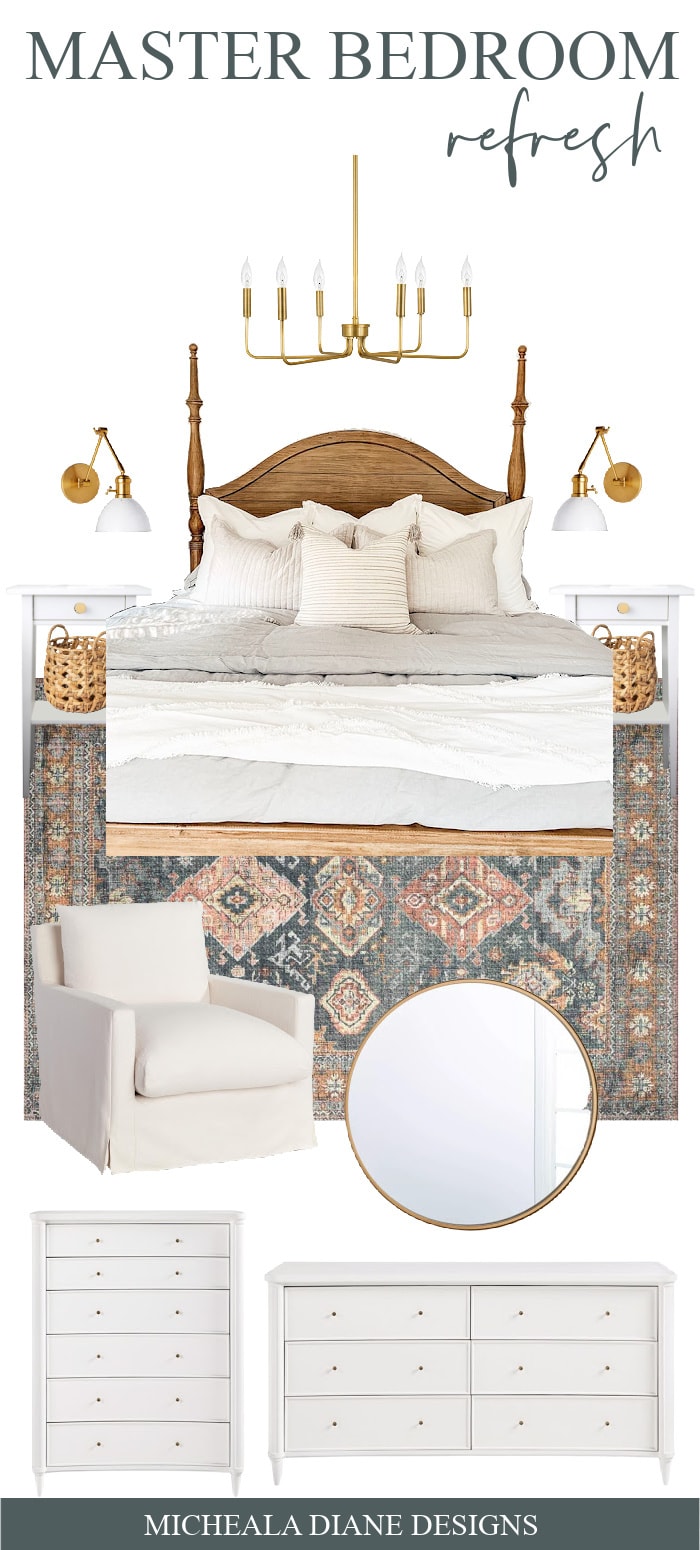 We have been busy trying to get our entire second floor pulled together before the baby gets here. We ended up moving our dresser over to the nursery and it was the perfect opportunity to get new furniture. One thing led to another and we ended up planning a full master bedroom refresh. What's that phrase " If you give a mouse a cookie".
Our bedroom has a mix of  new furniture, furniture from our apartment and random thrift finds. It was time to pull it all together. This is why I always recommend starting with a style board.
Before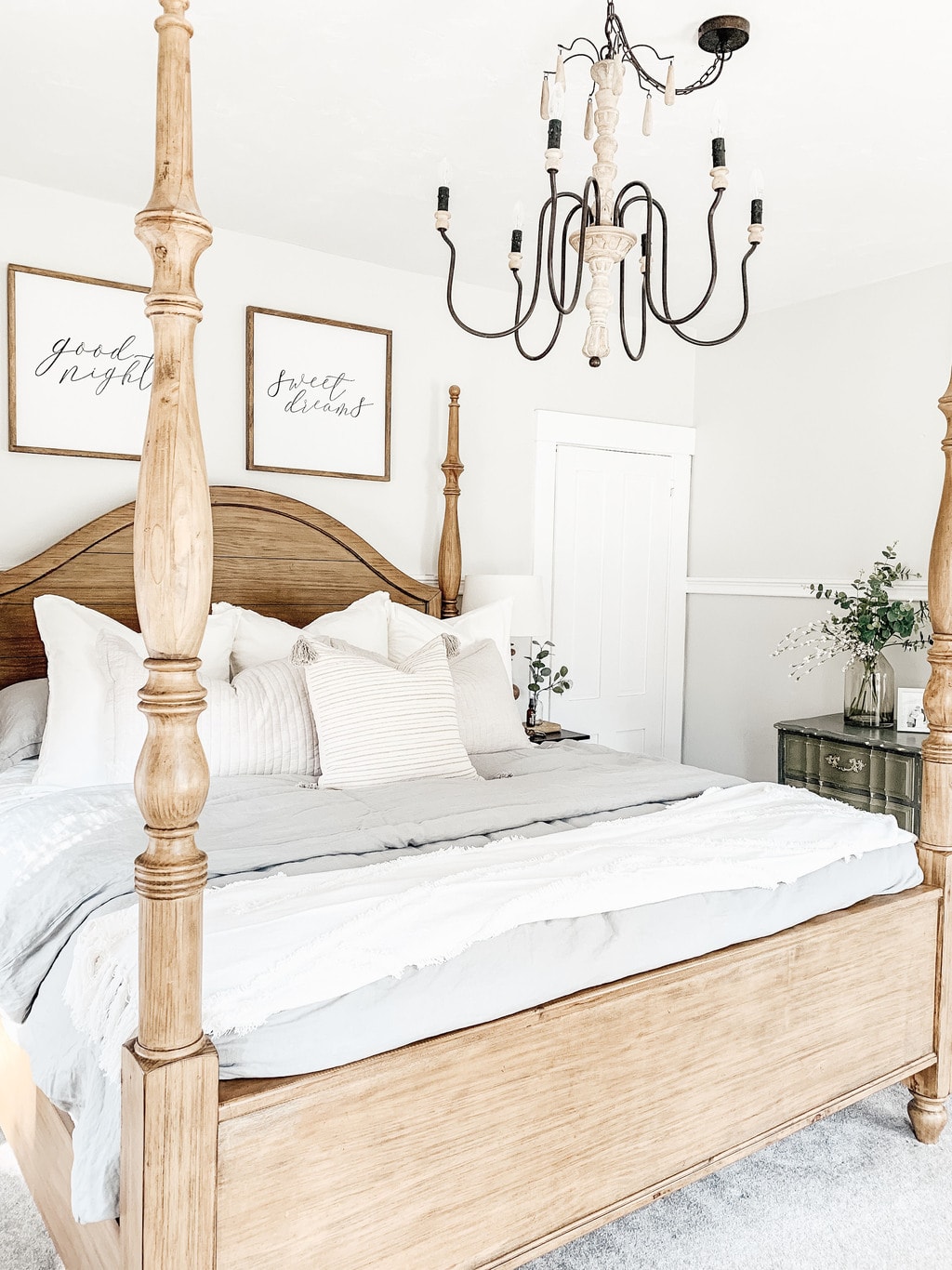 Overall Design Plan
What we already had going for us is this beautiful four poster bed and all this gorgeous bedding. We recently purchased all new bedding and you can see that post here. 
We also love the color of our walls, they are Benjamin Moore Grey Owl lightened by 50%
Needless to say those were three things we knew we wanted to keep so all we needed was a little refresh. I took those elements and designed around them. 
Because we have a wood bed it made it a little more complicated to find furniture. I didn't want to mix wood tones. I thought it would feel a little heavy in our space so we went with white furniture and then I added touches of brass/gold for a little modern glam. 
Below are all the items that we chose to pull this look together into a cohesive design.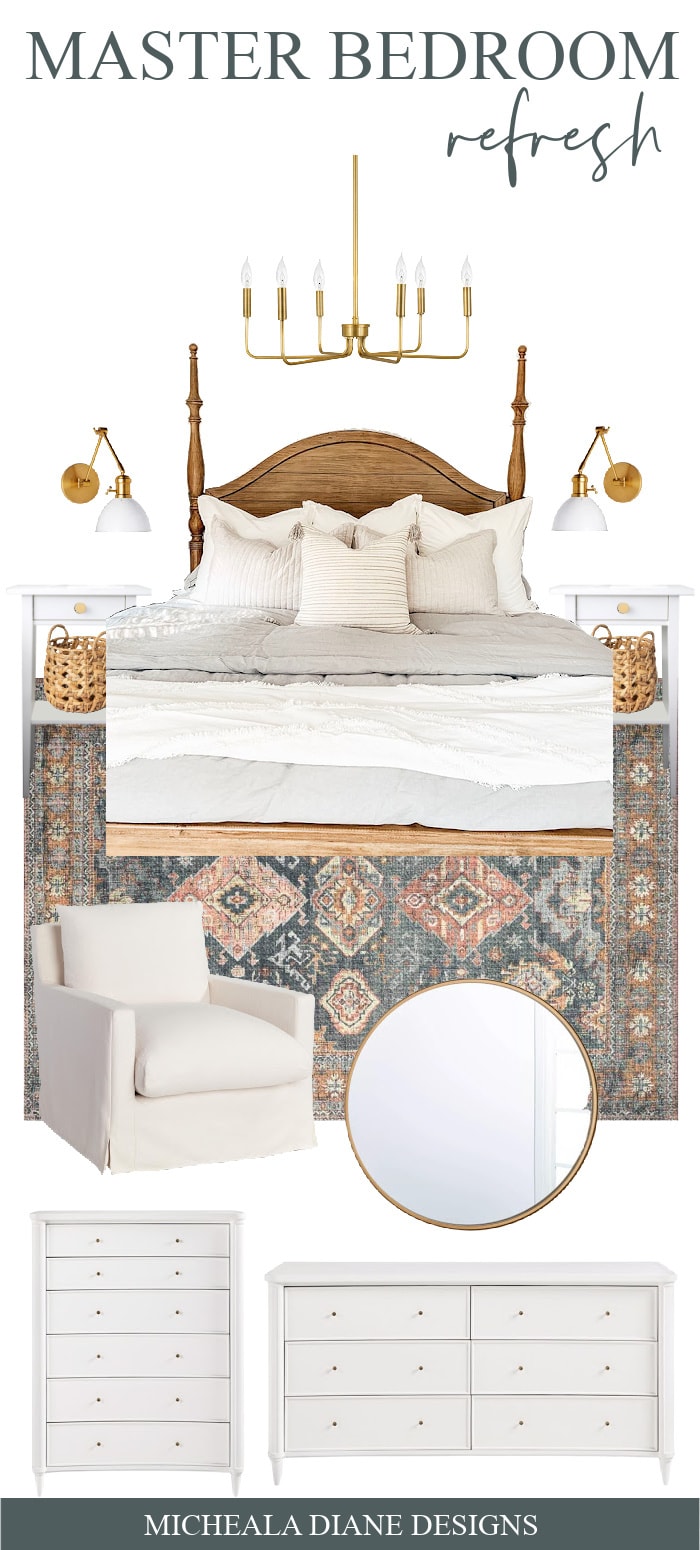 Shop the Master Bedroom Style Board
You can shop these items by clicking the links below!
" Affiliate links provided for your convenience, please read my disclosure for more information."
Henley Dresser and Chest | I fell in love with these dressers from Arhaus.  Believe it or not finding white furniture that is not coastal or kids is really hard. I searched high and low and although pricey these were exactly what I was looking for. The tiny brass hardware influenced my other design choices. 
Mirror | You may have seen this in our nursery design. I actually bought two and it is the perfect budget friendly brass mirror for the size.
Rug | I have been eyeing this rug for such a long time but didn't know where I could use it. I finally found the perfect spot in our bedroom. I love the pop of color that it adds to all our neutrals.
Chair | This is the same chair we bought for our home office and it has become my favorite chair. I am going to order another one for our bedroom. If you are on the hunt for a chair I have a great post here.
Chandelier |  I wanted to tie in some more brass elements and chose this gold modern minimalist chandelier.
Sconces | We have always had table lamps but I have been loving the look of wall sconces. We do not have a lot of space on our nightstands so I am excited to free up some space by putting the lights on the wall. These sconces are from the Studio Mcgee line at Target they are constantly out of stock so be sure to put on notifications if you want them.
Nightstands | I am actually still on the hunt for the perfect nightstands. We have limited space and it has been almost impossible finding something and it actually being in stock. For now we are going to paint our current  Ikea Hemnes nightstands white and add brass hardware.
Baskets | Perfect nightstand storage
I love sharing our design plans with you and be on the lookout for the full reveal soon!
What to Read Next:
Want to save this for later? Post this Master Bedroom Style Board to your favorite Pinterest Board!