Today I am sharing a look at our deck progress and the design board for our outdoor furniture. All sources are provided!
We are building a new deck and I couldn't be more excited. Our existing deck was a least 30 years old, maybe even older. All the paint was peeling and the boards were starting to rot.
We love to spend our summers outside and it was becoming a bit of an eyesore. It was time for something new and we decided to take this opportunity to expand and make it even bigger.
Building it ourselves has been a big undertaking. With the bigger layout, it created a lot more work, but it will be worth it. My husband Shawn is going to be tackling a blog post sharing with you the exact steps we took to build our deck when it is complete.
Be on the lookout for that if you are considering building your own deck. It will include tips and tricks and the best way to coordinate all the aspects of doing it yourself.
Below is a look at our progress so far and we are hoping that it will be completed at the end of this month.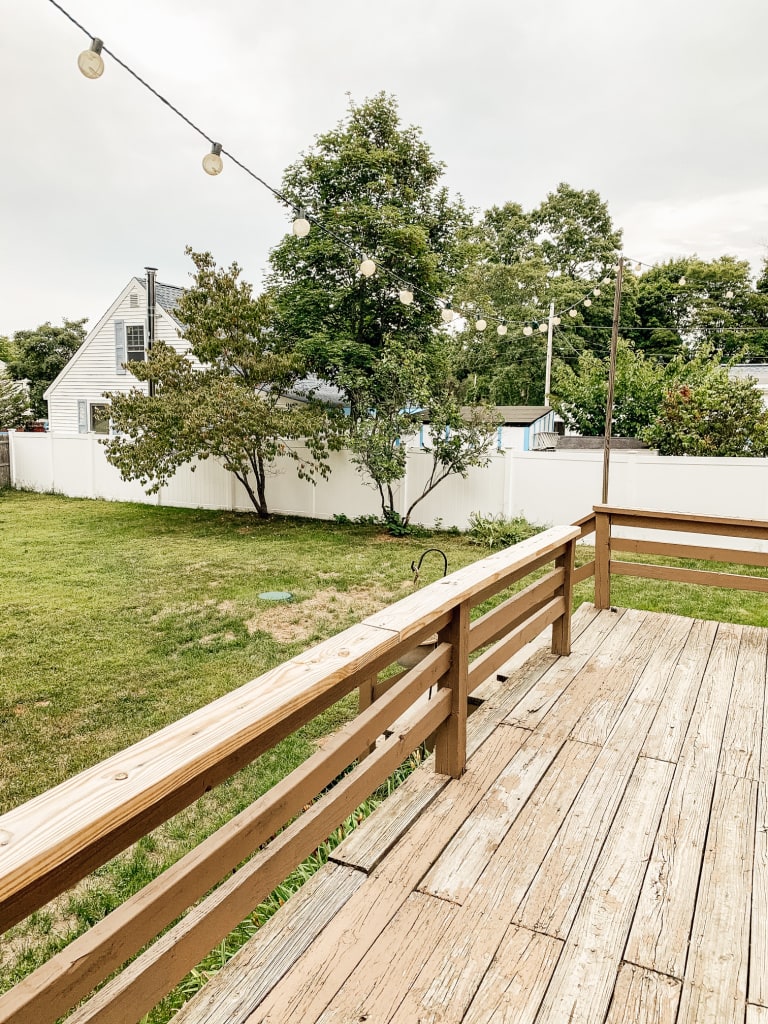 Before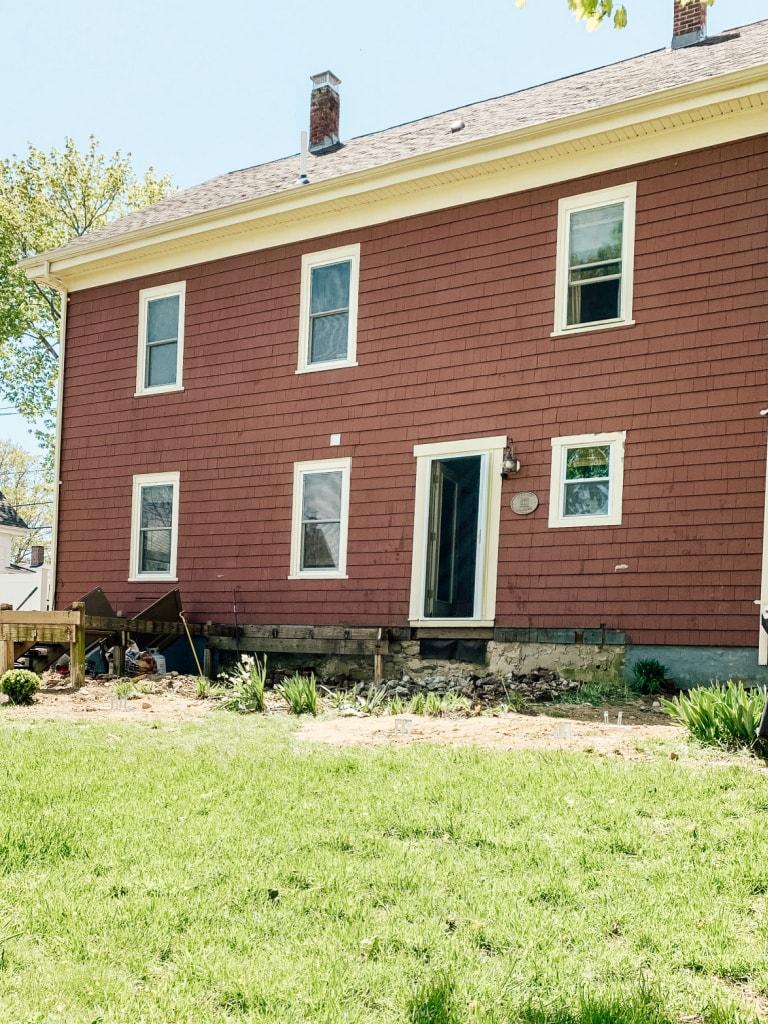 Demo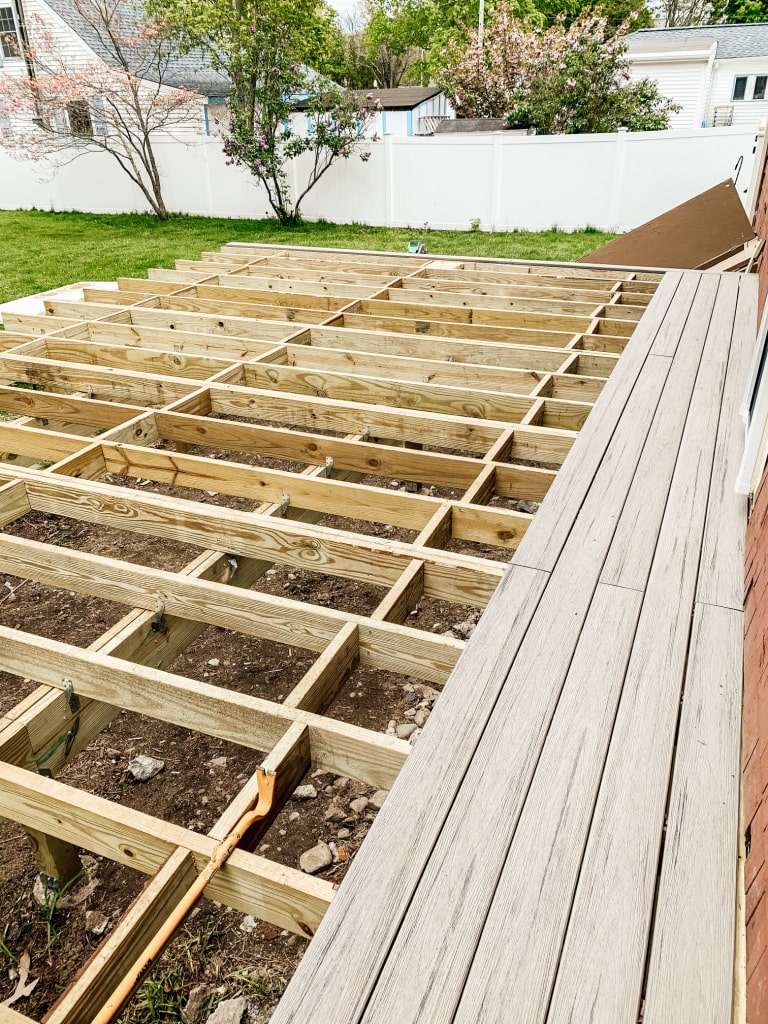 Modern Farmhouse Outdoor Furniture Design Board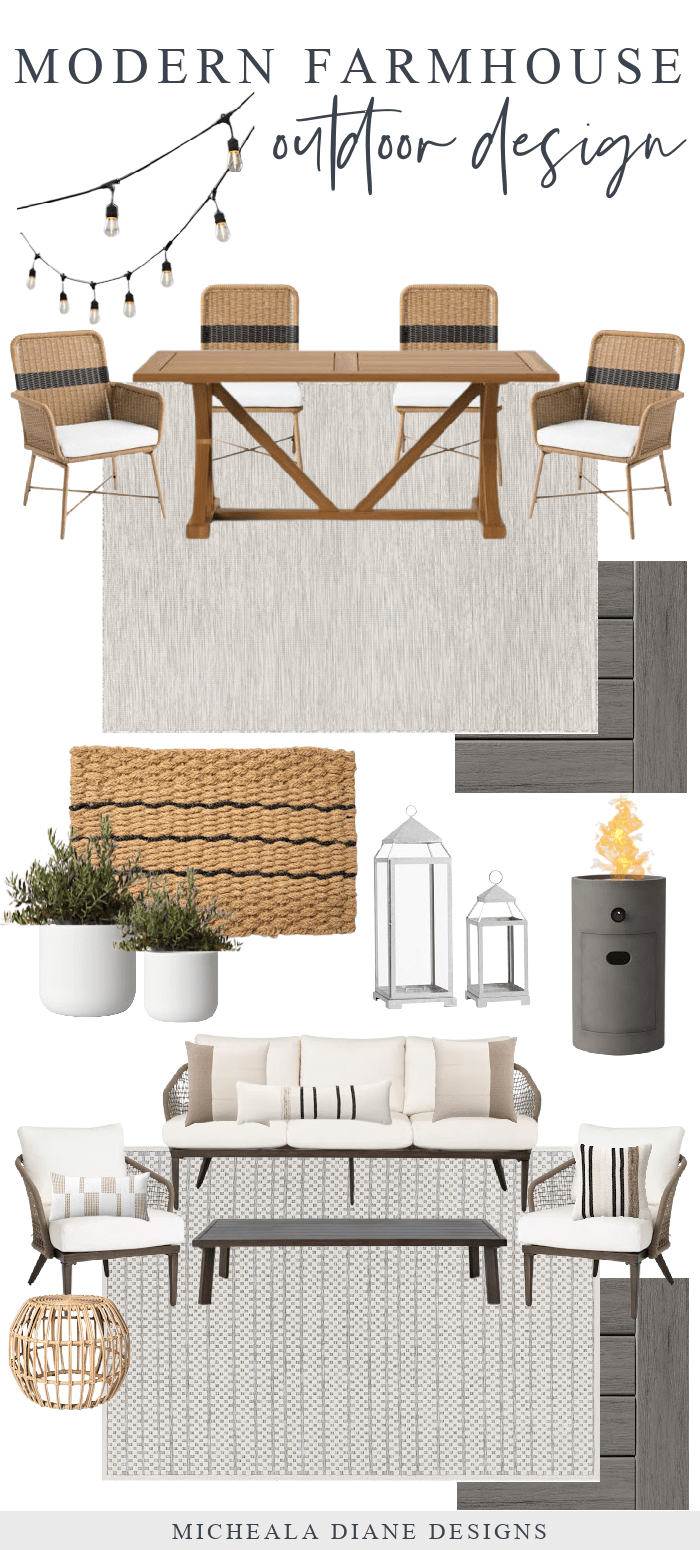 With a new deck and even more space, I decided it was also time to upgrade our outdoor furniture. Shawn is the builder, but this is where I come in and create a cozy outdoor retreat.
Our existing deck layout only had room for a dining area, but with the new layout, we will have room for a lounge area too. My goal for this design Is to create two designated areas on the deck, one for dining and the other for lounging.
The one piece of existing furniture that we are keeping is our outdoor dining table. The same one that I have shown above. This helped guide the
overall
design. I wanted the two spaces to work well together but not be matchy-matchy.
Of course, I stuck with my favorite neutrals, a mix of browns, greys, creams, and black. There is a balance of different materials; wood, woven, and wicker. I was able to tie
all of
it together through the throw pillows and rugs. Create a cohesive design that all works together but provides visual interest.
We also have plans to add lots of plants, through the use of pots and planter boxes. I am even hoping to add a potting table.
I will say that this year was especially hard to find outdoor furniture and decor in stock. At the end of the post, I am sharing the best way to score out-of-stock furniture and decor from Target. This is my favorite store for affordable outdoor furniture.

You can shop these items by clicking the links below!
" Affiliate links provided for your convenience, please read my disclosure for more information."
Outdoor Dining Area
Morie Farmhouse Wood Rectangle Dining Table
2pk Wicker & Metal Patio Armless Stripe Dining Chairs
2pk Wicker & Metal Patio w/arms Stripe Dining Chairs
Outdoor Myaree Rug-use code MDD60 for 60% off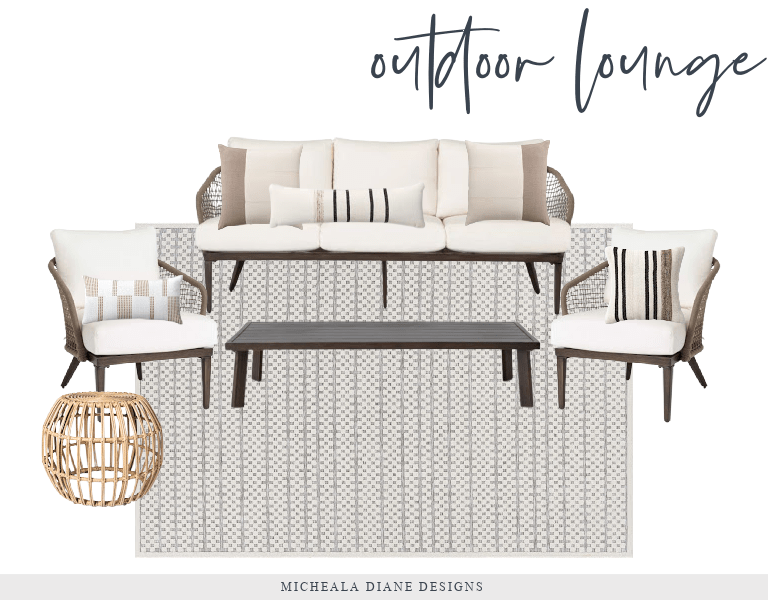 Outdoor Lounge Area
Risley Oversized Rope Patio Sofa and Coffee Table
Risley 2pk Oversized Rope Patio Club Chair
Outdoor Babbie Rug– use code MDD60 for 60% off
20″ Square Outdoor Throw Pillow Marled Stripe
Woven Outdoor Lumbar Beige/White
24″ Outdoor Throw Pillow Vintage Gray
Oversized Lumbar Outdoor Throw Pillow Ivory
Outdoor Accessories
The easiest way to score out-of-stock Outdoor furniture from Target
This year was particularly hard for finding outdoor furniture and decor in stock. Nothing I selected was originally in stock. So today I am going to show you my trick for scoring out-of-stock items at Target. This can be used for any item at Target, not just home decor. Follow the step below.
Step One
Download the Target app on your smartphone.
Step Two
Set up your payment method in the app. This allows you to quickly check out, without having to enter your payment information. In order to get your item before it sells out again you have to be fast.
Step Three
Turn on notifications for the Target app in your phone settings. This will send a message to your phone when an item comes back in stock. They will also send you an email, but I have found that it arrives too late and the item is gone by the time you get it. Notifications allow you to quickly get to the app and hit that buy button.
Step Four
Now that you are all set up in the app, it's time to sign up for back in stock notifications. Find the item that you want that is out of stock and select the option that says "Notify me when it's back in stock" see the example below.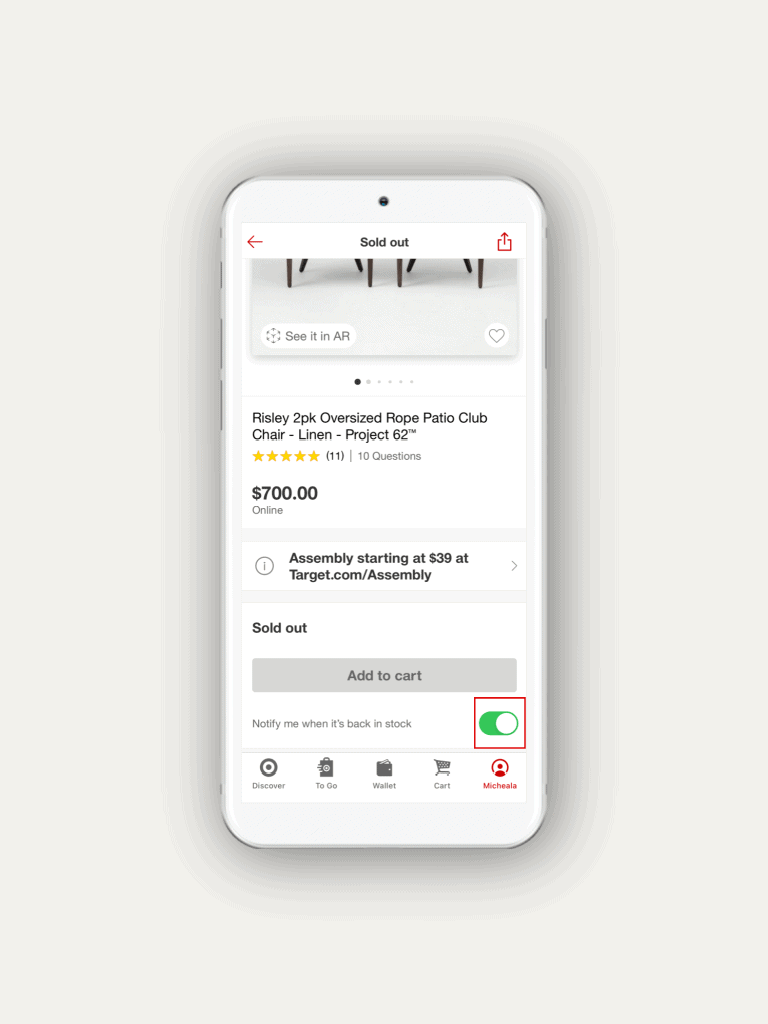 Once you have done all these steps now you wait for the notification it is back in stock on your phone. Remember you usually have to be quick, because the item will most likely sell out fast again. Add to your cart and check out. If you miss out turn on notifications again. This is how I was able to score all the outdoor furniture that I have shown on our design board.
I hope you enjoyed this look at our new deck design and outdoor furniture plan. Be on the lookout for the full reveal when everything is complete.
What to Read Next:
Get Inspired: How to Decorate Your Outdoor Living Space
Modern Farmhouse | Outdoor Decorating Ideas
Want to save this for later? Post this Outdoor Furniture Design Board to your favorite Pinterest Board!