In this post, I'm going to show you how to make No-Sew DIY Drop Cloth Curtains two ways. They are easy, inexpensive, and the perfect farmhouse touch for any space.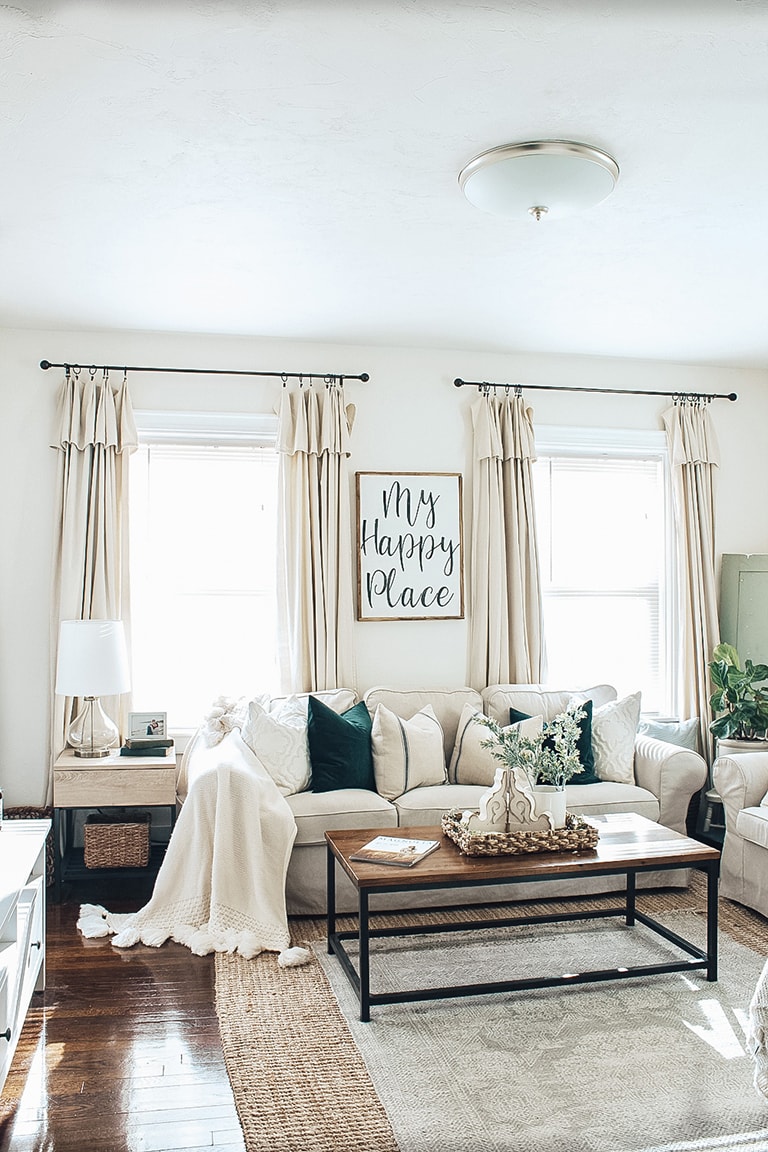 DIY Drop Cloth Curtains
Today I wanted to share one of my favorite DIY projects ever! Drop cloth curtains! When we moved into our 1875, colonial there were no blinds or curtains on any of the 23 windows. We also have higher ceilings than a standard home.
With the high ceiling heights, I was having a hard time finding curtains long enough at my usual go-to stores. When I did find the right length they were way out of our budget, especially when you have to times that by 23!
Drop cloth curtains are a great budget-friendly solution for the perfect farmhouse look. I love the neutral color, and the natural look of the cloth and they are only around $15 per curtain panel! Not only are they inexpensive, but they are also insanely easy to make, and the best part of all you can customize the length.
These curtains are also a great option for sliding patio doors. They are inexpensive and you can easily customize the size to fit your door.
I have these curtains in my living room and in my den. To mix up the look a little in each room I decided to do the drop cloth curtains two different ways.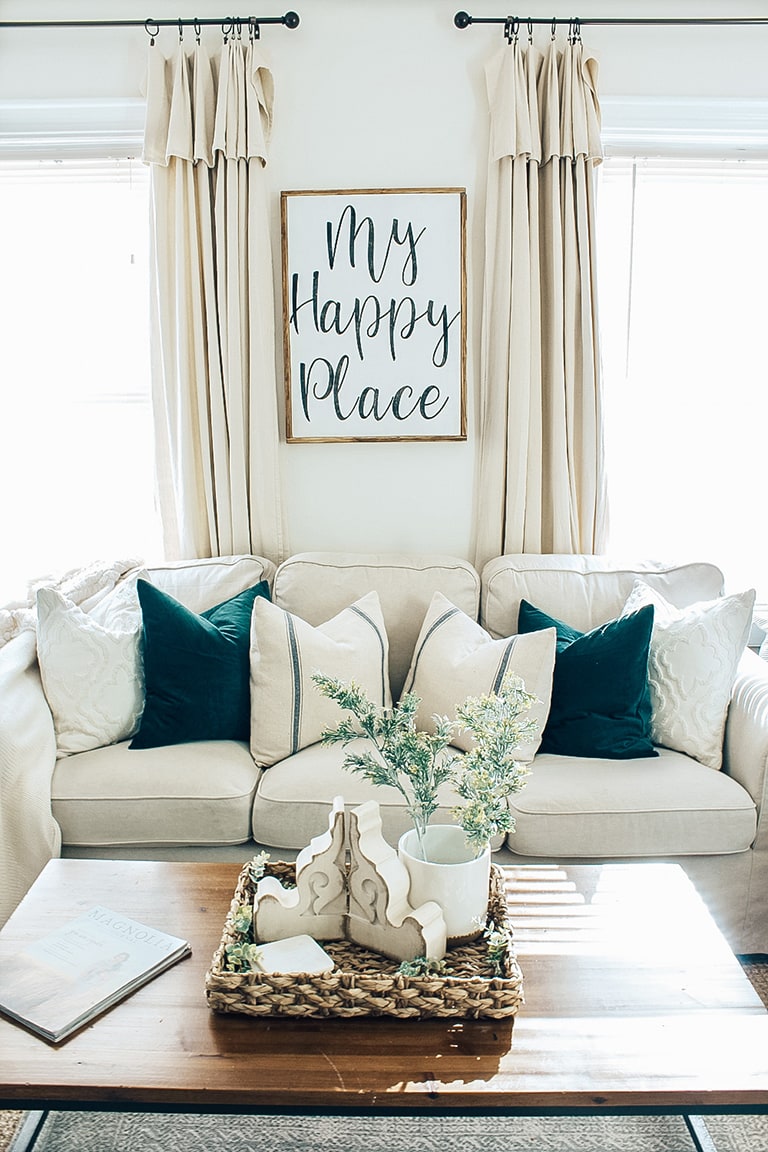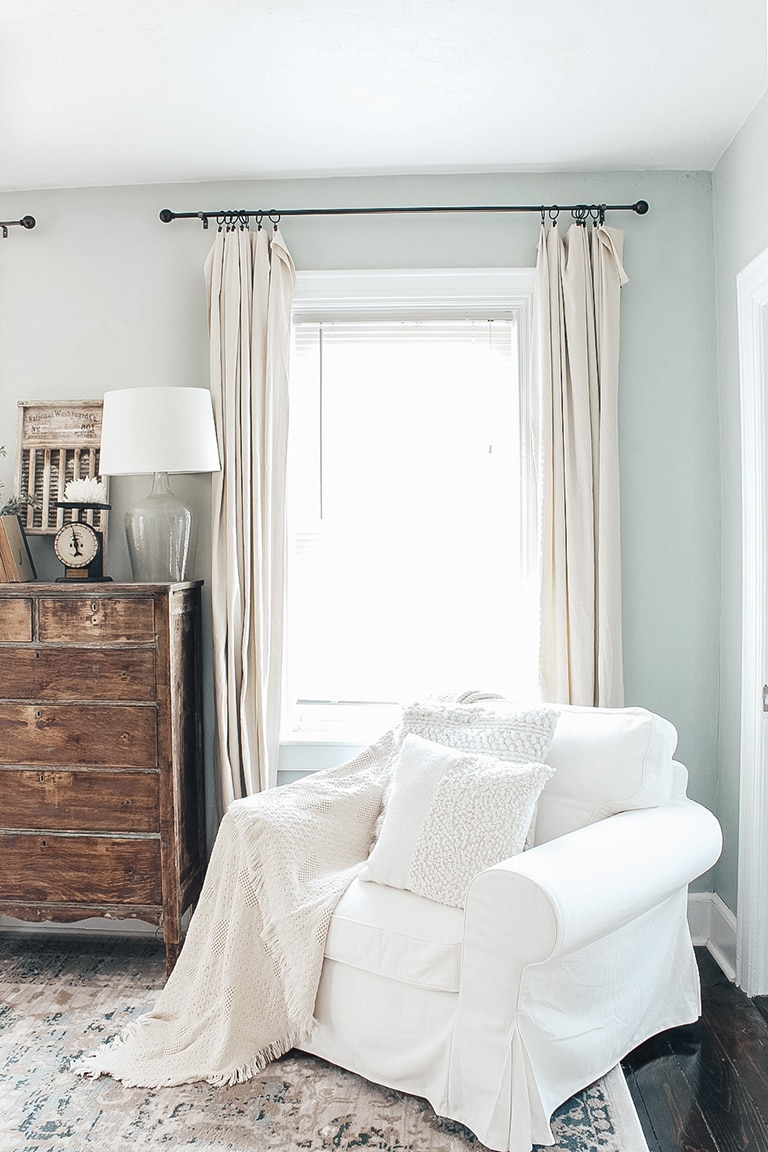 Here is what you need and how to do each style.
Drop Cloth Curtain Supplies:
" Affiliate links are provided for your convenience, please read my disclosure for more information."
Drop Cloth Curtains 2 Ways:
Step One ( This step is optional): I like to wash and iron my drop cloths before I start because they usually have a slight odor and are wrinkled from being inside the packaging. This is the hardest step in the process, especially if you hate ironing. I am not a fan of ironing but I hate wrinkles even more. It's completely up to you.
Step Two: Measure how long you want your curtains to be. This can be done by measuring the top of your drapery rod to the ground and then I like to usually add an inch or two so that the curtains pool on the floor. You at least want your curtains to touch the floor, never shorter. I would recommend testing one panel and adjusting it until you get your desired length and then just copy that for the others.
*Step Three: I like to lay my drop cloth on the ground, table, or over the ironing board to put the clips on. To get the look below you simply fold the drop cloth over the front until you get your desired length.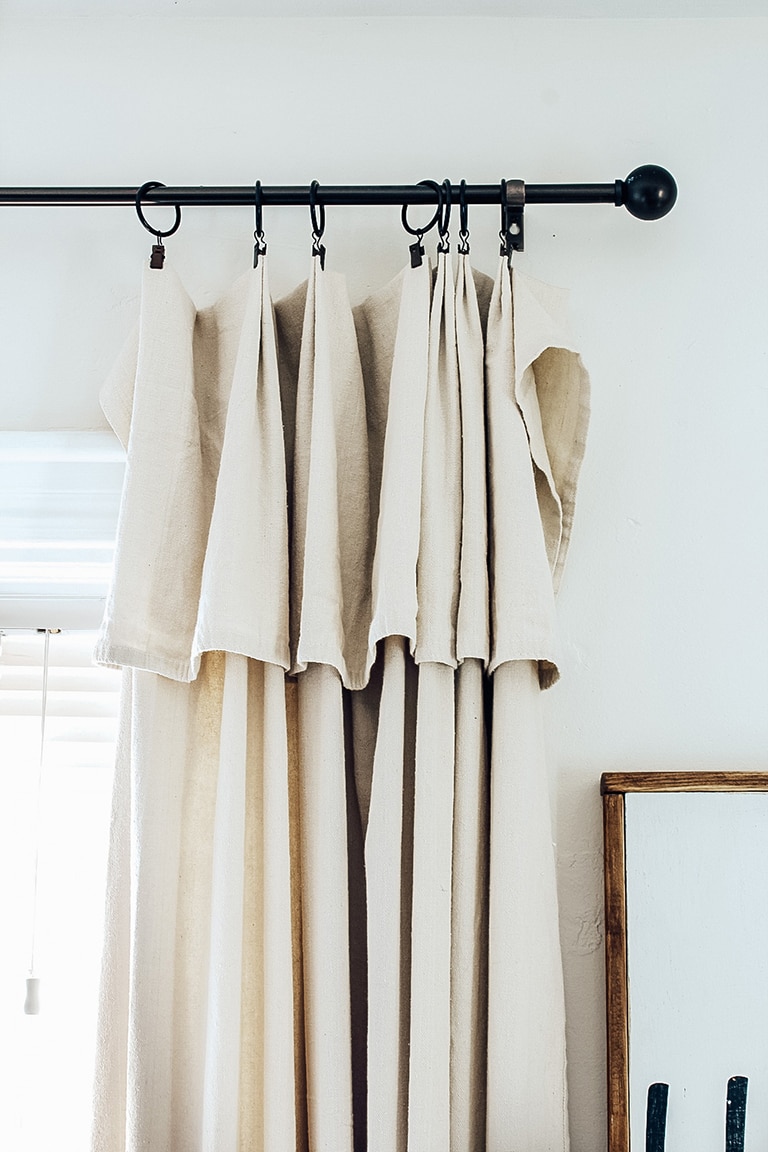 Step Four: Next step is to place your drapery clips. I typically place one on either end to start and then evenly space out the rest. I also like to pinch the fabric to create a nice pleat. See the image below. You can also just clip them on if you don't want to be fancy.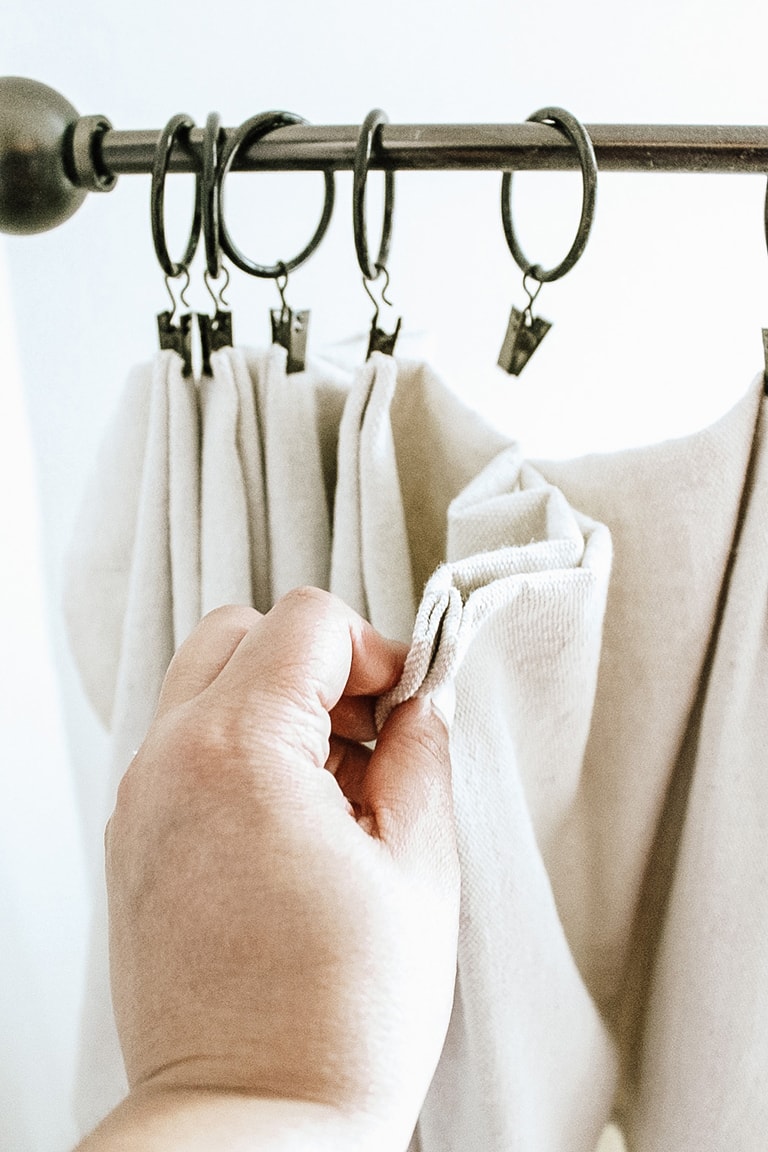 Step Five: Place the hooks and the drop cloth on your drapery rod and sit back and admire your work. Doesn't it look dreamy?
To achieve the second style you are going to follow all the steps above, except step three will be a little different.
*Alternate Step Three: To get the look below you simply fold over the drop cloth on the backside until you get your desired length. Now the folded portion will not be visible when you hang it up.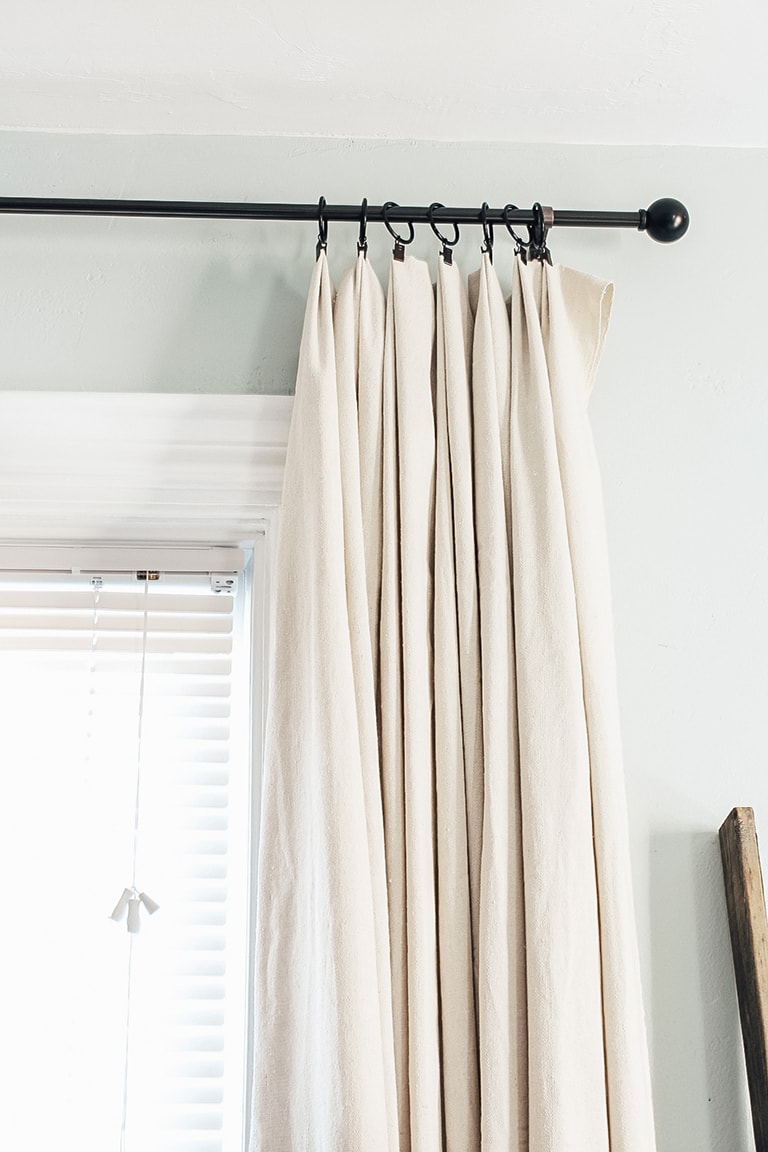 That's it! I told you it was easy. No sewing, no hassle, and budget-friendly. I love these curtains so much and will probably be using them in more spaces in our home. If you have never done these before and you are looking for a cozy farmhouse look I highly recommend them.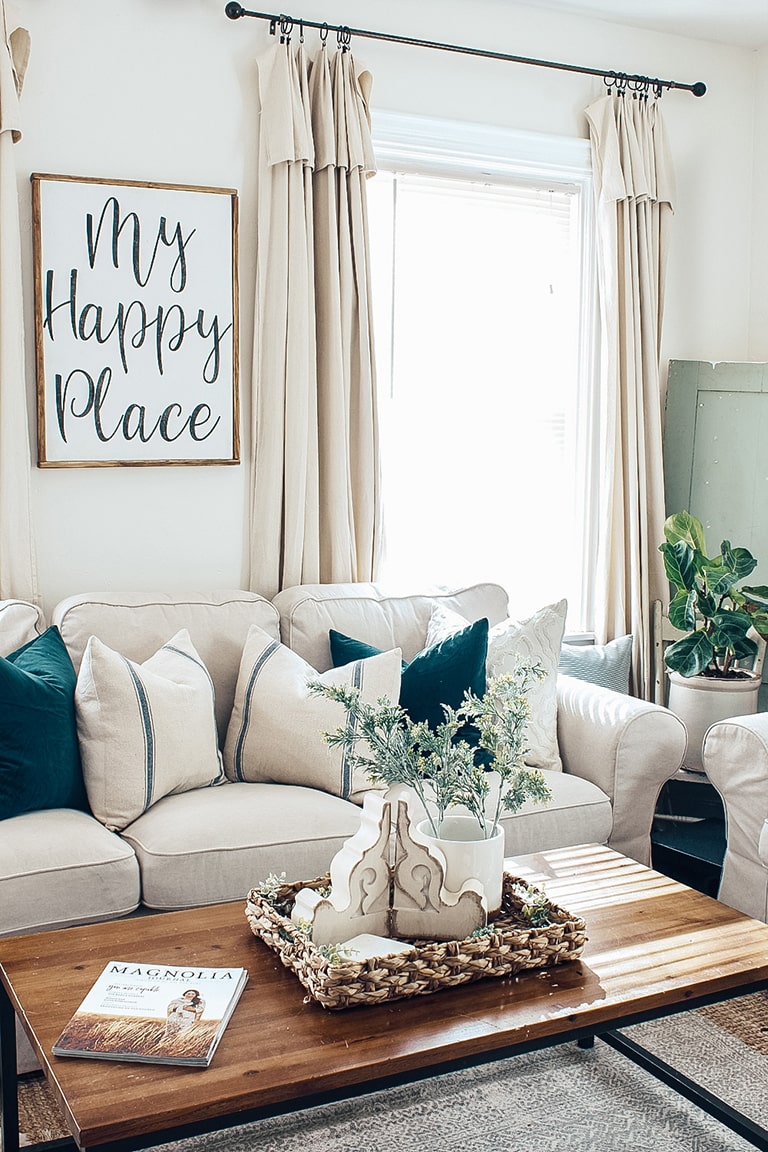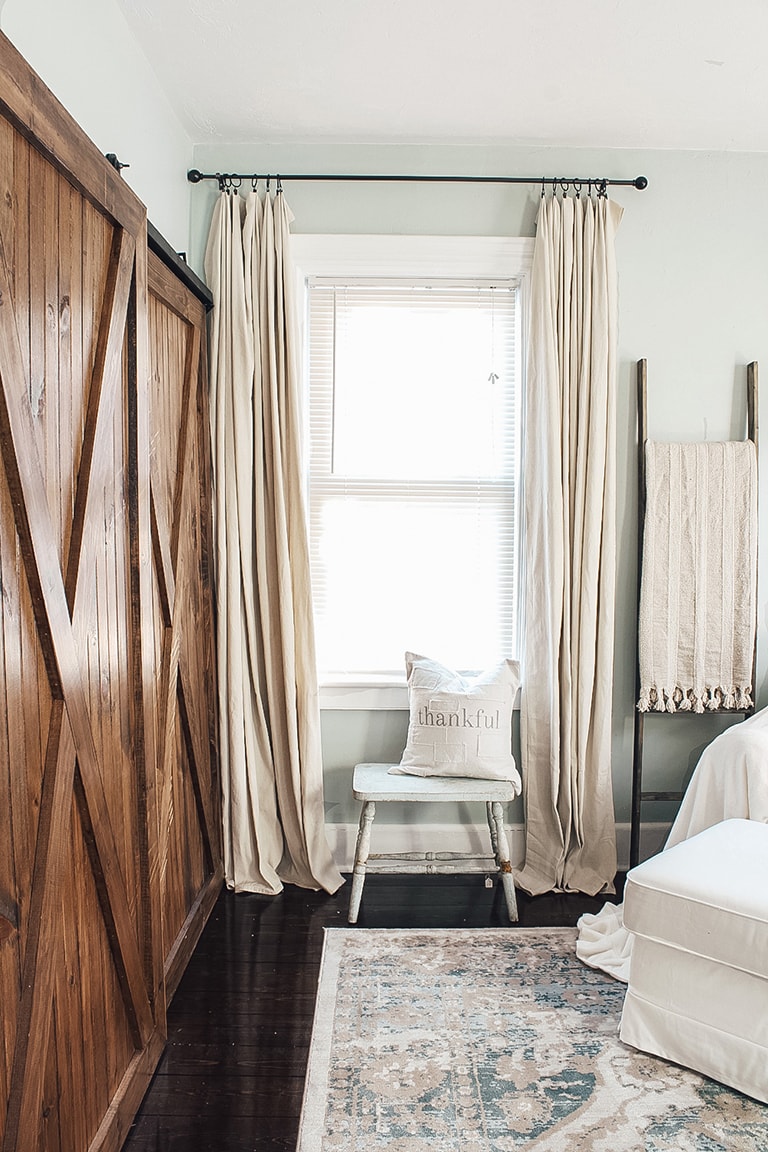 I hope this little inexpensive farmhouse DIY was helpful. Leave any questions in the comments and I will be sure to answer them. Thank you for stopping by the blog. ❤
You can shop by clicking the pictures below!
Don't forget to grab my FREE guide on How to Wash your Drop Cloth Curtains
What to Read Next: