If you are considering Ikea's Ektorp slipcover furniture, you are going to want to read today's post. In this review, I am sharing my honest thoughts and frequently asked questions about the Ektorp collection.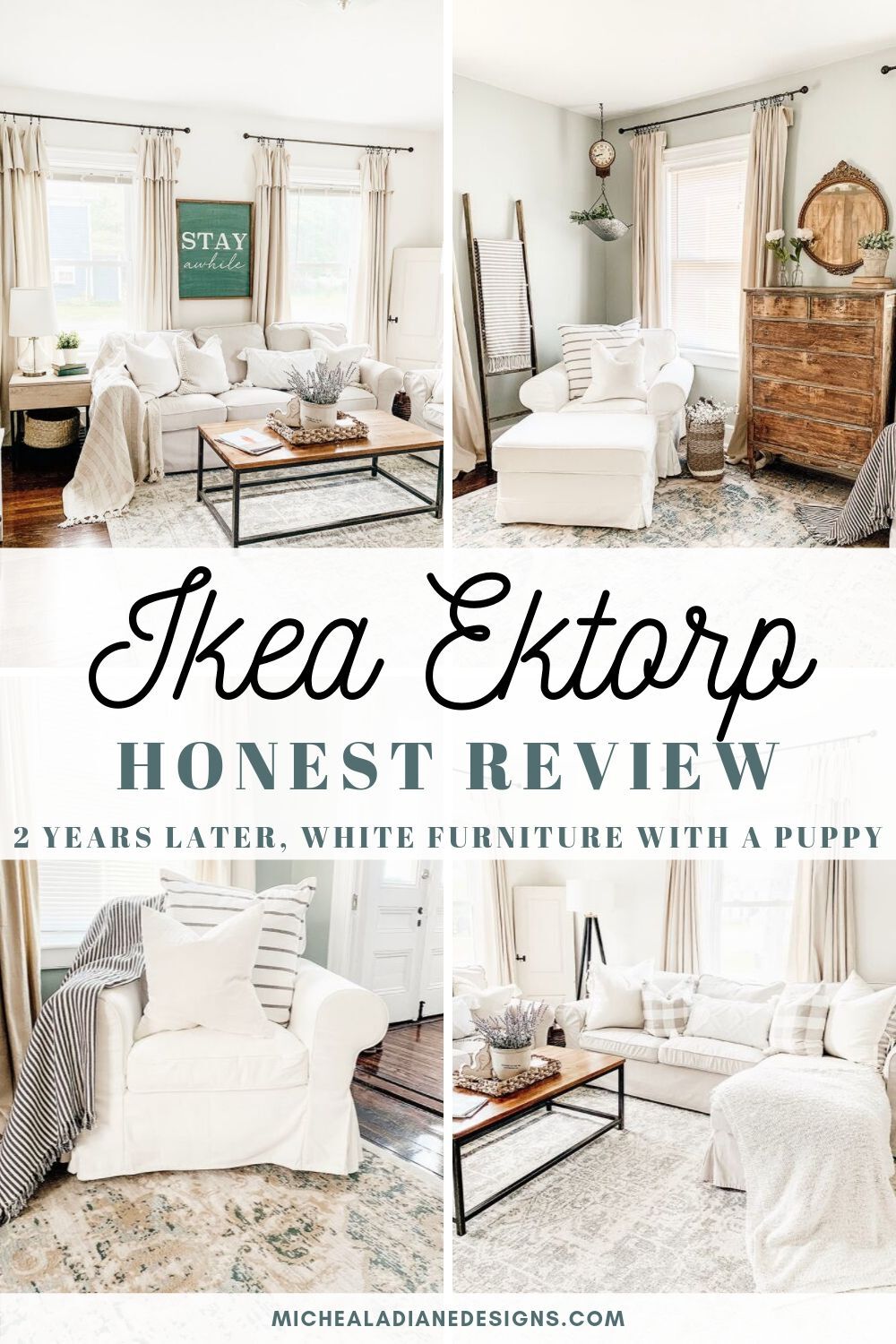 After we bought our house we were on the hunt for new furniture. I had a lot of requirements and a small budget. Funny how that works ?. I was on the hunt for something that was durable, easy to clean, and farmhouse style. But the most important thing was comfort.
We were not looking for an investment piece of furniture. 
For the stage of life we are in, I wanted something that would be perfect for family and pets. Without having to worry about damaging an expensive piece of furniture.
 The Ikea Ektorp sofa has delivered on
all of
these requirements.  If this sounds like what you are looking for
I think
you are going to love Ektorp as well. 
We love the Ektorp furniture so much that we have the sofa, sofa with the chaise, armchairs and the ottoman. As with anything in life, there are some pros and cons. I think it would be most helpful to give you the pros and cons of each piece that we own. Let's dive in!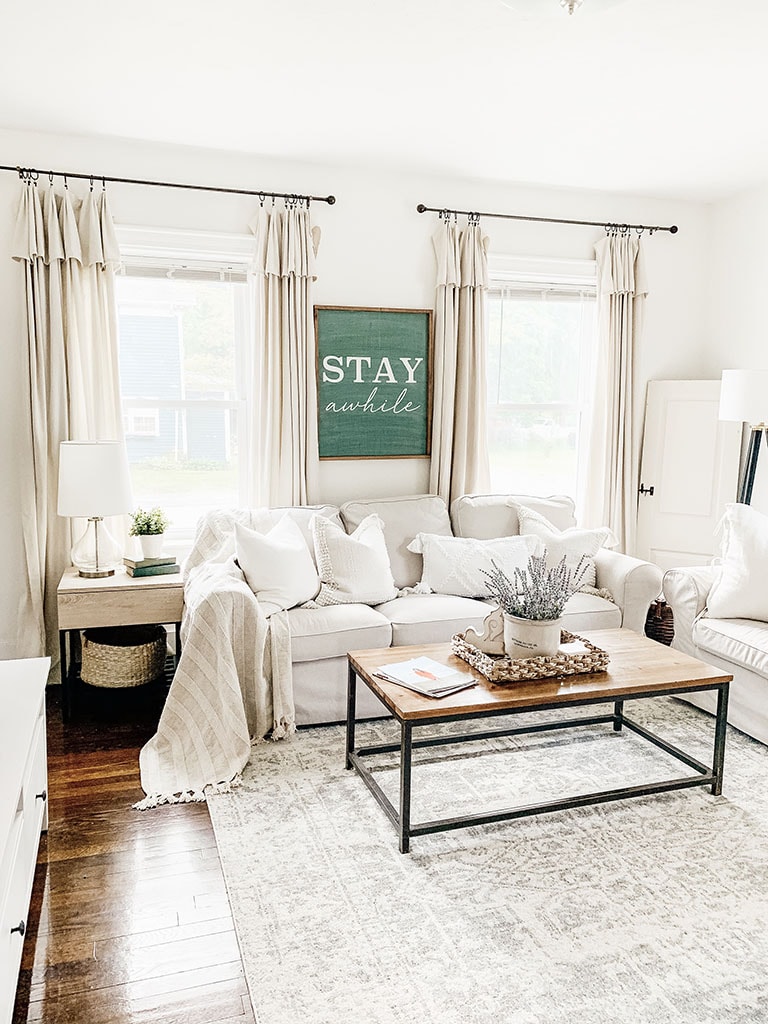 Ikea Ektorp Sofa & Sofa w/ Chaise
I am going to group theses two together because they have the same pros and cons. I will note the extra benefit of the chaise. Its my favorite part of the sofa and if you have the room I highly recommend getting it!
PROS
Price
One of the best things about the Ektorp collection is the price. It is very inexpensive. We got all of our furniture for the cost of one sofa at a furniture store.  I still can't get over how good of a deal they are. These are also very similar to the ones from Pottery Barn for less than half the cost.
Slipcovers!
All of the items on the Ektorp collection are slipcovered. If you have never had a slipcover sofa it is life-changing ??. Other than the price this was the main reason why I fell in love with this collection. Slipcovers allow you to wash your sofa. So anytime we have a spill, puppy footprints, or are just need a good clean all we have to do is throw them in the wash. We have washed ours a few times and they have come out brand new each time.
The other great thing about slipcovers is that you can switch them out without replacing the entire sofa. This is great if you feel like your set is starting to look tired or you just want a new cover. The slipcovers come in a tone of different color options so it is very easy to make a switch.
Style
This style fits an array of decor styles. I love the farmhouse/modern farmhouse style and it is perfect for that but it is also very versatile. Just look on pinterest, I have seen it in cottage, eclectic, glam, and boho styles.
Comfort
The Ektorp sofa is comfortable even after 2 years of use. The cushions have not lost their shape and it still provides a cozy spot to curl up. When it comes to the sofa with the chaise it is even more comfortable. The chaise provides the ultimate cozy set up for relaxing. It gives you the extra depth to really curl up and it is definitely my favorite spot.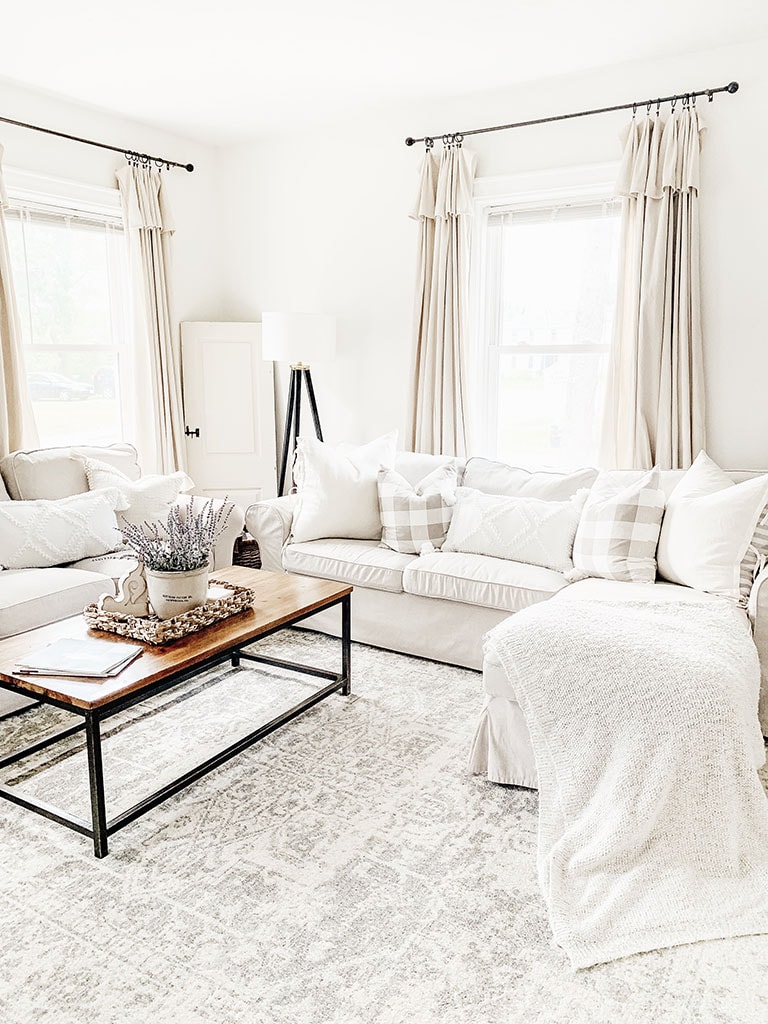 CONS
Depth
The depth of this couch is slightly smaller than your standard sofa. If you are looking for a sofa to really sink into I do not recommend the Ektorp sofa. My husband and I are both on the shorter side so we do not have any issue curling up on these sofas. If you are taller and need more leg room I would recommend testing them out in the showroom before you commit.
Assembly
This collection comes in a box. Although not difficult you will have to put your furniture together. I will warn you when we first started putting them together we questioned the idea of getting a sofa in a box. Without the cushions and slipcover on you can see the bare frame and it does look a little scary. But once you have it built it becomes a normal-looking sofa.

Ikea Ektorp Armchair
The pros and cons of the armchair are the same as the sofa. I am only going to touch on the items that are unique to the armchair.
Pro- Size & Comfort
This chair is oversized, making it so cozy. This is the perfect chair to curl up in and read a book.
Con-Price
If I had to give this one con I would say the price. Compared to other chairs this was is very well priced. But I will say compared to the rest of the Ektorp line, it is a little more expensive. This chair is only $50 cheaper than the sofa that seats 3 people depending on the slipcover that you choose.  If you need additional seating and you have space, the sofa is a better value.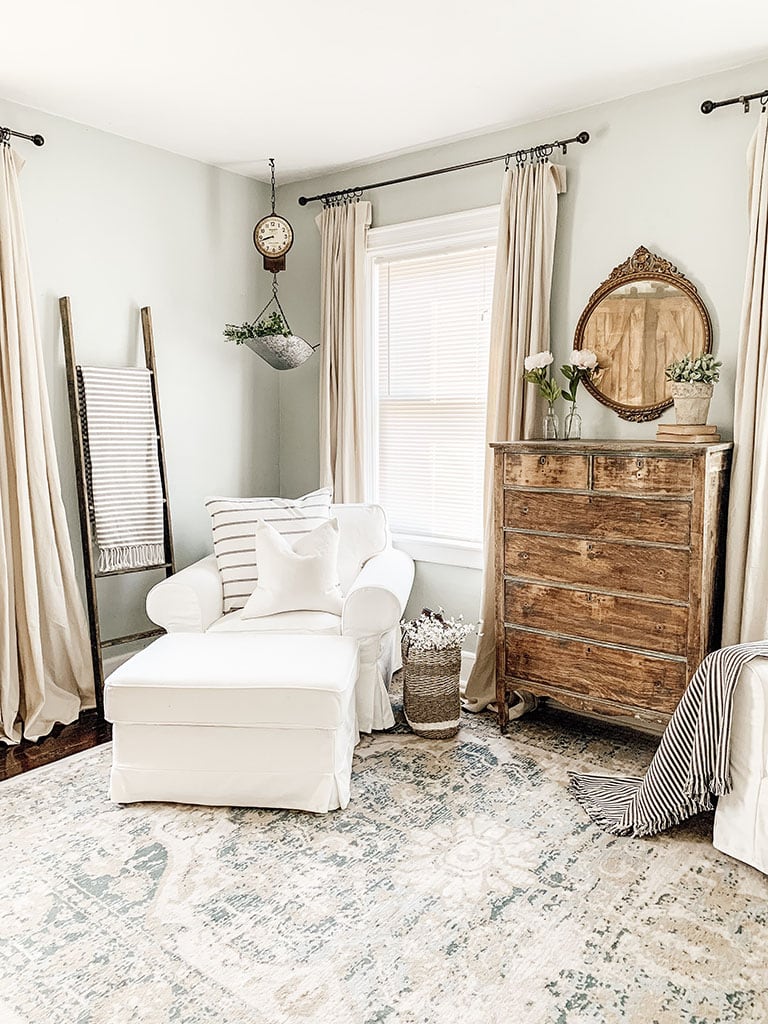 Ikea Ektorp Ottoman
We purchased the ottoman to go with our armchair and we love it.  It has similar benefits to the sofa, but one of the best things about the ottoman is the storage! You can remove the top and there is a storage compartment. I use it to store extra throw blankets.
It is also great for putting your feet up and relaxing. I have seen people use it with the sofa as a movable chaise, as well as a coffee table. The options are endless with this inexpensive add on.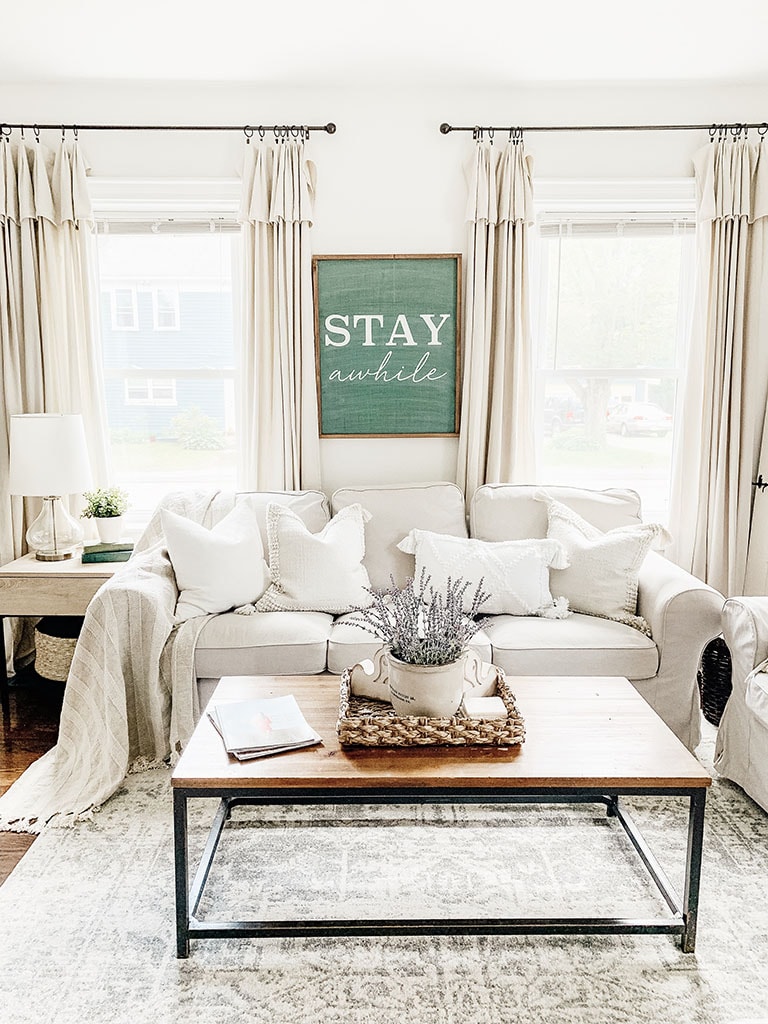 Frequently Asked Questions
Every time I post a photo of my living room I get the same questions. So I thought I would share the answers here in case you were thinking some of the same things!
 1. What color are your sofas?
Our sofas are the Lofallet Beige slipcover and the chair and Ottoman are the Vittaryd White. I love the neutral colors and it allows me to switch out my decor often and add pops of color with throw blankets and pillows.
2. How do you live with white/light furniture?
This is my most asked question and I get it. But that is the great thing about slipcovers. You can wash them and because of this, we feel free to live in our home ?. If you have been around the blog for a while you know I love neutrals and whites. This is something I was not willing to compromise on. I will also say the germ freak in me loves that it is white/light, because I can see when my furniture needs to be cleaned. With a dark sofa you can't see it, it doesn't mean it is not there.
I will note that the Lofallet Beige is more forgiving than the white and is why we chose it for our main living room.
3. Is it easy to wash and do you have to iron the slipcovers?
It is a process to wash the slipcovers, but I would not say that it is hard. They do take a few loads per sofa so if anything it takes time. I do not iron my slipcovers. I just put them on the sofa damp and smooth out the wrinkles with my hands.
4. Does the fabric pill?
We have not had any issues with pilling. Pilling drives me nuts, so I am very happy we haven't had this issue.
5. Does it have a warranty?
YES! This collection has a 10-year limited warranty. We have not had to use it and I think in 10 years I will be ready for something new ?
6. Would you buy it again?
This is an easy question. One hundred percent yes!! Our Ektorp pieces have been really good to us. We love that we can have a cozy home that we feel comfortable living in without fear of ruining our furniture.
Ikea Ektorp Slipcovers
" Affiliate links provided for your convenience, please read my disclosure for more information."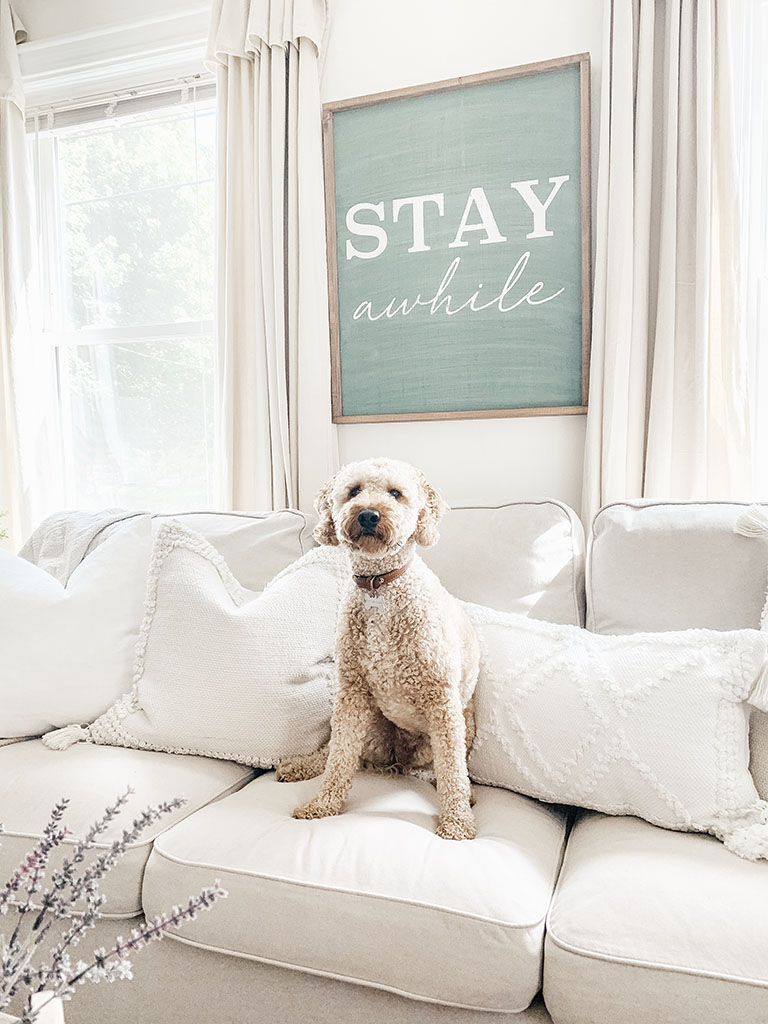 This is my baby Cooper ?
Have you ever considered the Ikea Ektorp sofa for your home? If you have any questions please let me know in the comments. I hope this review was helpful. And as always thank you for stopping by the blog ❤
What to Read Next:
New Living Room Rug | Boutique Rugs Review
DIY Farmhouse Style Drop Cloth Curtains- 2 Ways