Today I am sharing a super easy and affordable hack for making your own DIY Summer wreath.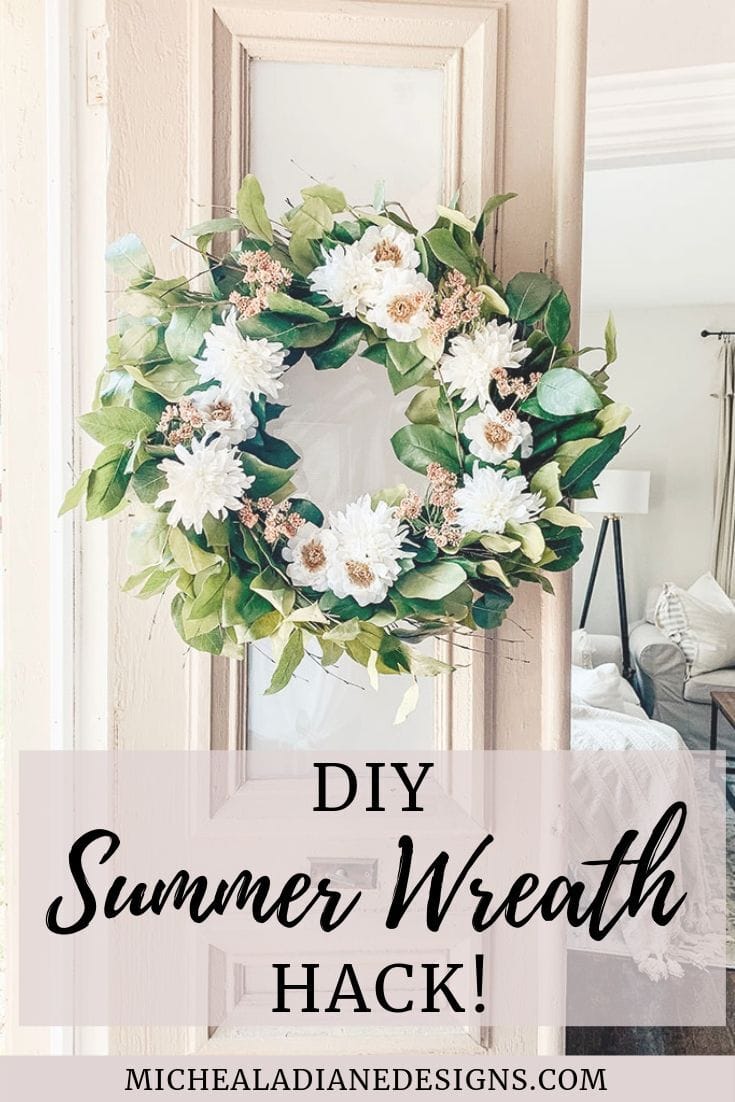 I love switching out my wreaths each season, but they can be really expensive. And it usually works out that I don't want to use the same one I did last summer for this Summer. Any one else constantly switching up decor? Hopefully, I am not the only one.?
So today I am sharing with you one of my favorite wreath hacks. It will make switching up your wreaths very inexpensive and ridiculously easy!
The trick is to purchase a wreath that already has your greens on it, but nothing else. This allows you to add floral's or other stems/picks that work with whatever season we are in. It really is as easy as that. I bought the wreath below from HomeGoods. It is very similar to a magnolia leaf and will transition well into Fall, Spring, and even Winter.
Just follow these easy DIY Summer Wreath tutorial to get all the details!
DIY Summer Wreath Tutorial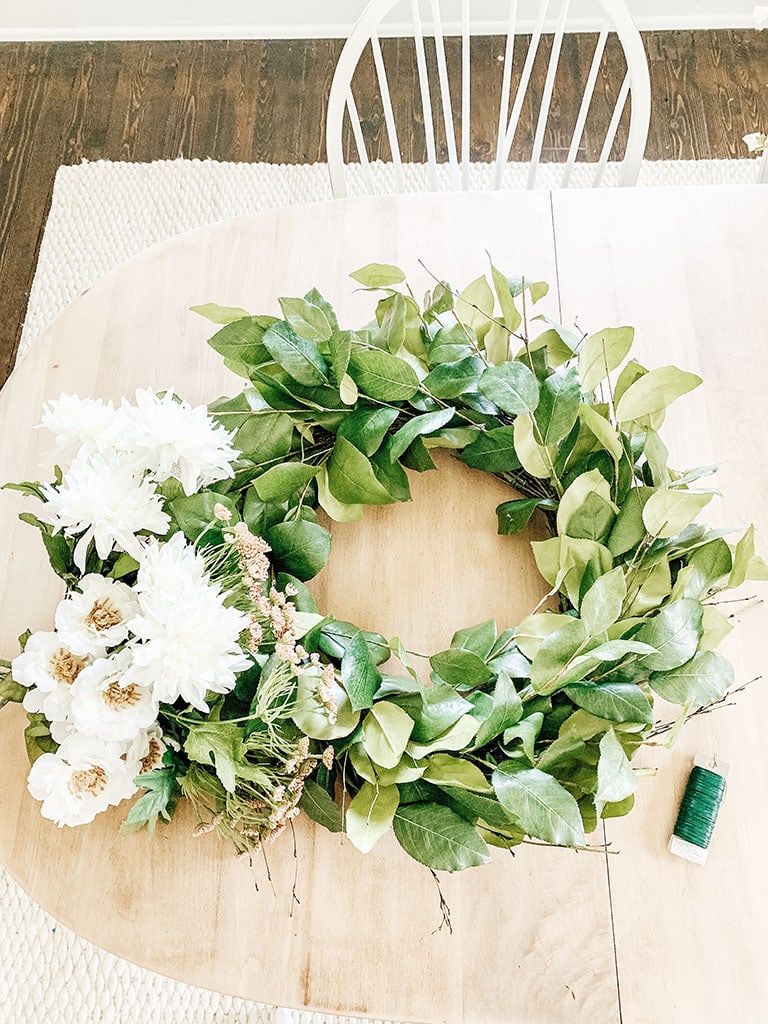 Step One:
The first step is to collect all of your supplies. For this summer wreath, I used a wreath that already had greenery on it. It's important to make sure that the back of your wreath has a branch construction. This will allow you to attach the flowers.  See the supply list below for exactly what you need to complete this DIY
Supply List
" Affiliate links provided for your convenience, please read my disclosure for more information."
20″ Wreath – I found mine at HomeGoods, but this one is similar
Florals- You can use any floral's that you want below are the three I used. I got all my flowers at  Micheals Craft Store
White Dahlia
White Wild Rose
Coral Queen Annes Lace
You can shop by clicking the pictures below!
These are additional options that you can purchase online to make your wreath
Step Two:
Once you have all your supplies the next step is to clip your floral bunches into single flower stems. Buying your floral already in a bush is the most affordable way to get a lot of single stem flowers. For this, you will need to use your wire cutters to clip each flower off the bush. See the pictures below for reference.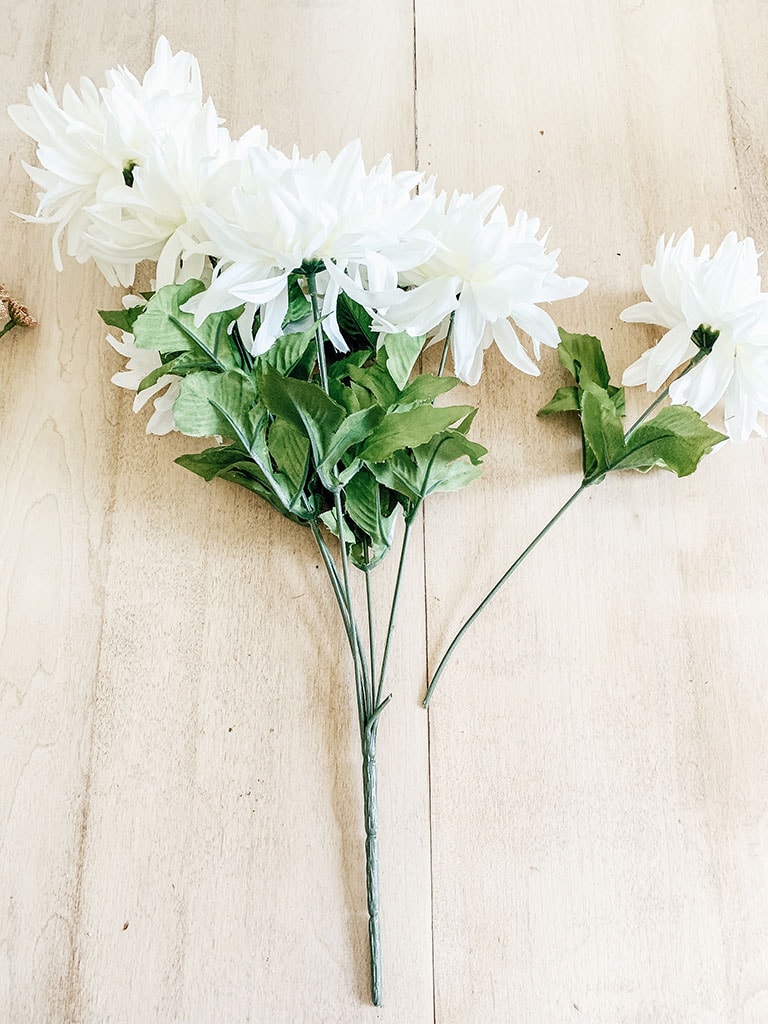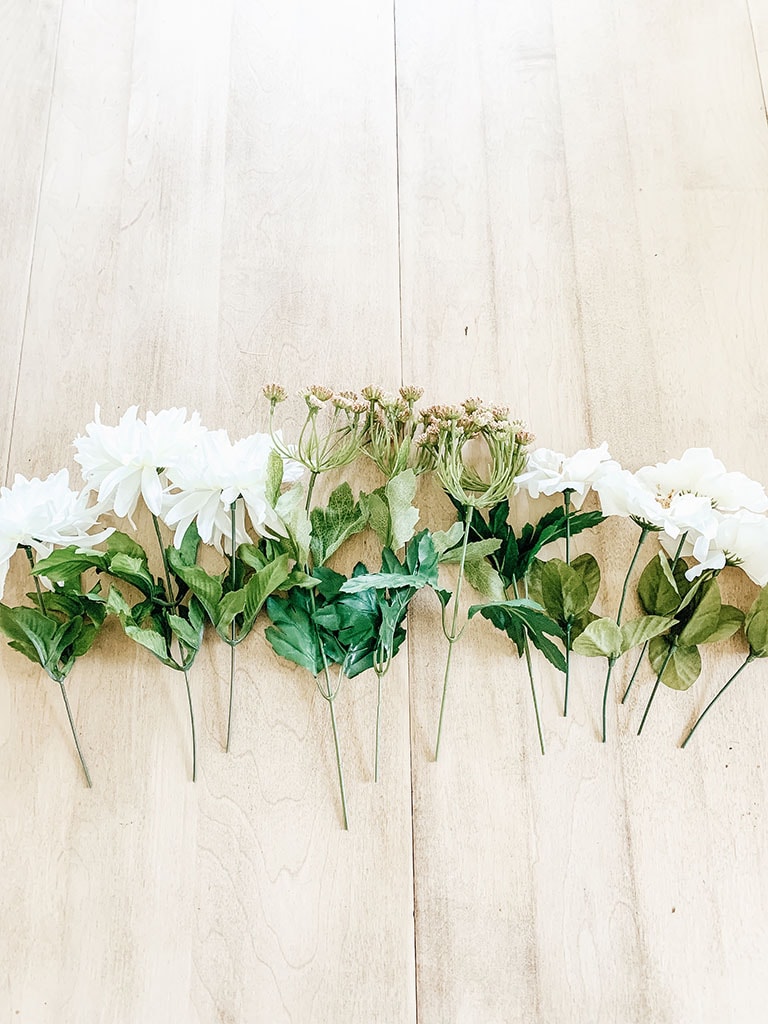 Step Three:
This is the step where you get to be a little creative. Once you have your stems cut, you can start placing them on your wreath. You can use either the floral wire or you can just stick them in between the branches of your wreath. This is why it is important to get a wreath that has a branch backing. It allows you to just stick the end of the stem into the wreath. This also works great with a grapevine wreath.
I used three different types of floral's for my wreath, but you can use as many as you want. I recommend choosing at least two for variety.
Below is the step by step placement of my three different floral's. I like to place one flower type at a time so that they are evenly distributed.
Pro Tip: The easiest way to see exactly what your wreath is going to look like is to place it on your door, then add the flowers. Instead of doing it on a table. This will also allow you to adjust between layers.
First Layer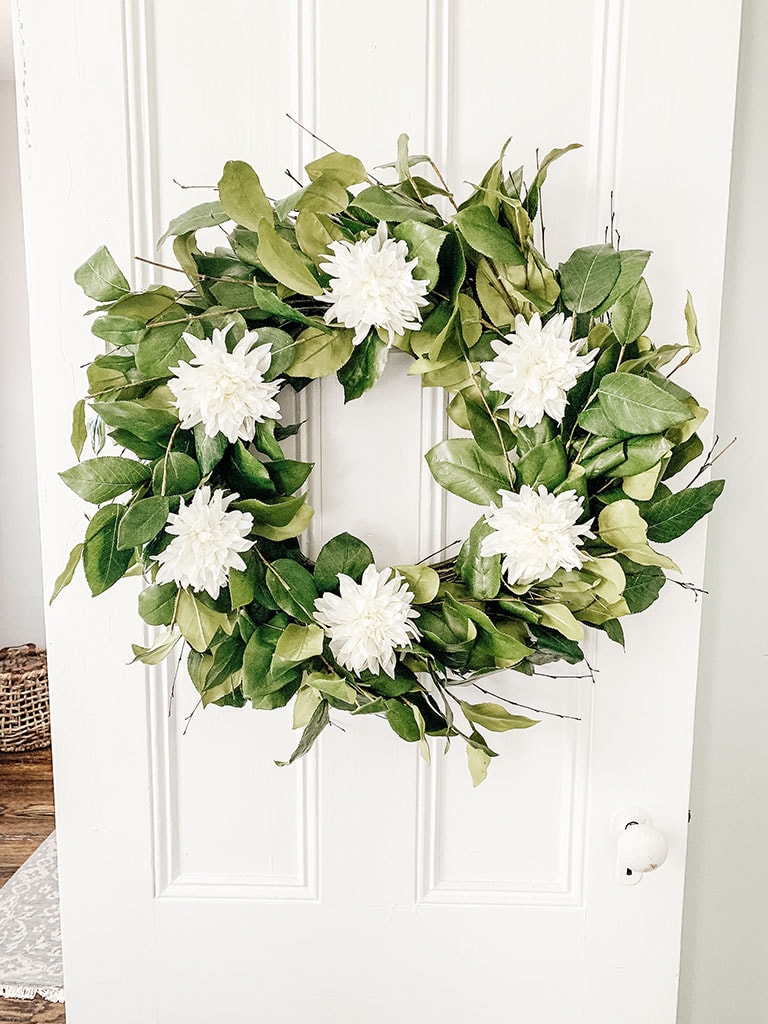 Second Layer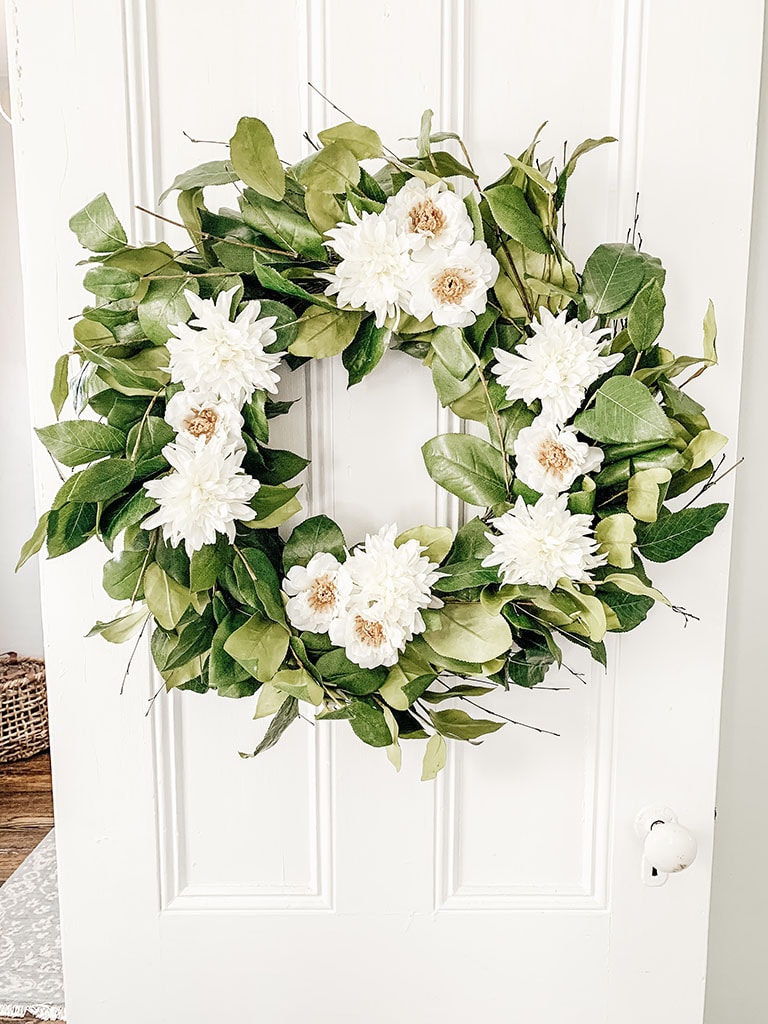 Third Layer
I am so happy with the way it came out! Remember you can remove all your summer flowers and reuse this wreath for any season!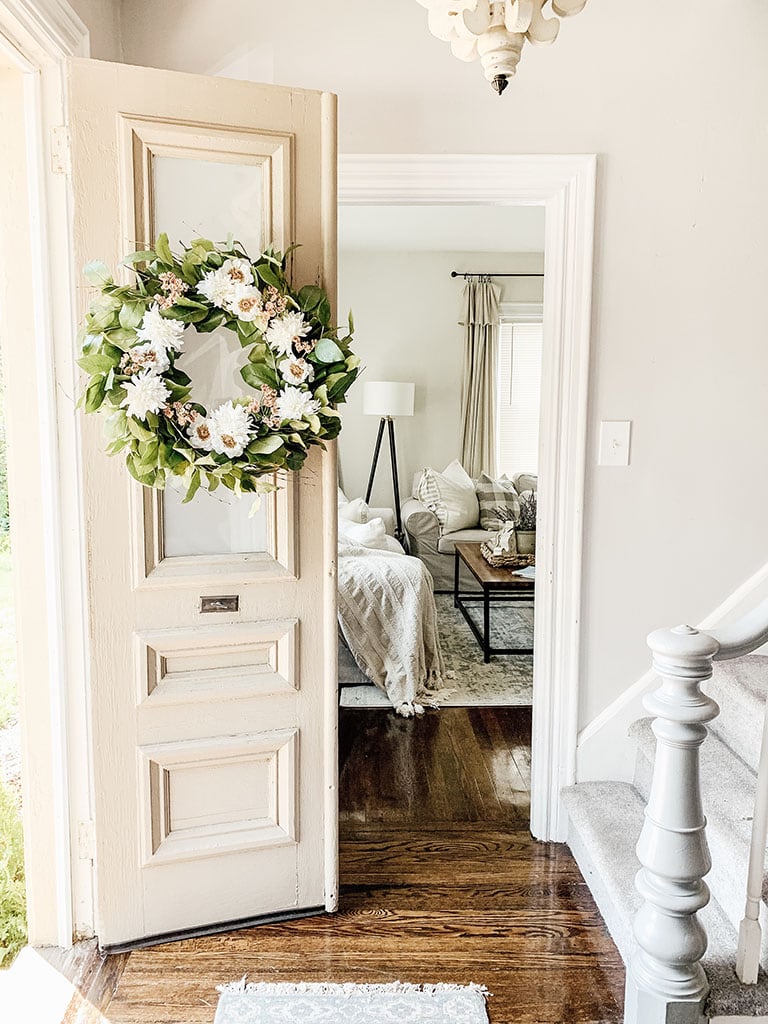 I hope you enjoyed this easy and affordable wreath tutorial. If you use my DIY Summer Wreath hack please share with me over on social media. You can tag me on Instagram or Facebook. Thank you for stopping by the blog 
What to Read Next:
Summer Must Haves From The Hearth and Hand Collection at Target
DIY Farmhouse Style Drop Cloth Curtains- 2 Ways
Simple Ways to Bring Spring Into Your Home | Spring Home Tour