Hi sweet friends! A couple of weeks ago I did a post on how to decorate after Christmas. If you missed it you can read it here. Today I wanted to share with you some other cozy winter spaces in our home, where I used those same steps. It felt so good to give each space a fresh clean start for the new year.  I also did a little antique shopping and found some really great items to give each of these spaces a little refresh. So grab your coffee ( or tea) and join me for a little winter home tour.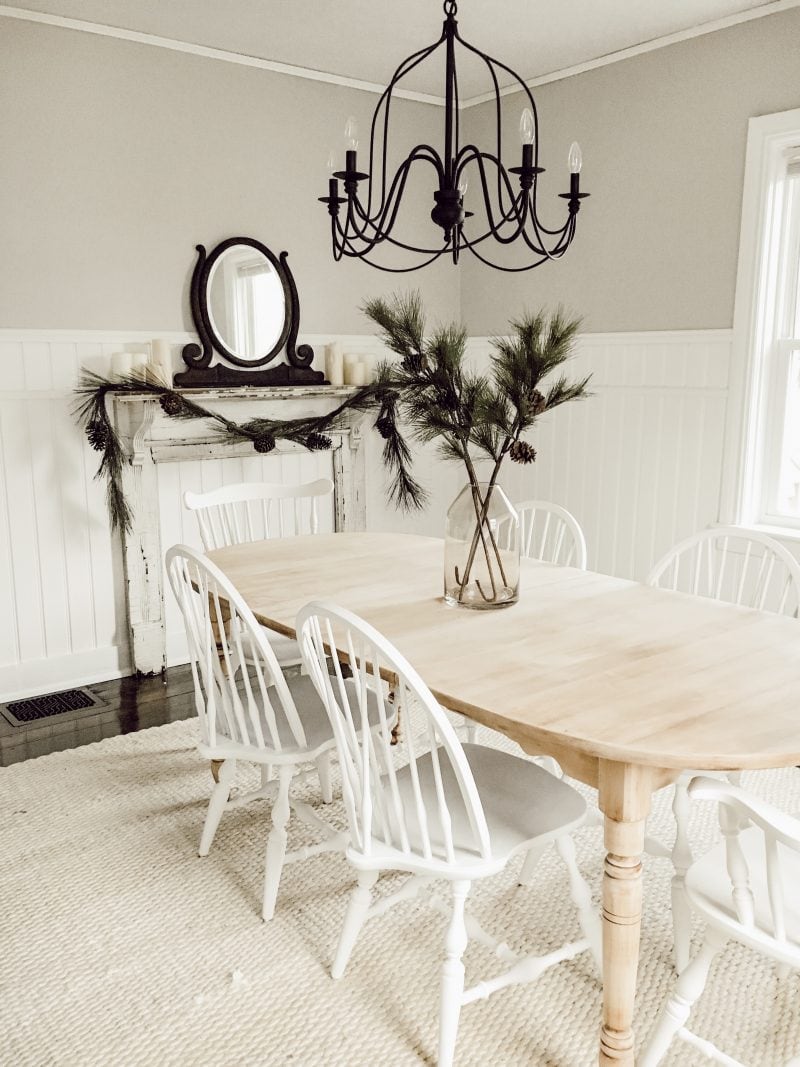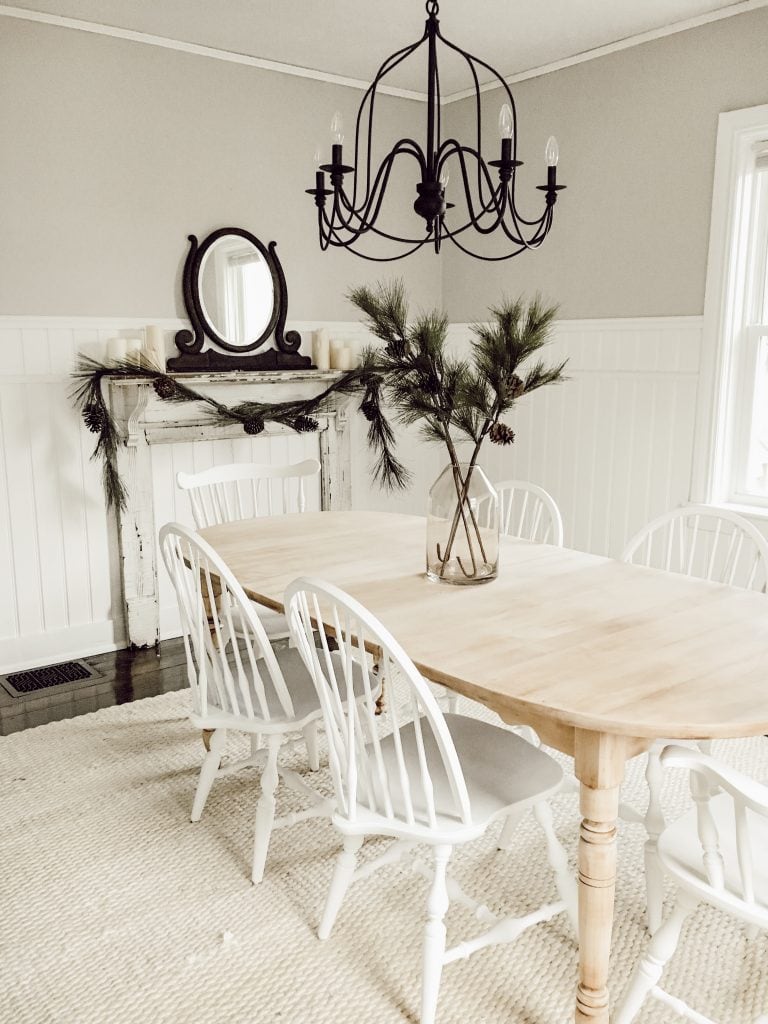 " Affiliate links provided for your convenience, please read my disclosure for more information."
The first space I am going to share with you is our winter dining room. My goal for this room was to simplify, simplify, simplify! There was so much going on in this room for Christmas that I was ready to completely strip down this space. We also recently refinished this table ( I will be sharing a how-to with you all soon) and I wanted to enjoy its beauty without all the clutter.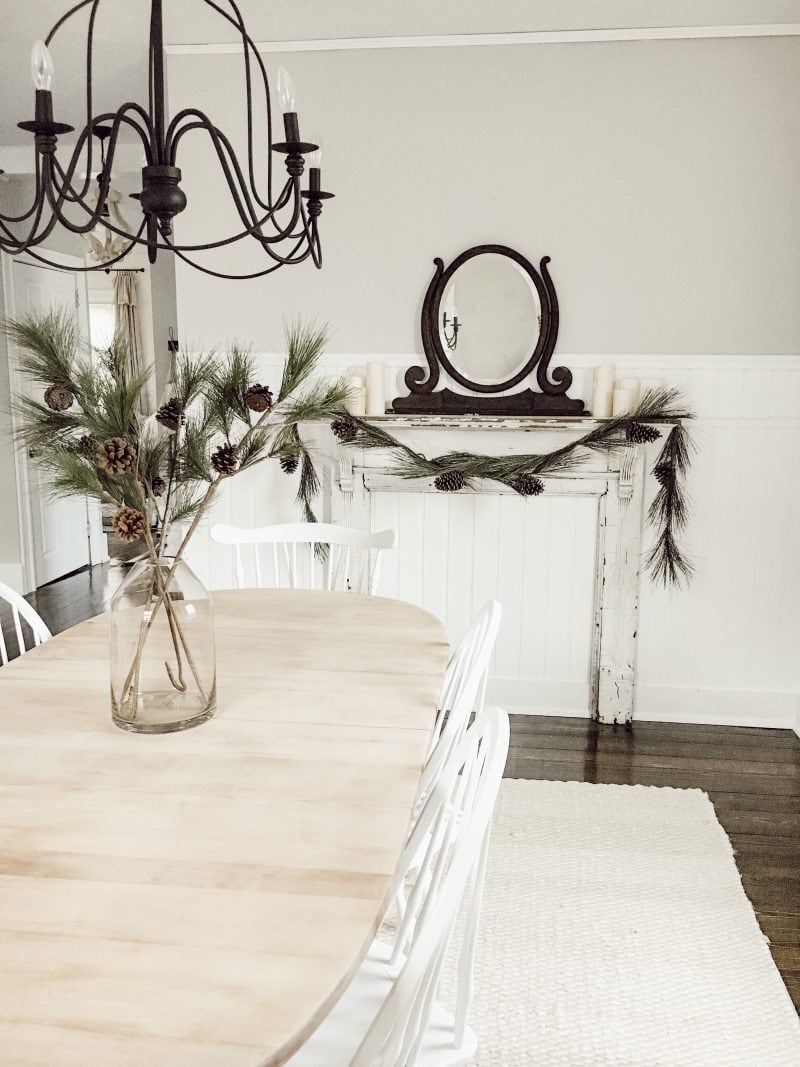 One of the things I kept in this space from my Christmas decor is this longleaf pine garland. It is perfect for winter and I paired it with some pine and pine cone stems in this pretty vase. The stems and the vase are from the Hearth & Hand line at Target.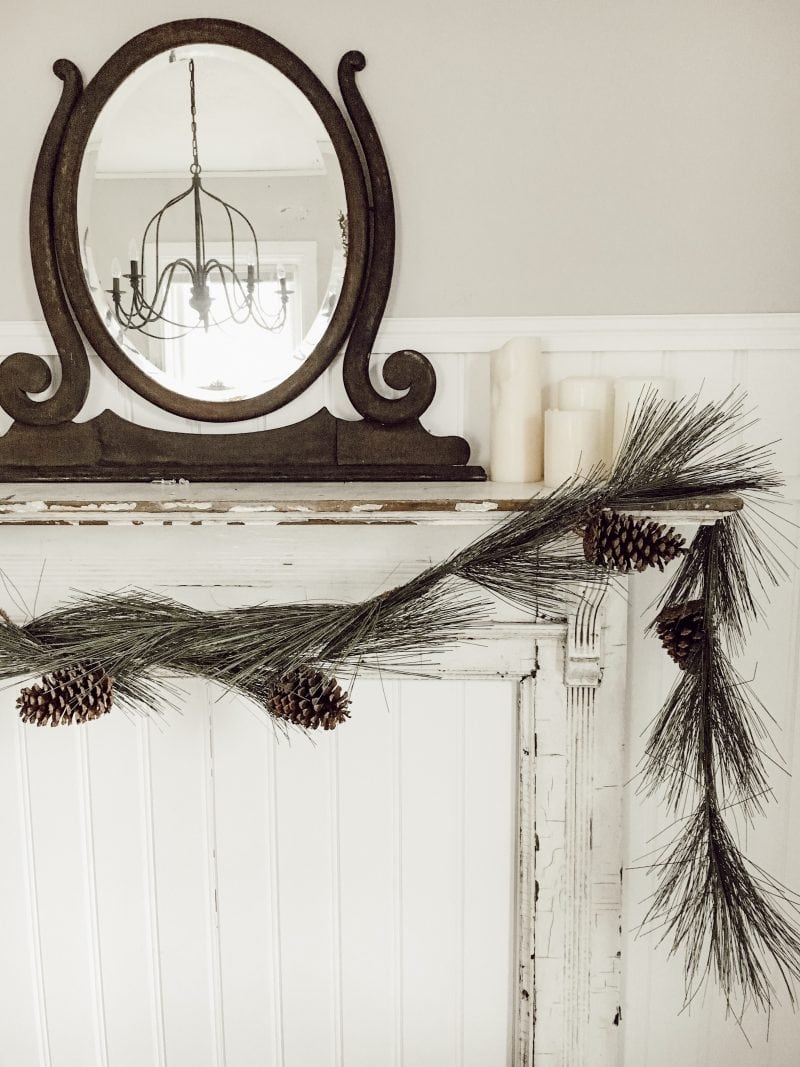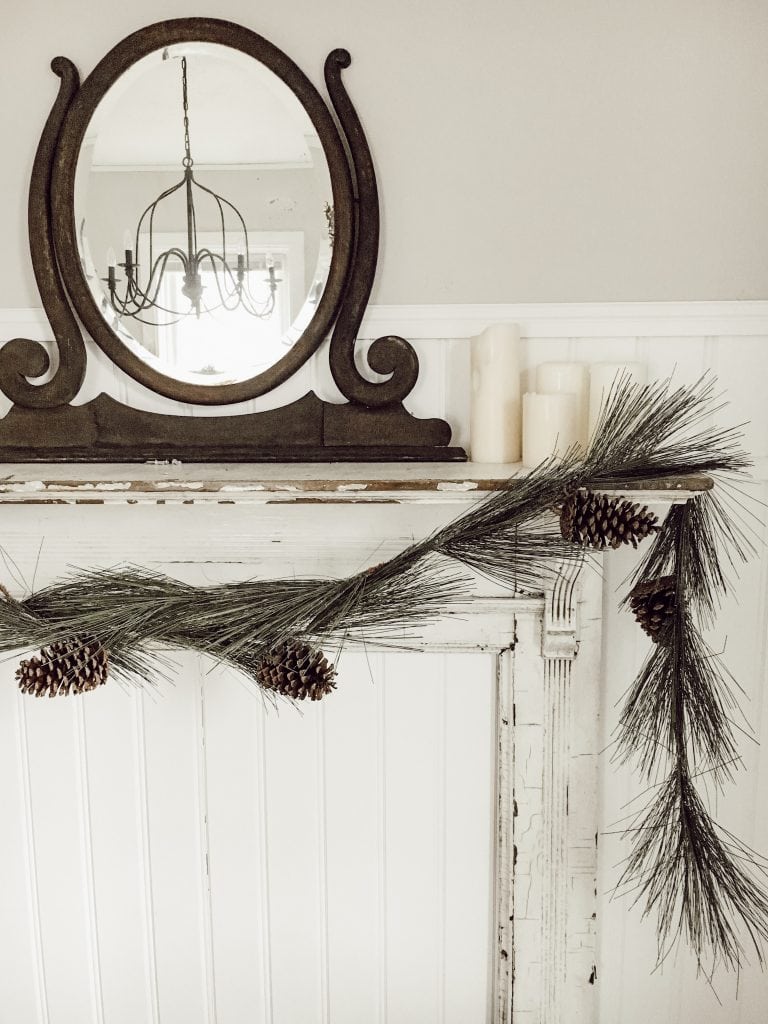 You know I couldn't finish out this space without sharing this GORGEOUS vintage mirror. This is one of the pieces I found while I was antiquing. Isn't she a beauty! I got very lucky with this piece because it had just come off the truck from an estate sale in Rhode Island. The owner had not priced it yet, so I was able to make a deal and got it for a really good price. The owner also shared that this mirror had been from a house that was over one hundred years old and was only ever owned by one family. This is very rare and they had original decor spanning all the different design periods. I knew it would be perfect for my winter mantle.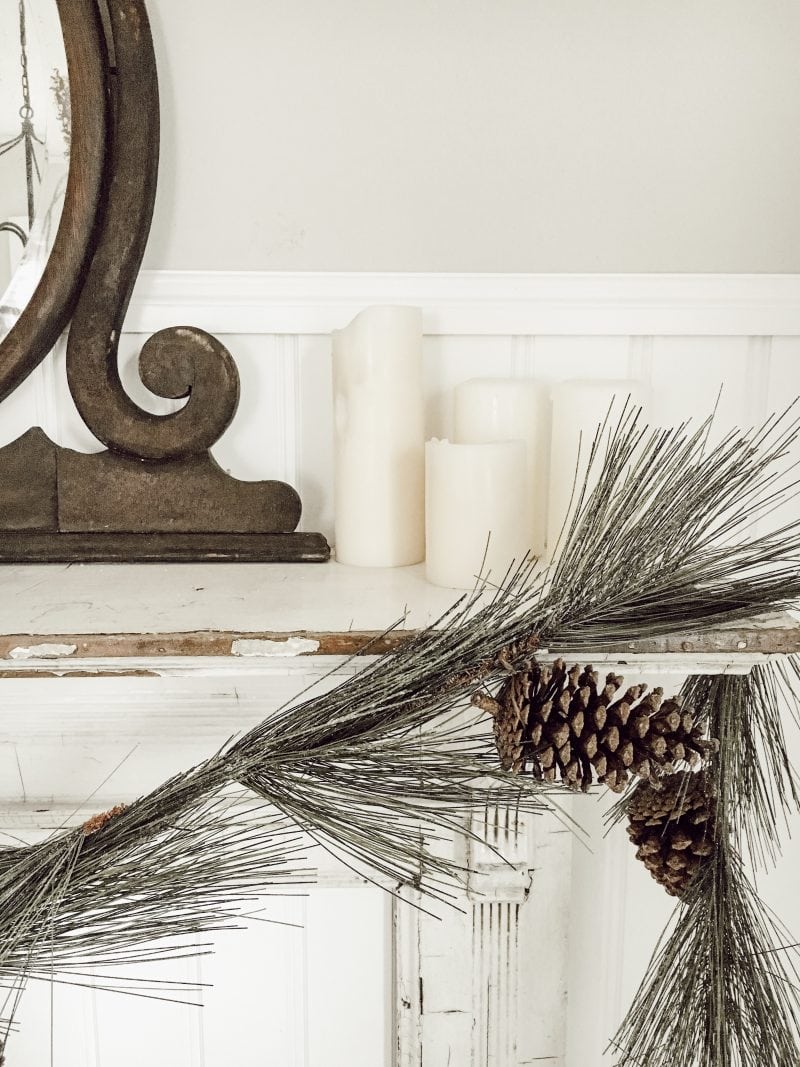 I added these simple white candles around the mirror to create a cozy vibe. One tip I recommend if you are using candles for decor only, is to let them burn for a few hours when you get them. This allows for the wax to drip and they look way cozier used then brand new.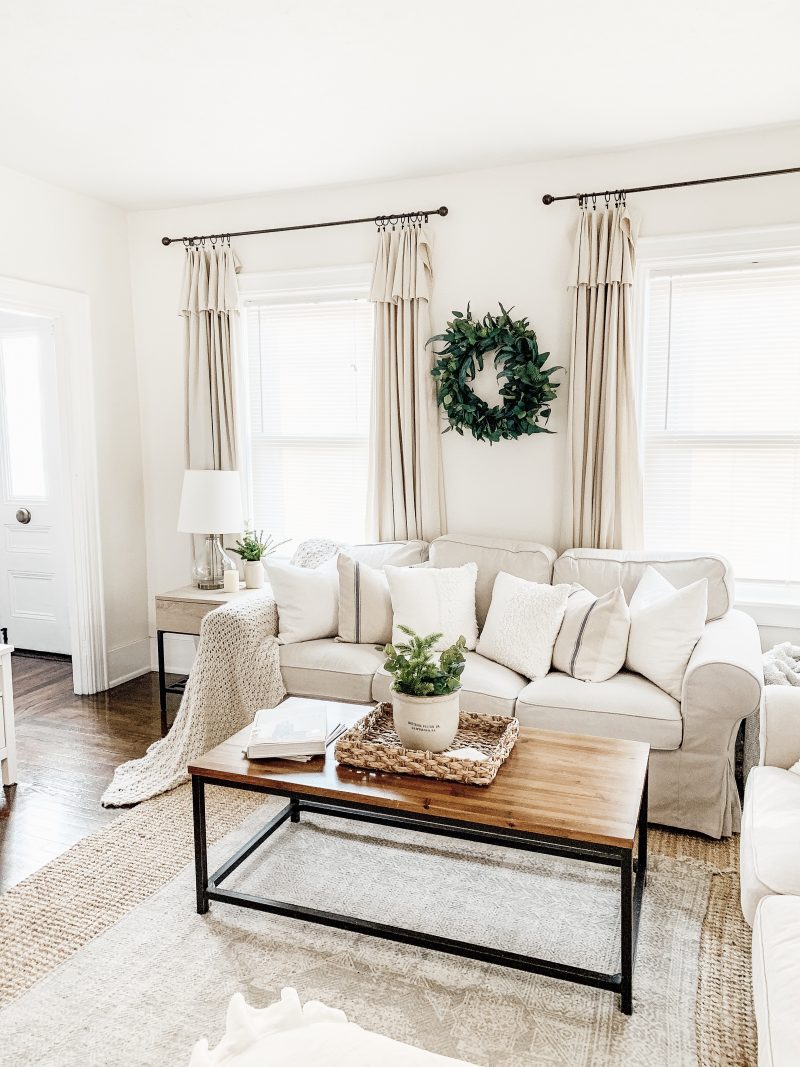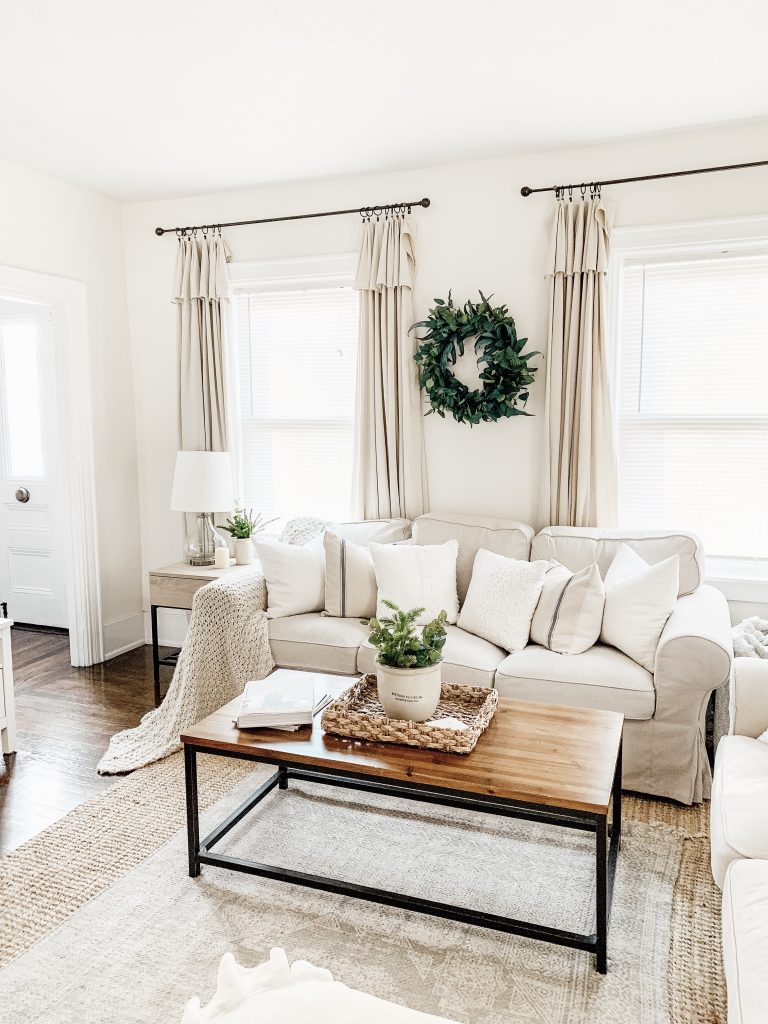 The next space I have for you is our living room. This was our winter wonderland room for Christmas and was mostly neutral. I wanted to keep it similar for winter, so I styled it with a cozy neutral winter vibe. The first thing I did was switch out the pillows using some creamy whites and these beautiful grain sack pillows from Farmhouse On Boone ( If you haven't checked out Lisa's blog you definitely should!) I also added this chunky throw blanket that I am OBSESSED with. Every home should have one!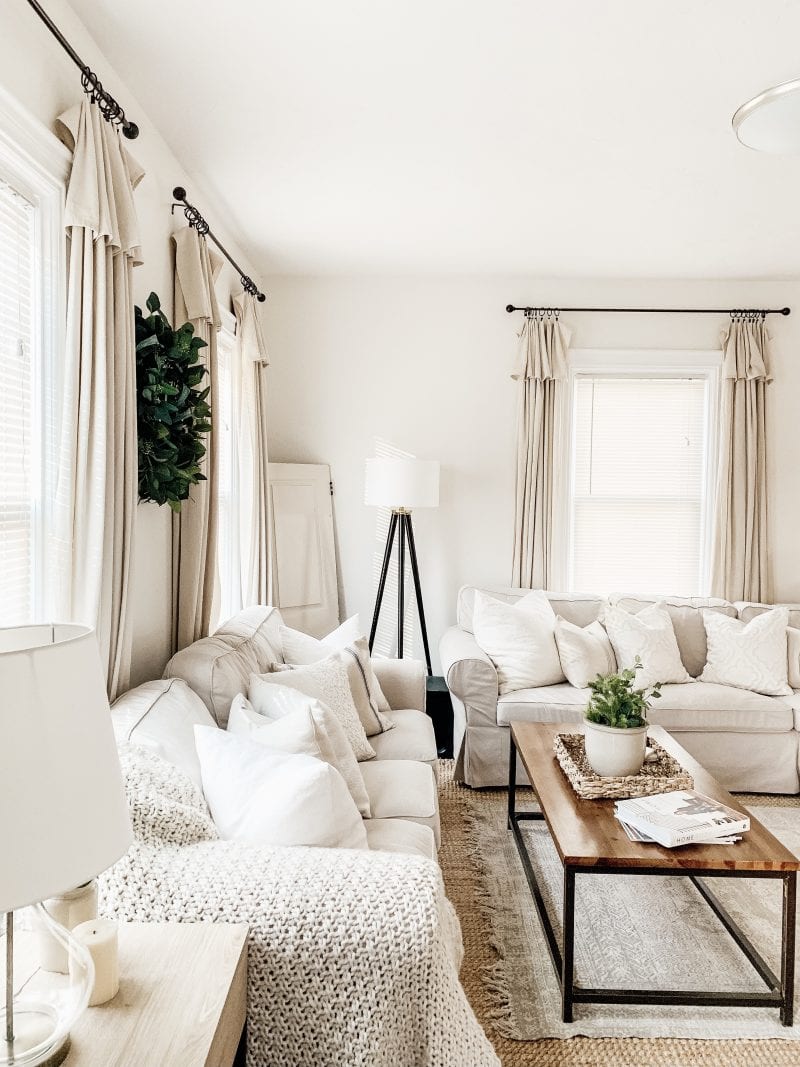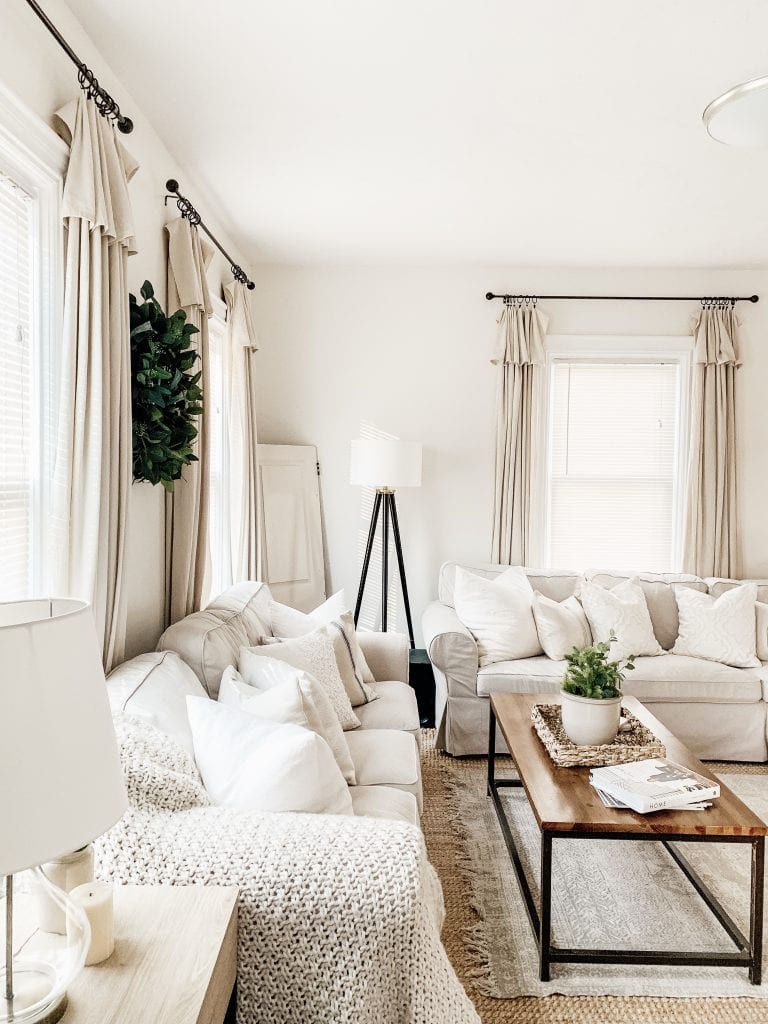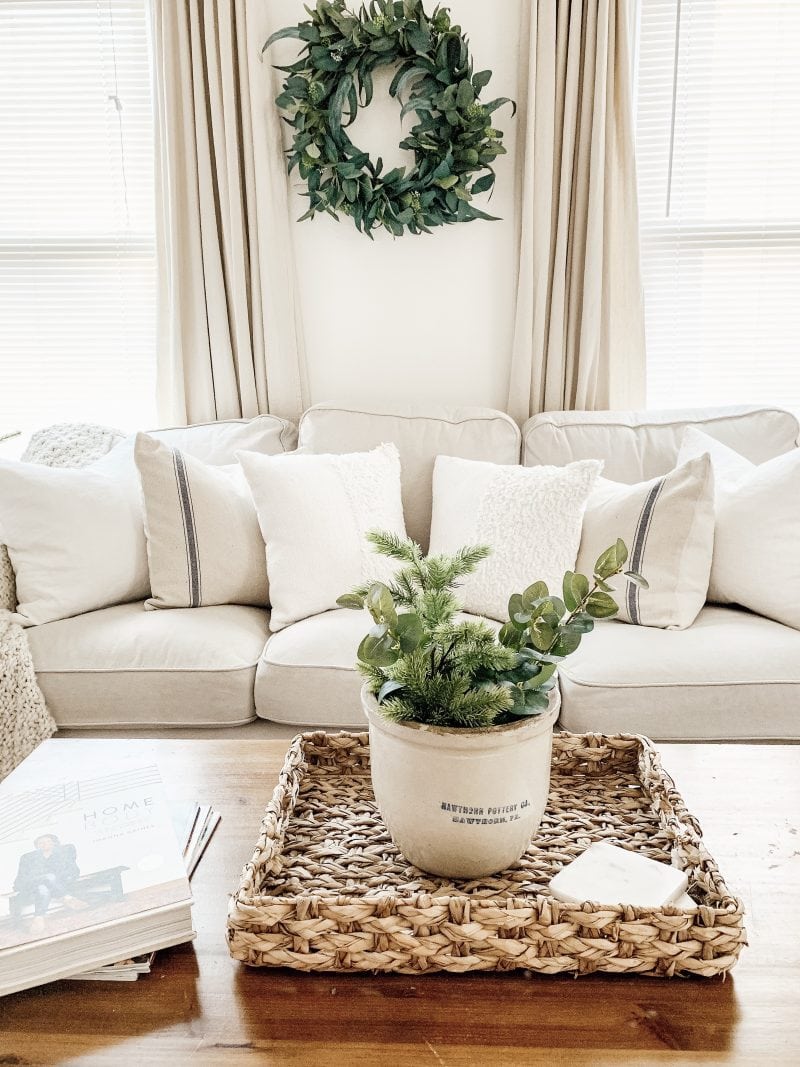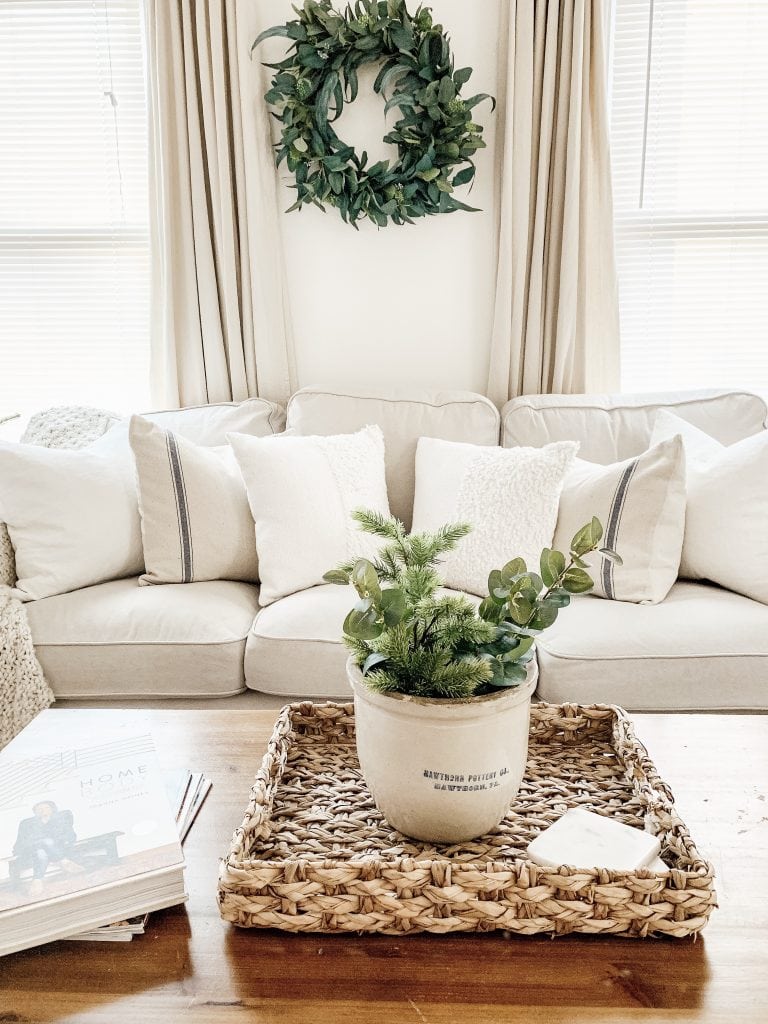 Another one of the vintage finds that I picked up was this beautiful crock. Every time I go antiquing I keep a lookout for crocks. I love the look of them and I had never seen one like this before, it is from a pottery company in Hawthorn PA. While I am out shopping I like to look up a piece to see the value and I found a similar one for 5 times the price this vendor was asking. Another great steal!  I placed a mini tree along with some winter eucalyptus in it, and I absolutely love this combination.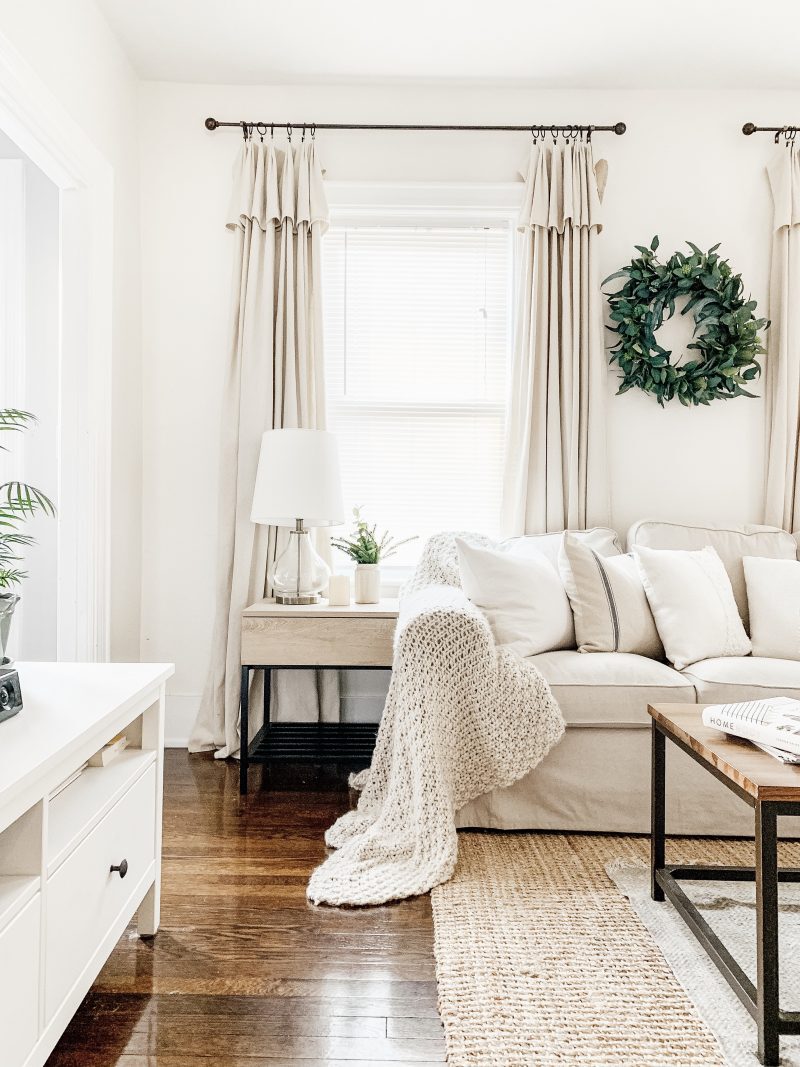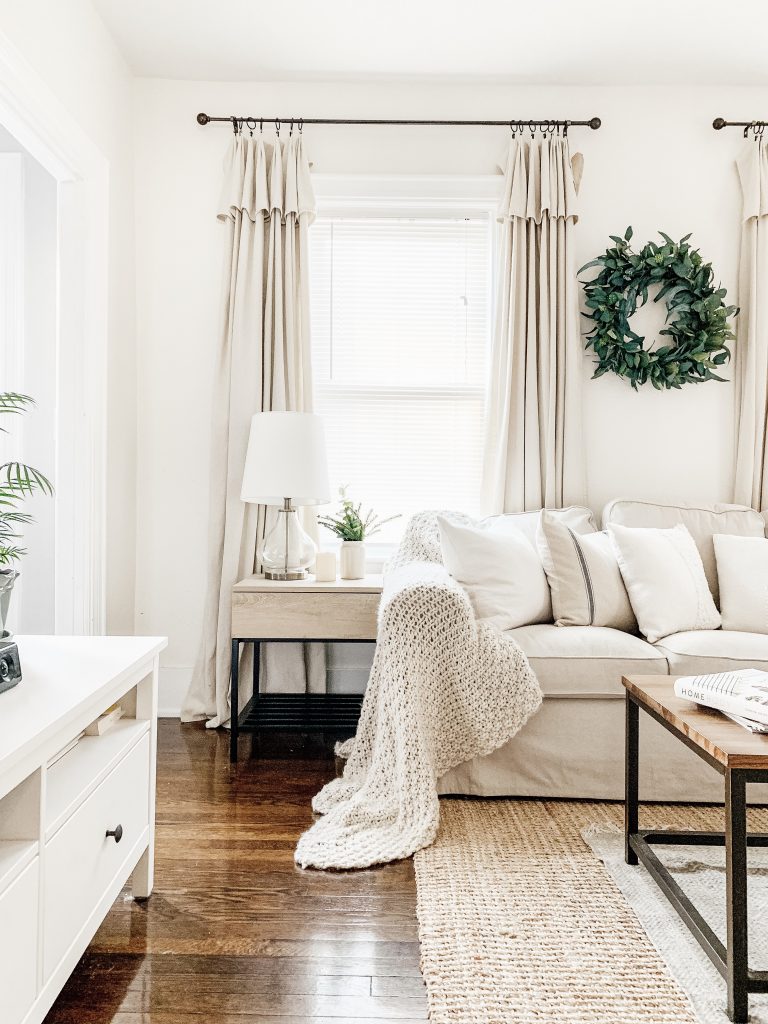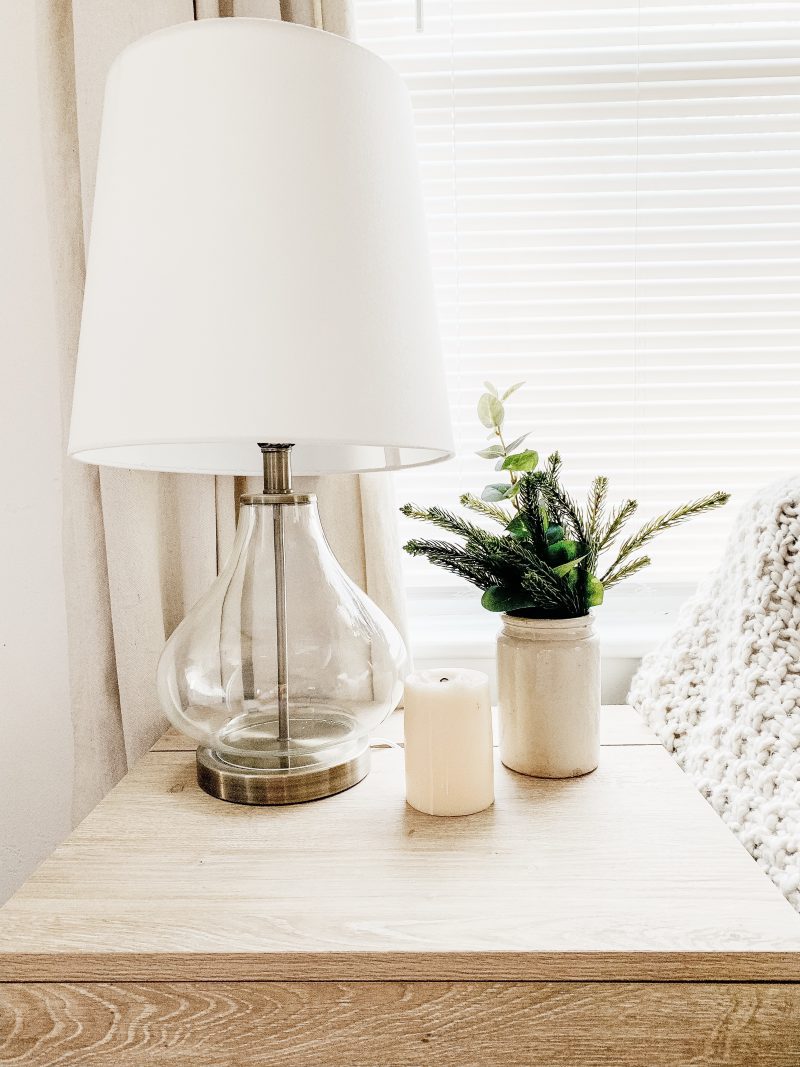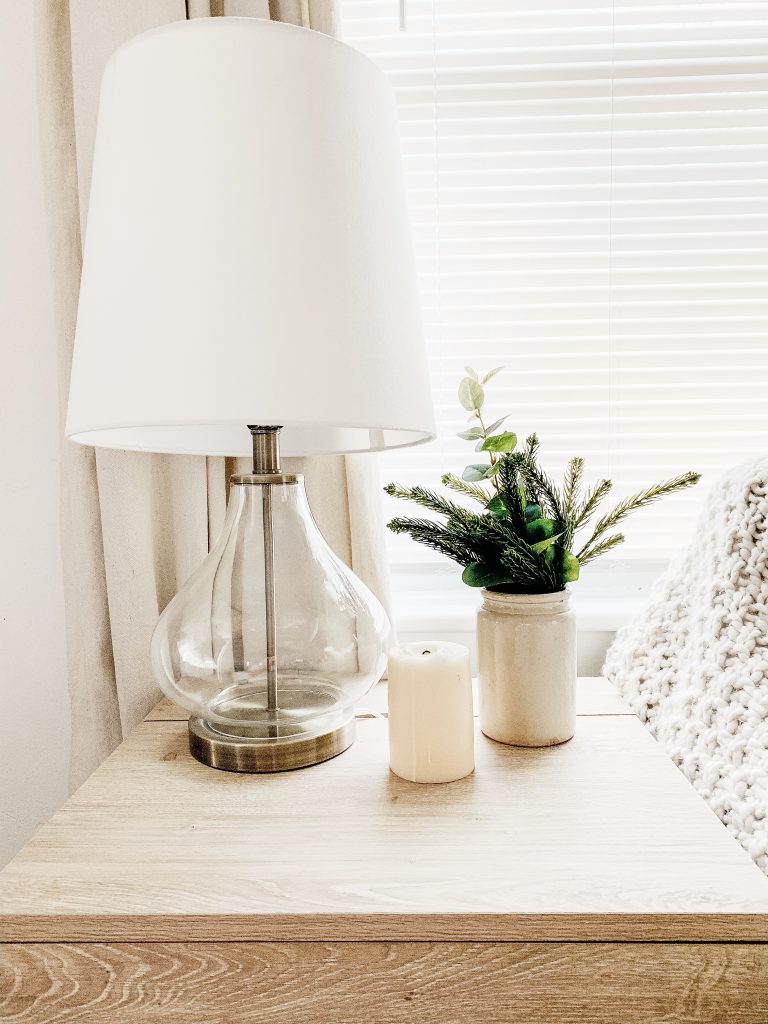 Another one of my favorite places to add a little decor are my end tables. I used a mini crock and placed similar stems as I did on the coffee table. Simple and less cluttered was the goal and I found all of these for 70% off at Micheal's. One of my favorite places to find greenery.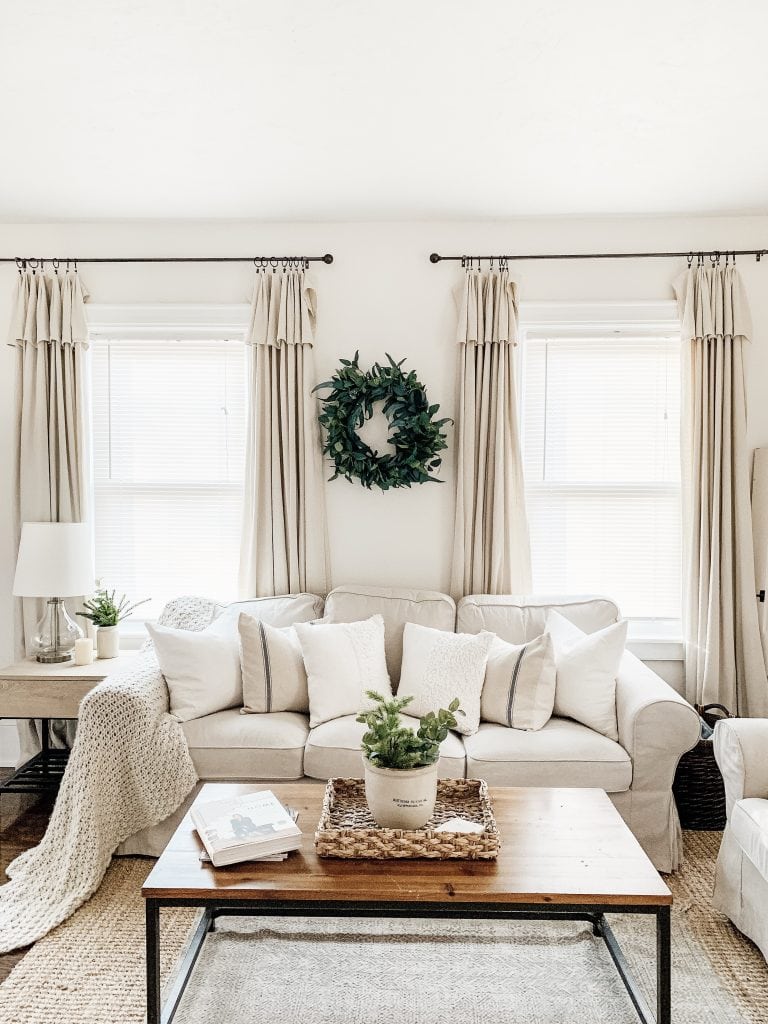 I switched out the art piece I had here for this wreath from the Hearth & Hand collection ( as you can see I love this collection!). This wreath is very versatile and I think it can be used for all seasons. I used it to compliment the winter greens that I am using throughout the space.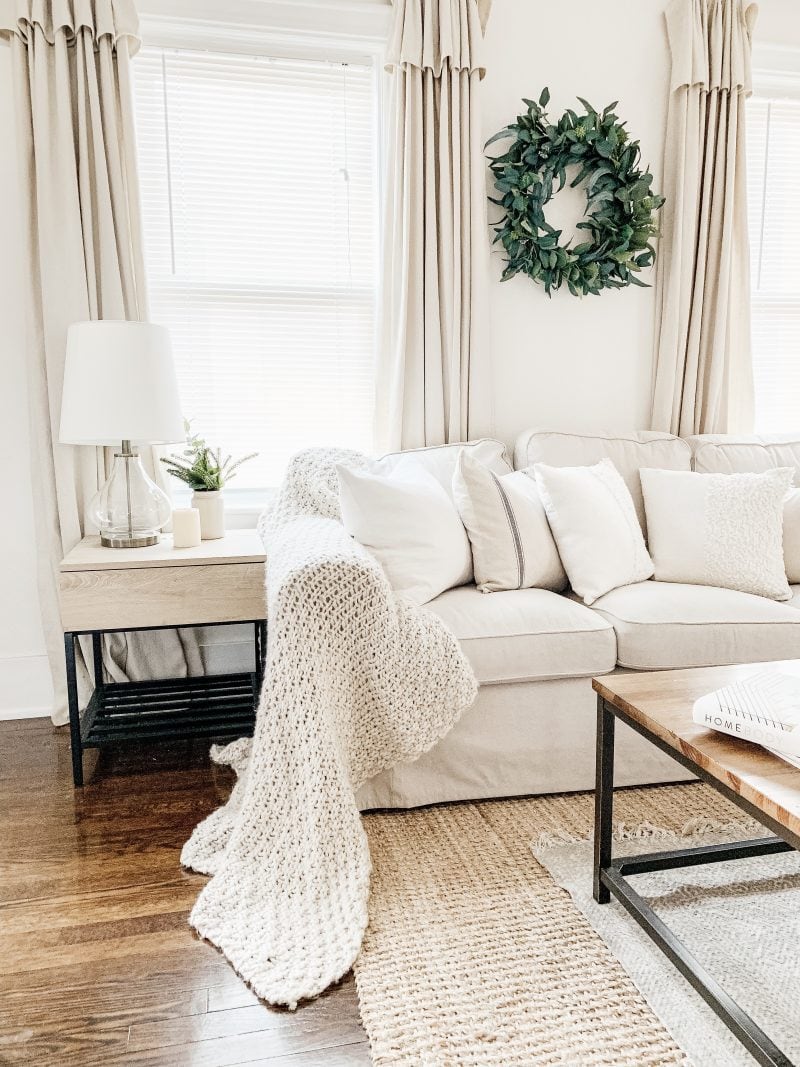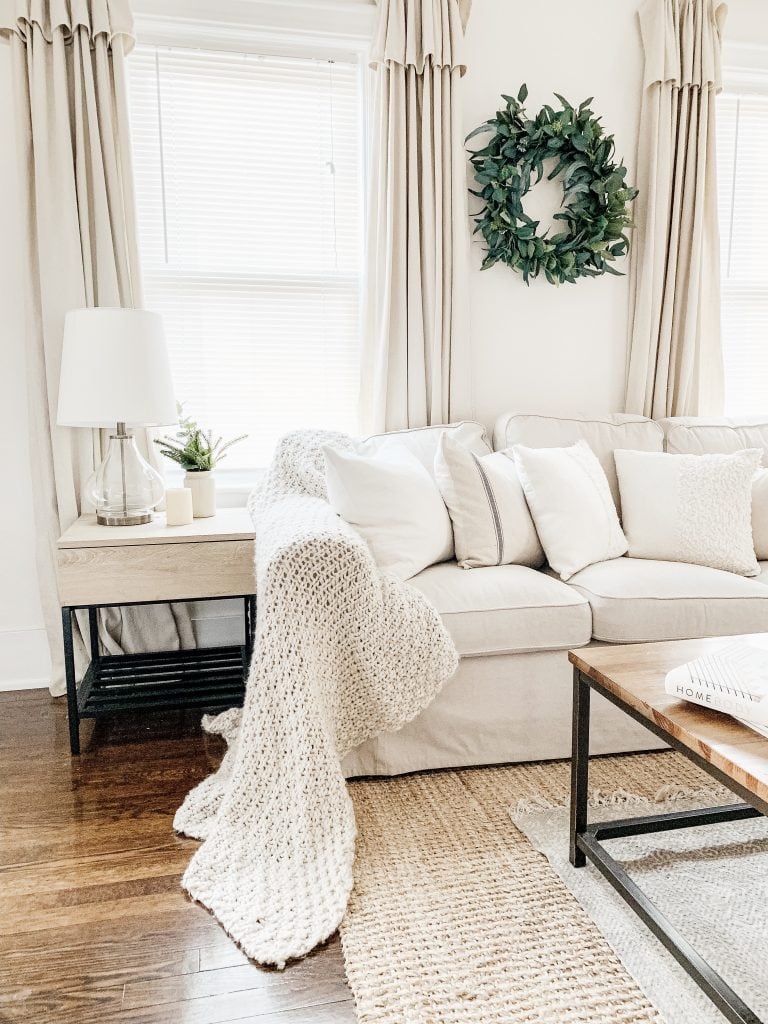 I hope this little home tour gives you some winter decor inspiration for your home. Thanks for stopping by the blog today!
Shop the Post
Other Post You May Like:
Pin for Later