Today I am sharing an easy budget-friendly tutorial on how to create beautiful DIY board and batten. Keep reading for a step by step guide on how you can too!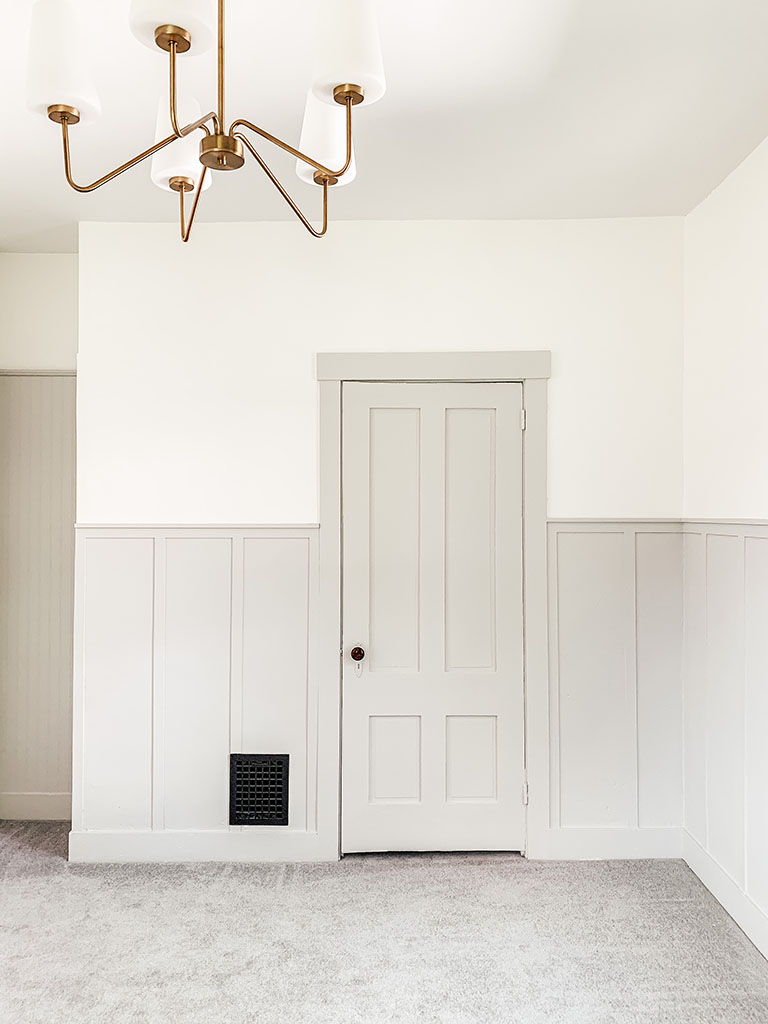 So excited to share today's post with you. A little while back I shared my design plans for our home office. One of the main design elements for this room is adding board and batten to the walls. It is an easy budget friendly project that adds a ton of character and visual interest.
There are a few different ways to do DIY board and batten. I personally love a skinny board and batten look. I also love the idea of doing two colors. So we are doing a warm white on the top and a warm grey on the bottom. I am sharing every step of the process below making it really easy for you to achieve in your own home.
Before

After
DIY Board and Batten Tutorial
Material List:
"Affiliate links provided for your convenience, please read my disclosure for more information."
Amounts will vary depending on how big your room is.
We purchased the majority of the items from Home Depot. I highly recommend ordering from this list online and picking it all up in-store or having it delivered. This saves so much time. We had our material delivered right to our door.
Tools Required:
Step One: Choose your Materials
What kind of wood is used for board and batten?
I have shared exactly what I used above.
You will want to take a couple of things into consideration before determining what to use for your project
.
There are many different ways to do board and batten. I
personally
wanted a skinny board and batten look. And I wanted it to work with our existing baseboards and window trim. I went with a
pine lattice molding
that is only 1/4 inch thick and about 1-3/4″ wide. This made it so that we would not have to worry about it overhanging our baseboards or window trim. We also didn't have to cut the bottom at an angle. Saving time and money.
If you have baseboards that are deeper you may be able to use a wood board that is thicker without needing to make any modifications
. This will
however
give the board and batten a completely different look.
In the end style and ease of use are the best way to determine what wood works best.
Can you do board and batten on textured walls?
Next, you will need to determine if you need to do a backboard first which is basically just a large flat panel. This will be based on what kind of walls you have. If you have nice smooth walls you will not need to use a backboard. You can just attach the board and batten directly to the wall.
We have slightly textured walls and decided not to use a backboard. I don't mind having a little texture. If your walls have a lot of texture you might want to consider using a backboard to smooth it out.
Finishing Details
To finish off our board and batten we decided to add a cap at the top. This gives you a nice finished look. I went with a 3/4 inch square molding. If you choose a thicker board you will need to modify this.
Step Two: Measure Your Space
The first step in every project is to have a plan. This will help you determine how much material that you need to
purchase
. When it comes to board and batten you have a few decisions to make.
The first one is what height do you want your board and batten to be. In our case, we made this decision based on the materials we chose. We went with a 96-inch tall lattice molding. To save on cost and materials we decided that we would cut the lattice in half giving us 48-inch pieces. This determined our
overall
height of 55 inches. ( this is from floor to the top)
Once you have your height, you need to determine where you want your battens to start and how far apart you want them to be
. Some will start in a corner and work out from there, but I wanted mine to start on the windows. I have two windows in my office and I wanted the battens to be
equally
spaced on the window.
I started in the center of the window and worked out from there. You need to determine where you will start on each wall based on the locations of windows and doors.
How far apart should board and batten be?
How far apart the board and batten be can a personal preference. But there are a few things that you might want to consider.
I based my spacing off of my window size, location of outlets, and where they would end once it got close to the corner of the wall
. In the end, I chose
11 inches
.
I

highly

recommend planning out every wall so that you know ahead of time where the board and batten will fall. This will also help you determine how much material to buy.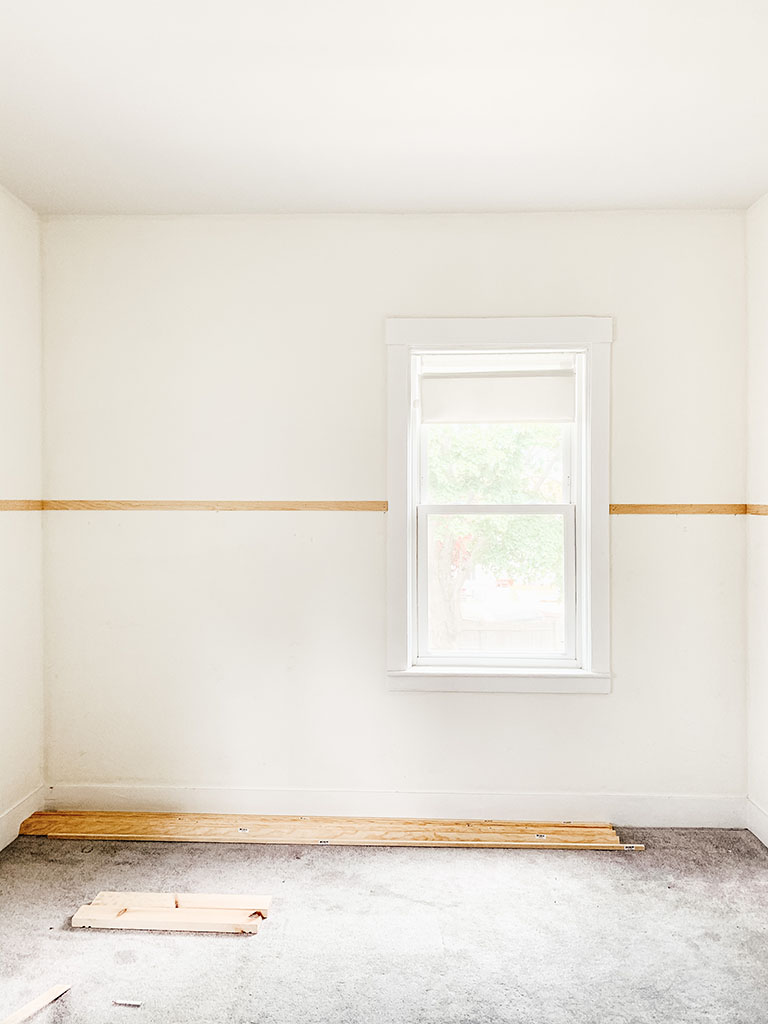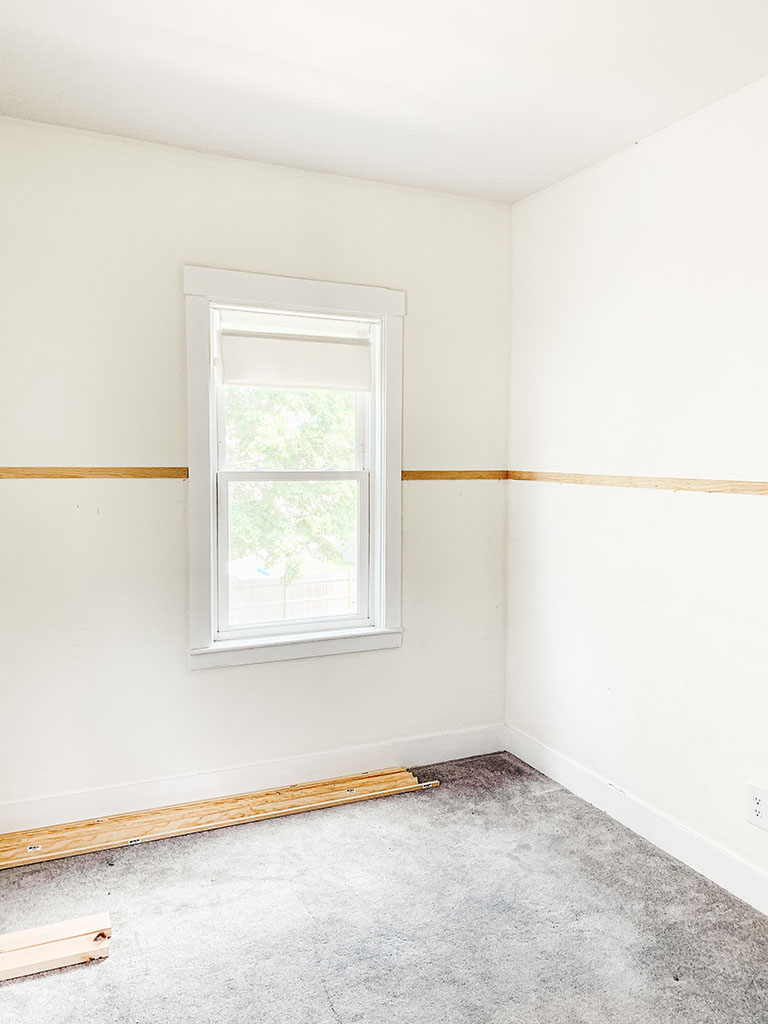 Step Three: Attach Board Around Perimeter
Now that you have a plan and all your material it's time to get started. The best way to start is to attach your horizontal boards around the perimeter.
This will make it easy to know exactly how long to cut your vertical battens.
Hopefully,
they will be all the same size. But if your house is not level you will have to adjust each one
slightly
. You will not know how much to adjust until your horizontal board is in place.
The best way to attach both your boards and battens is to use a nail gun and finish nails.
In order to
place your first board, you must know the final height of your board and batten. Once you know that height, subtract the thickness of your cap piece and the width of your lattice molding.
This dimension will be the bottom edge of your horizontal trim. Mark all along the wall this height.
When placing the horizontal board on these height marks, you may need to adjust
slightly
to ensure the board is level
. When the board is
perfectly
level, nail it into place. Repeat this process for the entire parameter of the room.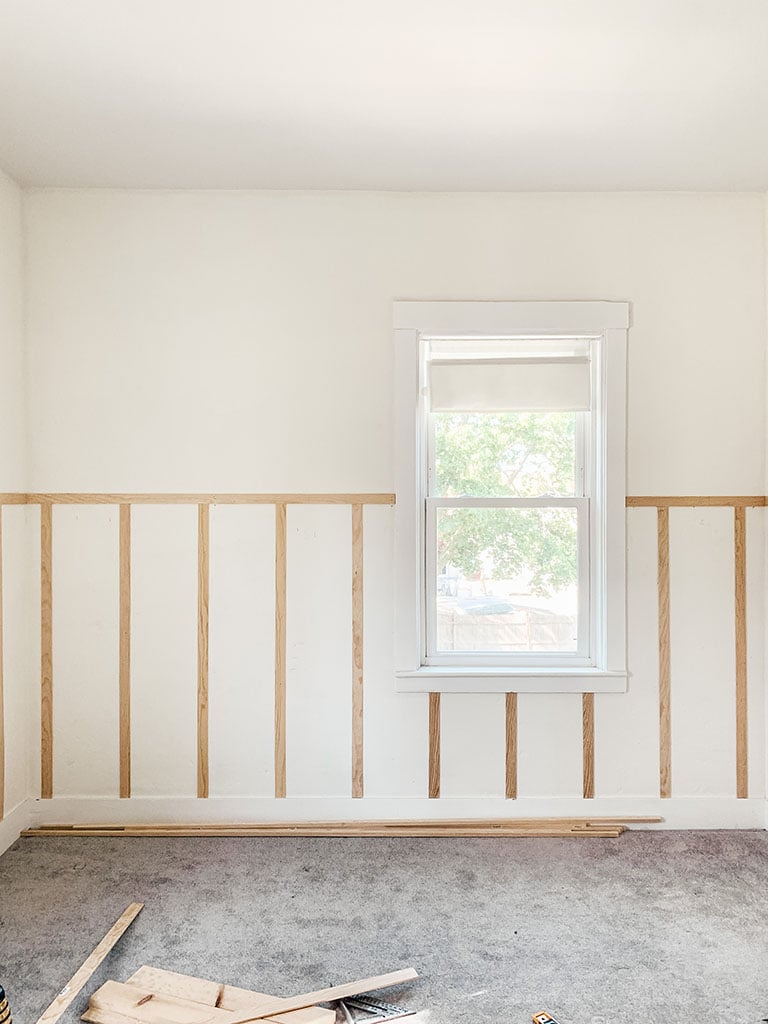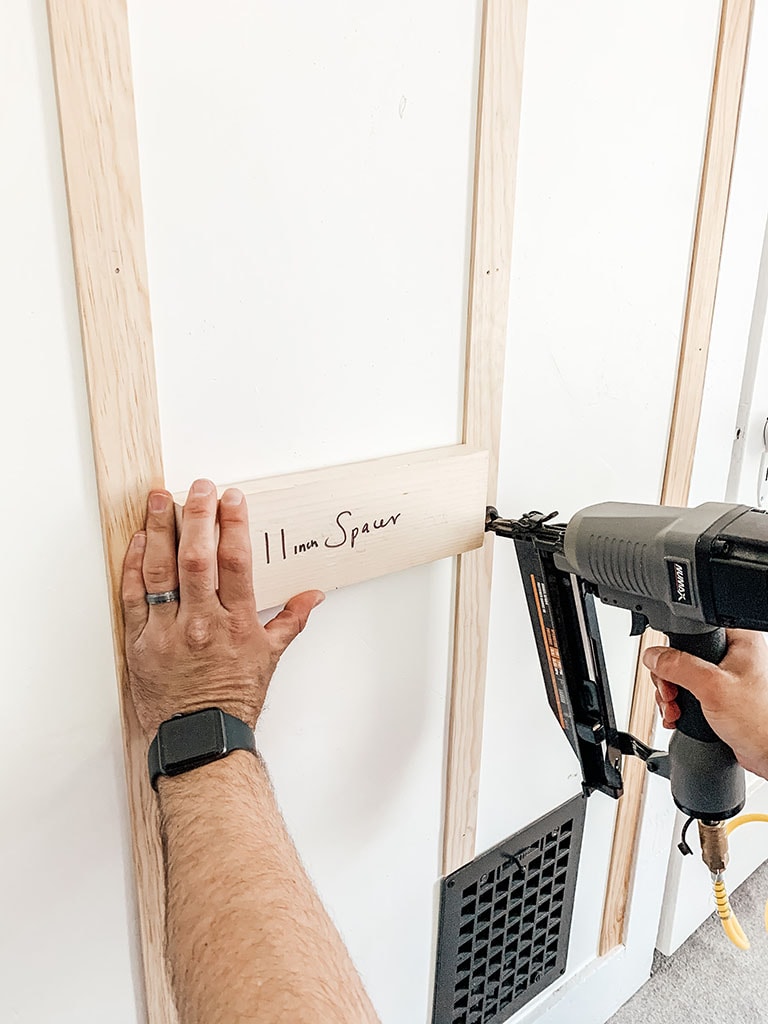 Step Four: Attach Battens
After your horizontal boards are attached it is time to attach your vertical battens. This is when you need to go back to your design plan that you created in step two.
You should have already decided exactly where you want to start your battens on each wall and determined the spacing. The easiest way to space out your battens is to create a spacer using scrap wood. This allows you to quickly install the battens without having to measure each time. We decided to have our battens be 11 inches edge to edge so our spacer was exactly 11 inches.
We started either at the center of the window or at the edge of a door depending on the wall. After you cut your batten to size using your miter saw. You will want to make sure that each batten is level and then you will attach it using a nail gun with finish nails. We used about 5 nails per batten evenly spaced.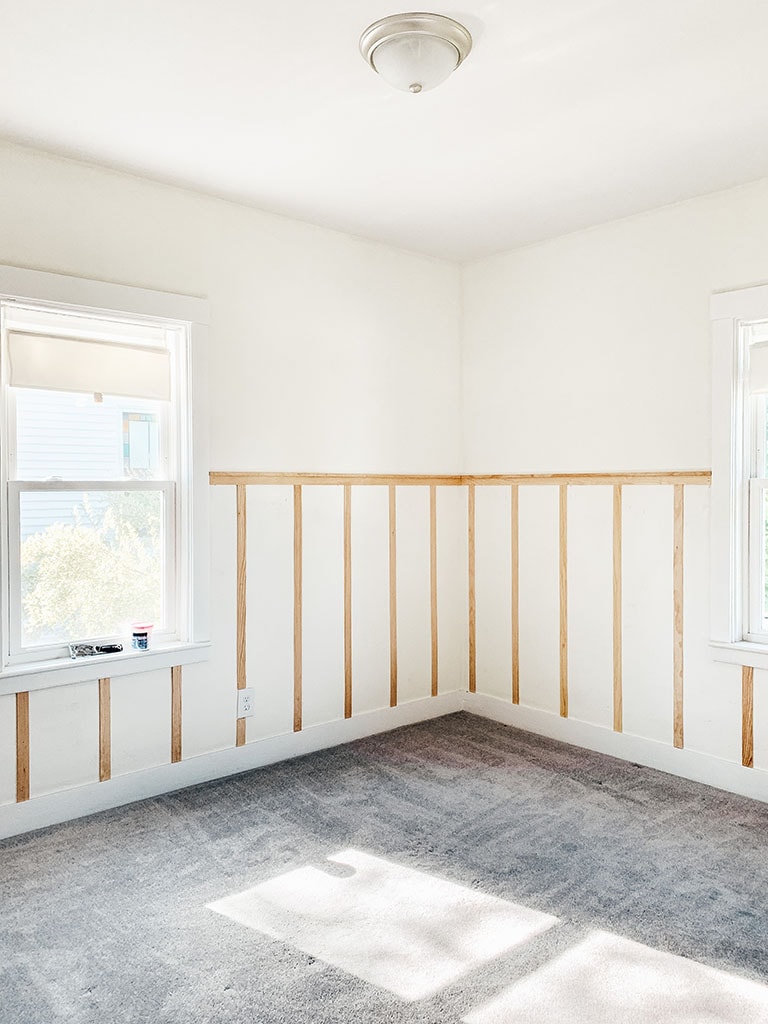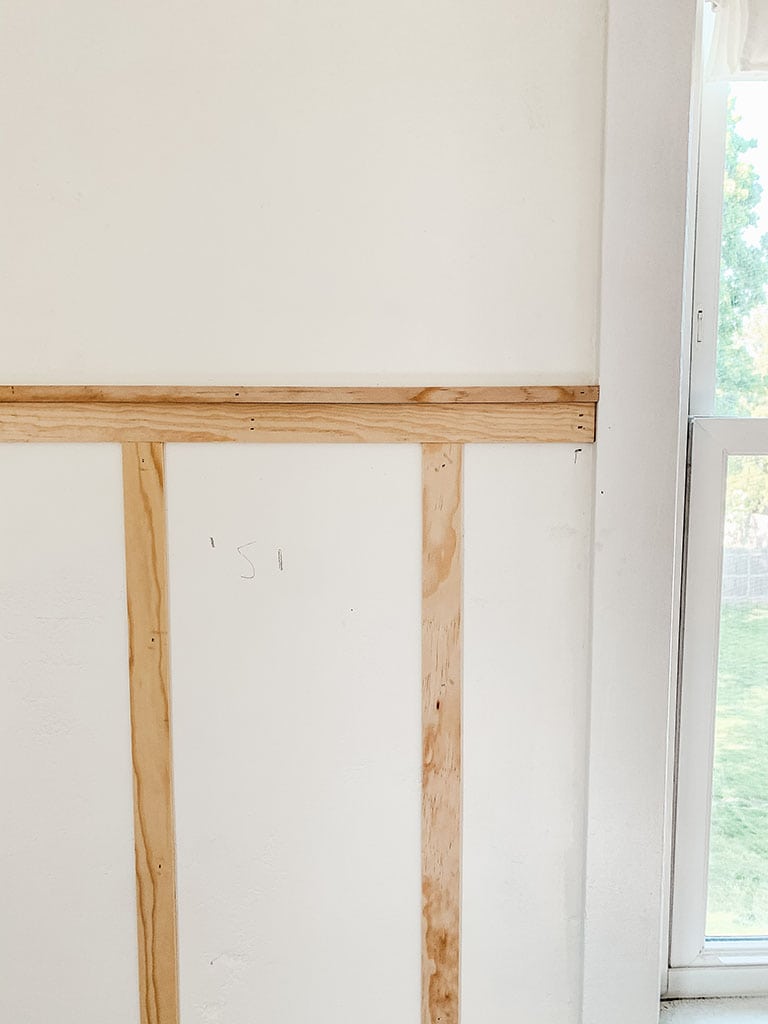 Step Five: Add Cap
Once you have your boards and battens up the final piece to add will be your cap. This is going to finish off your board and batten.
Similar to
how you installed your horizontal boards you are going to go around the perimeter. This time though you don't need to measure. You can
just
place the cap right on top of your horizontal board and use finish nails to attach it to the wall.
This is an optional step but I love how it completes the project. You can also do a deeper ledge to make it more functional for displaying art or accessories. I
just
wanted it for the detail.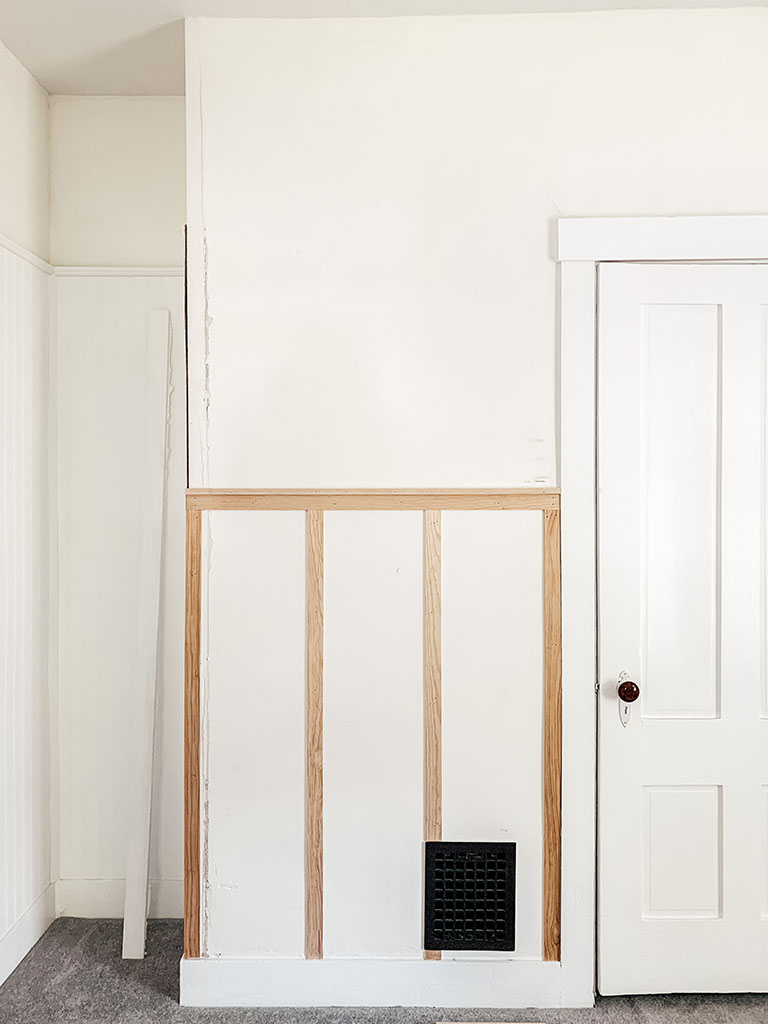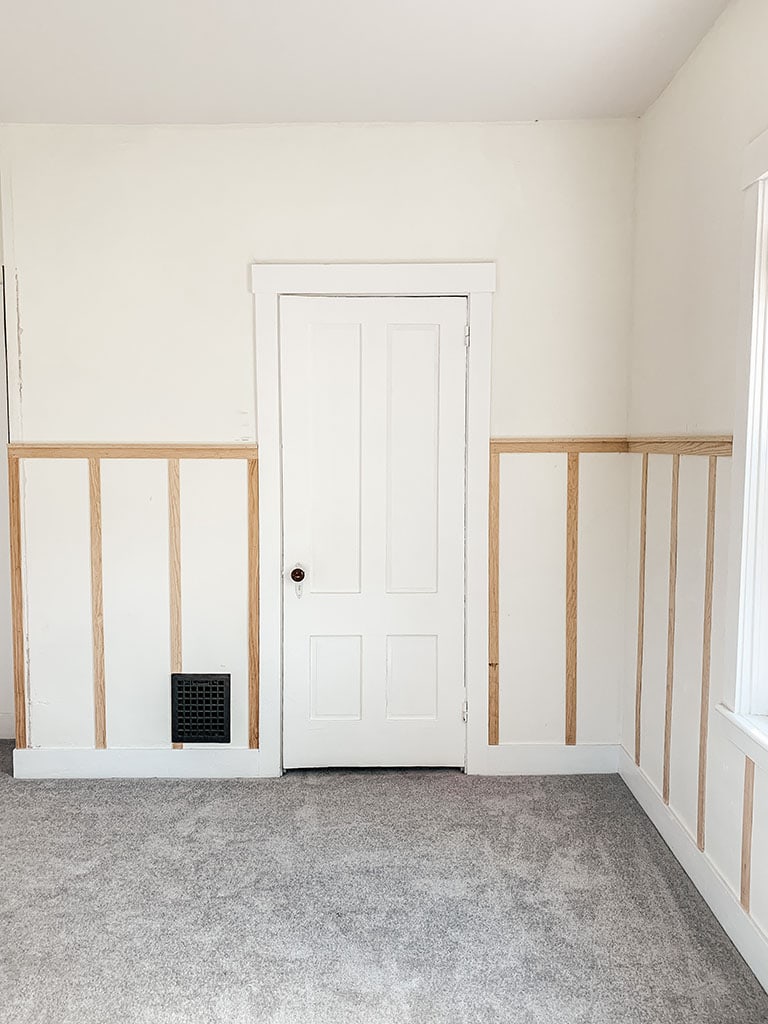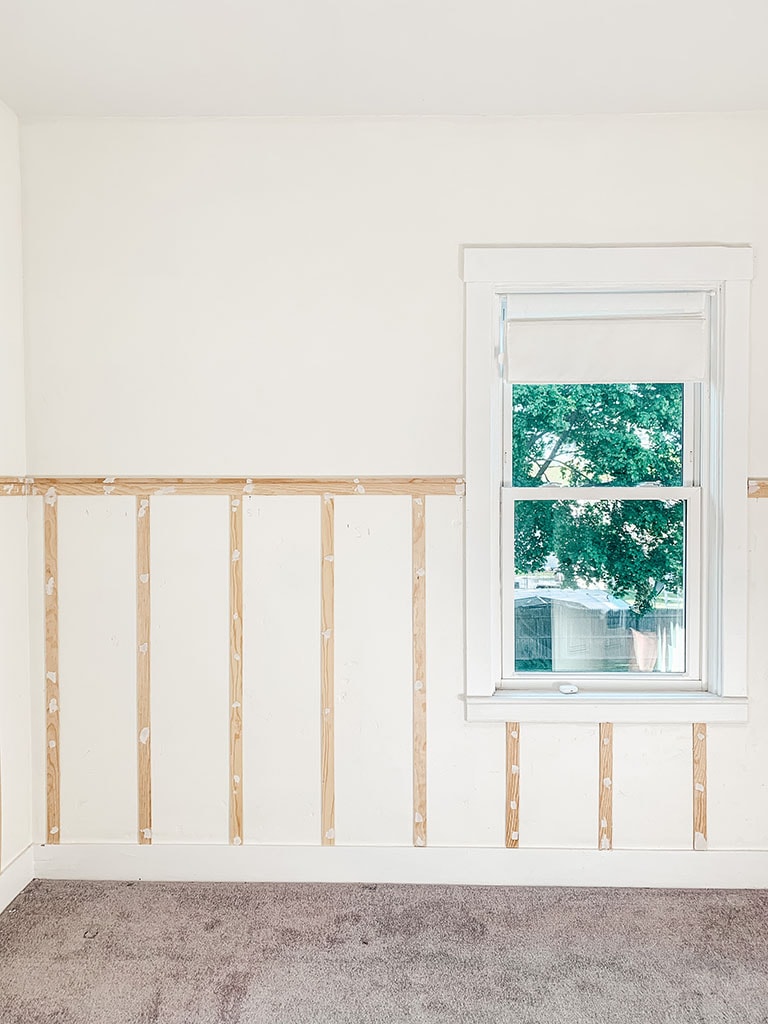 Step Six: Fill Holes & Gaps
Next up is filling all the holes and gaps. To fill those small nail holes you can use spackle leaving a bit extra over the nail holes.
One tip with spackling is to not try and scrap the spackle flush with the surface. It will shrink a little and leave a small divot. Leave extra so that it can be sanded perfectly flush when the spackle is dry.
There may be some gaps in the board and batten. You can take paintable window/trim caulk and fill any gaps in the molding. You do not need to do it on every edge just fill it where needed.
Once the spackle is dry, I recommend using a power hand sander to sand all fill flush.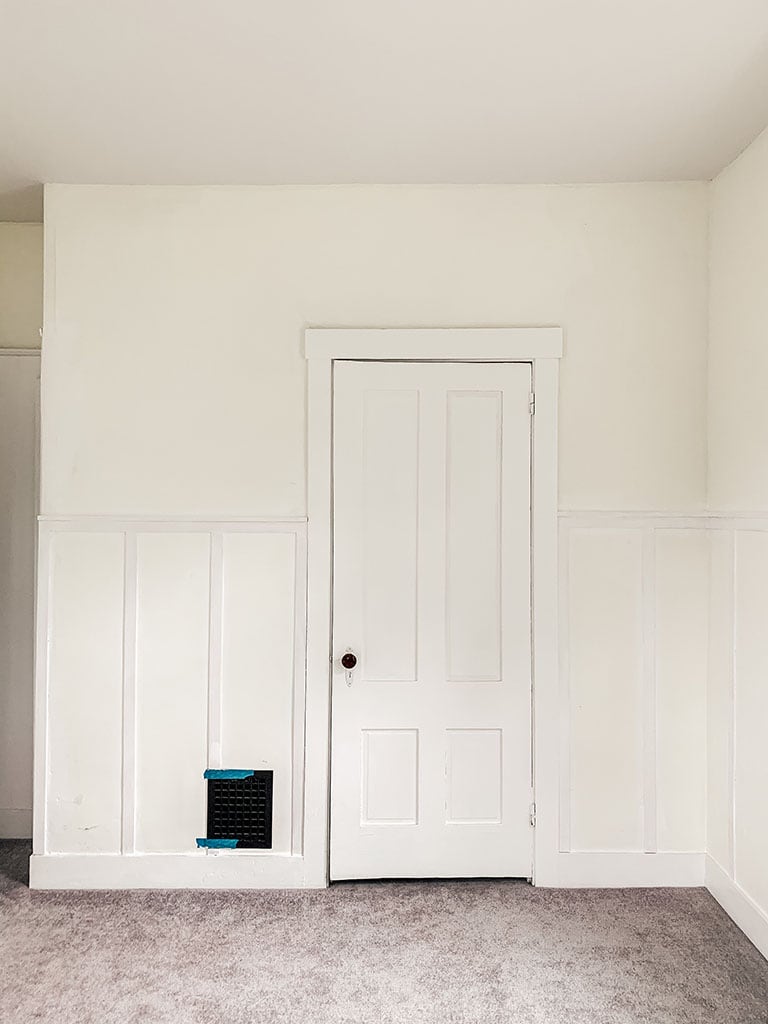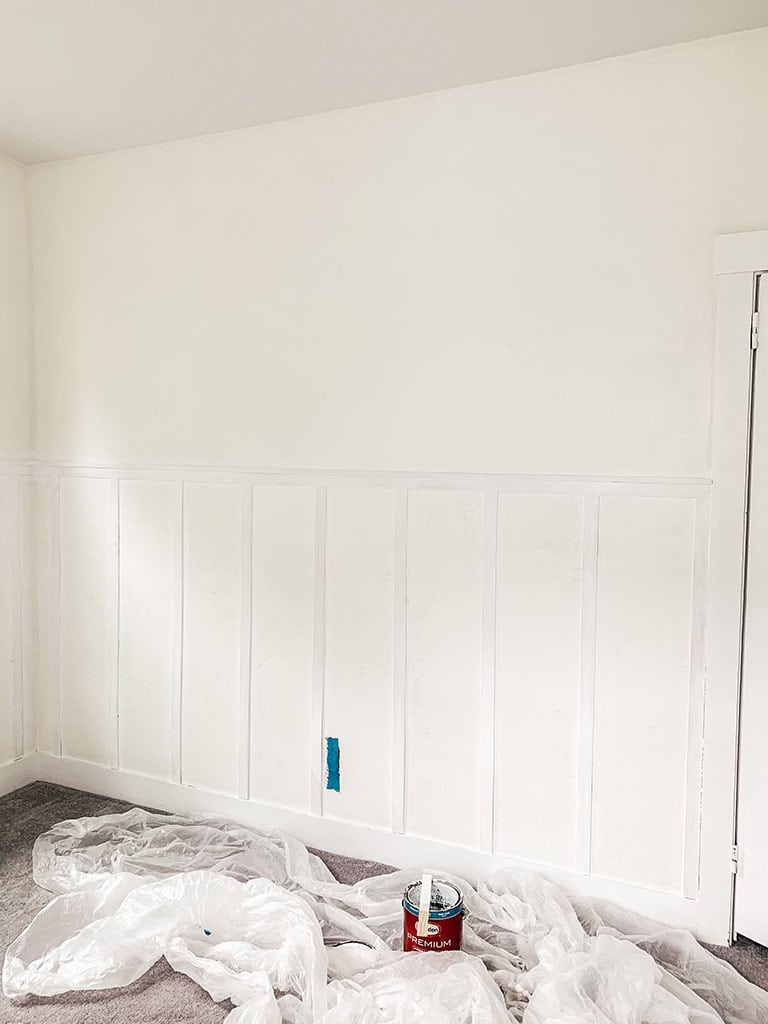 Step Seven: Prime & Paint
The last and final step is to paint. You will want to first start with a primer. We used Glidden pure white and painted one coat on all the boards and battens.
After priming we started with the top half of the wall first. For this, we went with Benjamin Moore Simply White. Start by painting all the edges, including the ceiling edge with a brush. Since the board and batten haven't been painted yet you do not have to worry about a clean edge when you get to that part. After edging the walls you can paint the rest with a roller. We did two coats.
Next, we painted the board and batten, doors, and all the trim. We used Magnolia Home Yarn and ordered it online. I could not find it at a store near me. This color is so pretty and even better than I thought it would be.
All the trim received 2 coats of paint using a hand brush and then we used a roller to paint the wall in between the board and batten. This is probably the most time-consuming part of the project.
After a final inspection and a few touch-ups, you are done! Easy and inexpensive DIY board and batten.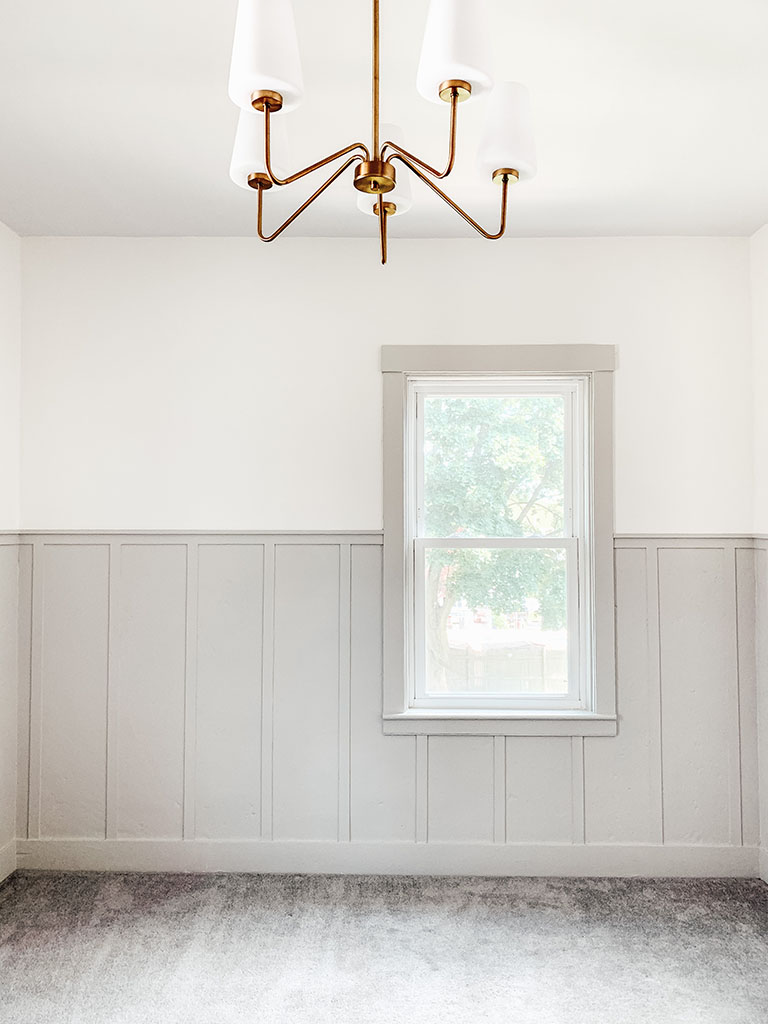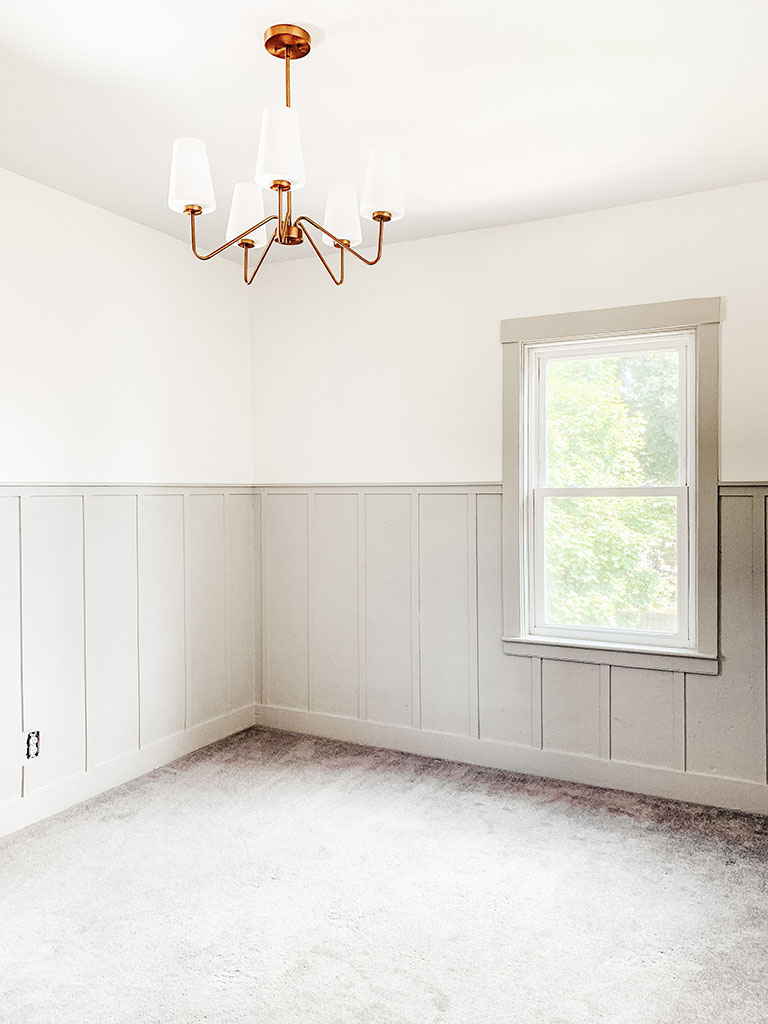 This DIY board and batten project added so much character to this space. I have a feeling I will be using this in a couple more rooms! If you have any questions about the tutorial please leave them in the comments.
What to Read Next:
Floor to Ceiling Board and Batten
DIY Shiplap Electric Fireplace & Mantel
Farmhouse Entryway | DIY Console Table