Today I am sharing the best tools for DIY'ers. These are all must haves for tackling all those projects at home.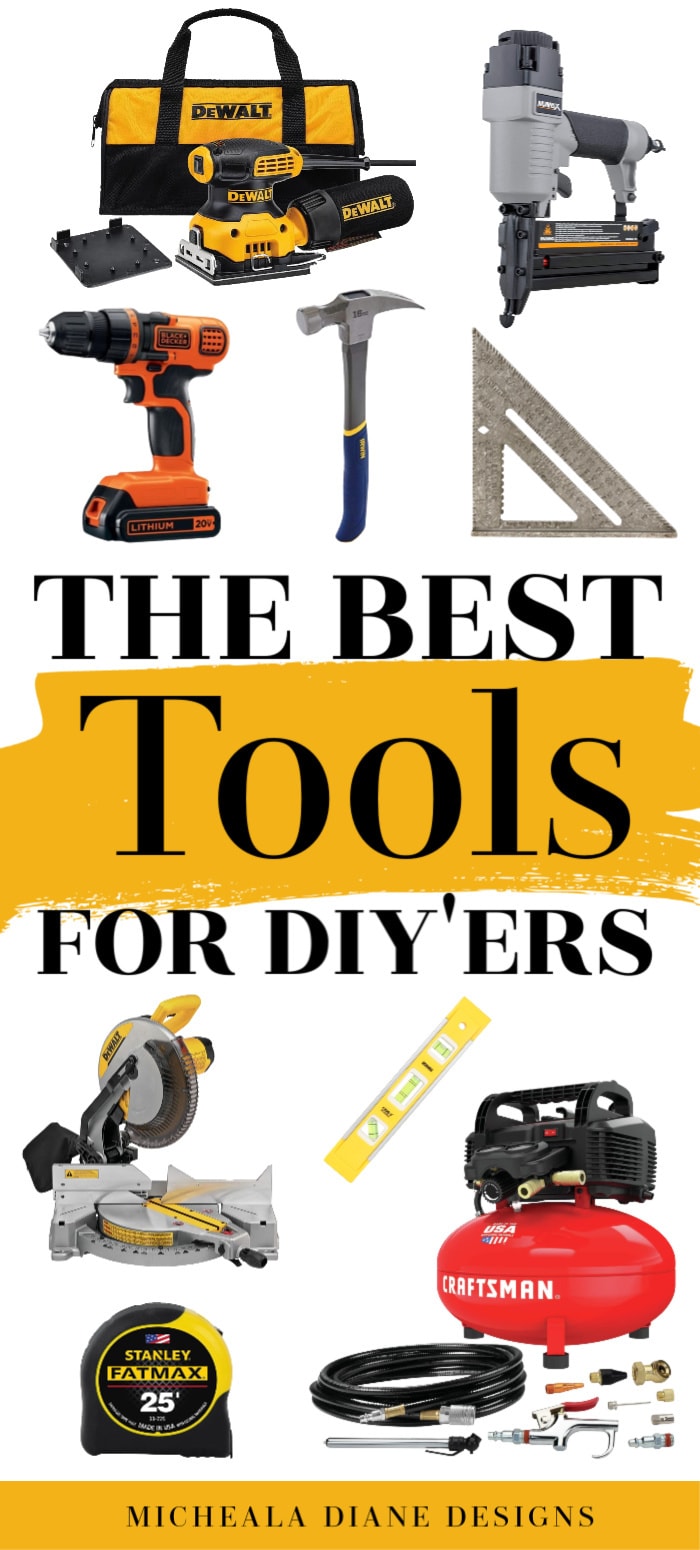 Today's post is actually provided by my husband Shawn. He is the hands behind many of my DIY projects here on the blog. I asked him to round up his must have favorite items for getting projects done around the house.
These are his tried and true tools that make all the pretty projects you see on the blog possible. These tools range from general tools, to wood working. We even included some staples for doing light electrical work, like switching out pendants.
Best Tools for DIY'ers
"Affiliate links provided for your convenience, please read my disclosure for more information."
General Tools
Safety Glasses | Safety First!
Craftsman 8 Piece Phillips and Slotted Set| Screwdrivers-Use for EVERYTHING! Fixing cabinets, drawers, furniture, auto, you name it. They will be used more then you could ever imagine.
Precision Slotted and Phillips Screwdriver Set| Mini screwdrivers come in handy for electrical work and repairing small items.
Fiberglass Hammer | Will never rot or fall apart, great for a lifetime of use.
Stud Finder | Locate wall studs, hang pictures, anchor items to the stud, etc.
Level| Perfect to leveling picture frames, shelves and furniture.
Tape Measure | This is essential! You won't make it very far without it.
Utility Knife | Don't forget the replacement blades.
Pry Bar Set | Pry bar sets are great for removing trim work, scraping paint, etc.
BLACK+DECKER 20V MAX Cordless Drill | Cordless screwdrivers are great for almost every DIY project. A 20v dependable one is worth the money. Drill Holes, Drive Screws fast, assemble furniture. Hang pictures. (Even clean your house) Another staple in the toolbox.
Nail Setter Punch and Center Punch Set | Great for hammering in nail heads without damaging trim work-like finish nails without a head, hardwood floors, etc.
Ball Peen Hammers | Ball Peen hammers are great for driving nail heads in without putting holes in your trim work or hardwood floors.
Woodworking Tools
Carpenter Pencil | Used for marking lumber. Stronger then a normal pencil. Always comes in handy and lasts forever. Sharpen with a good utility knife.
Speed Square | The Original Speed Square. Quick straight lines at 90 degrees when cutting lumbar, etc. Can also be used for various angled cuts.
Miter Saw | Use it for general construction, cutting lumber, cutting trim work. This tool is key for all your DIY projects
Table Saw | Table saws are great for ripping boards in half, long skinny cuts, repeatable short cuts, etc.
Air Compressor | You can attach so many tools to a compressor. A nail Gun, paint sprayer, fill your car tires, clean up your work area with the air itself.
Hand Sander | Makes sanding easy.
Nail Gun | Saves so much time and you will use it for so many projects.
Electrical Work Tools
Wire Cutters | Strip wires, cut wires, grip wires, anything and everything when doing some electrical work.
Electrical Connectors | Cap off loose wires. This is a must for switching out lighting.
Electrical Tape | Safety tape used to cover wires for extra protection.
Voltage Tester Pen | Verifies presence of voltage. We use this has a safety measure when replacing light fixtures.
DIY Projects to Check Out:
Shiplap Electric Fireplace & Mantel
Farmhouse Entryway | DIY Console Table
DIY Dining Room Table Makeover