Sharing easy design tips to instantly refresh your living room on a budget.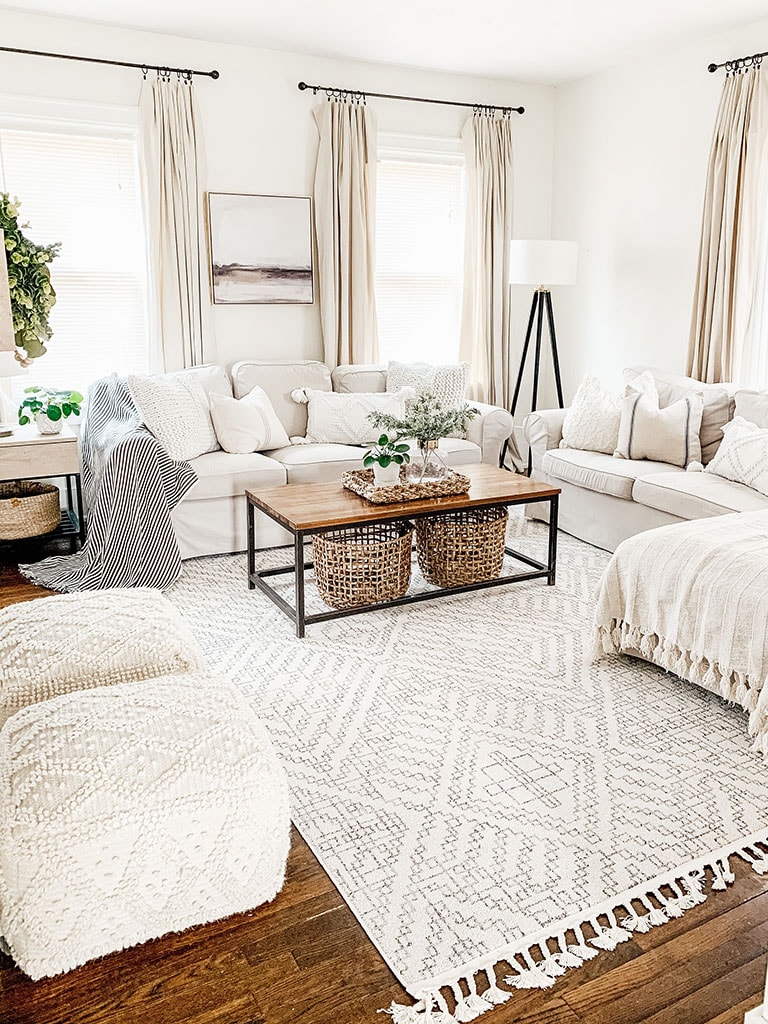 There is something about change that we all crave and when it comes to our homes that can get expensive quickly. I recently gave my living room a little refresh. By changing a few things, I was able to make it feel cozier, newer, and more relaxed.
I know many of you are craving that same newness so, today I am spilling some of my favorite design tips that will instantly refresh your living room. These practical tips are not only easy, but they are also very cost-effective, some are even free!
8 Easy Tips for a Living Room Refresh
1. Rearrange Your Furniture
If you want your living room to feel like a new space for free, rearranging your furniture is a great option. This can be as easy as moving your sofa to the other side of the room. You will be surprised to find that an easy furniture swap can revitalize your space.
" Affiliate links provided for your convenience, please read my disclosure for more information."
2. Update Art/ Photographs
Another easy way to fresh your living room is to switch out your art or photographs. You can do this by adding a new piece of art, switching out frames to seasonal art, or even updating those family pictures with the most up-to-date ones.
In my living room I adding a new framed canvas above the sofa. I also replaced a few of the pictures on our gallery wall with photos from my daughters' newborn photoshoot.
3. Paint Room or add an Accent Wall
Painting is one of the best budget-friendly ways to make a big impact on your home. It's the perfect solution for an instant living room refresh without changing anything else. You could paint the entire room a new color or even just paint an accent wall.
Wallpaper is making a return in a big way and would also be perfect for an accent wall. There are so many great options on the market right now with beautiful modern patterns. You can even easily install yourself with the peel and stick options that have.
Related: The Best Farmhouse Paint Colors, The Best White Paint Colors, Neutral Paint Colors | My Home Paint Colors

4. Invest in a New Area Rug
This is another big impact item. Adding a rug to your living room or replacing the one that you already have will make your space feel brand new. During our refresh, we switch to a new area rug and it made a big difference.
My favorite place to get affordable area rugs is Boutique Rugs. They have a large selection of styles and colors in every budget. I have a few of their area rugs in our home and have been really impressed with the quality.
I also have a coupon code for you to receive 60% off your order on their already affordable prices. Use code MDD60 at checkout.
Related: Affordable Farmhouse Style Rugs, New Living Room Rug | Boutique Rugs Review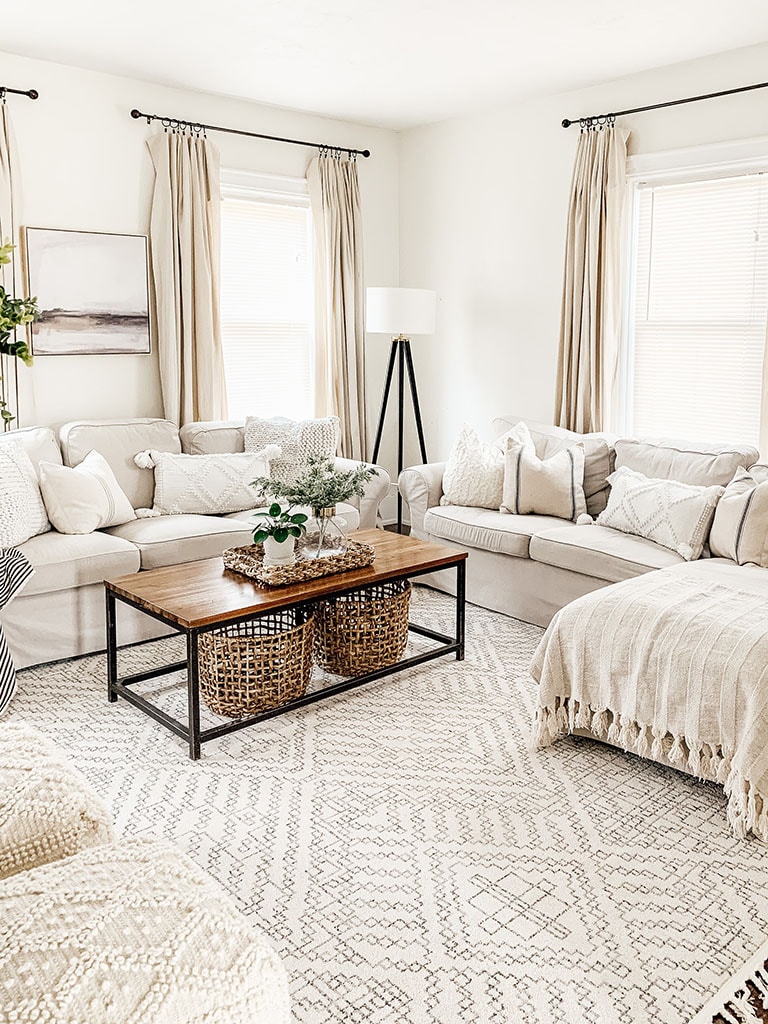 5. Replace Throw Pillows
This has to be my favorite way to
quickly
refresh a living room. New throw pillows or covers are a fun way to refresh your space. You could do this with
seasonally
inspired pillows or
to add a pop of color or neutral texture to your space.
In the winter you can switch to cozy textures and in the summer you can transition to lightweight linens. An affordable way to do this is to buy pillow inserts and
purchase
covers instead of the whole pillow. Not only does this make it easy to switch
seasonally
it saves money and space.
Related: The Best Neutral Throw Pillows From Amazon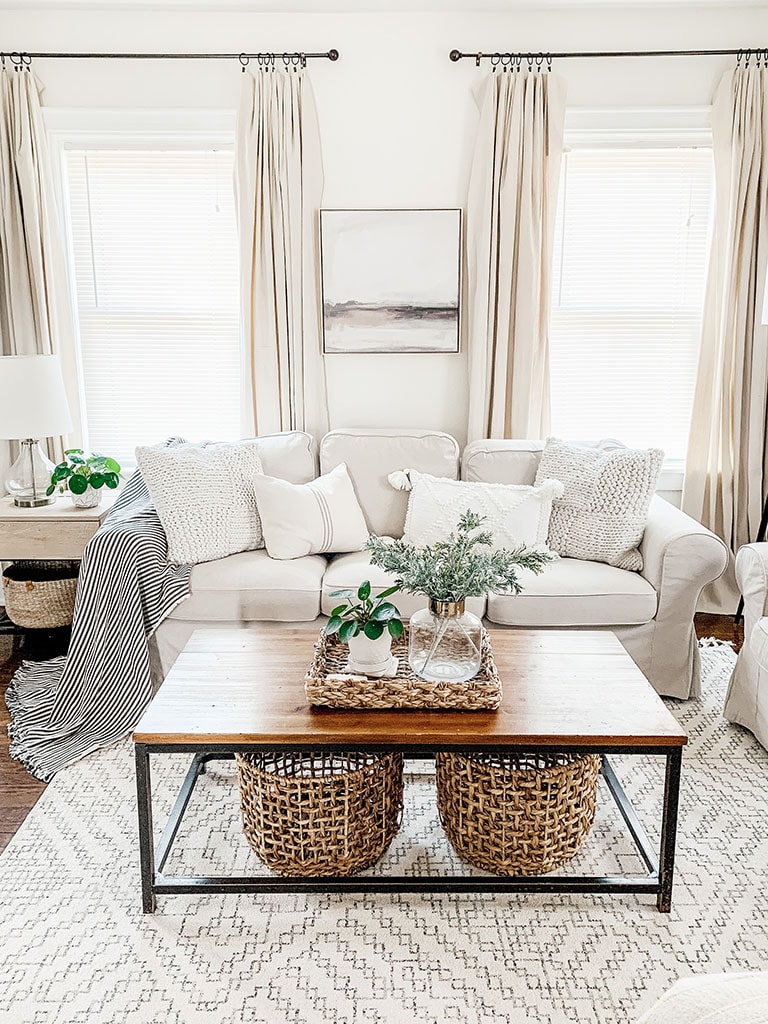 6. Add Curtains or Replace the Ones You Have
If you don't already have curtains this alone will make your space cozier, more relaxed, and feel more put together. You will want to make sure you hang them nice and high and that they are long enough to be touching the floor.
If you already have curtains switching them out for new ones can really refresh your living room.
We have drop cloth curtain in our living room. I have a tutorial that shows you how to style them two ways. For our living room refresh, I switched to putting the fold in the back and it made the room feel fresh and new. You can find the DIY post here to get a better idea of what I am referring to.
Related: DIY Drop Cloth Curtains- 2 Ways

7. Add Storage
Clutter takes away from your living space feeling cozy and relaxed. Adding practical storage solutions can transform your space. Making your living room feel more like a retreat than another dumping ground in your home.
You can do this by adding baskets to your end tables, coffee table, or the corners of your room. Another way to achieve this is using furniture that has hidden storage. For example a storage ottoman or a media console with closed door storage below, instead of open.
We recently just had a baby girl and our living room has become a baby dumping ground. For our living room refresh, I added baskets below our coffee table to hold toys and extra baby supplies. I also utilize storage baskets on our end tables. One holds all our dog stuff and the other has baby supplies.

8. Shop Your Home
Last but not least shop your home! The best part is, it's free. There are a few funs ways to do this that do not take much effort.
One way to shop your home would be to go through your storage. Do you have a vase that is hiding in the back of the closet or a lamp you pulled from your bedroom? Wipe off the dust and find it a new home. This is my go-to because I like to switch out decor frequently. I always have something on hand that I can repurpose.
You can also shop your home by swapping decor from one room to another. You could switch; rugs, lamps, curtains, pillows, you name it and create a new look in two rooms at the same time.
Another way and one of my favorites to recommend to clients are to break up the sets you have in your home. Let go of the matchy matchy and mix it up. You could break up your bedroom set by bringing those nightstands to the living room. Take an inventory of your existing furniture and figure out how you can rearrange it.
I hope that these tips helped you come up with a plan to refresh your living room. You can choose just one or implement as many as you want. At the end of the day, you will have a fresh new space that will feed that craving for newness.

If you are looking to take on a bigger project to transform your living room check out these post:
DIY Shiplap Electric Fireplace & Mantel
Floor to Ceiling Board and Batten

Shop our Living Room Refresh
You can shop these items by clicking the links below!
Area Rug-Use Code MDD60 for 60% off
Want to save this for later? Post this Easy Tips for a Living Room Refresh to your favorite Pinterest Board!