This post is not sponsored. Sharing my new living room rug and my experience with Boutique Rugs. They offered me a coupon code for my readers. You can use MDD60 for 60% off your purchase!

" Affiliate links provided for your convenience, please read my disclosure for more information."
Boutique Rugs Review
I first discovered Boutique Rugs from some of my blogger friends on Instagram. After clicking through the Boutique Rugs website, I found so many beautiful styles it was hard to choose the perfect one. If you remember I shared this post a few months back Affordable Farmhouse Style Rugs.
They have a wide selection of rug styles from vintage to modern and everything in between. I tend to lean towards neutral colors, but they also offer a large selection of bright bold colors and patterns.
Boutique Rugs are very affordable and you can use my coupon code MDD60 to get an additional 60% off your order. They also offer free shipping, which I love! I'm not a fan of paying for shipping. Based on all of this I was willing to take the risk of ordering a rug online.
I have to say I have been so happy with my entire experience. The rug arrived in 5 days and that included the weekend, so really it was 3 business days and it was nicely packaged. I love when my orders come in fast. ( If you are an Amazon Prime member, then you know we are spoiled when it comes to shipping ?). I would definitely order from Boutique Rugs again.
Related: Affordable Farmhouse Style Rugs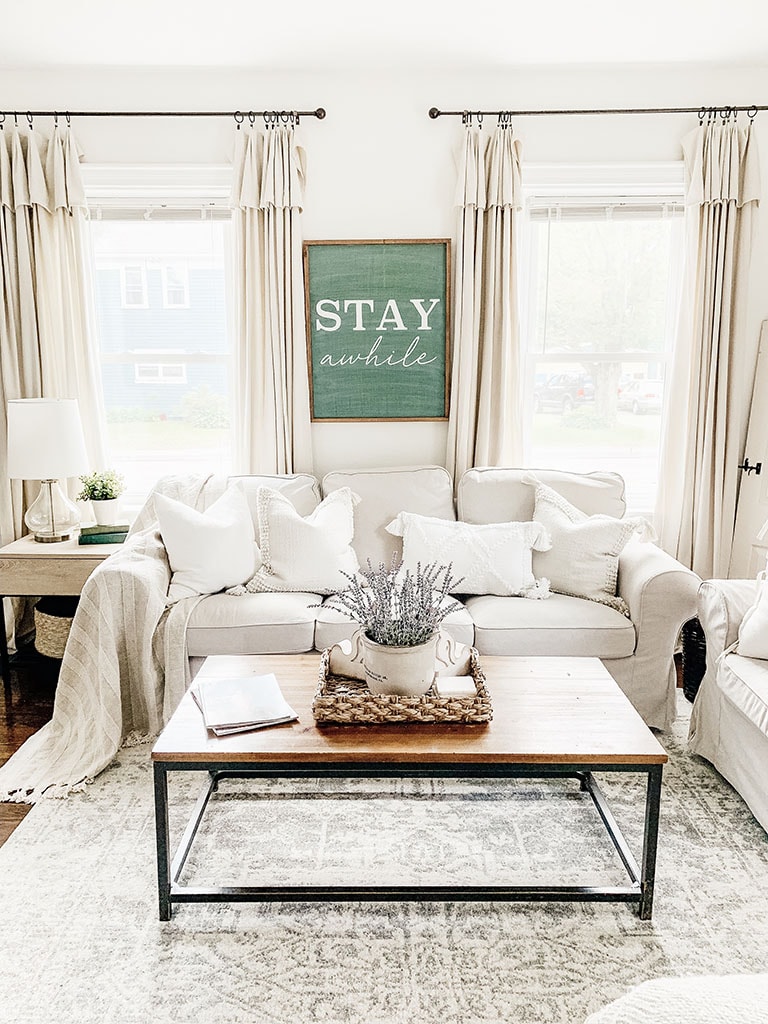 My New Living Room Rug
" Affiliate links provided for your convenience, please read my disclosure for more information."
I had been on the hunt for a new living room rug ever since our little golden doodle was fully house trained. Our current rugs went through all the puppy stages and although they cleaned well, it was time to find something new.
When selecting a new rug my main dilemma was whether I wanted to keep a jute rug and layer a smaller rug over it or get rid of the jute rug altogether. The new rug would have to be big enough to fit the whole space. Although I love how the jute rug looks, the one we had left a lot of shedding underneath the rug. Instead of risking that with a new jute rug I decided to go with the larger 7'10" x 10'3" rug.
After much back and forth I pulled the trigger and went with the Harput 1024 rug and I am so happy I did. You can shop it by clicking here.
Harput 1024 | Colors: Charcoal, Light Gray, Beige. I got the 7'10" x 10'3" size.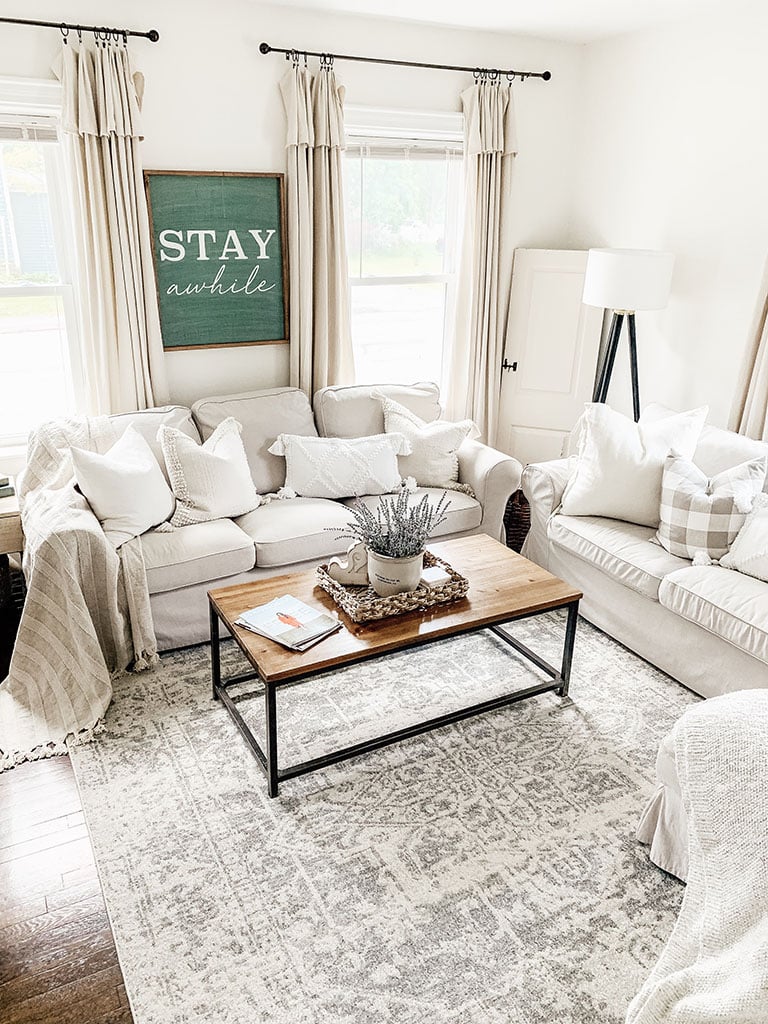 I am a neutral girl all the way and because the rug is such a large piece in our space, I decided to stay neutral. This rug has a mix of charcoal, light gray, and beige.
I am a big fan of neutral on neutral. But if you are looking to add some color to your space a rug can be the perfect opportunity. It is actually a great place to start if you are looking for a new color palette for your space.
I always recommend when you are designing a new space to start with the rug. Once you have the rug selected you will be able to pull out accent colors from it, for items such as throw pillow, paint, and accessories.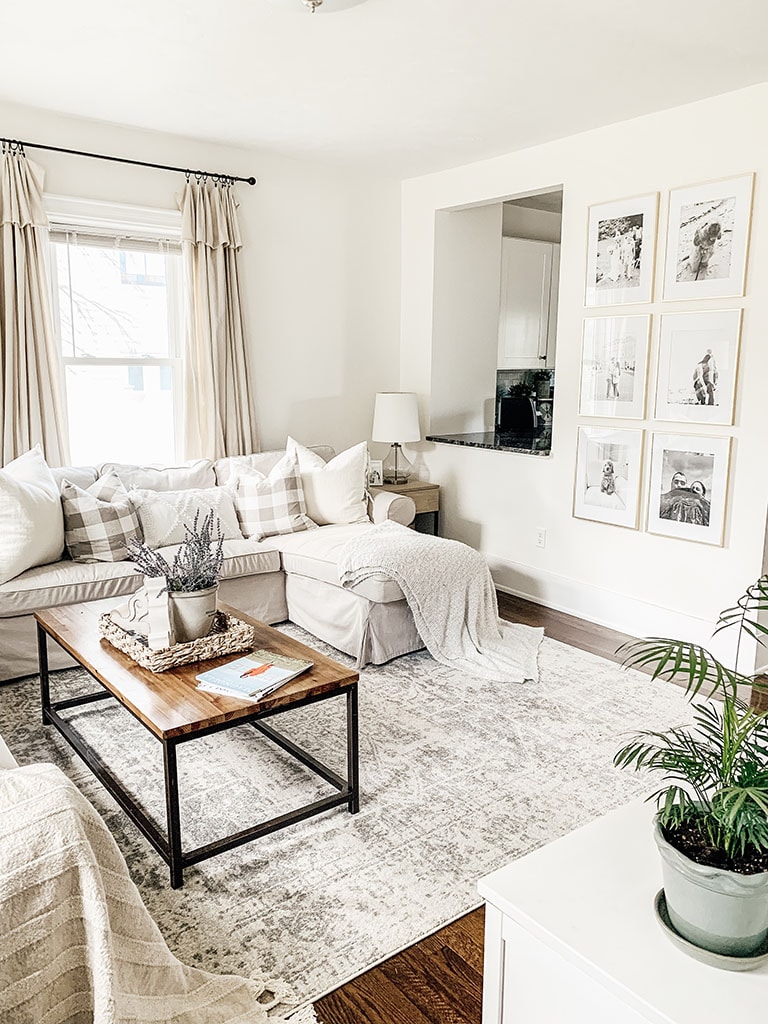 The only small issue I had with this rug was that the gray was a little darker than the image of the rug online. In person, the charcoal grey does show up darker than expected, but it is still beautiful. They do note that the color can vary on their website. Below is an unedited picture to give you an idea of the true color.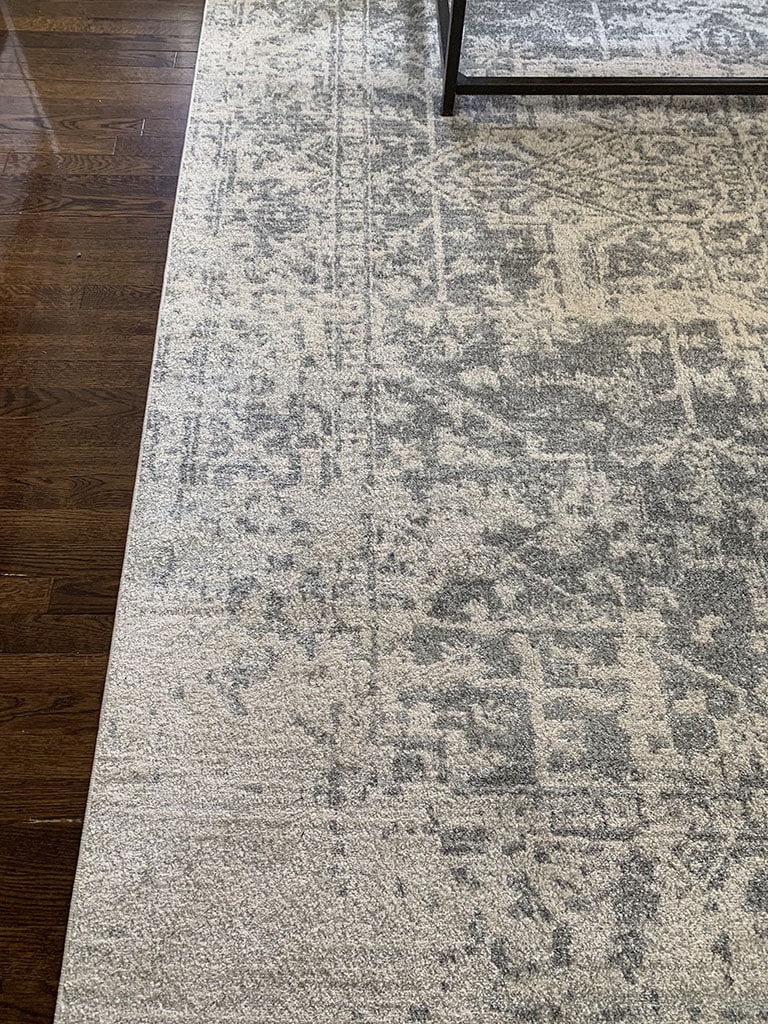 I was also really drawn to the style of this rug. I love that the rug has a traditional pattern, but then it has been distressed giving it a worn vintage look. Even though the rug is neutral having a pattern adds a lot of interest to the room. This is the perfect rug style if you are looking for a modern farmhouse look.
For such an affordable price I wasn't sure how the quality was going to be, but I am happy to report that it is great. The rug is super soft and cozy it has a perfect thickness and looks way more expensive than it is.
Overall I am so happy with my selection and think it looks great in my home.
My Favorite Boutique Rugs
I thought it would be fun to round up a few more of my favorite rugs. You can shop by clicking the links or images below. Don't forget to use the coupon code MDD60 for 60% off your purchase!
1. Bahar 2306 | Colors: Taupe, Beige, Charcoal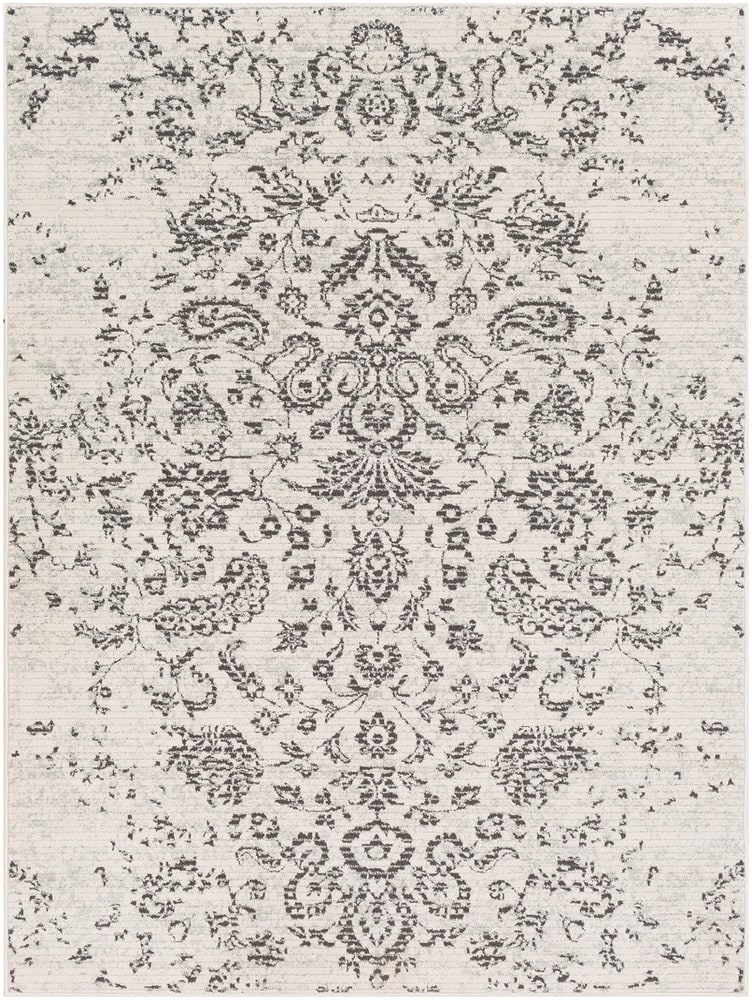 2. Aisha 2309 | Colors: Medium Gray, White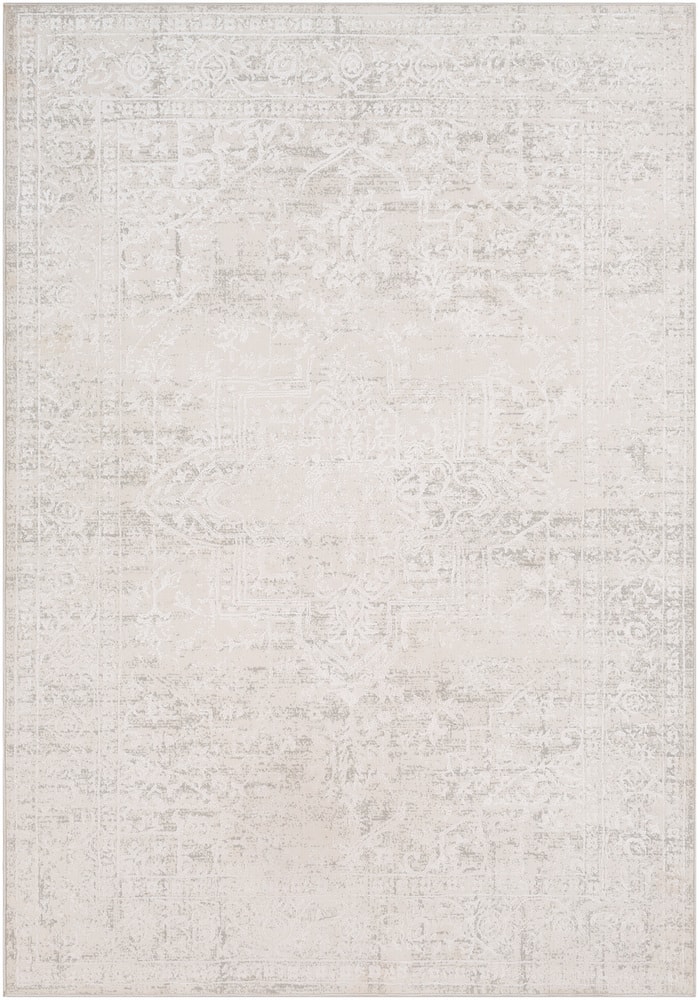 3. Asia Minor 2306 | Colors: Denim, Dark Green, Cream, Light Gray, Camel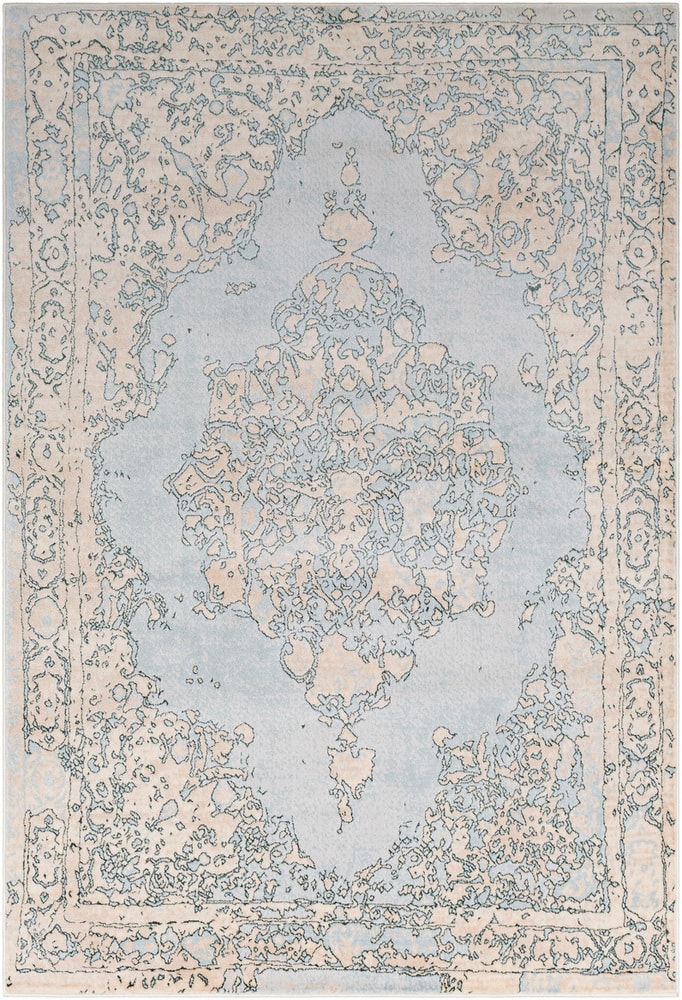 4. Azul 2302 | Colors: Mustard, White, Aqua, Black, Beige, Blush, Medium Gray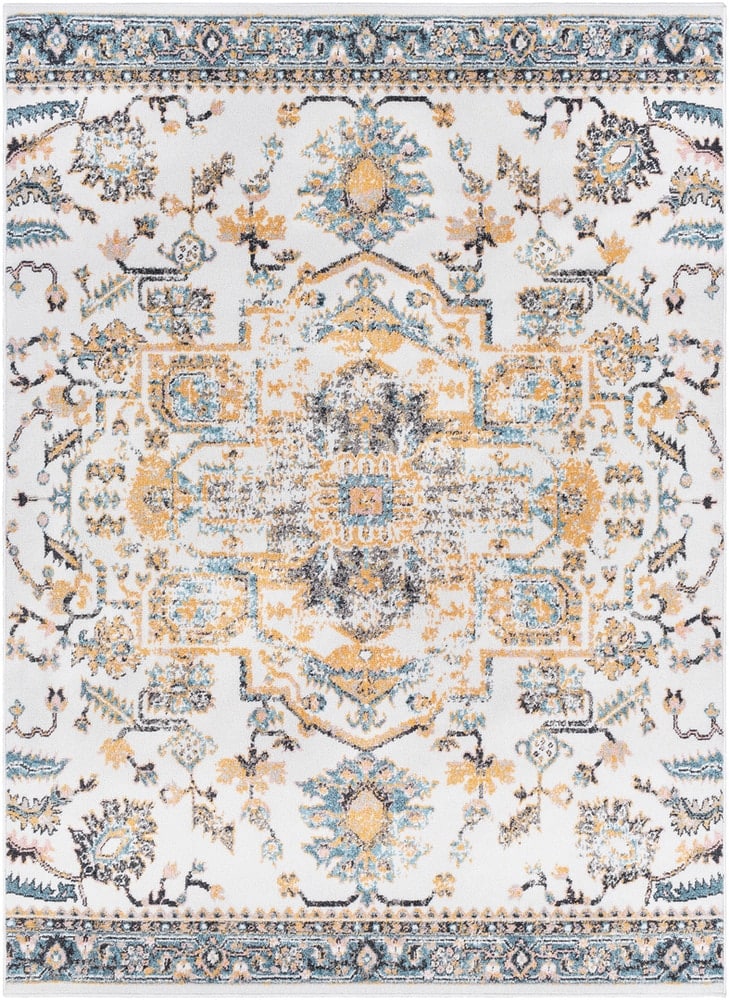 5. Bahar 2321 | Colors: Medium Gray, Beige, Charcoal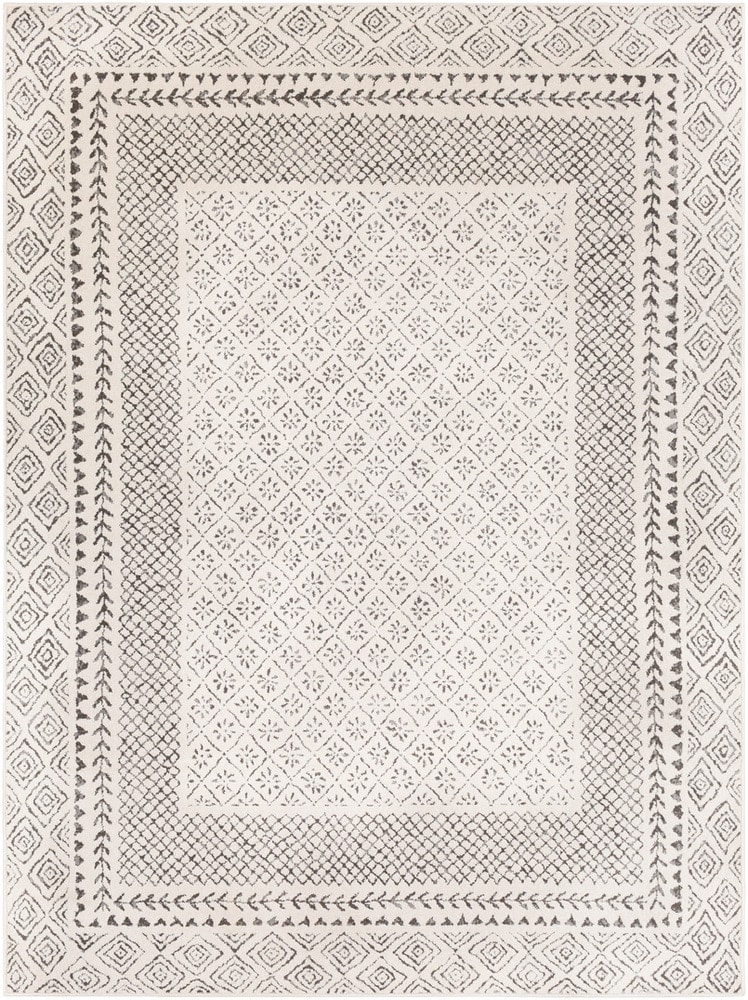 6. Presidential 2300 | Colors: Pale Blue, Bright Blue, Medium Gray, Peach, White, Butter, Burnt Orange, Lime, Charcoal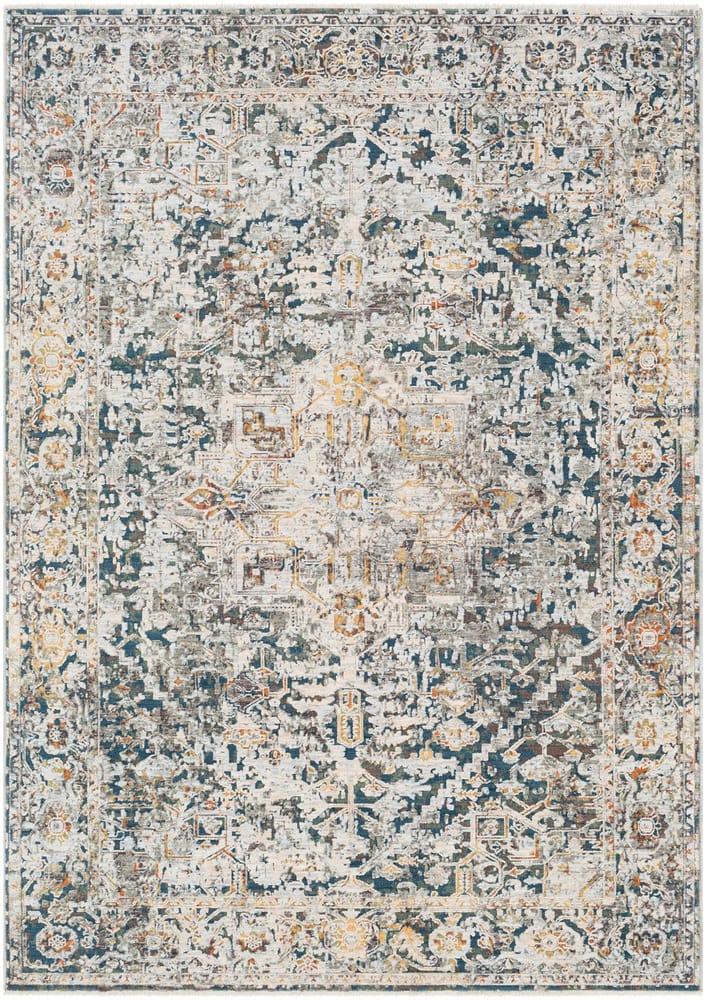 7. Ephesians 2331 | Colors: Silver Gray, Medium Gray, Black, Beige, Cream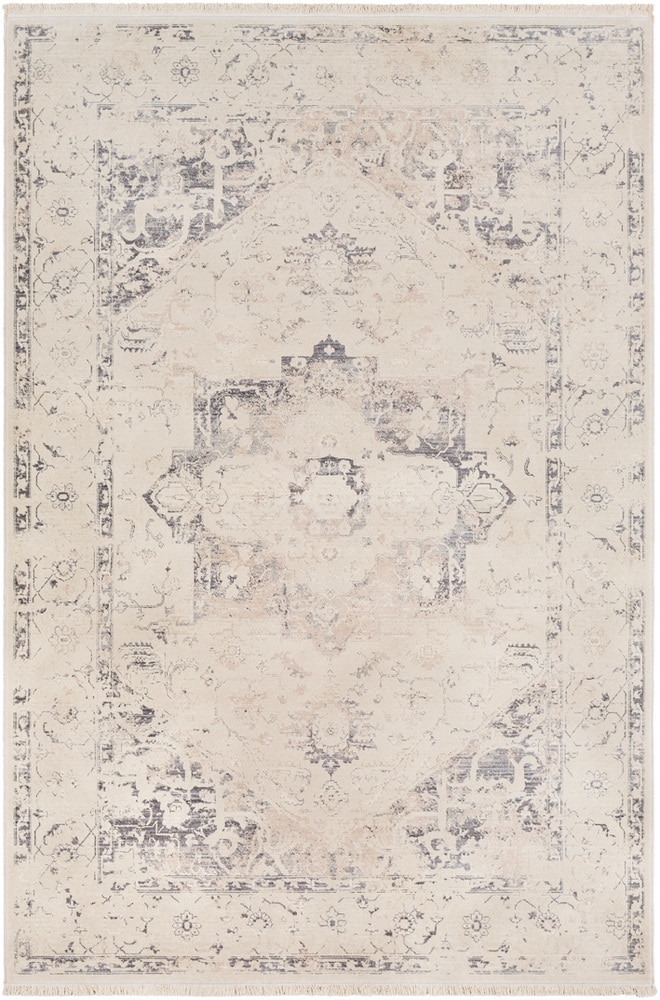 Looking for even more rug styles you can shop directly at BoutiqueRugs.com, Click the link here.
I hope you enjoyed this review and it was helpful if you are on the hunt for a new rug. If you do end up getting a rug from Boutique Rugs I would love to see it in your home. Please share a photo on social media and tag me using michealadianedesigns. ❤
What to Read Next:
Vintage Inspired Dining Room Rug | Boutique Rugs
Affordable Farmhouse Style Rugs
Neutral Cozy Decor From Amazon