Today I am sharing the style board for our home office.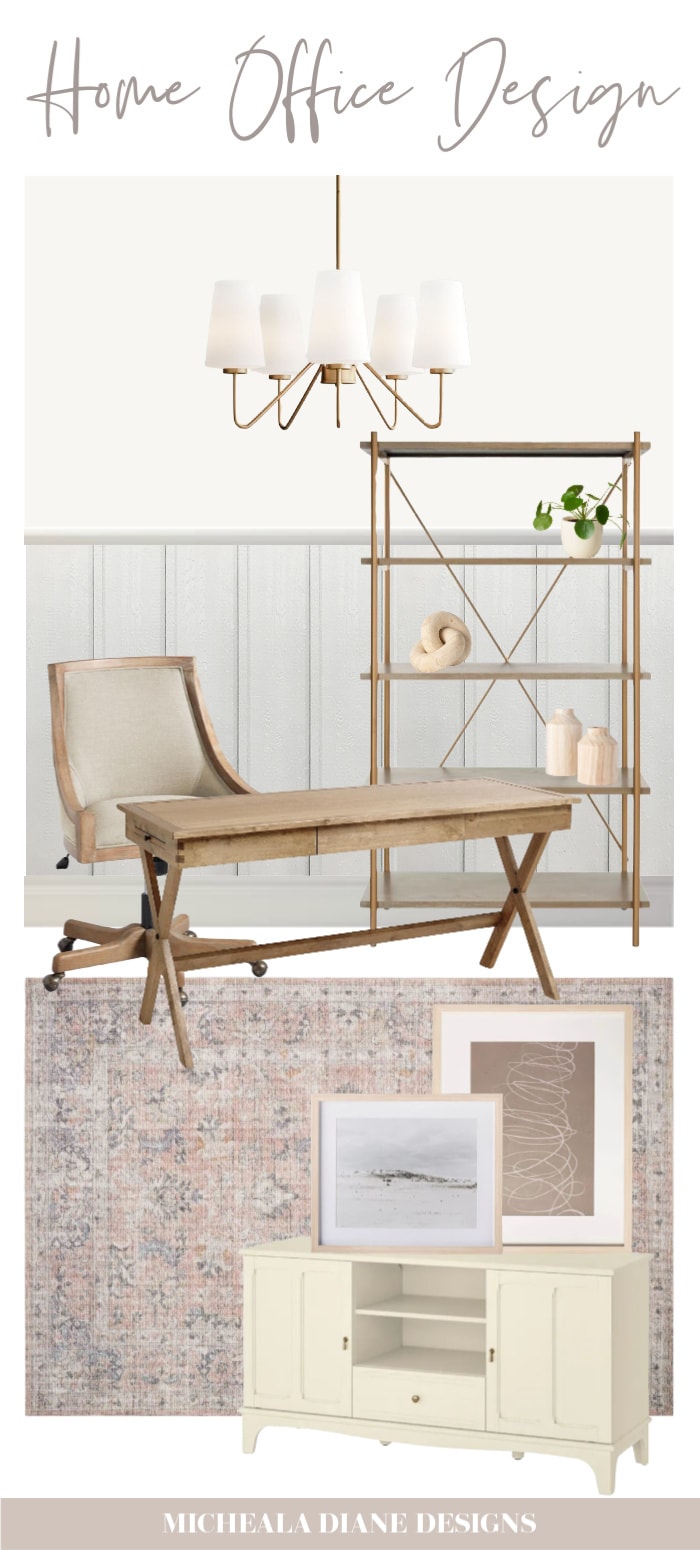 I have been hinting at a new design project over on Instagram. We select a couple of projects a year and my office has been on the list since we moved in three years ago. And now with us both working from home it has moved to the top of the list. Our home does not technically have an official office space, but we do have four bedrooms. We are going to take the smallest one and turning into a home office. I am so excited to get started on this project.
As with any new project, I always start with a style board. This allows you to plan out all the details of your space and make sure that it all works nicely together. It also saves you so much time and money when you have a plan before you start making purchases.
A great way to make style boards is by using a platform called PicMonkey. There is a small monthly fee for the program, but it makes it so easy to put together your board. It even allows you to remove the backgrounds of your images. This will give you a better idea of what your room will look like. They do offer a free trial. You can check that out here.
Home Office Design Plan
Let's get to the design plan!
One of the biggest changes we are going to make is adding a skinny board and batten to this space. I love adding architectural details to a space. Not only does it add character, but it also adds interest. I have not decided on the exact paint colors that we are going to use yet. But it will be white above and a light grey/greige below. I am thinking of using Yarn by Magnolia Home but still need to get samples.
I will be providing a full tutorial on our DIY Board and Batten so be on the lookout for that.
In addition to the board and batten, this space will be getting a new light fixture, furniture, accessories, and a new area rug. The overall theme of this design is neutrals and woods with gold accents. The area rug adds a little feminine touch. I will bring out these peachy blush details in the art and accessories.
The great thing about this design is that if you take away the rug you are still left with a neutral color palette. It makes the space more versatile if we want to make changes in the future.
Shop the Look
" Affiliate links provided for your convenience, please read my disclosure for more information."
Shaded Classic Chandelier | I love the classic look of this. It is traditional but has some modern flair.
Rigby 5 Tier Etagere| An office is a perfect space for a little shelf stying. I love the gold and wood combo.
Natural Linen Henry Upholstered Office Chair| Love that this chair is adjustable like a traditional office chair but it is beautifully upholstered and has the perfect wood accents.
Natural Wood Campaign Desk| I have been eyeing this desk forever. I have seen it everywhere but I still love it.
Blush and Gray Rug| This vintage-inspired rug is beautiful and affordable. We will be placing the rug on top of the carpet and I love that this is thin.
LOMMARP Media Unit | This is a new media unit from Ikea. I love the details and the cold accents. I am choosing a media unit because this is where I will be storing our printer and it makes it easy to hide all the cords and gives us extra storage.
I can't wait to take you all along on this office reno. It is going to be so fun. If you are looking for an office design idea I hope that this inspired you. As always thank you for visiting the blog.
What to Read Next:
Modern Farmhouse Kitchen Makeover | Style Board
Affordable Farmhouse Style Rugs
The Best Farmhouse Paint Colors