Today I am sharing an easy budget-friendly tutorial on how to create beautiful DIY open shelving. Keep reading for a step by step guide on how you can too!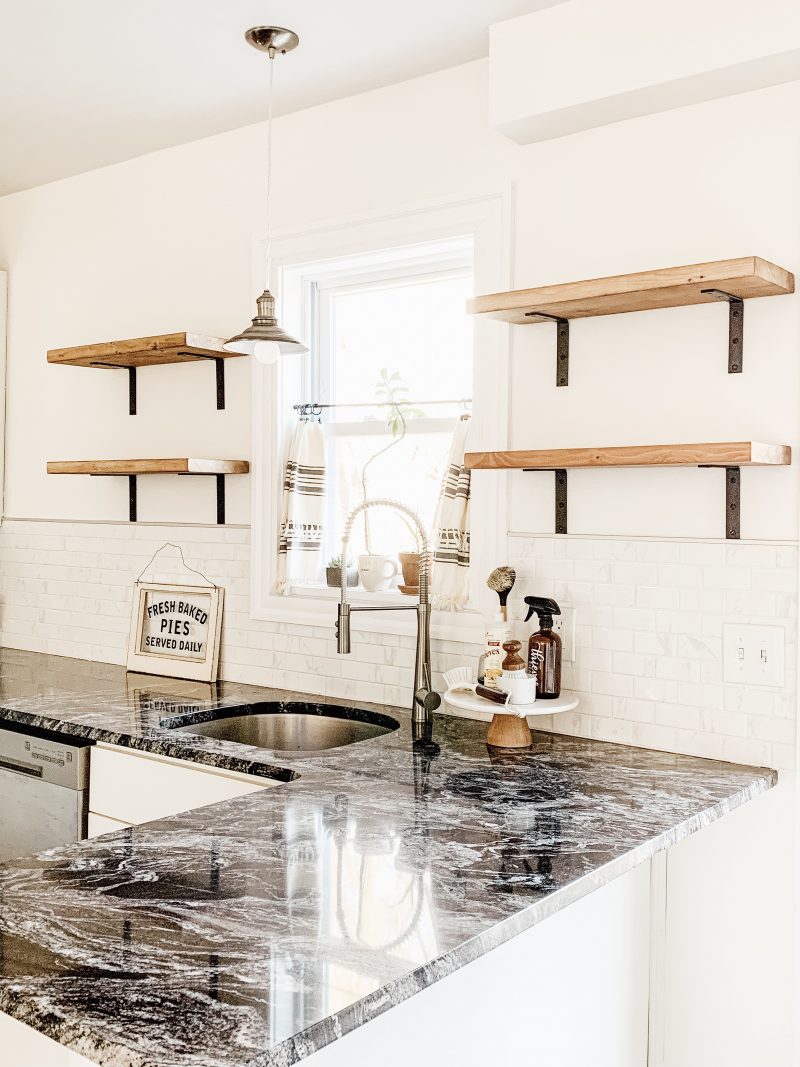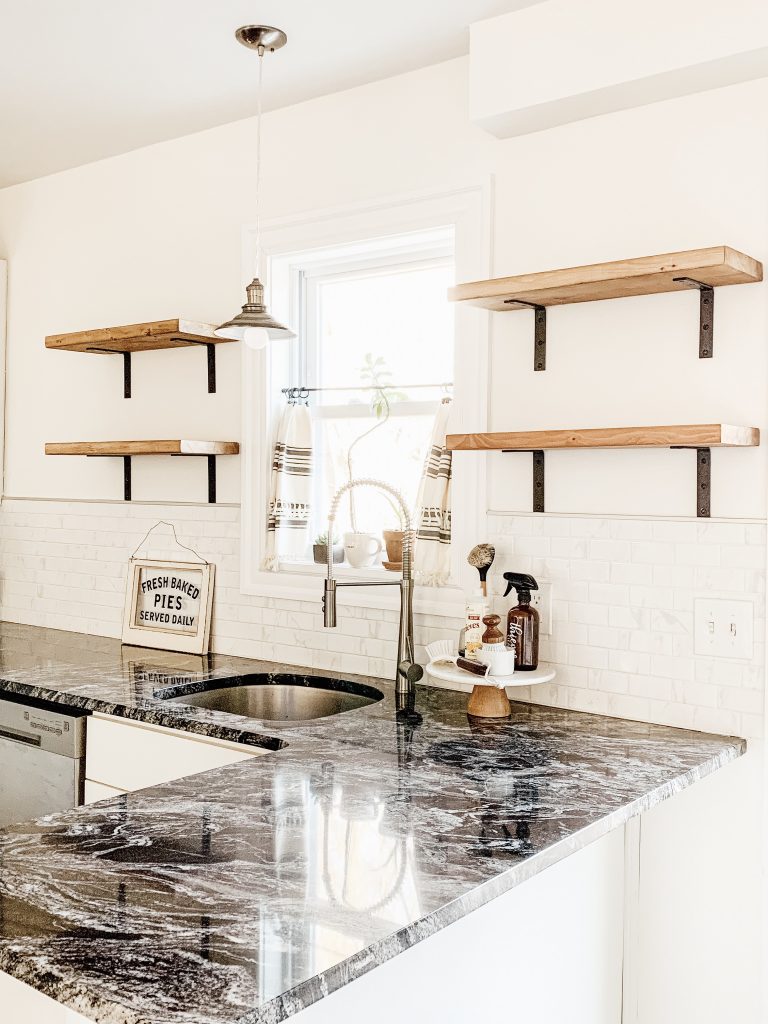 DIY Open Shelving Tutorial
It has been so fun taking you through our little kitchen makeover. Today I will be sharing the exact steps we used to add opening shelving to our kitchen. This has been my favorite step in the process so far. We have been dreaming of adding opening shelving to our home since we moved in and it feels so good to have it completed. This tutorial is easy and very inexpensive. We added these shelves to our kitchen but you can use the same steps to add open shelving to anywhere in your home. Let's dive in!
Material List:
" Affiliate links provided for your convenience, please read my disclosure for more information."
2″ High x 10″ Deep x 10′ Long Wood Board- We found this at our local Home Depot
Step One: Measure Your Space
This is the most important step in the whole process. You will want to measure your space and determine how many rows of shelves you can fit as well as how long they need to be. This will determine how much material you will need. Think the number of brackets, screws, and wood.
For my space, I am able to fit 2 shelves on either side of the window for a total of 4 shelves. One side of my window is smaller than the other so I based my measurements off of the small side so that the shelves would be symmetric. We ended up with (4) shelves that are 2′-1″ long. This allowed for a 3/4″ space on either side so that the wood would not be right up against the trim.
Tip: When measuring keep in mind the items that you would like to put on your open shelving. For example, if you have a 12″ high cutting board that you would like to place on the shelf then you will need to space your shelves about 13″ apart.
Step Two: Collect Your Materials
Once you have measured your space you can determine what you will need for materials. Below are all the materials I used to make our DIY open shelves.
Wood: We went with a 2 x 10 x 10 untreated board from our local Home Depot. One tip if you are going to a local hardware store is to inspect the wood before you purchase. We had a hard time finding a piece that was not cracked or bowed, you have to do a bit of digging.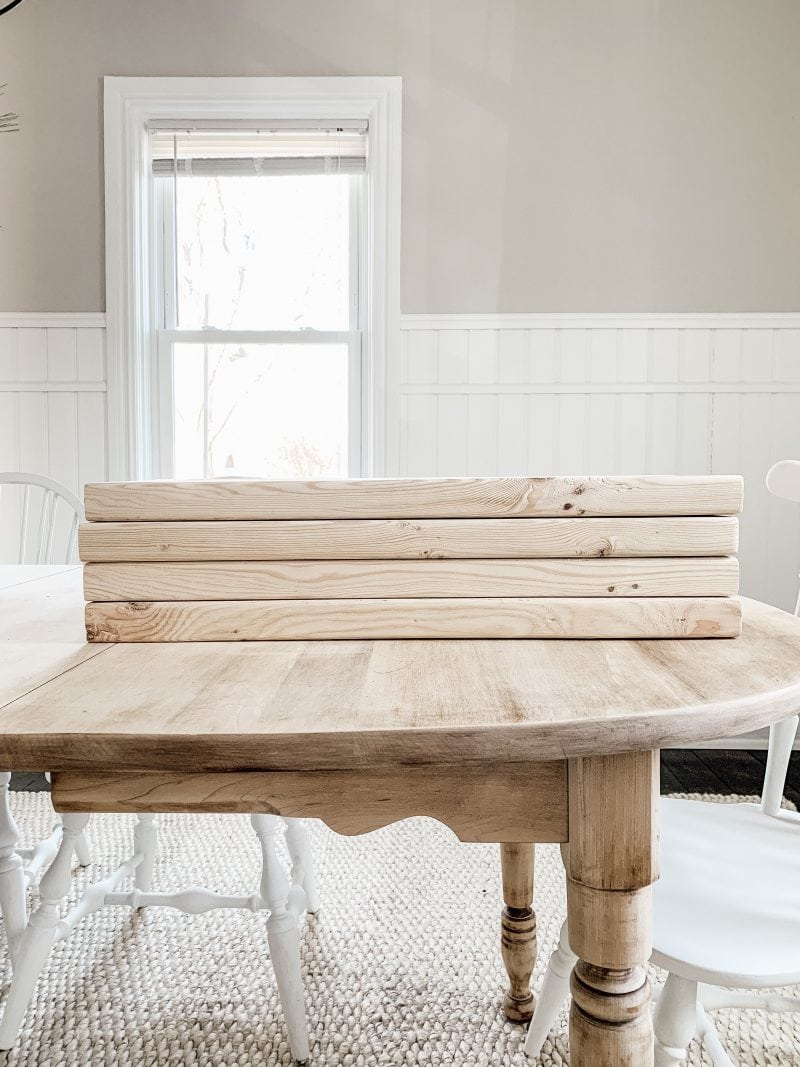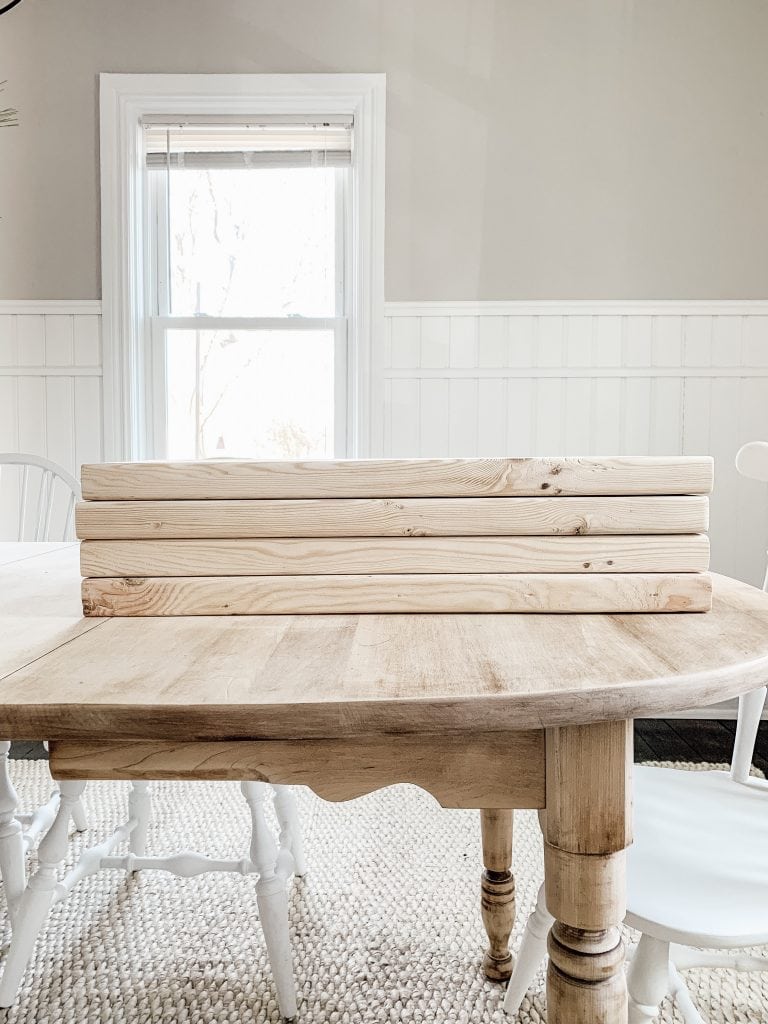 We used our saw to cut the wood at home, but if you do not have one you can have them cut it for you in store. Just make sure you have the measurements you need on hand.
Brackets: For this project, I didn't use your traditional shelf brackets I actual used corner braces. They are very inexpensive and give the perfect modern farmhouse look. They do come silver in color, which is not what we wanted so we spray painted them black. You can find them here.
Based on our measurements we decided to go with 2 brackets per shelf. You will need to determine how many you will need based on the length of your shelf, the weight capacity of the bracket and what you will be stored on the shelves.
Screws: You will need two different kinds of screws, a wood screw for the part of the bracket that will be attached to your wood shelf and an anchor that you will attach to your wall. You will want to make sure that the wood screw is shorter than the thickness of your shelf. For the anchor, you will need ones that support the weight of the shelf and anything you will be placed on the shelf. We chose ones that were 30lb for each anchor.
Spray Paint: You will need black spray paint for the brackets as well as all the hardware. I recommend using a flat/matte black spray paint so that you do not have a shiny finish. Rustoleum All Surface Flat Black is my favorite black spray paint I have used it for many projects and have been very happy with the quality. You can find it here.
Stain: My go-to stain is Minwax. You can choose any color that works with your home. For this project, I tested a few different colors, which I've shown below.
Step Three: Spray Paint Hardware
The brackets and the screws have a natural silver finish so they will need to be spray painted. One step that I see a lot of people miss is not spray painting their screws. If you don't they will stand out like a sore thumb against the spray painted brackets. Here is the before and after.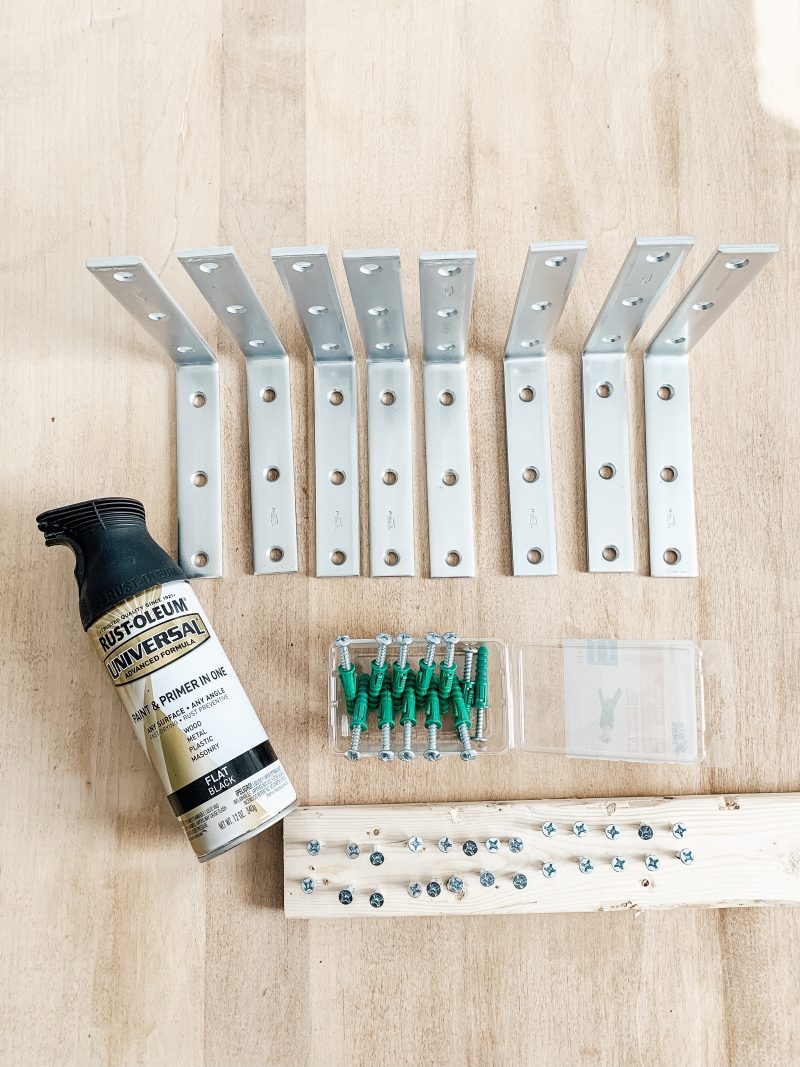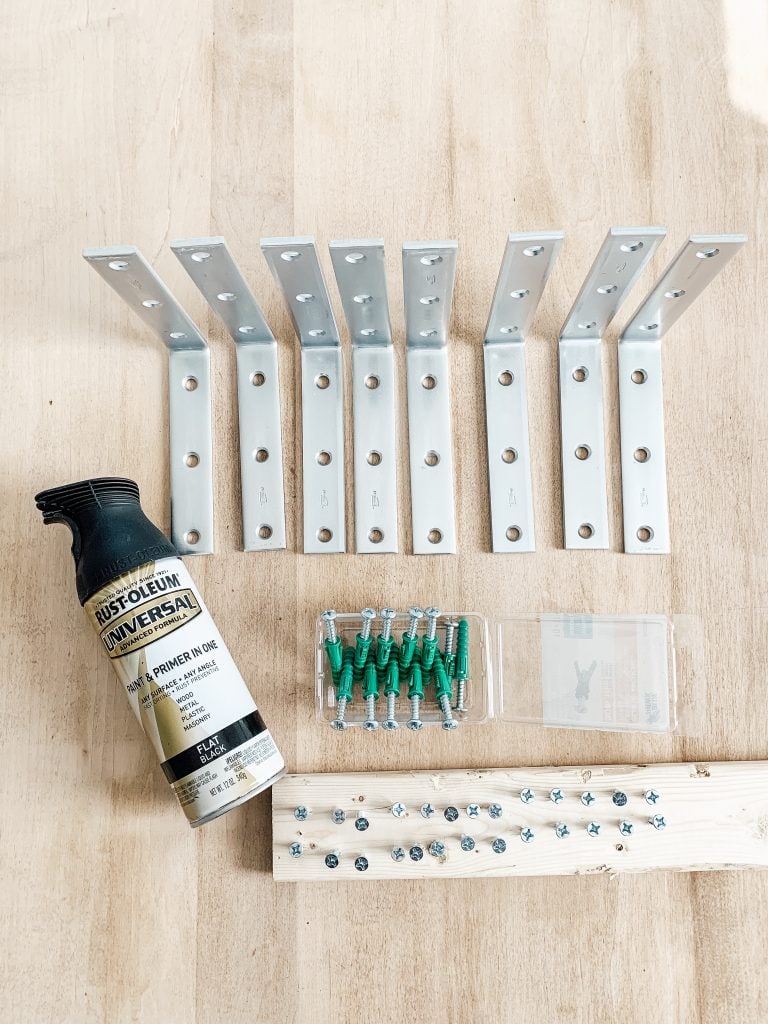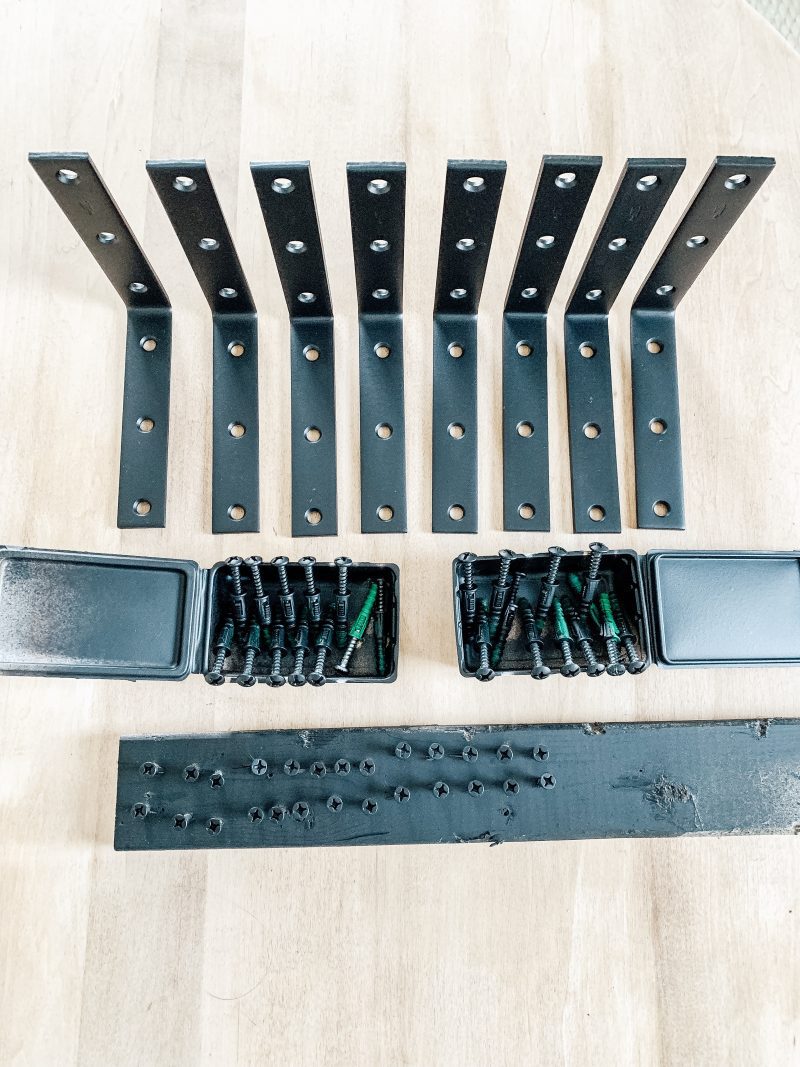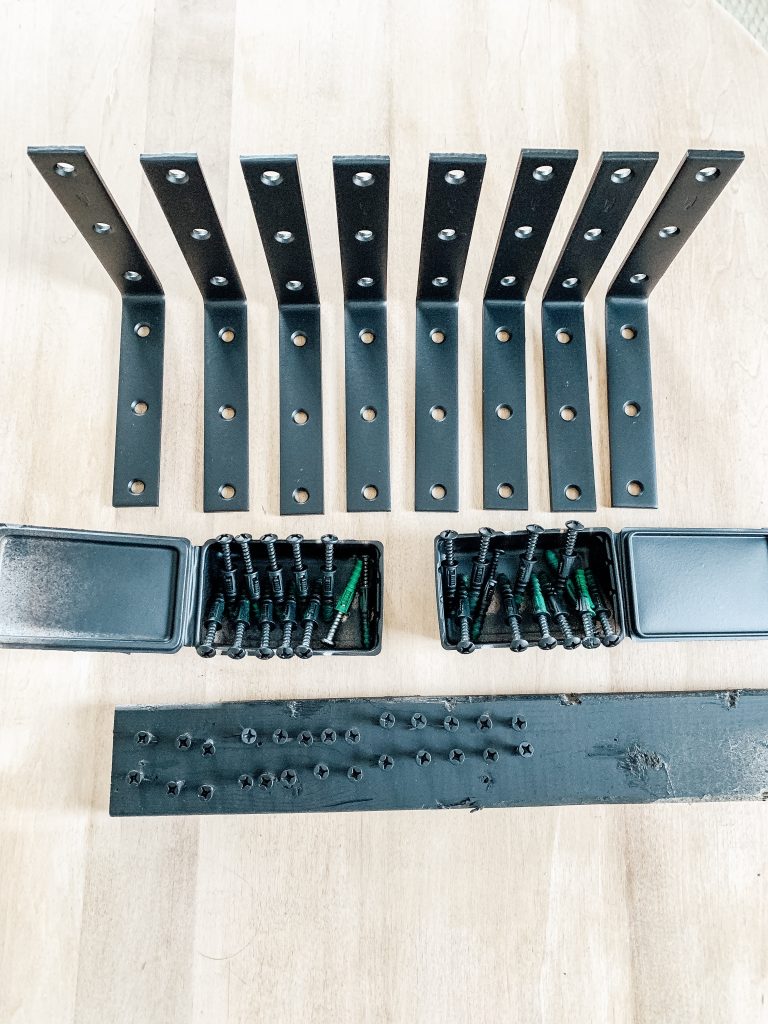 Pro Tip: Screw your wood screws into a piece of wood this makes it so each to spray paint them all at once!
Step Four: Stain Wood
Once you have the untreated wood cut to the size you need, you can add the stain of your choice or you could even paint them. We tested samples of Provincial, Driftwood, and Weathered Oak before deciding. The best way to apply stain without it becoming overly saturated is to use an old T-Shirt or lint-free cloth to lightly apply the stain. You will need to let the stain dry for 24-48 hours before you can move on to the next step. We ultimately decided to go with Minwax Provincial Stain.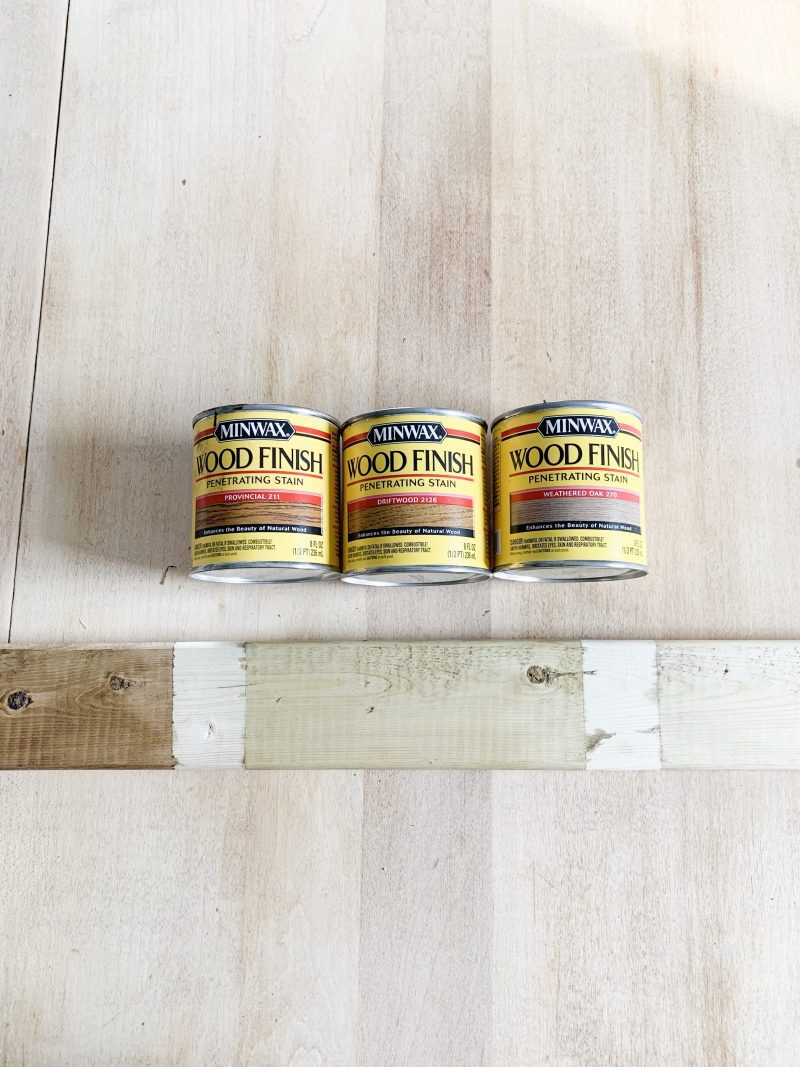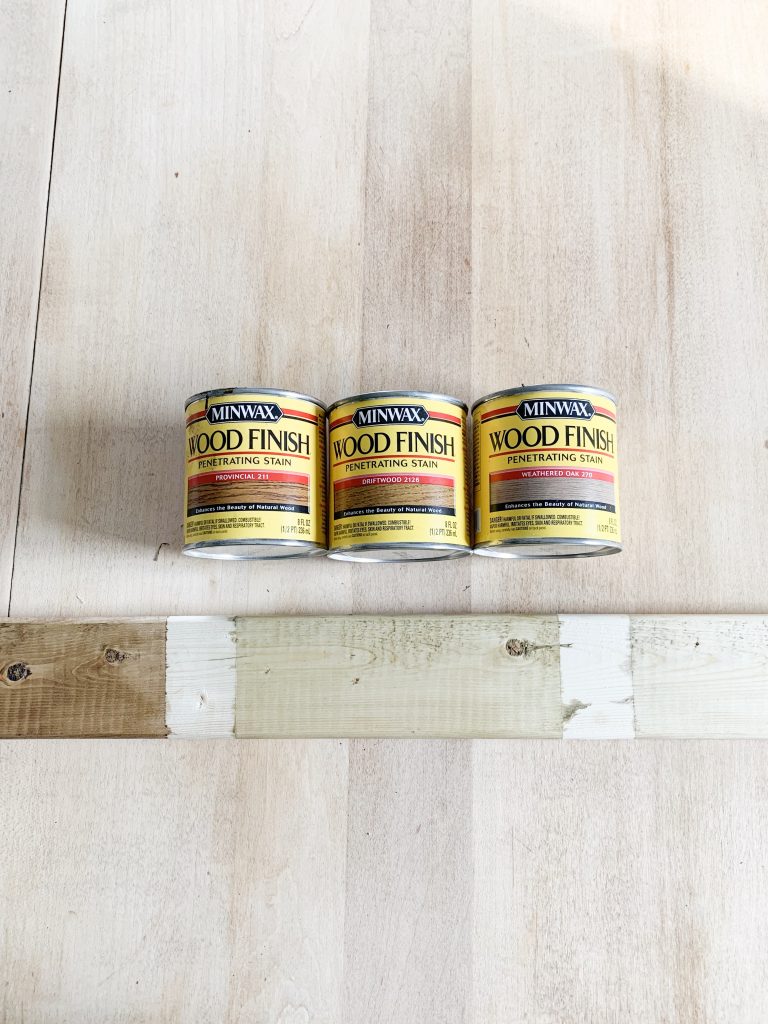 Step Five: Attach Hardware to Wood
Now that all the material are ready to go we can now assemble the shelves. For these brackets, the best thing to do is to attach the bracket to the shelf first before you attach it to the wall. You will use your wood screws for this step.
You will have to decide at this point exactly how far apart you will want your brackets to be. One way to decide on this is to find your stud and lines them up that way. If it does not line up with a stud you will need to use heavy duty anchors. We decided on 4 inches from the end of the shelf on both sides. Then you can drill your holes for the screws.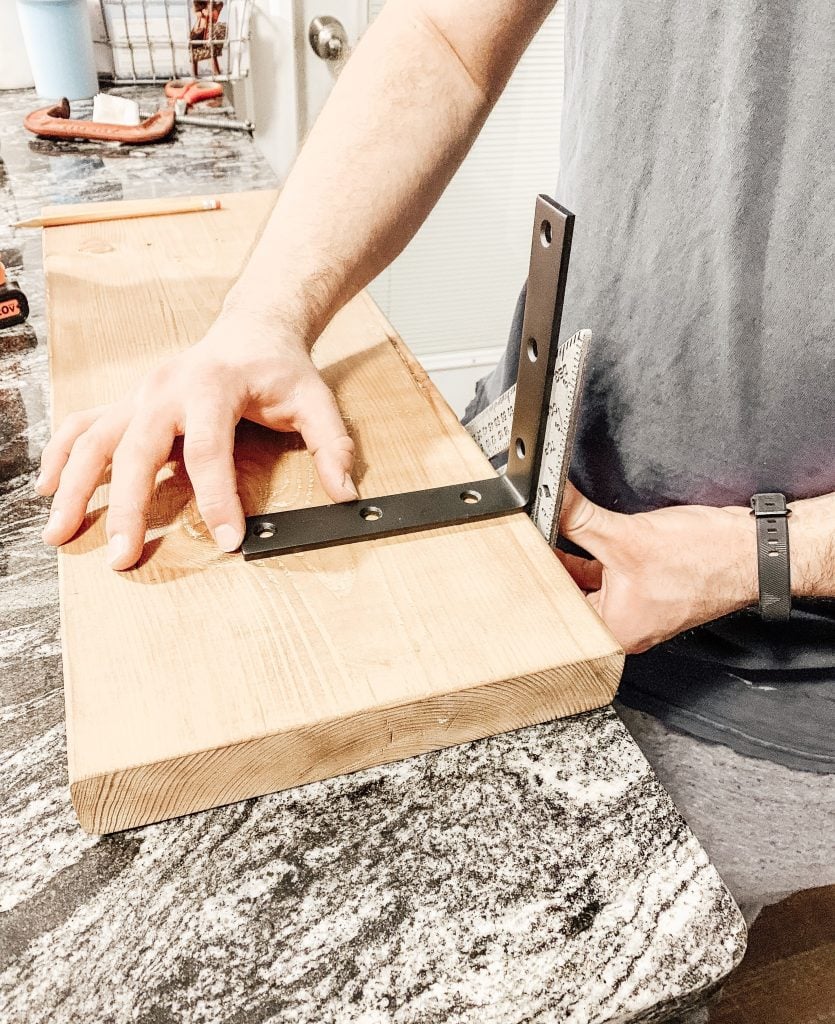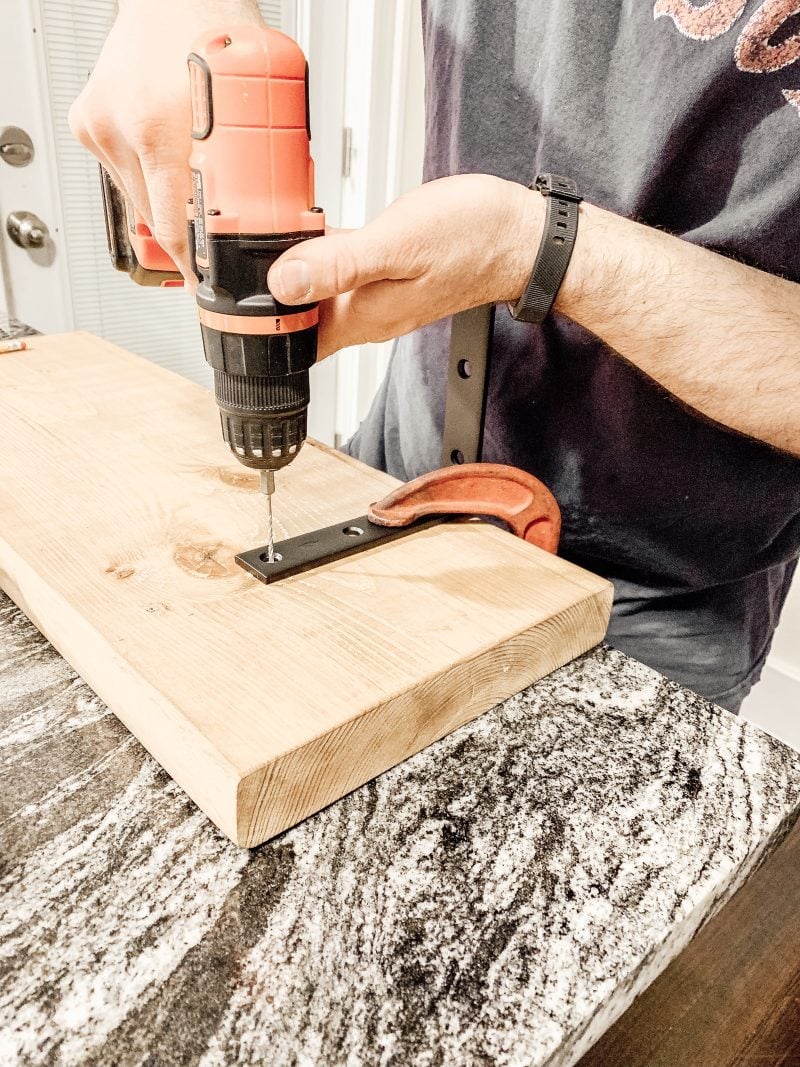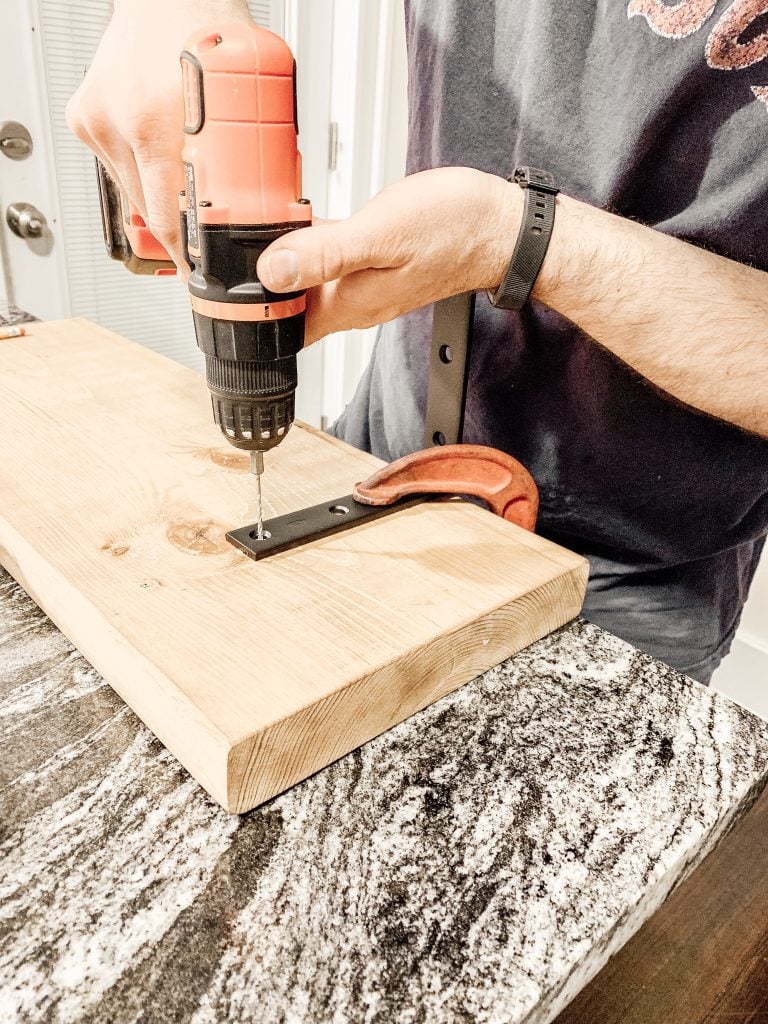 Step Six: Secure Brackets and Shelves to Wall
We are almost done. Now it is time to attach the shelves to the wall. You will want to pre-mark your walls ahead of time. You may need two people to do this, one to hold the shelf up and another to mark the holes with a pencil.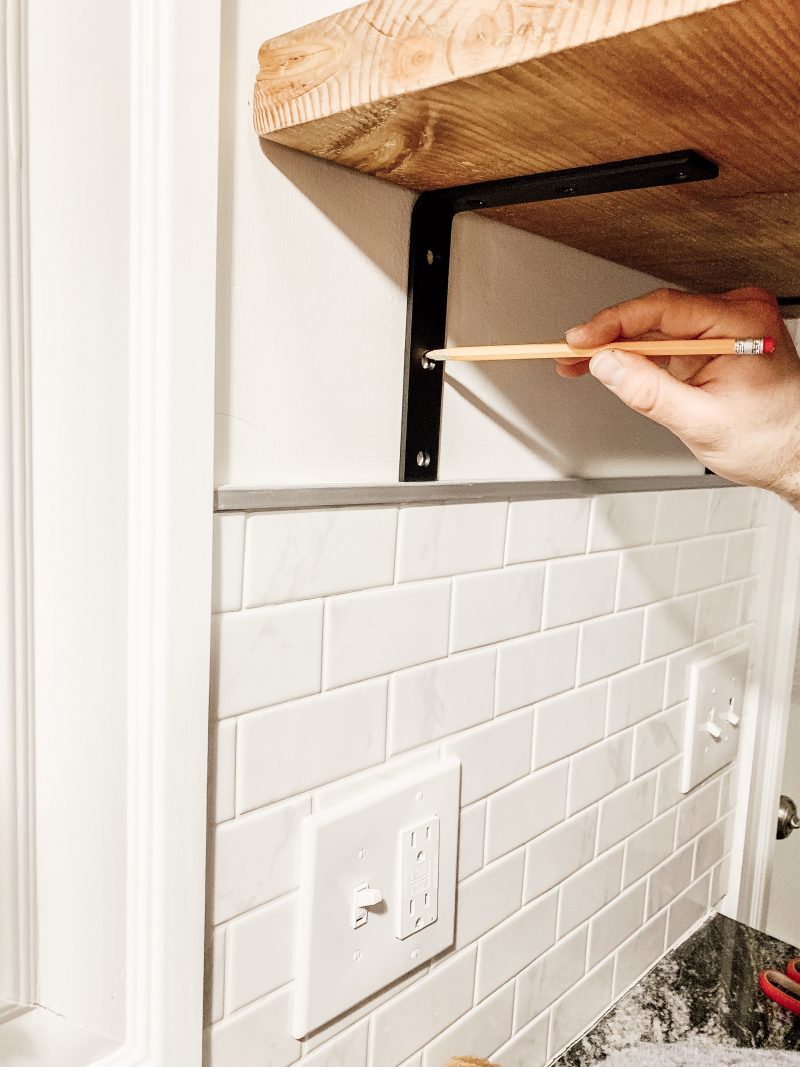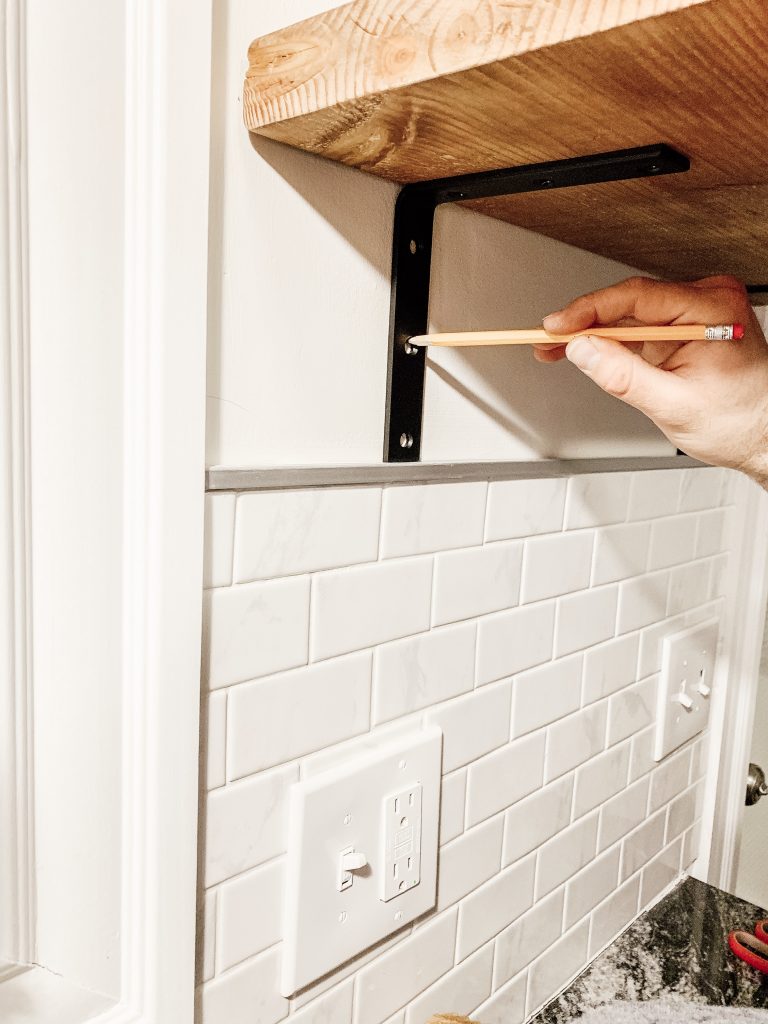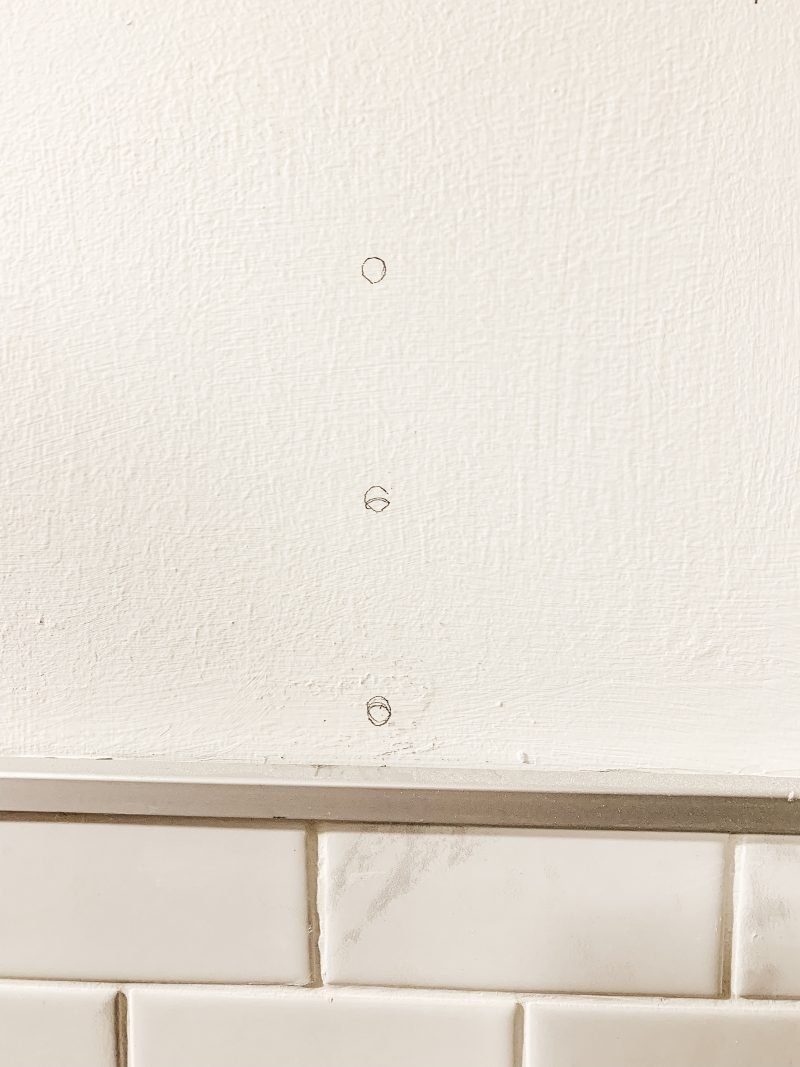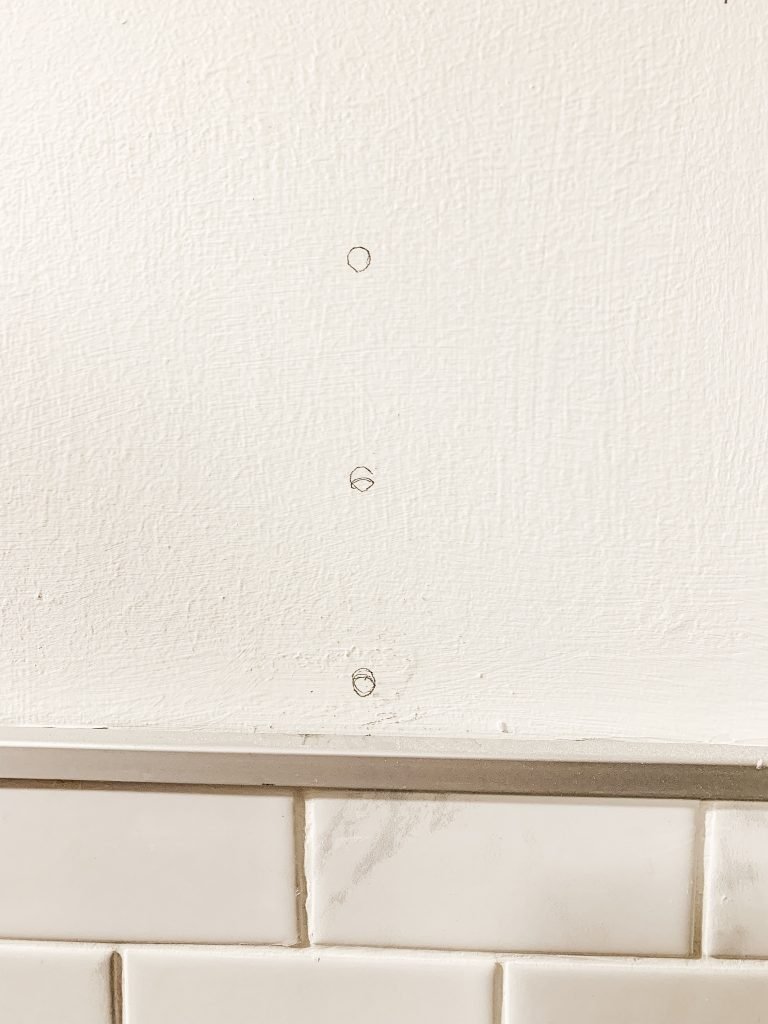 Once you have your walls marked you can now drill holes for the anchors. We use this drill here.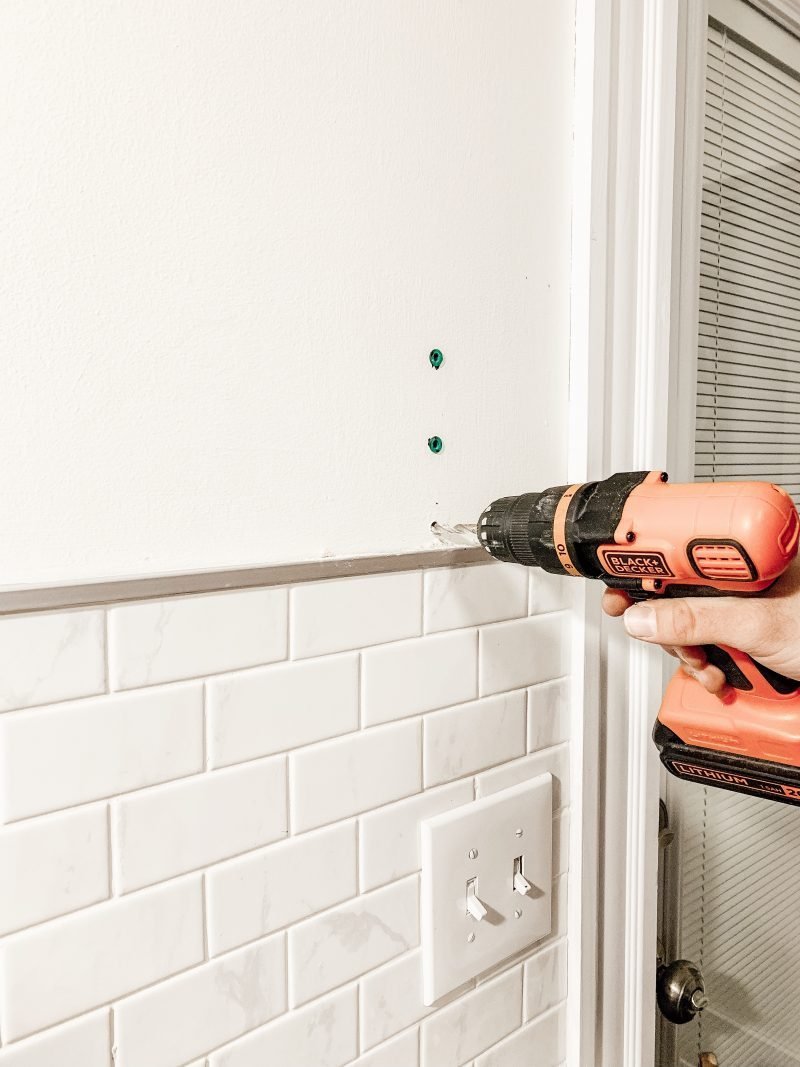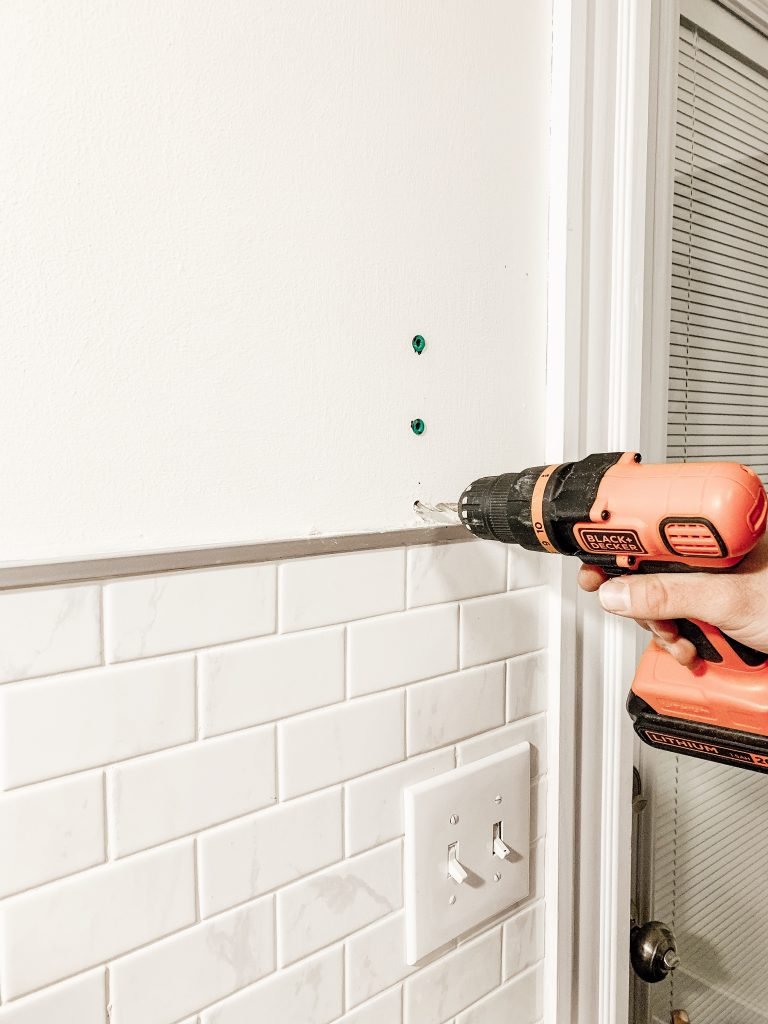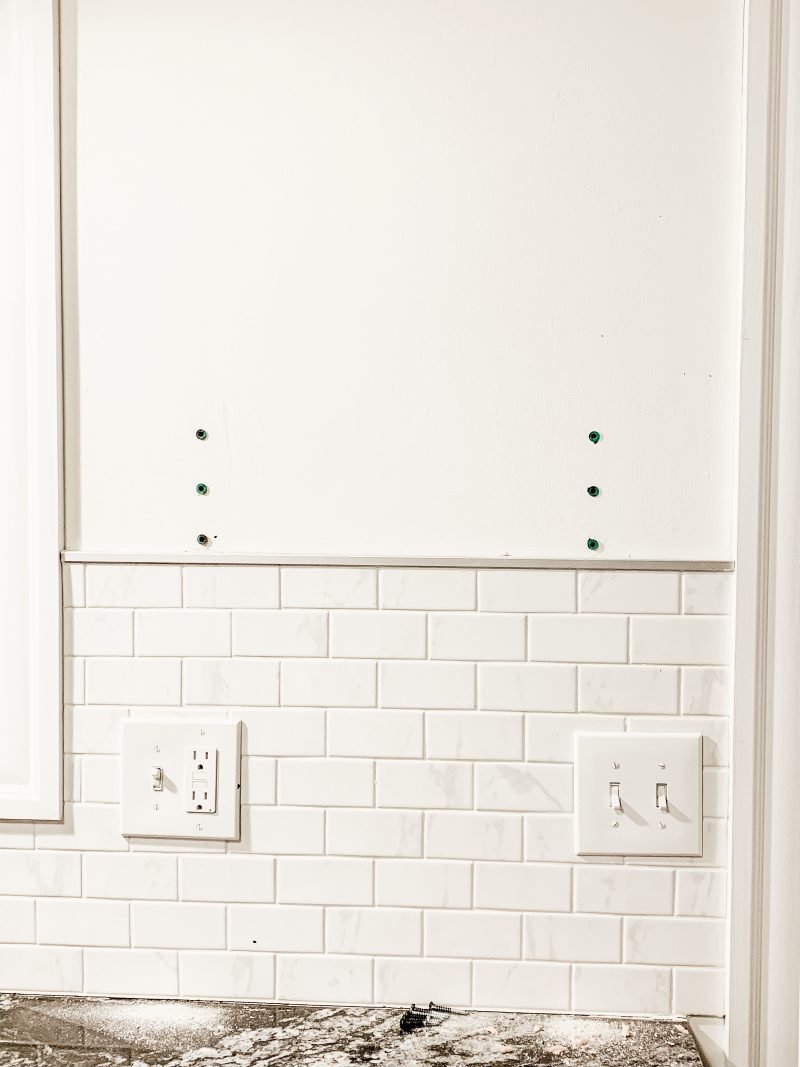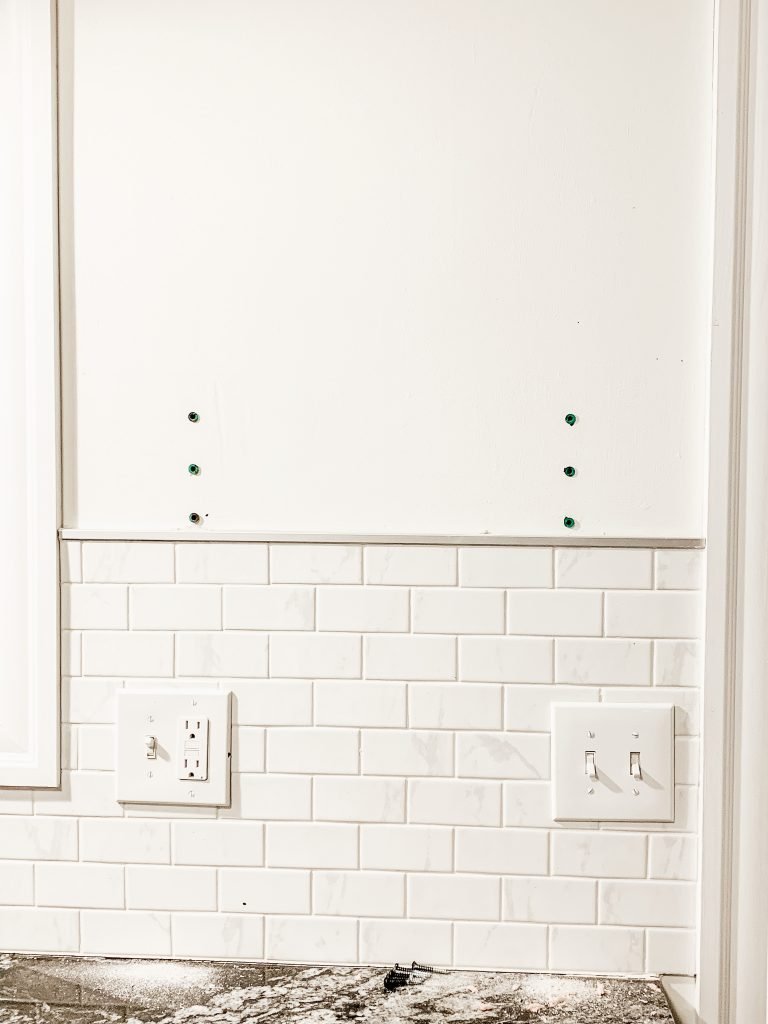 Lightly tap the anchors into the wall with a hammer. Don't force them in. After you have your anchors in the wall you will need to attach the shelves to the wall. For this, you will need to line up your bracket with the anchor holes and screw them into the wall.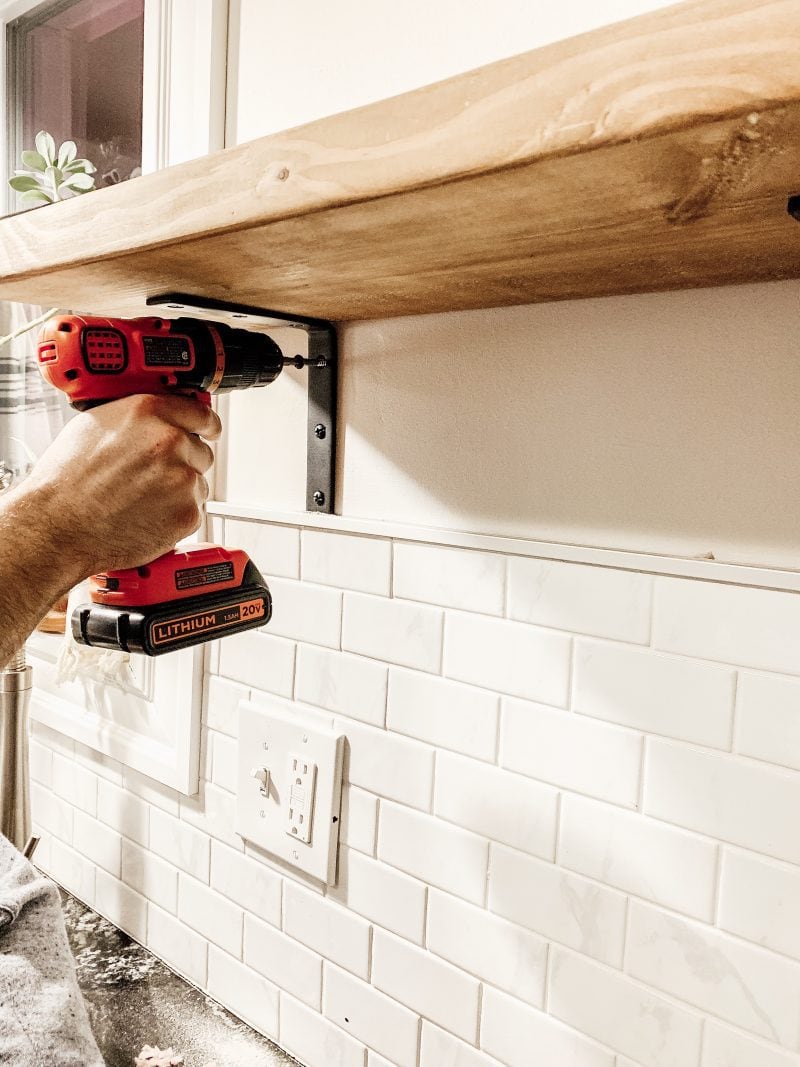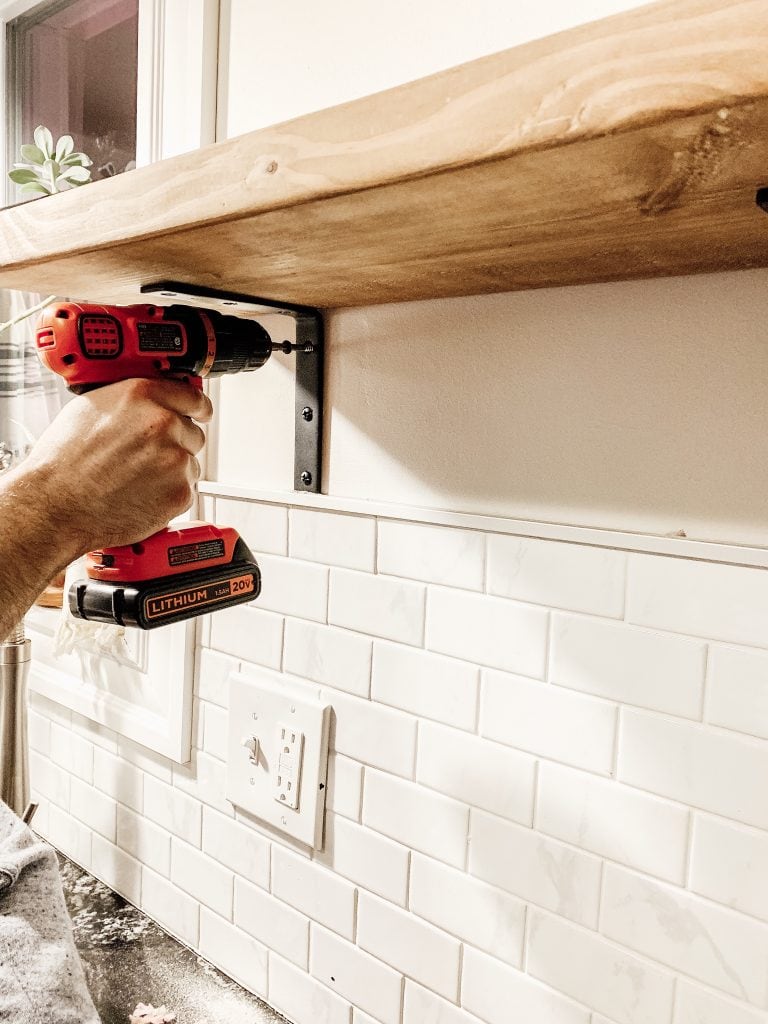 Finally, if you are doing multiple rows you will follow the same steps, but you will need to determine the spacing that you would like between the shelves. We went with 12 inches due to a height constraint on the right side, but I would recommend 14 inches if you have space.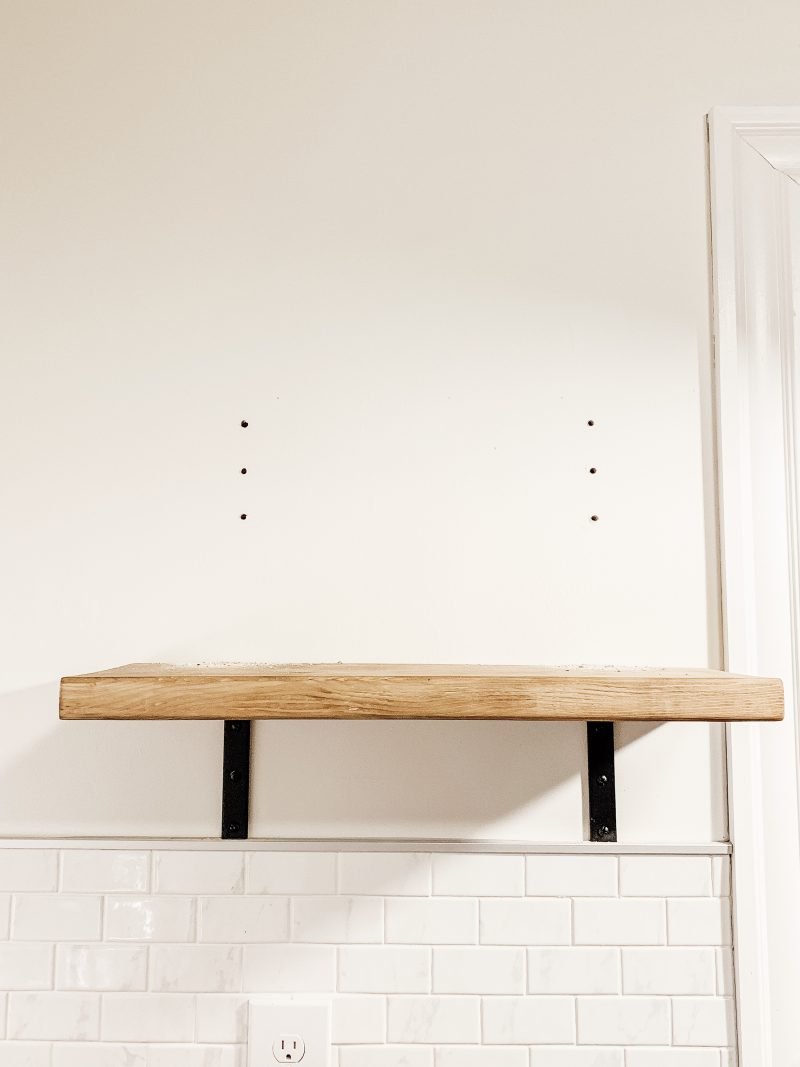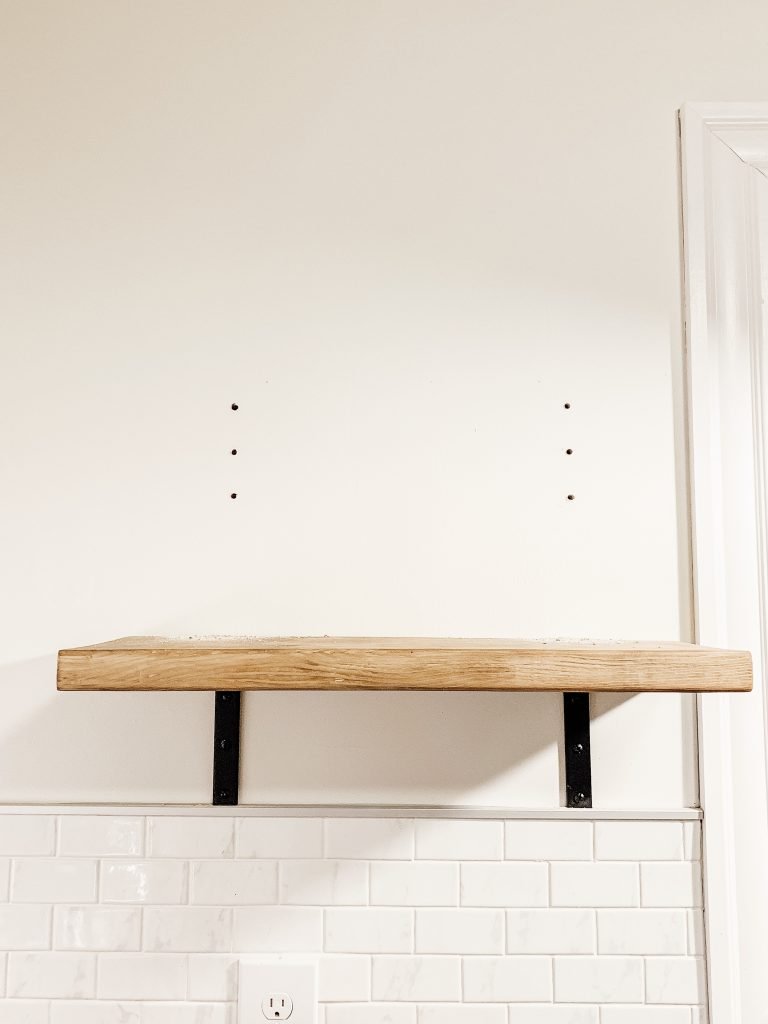 Step Seven: Enjoy Your Handy Work!
Last but not least stand back and admire your work. Once you have your shelves on the wall the fun part begins, decorating! Stay tuned for easy tips on styling open shelving.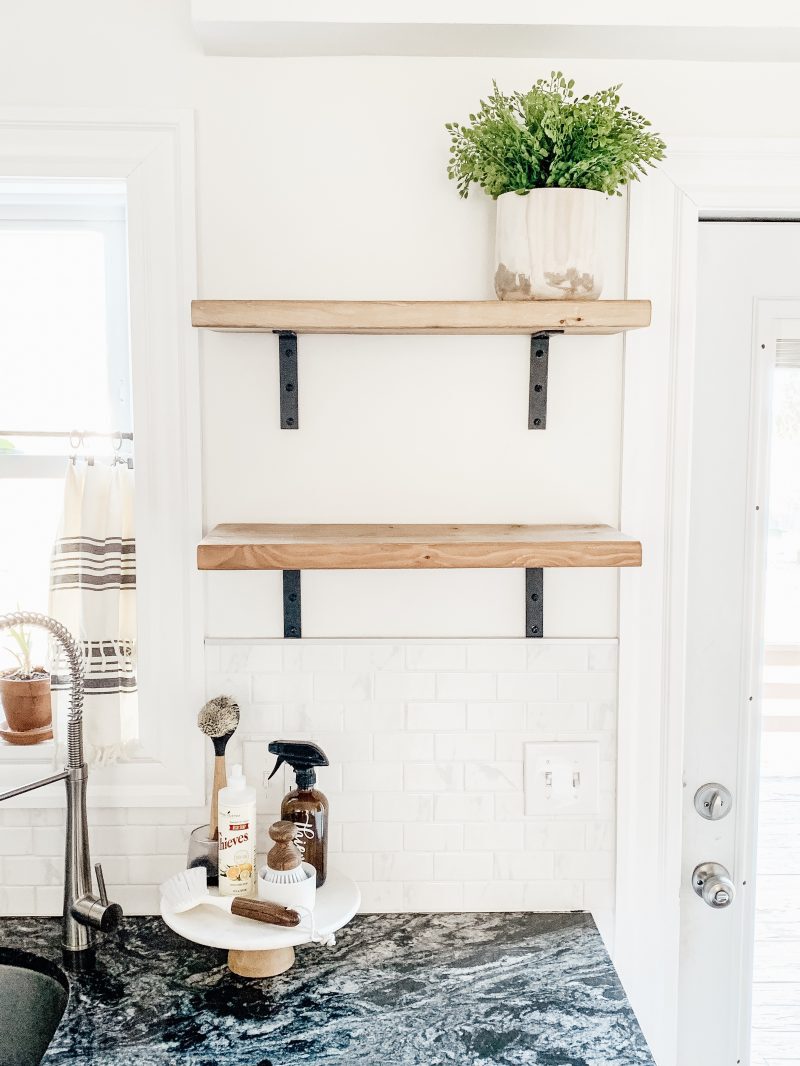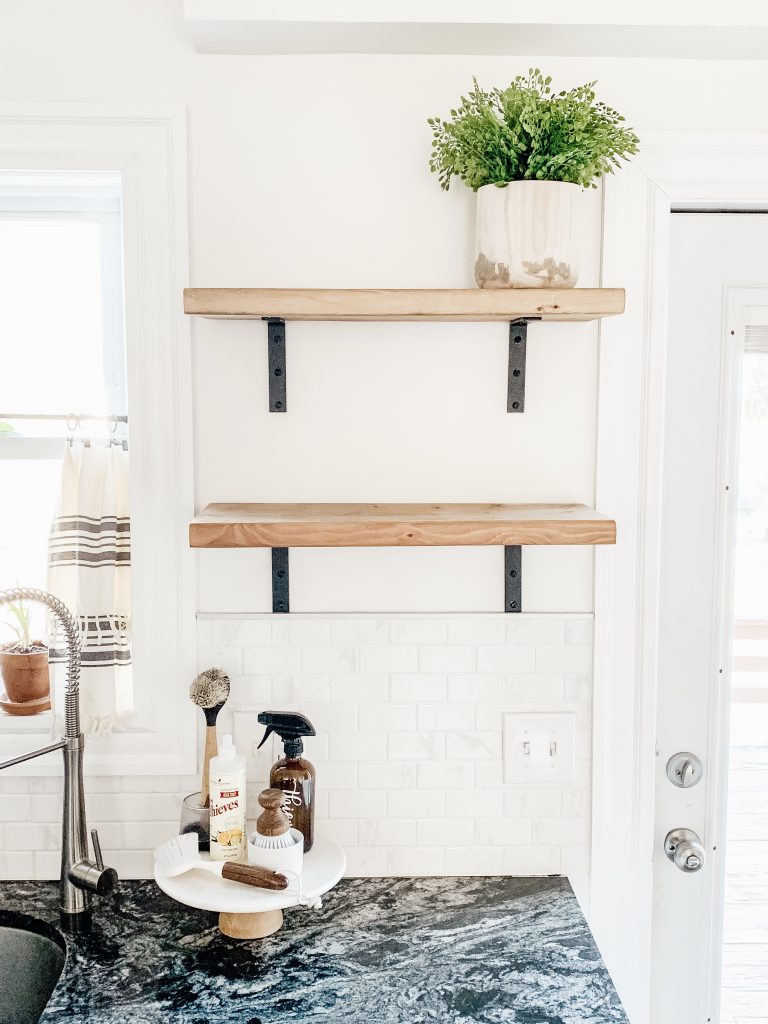 I'd love to hear if you decide to tackle this project! Leave me any questions in the comments.
If you missed the previous post on my kitchen makeover you can read them below!