Our gender neutral nursery is complete! Come take a tour for all the design details.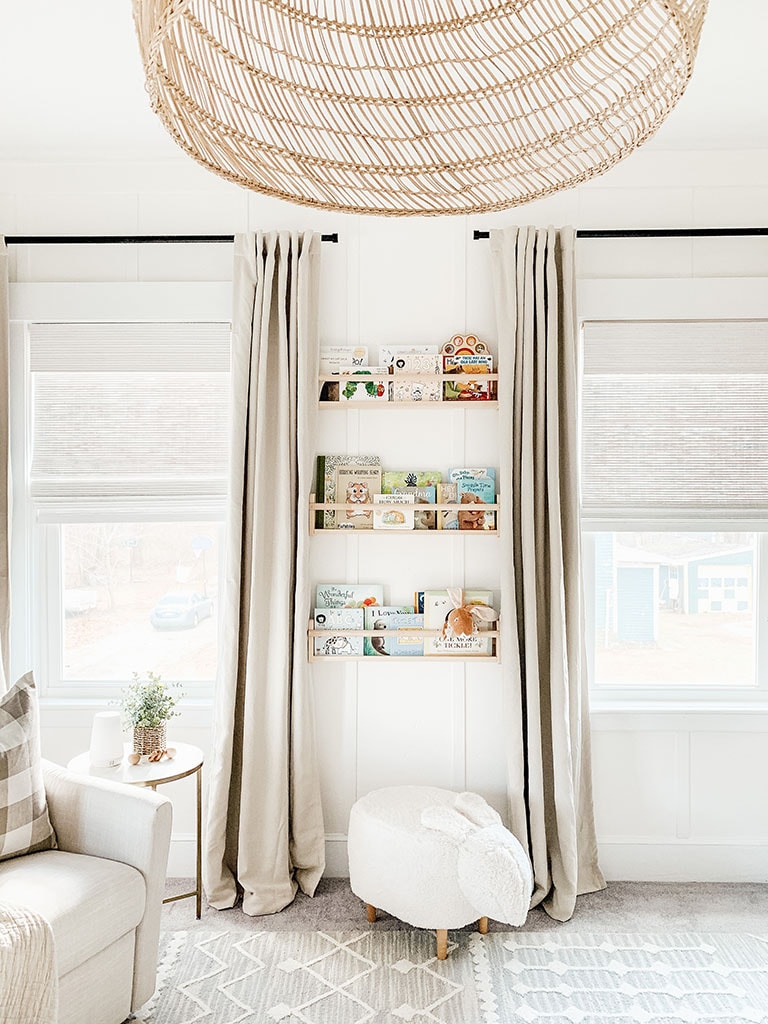 It is officially baby month!! I can't believe how fast and how slow this pregnancy has gone by. We are getting so excited that baby H could be here at any moment and perfect timing because we just put the finishing touches on the nursery.
Today I am sharing all the details on our gender neutral nursery, if you remember we decided not to find out the gender. Now that we are getting close I literally can not wait to find out if we have a little Miss or Mr. I will say though regardless I wouldn't change a single detail of this nursery. It is even better than what I envisioned.
A few months ago I shared our nursery style board and the room came together almost exactly as planned. A gender neutral nursery was right in my wheel house, being a lover of all things neutral.
The nursery is full of neutral tones and cozy textures. I did a mix of creams, greys and natural wood tones that all came together for the sweetest neutral nursery.
Be sure to check out the end of the post where I provide links to all the design sources for the nursery.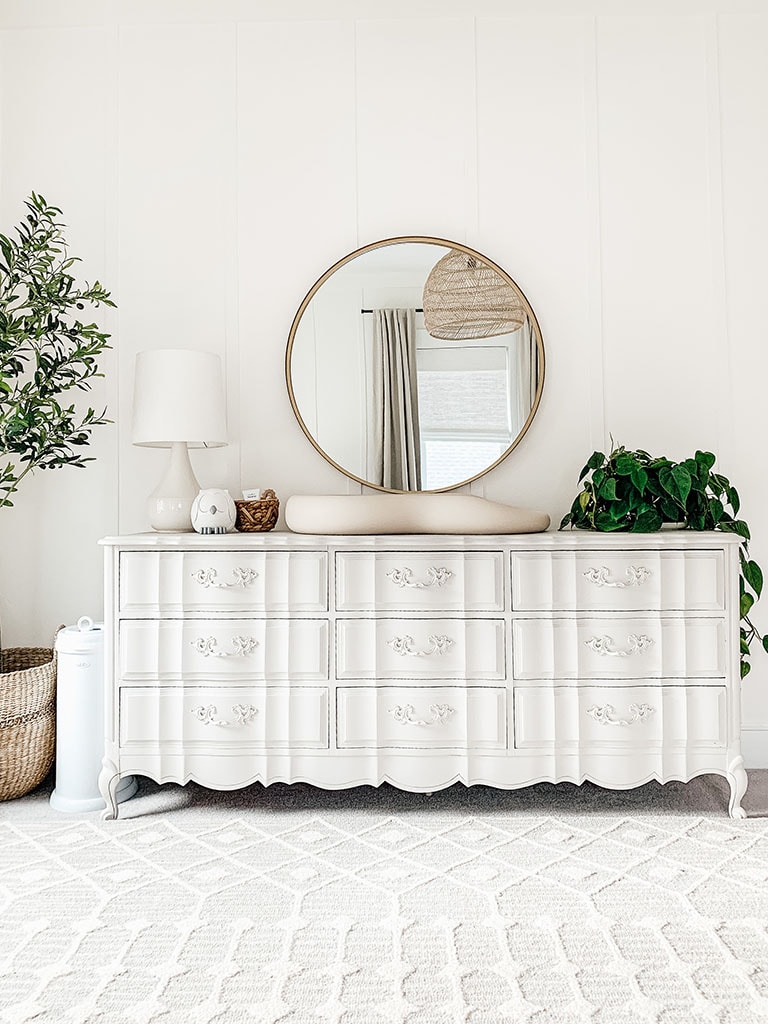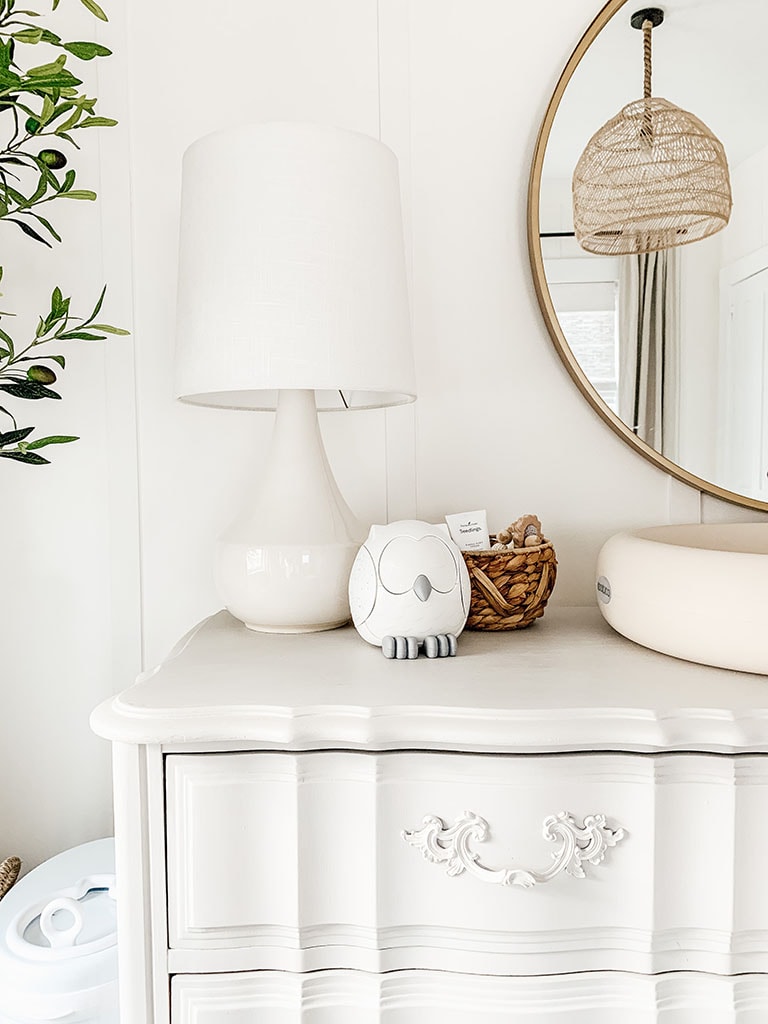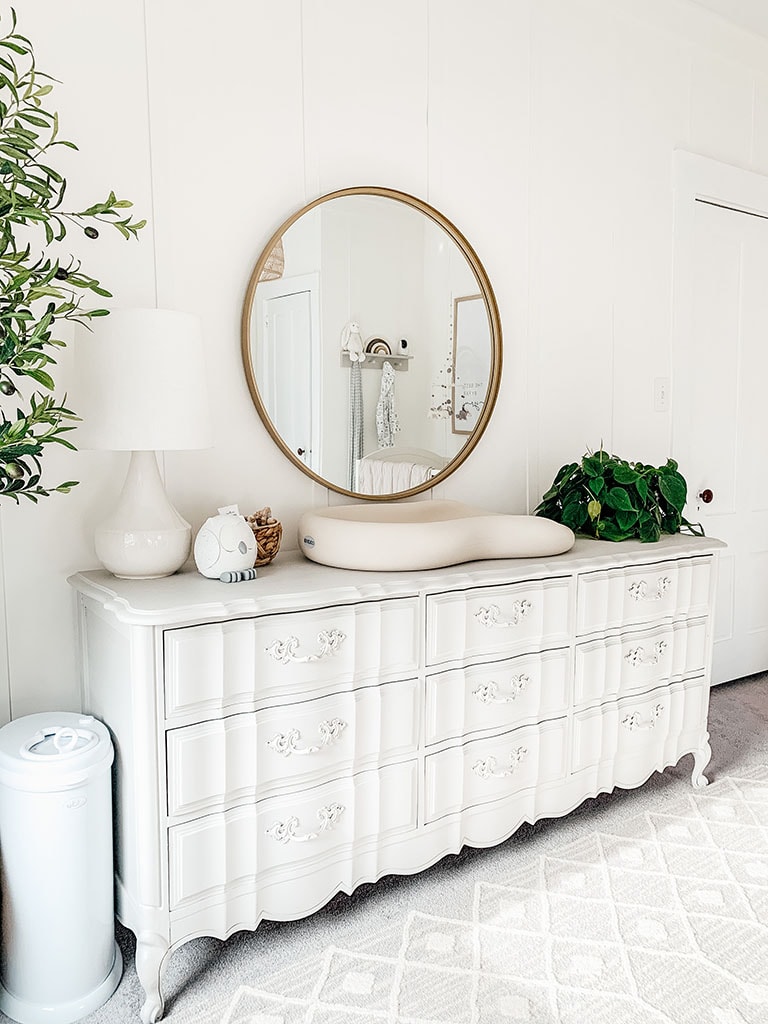 " Affiliate links provided for your convenience, please read my disclosure for more information."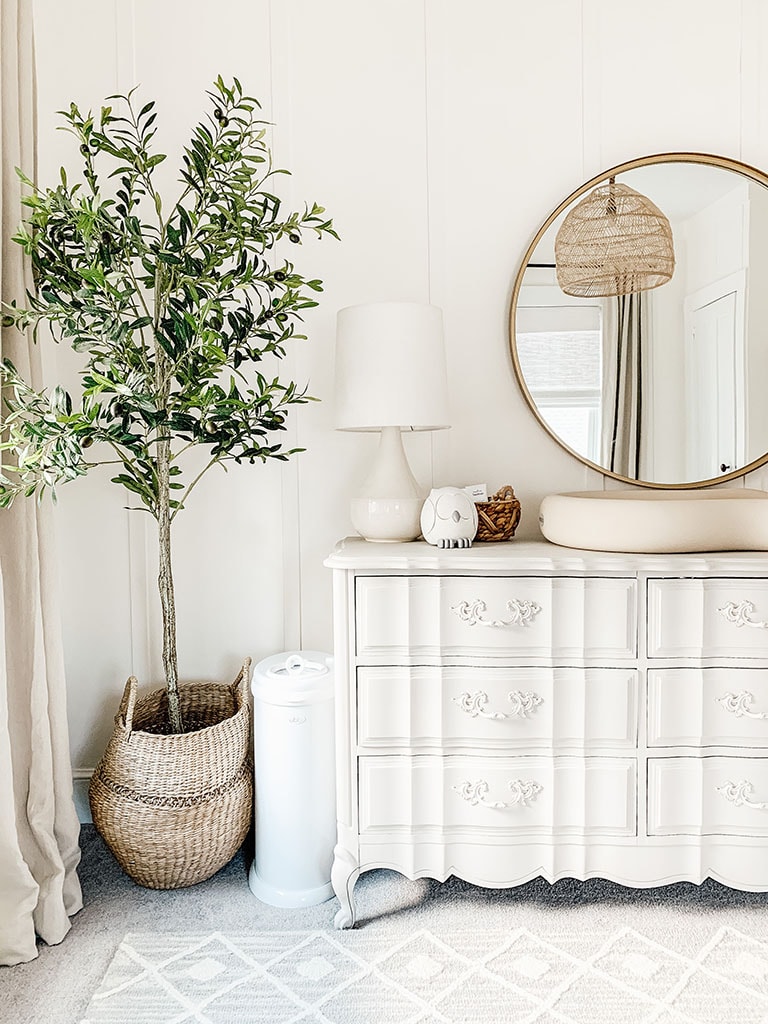 Dresser/ Changing Table
I knew that we wanted to use a dresser instead of a traditional changing table.
I think
that it is way more versatile and one less piece of furniture to buy. We actually had this dresser in our bedroom. Based on the drawer sizes we realized it would be the perfect fit in the nursery. It was a little too small for us.
We ended up painting it using Fusion Mineral paint and I love how it came out. You can actually find a full tutorial and review of the paint in this post.
Above the dresser I added the beautiful gold mirror. It makes a nice statement in the room and right below that is our changing pad.
This is the Keekaroo changing pad and it came
highly
recommended because you do not need changing pad covers, it
just
wipes clean
. Less laundry and I love that it came in a neutral color.
I also added a plant, lamp, small basket of diaper changing essentials and this super cute owl essential oil diffuser
. It is also a humidifier and sound machine.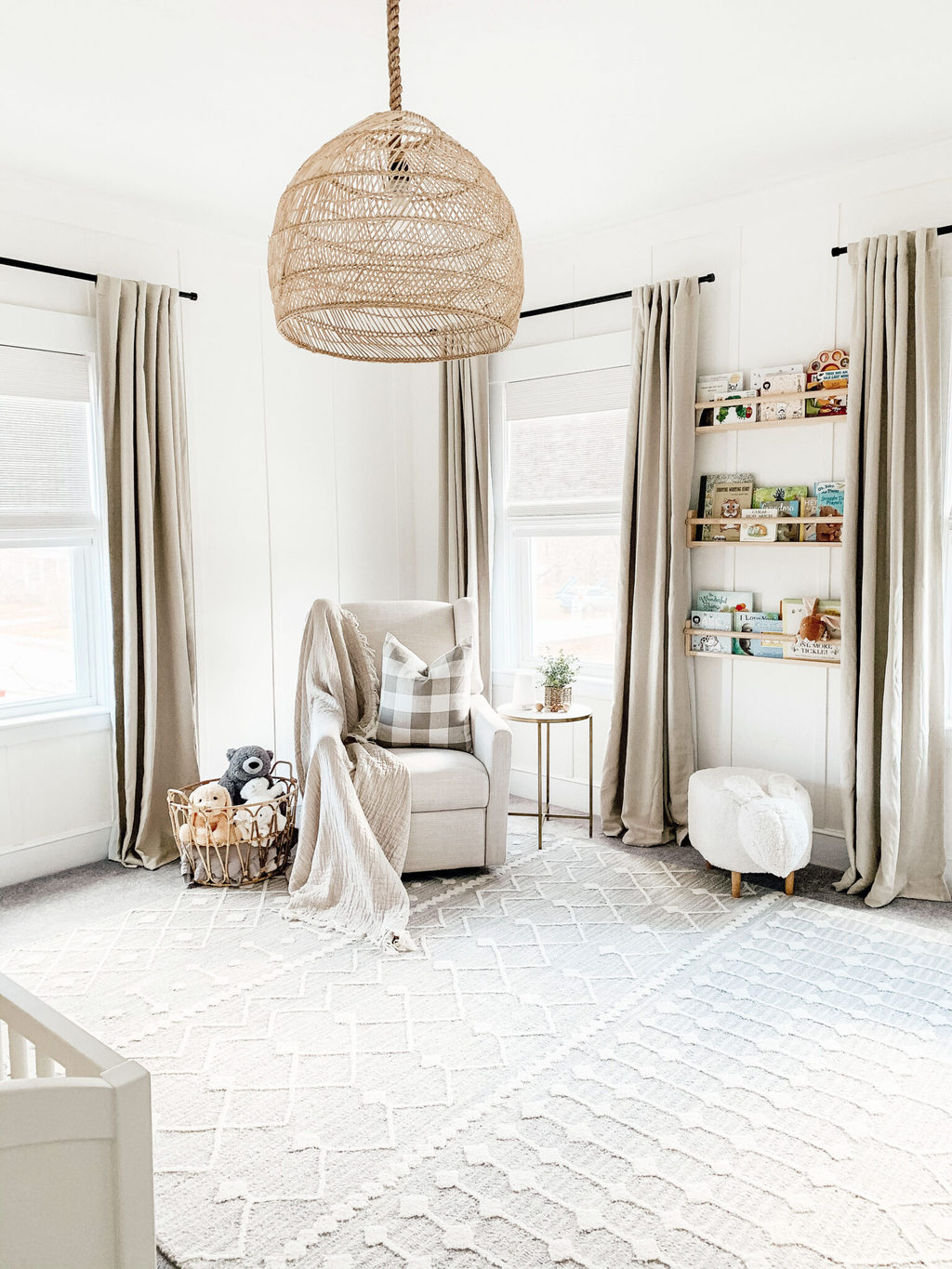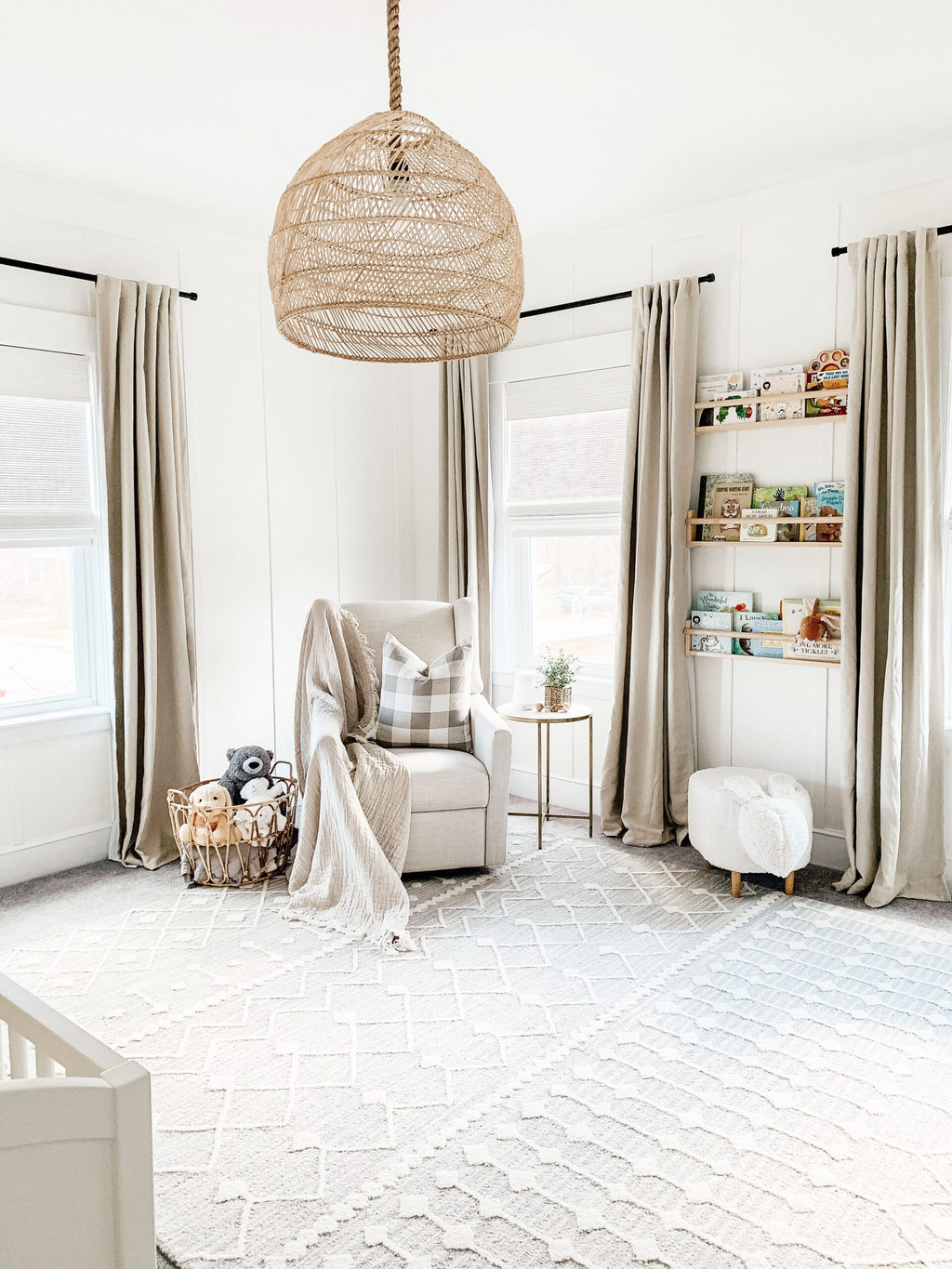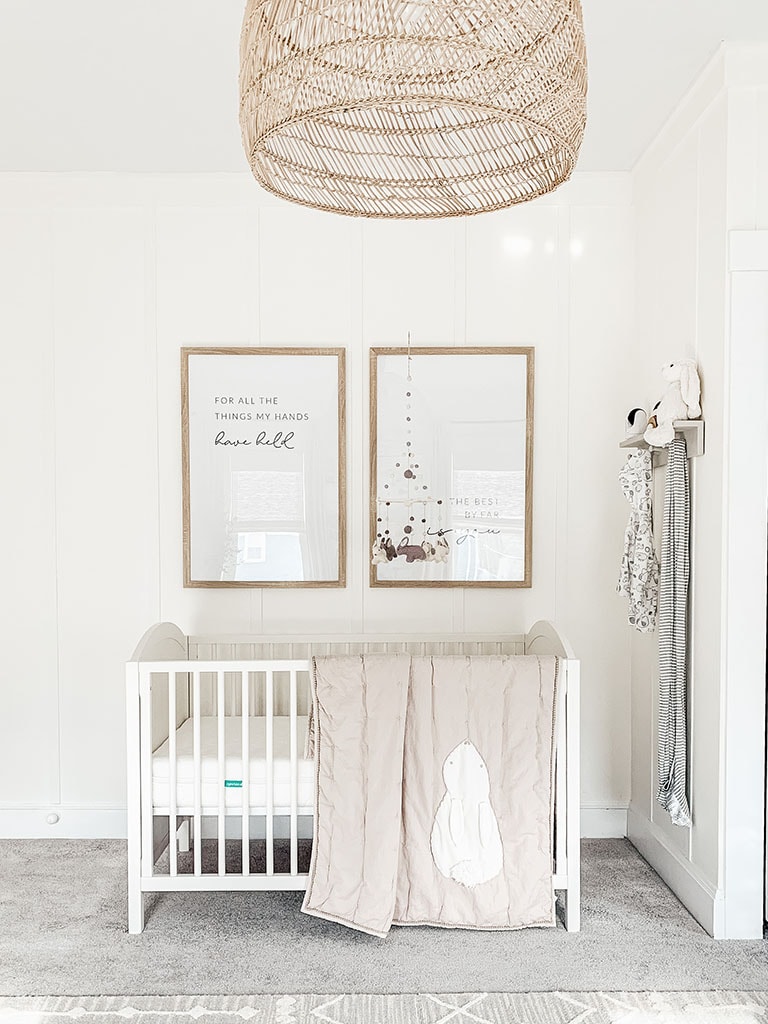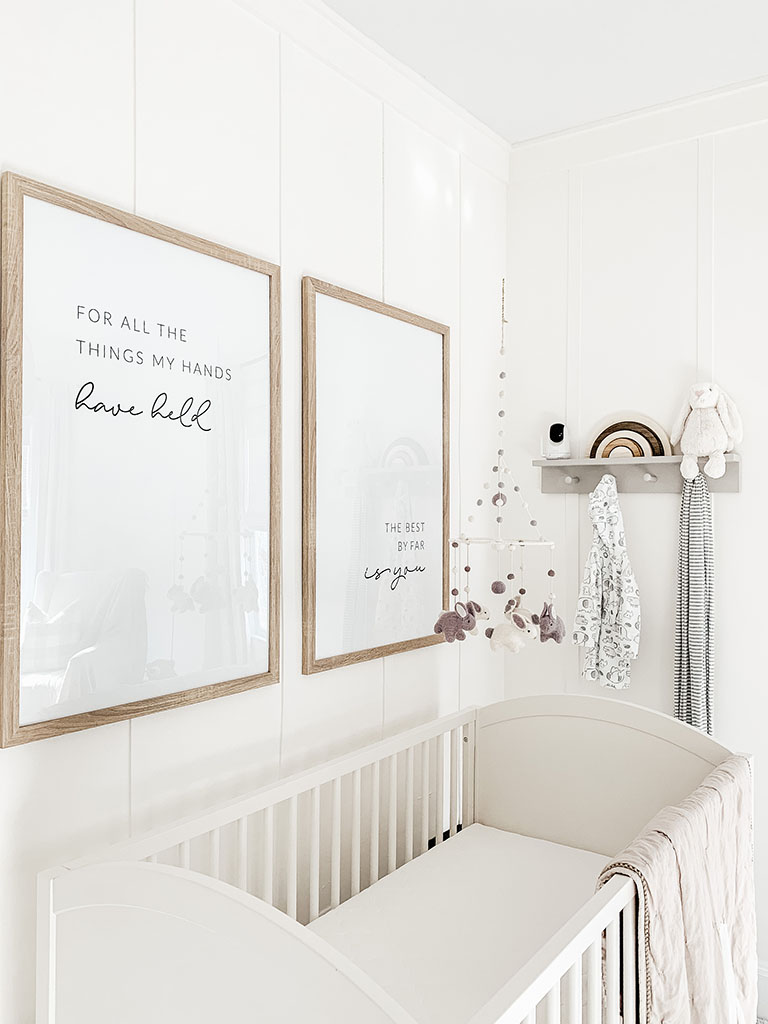 Crib Set Up
The crib is
probably
the most important part of a nursery set up. I wanted to create a cute little corner of the room. Our room layout made this the perfect spot, almost like an alcove that
was meant
for a crib.
I knew I wanted a white crib that was a little traditional and a little modern. This Austen crib from Pottery Barn was the perfect mix of both and was a great price for Pottery Barn. We ended up going with the Newton baby crib mattress. It is not only 100% washable it is also 100% breathable. This is the perfect combo for ease and peace of mind.
Above the crib I did two large prints. I found the download for the prints from a small shop on Etsy and printed them out at my local Walgreens. It was very easy and inexpensive.
The frames are poster frames off Amazon. I liked that they are plexi instead of glass since we are placing them above the crib. We will also be adding a small nail through each frame to ensure that the baby does not pull them off the wall.
Last but not least I had to add some final touches to this area. A mobile was a must.
I fell in love with this felt bunny mobile and that inspired some of the small bunny details throughout the space
. Including this bunny quilt from Crate Kids. Not a necessity but added a nice final touch.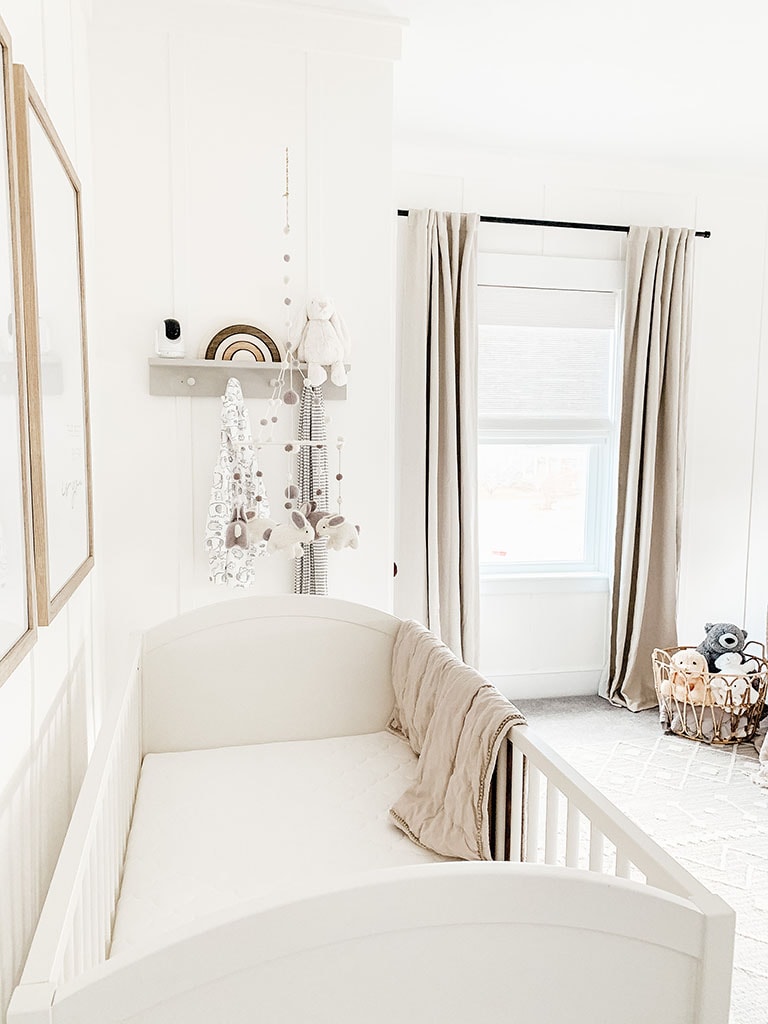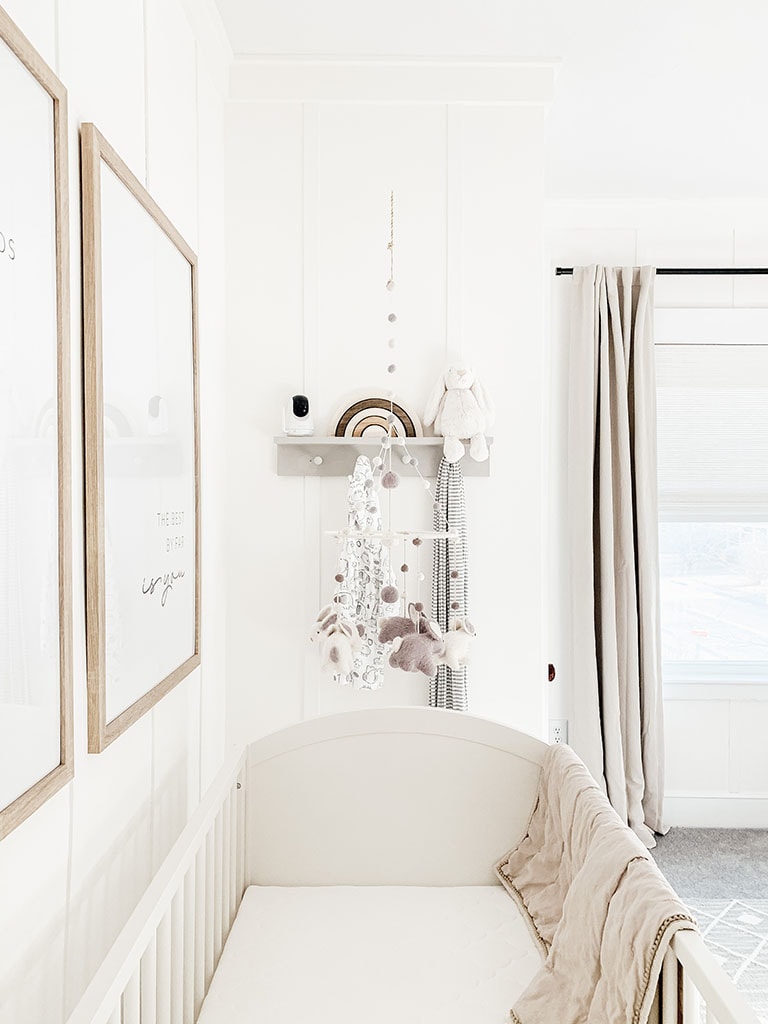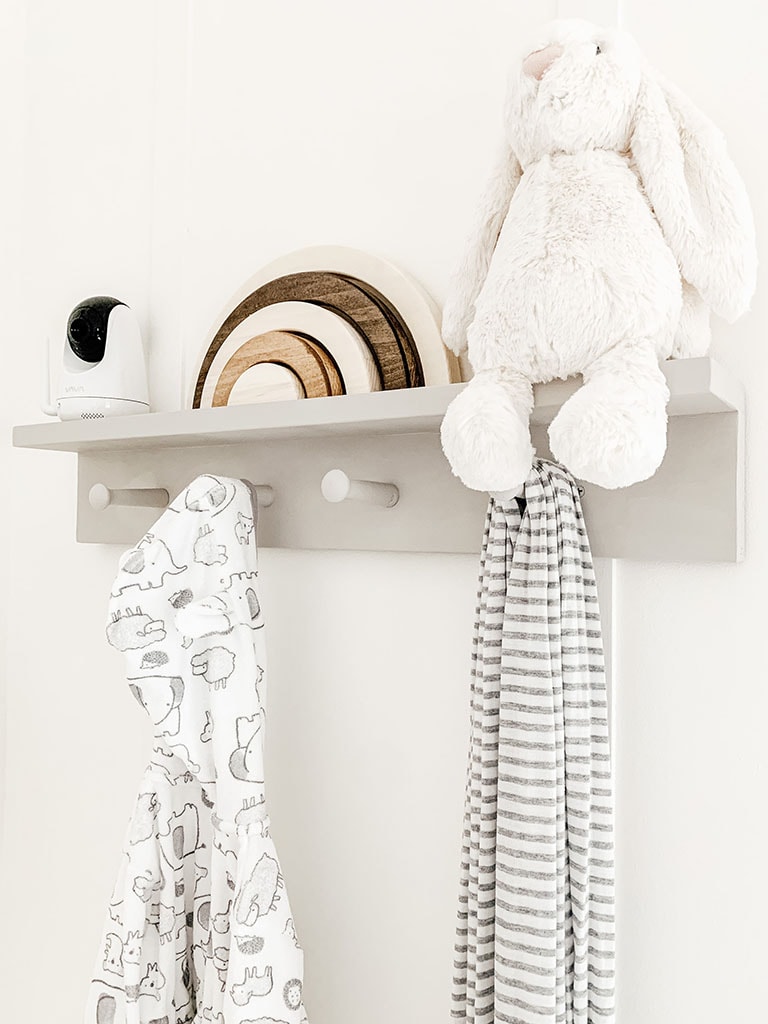 Peg Shelf
I needed a spot for our baby
monitor
so we made this cute peg shelf. It was very easy to make and we painted it the same color as the dresser. I like to be able to tie in finishes in
multiple
locations.
This
really
brings a space together and creates a consistent look, when you are mixing
multiple
finishes
.
Along with the
monitor
I
was gifted
this super cute rainbow stacker set from Noble Wood Co. This a family run small shop that has the cutest nursery decor. This is our little rainbow baby and I love the mix of natural and stained wood. Next to that is this cute white bunny, again carrying along with the subtle bunny theme.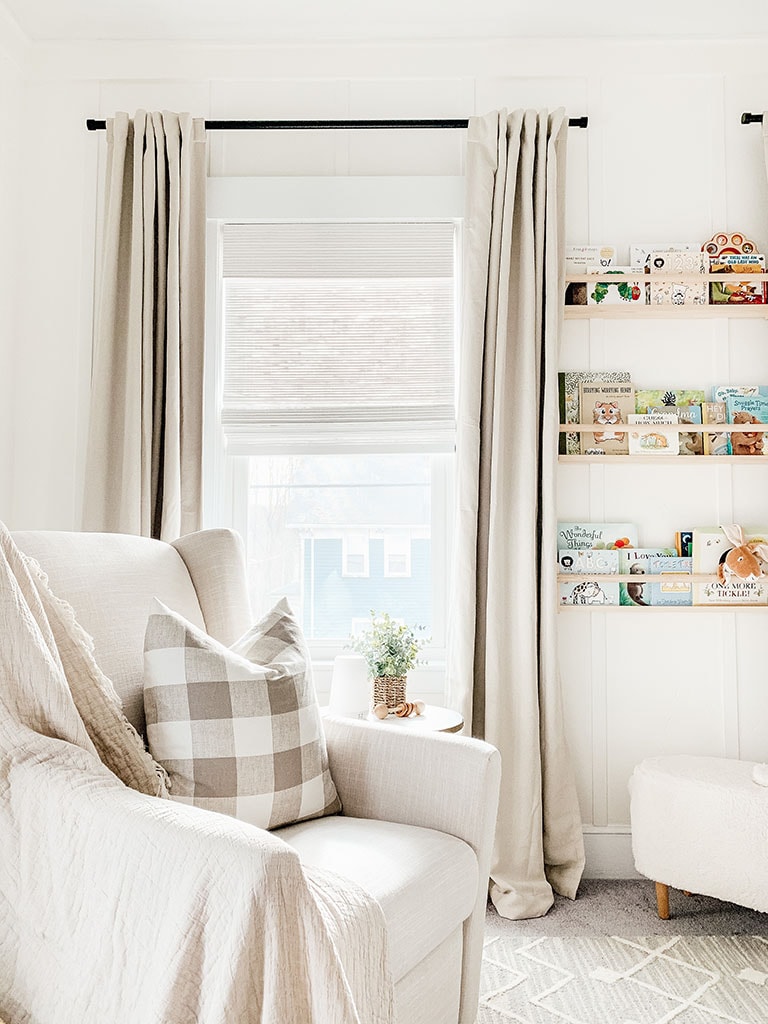 Book Wall
One of my absolute favorite spots in our nursery is our book wall. I found these super cute wall ledges at Ikea. They are perfect for displaying books.
For our baby shower we asked everyone to bring a book instead of a card and to write a little message inside. I am so happy we did this. We received so many beautiful books with messages that we will cherish forever. They were able to fill our book wall and I can't wait to be able to read them to our sweet babe.
Right below the book wall I found this super cute bunny ottoman. Another cute detail that ties in our neutral bunny theme.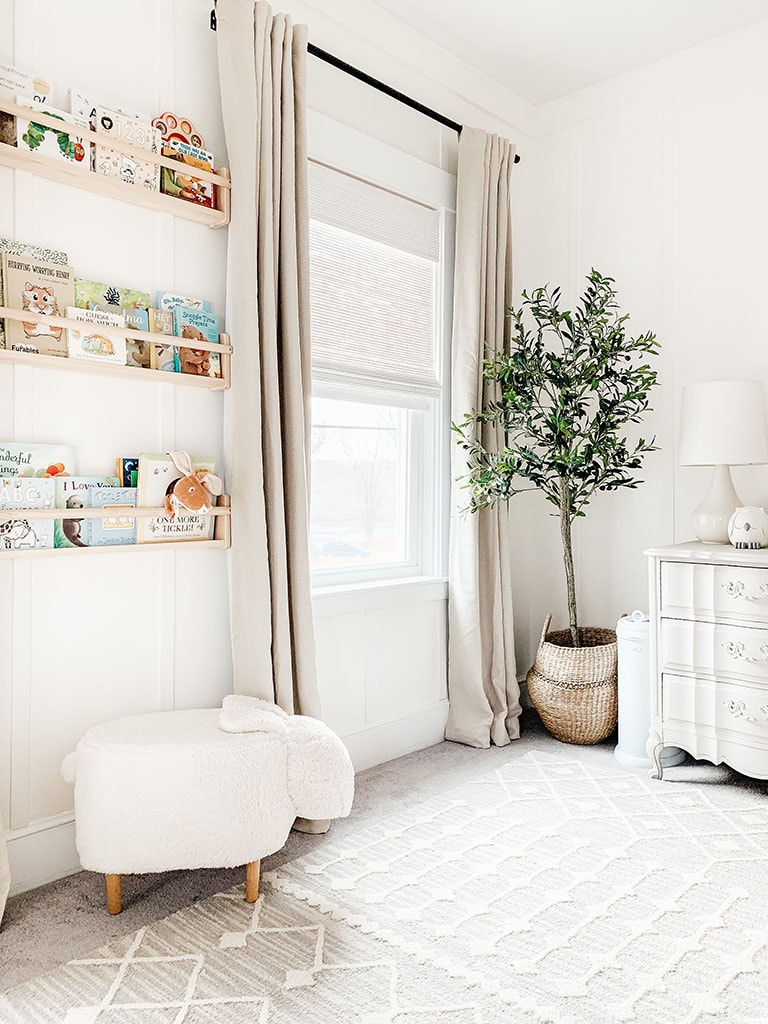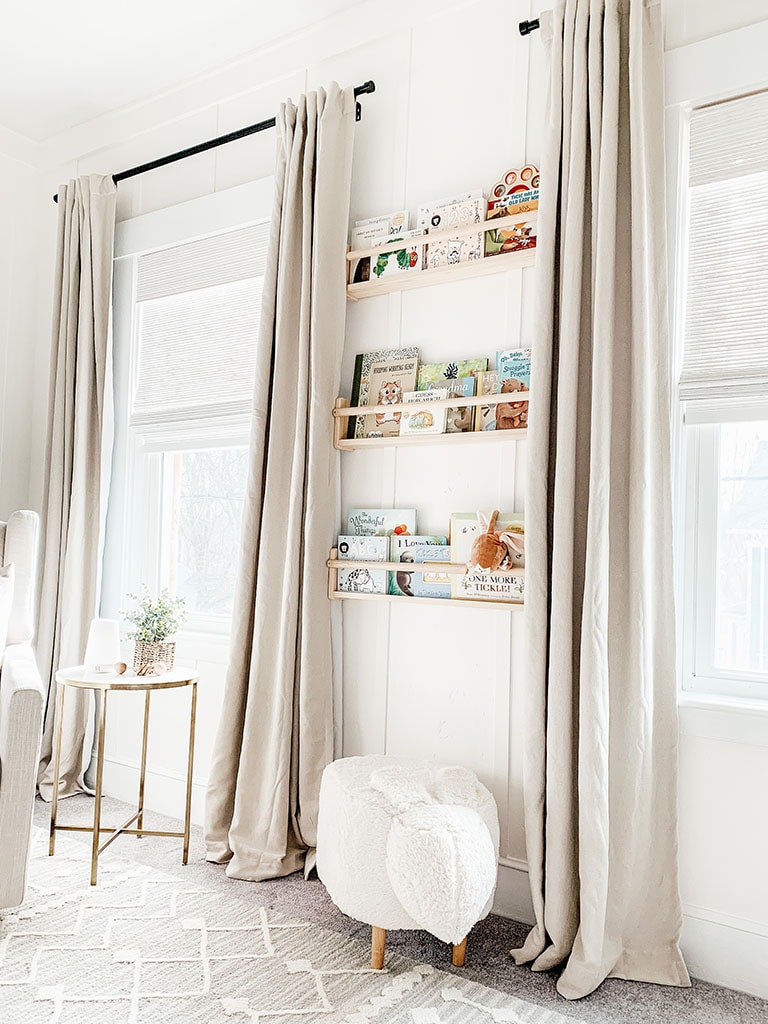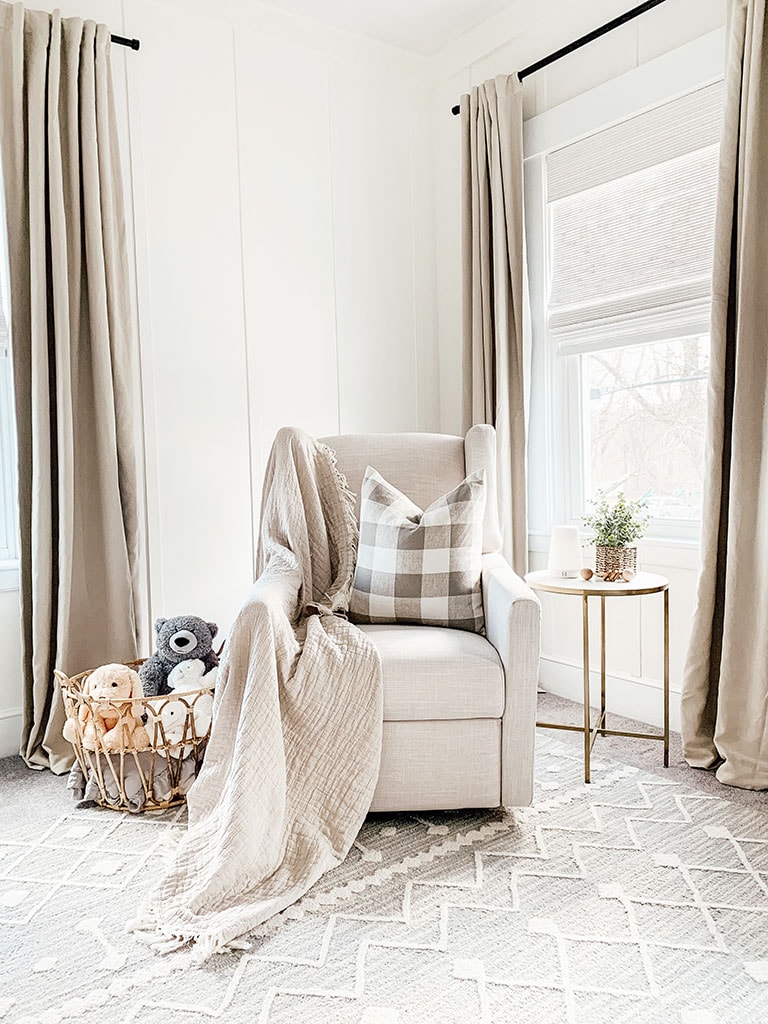 Another must have spot in a nursery is a place to sit with baby and nurse or read a book. I went on the long hunt for a glider and let me tell you it was a hard choice. I wanted something that fit both my husband and I
comfortably
. He
really
wanted a recliner and I wanted something that was neutral and stylish.
I ended up getting the Kiwi Power Recliner and Glider. I have to say it is
really
comfortable. It power reclines, glides and rocks. It even has a usb port for charging your phone.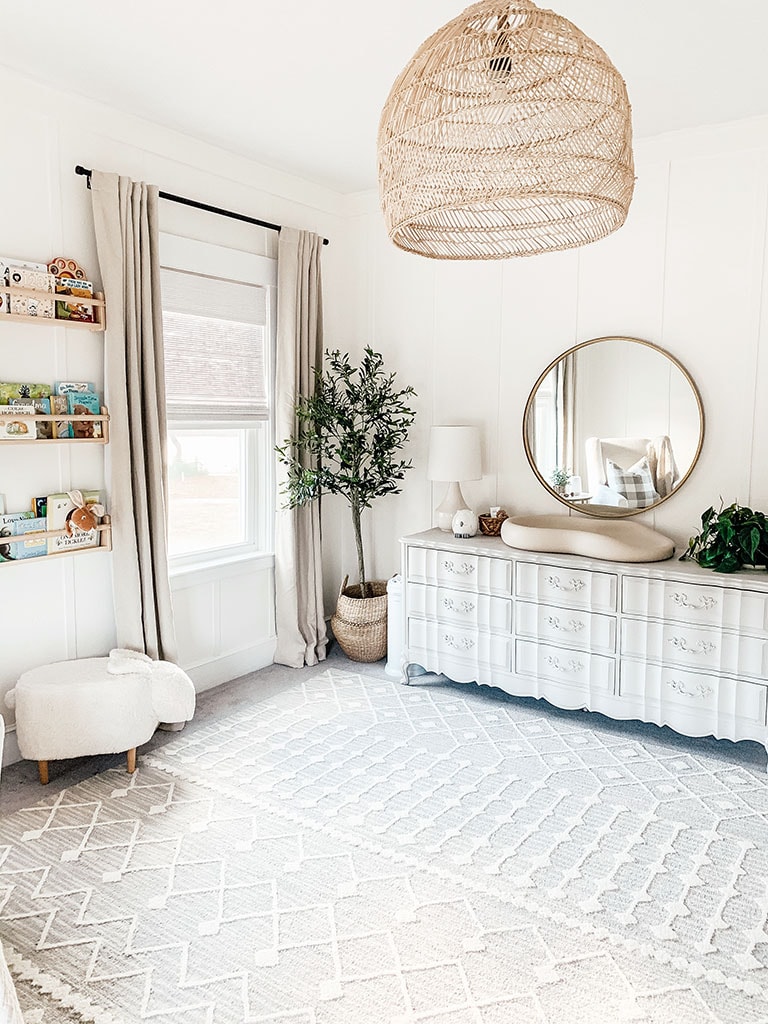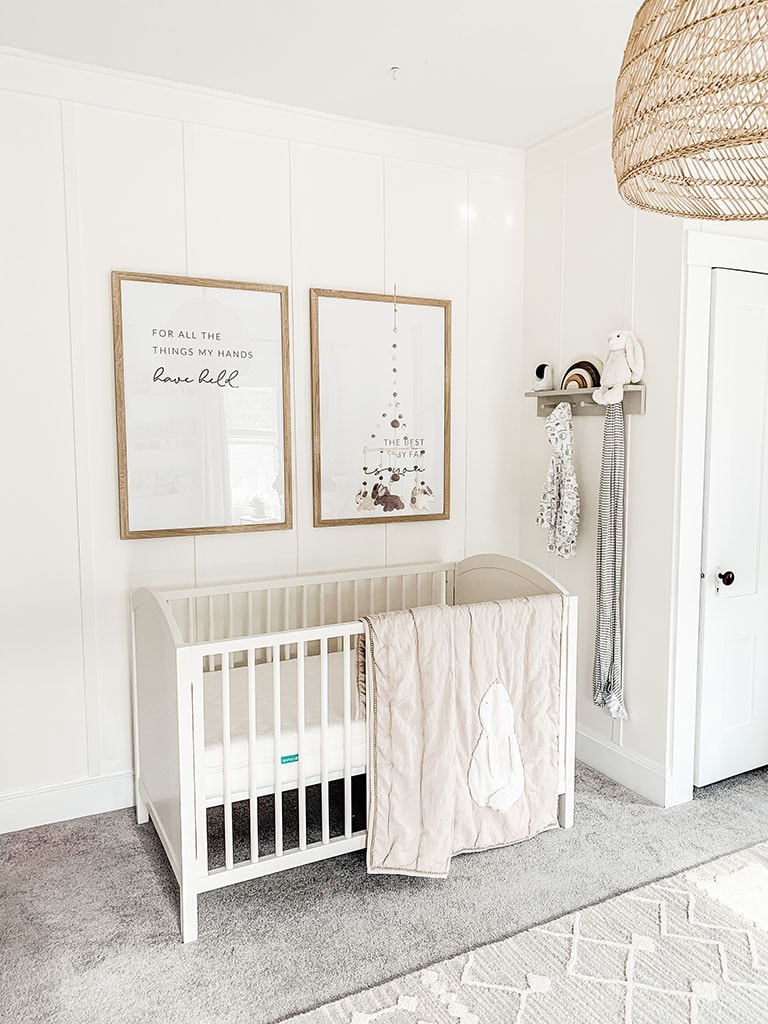 Shop our Gender Neutral Nursery
You can shop these items by clicking the links below!
Stonnington Area Rug – Use code MDD60 for 60% off
Sleep Area
Hoppy Tails Pom Pom Baby Quilt
Nursery Art: For all the things my hands 
Seating Area
Babyletto Kiwi Power Recliner Glider
Book Wall
Changing Station
Seagrass Basket for Faux Olive Tree 
Young Living Owl Diffuser Kidscents Starter Kit
Windows & Wall
Floor to Ceiling Board and Batten
Vintage Dresser Fusion Paint Color
Wall Color: Benjamin Moore Simply White
Nursery Essentials
Newton Baby Mattress – Use code micheala_diane50 for $50 off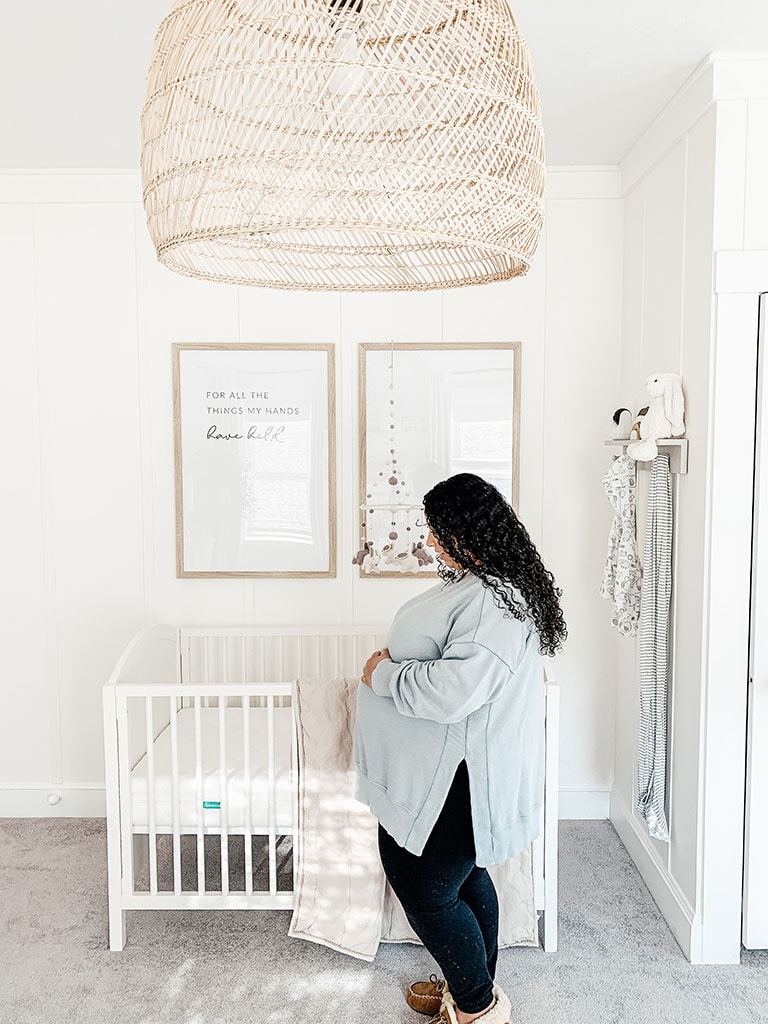 Thank you for stopping by and checking out the nursery! We will keep you posted on baby's arrival. I can't wait to share who are little love is and the name we have picked out for him/her.
What to Read Next:
Floor to Ceiling Board and Batten
Want to save this for later? Post this Gender Neutral Nursery to your favorite Pinterest Board!