Come take a tour of our fall kitchen! Sharing some fun fall kitchen decor and a free printable of my favorite fall diffuser blends.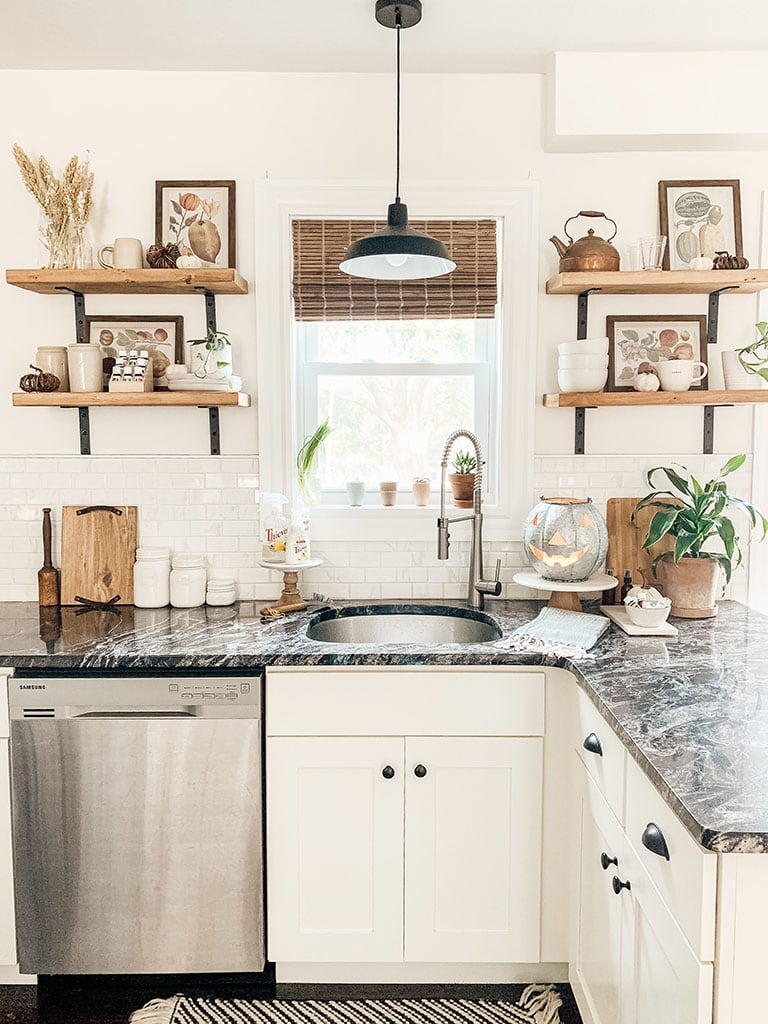 One of the things I love most about having open shelving in the kitchen is that it allows me to switch out the decor for the season. My design approach for this is to keep a few kitchen staples and then add in decor seasonally.
This not only makes it easy to decorate, but gives you a completely new feel each time you add a smattering of new items.
Today I am going to share the staples that I keep season after season. Then talk about some of the key items I add to bring in elements of fall. Don't forget to get your free Fall diffuser blend printable at the end.
Related: DIY Open Shelving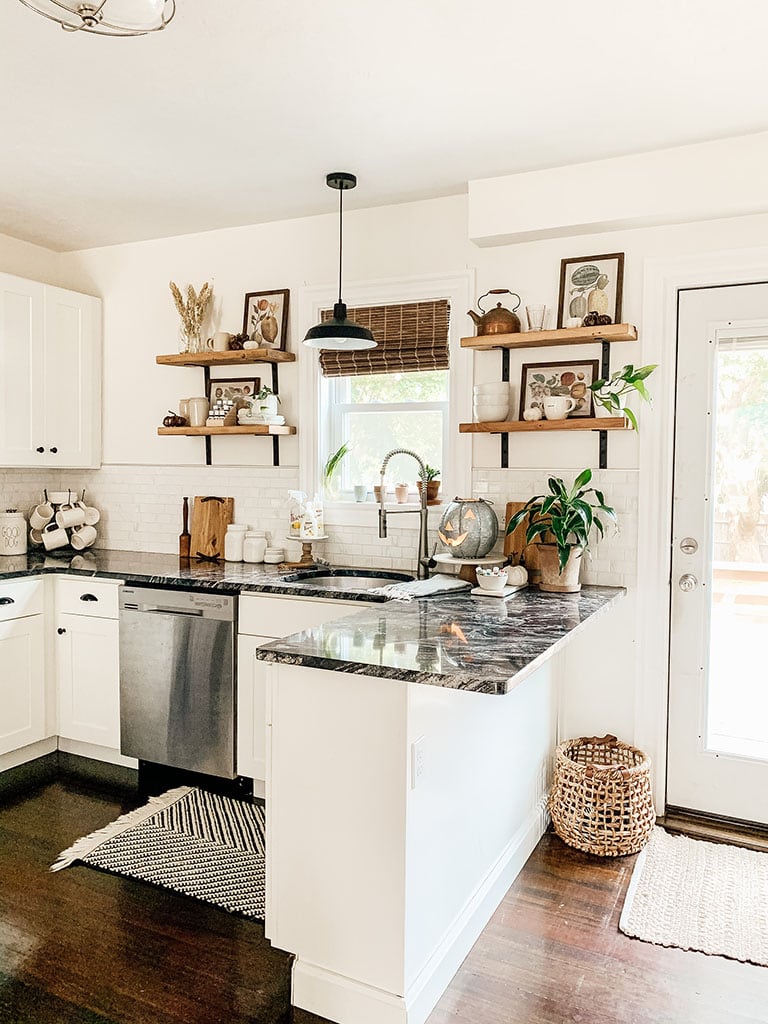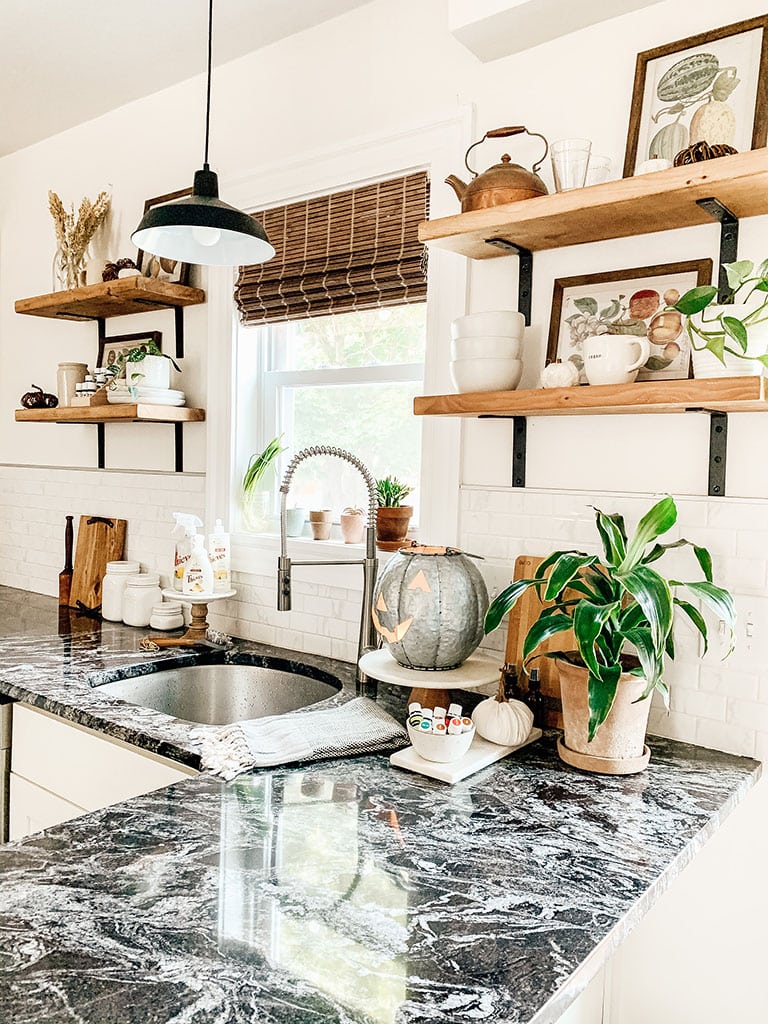 Fall Kitchen Decor Tour
" Affiliate links provided for your convenience, please read my disclosure for more information."
Open Shelving Staples
For a kitchen my open shelving staples are a mix of items we actually use on the daily and a mix of neutral pieces.
Some of the items we keep on the shelves that we use are bowls, dishes and glasses. These are things that look pretty and we can easily reach for.
Another item is live plants. We have a few plants that live on these shelves all year round (or for as long as they survive lol). They add a nice natural element that can be used during any season as decor.
Finally I have a couple pieces of vintage stoneware mugs and small crocks that are just for decor.
Related: How to Style Open Shelving In Six Easy Steps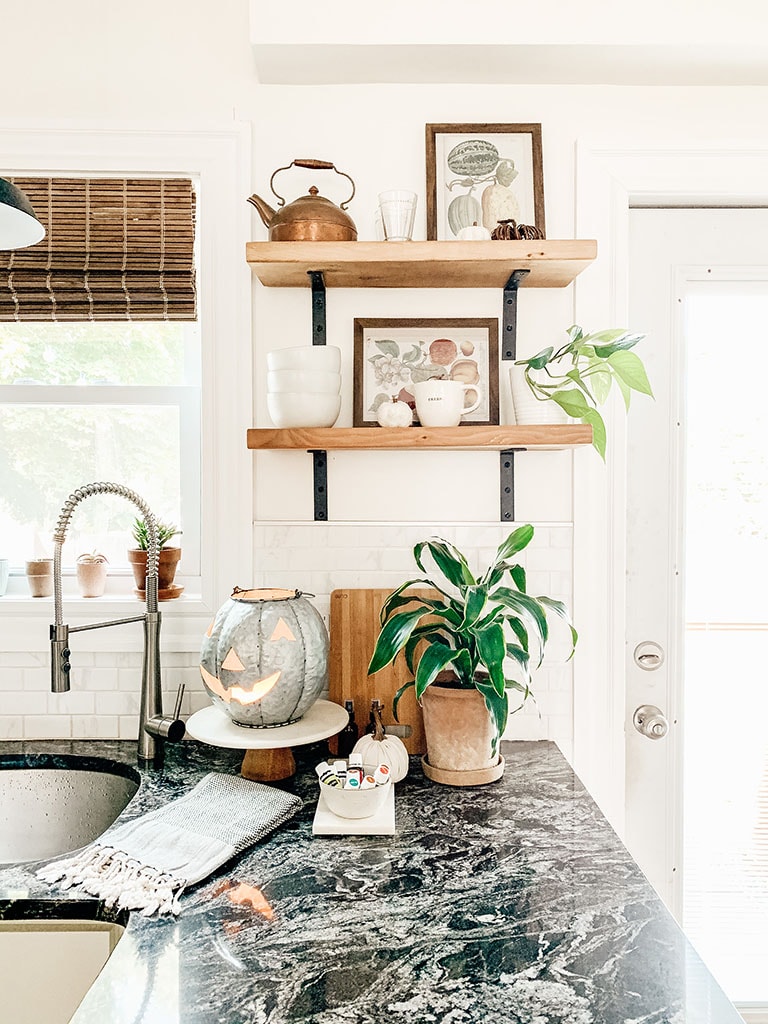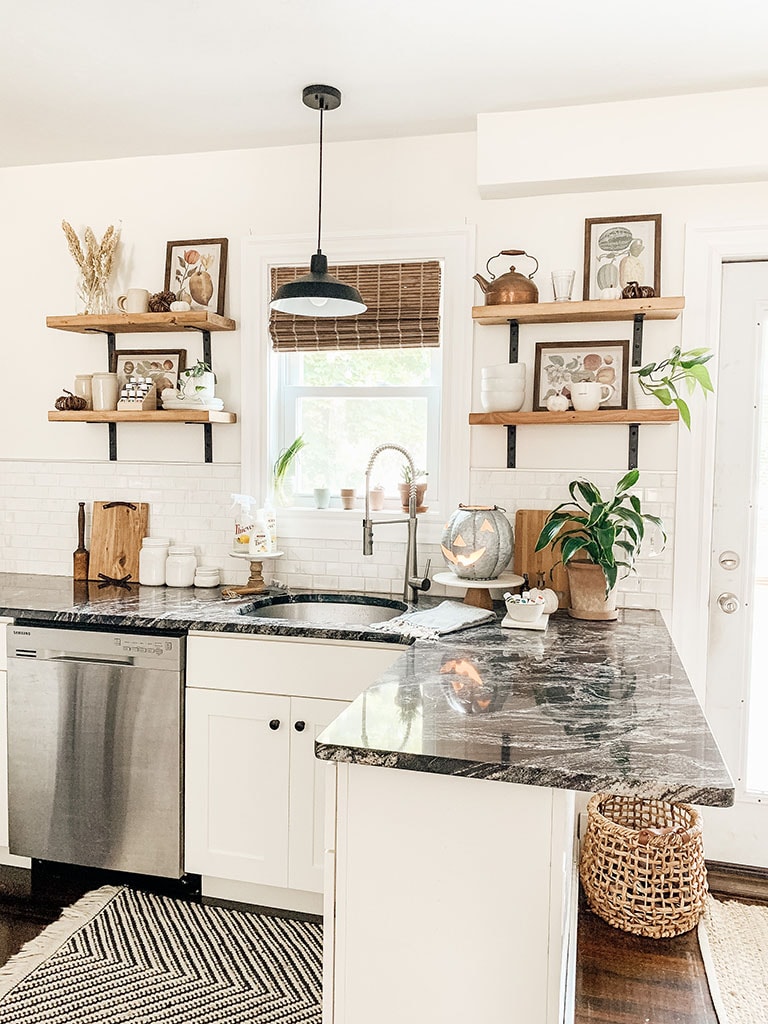 Art
The first element to add a little fall to these shelves is this cute vintage art series.
I found these
frames at Michael's
and printed these free prints at home from my fellow blogger
Bless'er House
.
If you sign up for her email list you will have access to her entire printable library. Here is the
link
if you
are interested
.
Printable art is an easy way to decorate your home without breaking the bank. These vintage prints are the perfect fall element.
I also have a chalkboard in our kitchen that I like to use as art. Right now it says "Hello Fall". This has always been a fun spot to add seasonal decor.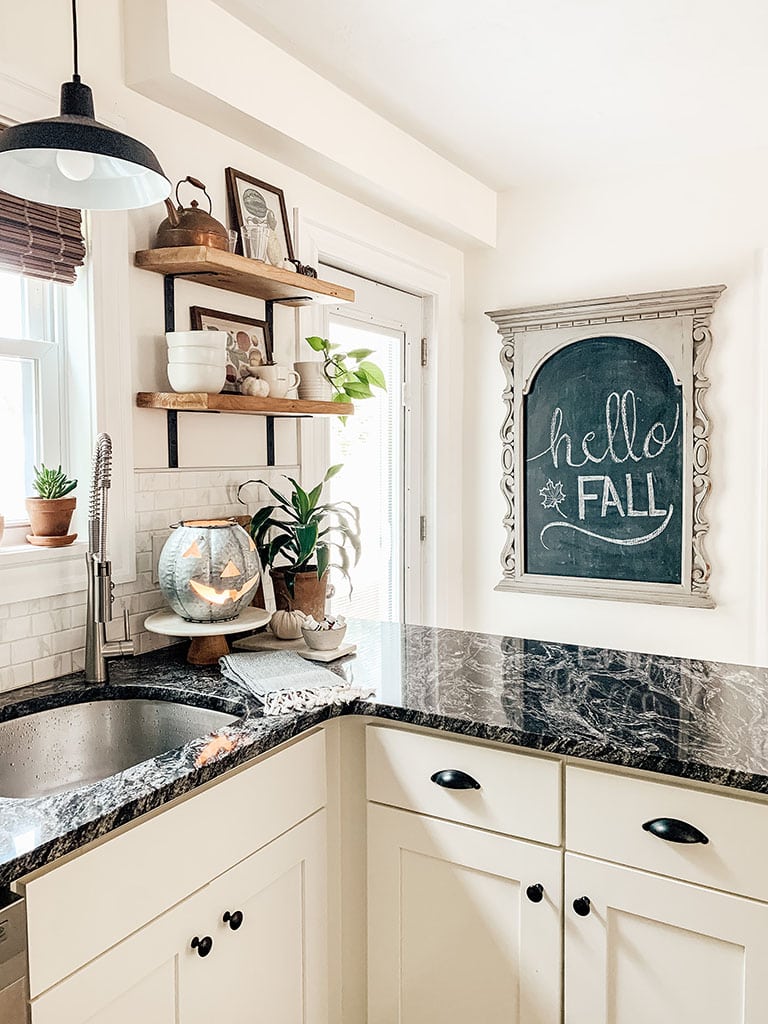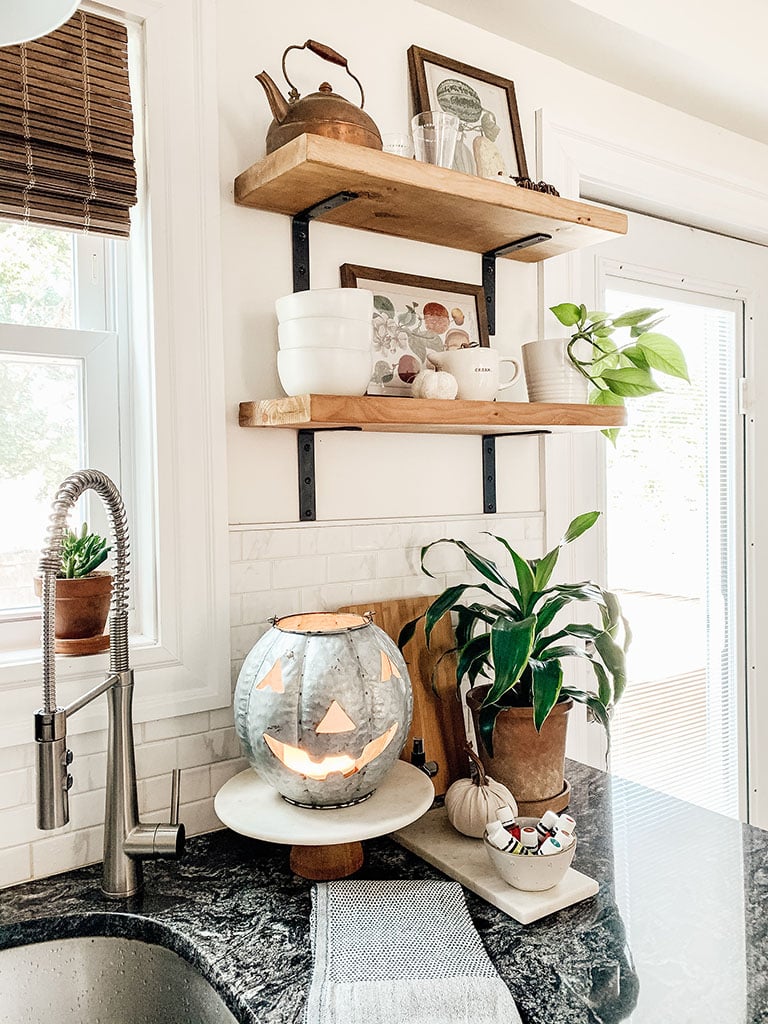 Pumpkins
This one is pretty obvious. Pumpkins are an absolute must when decorating for fall. I sprinkled a couple of different small ones on our shelves.
Using a mix of small white yarn pumpkin and twig pumpkins. I love the texture that these add to the shelves.
When selecting pumpkins for your shelves think about texture and color. Adding a mix of both is the best combination.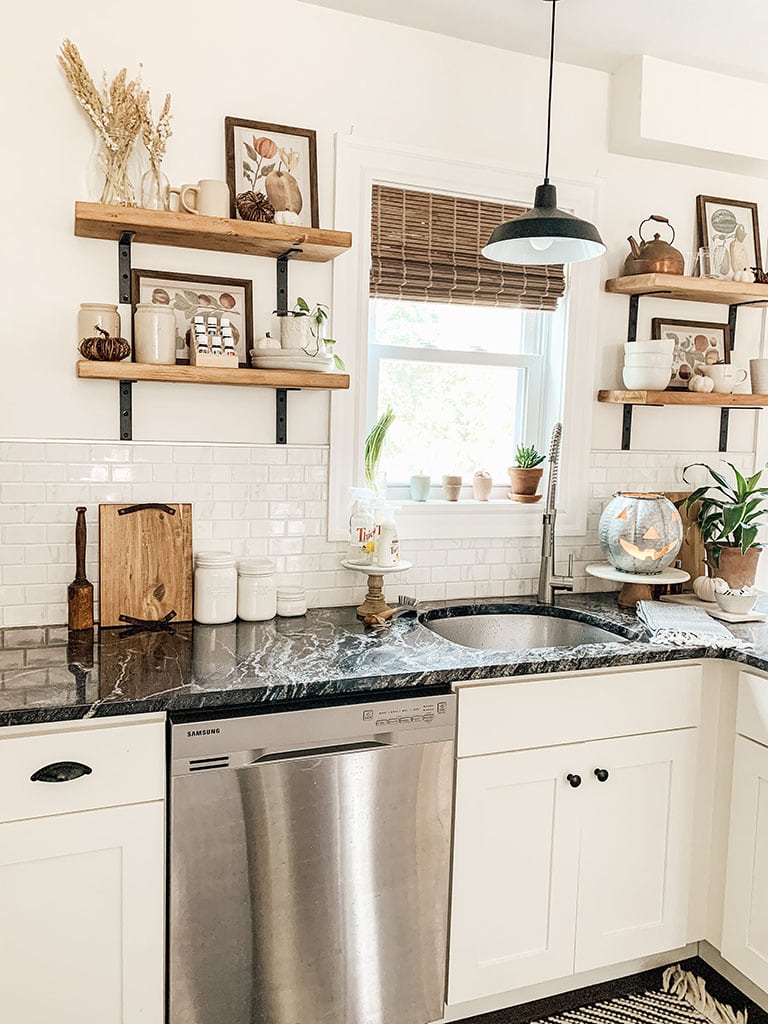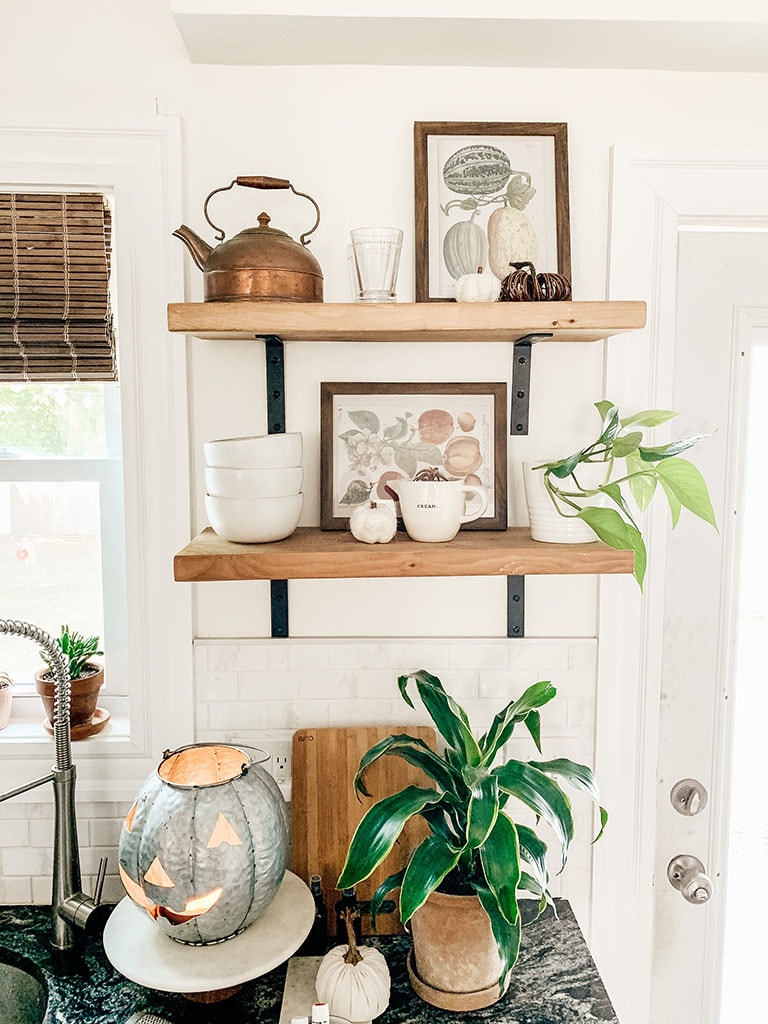 Copper
Another popular fall element is copper. This year I used a subtle hint with this antique copper tea pot. It adds just enough copper color to warm up the shelves.
You can also achieve this with any copper kitchenware like mugs, or pots.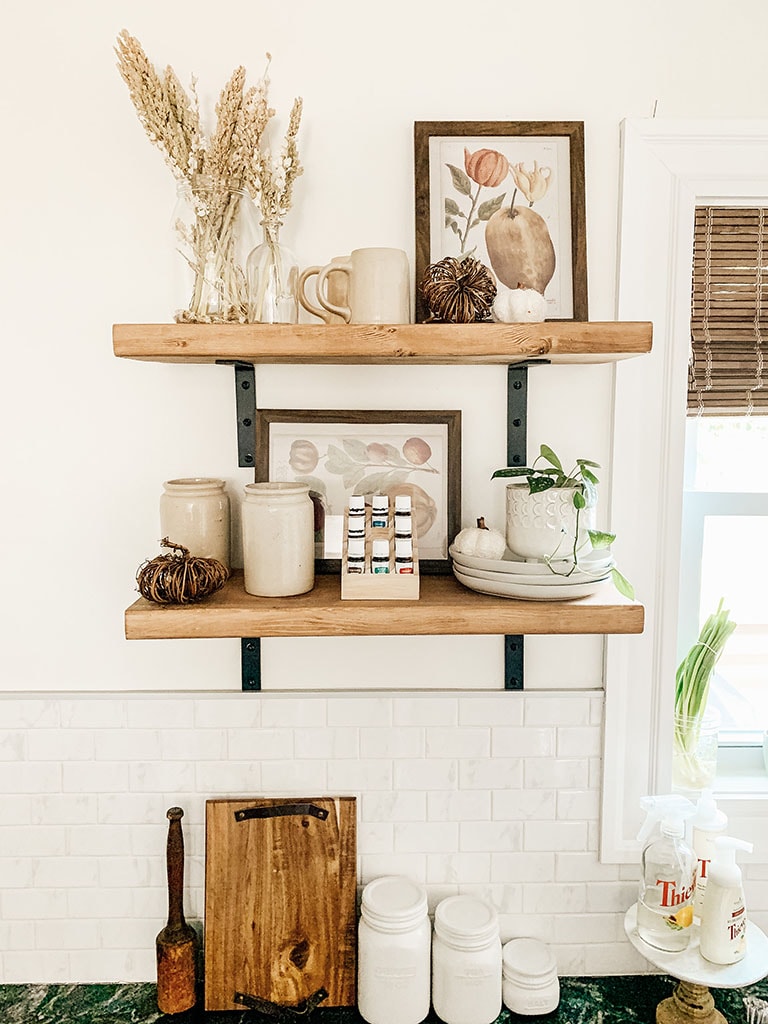 Seasonal Florals
If you have space left you can always add a seasonal floral. This year I used a wheat bundle that I found at HomeGoods for $3. It was such a steal because I was able to fill three vases. You can see where I put the other one in our
Cozy Fall Living Room
.
Last year I used cotton which is another great season stem. Whatever you choose, be sure to find a vase that works with your color palette. Think about using a variety of heights throughout your shelves. Decorating shelves is all about visual balance.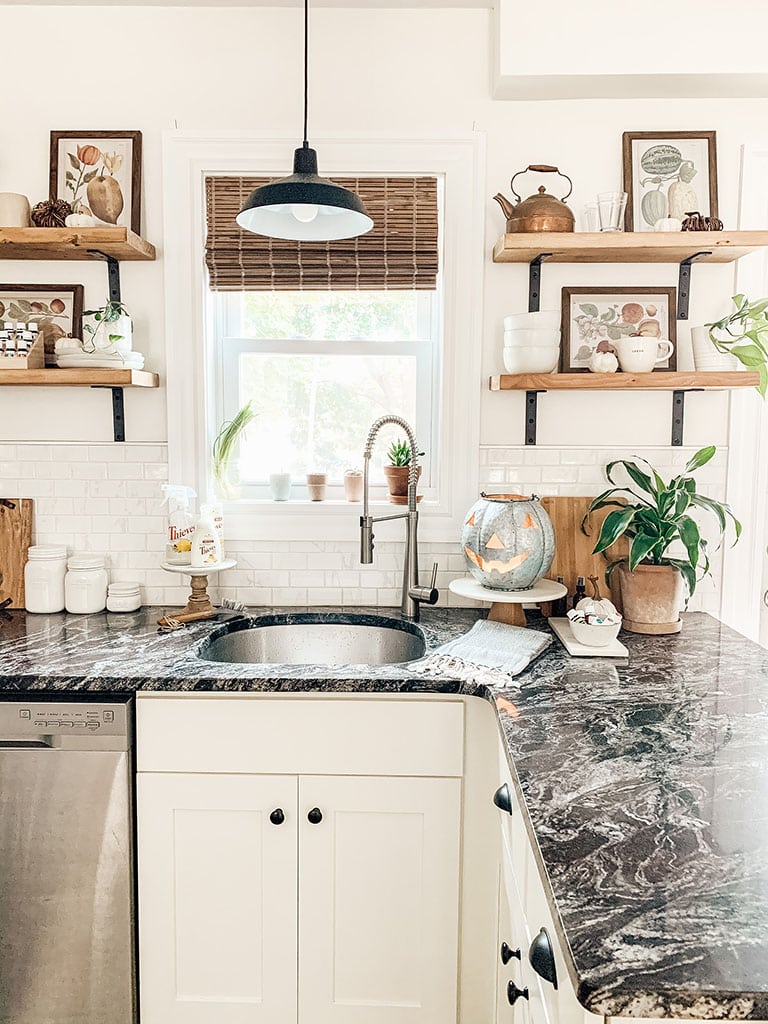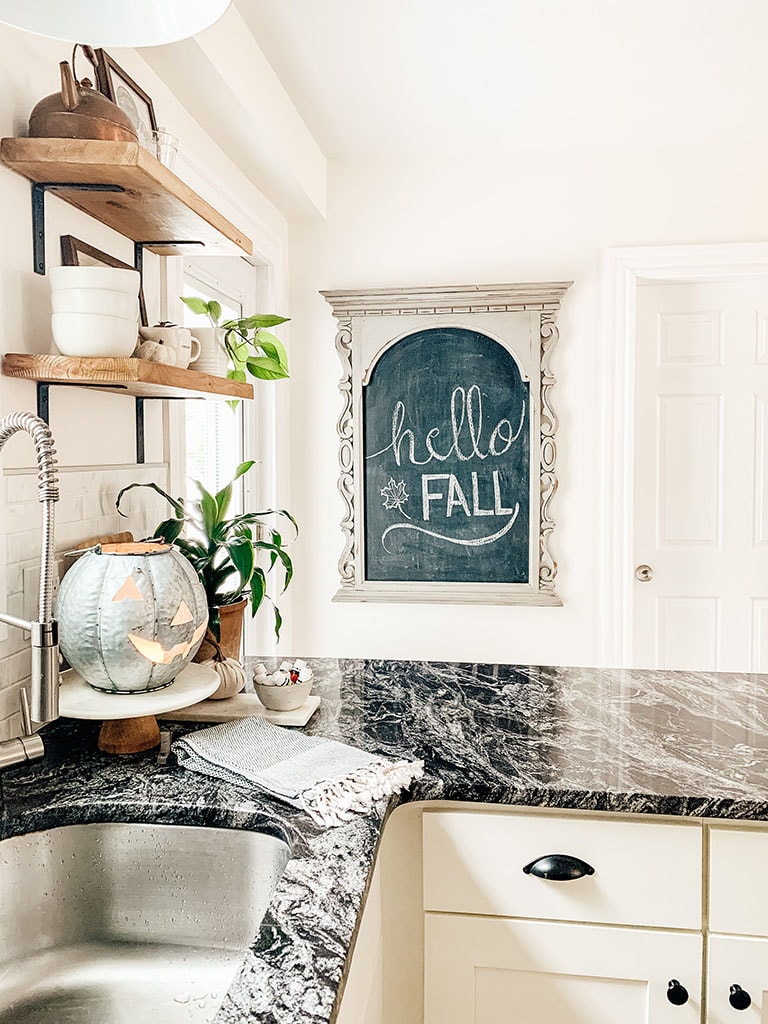 Pumpkin Diffuser
Last but certainly not least is my absolute favorite fall element that I added to our kitchen this year. That is this galvanized jack o'lantern. It was the perfect size for my essential oils diffuser and seeing it glow at night makes my heart so happy. I did something similar in our kitchen for Christmas.
I keep a diffuser by my sink all year round, instead of lighting toxic candles, you can read more about that here. There are so many diffuser blends that have replaced my favorite candles and fall has some of my favorite blends.
There are so many yummy blends I thought I would share some of my absolute favorites. You can find the cute printable below this picture.
If you are interested in learning more about essential oil or how we use them you can find all my posts here.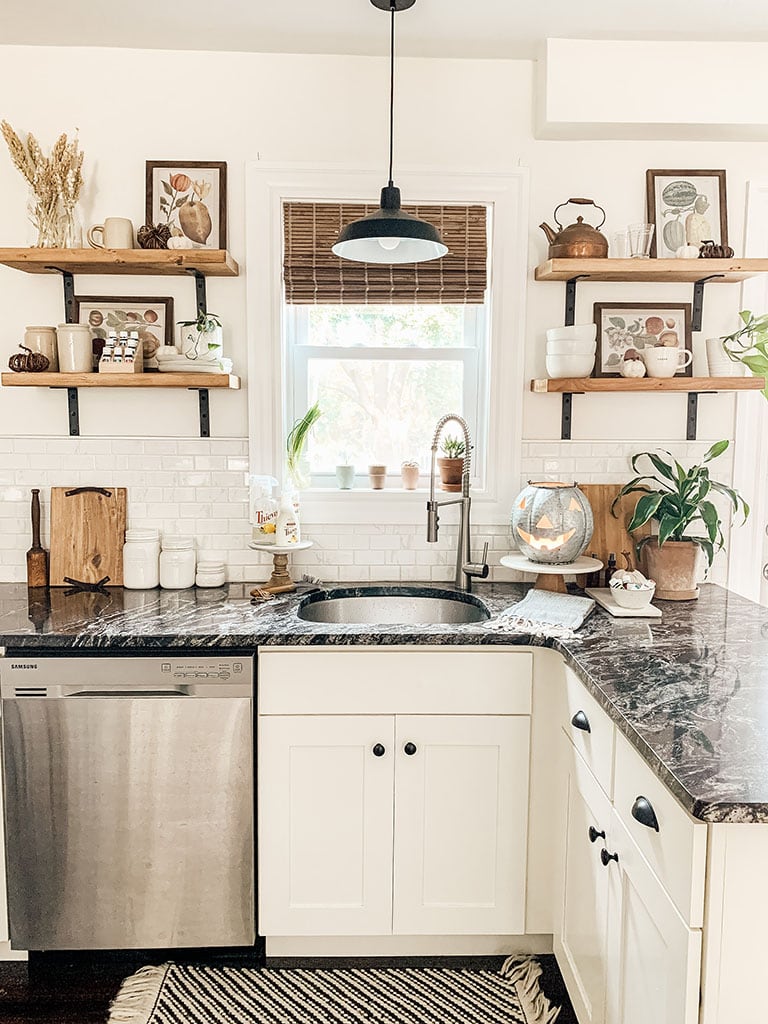 FREE Fall Diffuser Blend Printable
Click the link below to get your free fall diffuser blend printable. You can frame it or jut print it to have next to your diffuser!
Click HERE for your FREE Printable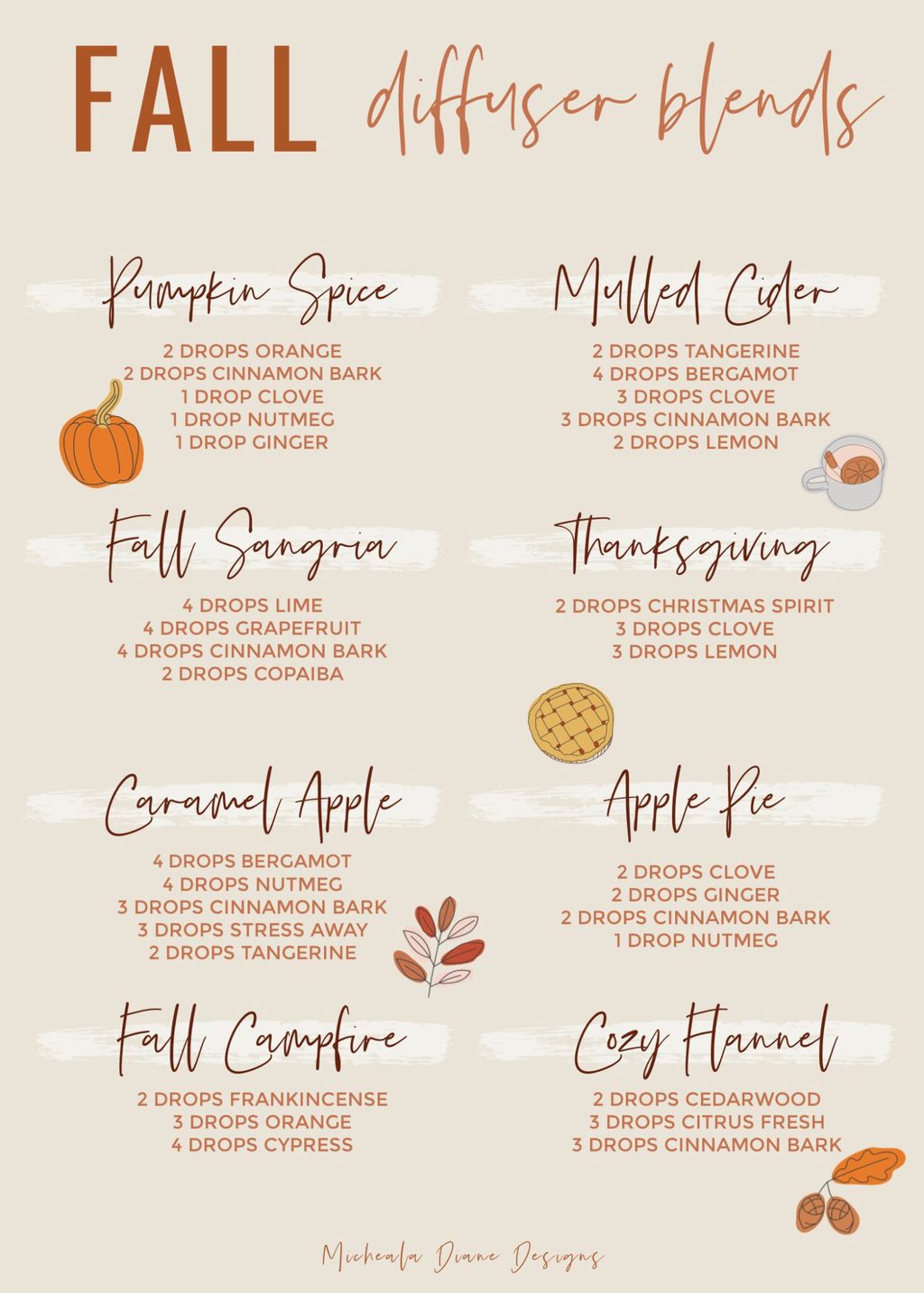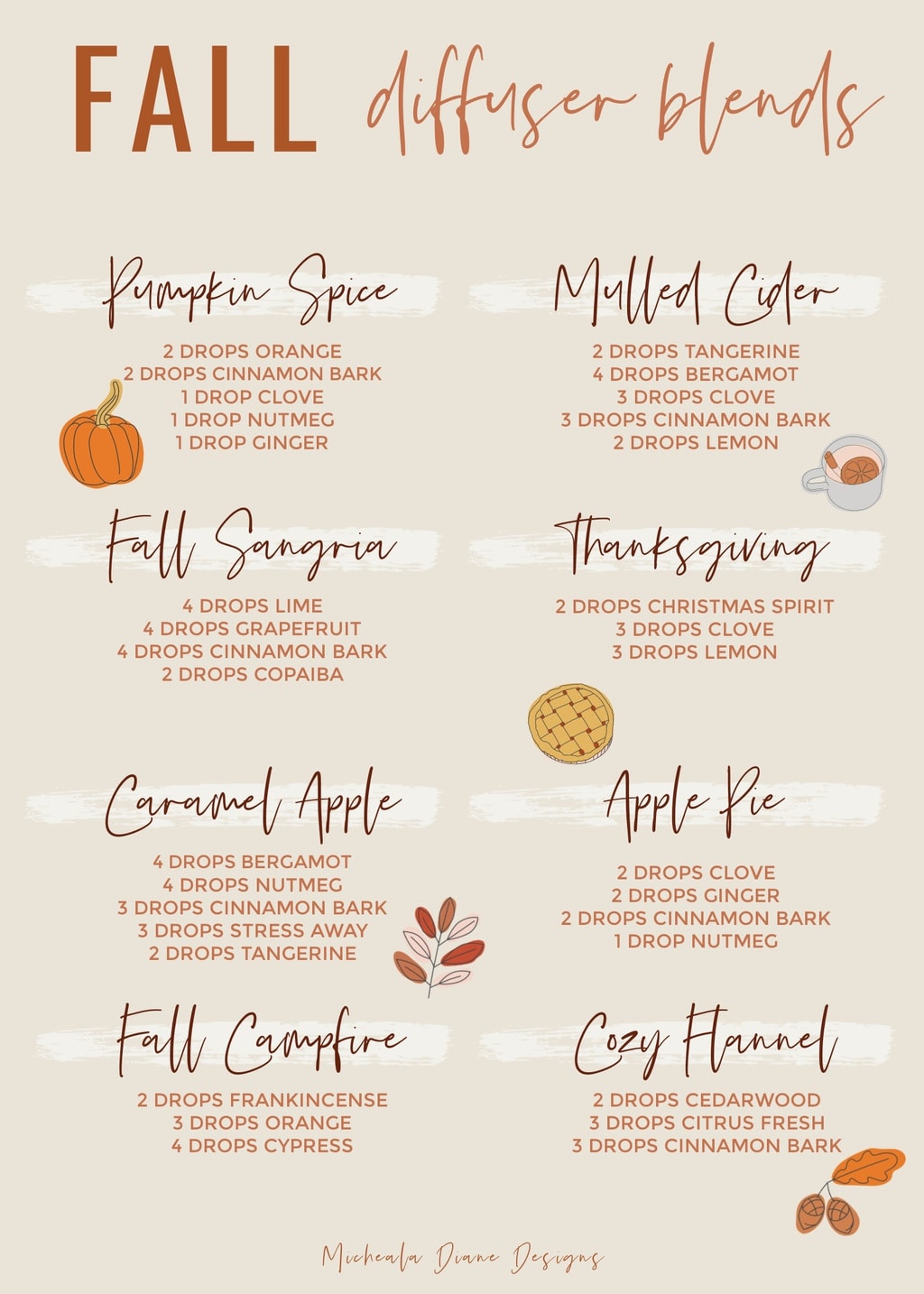 Those are the main elements of a well styled fall kitchen shelf. If you don't have open shelving in your kitchen I have a great DIY post on how to add them yourself. If you do I hope this gave you some ideas on how to decorate them this fall. As always thanks for visiting the blog!
What to Read Next:
5 Natural Swaps We Have Made In Our Home
Essential Oils Changed Our Life
Want to save this for later? Post this Fall Kitchen Decor Tour to your favorite Pinterest Board!