Today I am sharing my favorite fall decorating ideas and how to add touches of fall to your home this season.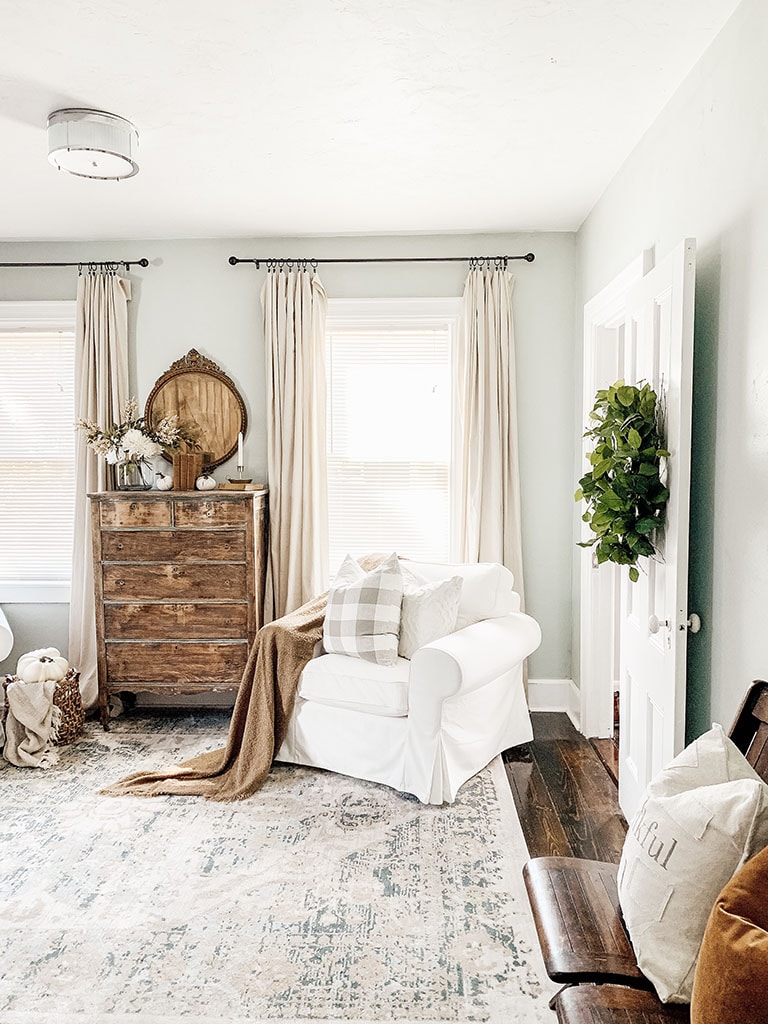 If someone was to ask me what my favorite season is I would have to say fall. Although it is a close tie with summer. I love everything about fall. The comfortable weather, cozy sweaters, legging, booties, pumpkins, all things apple cider and of course the beautiful foliage. I live in New England and we are so lucky to have the most beautiful fall foliage. ?
For me, September feels like New Years. A way to restart and reset. I am sure this is the back to school mentality that has been ingrained in our brains forever. It's also the perfect time to refresh our homes. I love decorating our home for the different seasons. It's like giving our home a good reset and it feels so good.
Today I am going to share one of my favorite spaces in our home and the different ways I like to add touches of fall. I hope that this gives you some fall decorating ideas so that you can give your home a little fall reset too!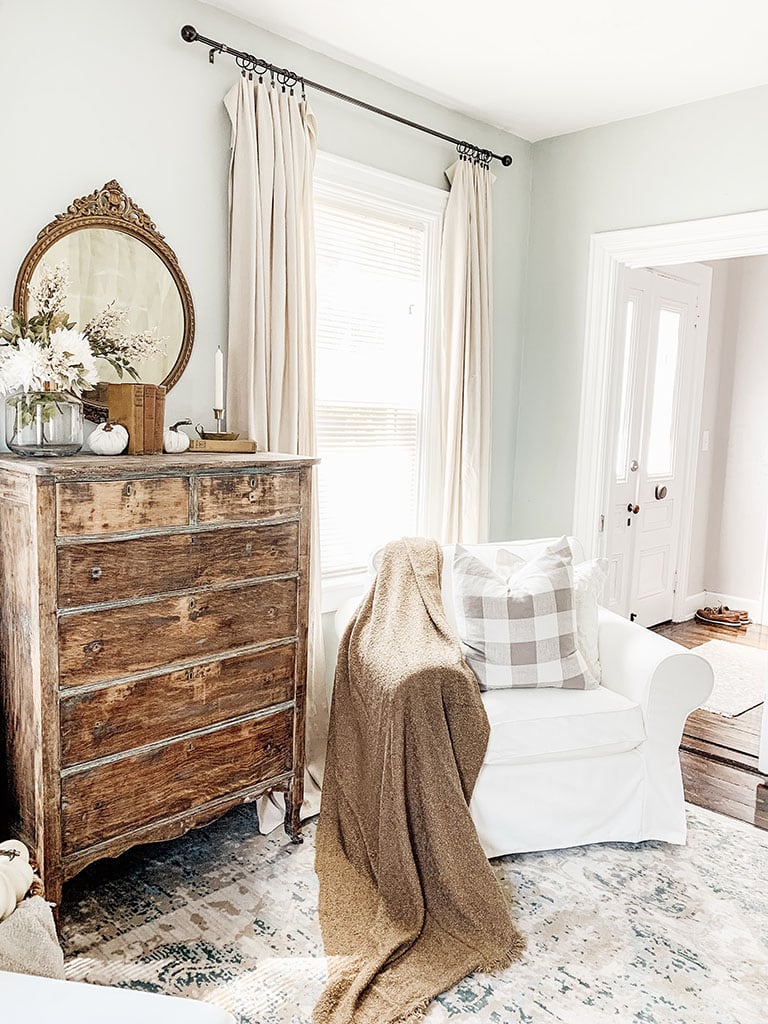 How to Add Fall to Your Home
" Affiliate links provided for your convenience, please read my disclosure for more information."
Throw Pillows
One of the first items that I like to switch out is throw-pillows. If you have been to the blog before then I am sure you know I have a slight obsession. Switching out your pillows can make such a big difference in your space. It is an inexpensive way to make a big impact. You do not have to buy new pillows all the time either, it can be as easy as swapping pillows from one room to another.
For Fall I like to bring in some cozier textures. This can be knit, textured, velvet, or chenille. I also like to bring in some color and pattern. Gingham is a great pattern for fall. This year for color,  I am using white, beige, and burnt orange. Last year I used green and white. Both are great color palette for fall. You can see my fall home tour from last year here.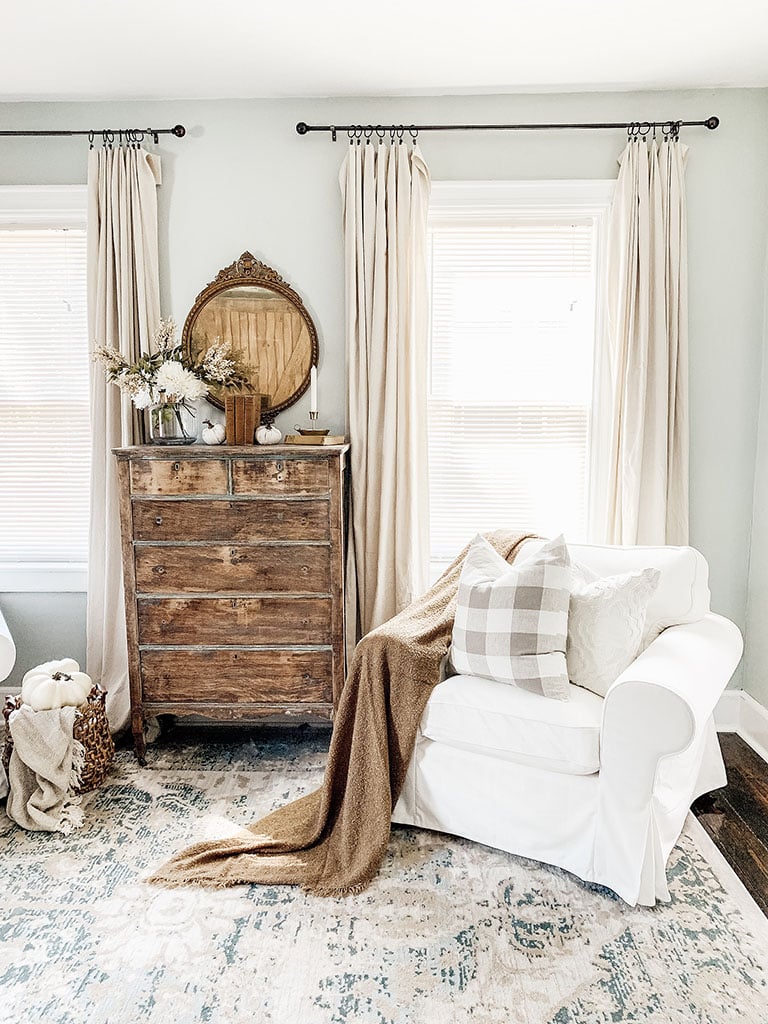 Throw Blankets
I also like to switch out my throw blankets. Just like my wardrobe, I pack up my lightweight blankets and replace them with my heavier cozy knit throws. Just like throw pillows, throw blankets are a great way to add in your fall colors. This year I am using a cozy burnt orange throw and a this chunky knit blanket that I am obsessed with. Throw blankets are also great for adding texture to your space. They are also great as fillers for baskets. I used mine with the leather handle wicker basket and added white pumpkins on top.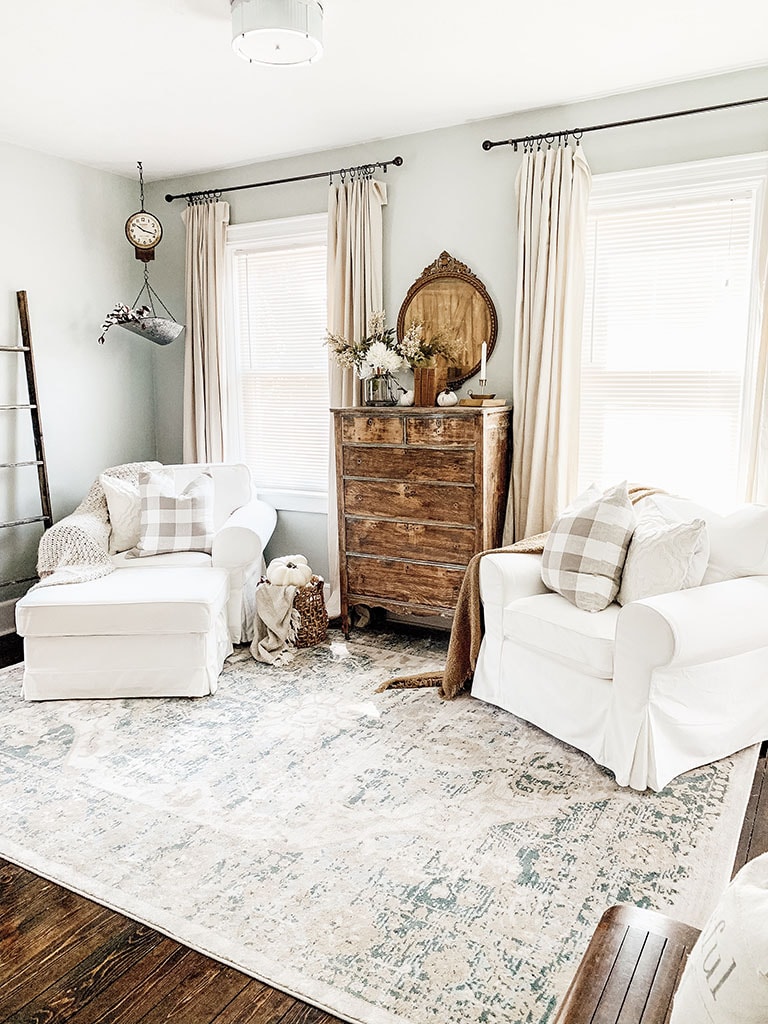 Floral Arrangements
I love adding floral arrangements when decorating for fall. I always pick up seasonal stems from Micheal's and create arrangements for different spots in the house. You can also clip from trees in your own yard and put them in vases. I will definitely be doing this when our leaves change.
This year I use this beautiful gold-rimmed vase and added cream mum bushes and some tan filler. I also made a large arrangement with faux leaves. You can use any combination of fall items such as leaves, cotton, pine cones, sunflowers, berries, and acorns. The options are endless and you can find many items in your own back yard.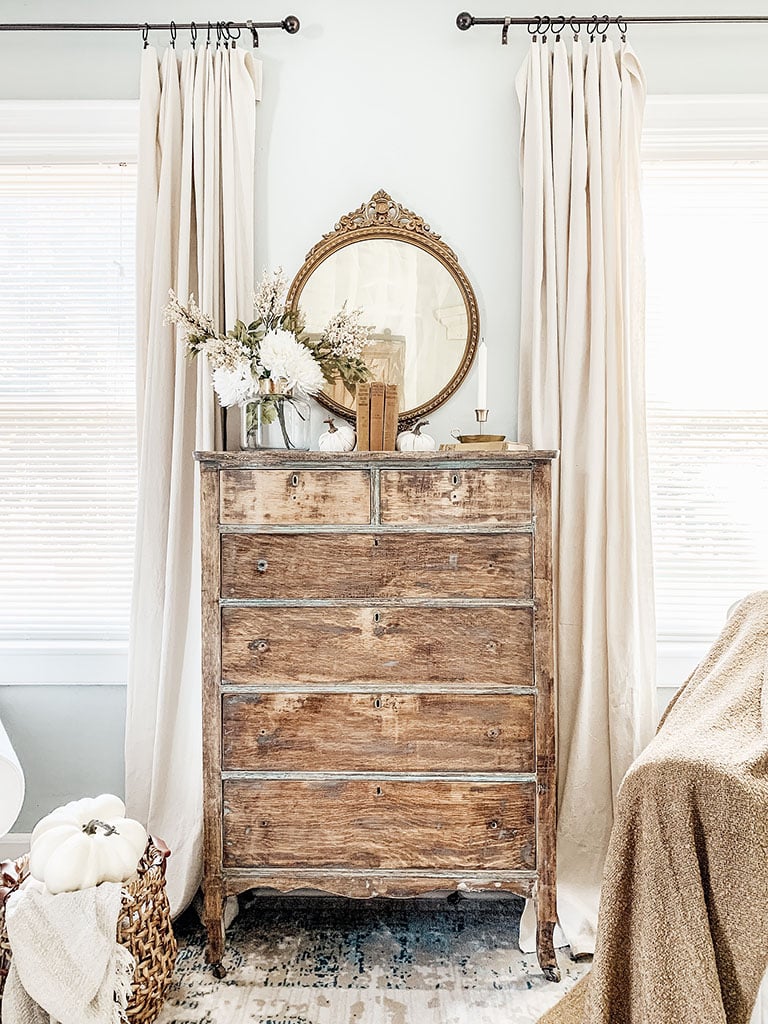 Pumpkins
What is fall without pumpkins? I like to add a little sprinkling throughout the house. This year I will be using only white pumpkins. I love the small velvet pumpkins that you can find at the Target dollar spot. And I will also add some reals ones throughout the house as well. You can pair these with your fall floral arrangements, use them for a tablescape, your mantel or centerpieces.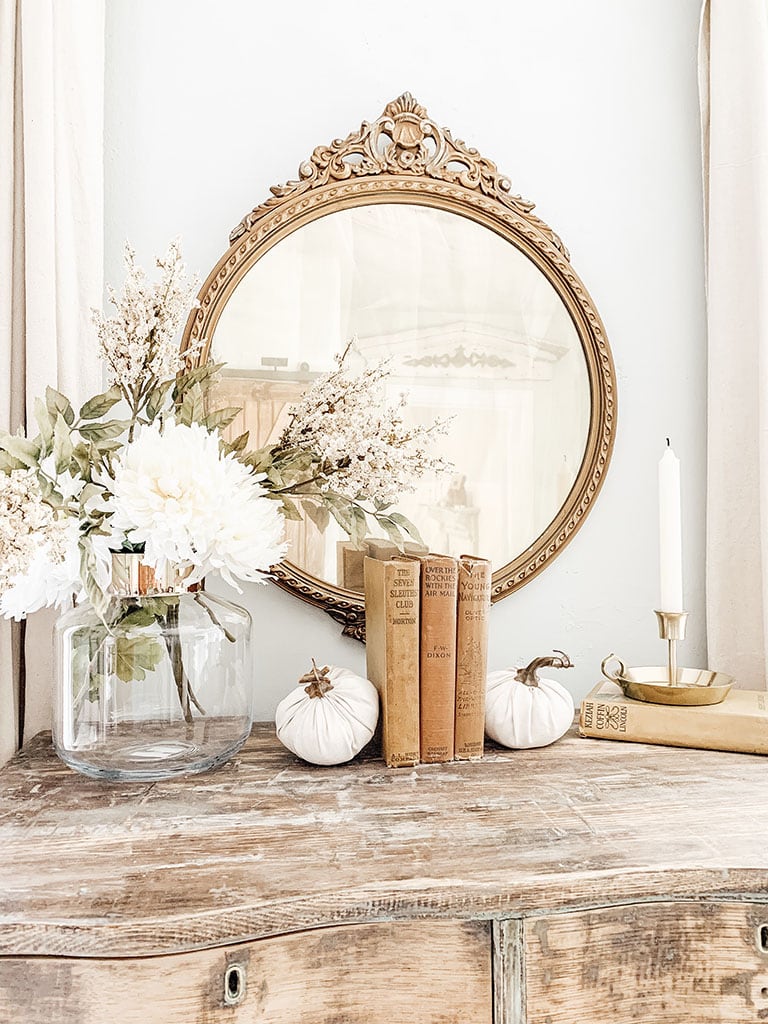 Amber Bottles
One fall trend I have been loving is amber bottles. They are the perfect vessels for displaying your fall arrangements or displaying a collection of them as-is. I found this large vintage amber bottle at an antique store and knew it would be perfect for fall. If you haven't had any luck finding vintage amber bottles. Target's Hearth and Hand line has them in varying sizes. You can find those here.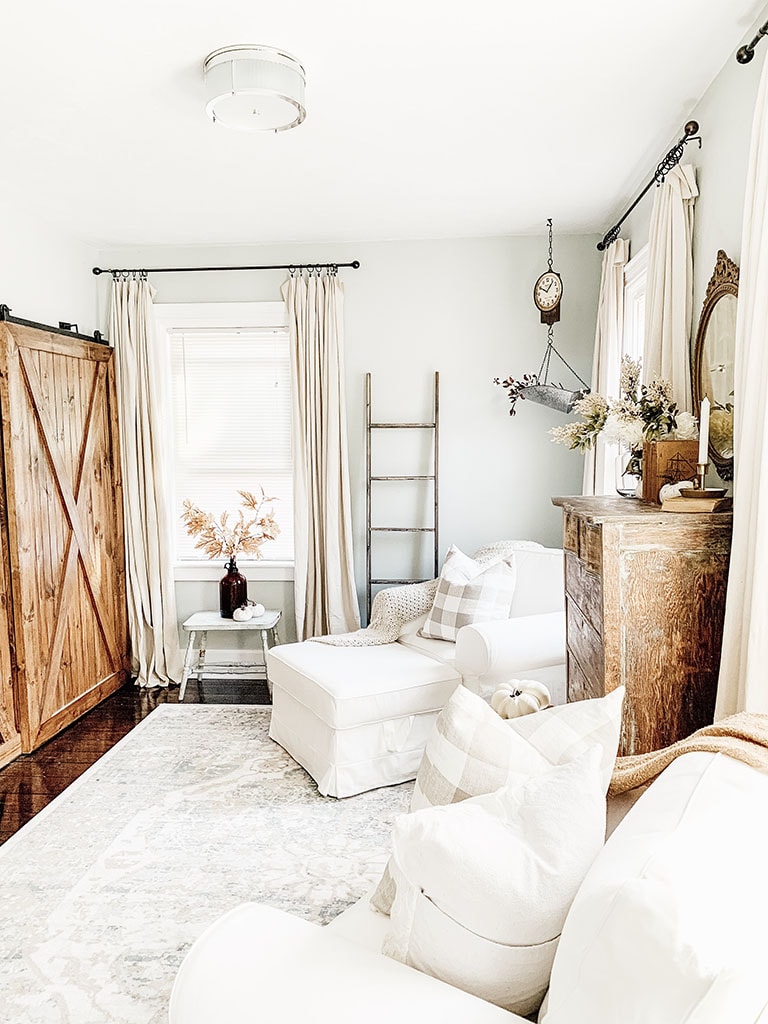 These are some of my favorite Fall decorating items. Using them all together in your space will create the perfect Fall look. I am so excited for Fall and I hope that this will help guide you in adding fall to your home this season. I would love to hear how you add fall to your home. Please let me know in the comments. And as always thank you for stopping by the blog. ❤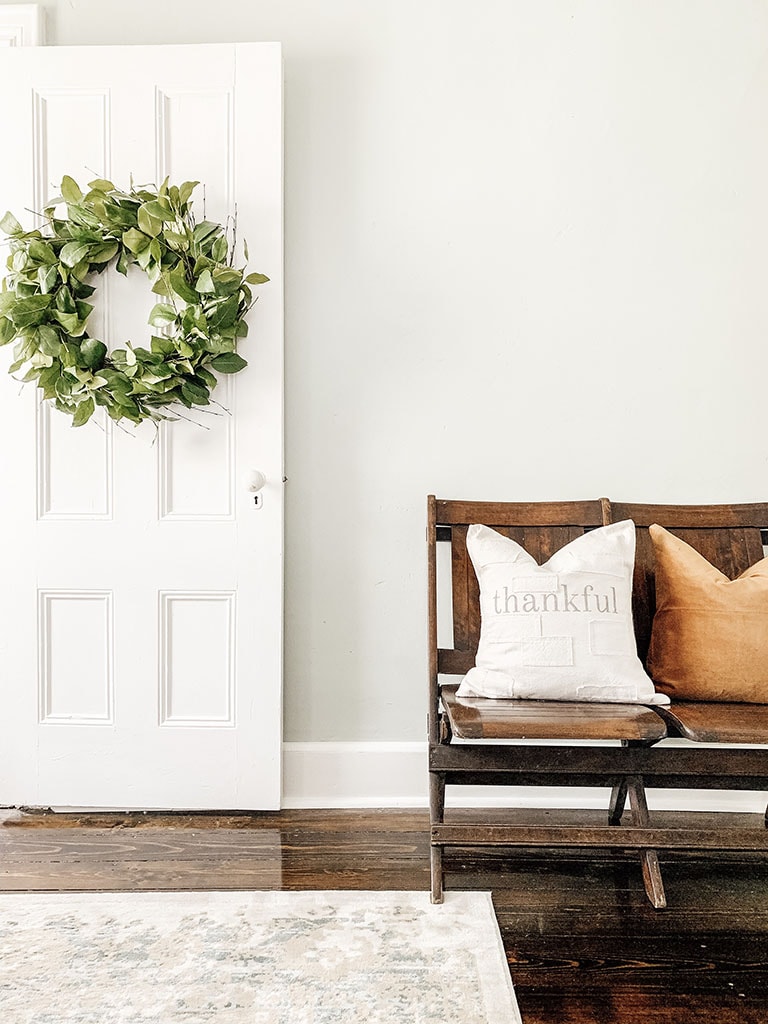 Shop This Post
What to Read Next:
Our Fall Home Tour- Fall Decor Ideas
Hearth & Hand with Magnolia Fall Decor- 2019