Today  I am sharing five ways that I transformed my kitchen for Christmas.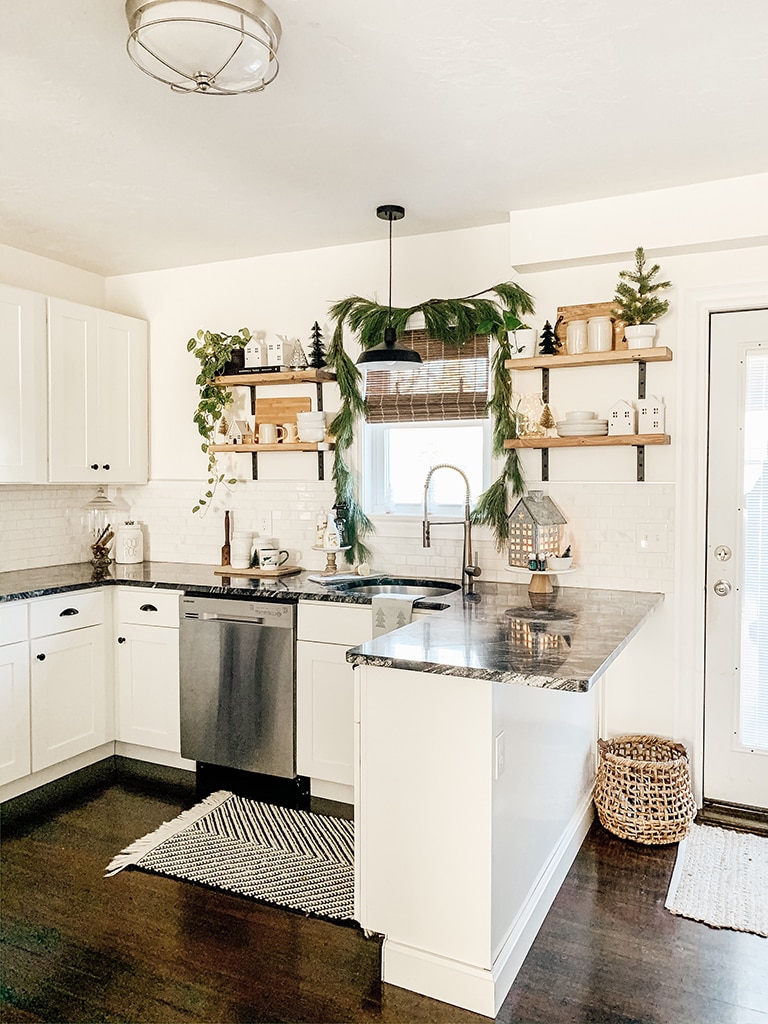 This is my first Christmas with our open shelving in the kitchen. ( you can read how we built them here) I was so excited to make a few changes to get it Christmas ready. Below I have listed five Christmas kitchen decor ideas, that will easily transform any kitchen into a Christmas wonderland!
5 Christmas Kitchen Decor Ideas
" Affiliate links provided for your convenience, please read my disclosure for more information."
Number One: Garland
First up is garland. If you do nothing else adding garland above your window is the easiest way to add Christmas to your kitchen. You can use faux garland or real. I used real white pine for my window. I picked it up at my local Home Depot, but I'm sure you can find it at a nursery or tree farm.
You can go as elaborate or as simple as you want. I decided to keep it simple, but you could also add lights, bows, non-tree garlands like wood beads or a mix of greens.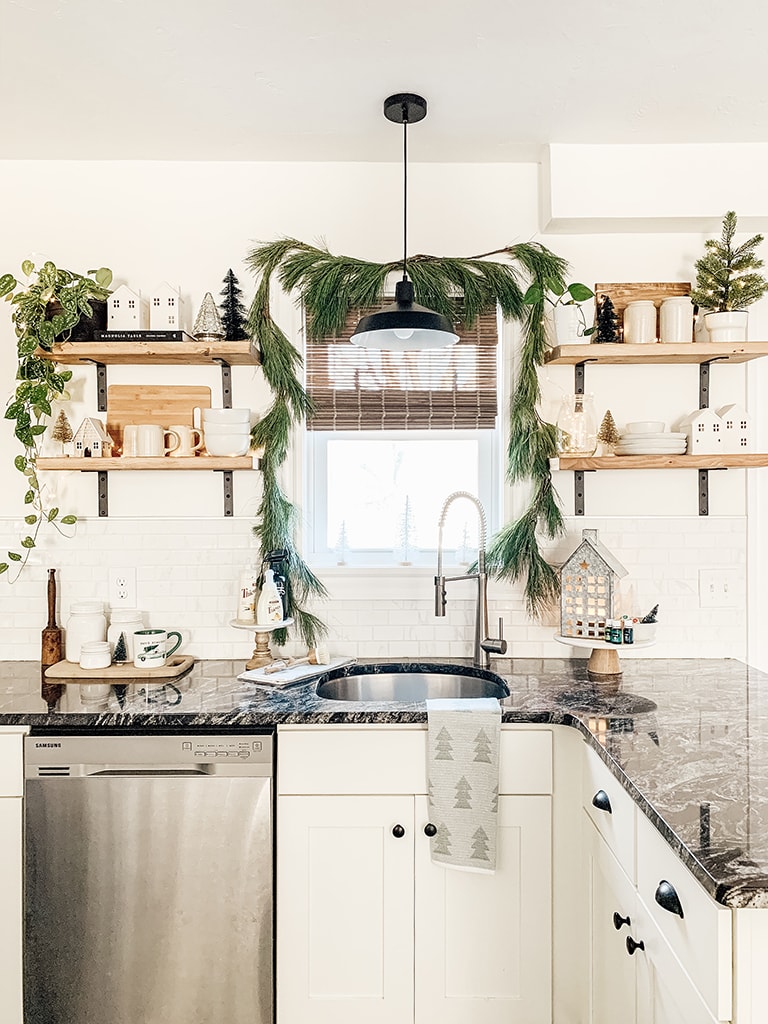 Number Two: Bottle Brush Trees/ Small Trees
Trees are an easy way to add Christmas to your kitchen. Bottlebrush trees are my favorite for adding just about anywhere. They are especially great for kitchen open shelving. I found mine at Target. This is a great set of them. You can sprinkle them throughout your space.
You can also use small trees on your countertops or shelves. I added one to my open shelving to balance out the large plant I had on the other side.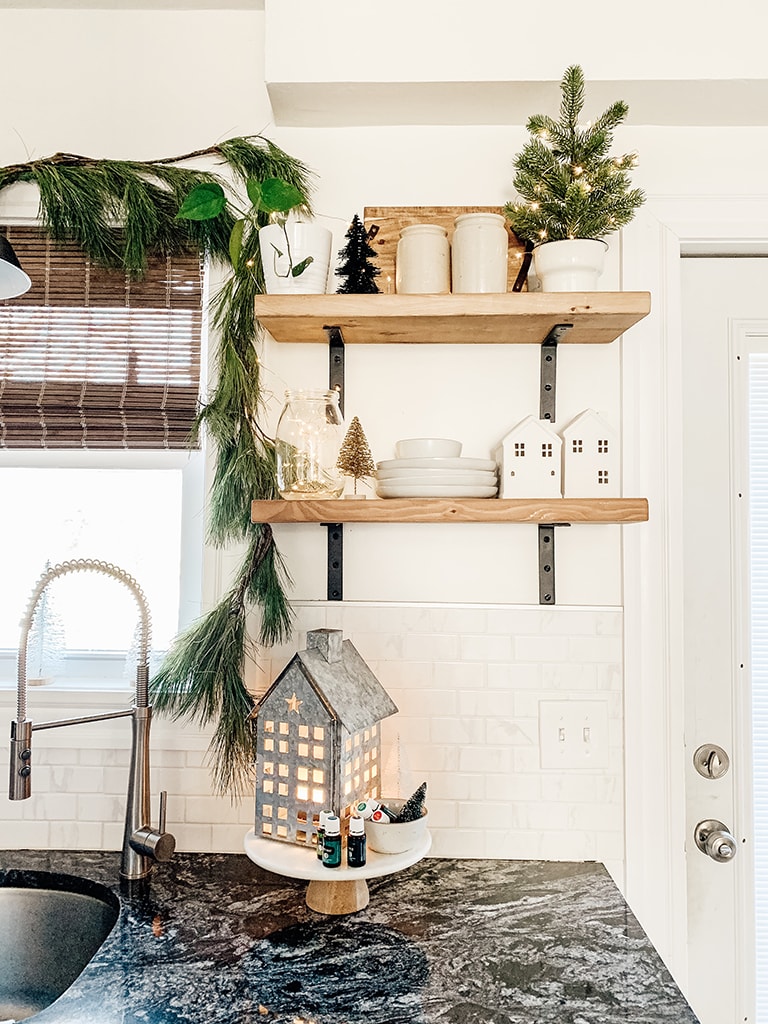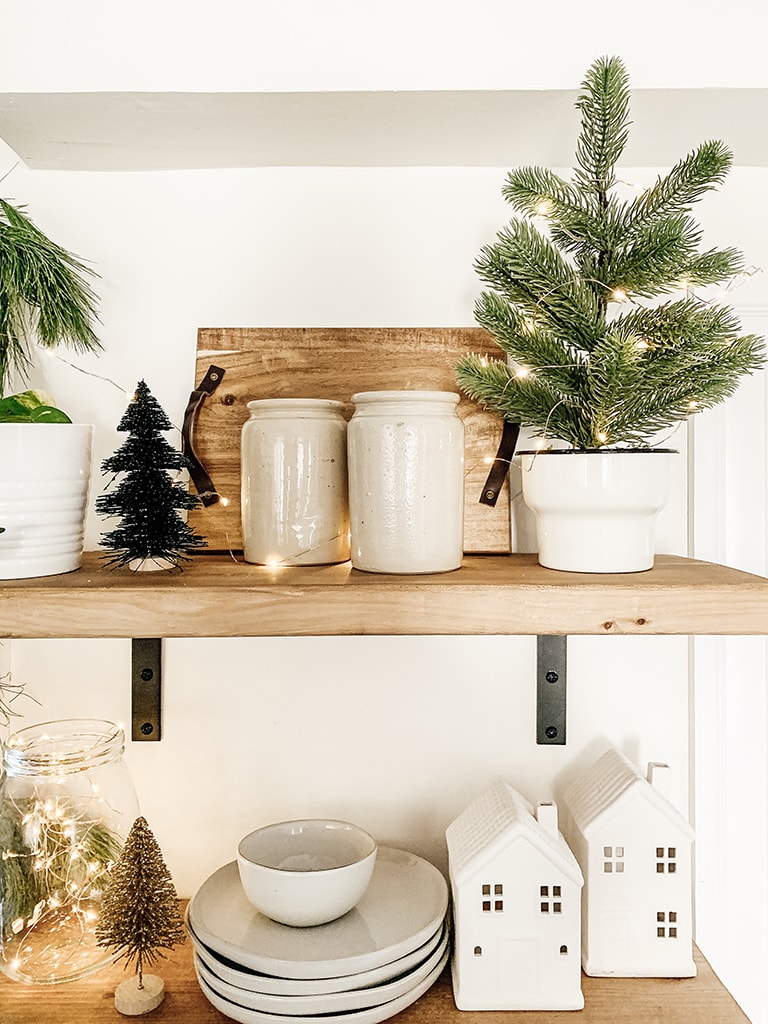 Number Three: Fairy Lights
Out of all five, this is my favorite Christmas kitchen decor idea. Adding fairy lights to our kitchen shelves has made our Christmas kitchen truly magical! I found these amazing fairy lights on Amazon.
They come in a pack of four. They are battery operated and each have their own remote control. Making it very easy to turn on and off if you place them up high. Like on the top of your counters or the top of a shelf.
I put one set throughout my pothos plant and then down to the second shelf. On the other side, I added it to a glass vase and then had it travel up to the top shelf and wrap around my small tree. It looks so pretty at night.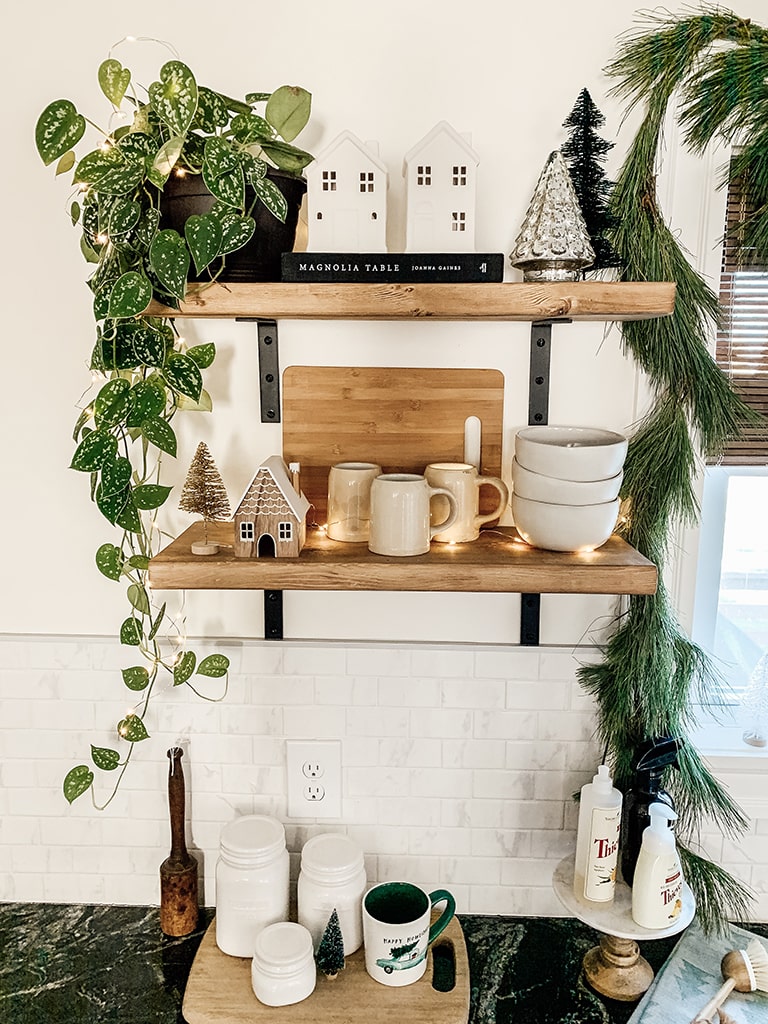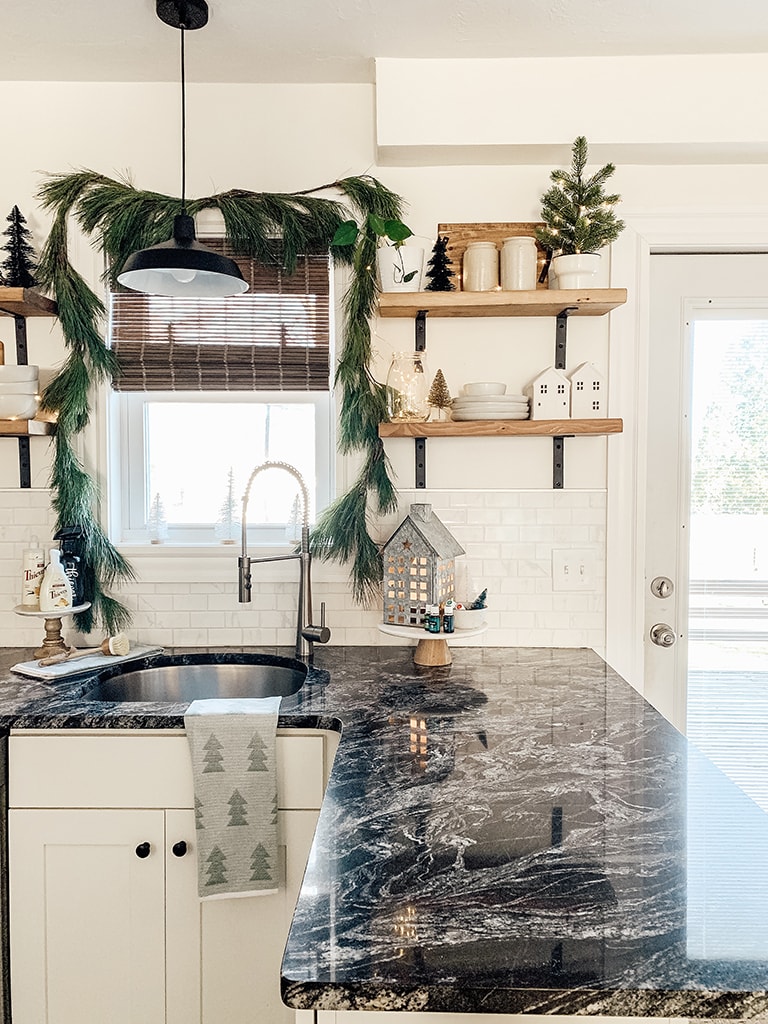 Number Four: Hot Cocoa Station
A hot cocoa station is a perfect addition to your countertop for Christmas. In the winter I like to have it ready and accessible.
I kept mine pretty simple with a small station. I used our white canisters to store the hot cocoa and marshmallows. Placed it all on a cutting board and added a cute Christmas mug and a bottle brush tree. You can also do this for tea or coffee.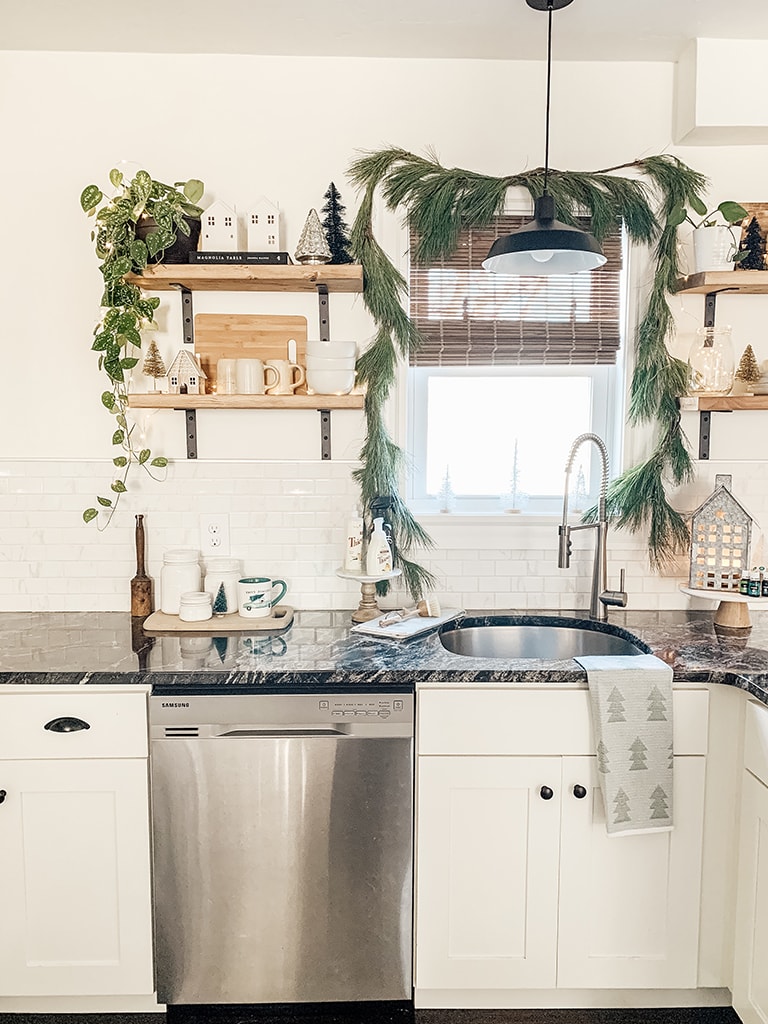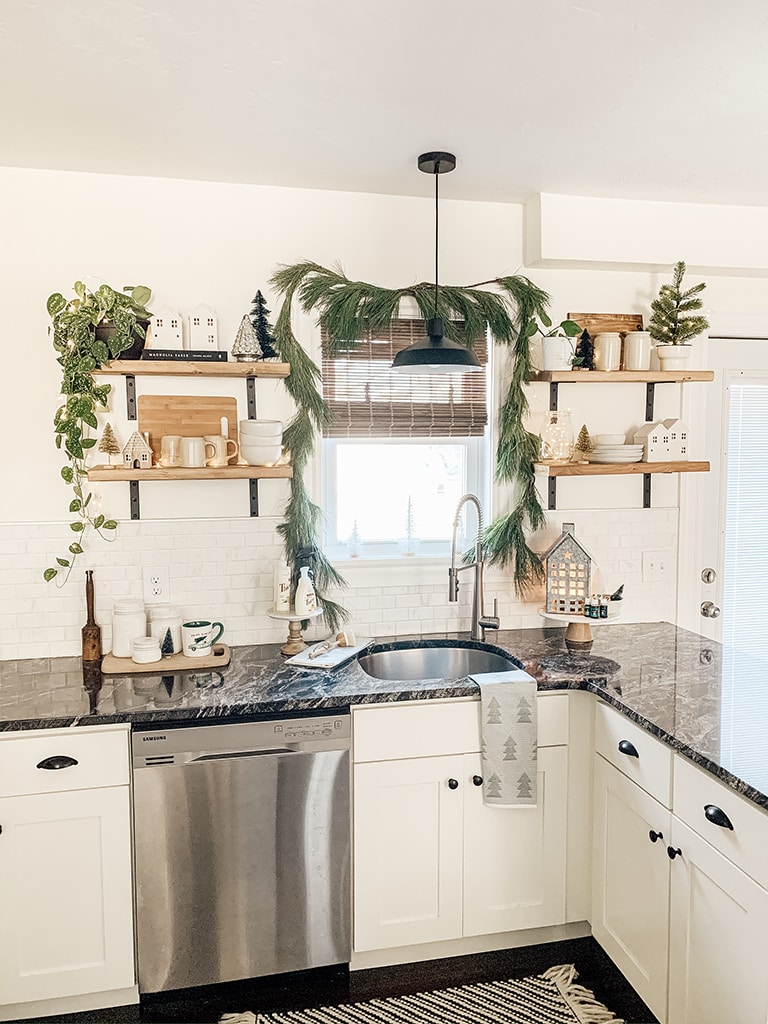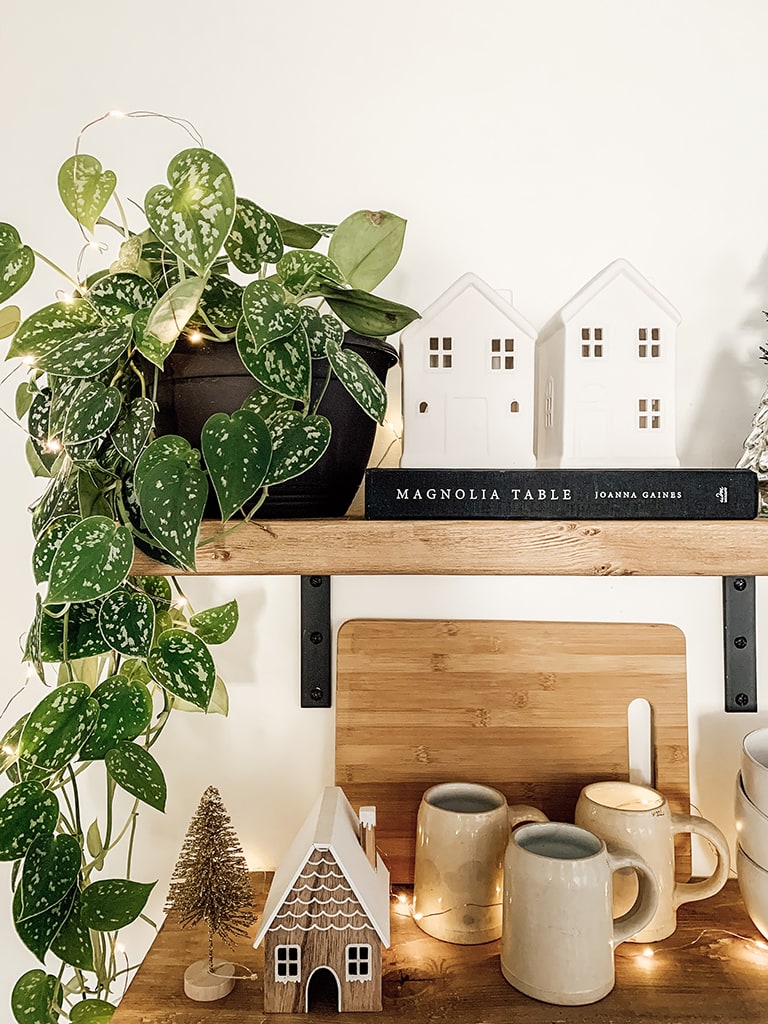 Number Five: Little Houses
I have a love for small Christmas village houses. They are so easy to place on your counters or open shelving. I used a mix of white ceramic houses and little wood ones that I found at the Target dollar spot. They are the perfect addition to any open shelving. You can also add tea lights to them for added Christmas glow.
Another little house I used this year was for my desert mist oils diffuser. It is literally the cutest galvanized house ever! I got the idea from @nestingwithgrace.
I found this house at HomeGoods and the diffuser fits right inside it ( here is a similar one). The coolest part is that it diffuses right out the top of the chimney. It is magical!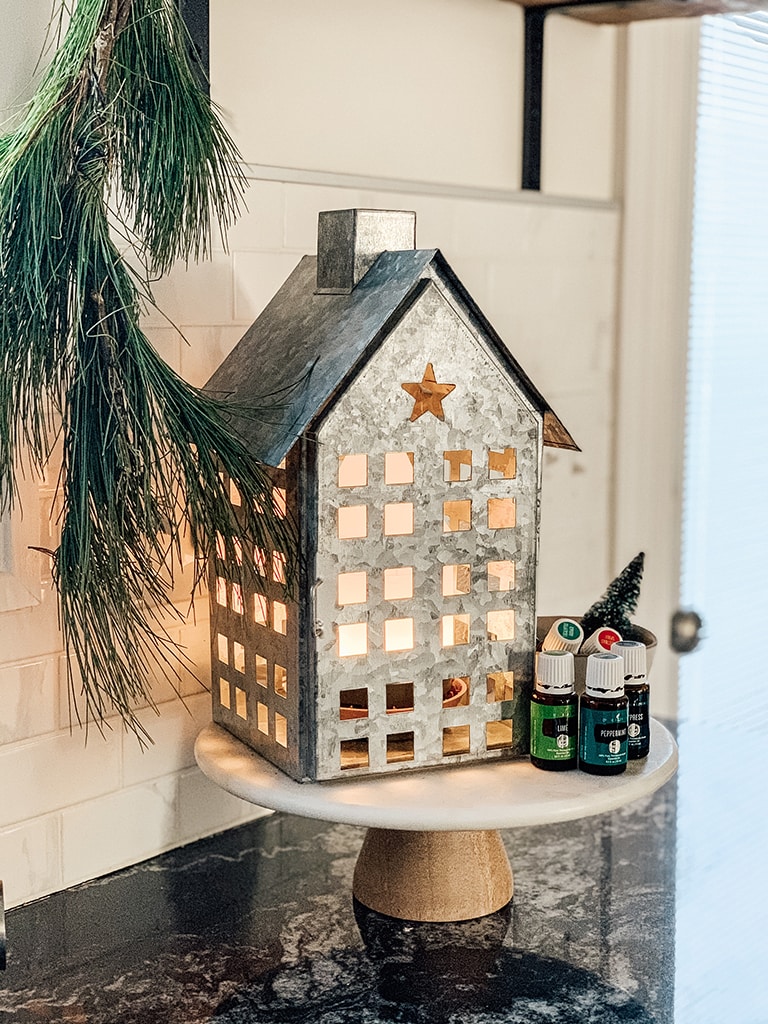 Here is one of my current favorite diffuser blends. If you would like to learn more about oils, visit my essential oils page.
Fresh Winter Air

2 drops of Peppermint essential oil

4 drops of Lime essential oil

4 drops of Cypress essential oil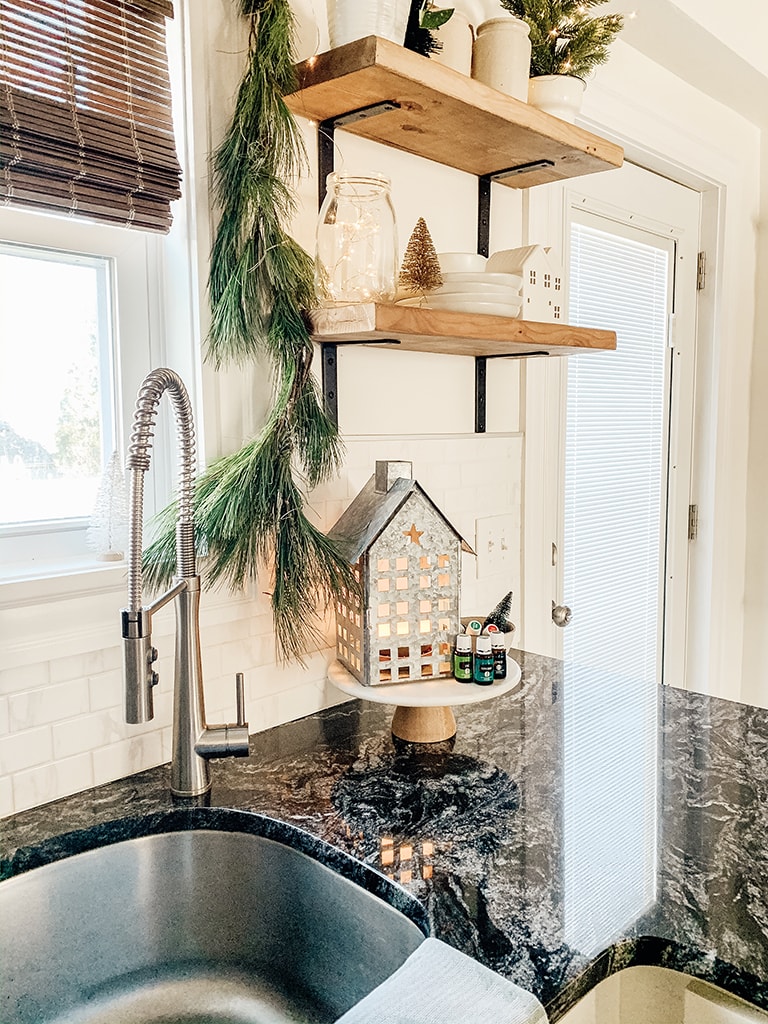 You can shop this look by clicking the links below!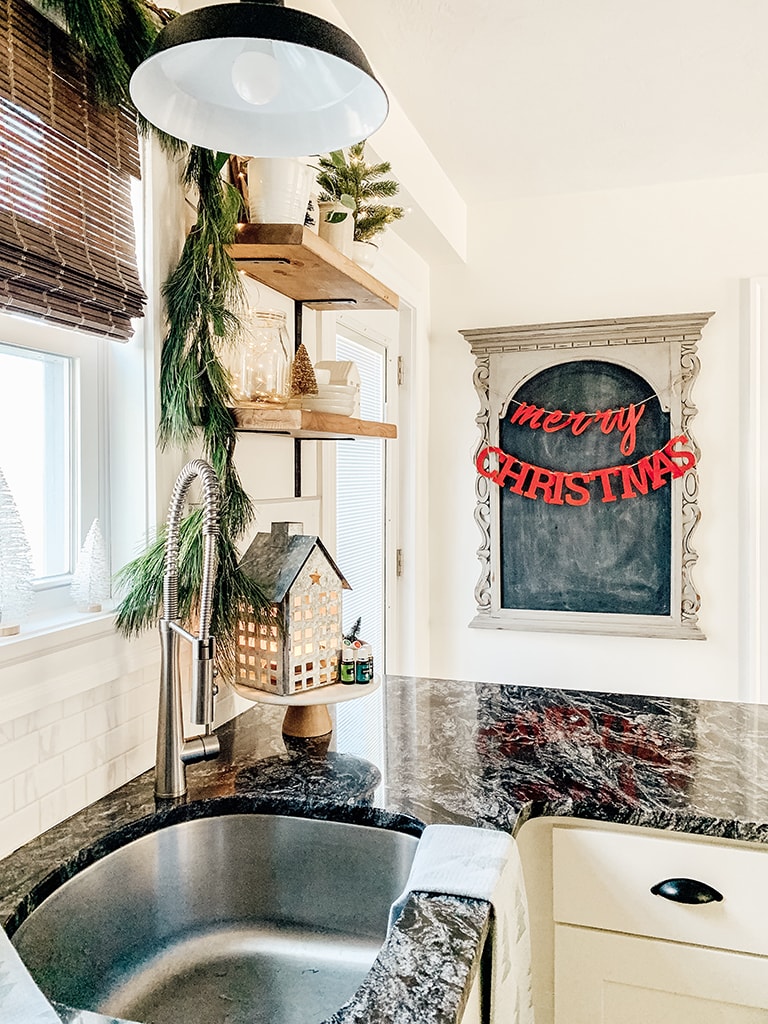 I hope that you were inspired to add some Christmas touches to your kitchen this year. If you missed our Christmas home tour this year you can see it here. Merry Christmas!
What to Read Next:
How to Style Open Shelving In Six Easy Steps