I am so excited to be bringing something completely new to the blog today. This post has been in the works for a long time. You know how much I love bringing you all things home. Well, a healthy home is just as important as a pretty one. Even more so.
For the new year, I want to start sharing a little bit more about wellness. Wellness for your home, family and yourself. It is something I am so passionate about and something that is a huge part of my everyday life.
One of the biggest changes we made almost 2 years ago was introducing Young Living essential oils and non-toxic products to our home.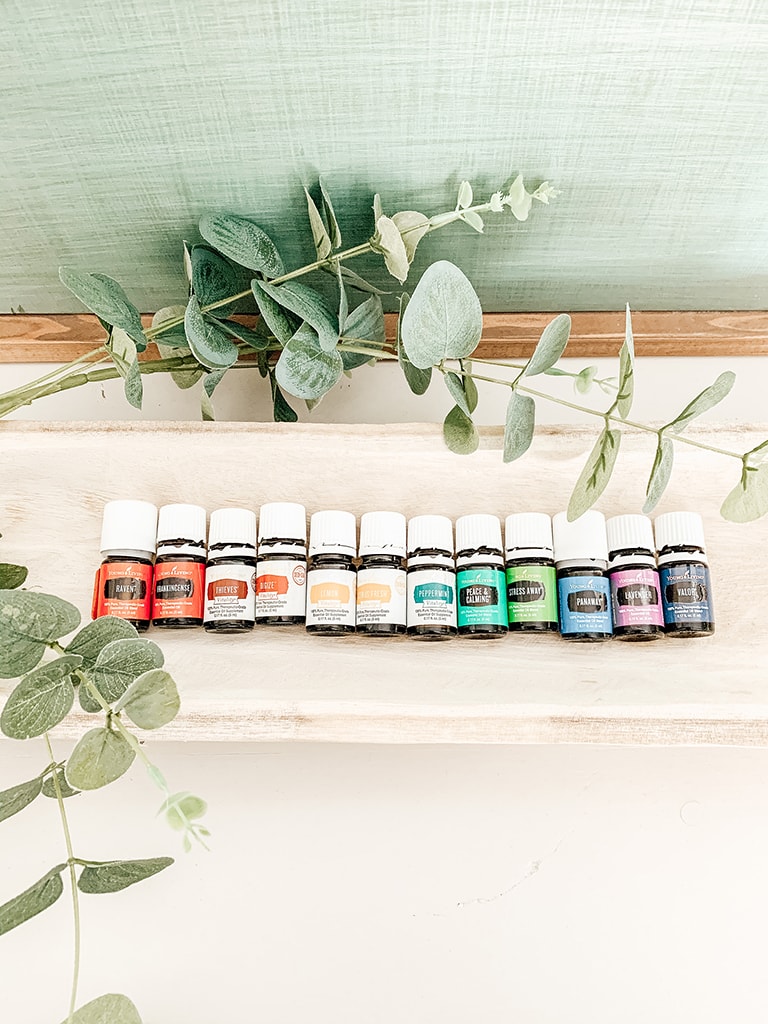 How I got started with Essential Oils
Like many people, I never put much thought into the products that I was using. I was a collector of all the sprays and lotions from Bath & Body Works and Victoria Secrets. I know I am not the only one that was stocking up on all those Semi-Annual sales.
After watching the documentary "Stink" on Netflix ( I highly recommend watching it) and learning about the Think Dirty app. I was shocked to see what was in the products I was using. You may not realize it, but many of the products sold on the shelves of your favorite stores are full of toxic chemicals that are actually banned in other countries around the world.
I highly recommend using the Think Dirty App to identify the risk associated with the personal care products you use every day.
These chemicals can be found in our air fresheners, candles, cleaning products, dish soap, beauty products, deodorant, shampoo, laundry detergents… I could go on and on. We apply these things to our body, clean our counters and floors with them, wash our clothes in them – we're literally surrounded by these toxins all day long. We're allowing our homes to be 5-7 times more toxic than outside air.
Once I learned this it was not something that I could ignore. I knew I needed a change for my family.
Around the same time, my friend Sarah at Sarah Joy Blog had just started sharing Young Living essential oils on her page. I did some research on the company. Ordered a starter kit and as soon as the box arrived I was hooked!
Why Young Living
I chose Young Living because they are the top essential oil producer worldwide. They have farms located all over the world where they grow, source, and produce all of their own oils and products backed by their Seed to Seal process. They are fully transparent and you can actually visit their farms.
Young Living also offers so much more than just essential oils. They have a full line of over 600+ plant-based, toxic-free products that are safe for your babies, pets and your entire family. Think cleaning products, shampoo+ conditioner, body lotion, supplements, makeup and more.
Another big reason I went with Young Living is because of the lifestyle and community they encourage. The support of the team I joined was huge. I learned how to use my oils and have had all of my questions answered along the way. It makes starting this wellness journey a little less overwhelming.
The Most Common Ways We Use Essential Oils
I started using oils to support my emotional health, immune system, sleep, energy, focus there is literally an oil for EVERYTHING! Below are some of my favorites ways to use essential oils.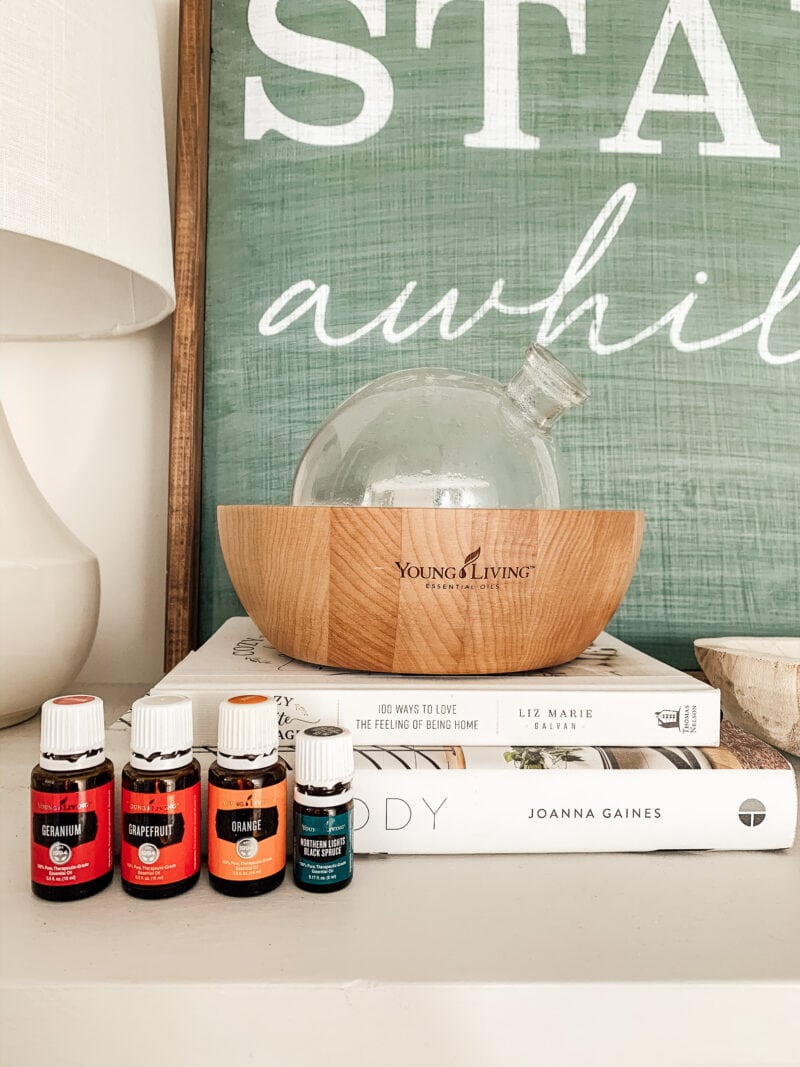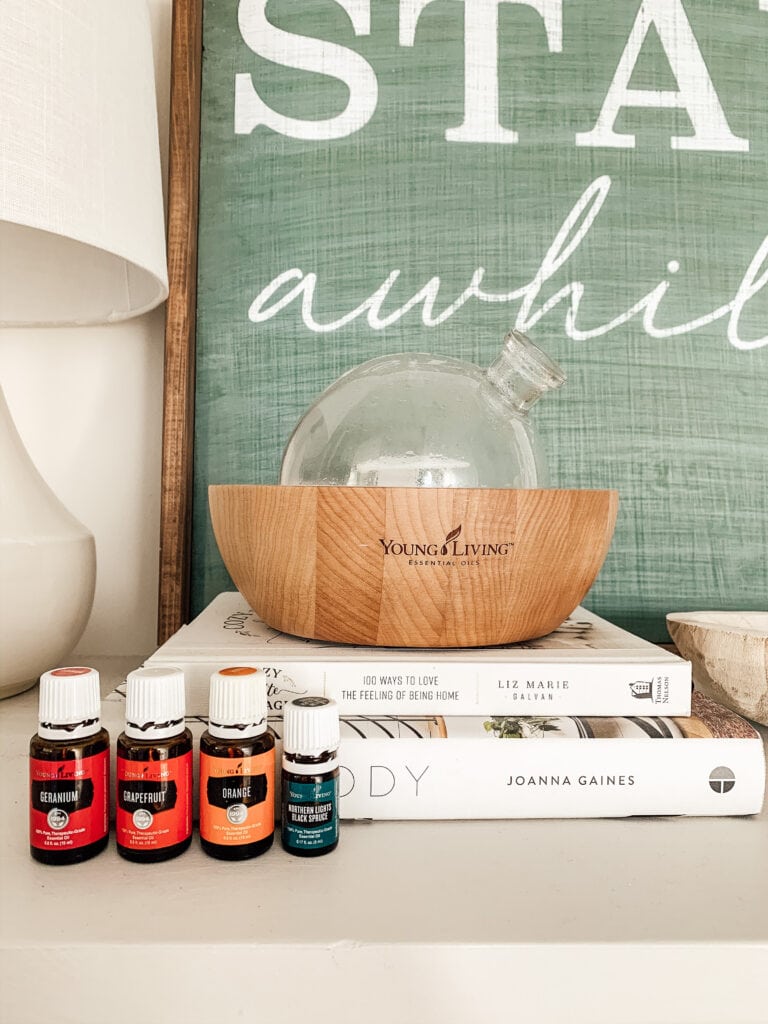 Replace Candles & Plugins
This was huge. Candles and plugins can be one of the worst offenders in your home. I was all about plugins. I had one in every room. Now I use my diffusers. The diffuser blends are endless and not only do they smell good they support your body.
You can find blends that match the same smell of your favorite candles. The diffuser even has a candle flicker setting for that glow. I promise you will not miss them.
Anthropologie Candle Blend
3 Drops Geranium
3 Drops Grapefruit
5 Drops Orange
4 Drops Northern Lights Black Spruce or Idaho Blue Spruce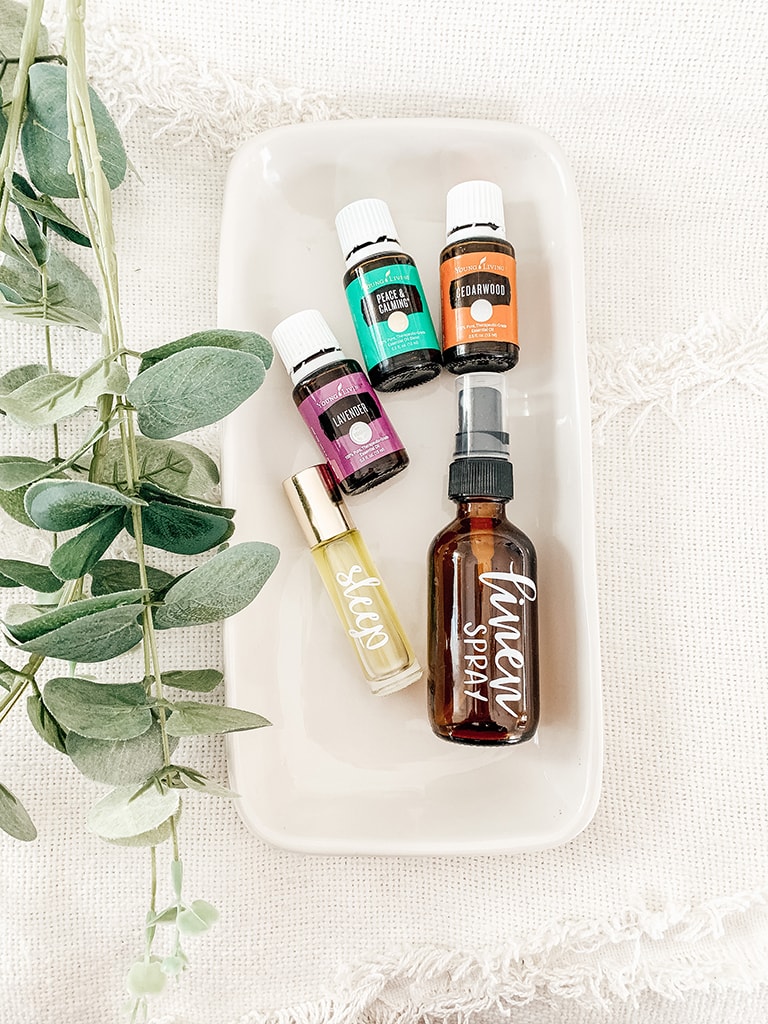 Sleep Support
We have never slept better. We use a combination of lavender, cedarwood, and peace & calming in our diffuser at night. I also have a sleep roller with the same combination that I roll on my shoulders and wrist before I go to bed. It has been magical.
On nights where a need a little extra sleep support I also roll on an oil called Rutavala. It is literally a tranquilizer in the best way possible.
Some other oils that we rotate in our diffuser at night are Gentle Baby, Roman Chamomile and Dream Catcher.
Sleep Roller
10 drops Lavender
5 drops Cedarwood
5 Drops Peace & Calming
Fill the rest with fractionated coconut oil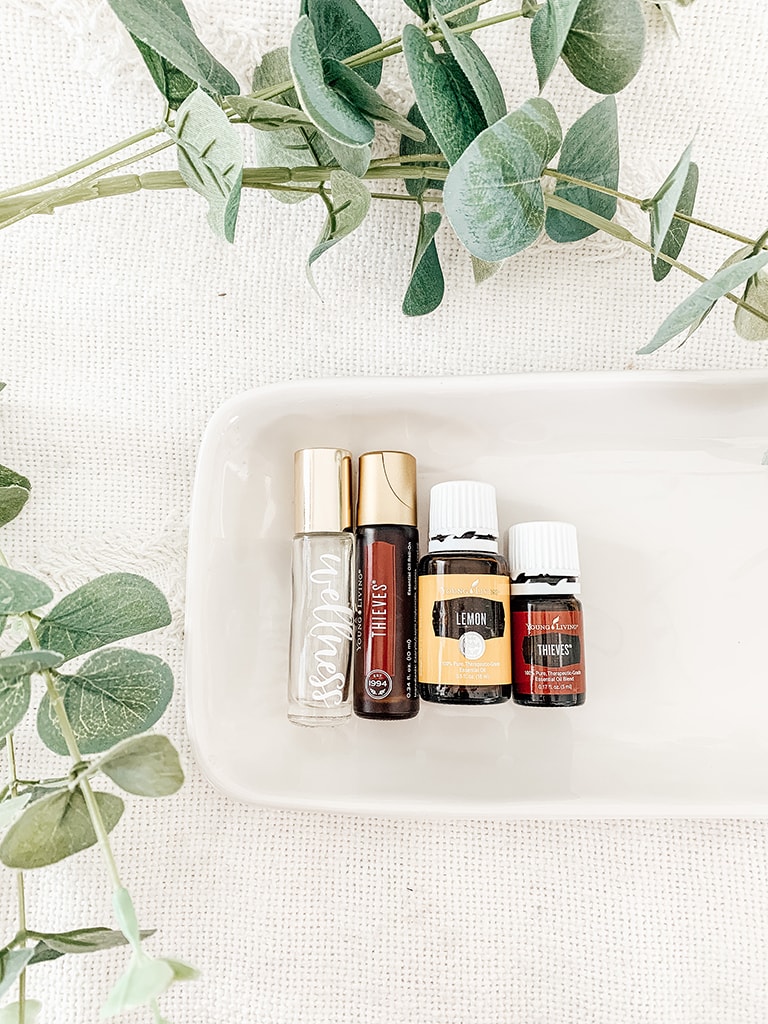 Immune Support
I have always had a weaker immune system and using oils to stay above the wellness line has been a game-changer. When I got my starter kit I made a wellness roller with thieves, lemon and frankincense. I roll that on my feet at night and the back of my neck before I leave the house.
I also drink an amazing antioxidant super drink that supports every cell in my body called NingXia Red. It is one of Young Living's most popular wellness supplements. It's a nutrient-rich drink infused with antioxidant-providing super fruits and powerful essential oils. It supports overall health and I seriously could not live without it.
Wellness Roller
10 drops Thieves
6 drops Frankincense
4 drop Lemon
Fill the rest with fractionated coconut oil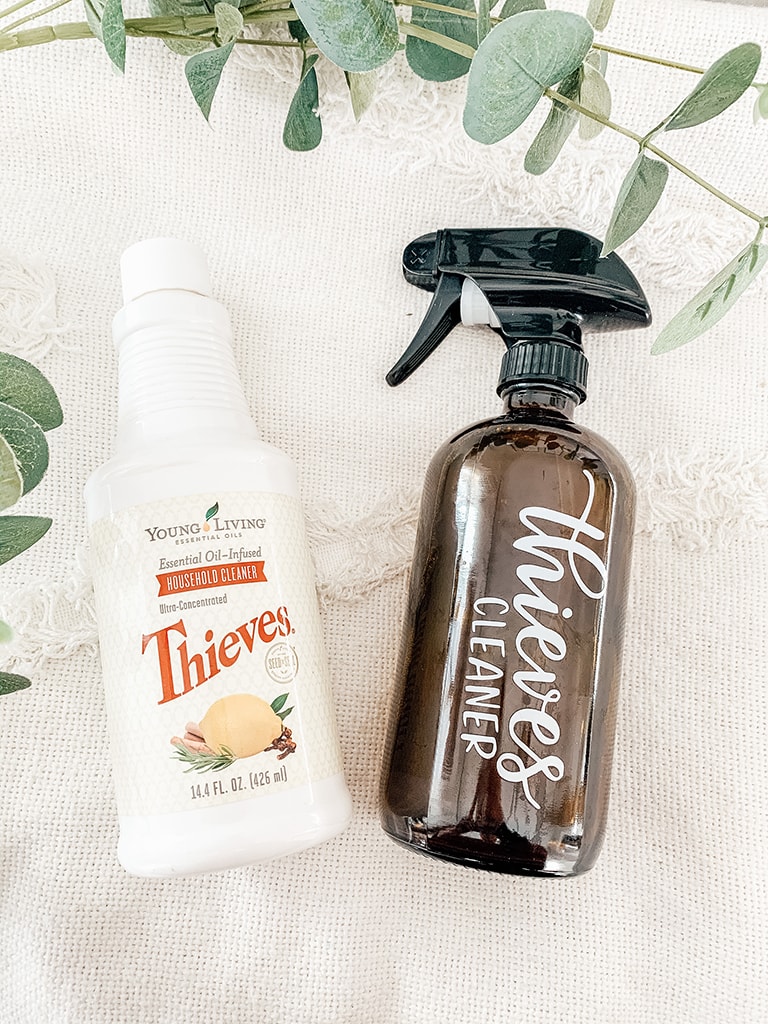 Cleaning
Young Living has an entire line of home cleaning products, which contain the powerful Thieves essential oil blend. I use Thieves household cleaner for EVERYTHING! The cleaner comes in a concentrated bottle, all you need is one capful to make an entire spray bottle of cleaner. We use this on all our surfaces: glass, hardwood, granite and stainless steel.
You can also make a soft scrub for your tile and bathtub using a combination of baking soda, lemon oil, vinegar, and thieves cleaner. This one bottle will replace all the products you use to clean your house and it is plant-based and chemical-free!
I also use and love the dish soap, hand soap, and laundry detergent.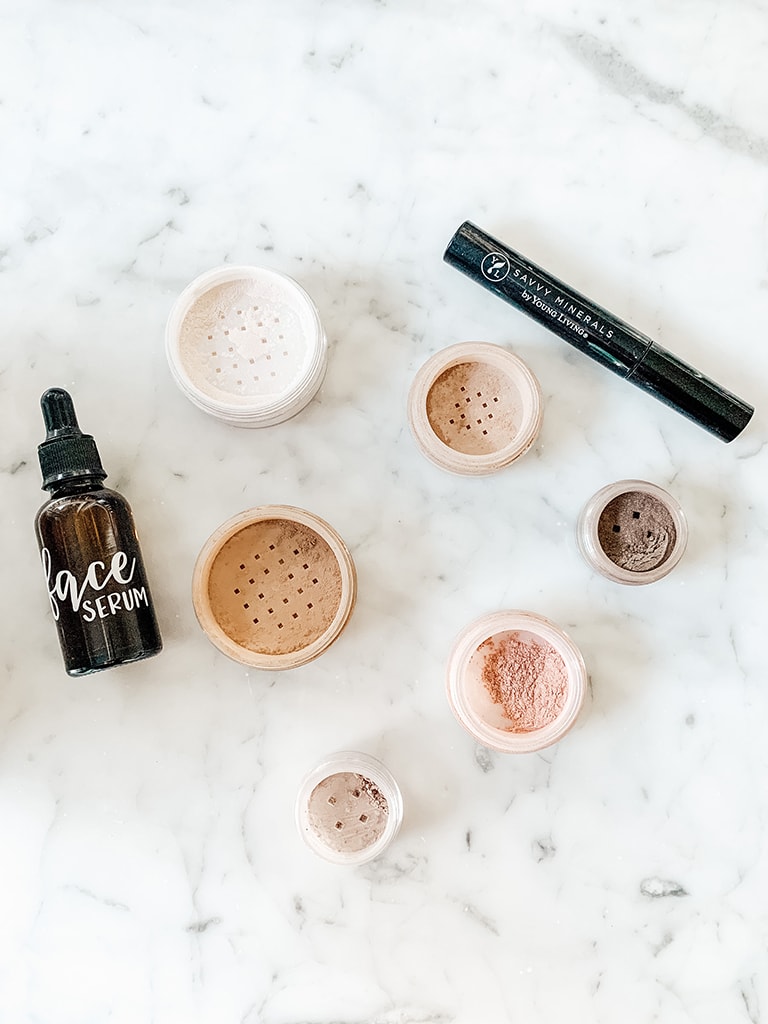 Makeup & Skincare
I made the switch to the Savvy Minerals makeup line by Young Living. This is a mineral makeup that has essential oils, arrowroot powder and kaolin clay. The combination is calming to the skin, helps to absorb excess oil and moisture on the skin and makes your skin feel silky smooth.
I recently made the switch and have been loving it so far. One of the most important things to remember is you do not have to replace all your products at once. Small changes make a big impact on your health. I have been on this wellness journey for almost 2 years and just switch over my makeup.
My make up remover, and face moisturizers are also from Young Living.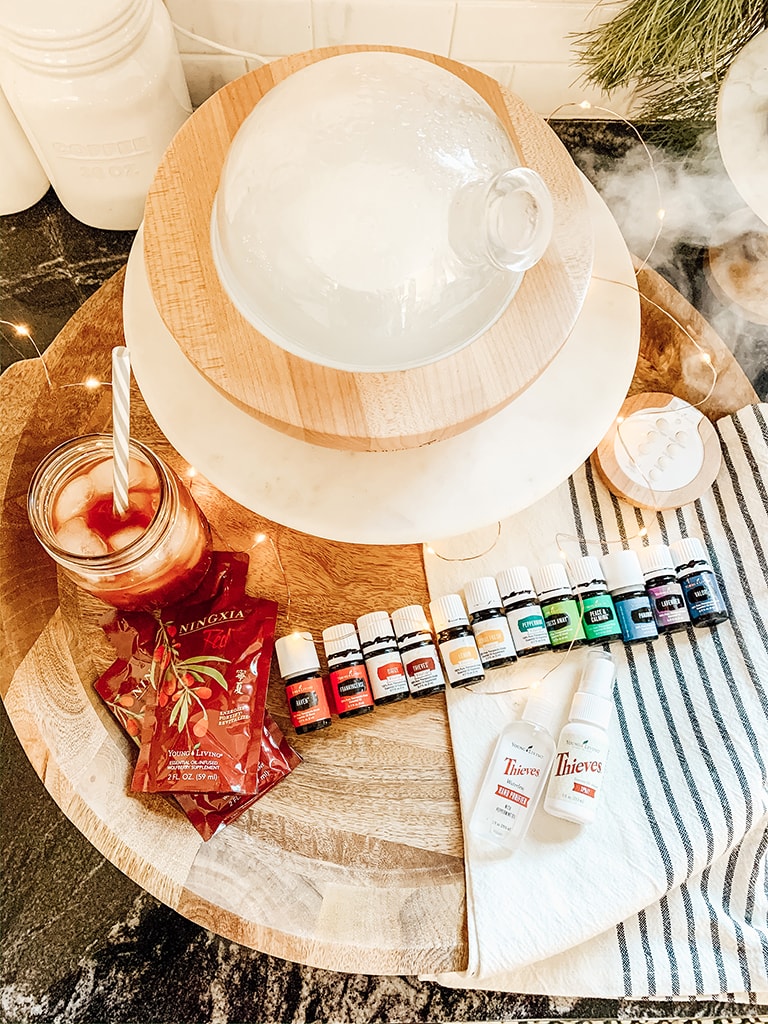 How to Join Me
When I ordered the starter kit (12 most common oils + diffuser) I didn't realize how much it would impact me. I thought it would be impossible for me to begin making these changes, but the truth is, it's not! Slowly but surely I am kicking chemicals to the curb and claiming a toxic-free life. All thanks to Young Living! And now I want to help YOU do the same!
What you get when you order a Starter Kit
12 Everyday Essential Oils
A Diffuser of Your Choice
Thieves and NingXia Samples
Lifetime Wholesale Membership (24% discount!)
No Annual Fees or Commitments
Access to Our Exclusive Community
If you want to grab your own starter kit and join me – ORDER HERE (make sure 15452881 shows in the sponsor/enroller field + select member).
Becoming a Member–does NOT mean you will ever have to sell anything, just means you get 24% off every product. Think of it like a Costco membership.
You will also gain access to our private team wellness group on Facebook, which is where you'll learn everything you need to know about using your oils. Having an amazing community of support is key in really changing your lifestyle. I'll also send you a welcome kit with info + goodies to start out. You are not alone in figuring things out, I'm with you right there to support, teach, encourage, and whatever else you need. Let's do it together!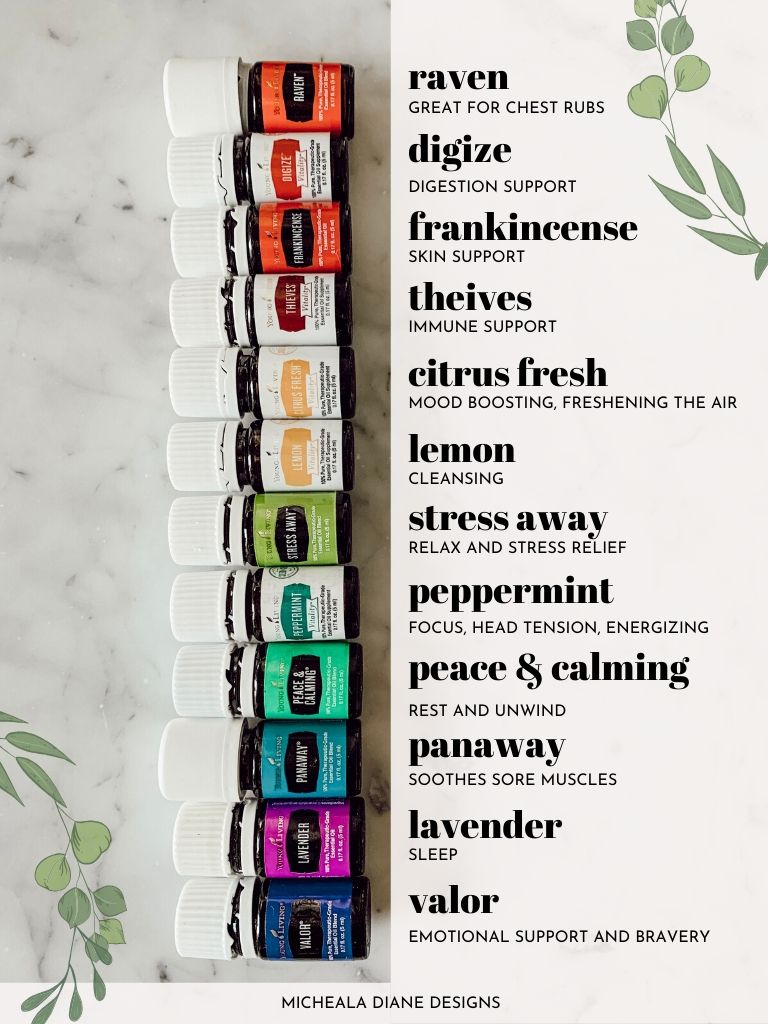 If you have more questions be sure to check out my essential oils page or shoot me an email I would love to chat.