Today I am sharing five natural toxic-free swaps we made in our home to live a healthier lifestyle.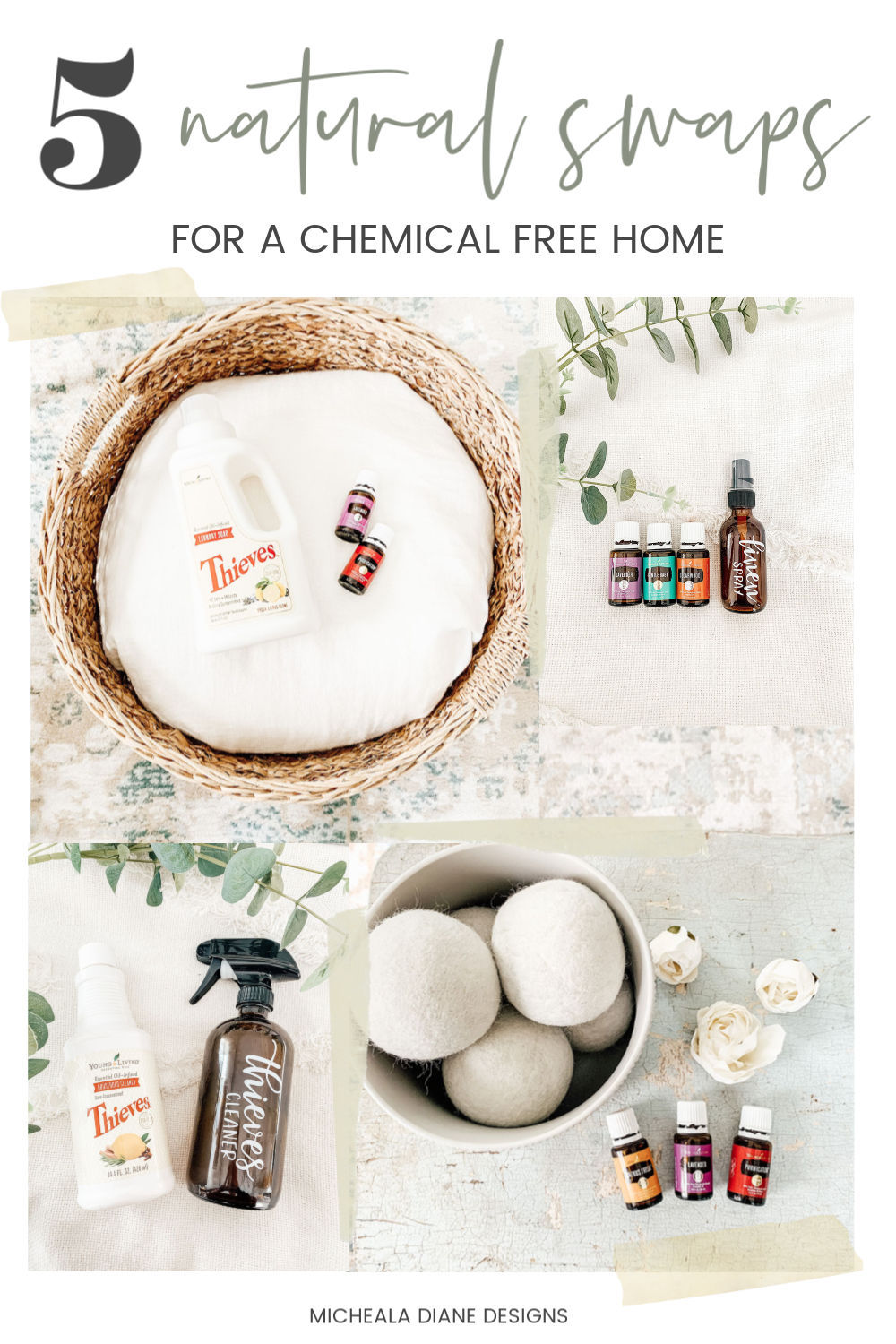 Two years ago we made the decision to start researching the products that we were allowing in our home. We were shocked to see what was in the products we had been using. If you have never used the Think Dirty app I recommend starting there.
You may not realize it, but many of the products sold on the shelves of your favorite stores are full of toxic chemicals. Many are actually banned in other countries around the world. You can read more about our story here.
Maybe you have started your research. Or this is the first time you have ever thought about making the switch, it can be very overwhelming. That is how I was feeling in the beginning. The key is to take baby steps. Below are the first 5 swaps that we made in our home. By swapping these five things we saw an incredible difference in our health.
After just a couple of months your sense of smell with change. This was the most shocking. After using plant-based products for a little while I began smelling the chemicals in the products that we were using before. They would instantly give me a headache. I can barely even walk by the cleaning aisles of Target because the smell is so overpowering. This experience is what really sealed the deal for my husband.
If you were to ask me where to start these five natural swaps would be my recommendation. Let's dive in!
Top 5 Natural Toxic-Free Swaps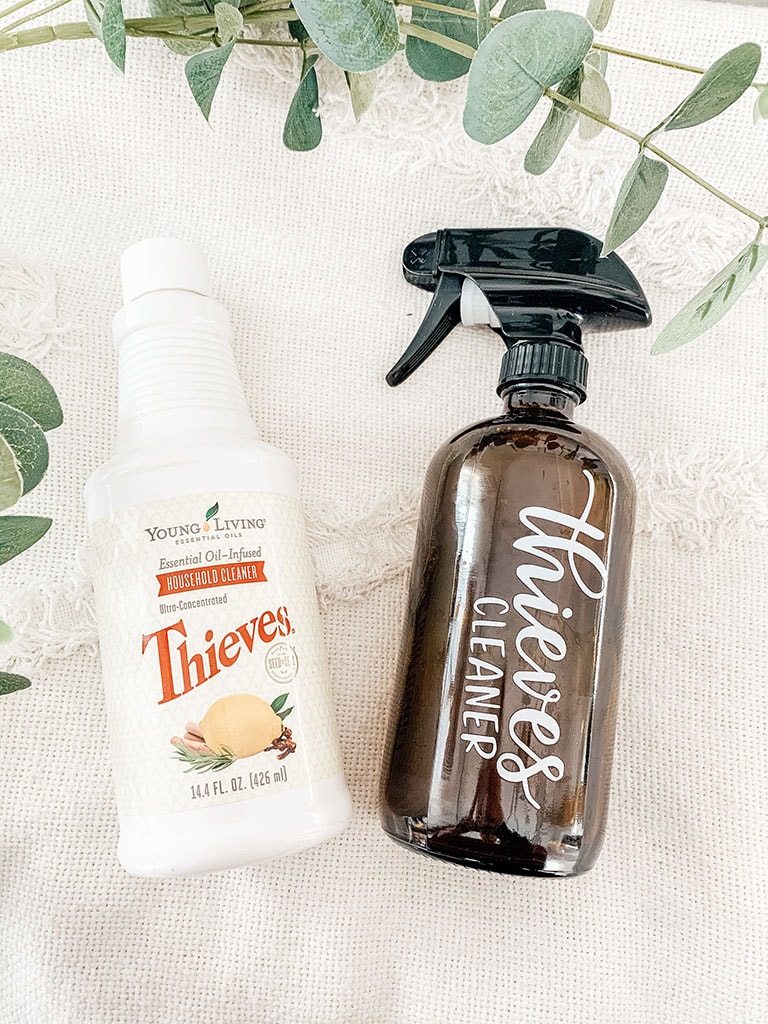 1. Cleaner to Plant-Based Household Cleaner
Think about all the cleaners you have sitting under your sink. I know I had a cleaner for everything. Something different for the windows, tile, toilets, stovetop and even the fridge. Without even looking at the ingredients, which can be telling in themselves, look at the warning labels. These warning labels can be downright scary.
Or think about the last time you used bleach and had to open a window because the smell was so overpowering. I have been there! I actually have a family member that has been using cleaners for so long for work that they can no longer smell!
When I made the switch to Thieves household cleaner. Everything changed. This one bottle of cleaner does ALL THE THINGS. You literally do not need any other cleaner. With Thieves cleaner, you can clean nearly every inch of your home – it's the all-purpose cleaner of cleaners. Talk about simplifying your life and all the extra room you will have under your sink.
It is a plant-based cleaner infused with 100% pure essential oils. There are NO chemicals, toxins, or synthetic ingredients. Wherever you use it, you'll feel good knowing it's safe to use around everyone in your family, including your kids and pets. This one bottle is concentrated and makes about (28) 16 0z bottles of cleaner. It comes out to about 80 cents a bottle, so it has also been a huge money saver. I like to call that a win-win.
I also use this cleaner to make a soft scrub for toilets, tile, and bathtubs. See the recipe below!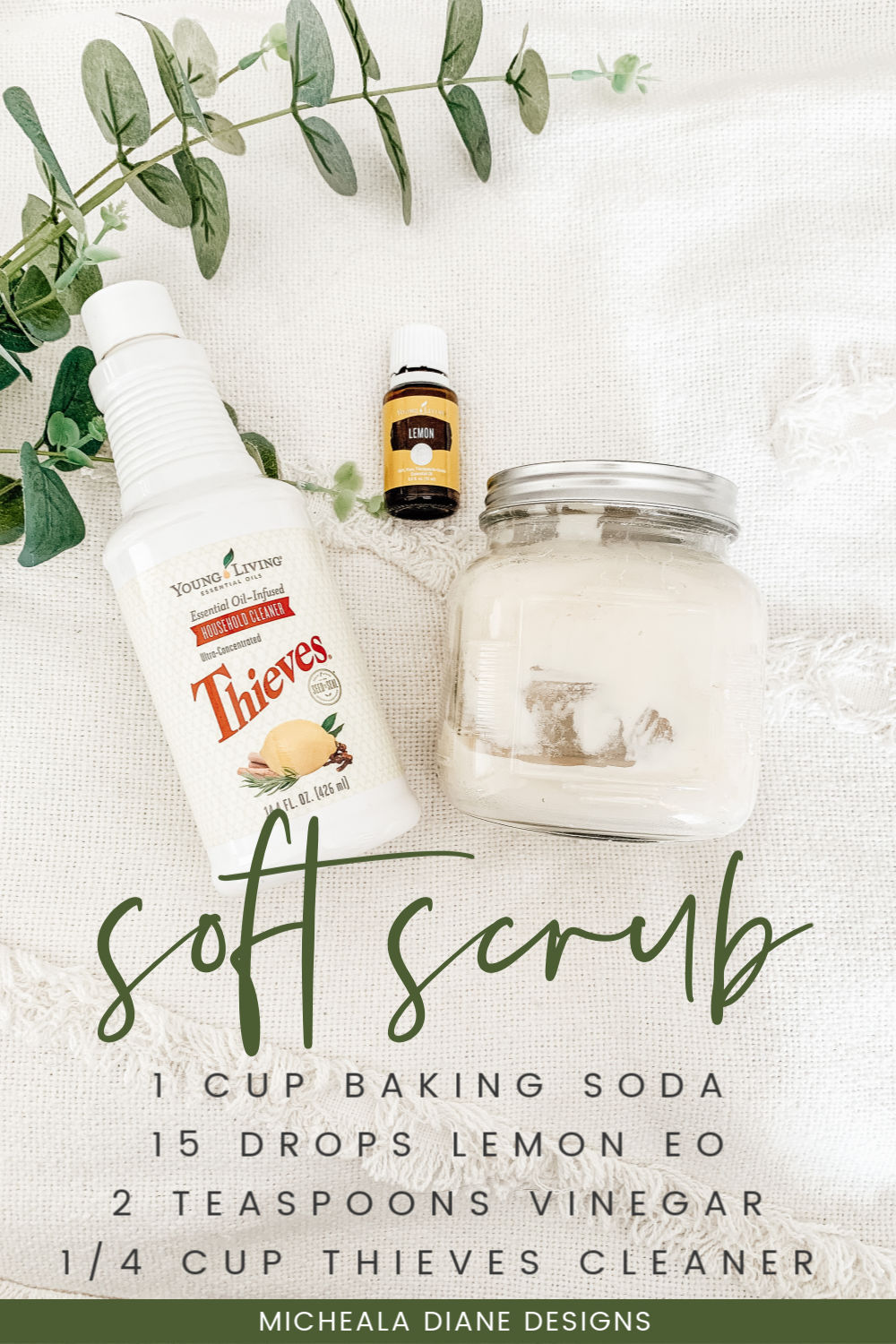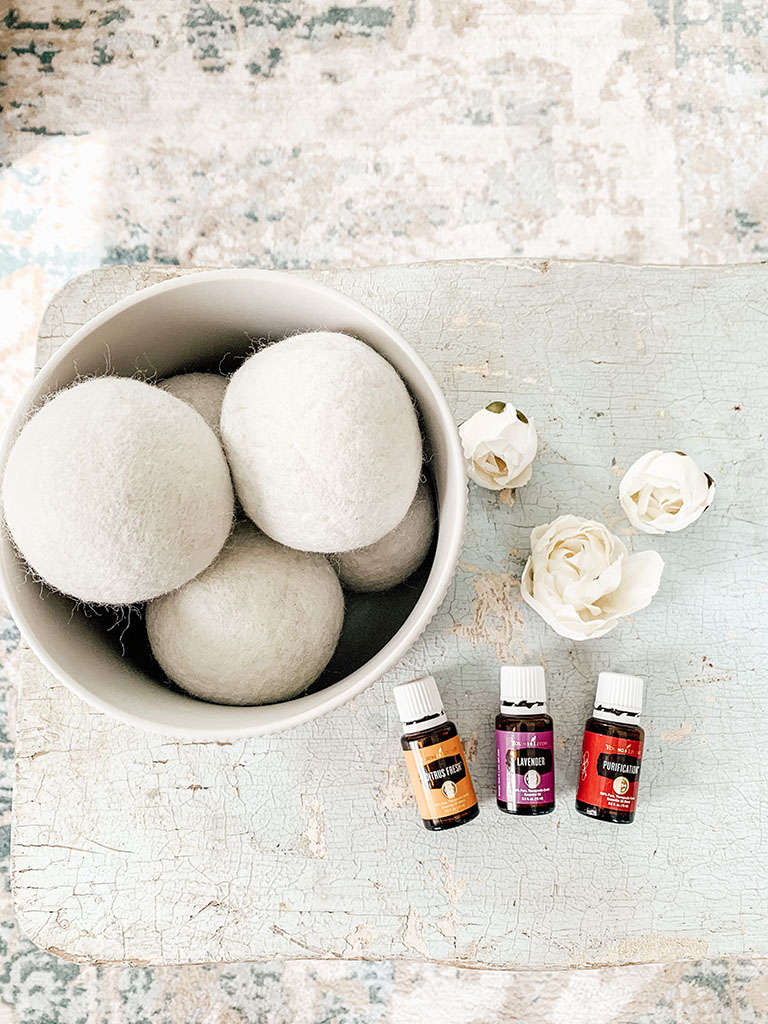 2. Dryer Sheets to Wool Dryer Balls
One of the most TOXIC items in your home is dryer sheets. They are full of toxic chemicals. These chemicals are absorbed into your clothes and then absorbed into your body. This can contribute to central nervous system disorders, depression, and headaches. The synthetic fragrance used on dryer sheets and fabric softeners are known carcinogens. I was shocked when I found out this information because I was obsessed with using dryer sheets. You can read more about it here.
We made the switch to wool dryer balls. I use these ones and we have been very happy. To get that clean laundry smell I add a couple of drops of essential oil to each ball. My go-to oils for this are Lavendar, Lemon Grass, Citrus Fresh, and Purification. This is another great way to save money and waste. The wool dryer balls can be used over and over again and they are very inexpensive.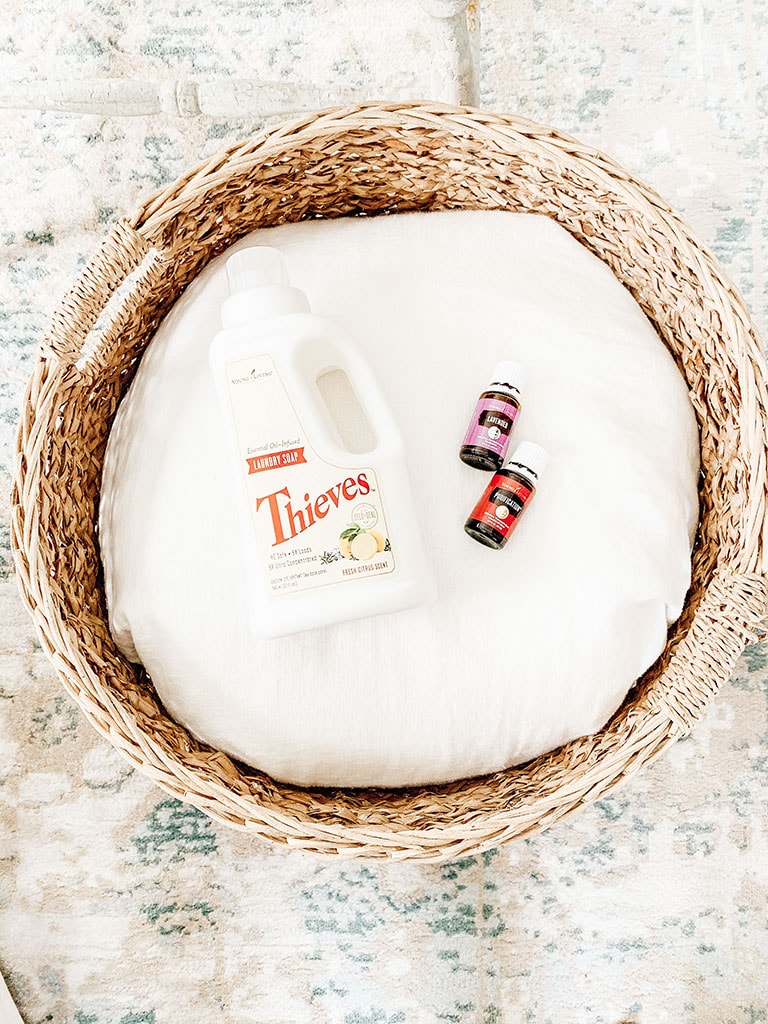 3. Laundry Detergent to Plant-Based Laundry Detergent
Laundry detergent is another product that I believe is super important to switch out. Like dryer sheets, your laundry detergent is absorbed into your clothes, sheets, and towels. Then you are wearing these items all day and in return, they are absorbed into your skin and directly into your body.
Most laundry detergents are full of synthetic fragrance, dyes, petrochemical, formaldehyde, optical brighteners, and SLS. Optical brightness actually gives your laundry the illusion of being cleaner than they are. CRAZY! After researching the effects of these it was a no brainer to make the switch.
We now use Thieves laundry detergent. It is a plant-based formula, that gently and naturally washes your clothes. Cleaning them without any chemical or synthetic residue. Natural enzymes and powerful essential oils add to the formula's strength to leave your clothes fresh and clean with a light citrus scent. Similar to the cleaner, it is highly concentrated. One bottle gives you 64 loads. I even use a hack that can get you 128 loads per bottle.
I separate the laundry soup into two 32 oz containers. Add two capfuls of the thieves cleaner. Then add 25 drops of lavender essential oil and 25 drops of purification essential oil to each bottle. Then fill the rest with water. Not only does it smell amazing it is safe for everyone in your family!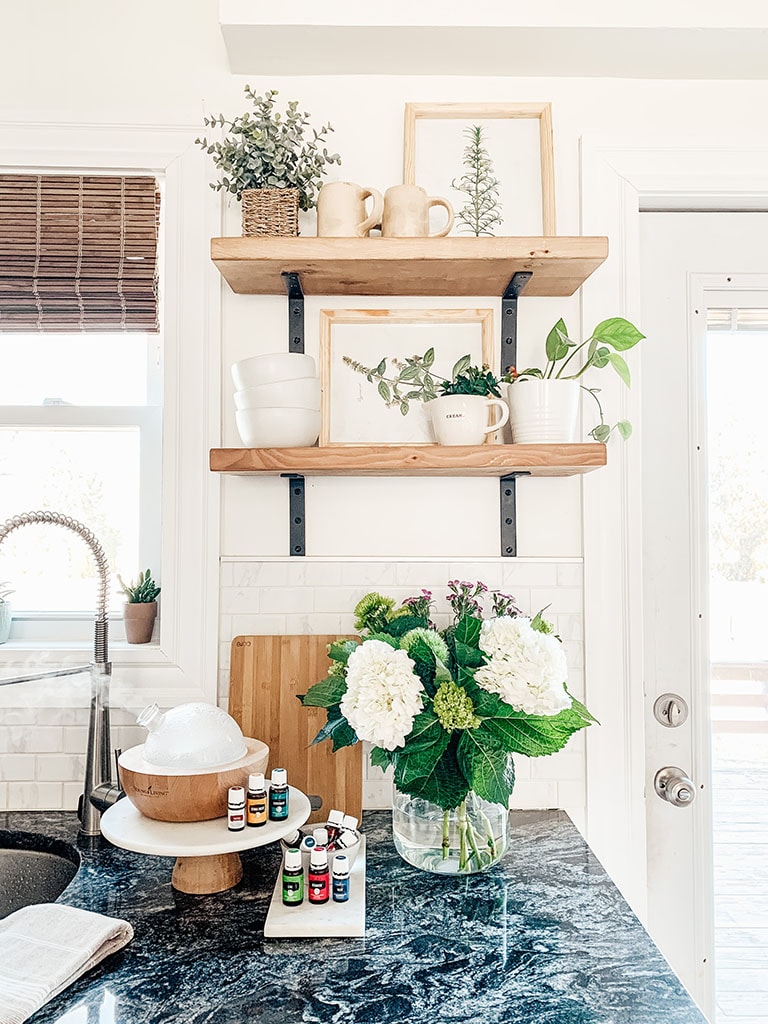 4. Candles/Plug-ins to Diffuser
Candles can be one of the hardest things to give up. Many people have a collection for every season. I loved candles but I had an even bigger obsession with plugins. I'm talking one in every room. After doing a little research I found that candles can be as bad as smoking.
Many candles are made with paraffin wax that contains highly toxic chemicals when burned. These same chemicals are found in diesel fuel! Chemicals in candles have been linked to cancer and respiratory disfunction.
I made the switch to a diffuser and now like my plugins I have one in every room! I do not miss candles or plug-ins one bit. You can create blends that not only smell way better than candles they actually support your body and promote healthy breathable air.
I made the swap with an essential oil starter kit from Young Living that included 12 essential oils and a diffuser. There was no turning back, I was in love. I am able to make all my favorite blends that I use to love from B+BW plug-ins. They support my body in ways that I didn't even know was possible with oils.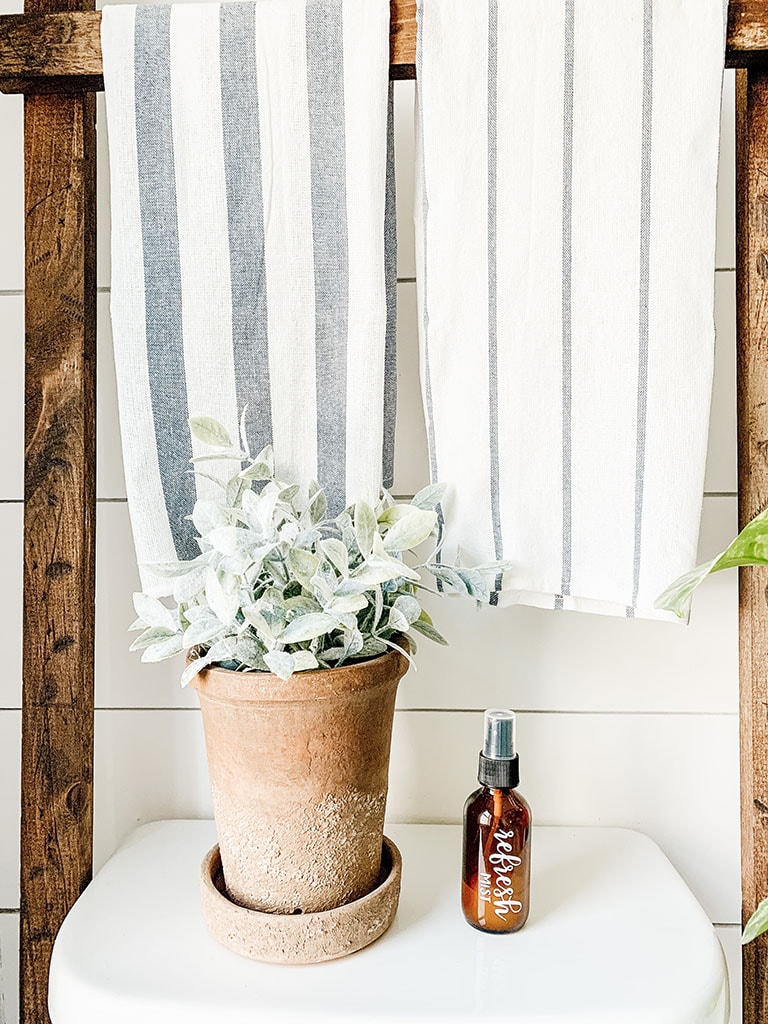 5. Air Freshener to Plant-Based Room Sprays
The next big item that we switched was air fresheners. I was obsessed with Fabreeze. I would spray it on everything. After watching this video and doing a little research I threw out all of my cans.
In order to make an air freshener smell good, they are full of chemicals. These chemicals are hormone disrupters. The term fragrance or parfum on a product label represents an undisclosed mixture of various scents and chemicals. We have no idea how many chemicals are actually under this umbrella term and companies do not have to disclose this information.
For this, I switched to a DIY solution that is so easy to make. All you need is essential oils, witch hazel, water, and an amber bottle. I keep these in all the bathrooms, my living room, and bedroom. You can spray anything from sheets, pillows, blankets or just into the air.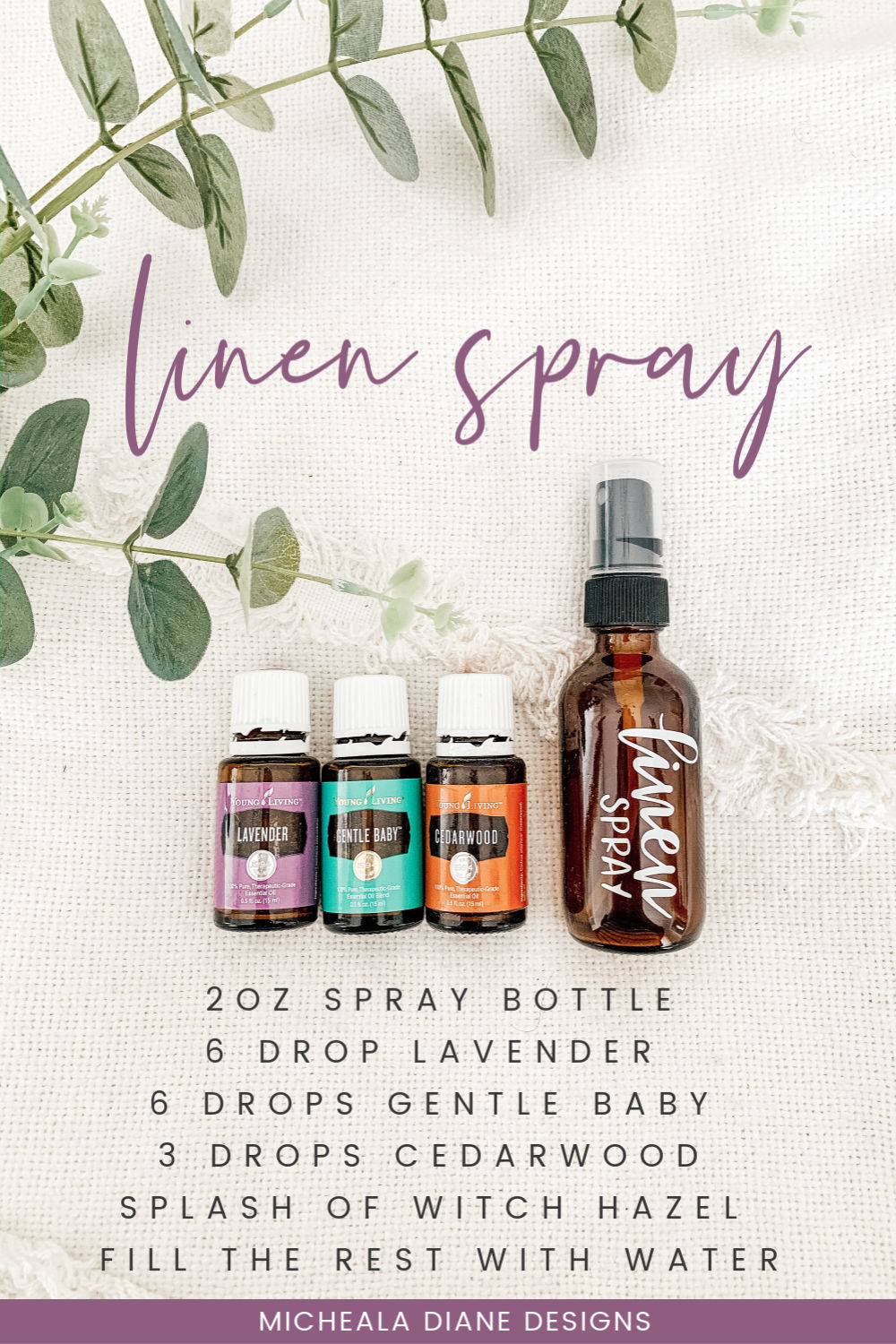 Young Living Makes it Easy
These are the first five steps that I took to make our home healthier. It is crazy what you will find when you take a closer look at the product that you are using. I never even thought I needed to if it was sold in stores than it had to be safe. I was wrong. You are the gatekeeper of your home. No one else.
To make the swaps in our home we chose Young Living. They are the top essential oil producer worldwide. They have farms located all over the world where they grow, source, and produce all of their own oils and products backed by their Seed to Seal process. You can actually visit their farms.
They also offer so much more than essential oils. Which was important for us. They have a full line of over 600+ plant-based, toxic-free products that are safe for your babies, pets and your entire family. They make it easy and that is what we a were looking for.
For these five swaps, I recommend you get started with the Thieves starter kit or the Premium starter kit. If you get the thieves starter kit I recommend adding the thieves laundry detergent, lemon, lavender, purification, and cedarwood to your order. If you start with the premium starter kit I recommend adding the thieves household cleaner, thieves laundry detergent, purification, and cedarwood to your order.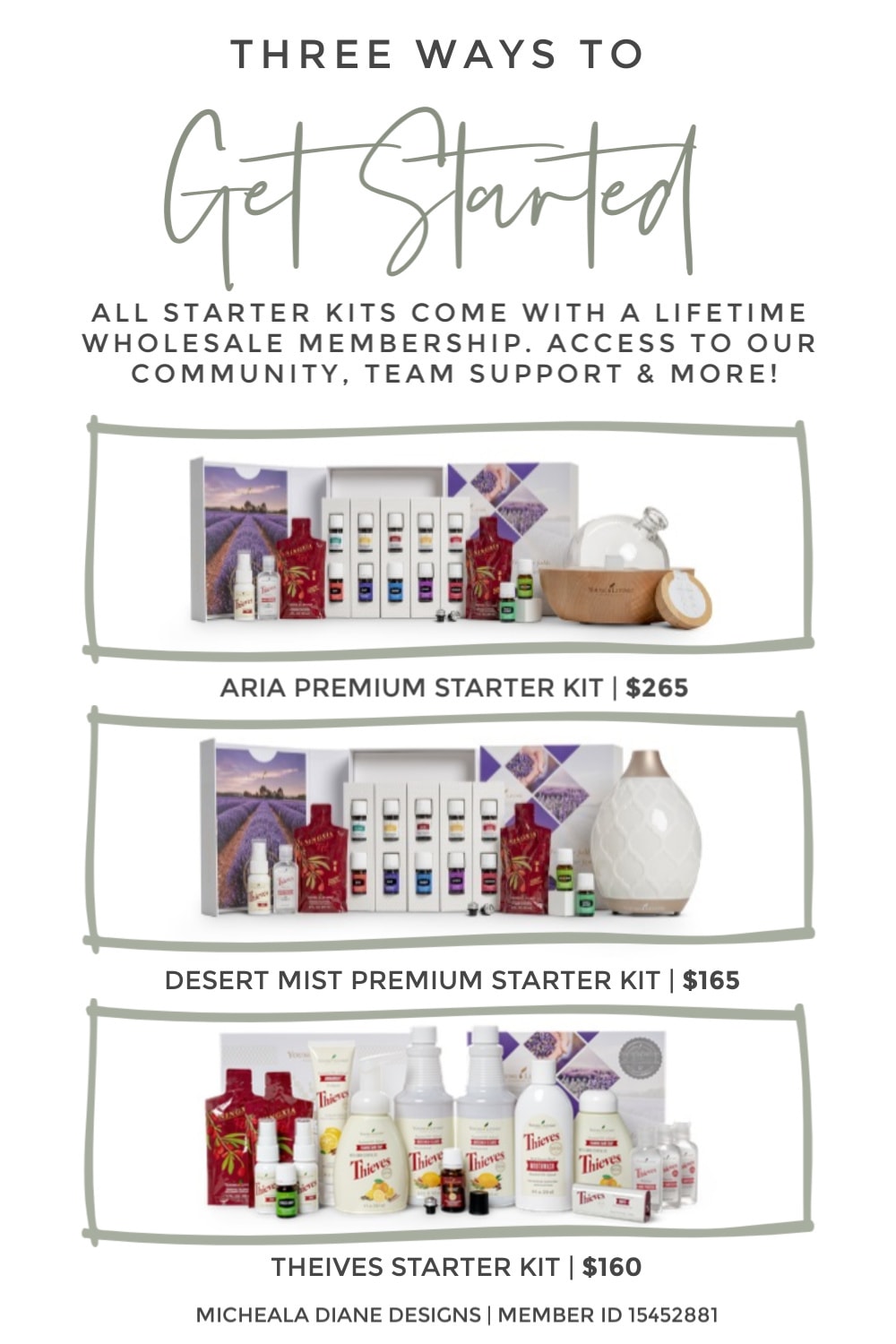 You can find more information about how to get started HERE. If you have questions about anything that I've done or help getting started. Let me know in the comments or send me an email – I can chat with you and walk you through pretty much any part of the process!
What to Read Next:
Essential Oils Changed Our Life