It is that time of year again. Grab a snack and come see our cozy Christmas home tour! I will be featuring my living room, den, and dining room. All links to shop each space are included.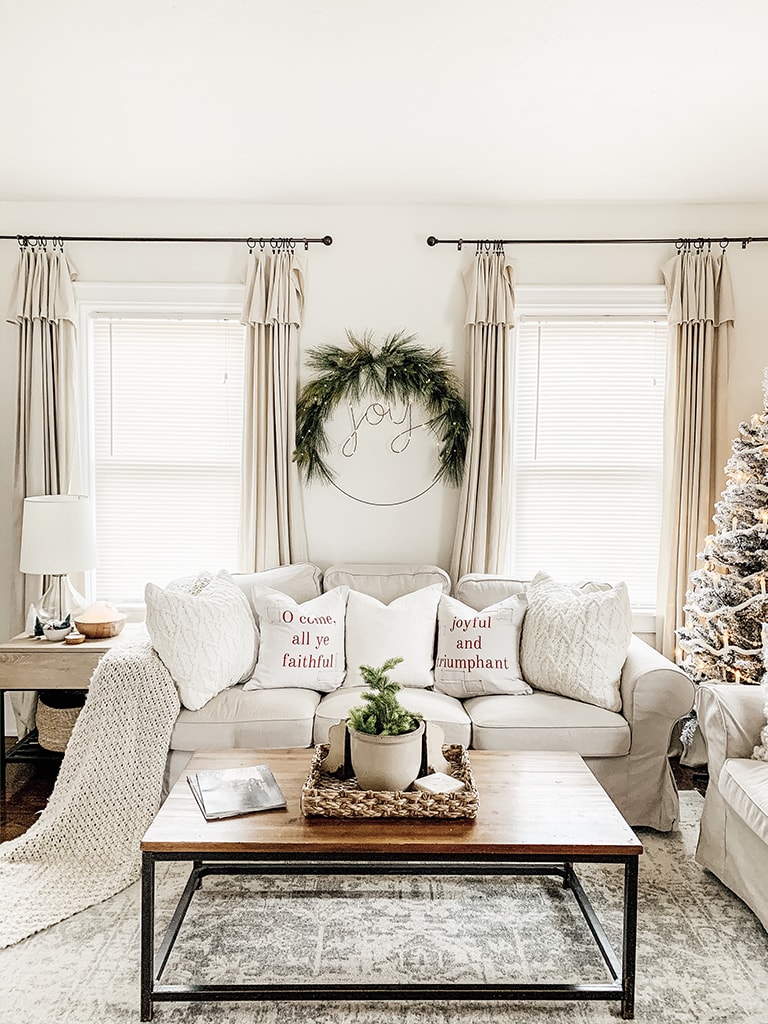 Last year's Christmas home tour was a hit and I have had so many messages from you asking to see one again this year. Decorating my house for Christmas is one of my favorite things to do. The theme this year was to re-purpose and reuse.
It is not practical to get all new Christmas decor every year. Even if it seems like other "influencers/friends/ family" are. I allowed myself to get a couple of new items, but my main goal was to reuse what I already owned.
Reusing decor items does not mean you have to decorate the exact same way you did last year. My hope is that this cozy Christmas home tour inspires you to find new life in the items that you already own.
Be sure to take a look at last year's home tour. So that you can see how I re-purposed my items and created a completely different look.
" Affiliate links provided for your convenience, please read my disclosure for more information."
Cozy Christmas Living Room
The first room up on our cozy Christmas home tour is our living room. This year I wanted to add small pops of red but keep the overall feel of the space neutral.
I did that by using these beautiful farmhouse patchwork pillows with red lettering and red stitching. I also added a cozy red and white throw for another pop of red.
For the rest of the pillows I used whites in a variety of textures. Using more than one texture in the same color adds interest without being too busy.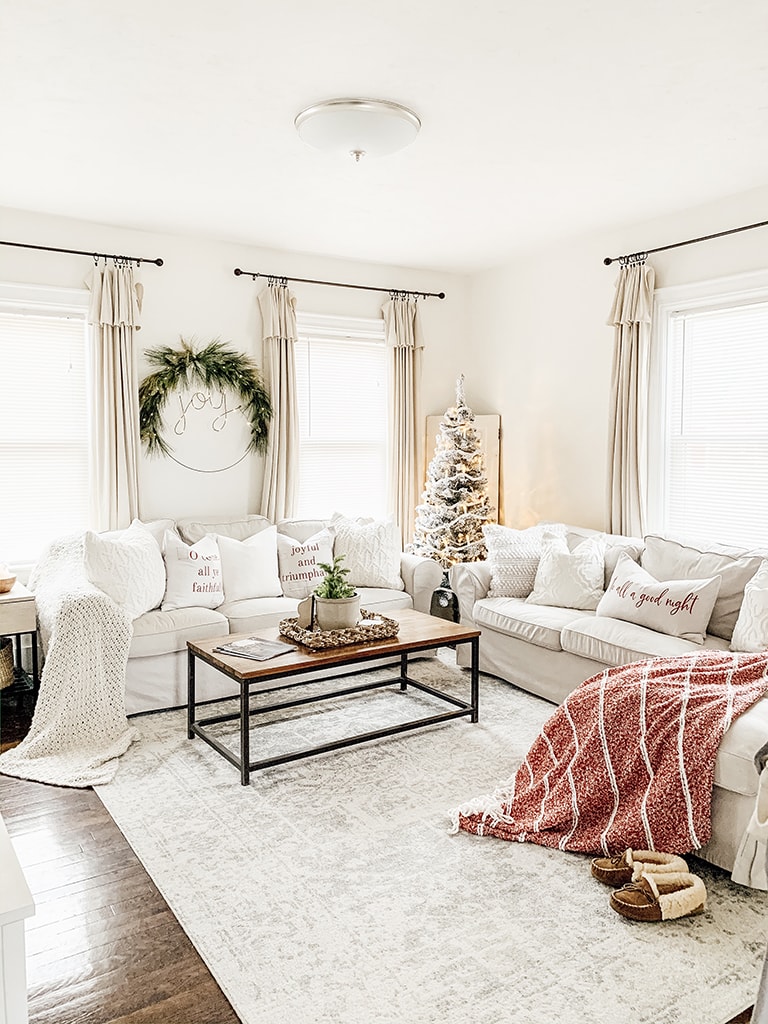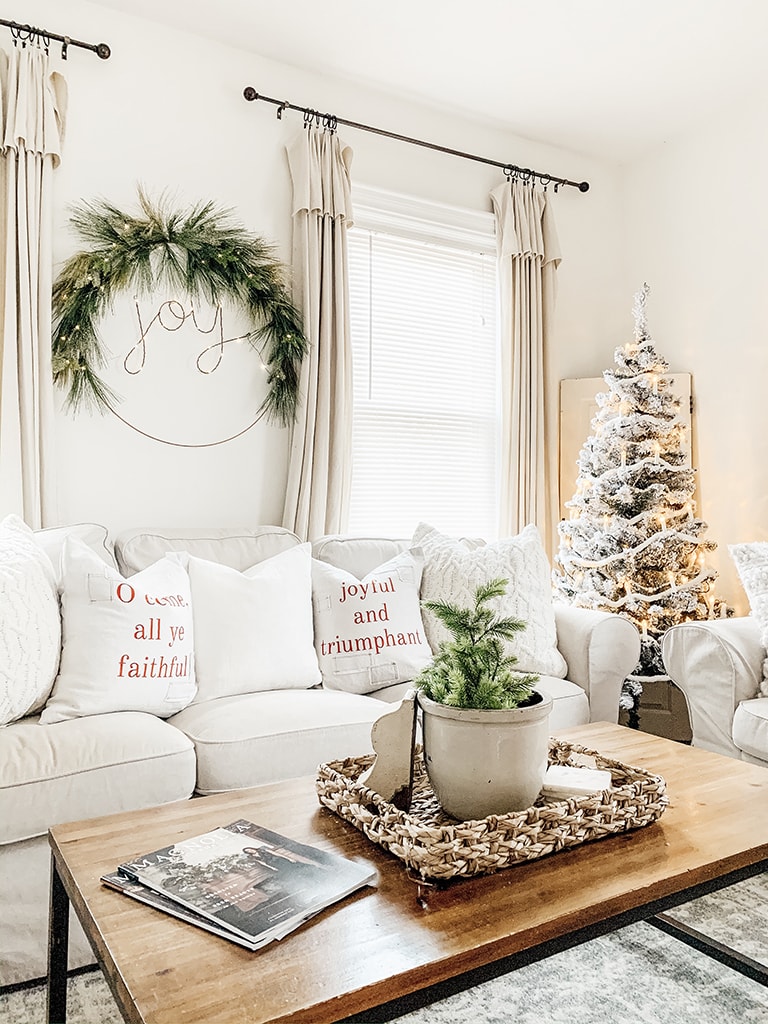 One of the new items that I got this year was this Lit LED Wire Joy Christmas Wreath. I am obsessed. It is the perfect focal point for this room and it lights up making it extra cozy. It also has a timer so that you can have it come on and off when you want.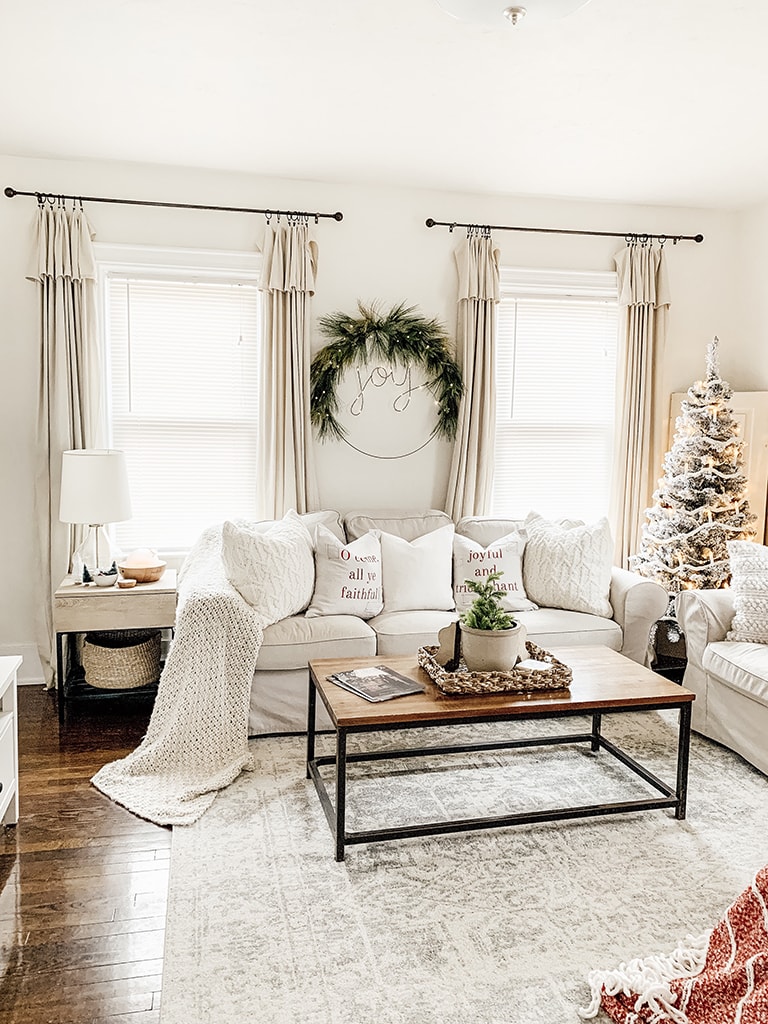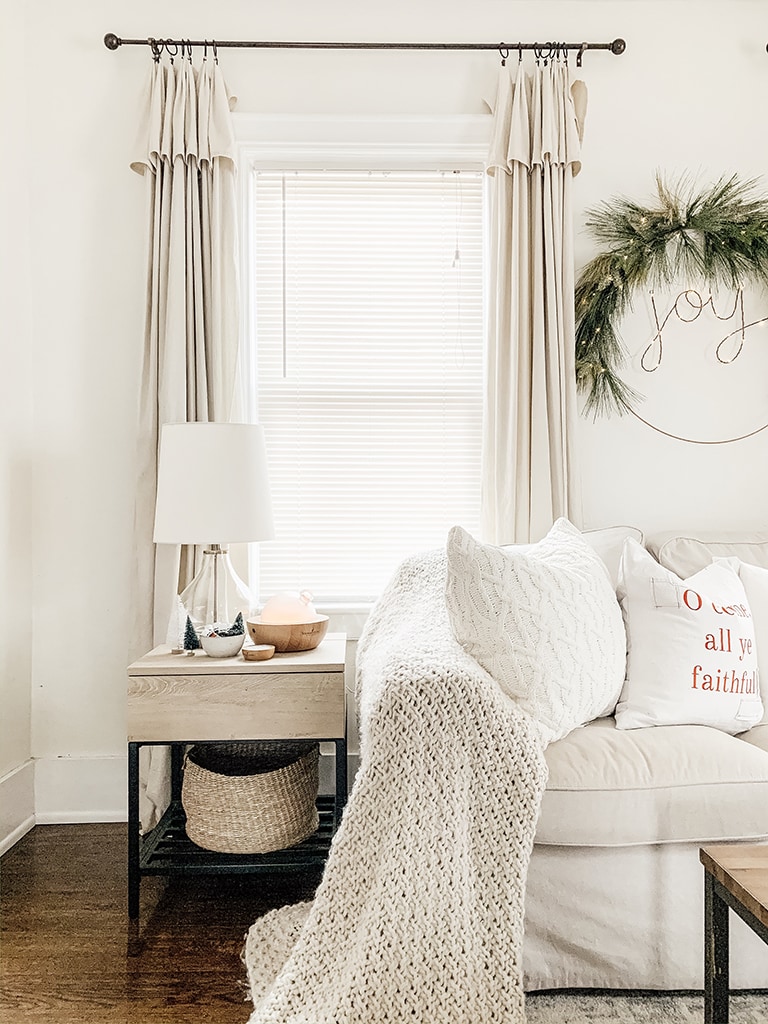 On my end table, I featured a variety of bottle brush trees and my favorite diffuser filled with Christmas Spirit essential oil. It makes my whole house smell like a Christmas wonderland. You can read more about my love for essential oils here. I also used my favorite throw blanket ever on this sofa for an extra layer of texture.
I always put a small Christmas tree in this corner. This year I decorated it with big white yarn, wood bead garland and my favorite string of flame-less candle Christmas lights. Very simple but so cozy.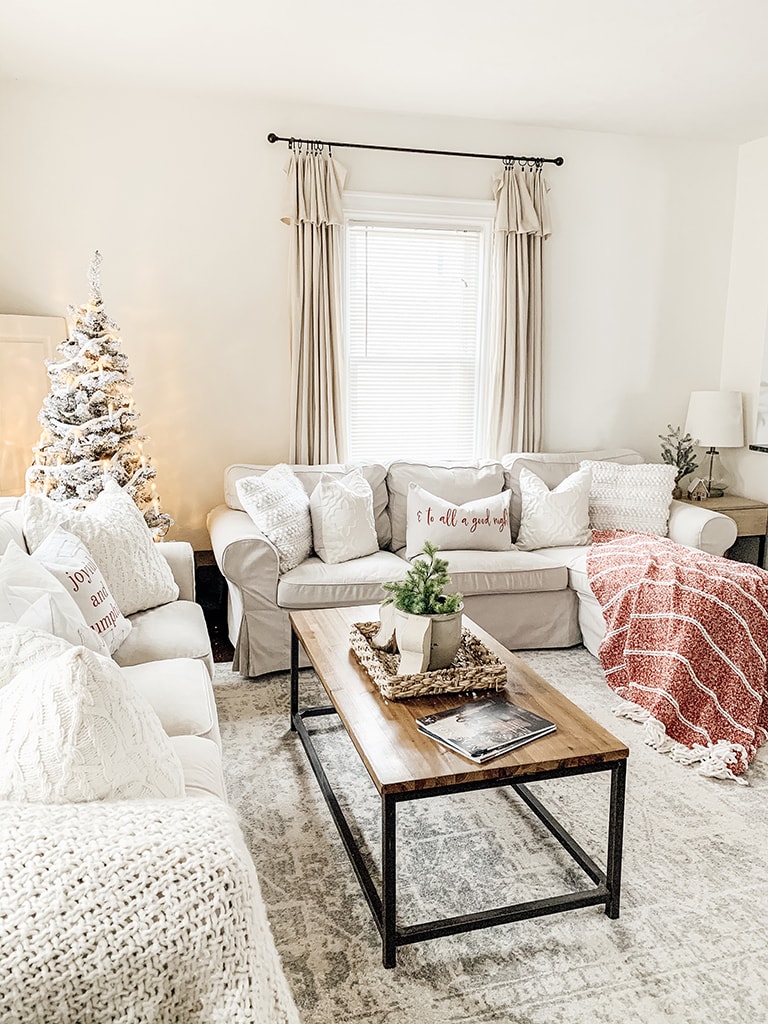 You can shop our Christmas Living Room by clicking the links below!
Lit LED Wire Christmas Wreath JOY
Chunky Knit Oversize Square Throw Pillow Cream
O come all ye faithful, set of two Use code MICHEALADIANE for 10% off
Chenille Pillows Use code MICHEALADIANE for 10% off
& to all a good night Pillows Use code MICHEALADIANE for 10% off
Flameless Christmas Candle String Lights
Rachel Area Rug use coupon code MDD55 for 55% off
Related: If you are looking for more information about our curtains I have a full tutorial here.
Cozy Christmas Dining Room
Up next is our dining room. This is my favorite room to decorate because it features our antique mantel and it is always so fun to style. The theme for this room this year is wood, whites and greens. Very classic and my favorite combination for Christmas.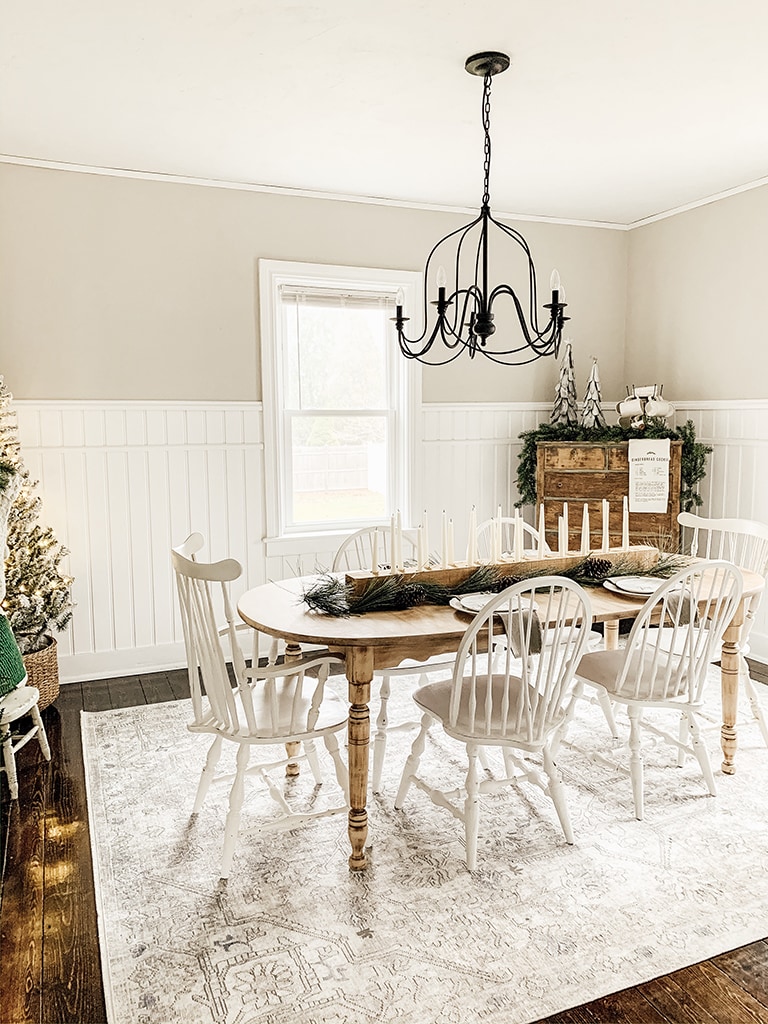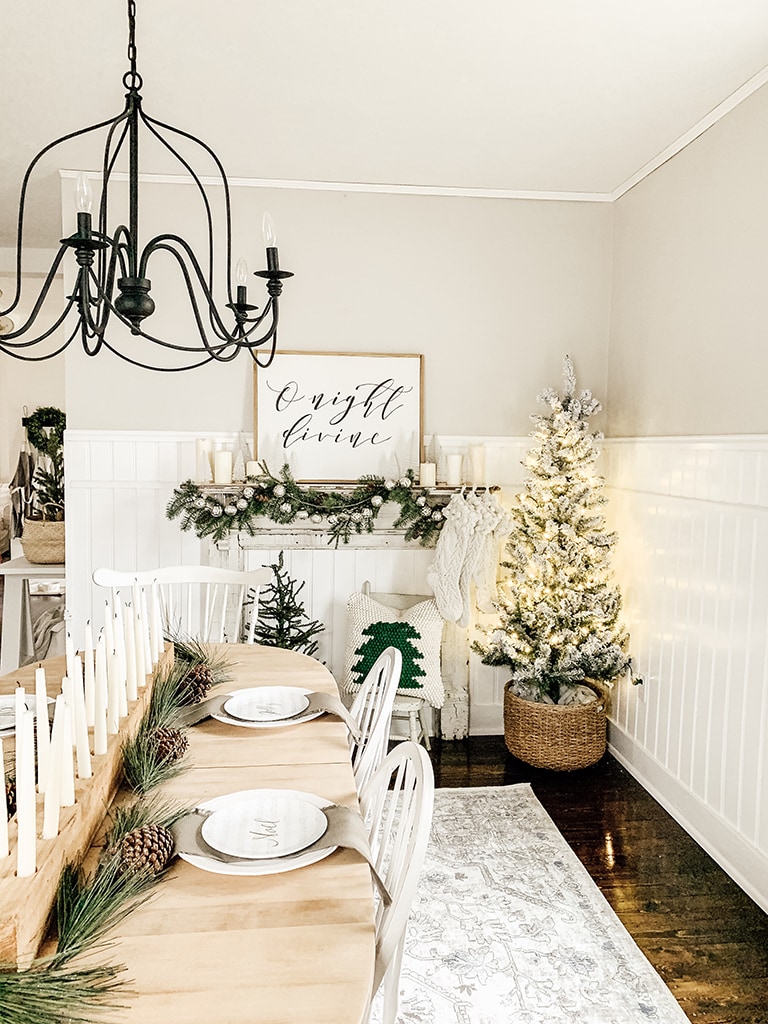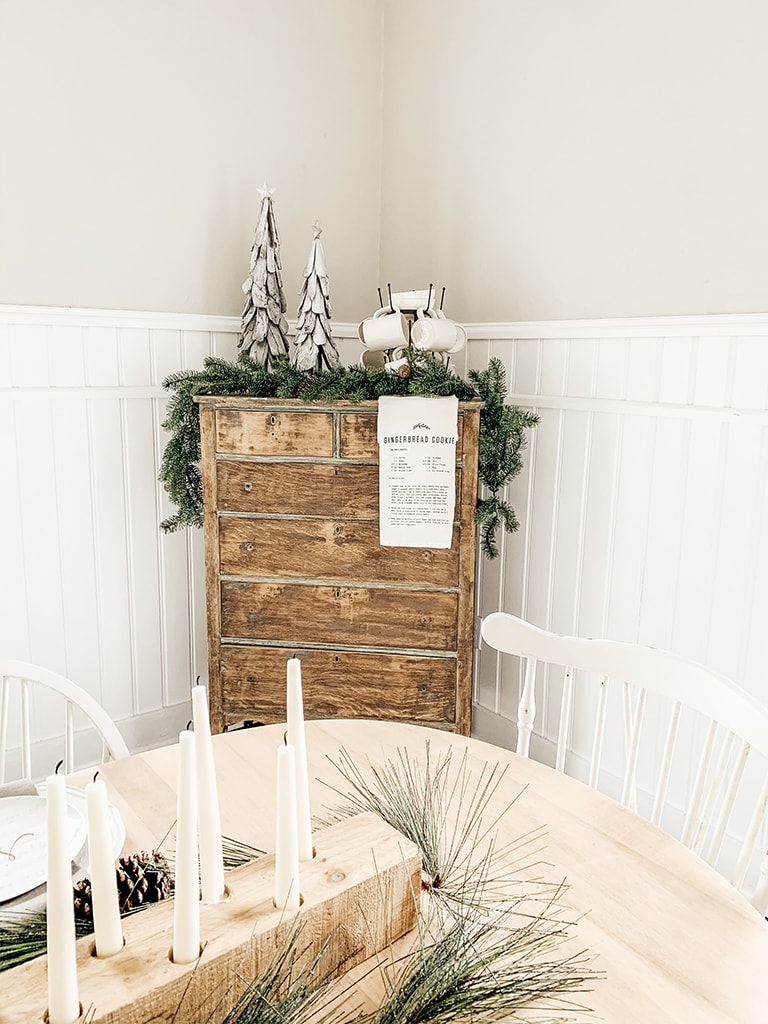 One of the new things we did this year was move our vintage dresser to this room. I have to say that I am loving it in its new spot. I found this adorable gingerbread cookie flour sack from target and then set up a little coffee/ hot cocoa station on top.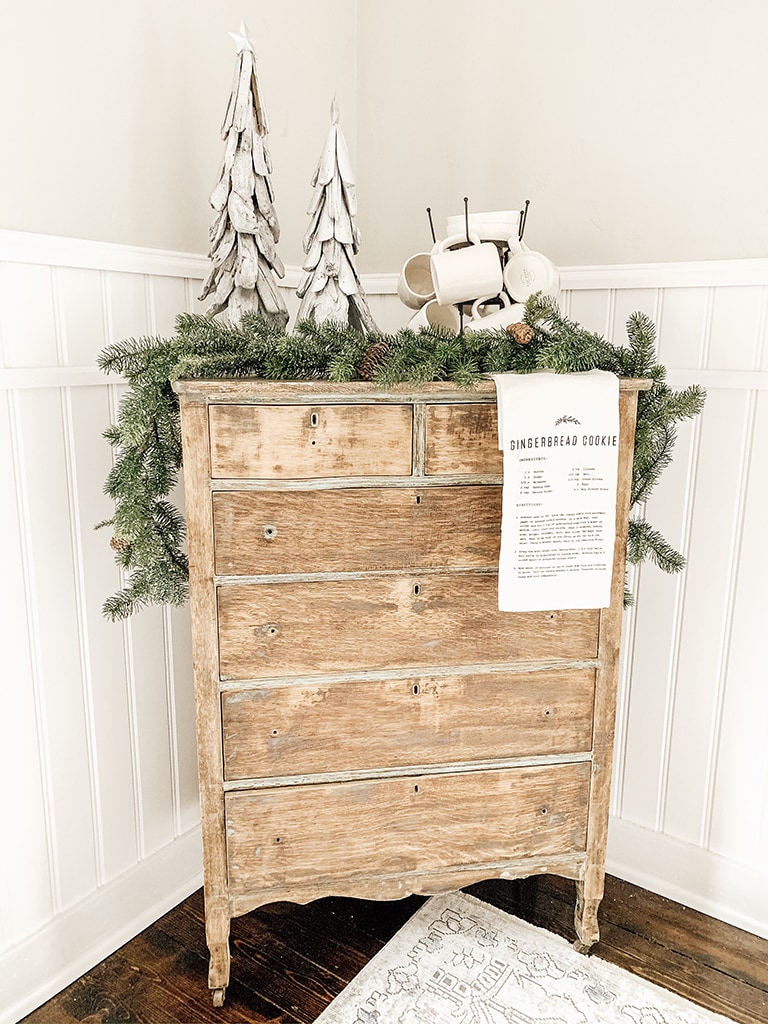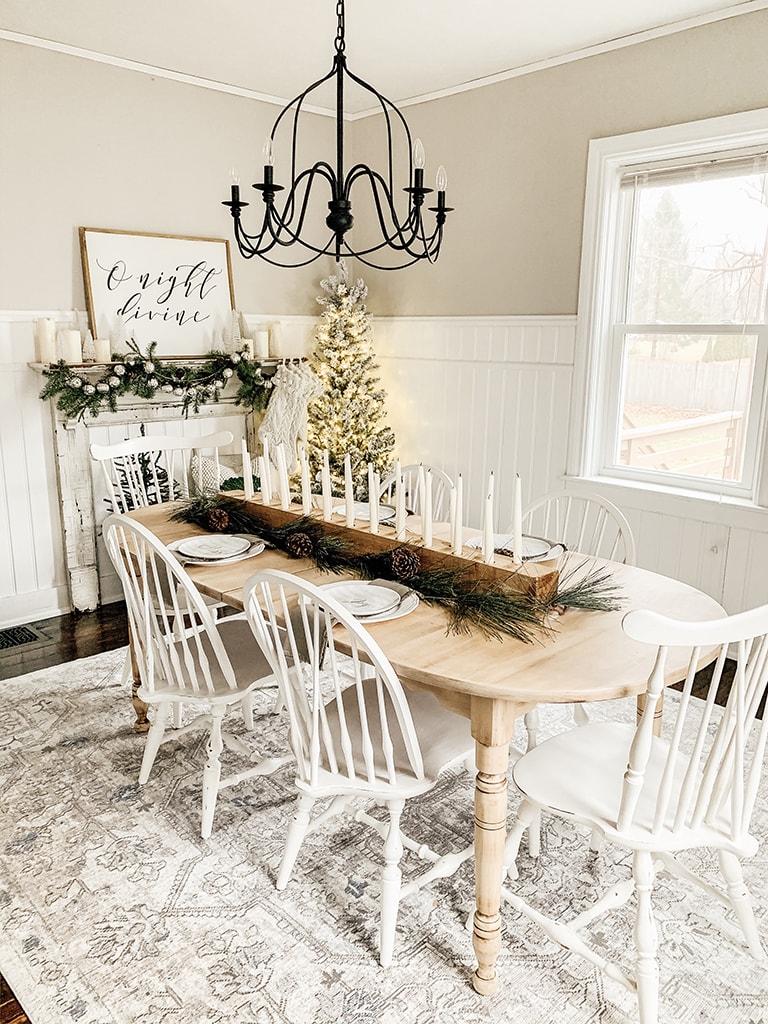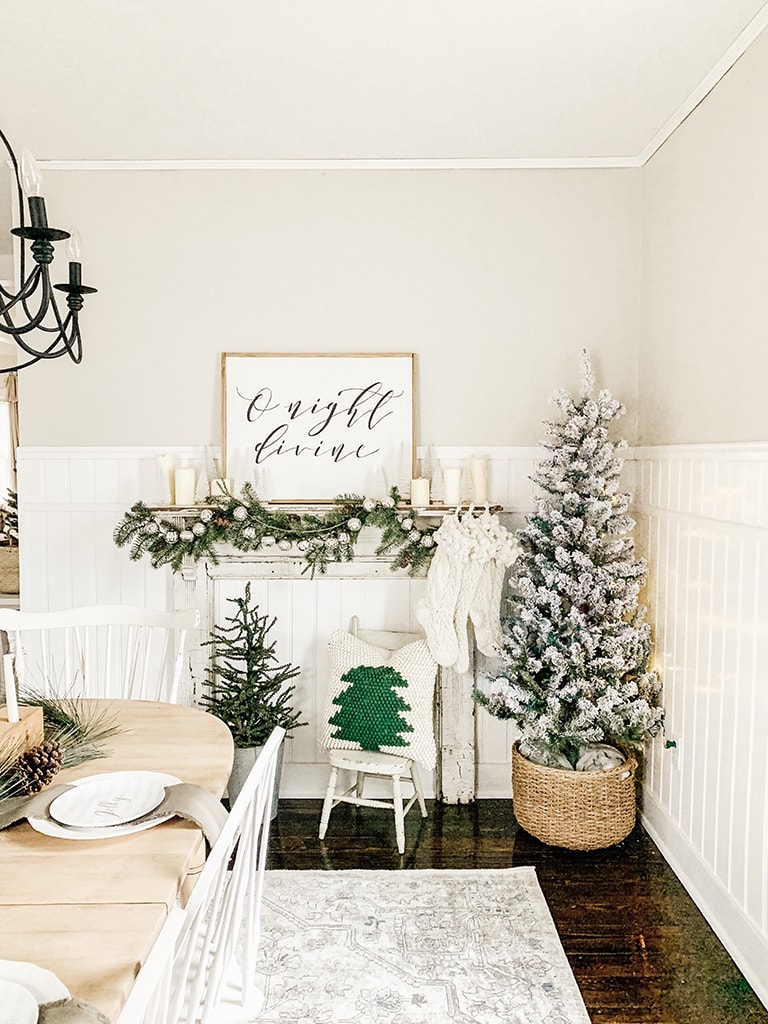 This year for the mantel I featured this "O Night Divine" sign as the focal point. And then layered pillar candles and white bottle brush trees. For the front of the mantel I used a layer of spruce garland.
Then added a layer of this beautiful antique mercury glass ornament garland. This is hands down my favorite new purchase this year. I also layered my favorite cozy knit stockings.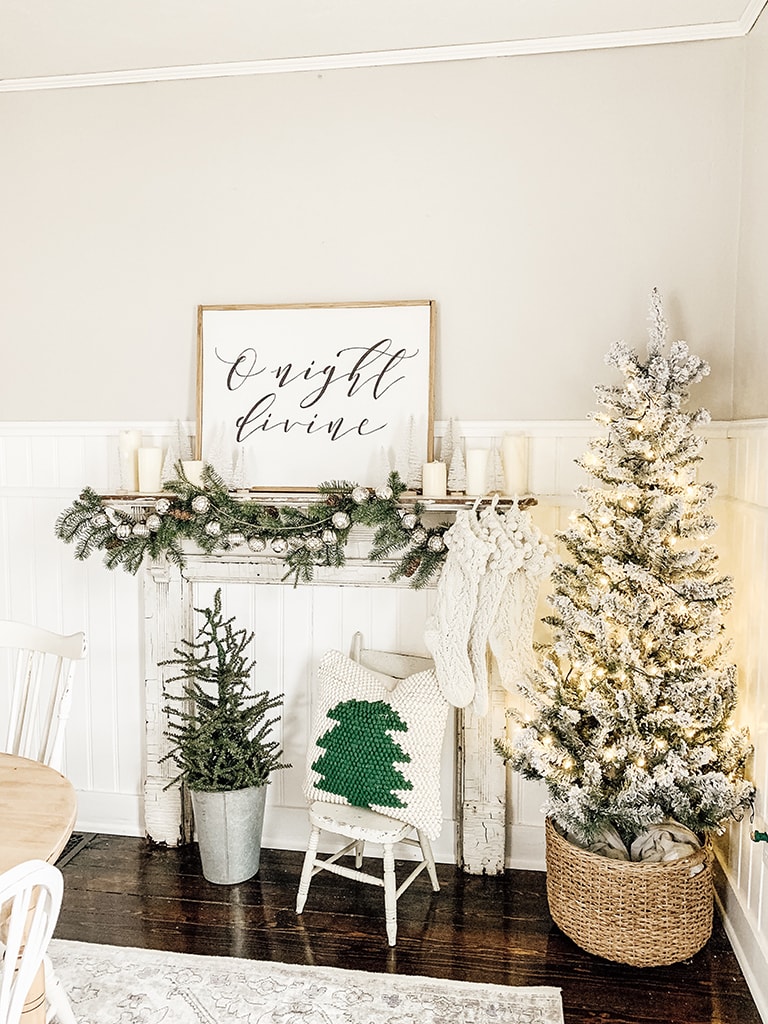 Below the mantel, I featured this beautiful Christmas tree loop throw pillow on an antique chair. A small three-foot tree in an antique metal sap bucket and a large tree with just warm white lights.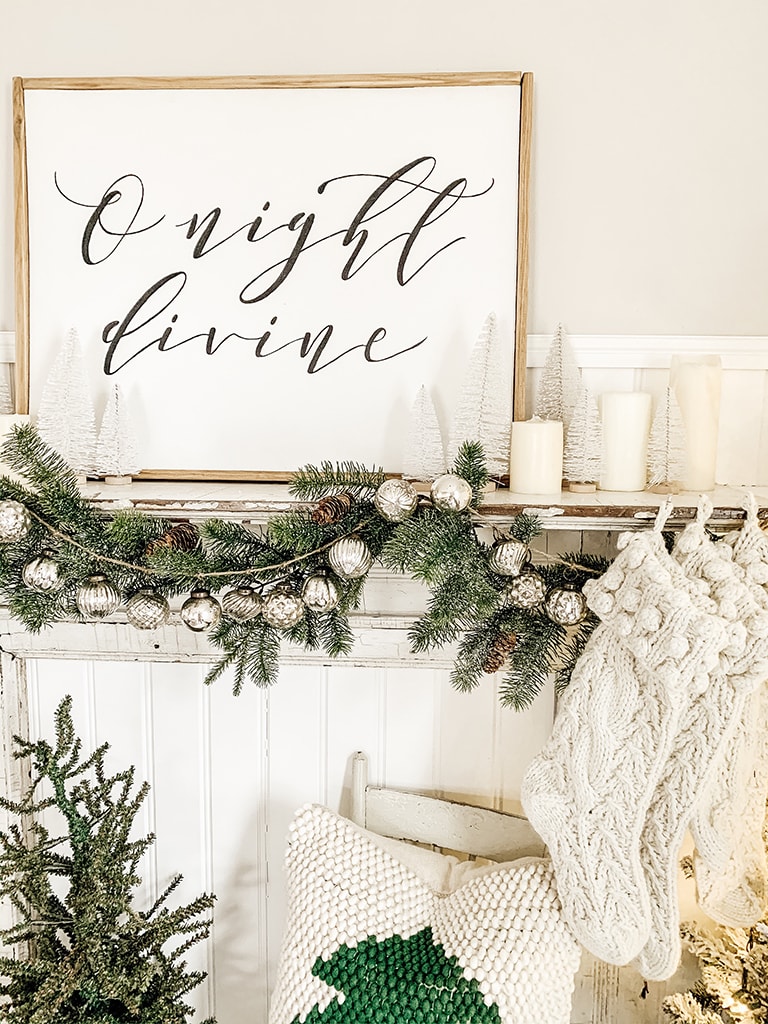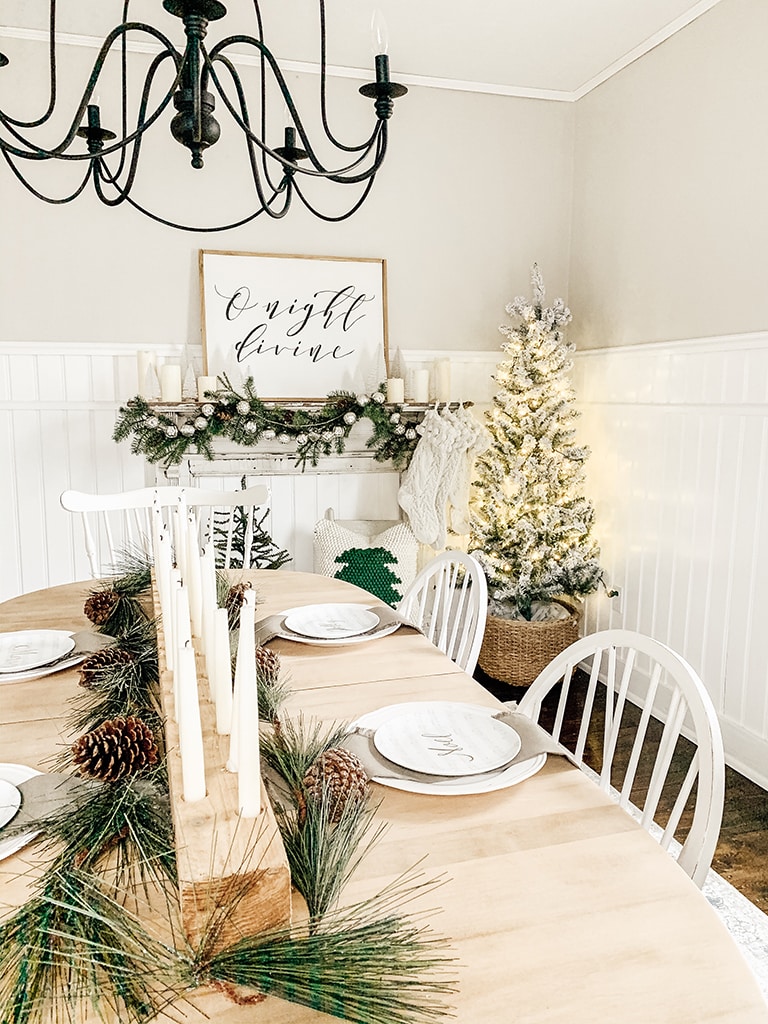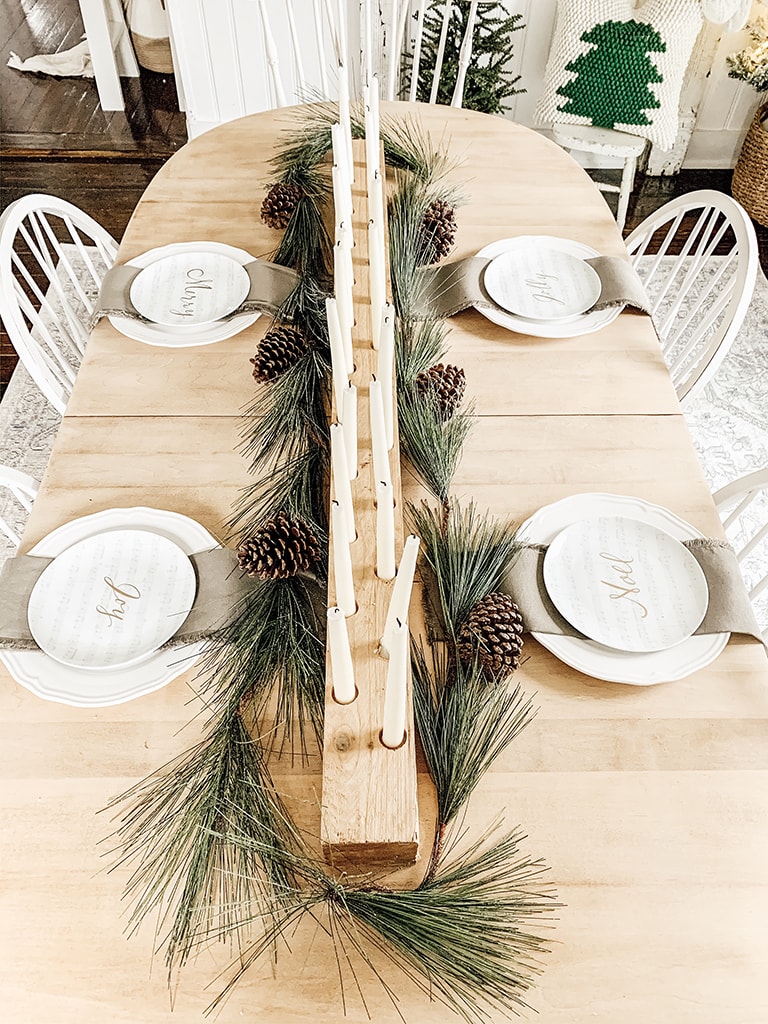 We host Christmas breakfast every year and I wanted to keep the table fairly simple. I used our favorite white scalloped dinner plates. Then I placed the set of Christmas plates I found at Goodwill last year on top. I paired it with the simple grey napkin.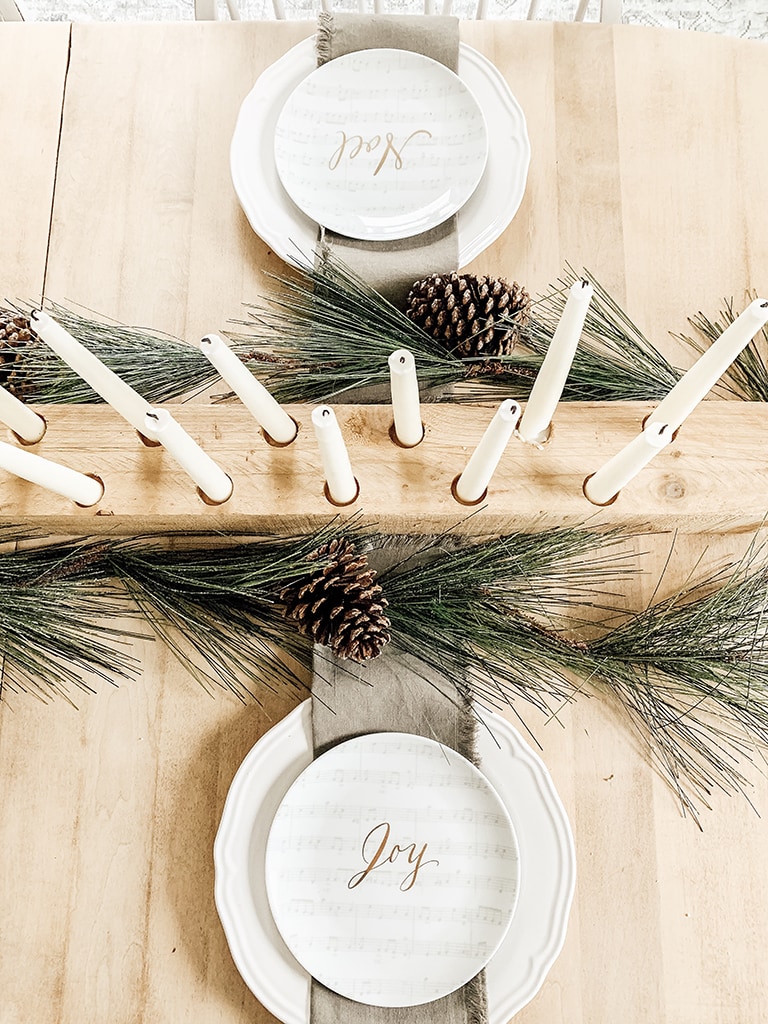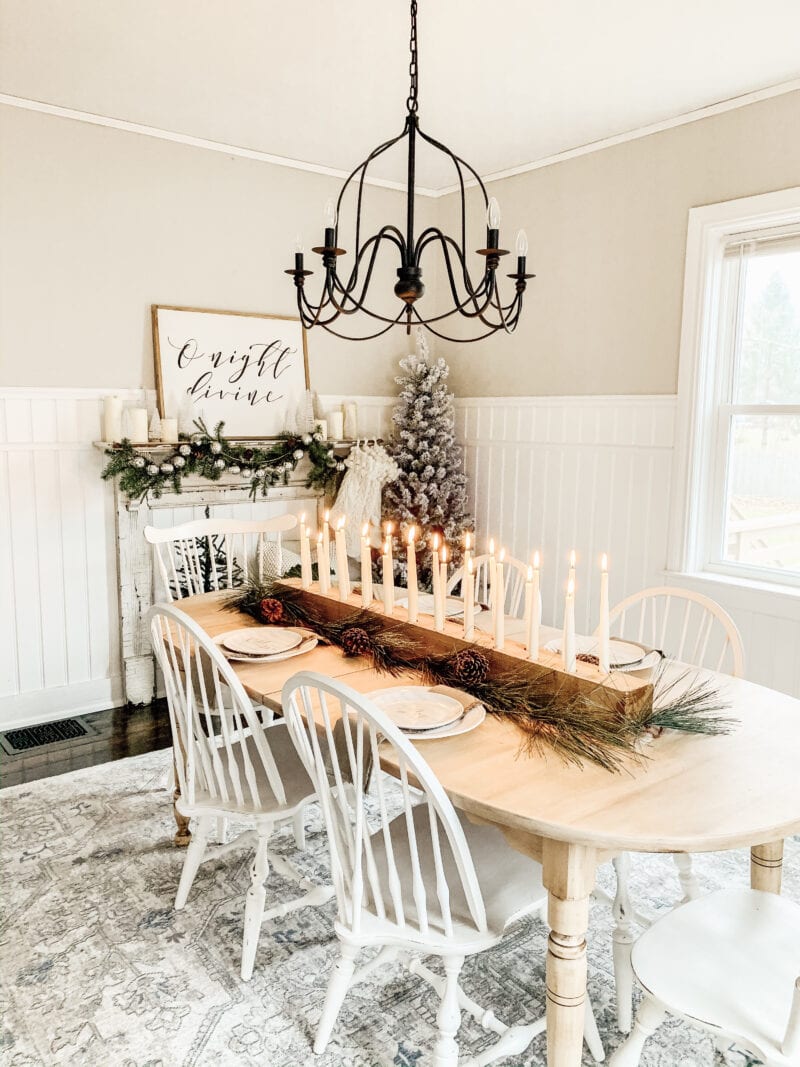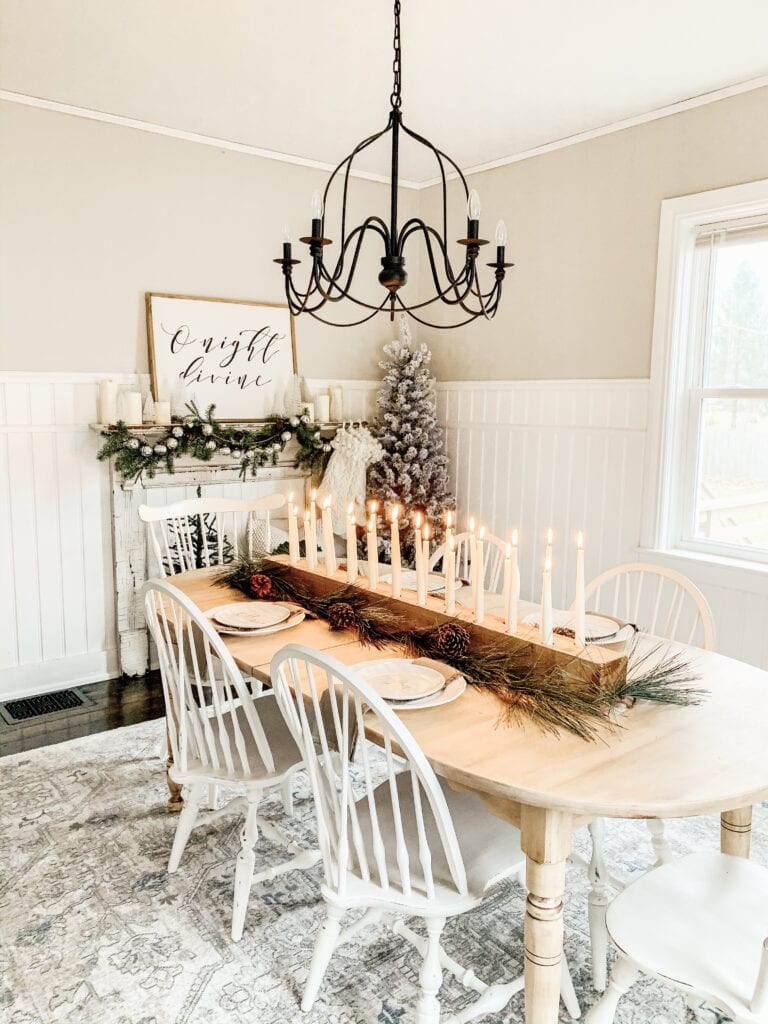 The star of the show in this dining room is the DIY wood candle holder. My husband built this for our table and we followed this DIY Candlestick Holder tutorial by Liz Marie Blog. One thing that we did different was to add nails to the holes so that the candles have something to attached too.
I love how it came out and it was such a simple DIY for a big statement piece. I can't get over how beautiful it looks all lit up!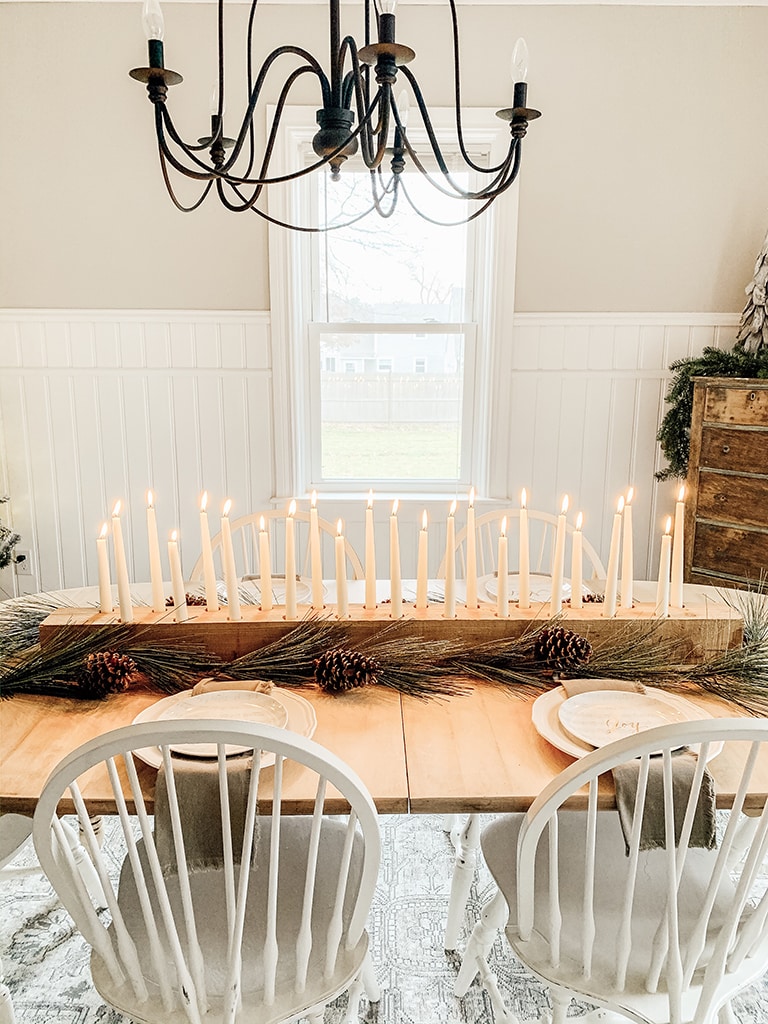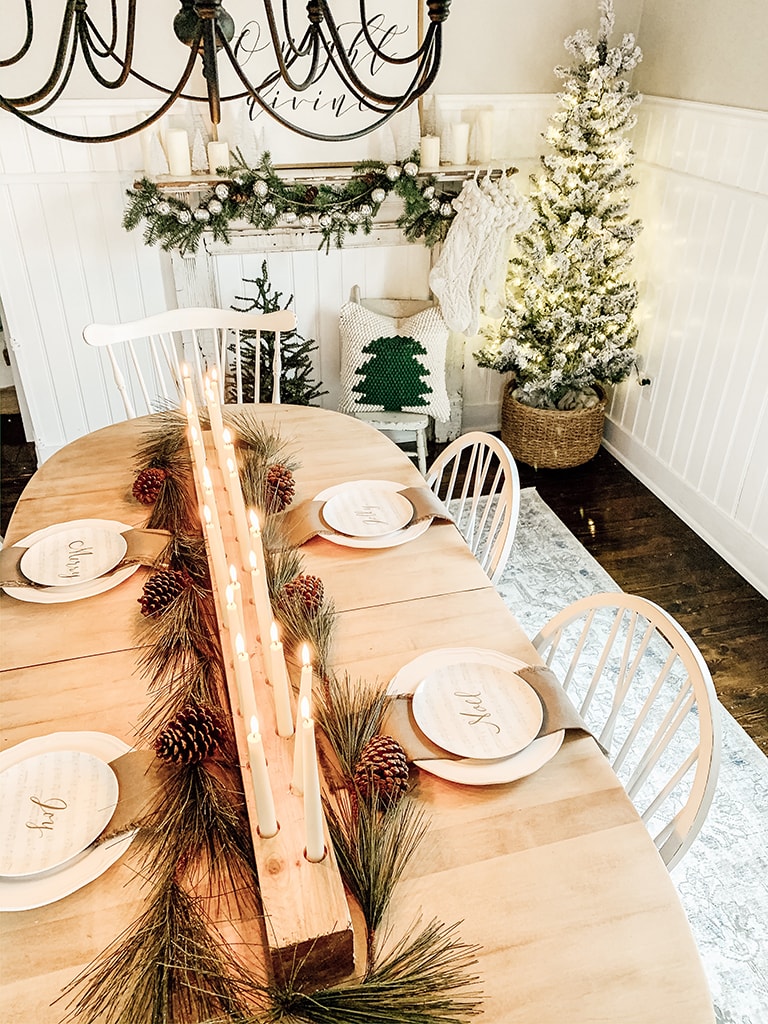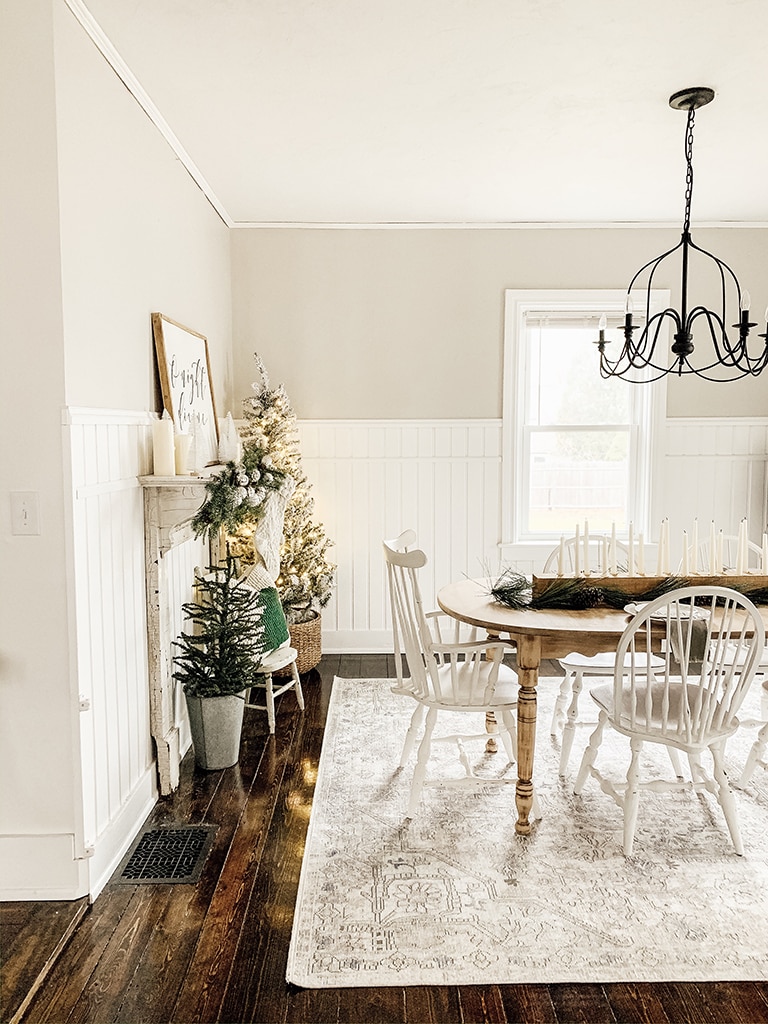 You can shop our Christmas Dining Room by clicking the links below!
Nourison Home For The Holiday Christmas Tree Loops Decorative Throw Pillow
Antique Mercury Glass Ornamental Garland
Stidham Area Rug use code MDD55 for 55% off
Cozy Christmas Den
Last but not least my cozy Christmas den. The theme for this room is based on these gorgeous Christmas pillows gifted to me by With Lavender and Grace.
These Green and Black Buffalo Pillow inspired me to do black, green and white in this room. This is hands down the coziest room in my house and my favorite place to curl up and read a book.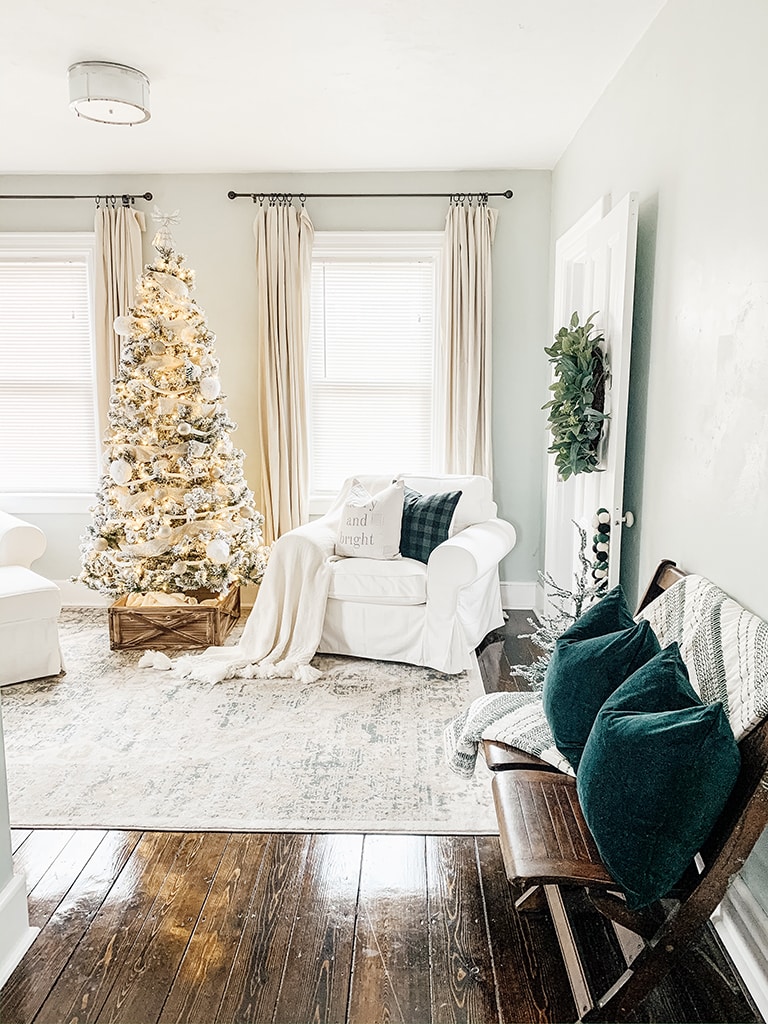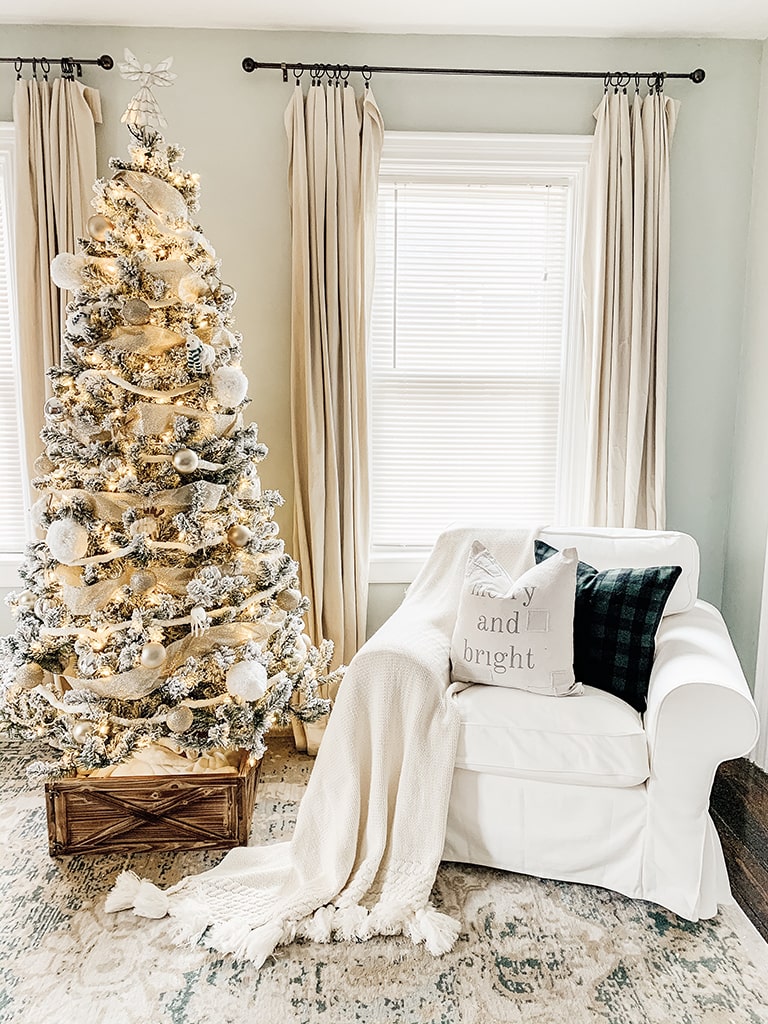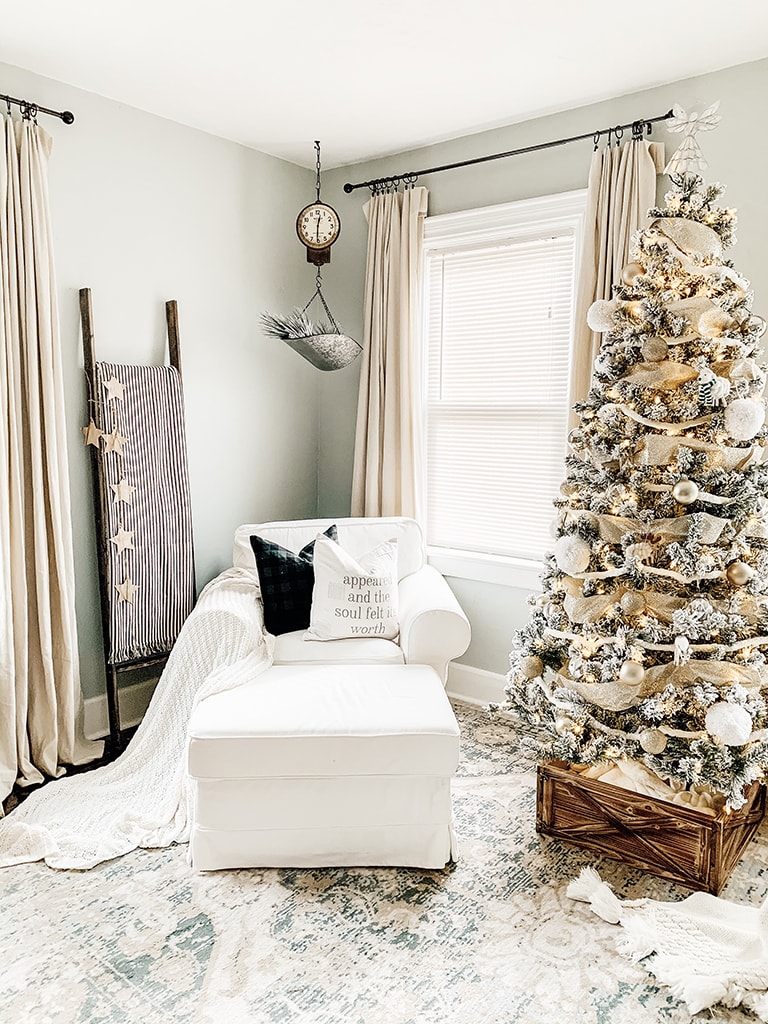 This is also the room where we have a big tree. We usually do a real tree here, but this year we have this stunning 7 ft Prince Flock Pre-lit King of Christmas tree. You can read all about it here.
For decorations, I used big white yarn and a wired gold glitter ribbon. Then I layered in a variety of gold and champagne ornaments. And a collection of cozy white yarn ornaments.
Instead of a tree skirt, we used this beautiful wood tree box. It is something different and I am really loving the contrast of the wood in this room.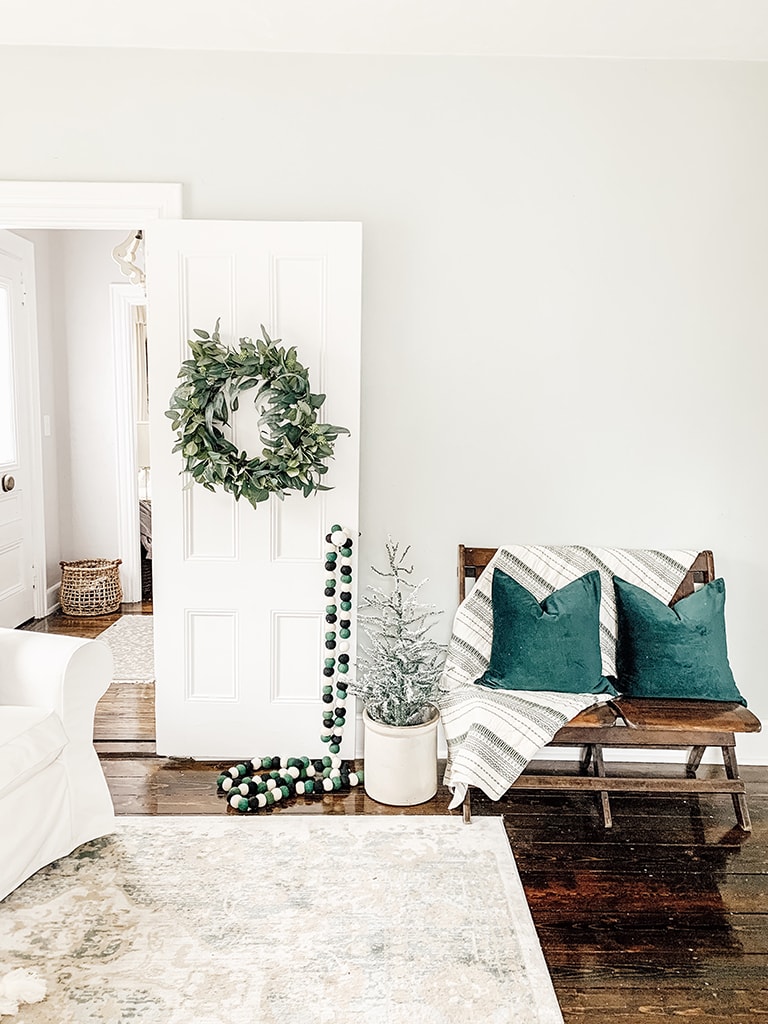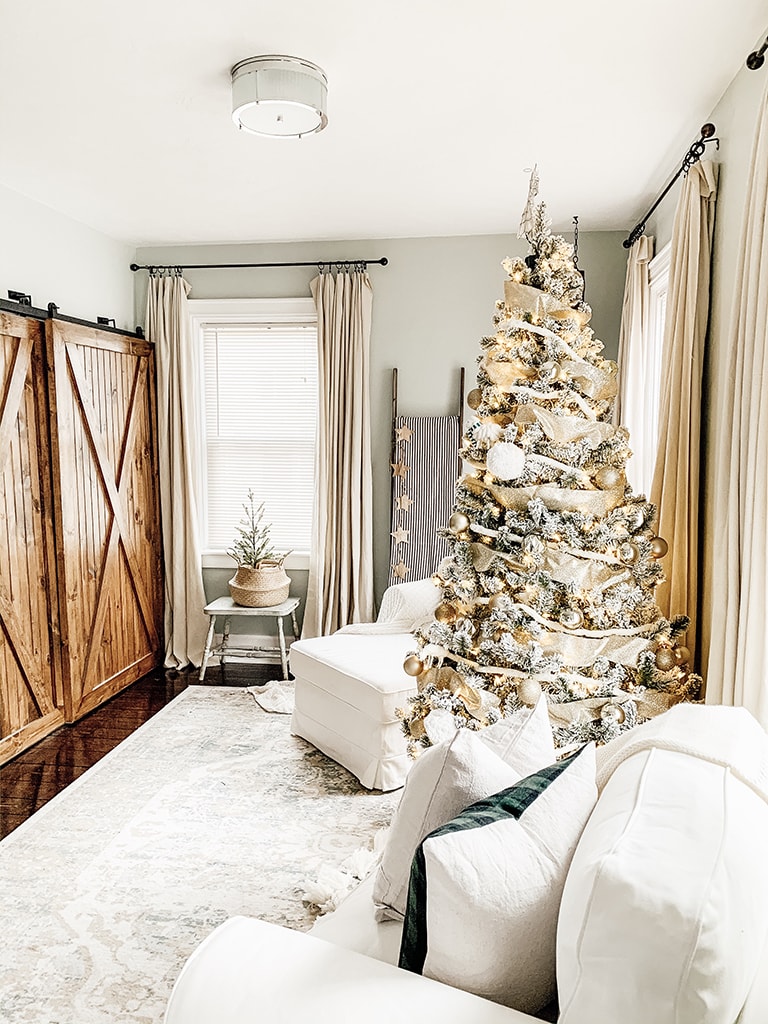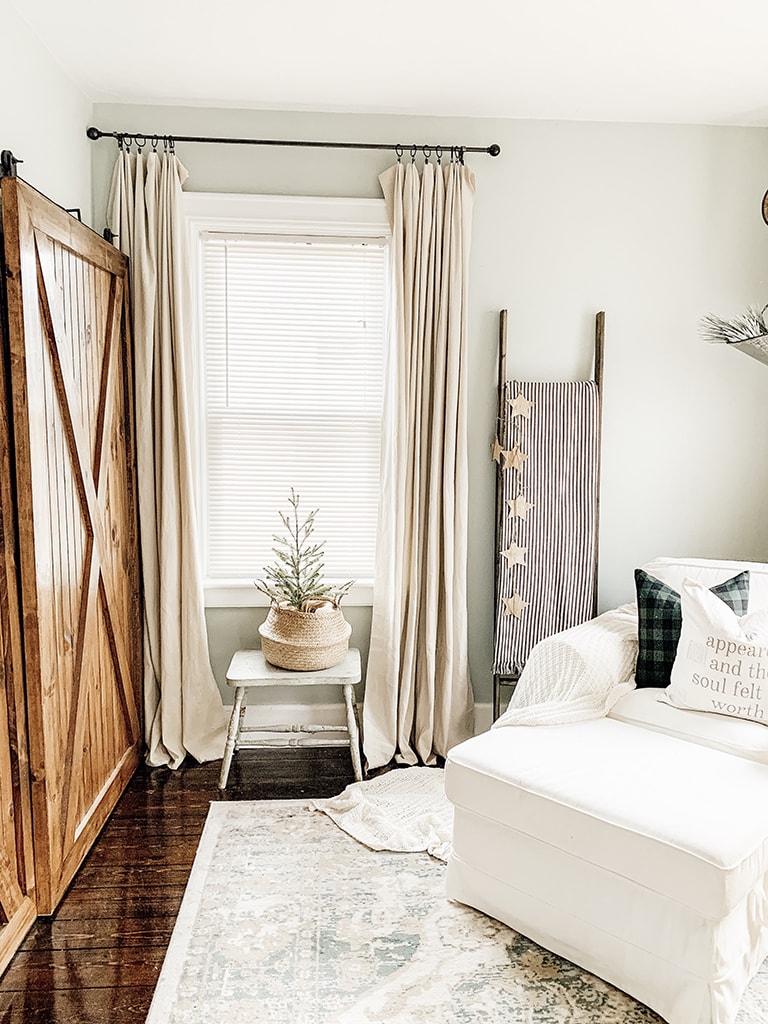 One of my favorite styling tips this year is to put trees in woven baskets. They are the perfect vessel and my favorite basket to use is this folding basket. They are the perfect size for tabletop trees.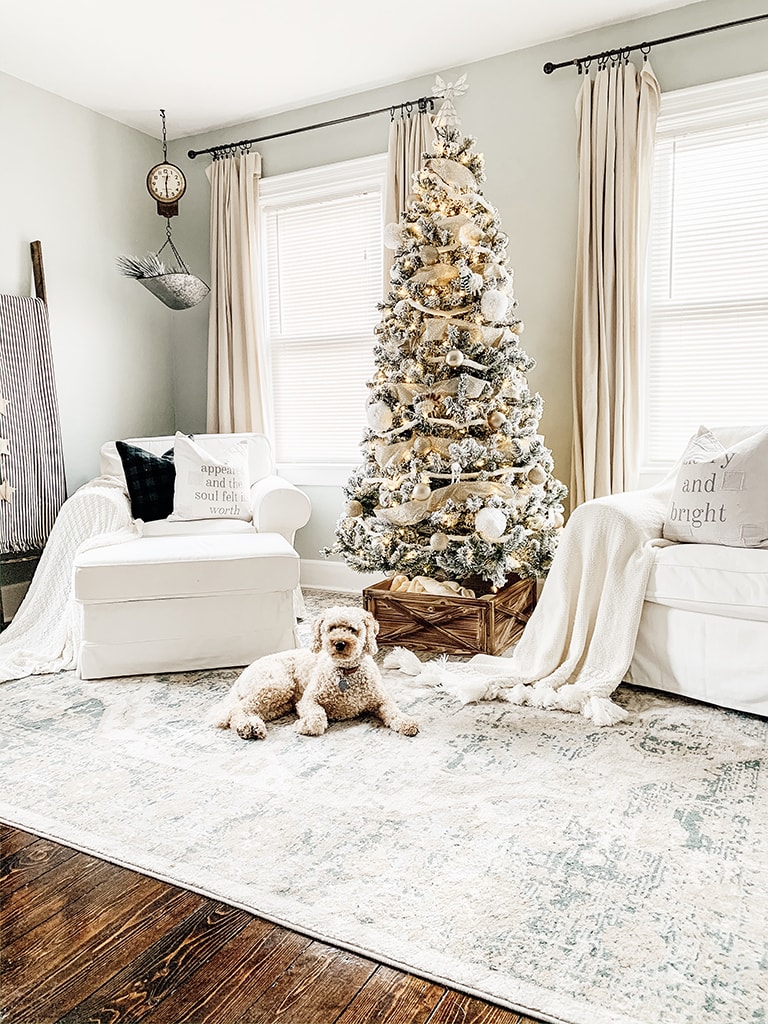 You can shop our Christmas Den by clicking the links below!
King of Christmas 7 ft Prince Flock Pre-lit tree
He appeared and the soul felt… Pillow Use coupon code MICHEALADIANE for 10% off
Merry and Bright Pillow Use coupon code MICHEALADIANE for 10% off
Green and Black Buffalo Pillow Use coupon code MICHEALADIANE for 10% off
There you have it! Our cozy Christmas home tour. I hope that it inspired you and gave you some ideas for Christmas decor in your own home. I will be featuring two more spaces in our home in the next couple of weeks, so be on the lookout for even more inspiration. As always thank you for stopping by the blog.
What to Read Next:
Neutral Christmas Decor Shopping Guide
10 of the Best Flocked Christmas Trees
Rustic Christmas Antique Mantel