This post is a step-by-step guide on how to style a console table.
I will be sharing inspiration on how your console table can change throughout the seasons. First up is some Fall inspiration.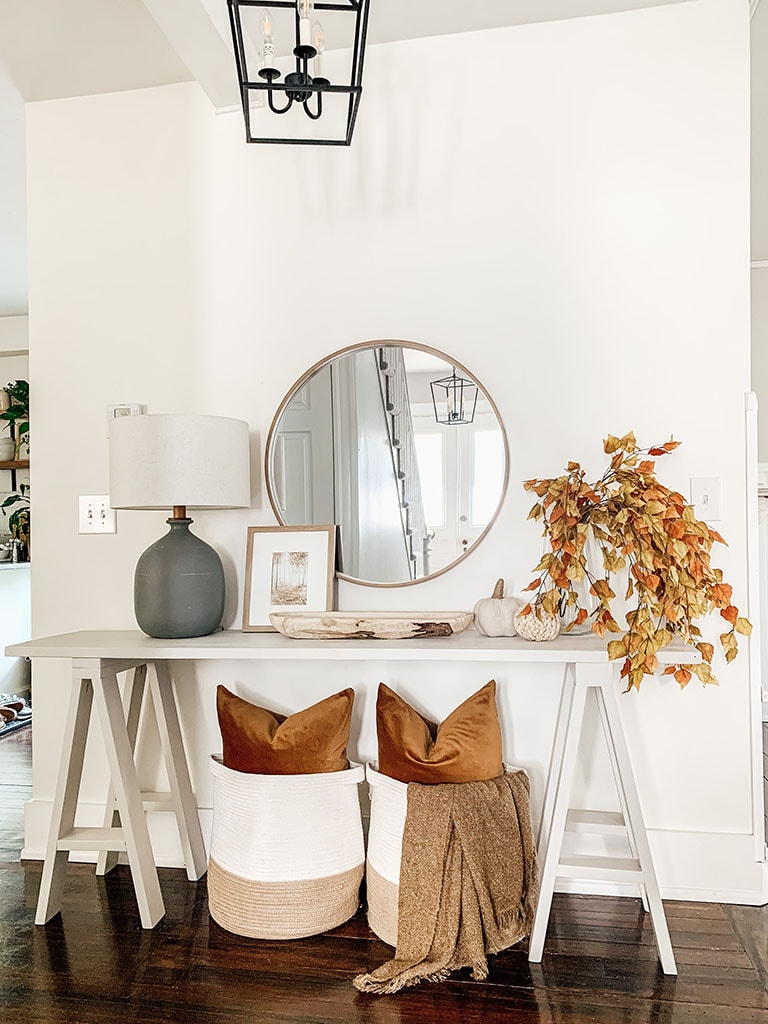 A console table is a perfect solution to a blank wall or in the entryway of your home. Many times it is the first thing you see upon entering your house. Creating a well-styled console table can set the mood for the rest of your home. It is all about creating a moment and it doesn't have to be complicated. Follow this guide and you will be on your way to creating a console table styled so well it looks like you hired a designer 😉
Start with a Focal Point
I always start with the center of the wall right above the console table. This is going to be your main focal point and should be the largest decor piece. For this, you can use a large piece of art or a large mirror. Art will allow you to bring personality to your space and set the tone for the rest of the decor. A mirror is perfect for reflecting light into a smaller space. It is also great for that one last mirror check before heading out the door.
You can mount both of these to the wall or lean depending on the piece. If you are mounting be sure that the bottom of the art or mirror is approx. 6-8 inches above the console table.
Anchor the Sides
Next up is the right and left of your focal point. For this, I always choose the same two items because they are the perfect console accessories, a table lamp, and some form of greenery. If you have a small console table and can only choose one of these I would choose a table lamp. You can always add a smaller floral on a stack of books.
Lighting– First up is lighting. On one side of your focal point, you can add a table lamp (even if you don't plug it in). This is going to give you visual height.
Greenery/ Florals– On the other side you can add some greenery. I recommend a large vase with floral stems or a potted plant. This is a great opportunity to add seasonal stems depending on the time of year. We are looking for balance so be sure to select something that is a similar scale to your table lamp.
Ground the Bottom
This is an area many people forget but it is so important for elevating your console table. Some console tables have a shelf at the bottom but even if yours doesn't be sure to style this area. Baskets are the perfect decor item to use. They can double as storage, add texture, and will help ground your console table. I like to add throw pillows for
additional
color and texture.
Ottomans are another great option and perfect for sitting to put shoes on your way out the door. After you can tuck them right back under your table.
The rule of thumb when selecting something to go under your console table is to make sure it fills the space. There should only be a few inches between the bottom of the console table and the item.
Don't Forget the Details
Last but not least, once you have all the main components it's time to sprinkle in the details.
So far you have a focal point, you have anchored your side and grounded your bottom now it's time to think about the small details. This is where we fill up the middle of your console table.
My favorite accessories for this are trays, bowls, small art framed, stacks of books, wood beads, candles, sculptural decor pieces, and small florals/greens. You can use a combination of items but the rule of thumb is to keep groups of three. For example, on the side where you have your table lamp, you can add a stack of books with a sculptural piece on top. This would be three items group together.
The goal is to layer but not to overcrowd, in the end, you should have a balanced well-styled console table.
Below are examples of console tables throughout the seasons. I will update this post with more inspiration over time. Today I am sharing our Fall console table.
Fall Inspired Console Table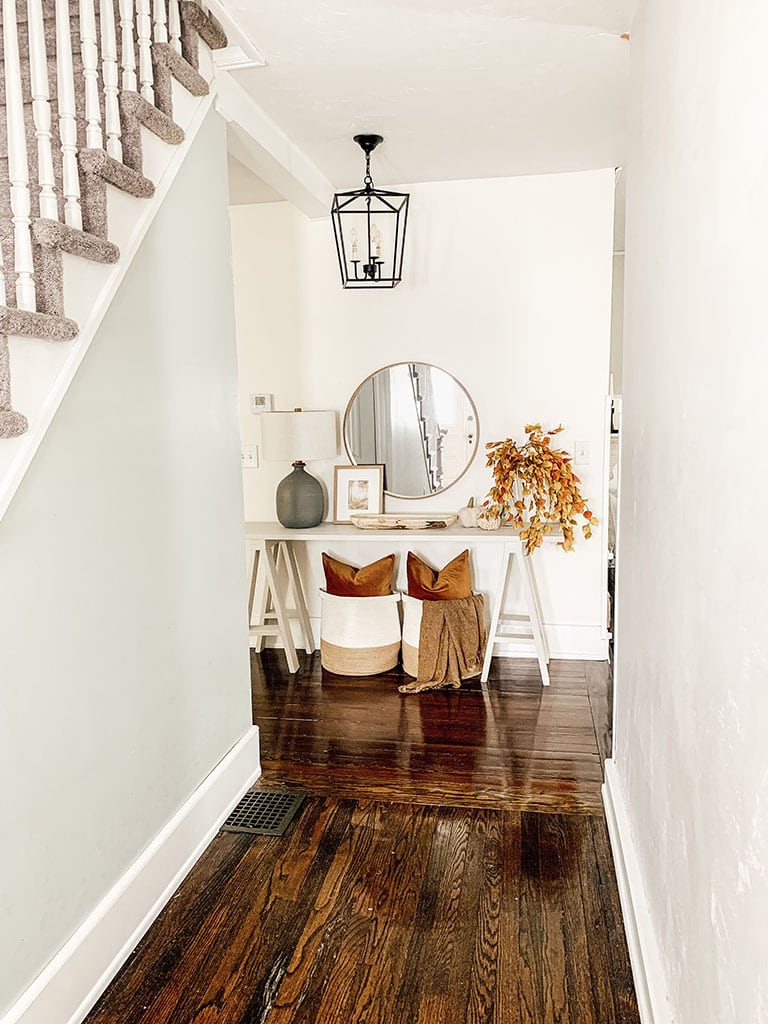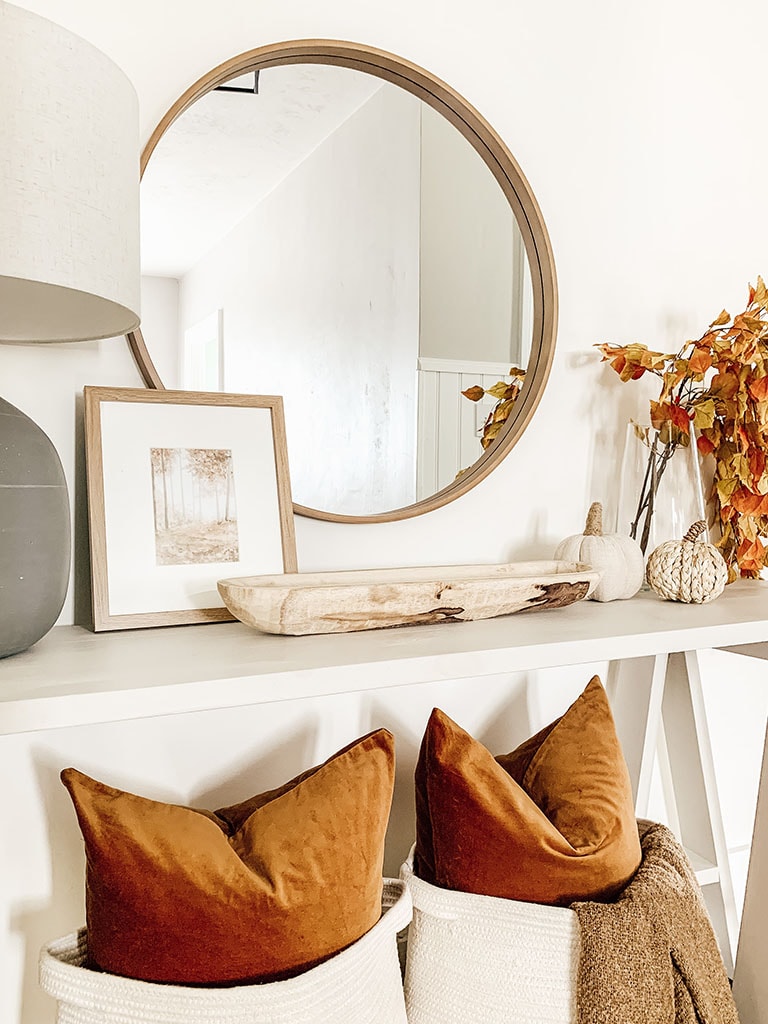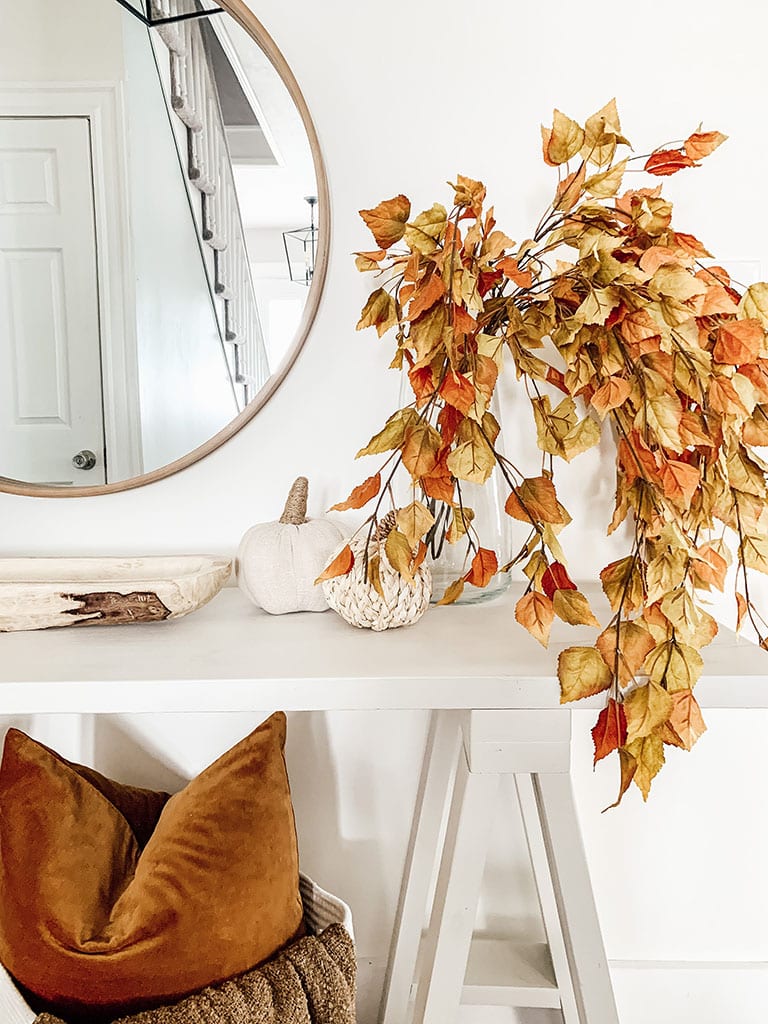 You can shop this Fall Inspired Console Table by clicking the images or links below!
" Affiliate links provided for your convenience, please read my disclosure for more information."
Console Table– Here is the tutorial to build the console table.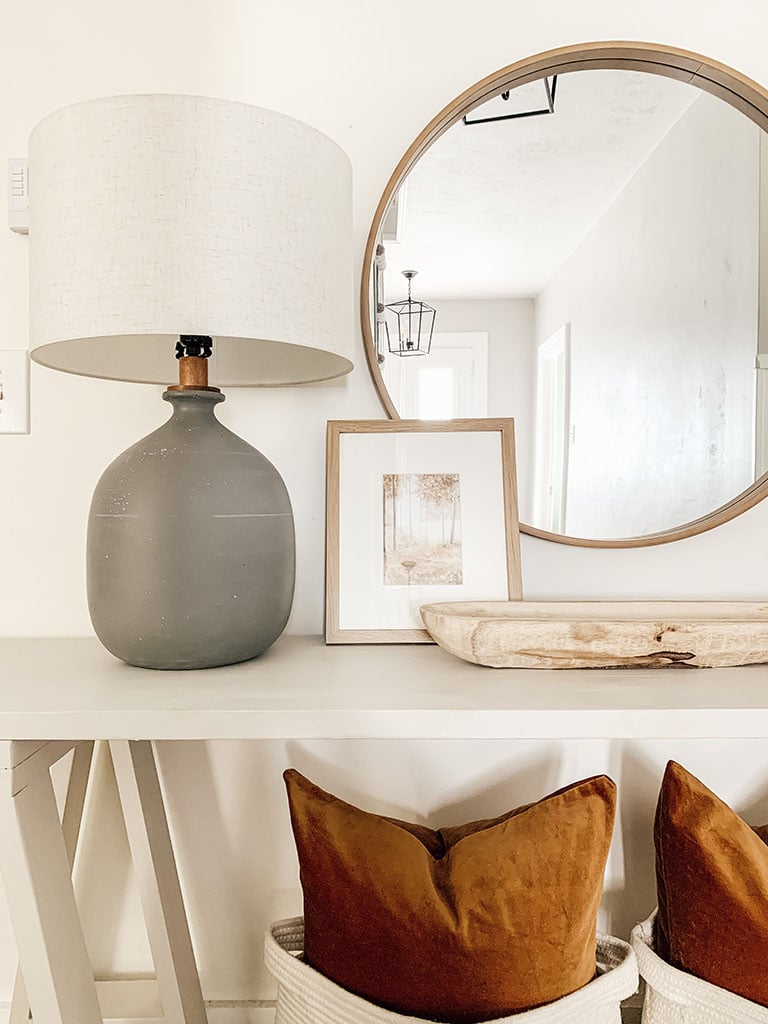 What to Read Next:
Fall Decorating Ideas- How to Add Fall to Your Home
Fall Living Room Tour- How to add Fall Color
Want to save this for later? Post this How to Style a Console Table to your favorite Pinterest Board!