I am sharing a beautiful and simple lemon tablescape. I hope this gives you inspiration for your outdoor dining this summer!
All of these finds are from Walmart. They have the best affordable summer dining decor.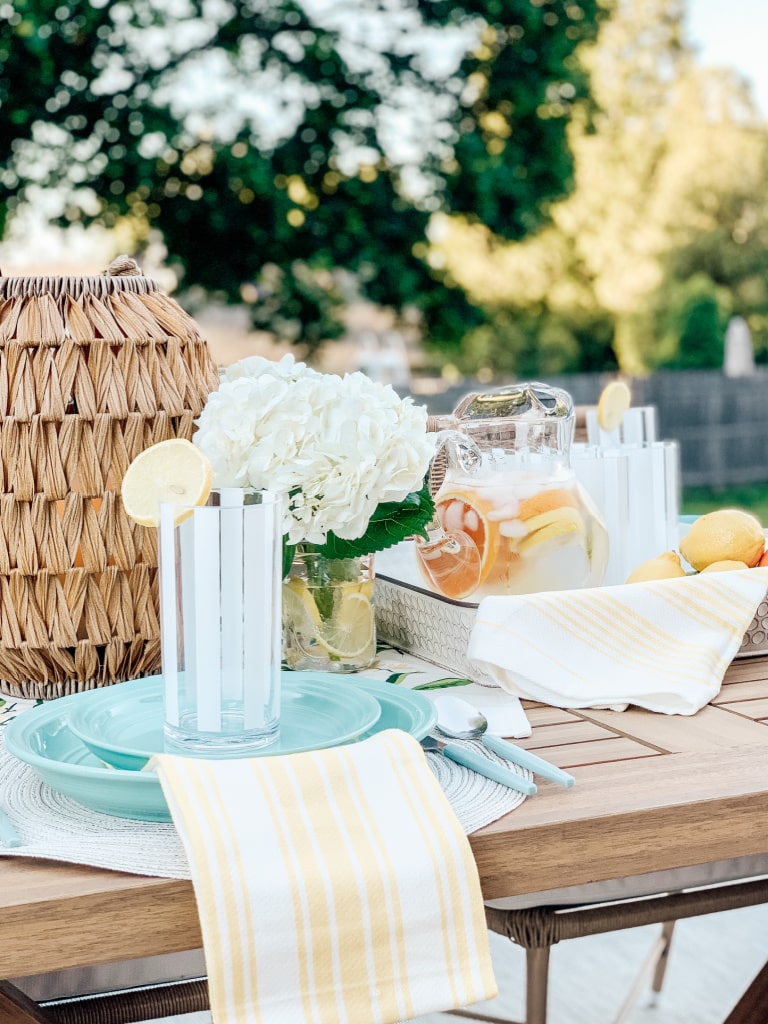 Today I am bringing you a fresh easy summer tablescape. There is nothing better than outdoor dining during the summer. Especially if you live in an area where winters are long. This fun lemon-inspired tablescape makes it even better. Summer reminds me of all things citrus and that is what inspired this look.
I had so much fun styling this space. I want to share with you the steps I took to create this pretty but simple tablescape. Summer entertaining should be fun and easy! These steps can be used for any summer entertaining theme. They will make your tablescape look like you hired a professional!
If you are looking to recreate this look I have listed the sources along the way and at the end of this post. Enjoy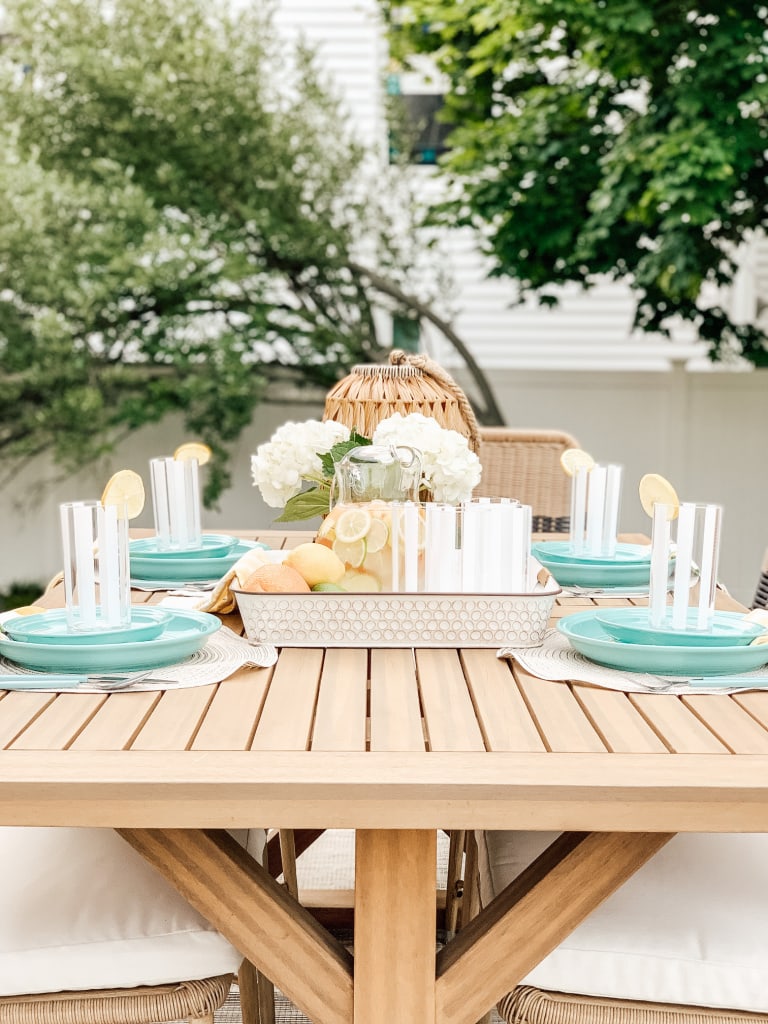 Simple Summer Tablescape Step by Step
" Affiliate links provided for your convenience, please read my disclosure for more information."
Tablescapes are all about layers! Layers are key to making your tablescape look like it came right out of a magazine. For this lemon tablescape, I did just that.
Step One
The first layer you want to start with is a table runner or you can also use kitchen towels that match your theme. For this look, I used this lemon kitchen towel as my first layer.
Step Two
Next up is placemats. This is the first layer in your table setting. Placemats help define each seating area and they add visual interest. This is an opportunity to add texture or color to your table setting. I used these white-braided placemats. They are very inexpensive and add the perfect contrast to our wood farmhouse outdoor table.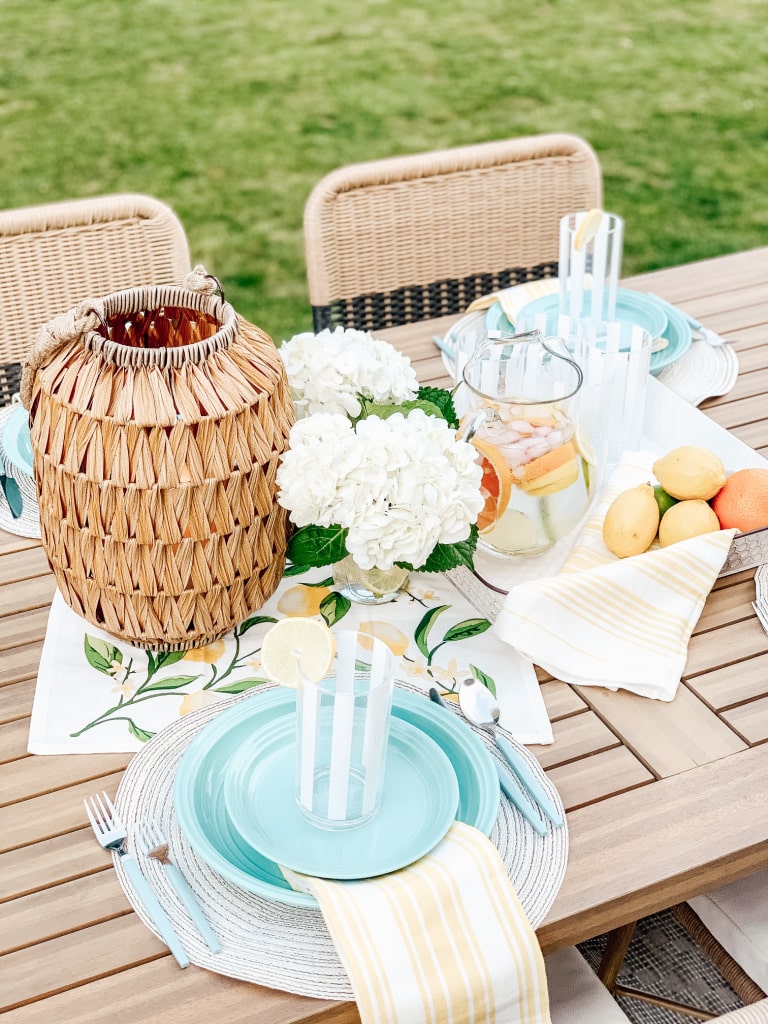 Step Three
After you have your placemats you will want to start assembling your place setting. A place setting will need to include your dinnerware, flatware, drinkware, and a napkin. This is another opportunity to get creative. I went with a pop of color for my dinnerware, using this inexpensive set of aqua dishes. I paired that with matching flatware.
Layering in a napkin or kitchen towel adds color and texture to your tablescape. This is a great opportunity to introduce an element that matches your overall theme. I went with these yellow stripe and lemon kitchen towels at each place setting. These fit in perfectly with my lemon tablescape theme.
For my drinkware, I went with these fun white stripe tumblers. I love the stripe detail that these add. I also included a lemon slice on each one. This is another element that is fun and adds to the layers of your tablescape.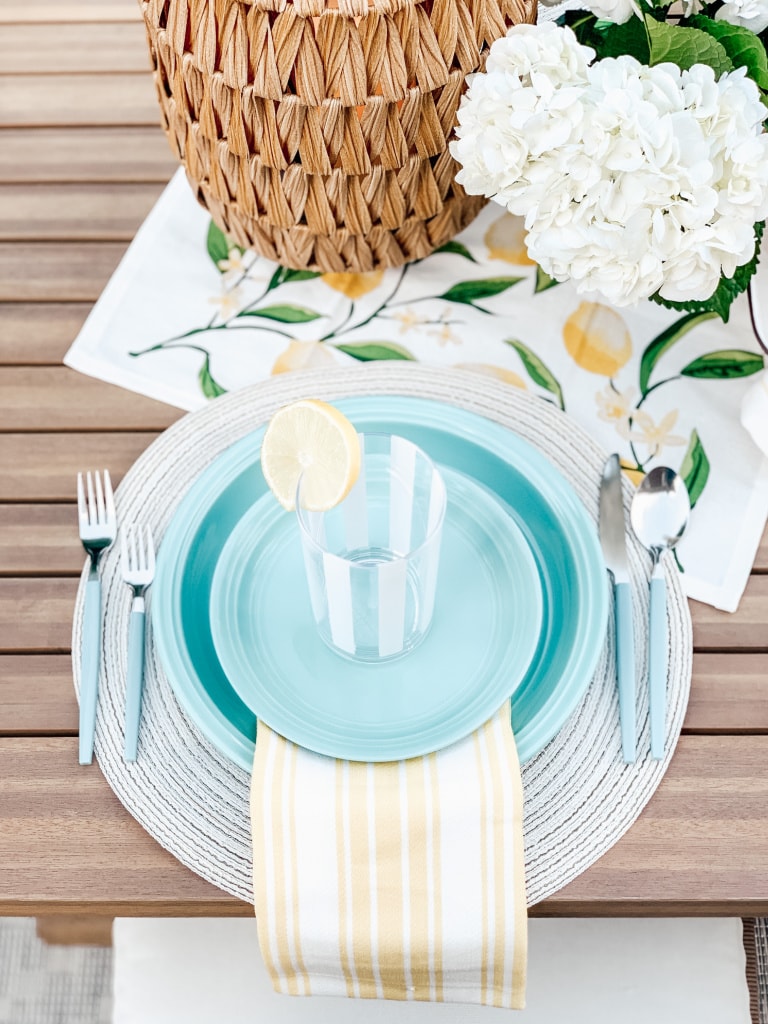 Step Four
The next steps are all about what to do with the center of your table. First up is a serving tray. This is where you can include extra glasses, napkins, snacks, or drinks. For my serving tray, I used a white antique farmhouse-inspired tray. This held extra white stripe tumblers, an extra kitchen towel, and a glass pitcher of citrus-infused ice water. It was delicious I might add.
I also added some fresh citrus. This was more for decoration than anything, but this is where you can add some fun elements that go with your theme.
Step Five
This step is a must and that is fresh flowers. Every tablescape should include some type of fresh greenery. I went with a small bunch of white hydrangeas. They are my favorite flower and fit in perfectly. To tie them in even more with our lemon tablescape I put them in a mason jar filled with lemon slices.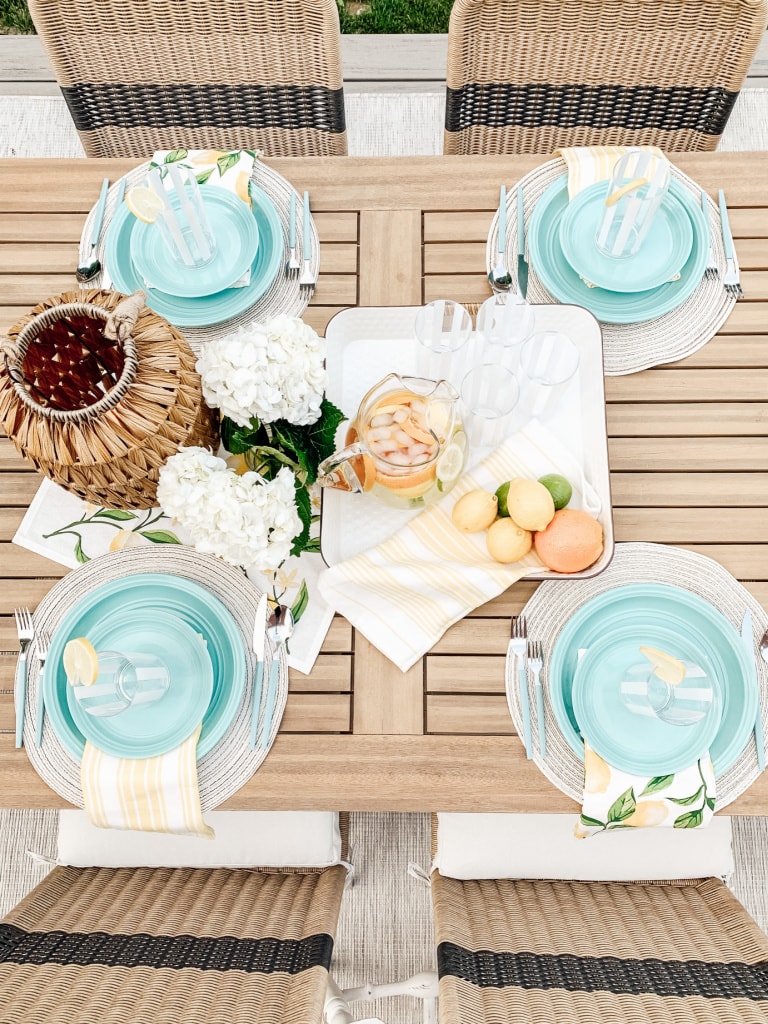 Step Six
This final step is a little ambiance. This can be created by using candles, string lights, or lanterns. For our tablescape, I used a rattan lantern that holds an LED candle. It has the perfect glow and added a nice woven element to our table.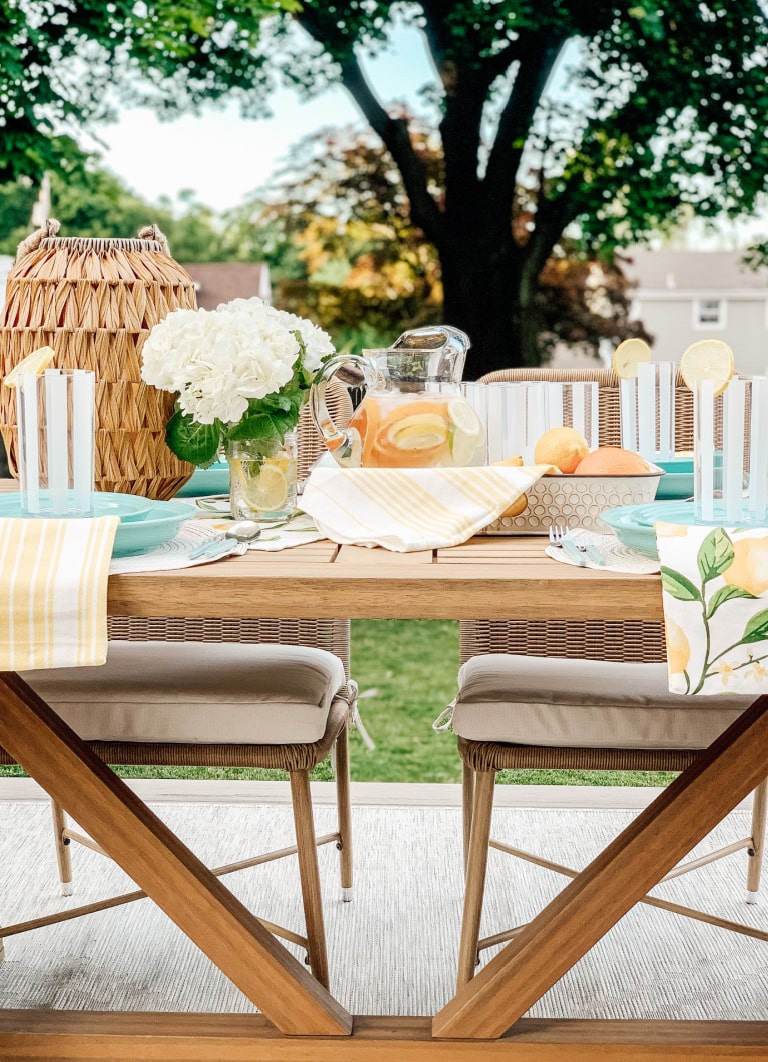 Simple Lemon Tablescape
You can shop this tablescape by clicking the links below!
Antique Farmhouse Style Serving Trays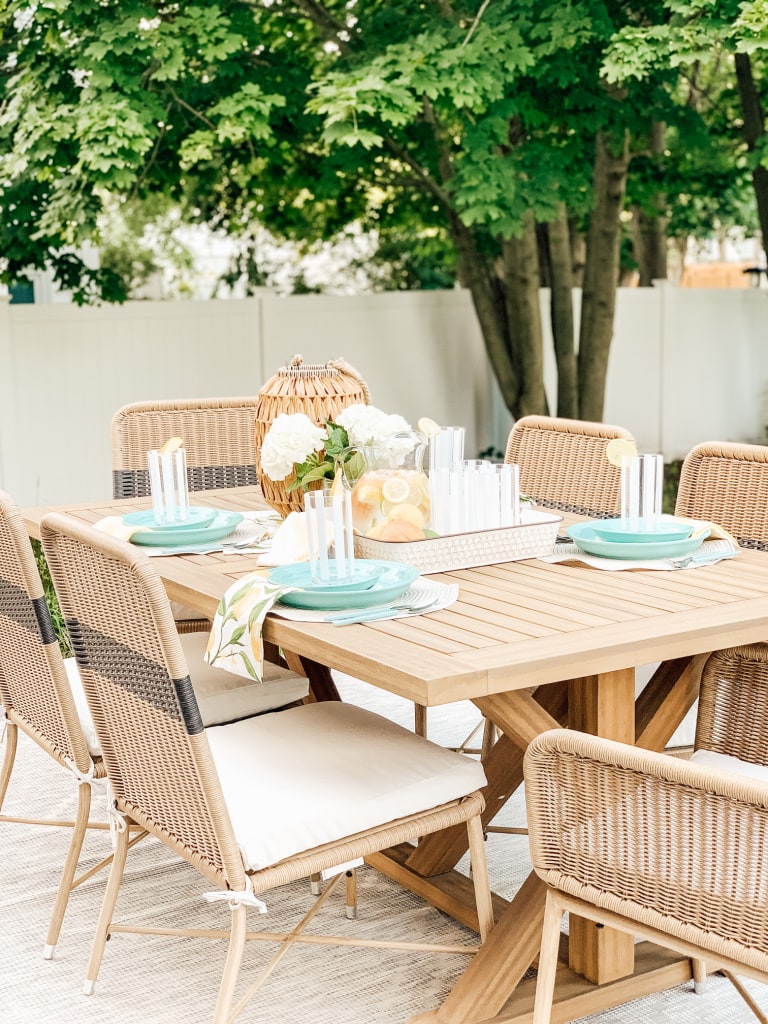 I hope you were inspired by my lemon themed table setting. And that these tips will help you create your own tablescape for your outdoor entertaining this summer. I would love to hear your thoughts so be sure to leave a comment below.
What to Read Next:
Outdoor Furniture and Deck Progress
How to Decorate Your Outdoor Living Space
Want to save this for later? Post this Simple Lemon Tablescape to your favorite Pinterest Board!