See the inspiration behind our Modern Farmhouse kitchen makeover. This room features neutral whites with a pop of black, woods and natural greens.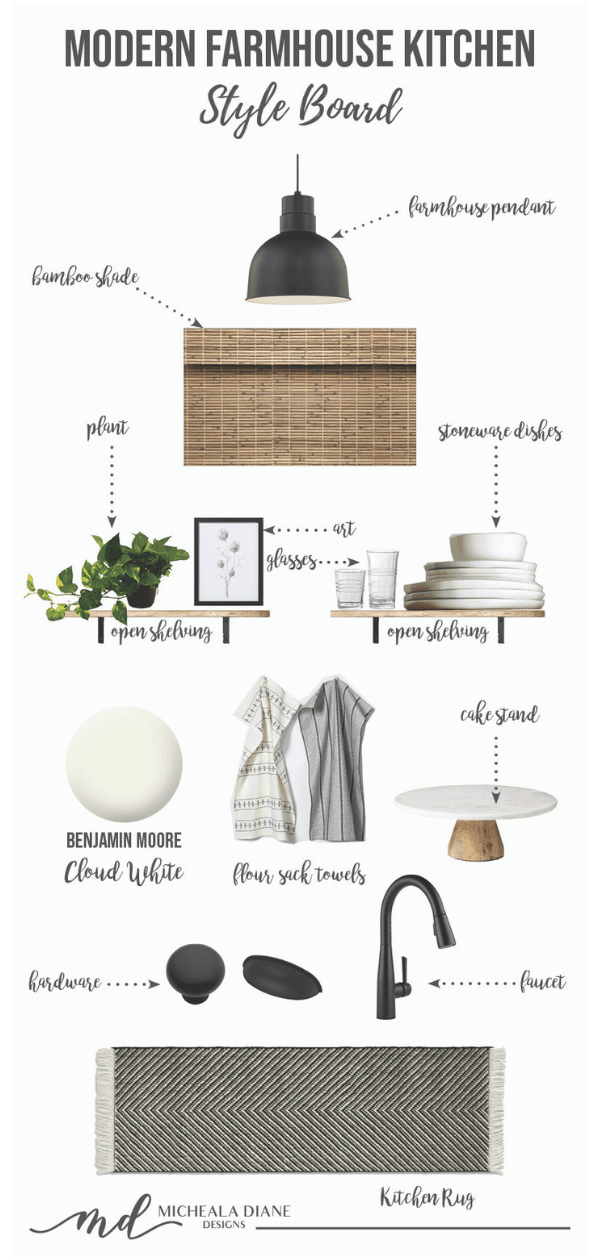 " Affiliate links provided for your convenience, please read my disclosure for more information."
Shop the Post
Style Board
My favorite part about any design project is putting together a style board. Every design project should start with an inspiration/concept for the design.
It can be a collection of design inspiration images or it can be detailed with specific items like the one I am showing you today. Not only is this a fun part of the design process it allows you to see the whole design on one board.
I have found this to be one of the most helpful tools for my clients because it allows you to envision the space before you have to commit to any design decisions. Many people have a hard time envisioning what their space is going to look like, and this is just one of the tools that can make your final design decisions easier.
If you are designing your room makeover on your own, don't fret!
It is super easy to create your own style board. I use Adobe Indesign to create mine, but there are many other user-friendly options. I would start by creating a Pinterest board with inspiration for your project.
When you are ready to start choosing specific design items like paint, that perfect chair or throw pillow, you can use a program called Pic Monkey (It's $5.99 a month, but you can get away with using the free trial version for style board creating.)  This program will help you organize individual selections similar to what I have shown on my style board.
This process will give you peace of mind that the design is going to all work together. Check out Pic Monkey here.
Our Current Kitchen
Now that we have talked about the importance of a style board lets talk about the current status of my kitchen. We have a beautiful kitchen. It is one of the many things I loved about this house. But I think it could be even better with some small design changes.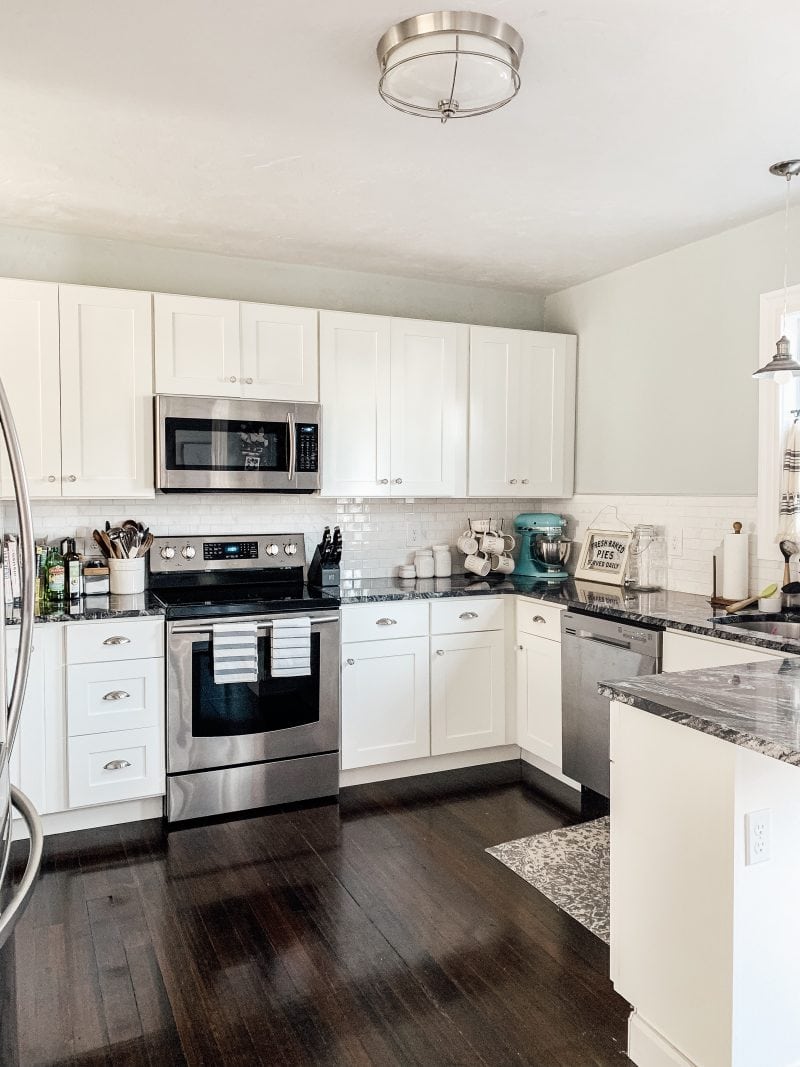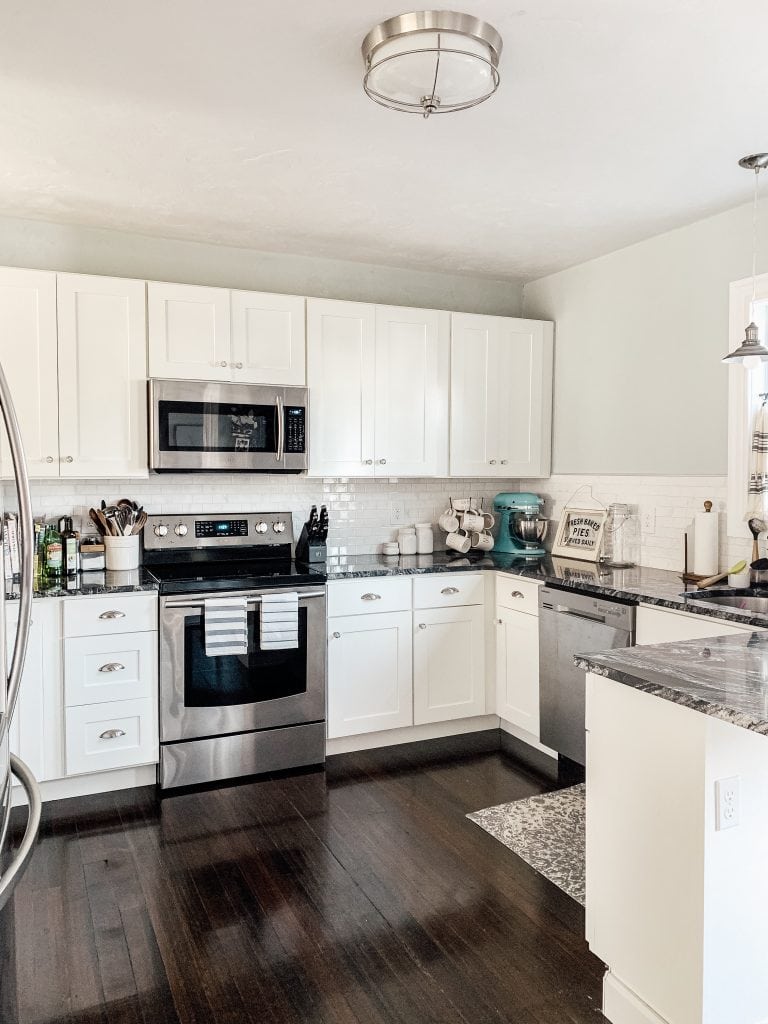 Although beautiful it could use some elements to create the modern farmhouse look. In my ideal world, we would replace all the counters to a white stone and add a farmhouse sink, but since both of those things are way out of our current budget I had to find ways to work with what we have.  You can create a space you love even if you don't have the budget to change everything you want.
The main thing that I dislike about this kitchen is the black granite countertops, my solution is to find budget-friendly options that work better with the black countertops and in return create a space that I love.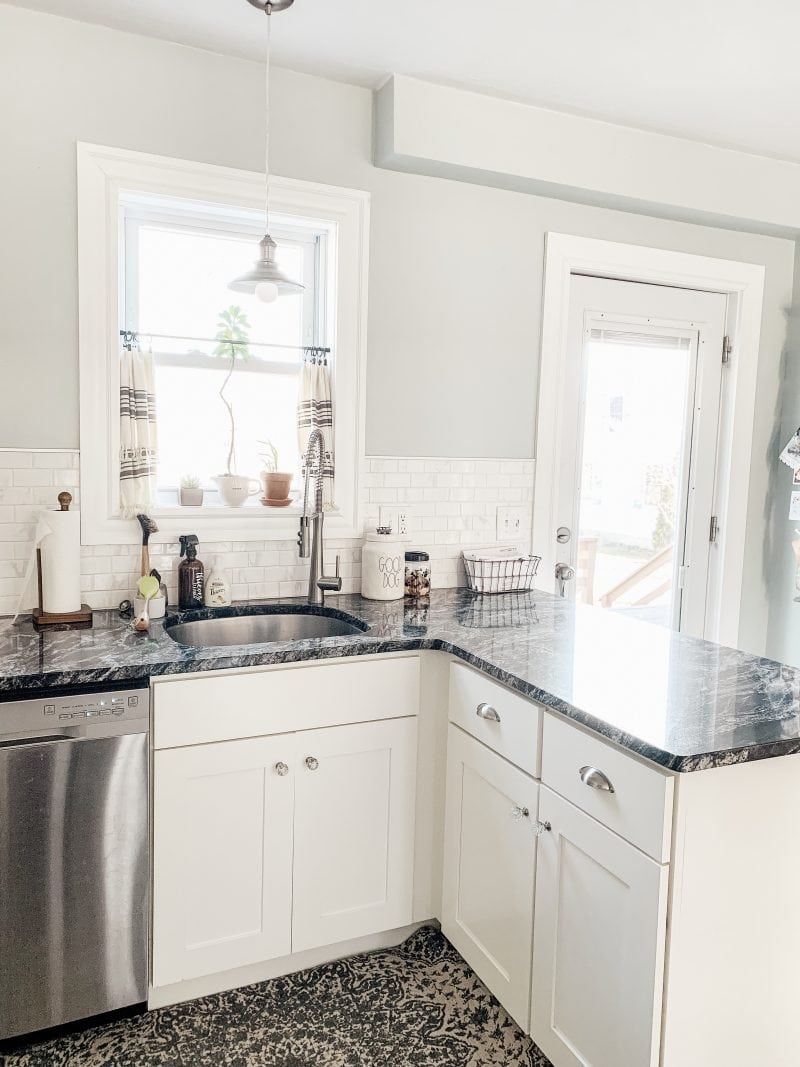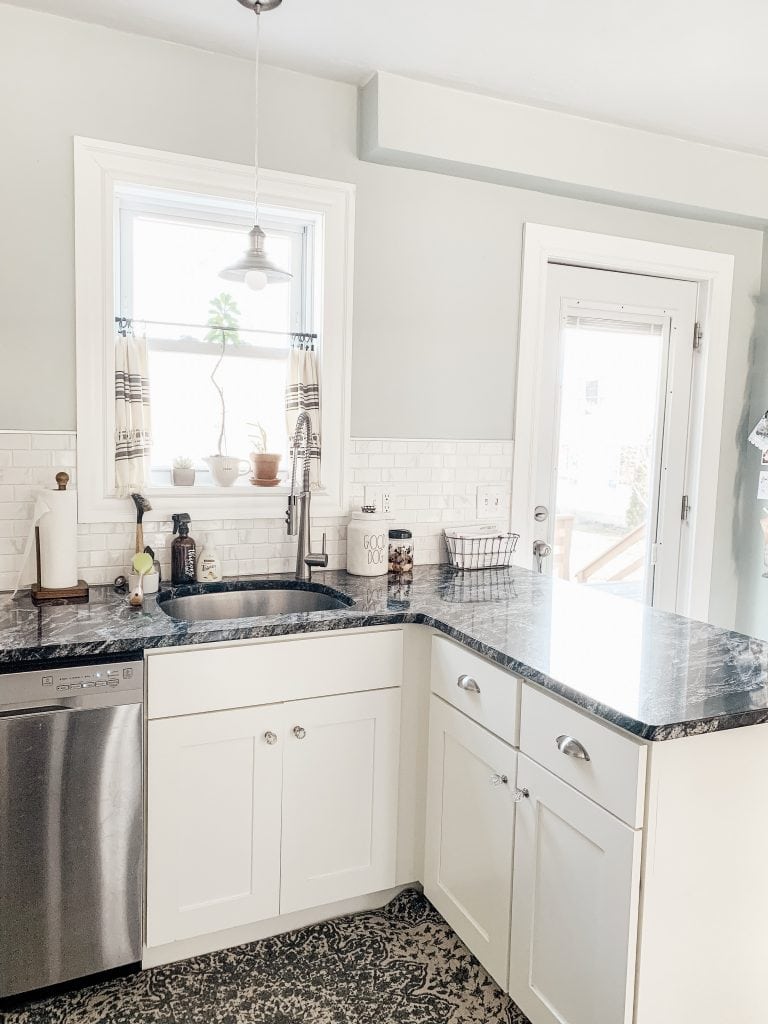 The Design Plan
Paint
Paint is going to be the biggest part of the transformation. Our current paint color just didn't feel right with the black granite and I think changing it to white is going to make a big difference.
Last week a shared my favorite white paint, you can read it here. After staring at the paint colors on the wall for over a week. We decided to go with Benjamin Moore Cloud White and I couldn't be more excited. I think it's going to be the perfect warm white next to our bright white cabinets and trim.
Related Post: The Best White Paint Colors
Hardware
Switching out the hardware has been on our to-do list basically since we moved in. My husband was never a fan if the clear knobs that we currently have. My plan is to change the hardware to matte black knobs and pulls.
This is not only going to be a great contrast on the white cabinets, but it will also tie in the black granite making a more cohesive design. The plan is to get new knobs and spray paint our existing drawer pulls.
Shop here for the knobs and pulls shown on the Style Board: Black Cabinet Knobs & Black Cabinet Cup Drawer Pulls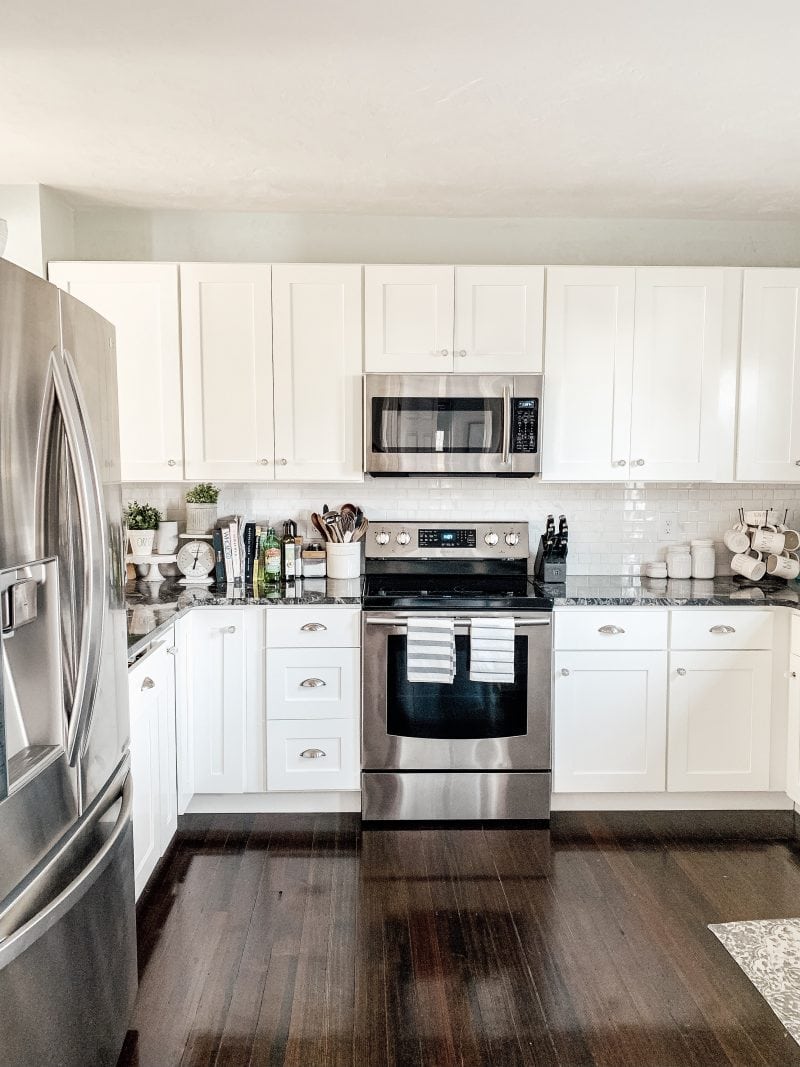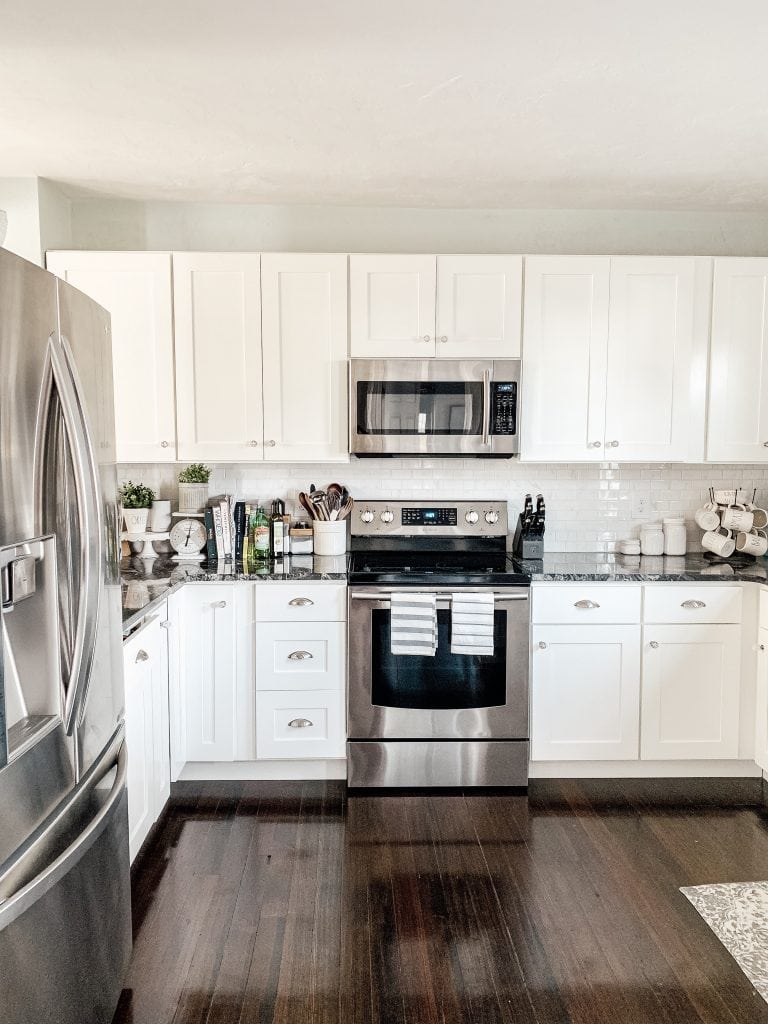 Lighting
For lighting, we plan on replacing the pendant light over the sink. I want one that is a little larger in scale and also black. This is another element that is going to help create a cohesive design and really bring out the best in the black granite countertops. I haven't decided if we are going to replace the flush mount yet, we may just spray paint it matte black.
If you are on the hunt for a new kitchen pendant I have a roundup of Modern Farmhouse Pendants. You can check it out here.
Shop here for the pendant shown on the Style Board: Black Farmhouse Pendant 
Related Post: Modern Farmhouse Kitchen Pendants
Open Shelving
This is another project I am so excited about. We are going to add shelving on either side of the window. Currently, it is just an empty wall space and adding a wood element is going to make a big difference. I am also really excited to have another area in the house to style.
I will be doing a full tutorial on how to add open shelving to your own home, so be on the lookout for that.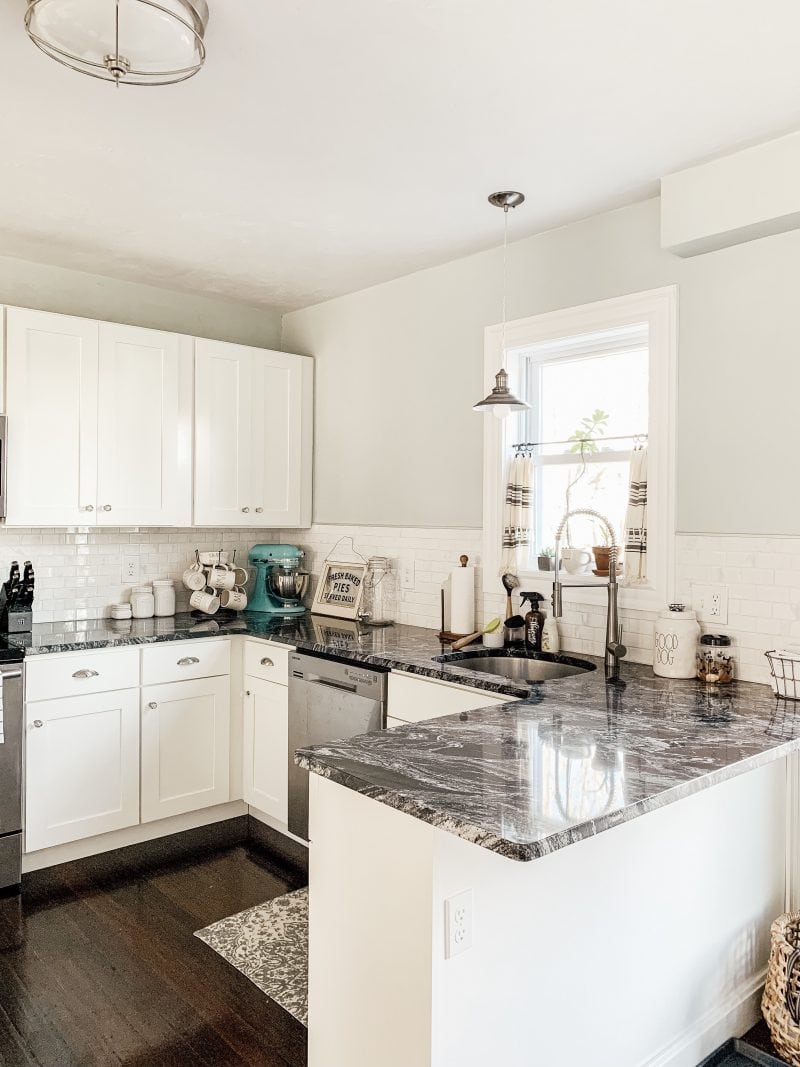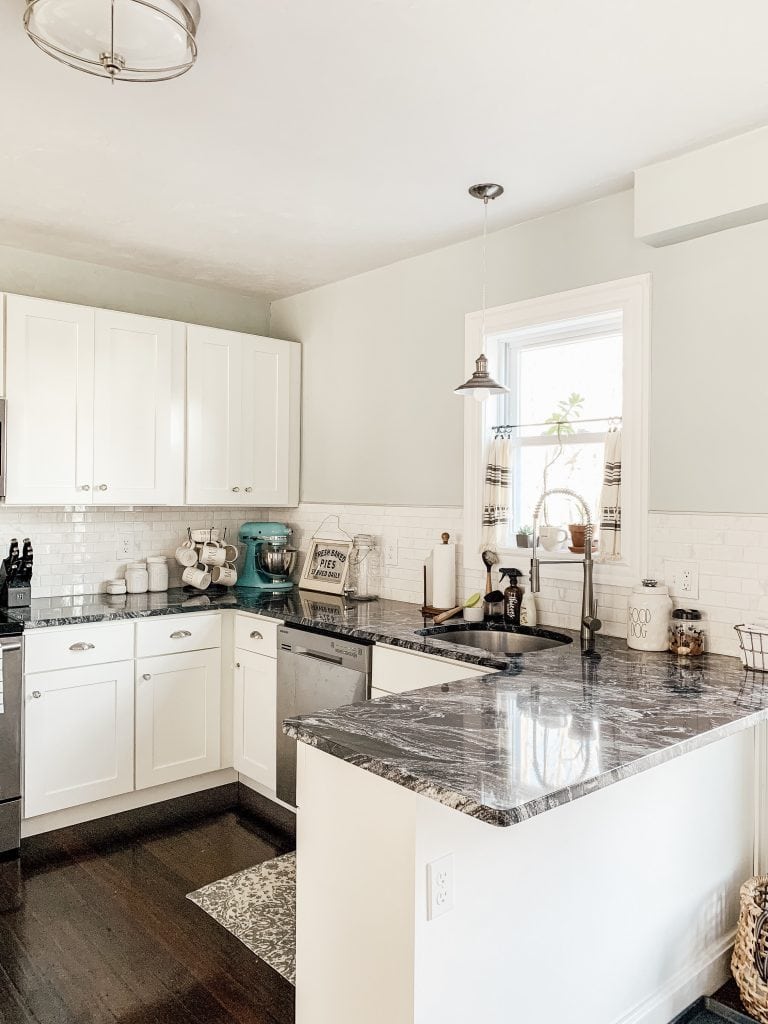 Window Treatment
We have one small window in our kitchen and with all the black and white elements I have discussed so far this is going to the perfect spot to add a wood element. I love using bamboo shades because they add the perfect amount of texture to any neutral space.
Shop here for the bamboo shade shown on the Style Board: Bamboo Shade
Accessories
Now that we have a great foundation for our modern farmhouse kitchen makeover, accessories are the perfect final touch. Most of the accessories I will buy for this project will be to style the new open shelving. I will be using dishes, plants, recipe books, cutting boards, and some antique finds.
One of the accessories that I am most excited about is this Cake Stand. Although I do love a yummy piece of cake, I am actually going to be using this to organize our cleaning products next to the sink. It will hold our dish soap, household cleaner, and our dish brushes.
You can shop more accessories from the style board at the end of the post.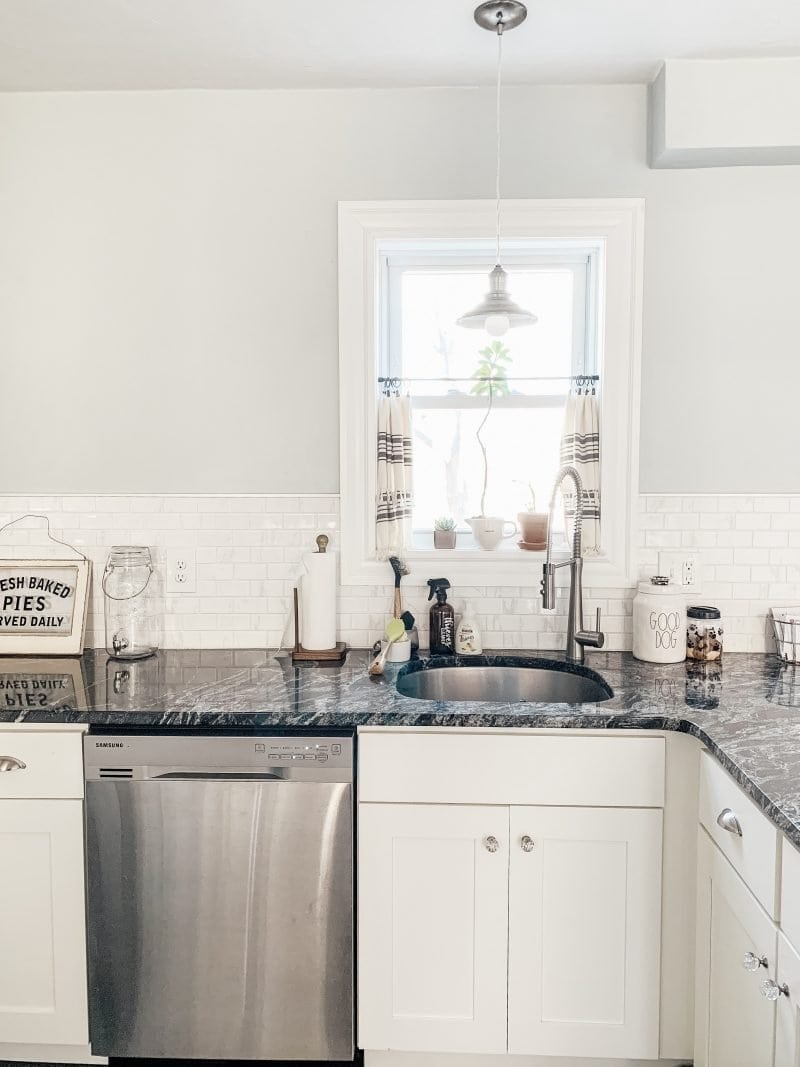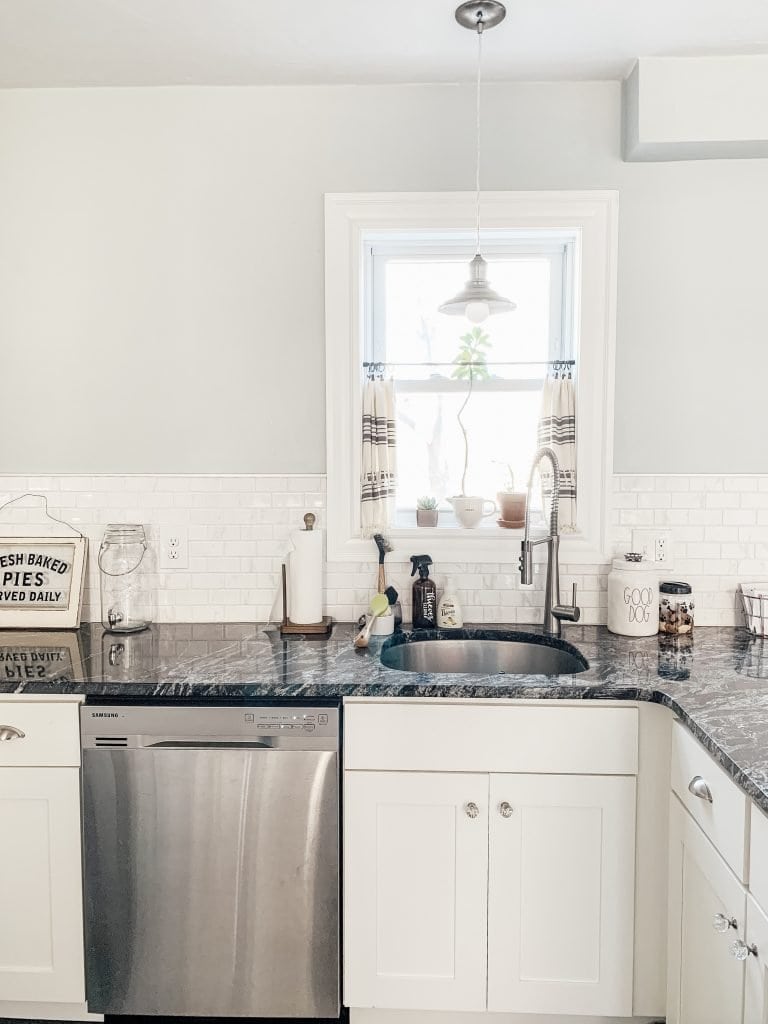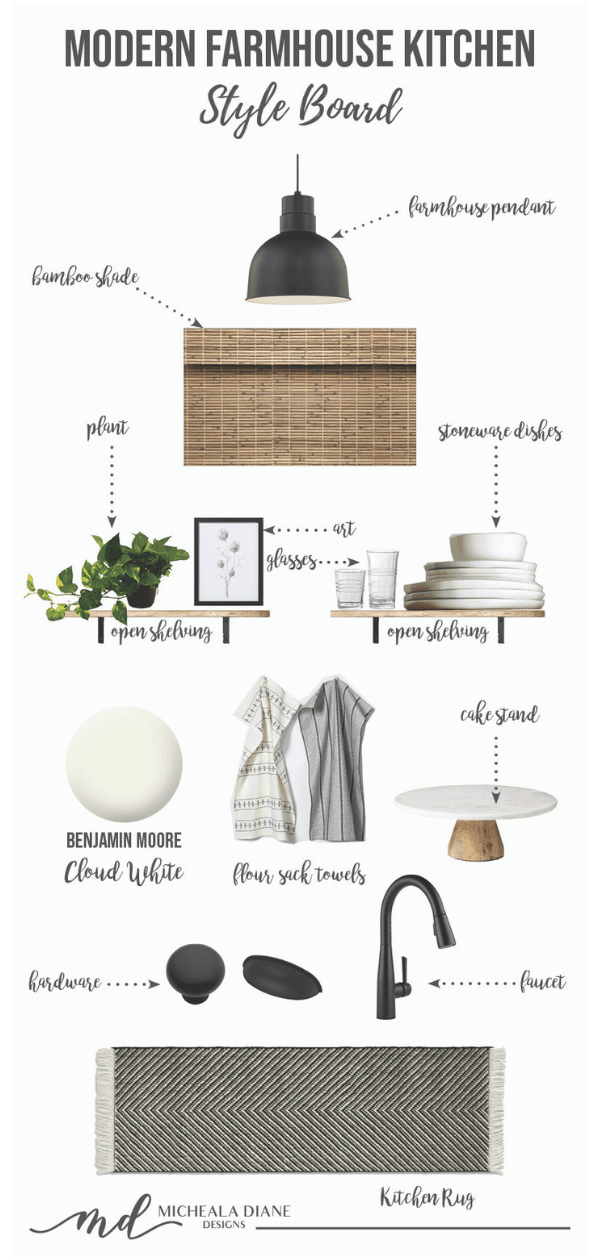 Benjamin Moore Cloud White– We have decided on a paint color! We will be painting all the walls Benjamin Moore Cloud White.
Black Farmhouse Pendant – to hang over our sink and replace the existing small pendant. This was pendant was included in the Modern Farmhouse Kitchen Pendants roundup. You can read it here.
Bamboo Shade– Used to add a wood texture to space as well as windows covering for the window above the sink.
Open Wood Shelving– these will go on either side of the window above the sink.
Golden Pothos Plant– I love using greenery in all my spaces and this will be perfect for styling the shelves.
Artwork– Artwork is perfect for styling open shelving. This one is from the Hearth & Hand line at Target.
Stoneware Plates & Bowls– These are a beautiful creamy white another great item for open shelving.
Stylish Glasses– Perfect to pair with the stoneware dining set.
Flour Sack Kitchen Towels–  I love hanging towels in front of the stove.
Cake Stand– This is the perfect accessory to keep by the sink to hold dish soap and brushes. I have been eyeing this one for a while.
Black Cabinet Knobs– We will be replacing all our current knobs with these matte black ones.
Black Cabinet Cup Drawer Pulls–  To save money we plan on spray painting the ones we have matte black but these are very similar.
 Kitchen Faucet– We are on the fence with if we want to replace our current faucet, but if we do it would be this one.
Black and White Chevron Rug– This would be perfect for in front of the sink and I love that it ties in the black.
I hope you enjoyed seeing my design process. I can't wait to share the final reveal with you all. Thank you for stopping by the blog!
Other Post You May Like: