It is March and I am officially ready for all things SPRING! Today I am giving you a little spring kitchen decor tour. Be sure to shop some of my favorite spring kitchen decor items at the end of the tour.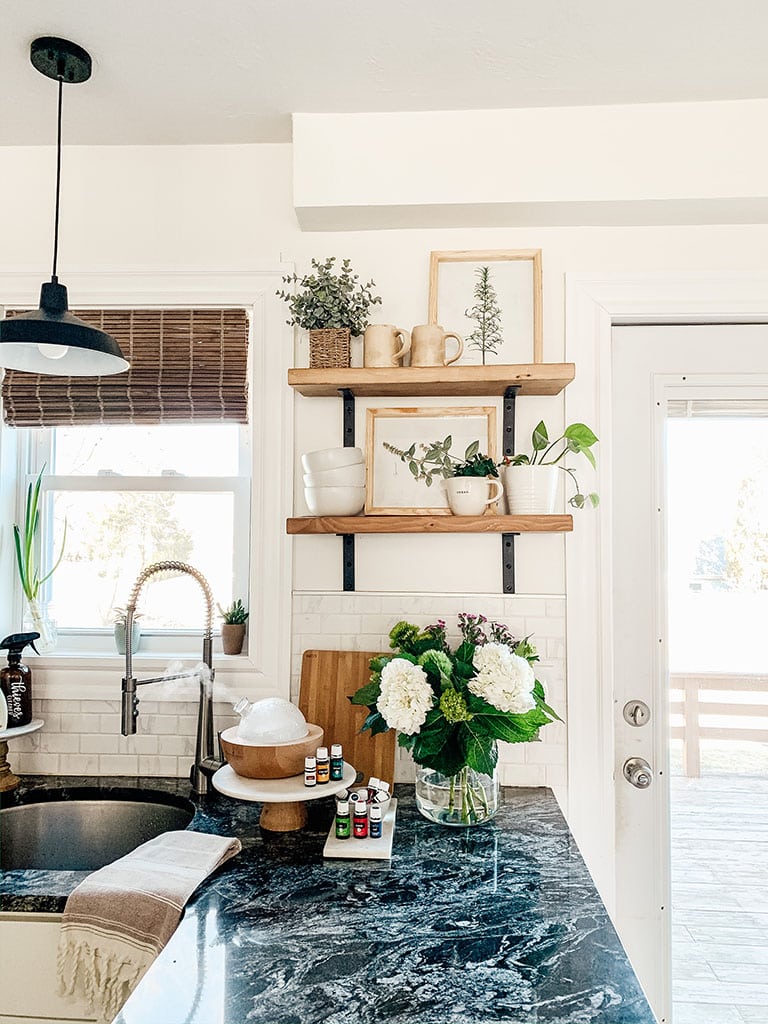 Spring Kitchen Decor Tour
"Affiliate links are provided for your convenience, please read my disclosure for more information."
My kitchen was in desperate need for a spring overhaul. I may have still had my shelves all decked out for Christmas. Just slightly embarrassing considering I am a home decor blogger. Well some times even I am not inspired to change up a space right away.
I wasn't really sure what I wanted to do with this space. But then I came across these gorgeous prints when I was working on the post Neutral Home Decor From Walmart.
I knew they would be the perfect way to add a little spring to our kitchen. When they came in I was obsessed with how beautiful they were in person. In addition to the prints I made a few small changes that gave my kitchen a fresh look. It is making me wishful for some spring weather.
Join me on a little tour and I will give you some tips on how you can add some spring kitchen decor to your home.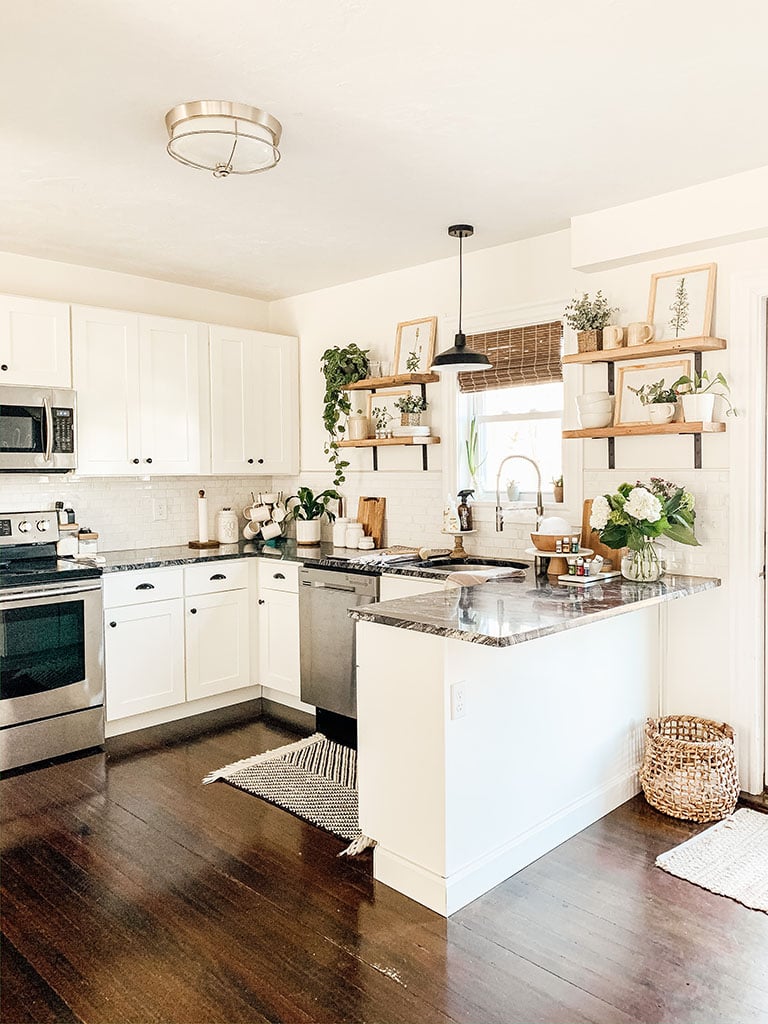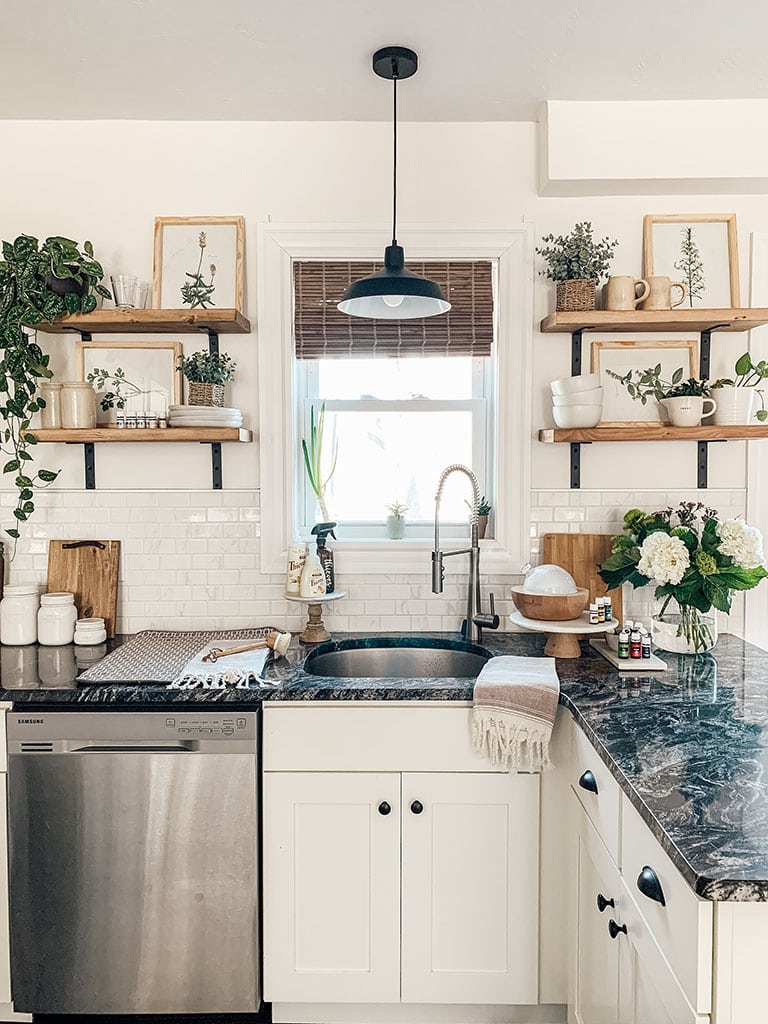 Spring Art:
As I mentioned before these herb prints inspired it all. Using art is a great way to switch out your decor seasonally. On the shelves I used all four prints but in order to create some visual interest I rotated two of them. Just by adding art to these shelves it made a big statement in our kitchen.
Even if you don't have open shelving you can add art to your counter tops. Adding art does not have to be expensive. You can frame a recipe from a magazine or frame a free spring printable off Pinterest. It is a very affordable way to make a big impact.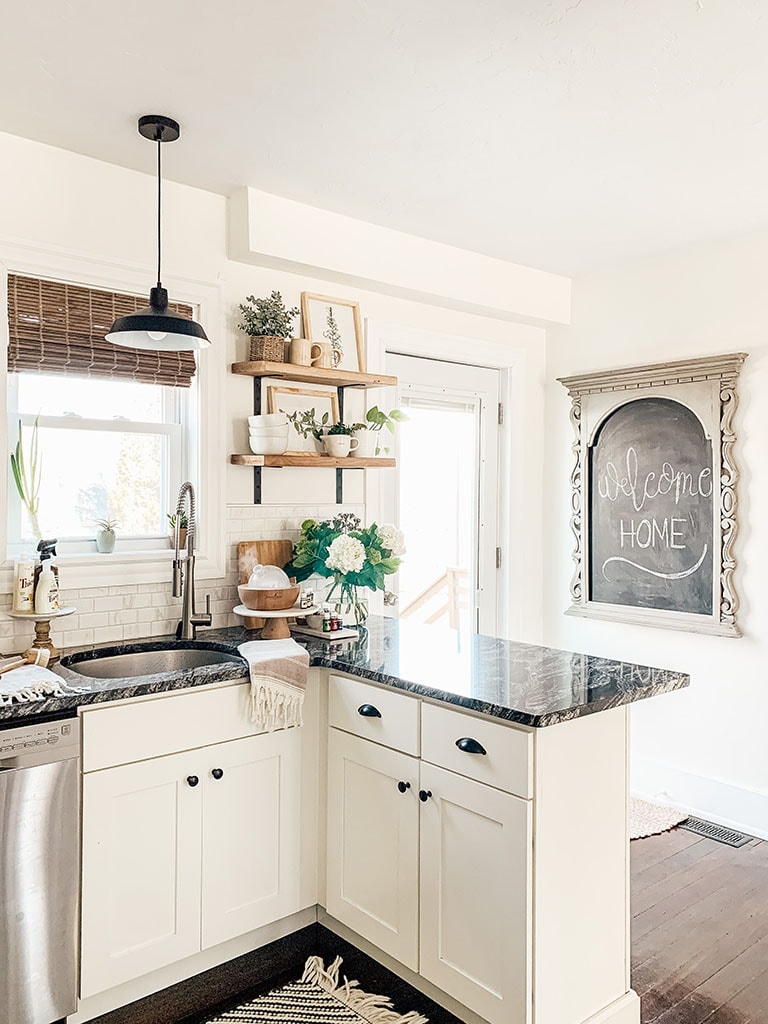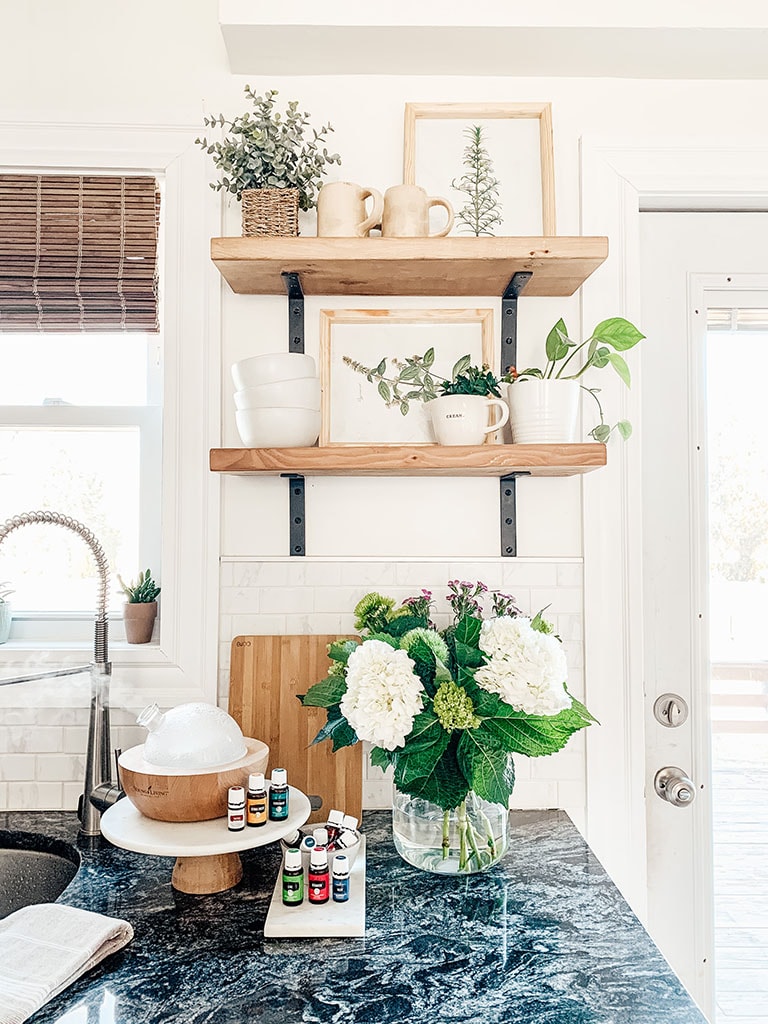 Fresh Flowers:
I think one of the best spring kitchen decor items is fresh flowers. Fresh flowers are a must especially if you live in a place that has harsh winters. Fresh flowers instantly make a space feel alive and happy. If you were to ask me what my favorite flowers is, I would say hydrangeas. They are so beautiful and have me dreaming of summer.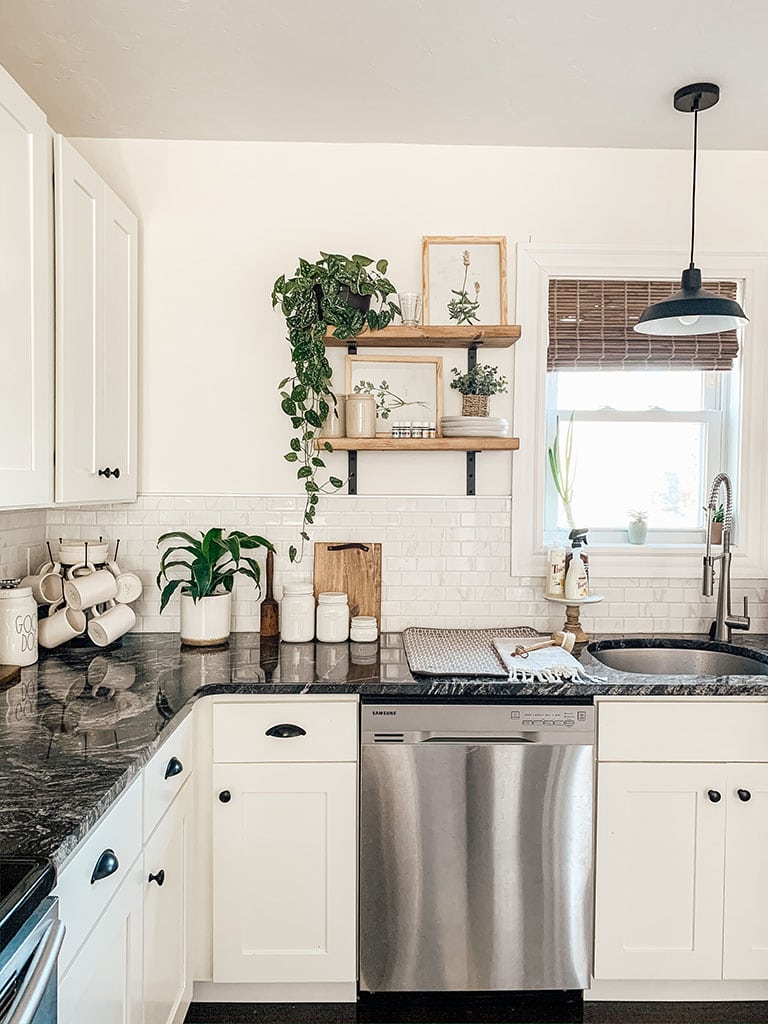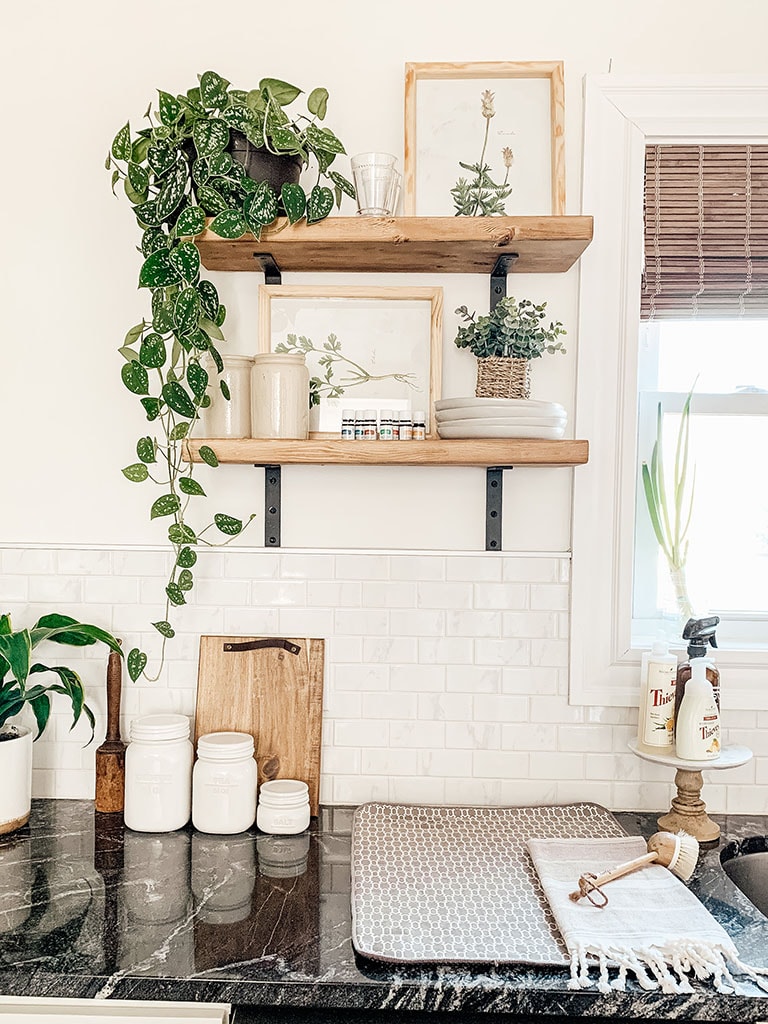 Plants:
I added a verity of real and faux plants to my shelves and you will notice I did not use them sparingly. Plants are a great way to add some spring to your space. They bring the outdoors in which is a must for spring vibes.
Using a mix of plant types and even the containers the plants are in adds variety and texture to your space. I love mixing different vessels from the woven baskets to the white pots and even that cute cream mug. Be creative with your plants.
Kitchen Essentials:
Adding some new kitchen essentials is another great spring kitchen decor idea. This can be getting new cutting boards. I like to use cutting board to hide my outlets/cords.
Switching out your towels, dish brushes, dish soap, and mugs are other fun ways to add elements of spring to your kitchen.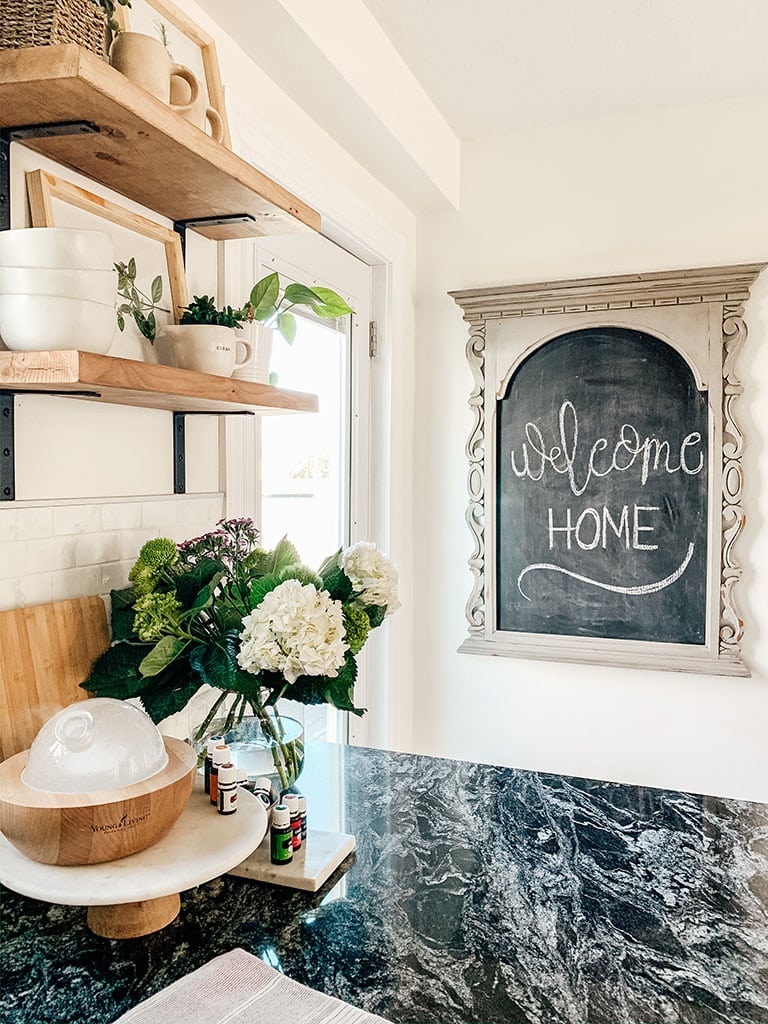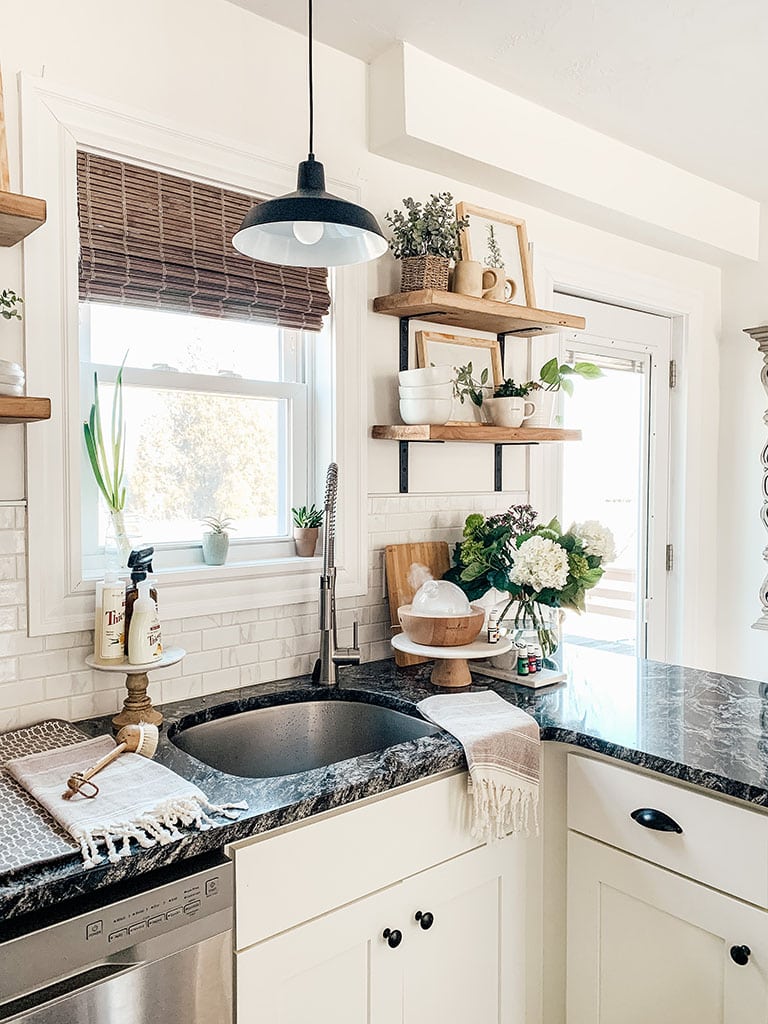 Spring Scents:
Nothing says spring more than a great diffuser blend. We diffuse essential oils as a substitute for candles. You can read about our story with essential oils here.
I have the diffuser going in the kitchen all year round. But just like your favorite seasonal candle, I like to switch up my diffuser blends for the season. Here is one of my Spring favorites
Oh Happy Day
2 Drops Valor
2 Drops Joy
3 Drops Orange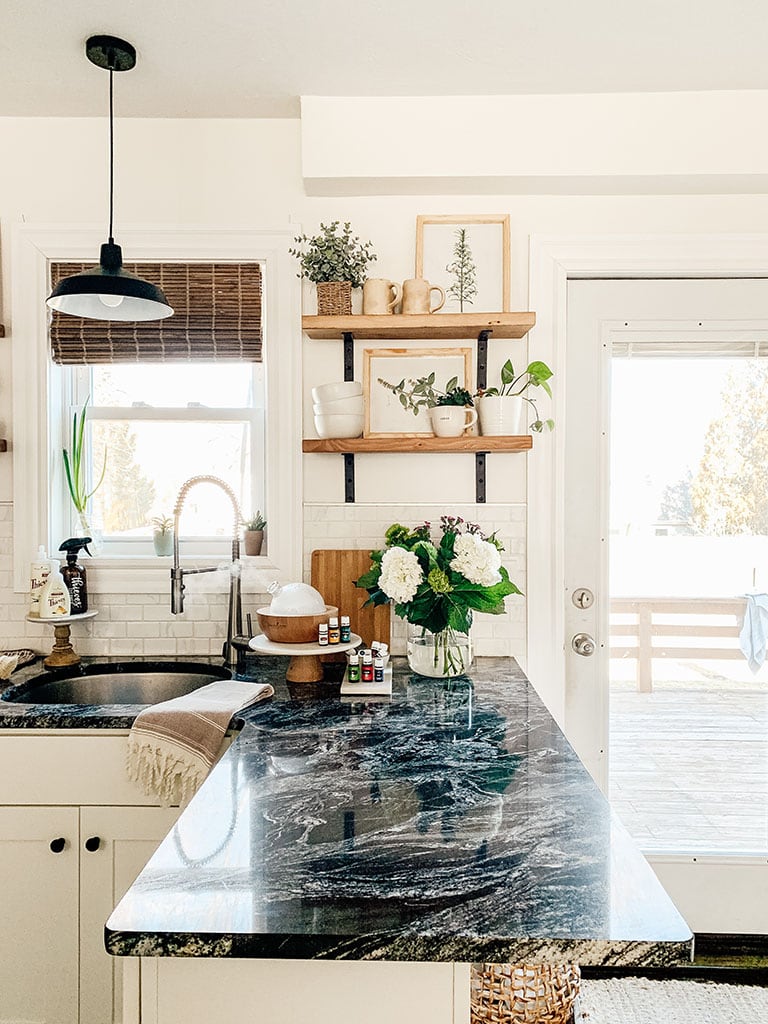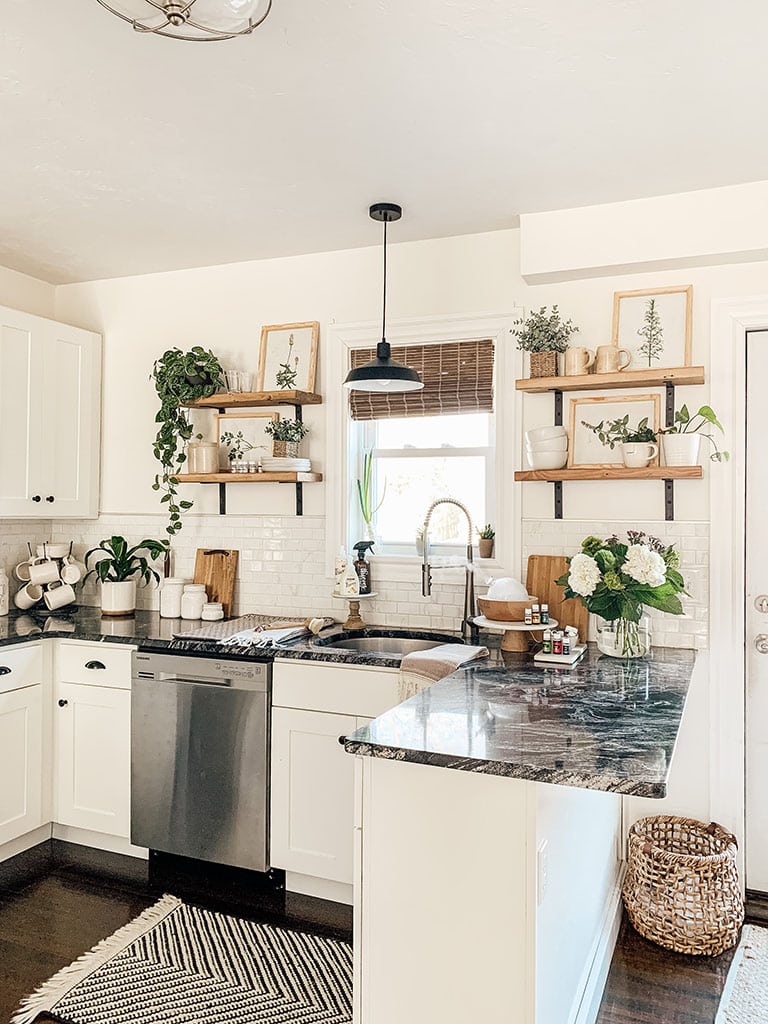 Spring Kitchen Home Decor
Click the images below to shop some of my favorite spring kitchen decor.
What to Read Next:
Simple Ways to Bring Spring Into Your Home | Spring Home Tour
Simple Spring Mantel & Dining Room
Farmhouse Spring Decor From Amazon