I am sharing a beautiful collection of neutral affordable outdoor rugs that you can buy online
. As well as my favorite tips for selecting the perfect outdoor rug.
Use code MDD62 for 62% off your purchase at Boutique Rugs.This is an exclusive coupon code!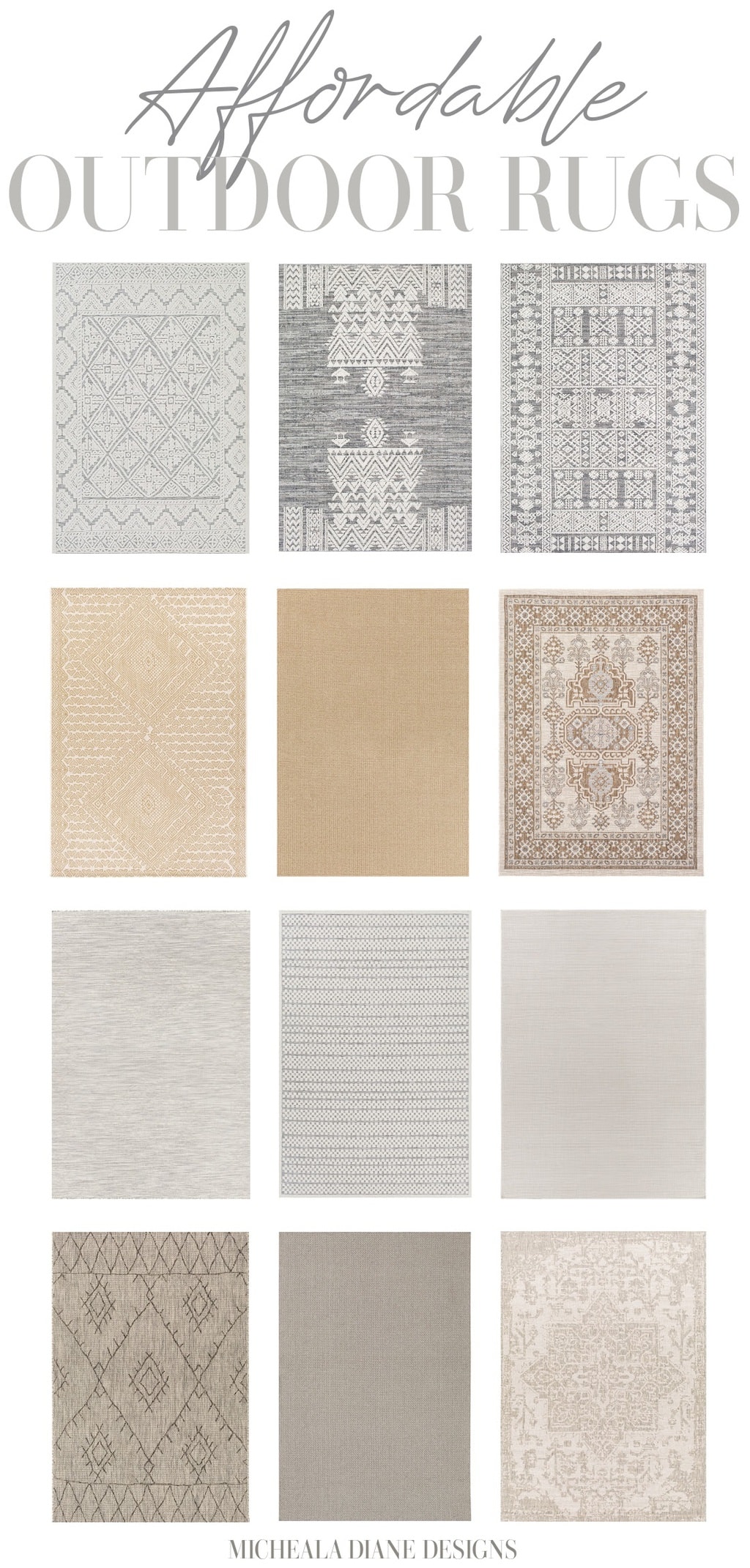 Summer is here and I am sharing the best neutral affordable outdoor rugs to buy online. We are renovating our outdoor space this year, I shared all about it in the post. I was on the hunt for the perfect outdoor rugs for our new space and I thought I would share the rugs I found along the way.
An outdoor rug can transform your space and make it feel like an extension of your indoor living space. The right outdoor rug can set the tone for your outdoor space. It is often the first place that I start when selecting outdoor furniture and decor.
The rugs that I am sharing today can work for a variety of outdoor spaces and styles. If you are on the hunt for more than one rug I have grouped the rugs above in parings. Each row has three rugs that can work together or stand-alone.
I am also sharing some of my best tips for selecting the perfect outdoor rug. Such as what is the best outdoor rug material and how to choose the perfect size rug for your space. Let's dive in!
Best Outdoor Rug Material for Rain
You may be thinking, why would you put a rug outside? Won't it get damaged by the outdoor elements? Just like inside your home, rugs set the stage. They can help you define your space, making it feel more grounded. It also adds a layer to your space that will help your space feel more relaxed and cozy.
As far as the elements they make rugs that are specifically designed to be outside. Before buying a rug for your outdoor space be sure to check what material it is made out of. One of the best materials for outdoor rugs is polypropylene ( also known as olefin).
Rugs made out of polypropylene are very good at absorbing water and do not grow mold or mildew. Polypropylene is
naturally
stain and fade-resistant. Making it the perfect material for an outdoor rug.
It also has the appearance of natural fibers and is even soft under the foot.
This is the best material to use if you have an uncovered outdoor space that will be subject to the outside elements
.
Other materials that are safe for outdoor use are nylon, polyester, acrylic, and natural fibers such as jute, sisal, hemp, and seagrass. Just be sure that the rug is intended for outdoor use.
Regardless of the material be sure to clean and dry your rug at the end of the summer season. You can store it rolled up for the winter and it will extend the life of your rug.
How to Choose an Outdoor Rug Size
Now that you know what material to look for you may be wondering what size rug you should get. It all depends on your space and the size of your furniture. Below are some tips to help you make the right choice.
Dining Area
For an outdoor dining area, you will want at least 24 inches larger than the table on all sides. This will ensure that you have enough room to pull out the chairs.
6 seat rectangular dining area, I recommend an 8′ x 10′ rug or larger.
4 seat rectangular or round table you have the option of choosing an 8 or 9 foot round or square rug.
Lounge Area
* I note a range here because different manufacturers have different sizes. Find the one closest to the recommendations below even if it's off a few inches.
Club Chairs or Adirondacks with a side table- 5′  x 7′ range
Small Seating group: outdoor Sofa, club chair, coffee table- 5′ x 7′ or 5′ x 8′ range
Large Seating Group: outdoor Sofa, 2 club chairs, coffee table, and side table- 8′ x 10′ range
Outdoor sectional seating area- 8′ x 10′ range
Affordable Outdoor Rugs for Patios and Decks
You can shop these outdoor rugs by clicking the links and images below!
Use code MDD62 for 62% off your purchase at Boutique Rugs
" Affiliate links provided for your convenience, please read my disclosure for more information."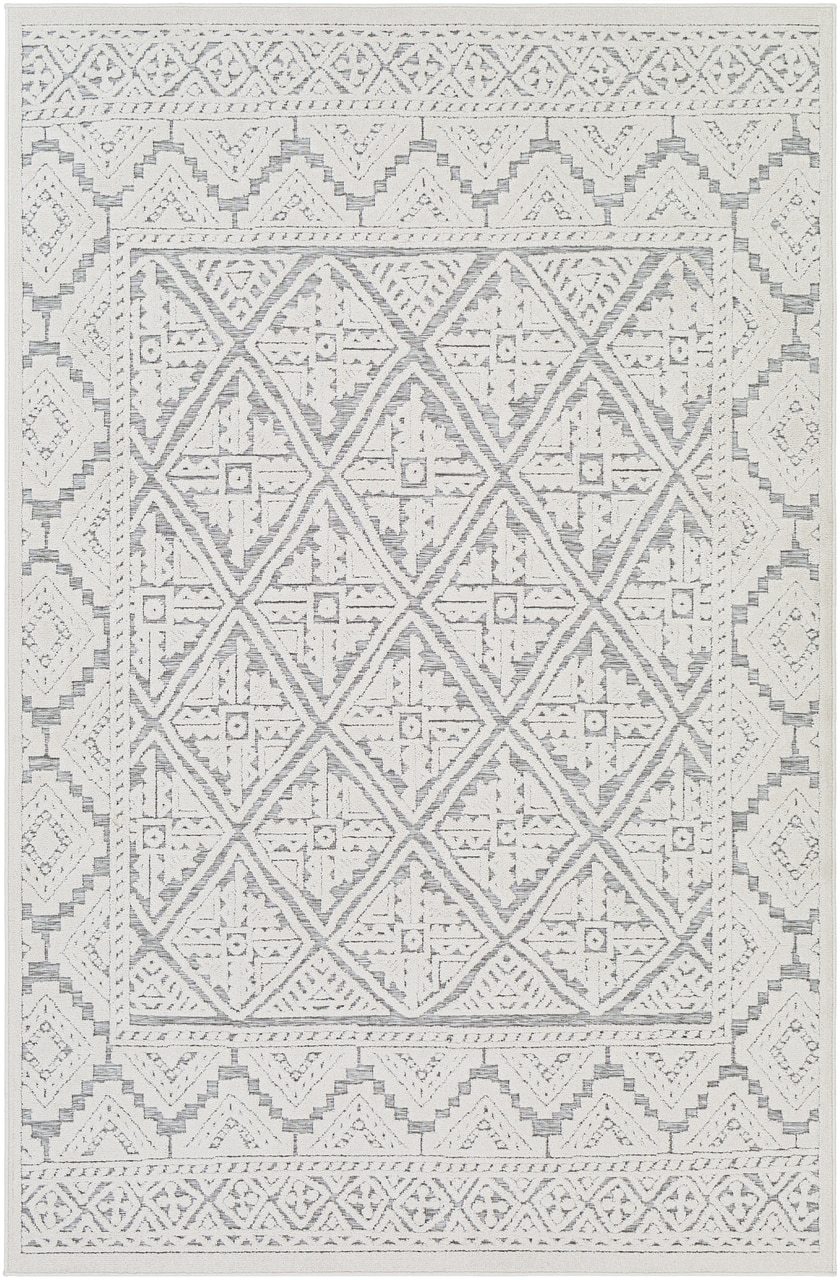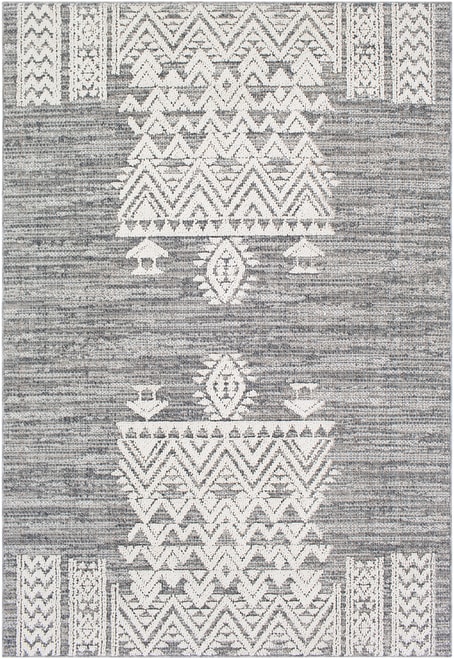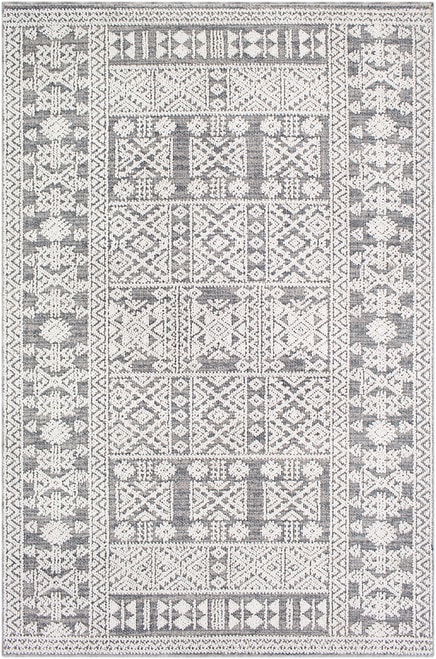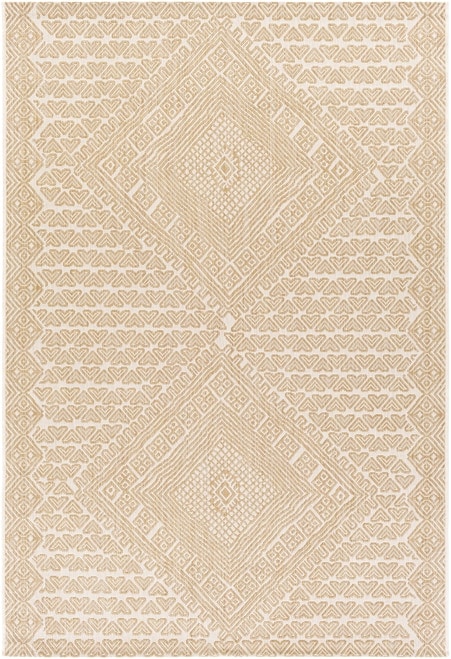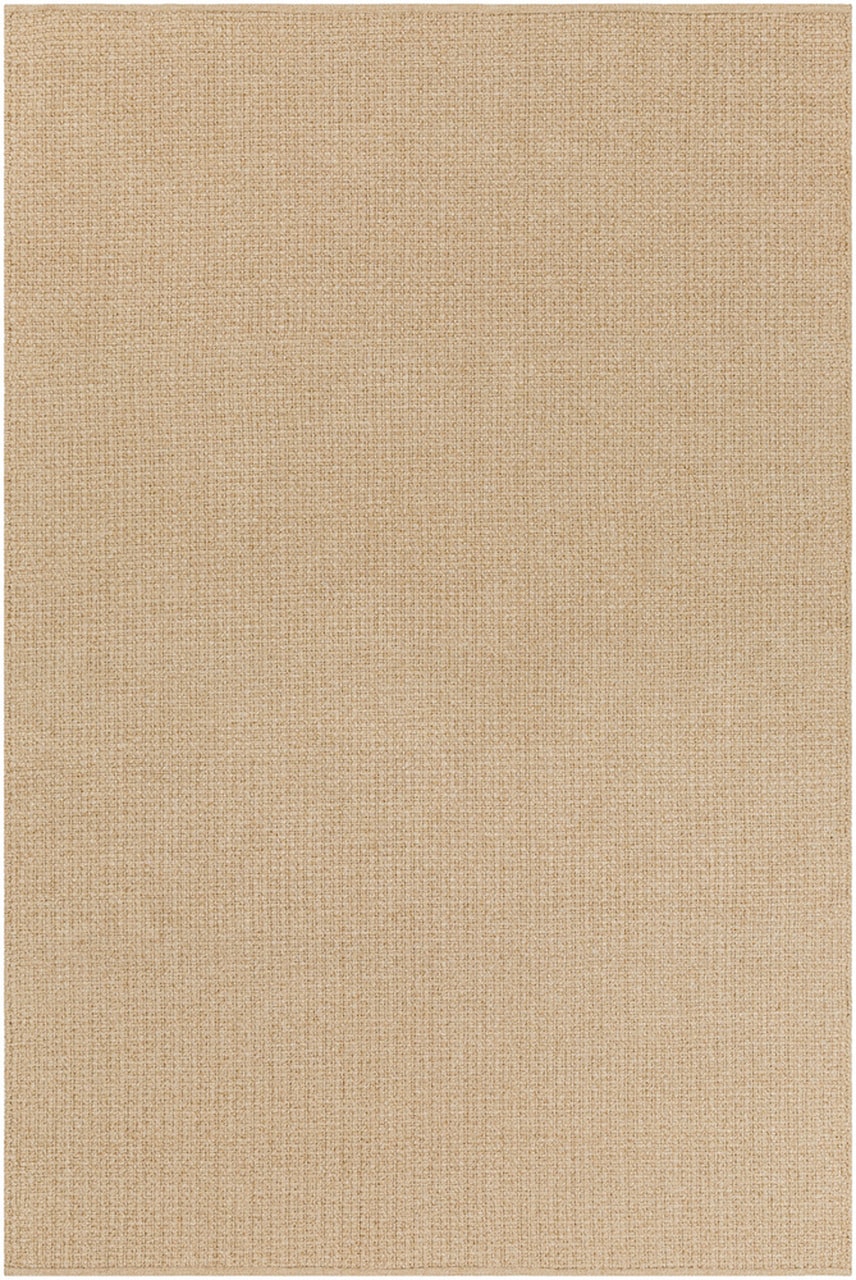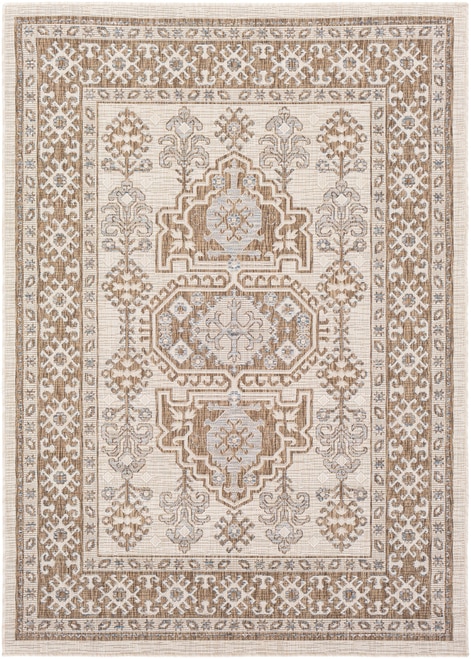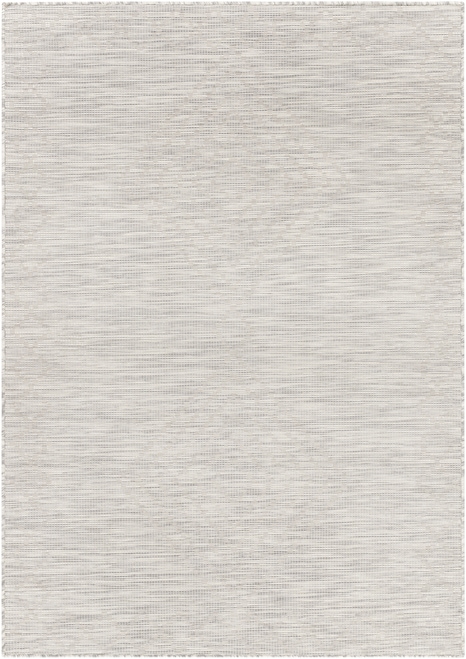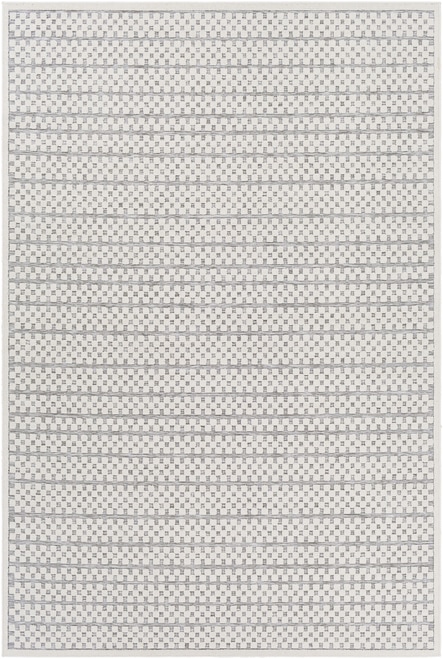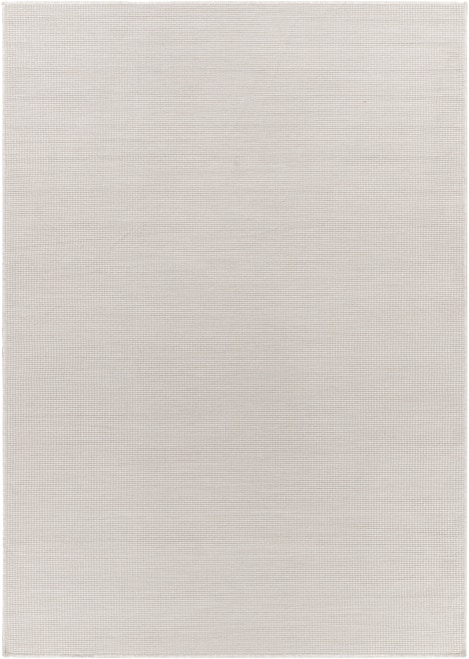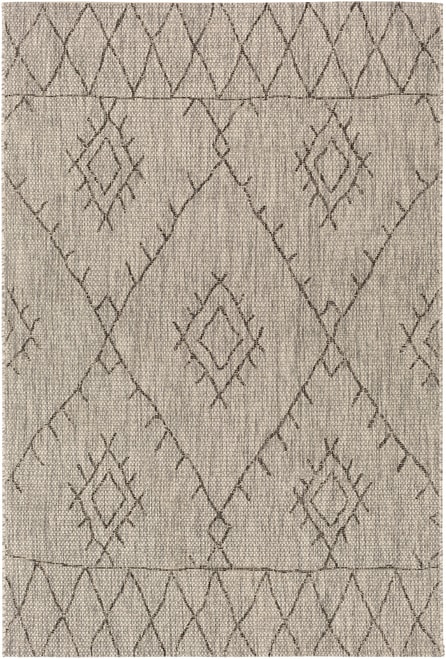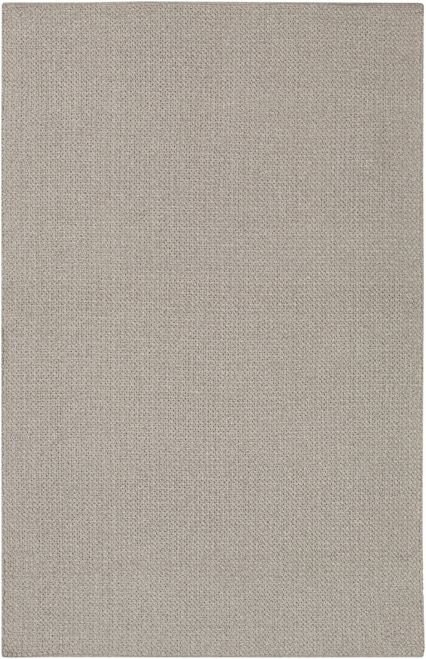 Other favorite places online to buy affordable outdoor rugs
What to Read Next:
Outdoor Furniture and Deck Progress
How to Decorate Your Outdoor Living Space 
Modern Farmhouse | Outdoor Decorating Ideas
Want to save this for later? Post these Affordable Outdoor Rugs to your favorite Pinterest Board!