It's that time of year again where we extend our living space to the outdoors and it makes my heart so happy. There is nothing better than spending summer nights out on the deck or patio with a cocktail and a yummy grilled dinner. It is one of my favorite parts of summer.
Your outdoor space should be an extension of your home and reflect your design style. I thought it would be fun to style two outdoor living spaces using products from Targets outdoor line. Target is one of my go-to stores for outdoor furniture and decor. They are very affordable and on trend. I also basically live there so we have a pretty good relationship. ?
Okay, so before we take a look at these two designs, let's talk about what makes up an outdoor living space. There are a few staples that I believe every outdoor space needs.
How to Decorate Your Outdoor Living Space
1. OUTDOOR RUG
I think the best place to start with any outdoor space is the rug. It defines your space and it is the easiest way to coordinate your color pallet. You can pull the colors from your rug to select the other items for your space. This is also true for your interior spaces as well.
2. FURNITURE
In order for you to actually enjoy your outdoor space, you will need somewhere to sit. If you have the room I recommend having a dining area and an area to lounge, think club chairs, sofa or sectional. If you only have space for one, a dining area is a must.
One pro tip for the dining area is to not buy a set. I know it can be easier, but I recommend finding a table you love and then finding dining chairs that work with it, that are not matchy-matchy. Then I like to pair a larger chair at each end. See my outdoor living space with color for an example. It's okay to mix different materials and colors. Trust me you will love.
I do recommend staying neutral with your furniture, these are going to be your most expensive pieces and it will give you the ability to change your color scheme or switch out accessories when you're ready for a change. I also recommend doing this for your interior spaces as well. A throw pillow is a lot less expensive than an outdoor sectional.
3. PLANTS
Plants are a must for every space, but especially for outdoor living. This can be potted flowers, hanging plants, window boxes or rail planters. If you don't have a green thumb they also have faux plants for outdoors. Target has an outdoor fiddle leaf plant that is UV- protected. I have linked it below and it would be perfect if you don't want to maintain a live plant.
4. PILLOWS
Pillows are my favorite accessory. You can never have too many, my husband may say differently. I feel like a lot of people don't think to add pillows to their outdoor space, but it makes a huge difference. This is where you can add that pop of color or if you're staying neutral it's the perfect way to add texture. It makes your space cozy and comfortable. Target has definitely stepped up their pillow game this year, I have linked my favorite ones below, but there were so many options I recommend taking a look for yourself.
5. ACCESSORIES
Accessories can be outdoor dinnerware, place-mats, pitchers, lanterns, candles, planters, outdoor art, umbrellas, a bar cart, the options are truly endless. These are the items that are going to tie your space together and make it feel complete.
6. STRING LIGHTS
String lights are another one of my favorite items to add to an outdoor living space. They can be pretty magical and create a cozy mood for your space. There are so many styles. I'm always a fan of the Edison style string lights, but they also have unique ones like the flower string lights I have linked below. If you're not sure where to string them, there are a ton of ideas on Pinterest for basically any yard situation.
7. FIRE-PIT
Okay so a fire pit may not be a must, but it is definitely a nice to have. There are so many ways that you can add this element to your space. I have been eyeing this fire column from target since last summer and I'm hoping to bite the bullet and get it this year. I mean what's summer without endless s'mores in your back yard. I can't wait!
*Other items that you may want to add to your outdoor living space if budget and space allows is a TV, outdoor kitchen, pergola, and fireplace.
Outdoor Living Space Inspiration
When I am working with clients the best way to convey a design plan is through a style/mood board. This helps you visualize how all the parts and pieces fit together and gives you an overall idea of how the space will look once completed. It gives you confidence that you are creating a space you will love.
I highly recommend doing this for all the projects in your home. Style boards are one of my favorite parts in the design process and they do not have to be complicated. Check out my Modern Farmhouse Kitchen Makeover | Style Board post for more information on how to make your own.
Related: Modern Farmhouse Kitchen Makeover | Style Board
So you know I am all about neutrals and that is the way I like to style my own home. But I know there are a lot of you that like to add a little color, maybe even a lot of color. I can totally understand that and it is one of the things I love about being an Interior Designer. I have a love for so many different design styles and it's so fun to be able to express those through my clients. So even though I may not add a lot of color to my own home I still love designing with color.
I have created two different outdoor spaces. One with all my favorite neutral outdoor living items and one with all my favorite bright, colorful finds. You can decide which one is your favorite or maybe it's a combination of the two! Another thing I love about Target is they cater to both styles. They actually have a garden party line that is almost making me want to add color to my outdoor space. It's that good!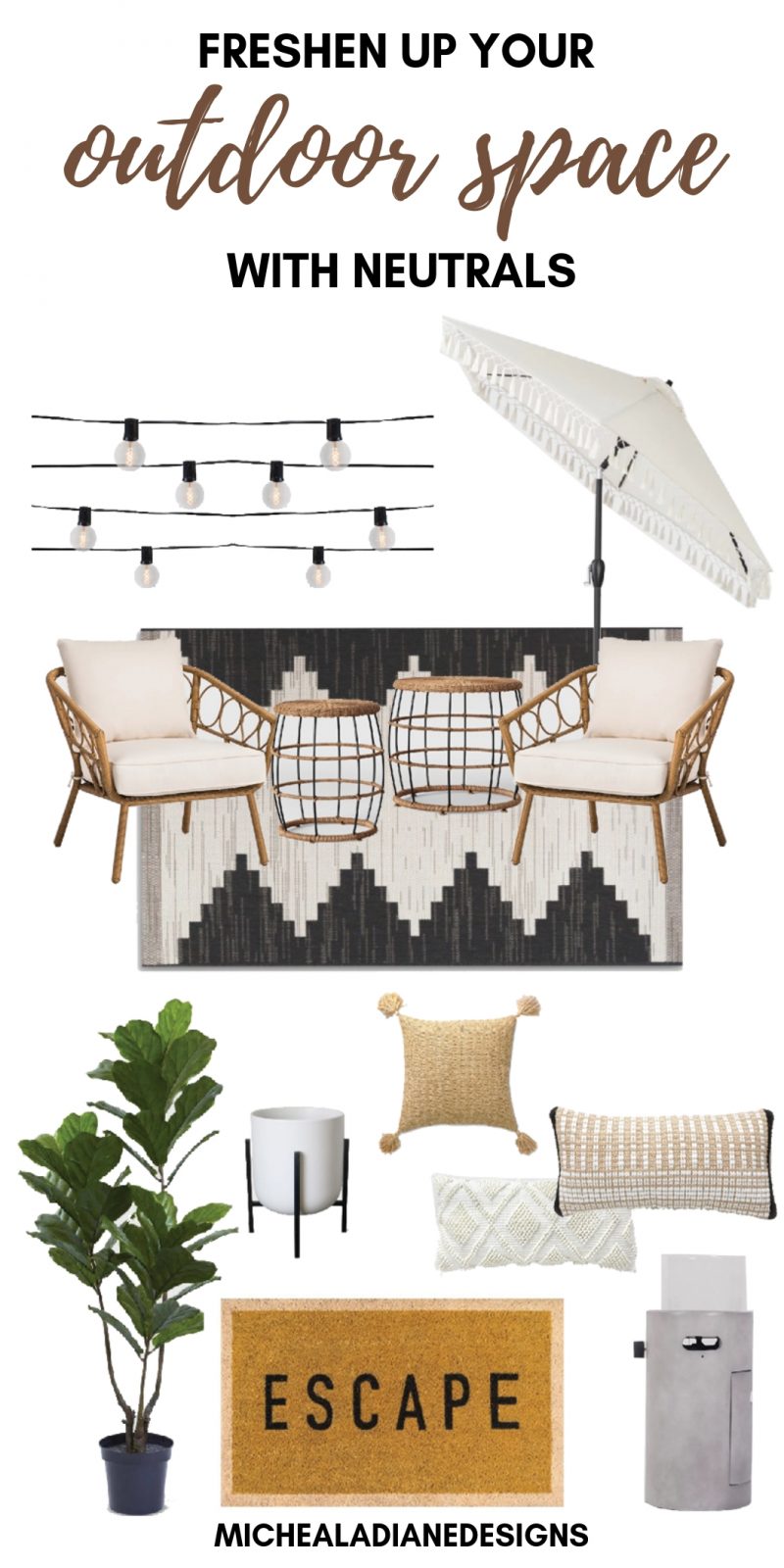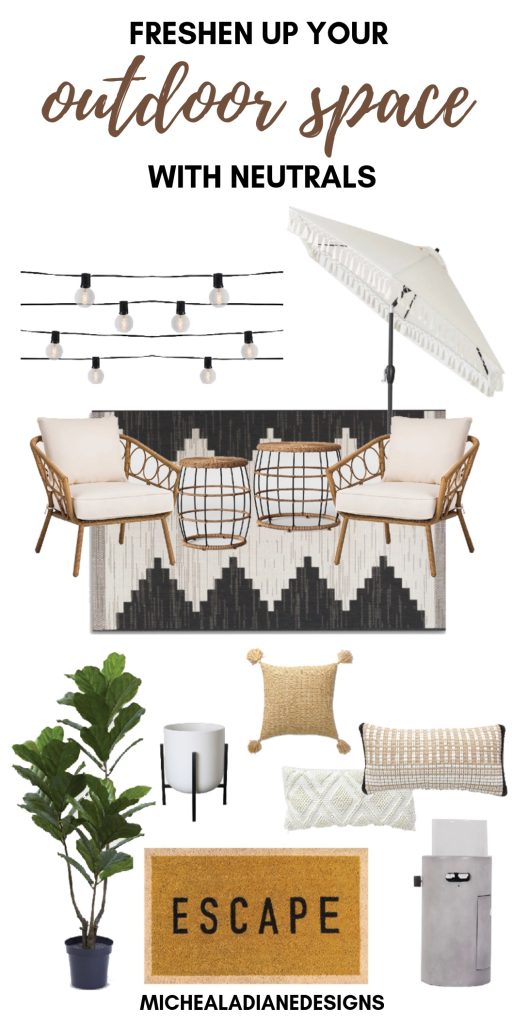 You can shop by clicking the pictures below!
" Affiliate links provided for your convenience, please read my disclosure for more information."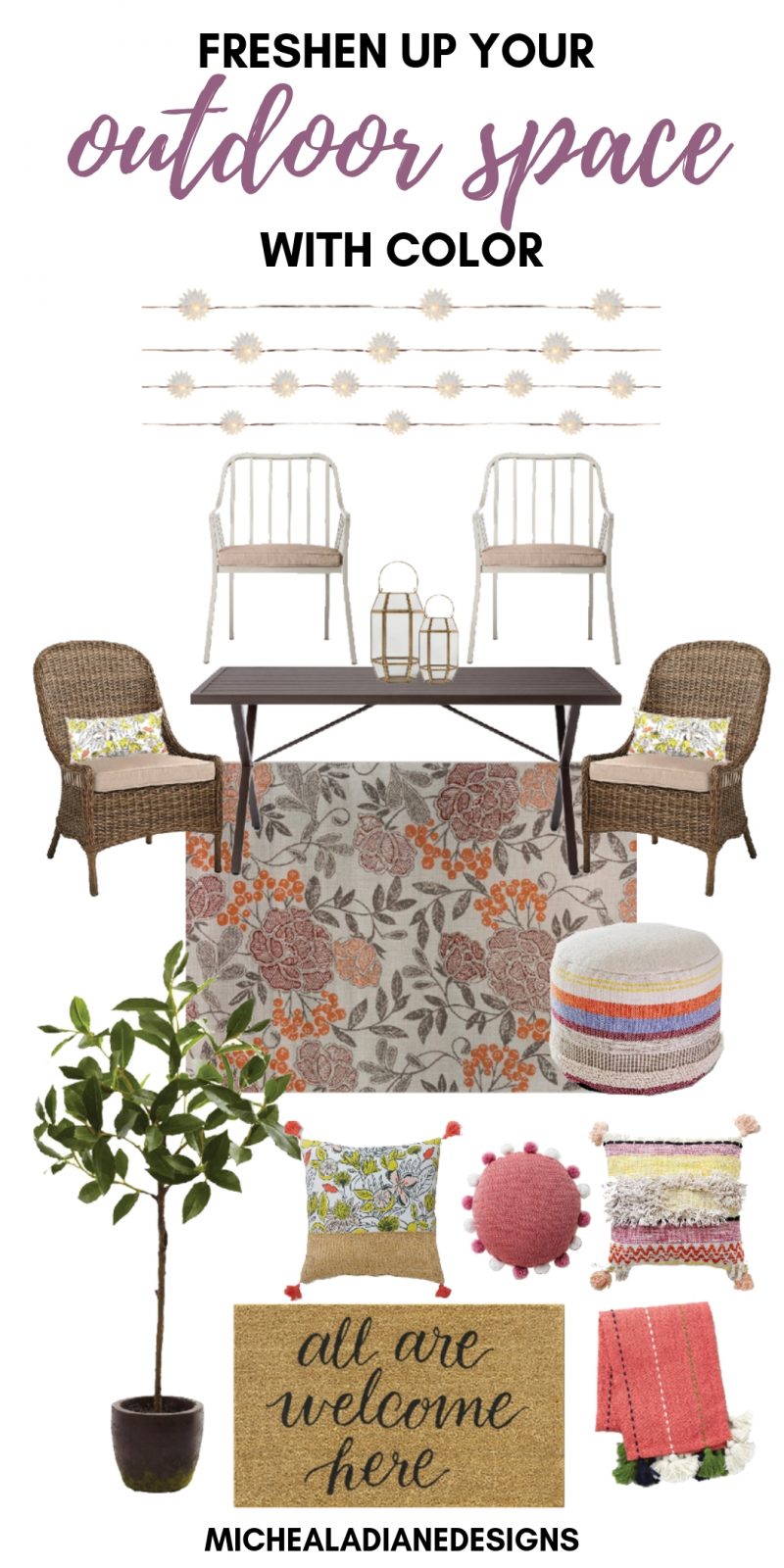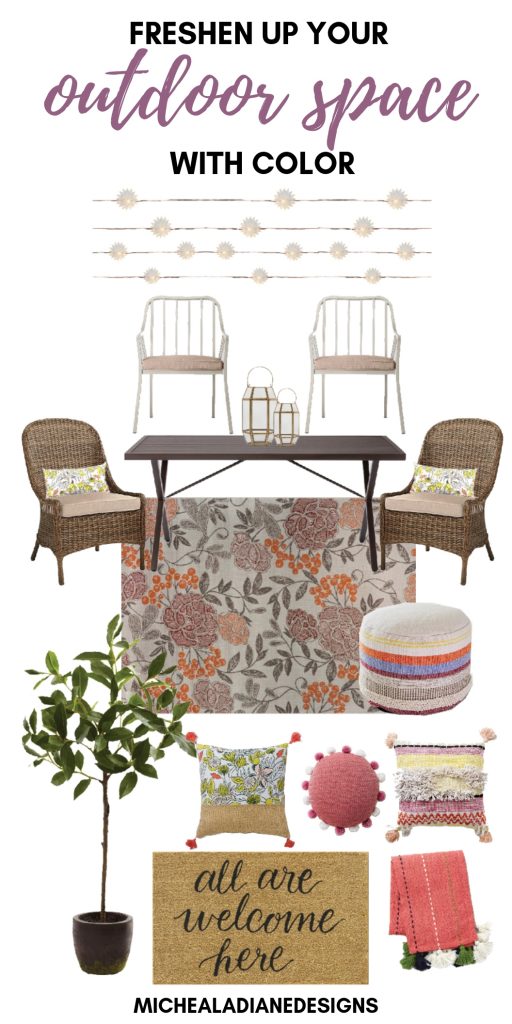 You can shop by clicking the pictures below!
Thank you so much for stopping by the blog today! I can't wait to hear from you and let me know in the comments which outdoor space was your favorite. ❤
What to Read Next:
Outdoor Furniture and Deck Progress
Modern Farmhouse | Outdoor Decorating Ideas