Are you looking for a unique second birthday party idea? I have you covered with the most adorable two-sweet birthday party theme.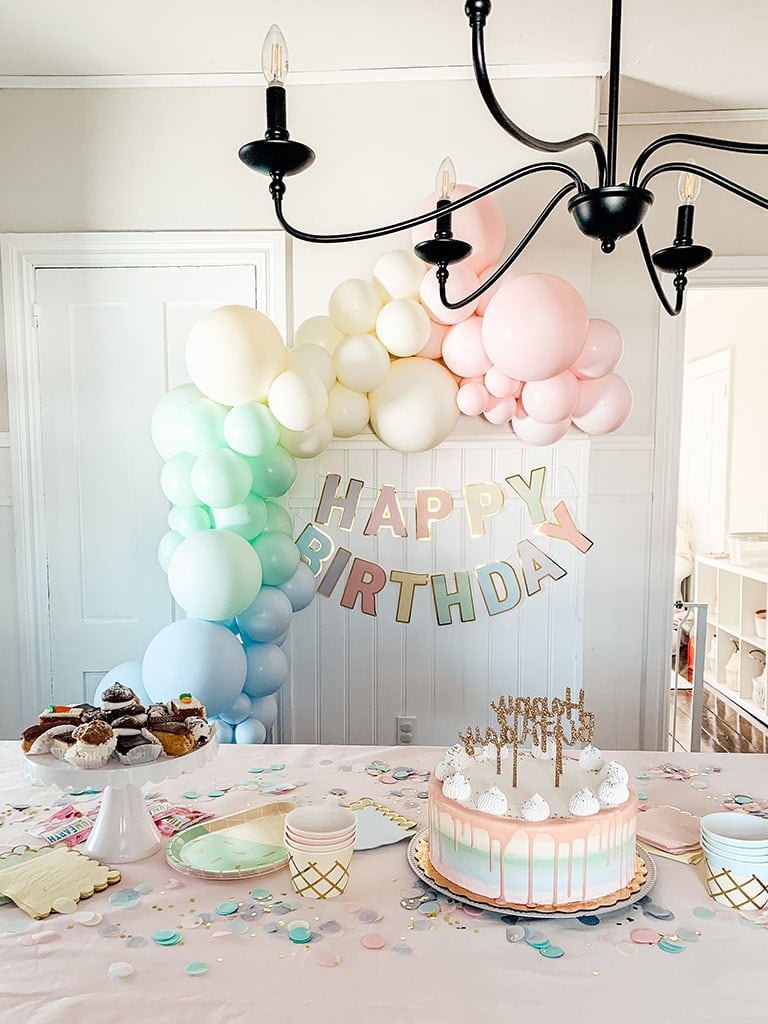 Party planning can be both exciting and a little daunting. From choosing the right theme to the invite, food, and decor. Today I am sharing all the details of our daughter's two sweet birthday party.
This was a small home birthday party nothing too extravagant but with a theme and a little decor, it felt pulled together. Almost everything is from Amazon or Target and we ordered the desserts from our local bakery. Kids' birthdays do not have to be over the top. We like to keep it simple over here.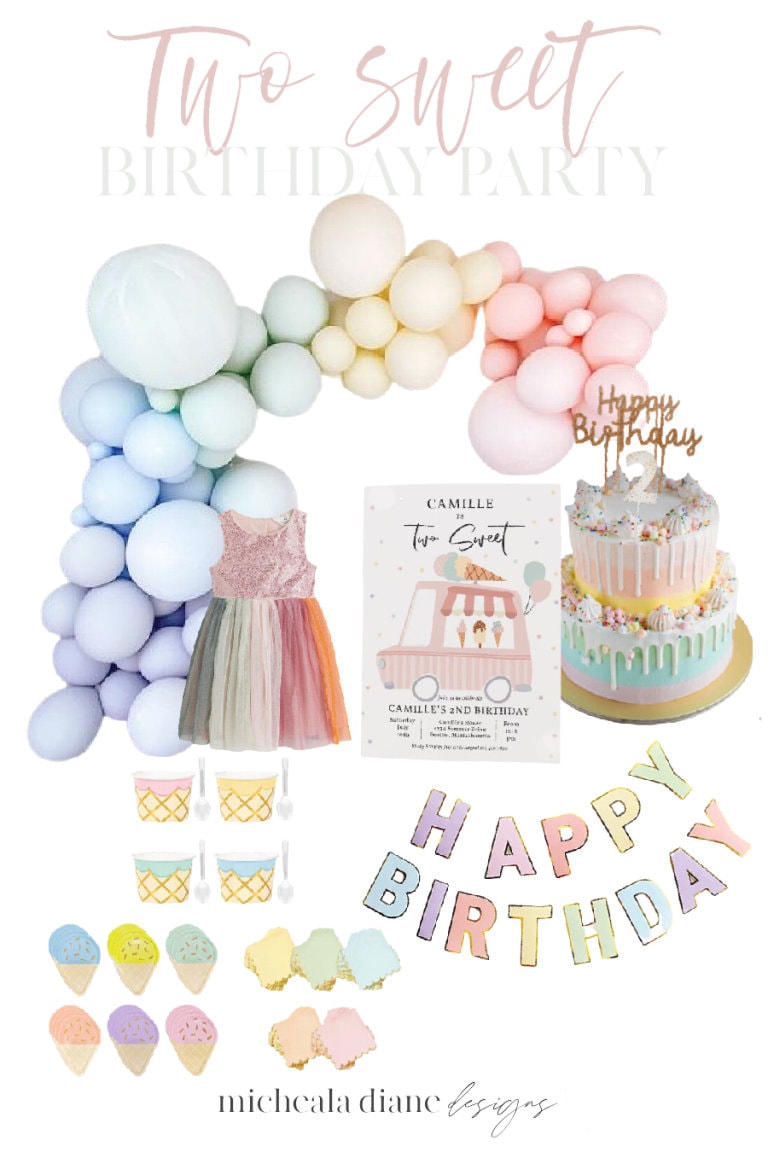 "Affiliate links provided for your convenience, please read my disclosure for more information."
Two Sweet Birthday Invitations
The first step for any party is the invitation. This will oftentimes help you come up with all the other decor details for the party. I also like to search birthday invites to come up with the perfect theme.
Etsy is my go-to place to find invites online. They have a large selection and often include other printable elements that you can use for your party. We found the perfect printable set for our daughter's first birthday. I was able to find the perfect two sweet birthday party invites there too.
I loved the pastel colors as many of the other invites for this theme are brightly colored. The ice cream truck gave me the idea to use ice cream decor elements and make the party food all about sweets.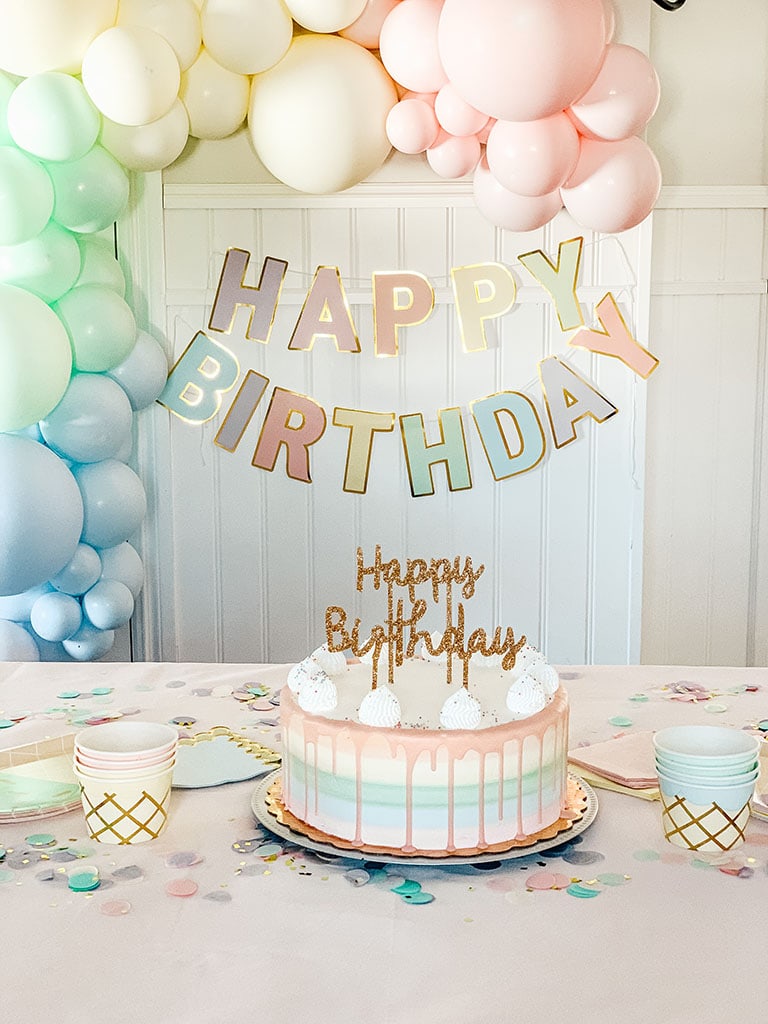 Two Sweet Birthday Cake
The party's theme is Two SWEET so the cake is one of the most essential elements.
We went with a muted pastel rainbow frosting with a light pink frosting drip. The top had piped frosting with rainbow sprinkles. Leaving plenty of room for our Happy Birthday cake topper and our gold glitter number two candle. The inside was funfetti which was not only delicious it fit the party theme perfectly.
If you are local we had this cake made at White's Bakery. If not you can provide any baker with an image of the cake that you like and they can make it for you.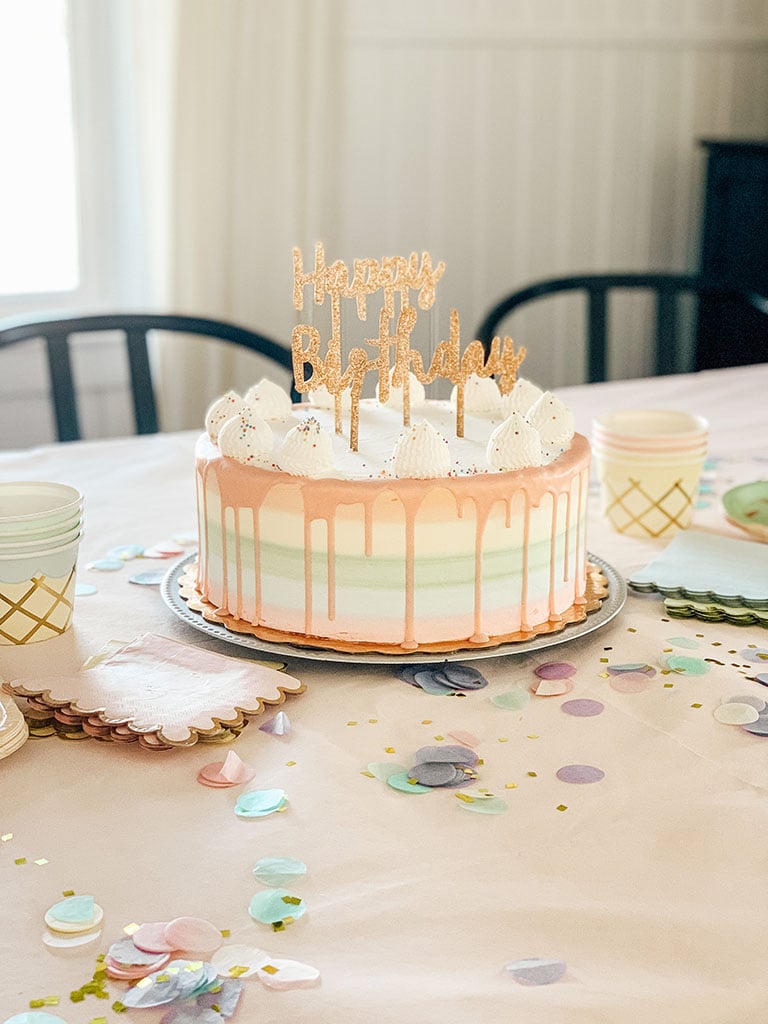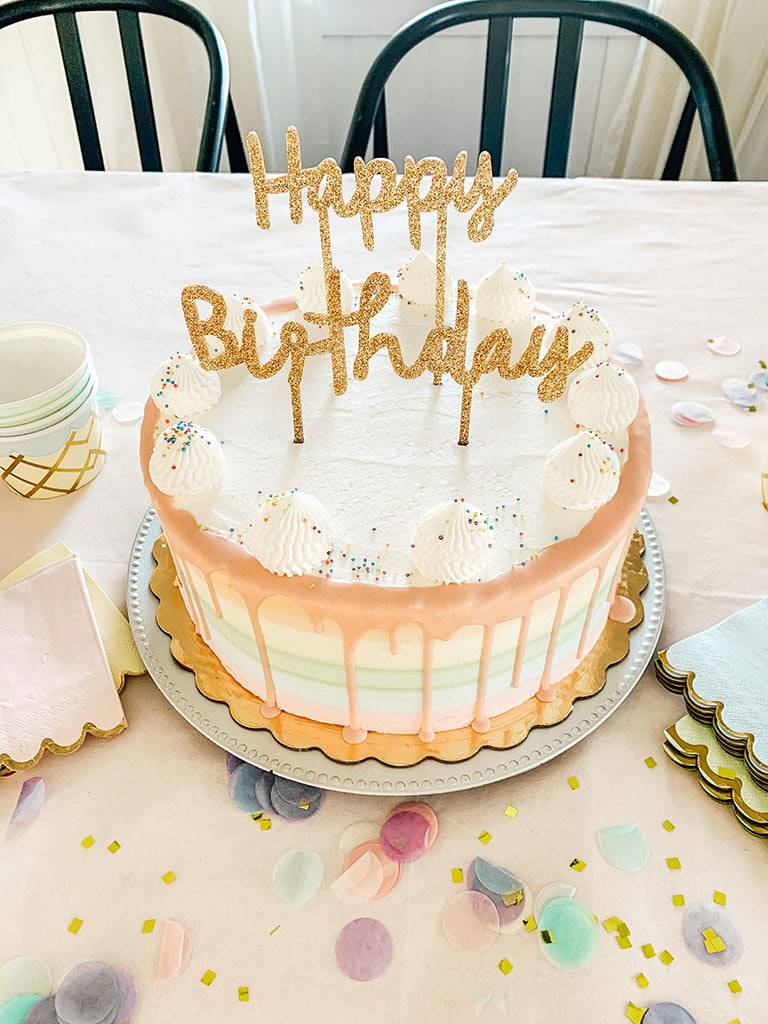 Two Sweet Birthday Food & Timing
Now that we had the cake design we came up with a food menu for the rest of the party.
This is a second birthday party at this point most toddlers are on one nap. If you have a toddler you know most life activities revolve around nap time. Our girl naps from 12 pm-2 pm. We decided to do the party from 2-4ish. This would ensure that she was well-rested and in a good mood.
This made this party theme even more perfect because we didn't need to serve a full lunch since it was mid-afternoon. We decided to do an array of mini desserts; cheesecakes, whoopie pies, carrot cake, cannolis, cream puffs, and eclairs. We also had birthday cake and ice cream as well as candies placed on the main table.
You may be thinking that's a lot of sweets well we thought maybe it would be too many sweets too. So we also made a large charcuterie board that included a couple of hot appetizers from Trader Joe's. (wish I would have taken a photo it was a beautiful board and everyone loved it.)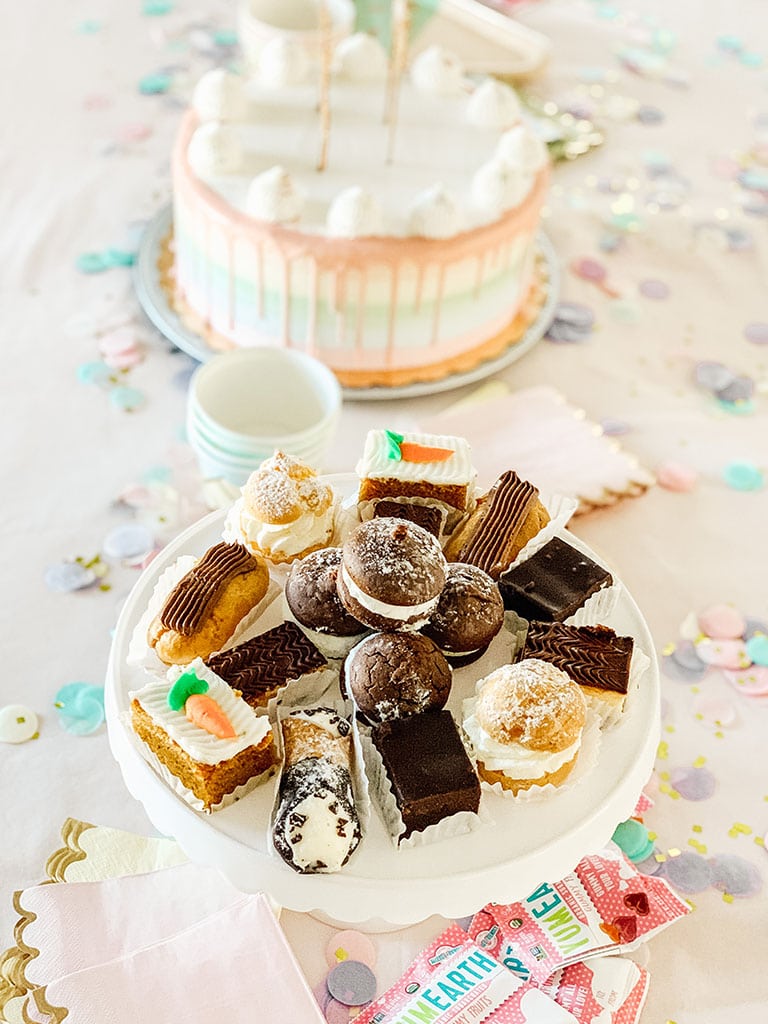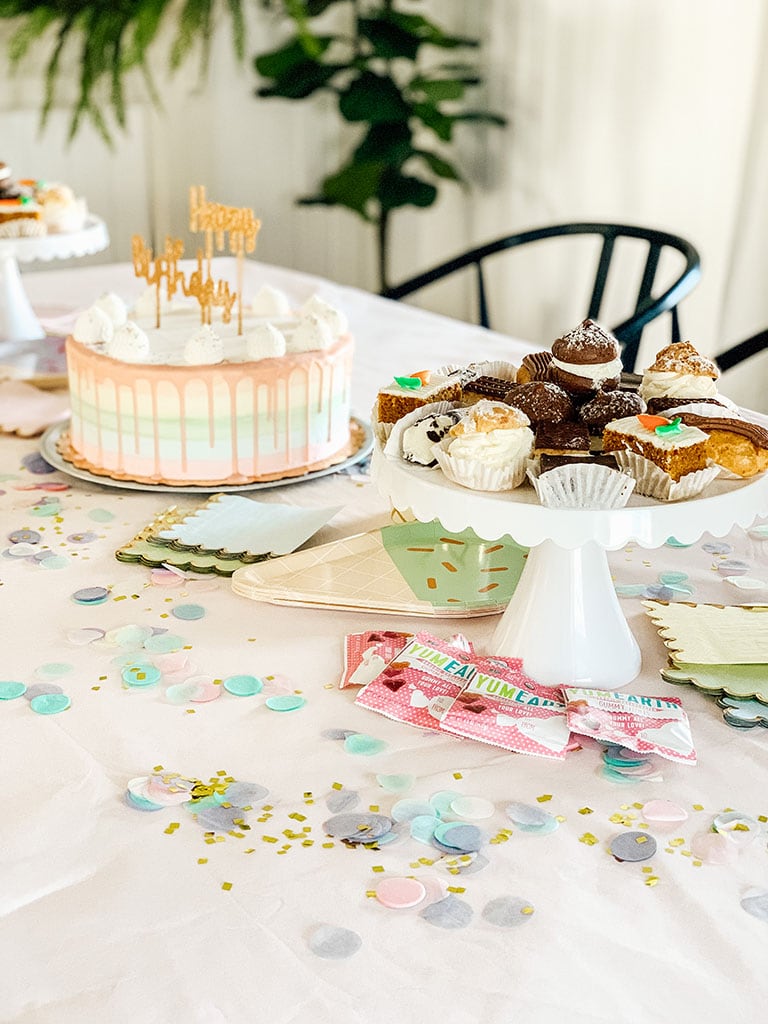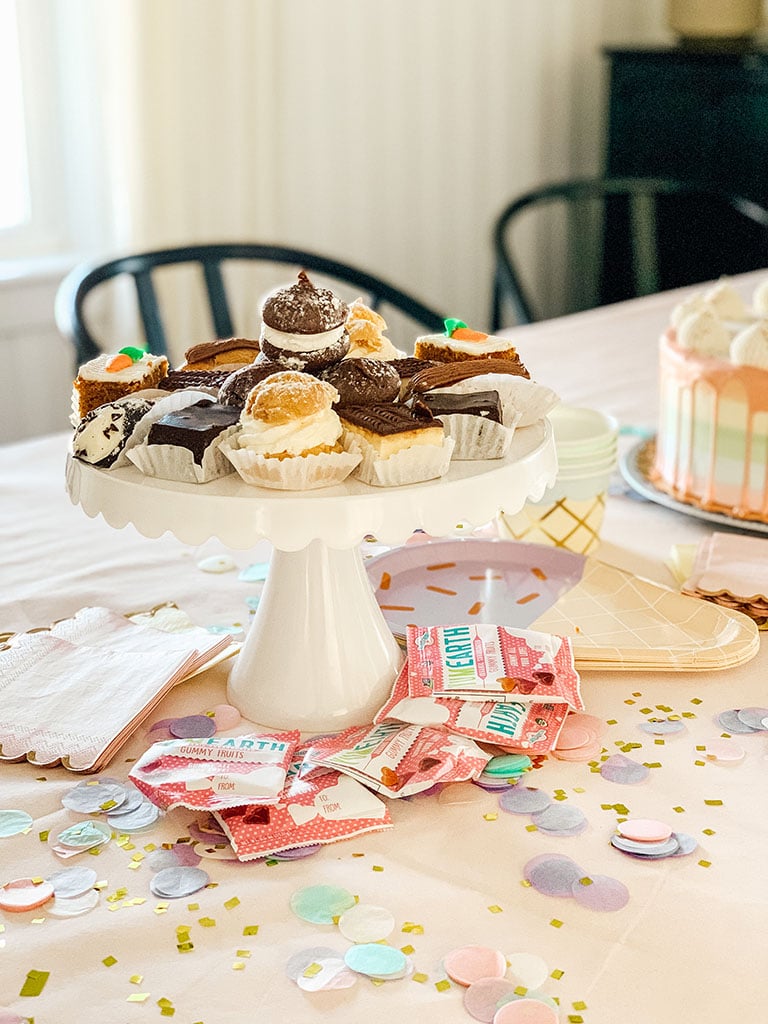 Two Sweet Birthday Favors
We decided to keep this birthday party pretty small. I had just given birth to our youngest and it was winter time. I kept the baby in a wrap and we limited the guest list to close family and friends.
Because of this, we did not have any other young kids at the party. Since we had so many desserts and a large cake we decided to buy pastel-colored take-home boxes. This was a big hit and our guests were able to fill them up with leftover cake, candies, and mini pastries.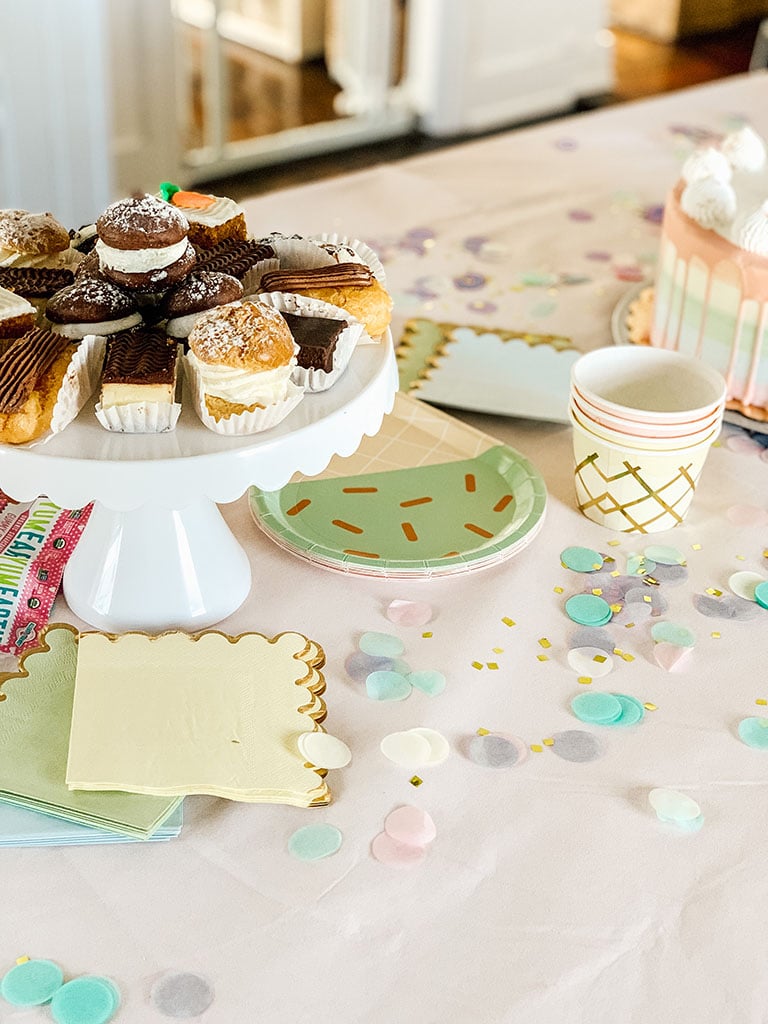 Two Sweet Birthday Outfit
What a party without a cute outfit for the birthday girl. We went with a cute rainbow sequined tulle dress that fit the theme perfectly.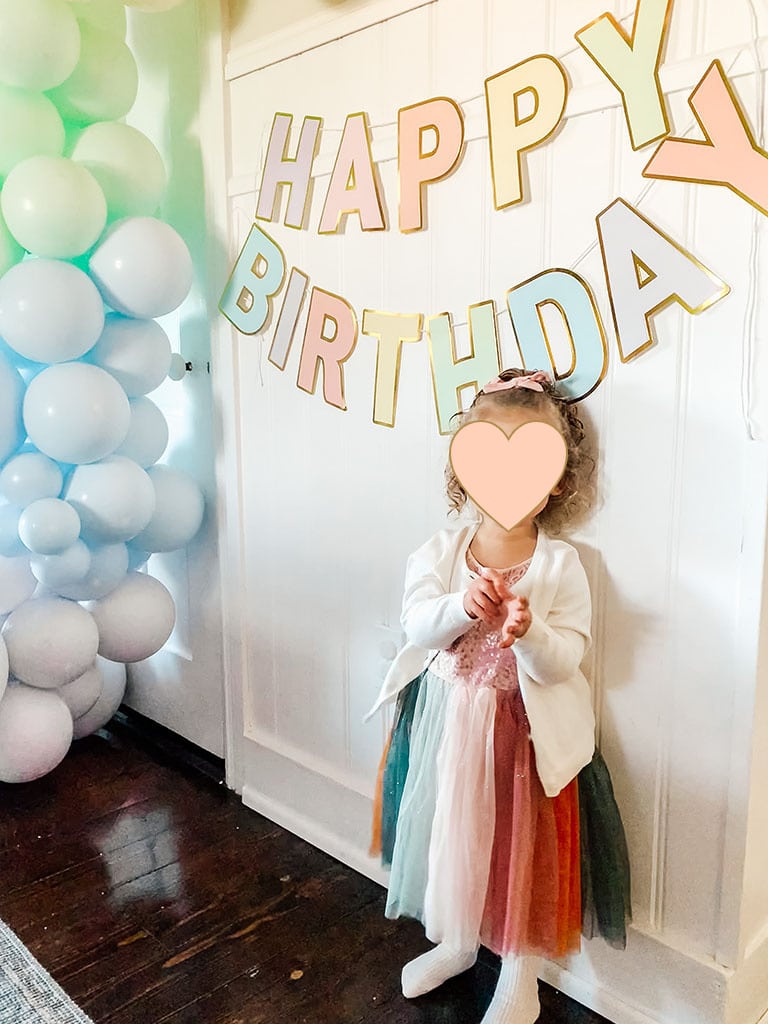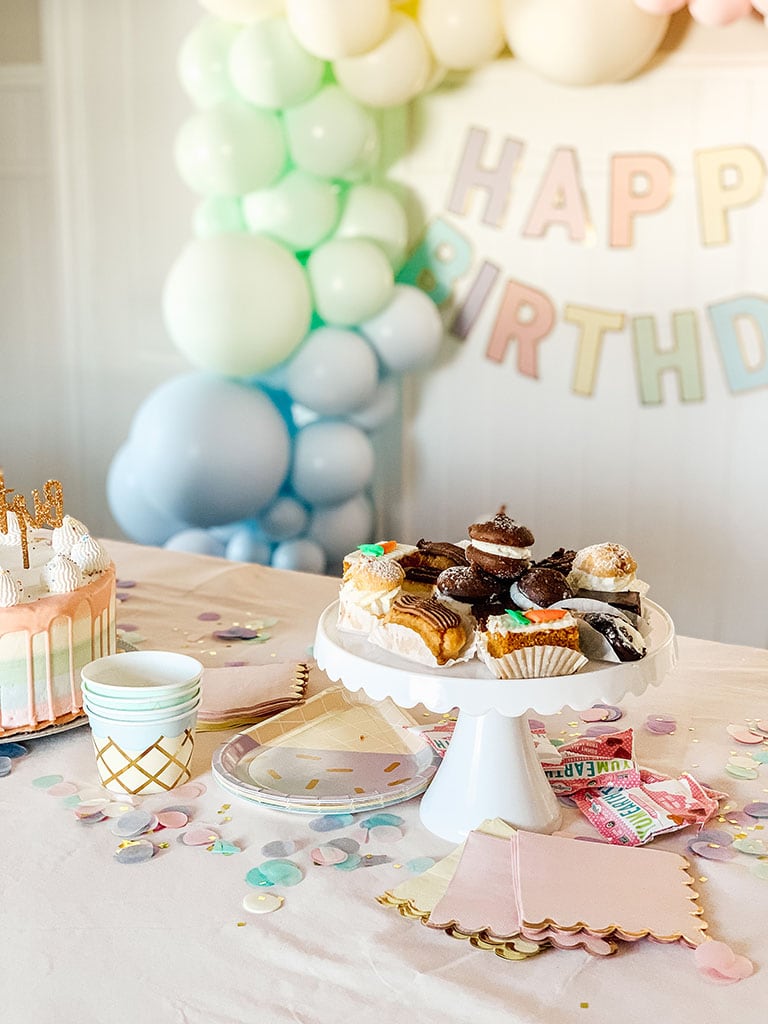 Birthday Decorations/ All the Details
I have found the easiest way to pull together a birthday or party theme is to do a balloon arch. It makes the perfect backdrop for pictures and fills the space so that you don't have to do too many other decor elements.
We had our custom pastel rainbow balloon arch done locally but you can order a similar balloon arch from Esty and do it yourself! I added a cute happy birthday banner under the arch and this became the go-to spot to take photos with family and friends.
You can find all the other party decor decorations listed below.
Ice Cream Truck Two Sweet Birthday Invitation
Pink Scalloped Edge Table Cover
Gold Glitter Number Two Candle
I hope that you found this post helpful in planning your own Two Sweet Birthday Party. Please let me know if you have any questions in the comments.
What to Read Next:
First Trip Around the Sun Birthday
Want to save this for later? Post this Two Sweet Birthday Party to your favorite Pinterest Board!