Today I am sharing my tried and true favorite black paint colors.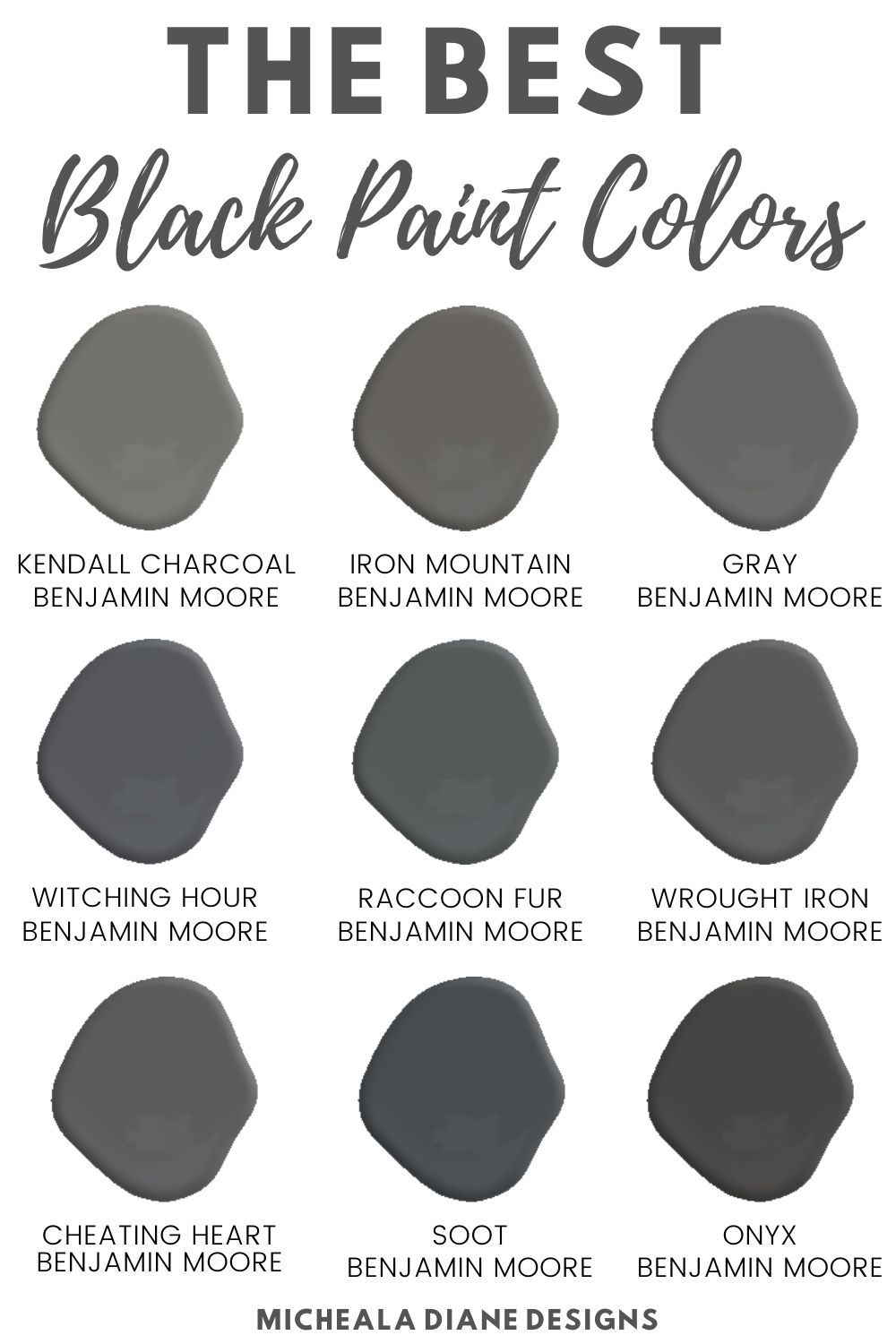 I thought that it would be fitting right before Halloween to share my favorite black paint colors. Using black for Halloween can be spooky, but it doesn't have to be in your everyday home. Black is a statement color that can add beautiful contrast and a dark moody element to your home.
Many people shy away from using black paint in their homes. But when done right it can give you a beautiful fresh modern look.  It is even popping up in more and more in modern farmhouse design.
If you haven't considered black paint before there are a few areas in your home that just might be the perfect place to start. Some of these areas are interior and exterior doors, kitchen cabinets, and islands, accent walls, trim, or even an entire room if you have the proper lighting.
I love bright white spaces and I am typically pulling my tried and true favorite white paint colors. But the designer in me loves creating these dark moody spaces as well. There is something timeless and classic about a space that has traditional moldings, painted in a moody black color.
This is a style that I have achieved through many client projects. And today I want to share my go-to favorite shades of black paint colors, so that you can archive this look in your own home.
The Best Black Paint Colors
If you are a little intimidated by black Kendall Charcoal is a great color to start with. This is one of my favorite colors to use for walls when you want to add some drama. It is more of a dark charcoal grey. Kendall Charcoal will make a statement but will not be as stark as a true black. It is very versatile and lends itself to being more neutral. Meaning that it will work well with other colors.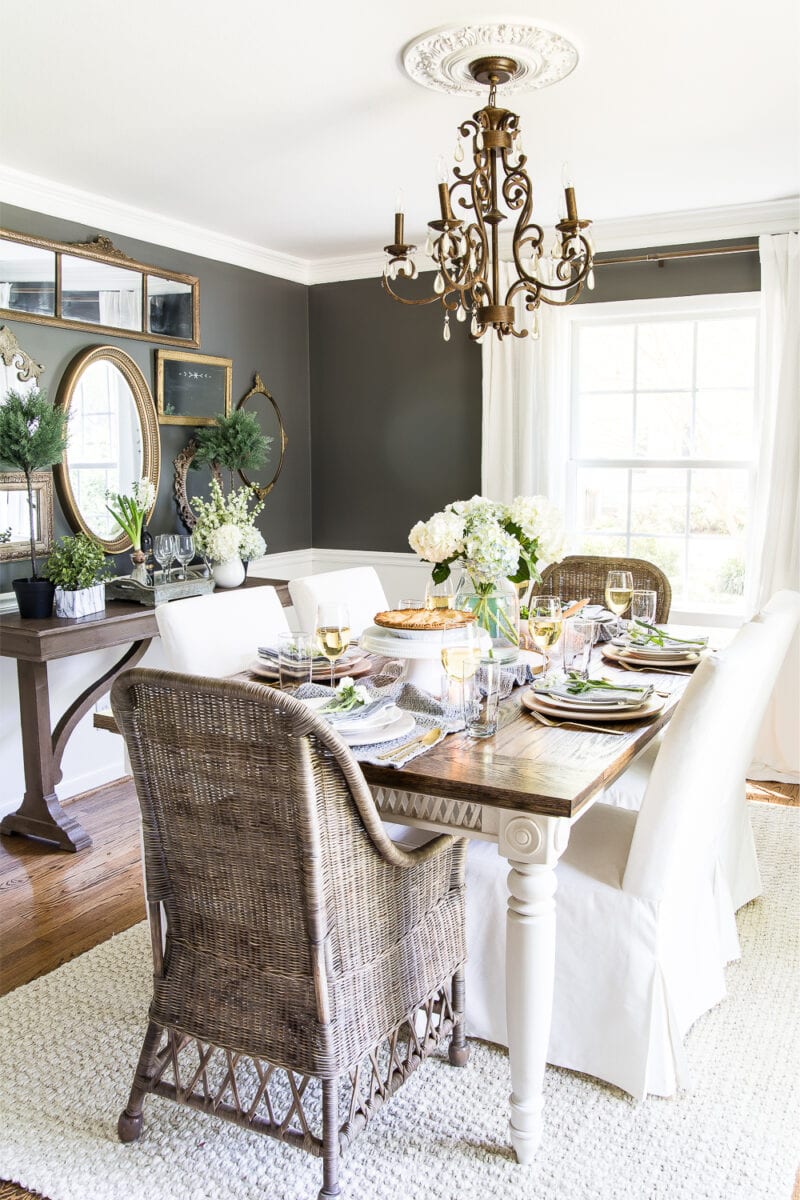 Kendall Charcoal Source: Bless'er House
Iron Mountain is a warmer black and can have some brown undertones with a lot of natural light. This color is great for interior doors and trim but can also be used for walls. It is a rich color but is not too dark.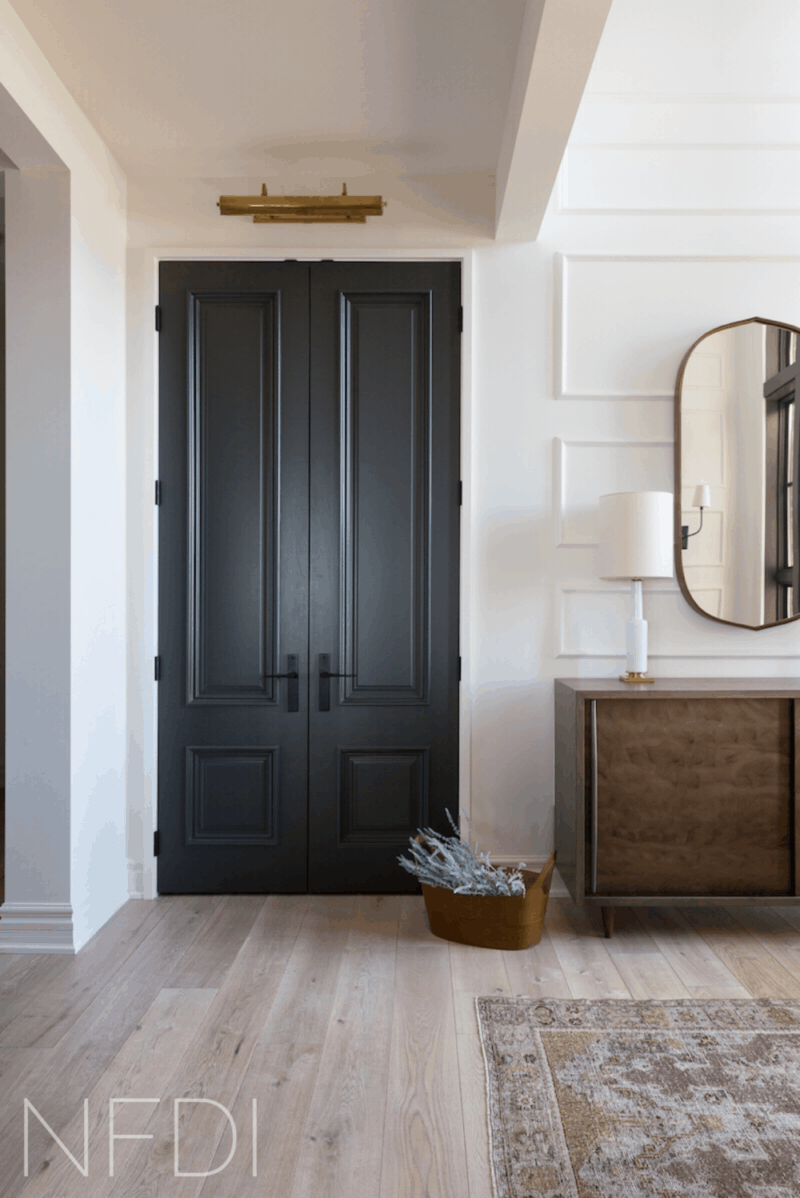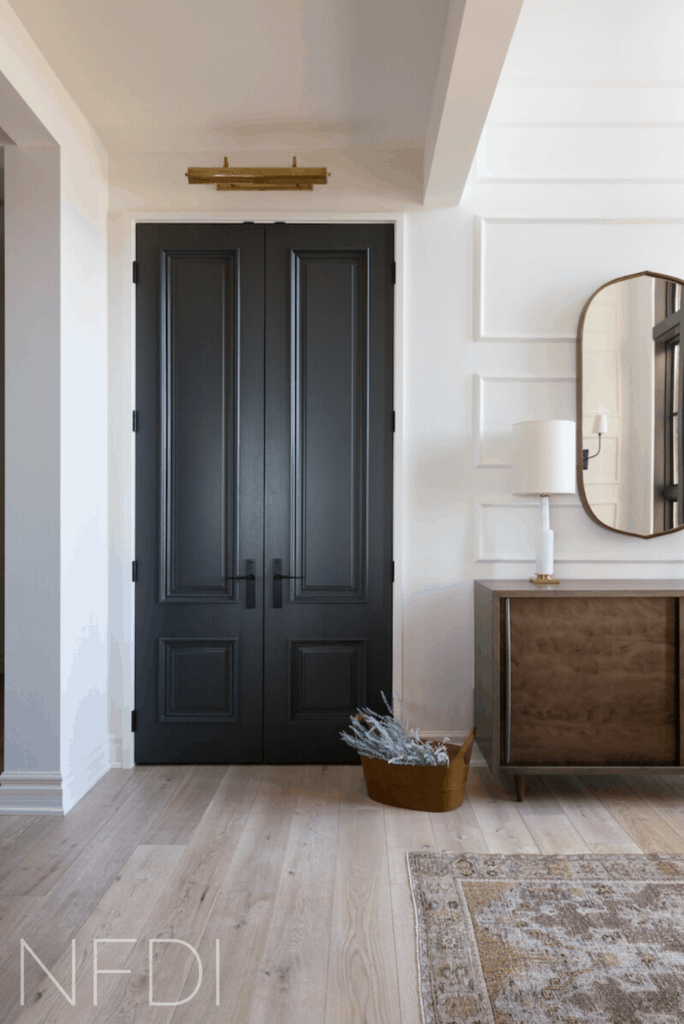 Iron Mountain Source: Nyla Free Designs Inc
Gray is a beautiful charcoal color that is a little softer than a true black. I have used this color on walls for my clients and it is stunning. It has a nice balance of warm and cool undertones and adds drama to any space.
Raccoon Fur is another black that has blue undertones. Its a bold color that looks great on walls as well as kitchen cabinets.
  Raccoon Fur Source: Kristen Diane
Witching Hour is a cool black with some blue undertones. Because of the hints of blue this bold color looks great for the exterior of a house as well as a dramatic accent wall. It also pairs well next to white trim.
If I had to pick my absolute favorite black paint it would be Wrought Iron. This is a soft-muted black paint color that is fail-proof for trim, doors, and cabinets. It has a little bit of warmth compared to a true black.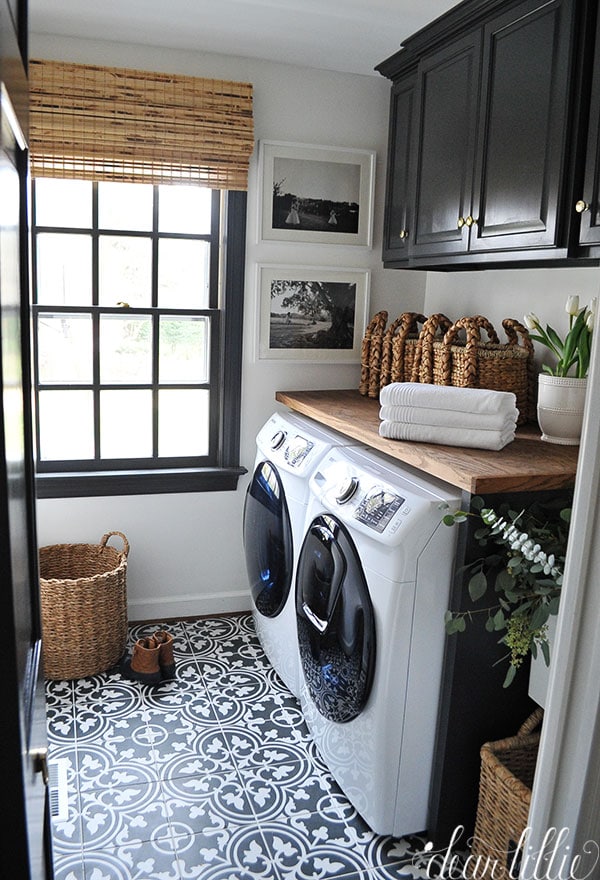 Wrought Iron Source: Dear Lillie Studio
Cheating Heart is a very dark almost black paint color. It works well on kitchen cabinets and built-in millwork. It is beautiful combined with white countertops.
Soot is a moody warm black. It is perfect for interior walls and will leave your space feeling dramatic without being cold.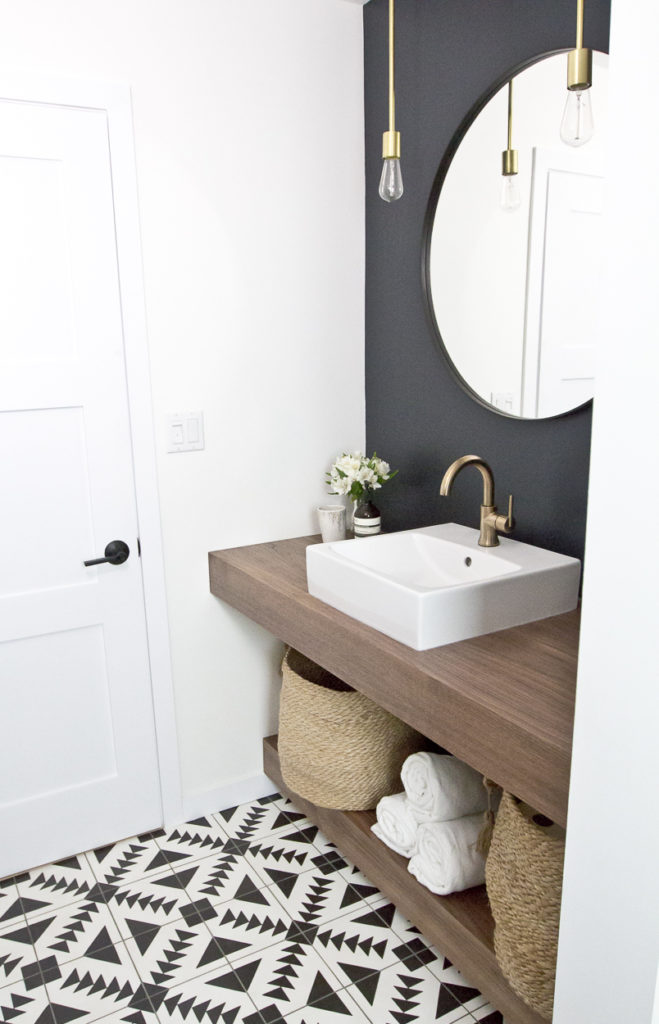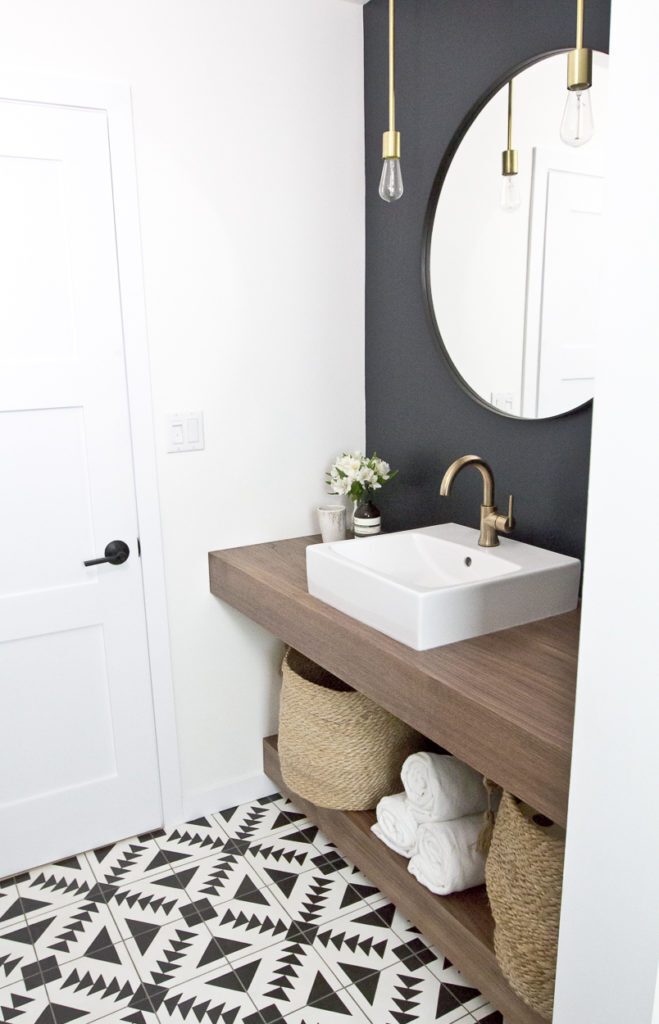 Soot Source:  Kristina Lynne A Design & Lifestyle Blog
Onyx is a very dark black paint but it is also soft. If you are looking for drama this is your black paint color. This is the darkest blackout of all the ones I have suggested.
Most Important Painting Tip
When it comes to black paint colors or really with any paint color I highly recommend getting samples. How a color looks online, in the store, or even at a friend's house may be totally different than how it looks in your own home. Colors can change slightly due to natural light, artificial light, and the decor that you already have in your home.
I recommend collecting a bunch of paint chips( those little paper paint cards) at the paint store and bringing them home. Look at them in your space and then narrow it down to 3 colors that you love. Then you can get actual paint samples in those colors. Looking at the paint chips in your home first will help you narrow down your options and save you money. Those small paint cans can add up.
The next step can be done in one of three ways. If you don't mind paint samples on your walls you can paint the 3 colors you chose in a couple of different places within your space.  An even better option would be to order large samples from Samplize.
Samplize is an online retailer that offers peel-and-stick paint samples painted with the real paint color. This allows you to see what the actual color will look like without damaging your walls. You can save on all those paint cans, making for no cleanup and no waste.
Another option is to paint the samples on a large foam core board and move it around your space. The point of this is to see what the colors look at different times of the day and with different amounts of light.
Lighting is so important when choosing a paint color. Make sure you view the colors at different times of the day, with both natural and artificial light. You will be surprised at how different a color can look depending on the light.
Favorite Paint Supplies
You can shop by clicking the Links below!
" Affiliate links provided for your convenience, please read my disclosure for more information."
I hope you all enjoyed this guide to black paint colors and it encourages you to add a little drama to your interiors. As always thank you for stopping by the blog. ❤
Be sure to check out my other paint suggestions below.
What to Read Next:
The Best Farmhouse Paint Colors
Neutral Paint Colors | My Home Paint Colors