Today I have joined two very talented bloggers. Together we are going to share some Christmas decor inspiration, that will hopefully inspire you during this holiday season. I am sharing my bedroom all decked out for Christmas. Be sure to check the other ladies out at the end of this post!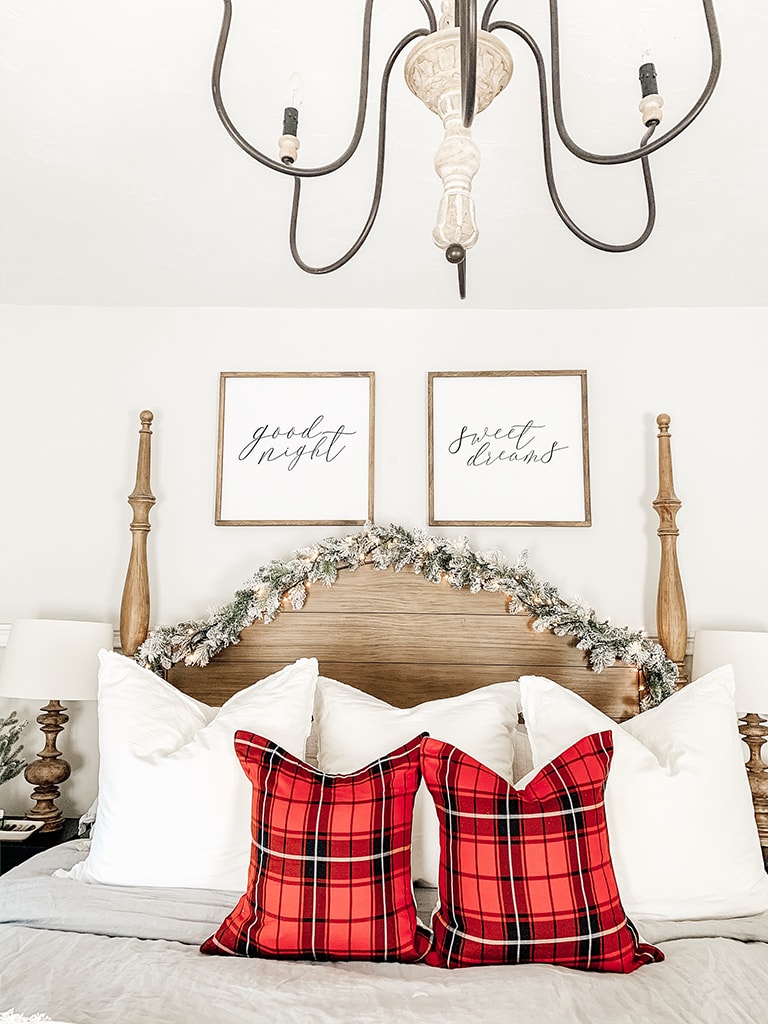 Farmhouse Christmas Bedroom Tour
" Affiliate links provided for your convenience, please read my disclosure for more information."
This is the first year I have ever decorated my bedroom for Christmas. I have to say that it will not be the last. It has been so magical to have all the twinkly lights on right before bed.
If you are thinking about decorating your bedroom this season it does not have to be complicated. We added a few easy items and it instantly turned our bedroom into a cozy Christmas retreat.
Grab a snack and come join me on a tour of our farmhouse Christmas bedroom.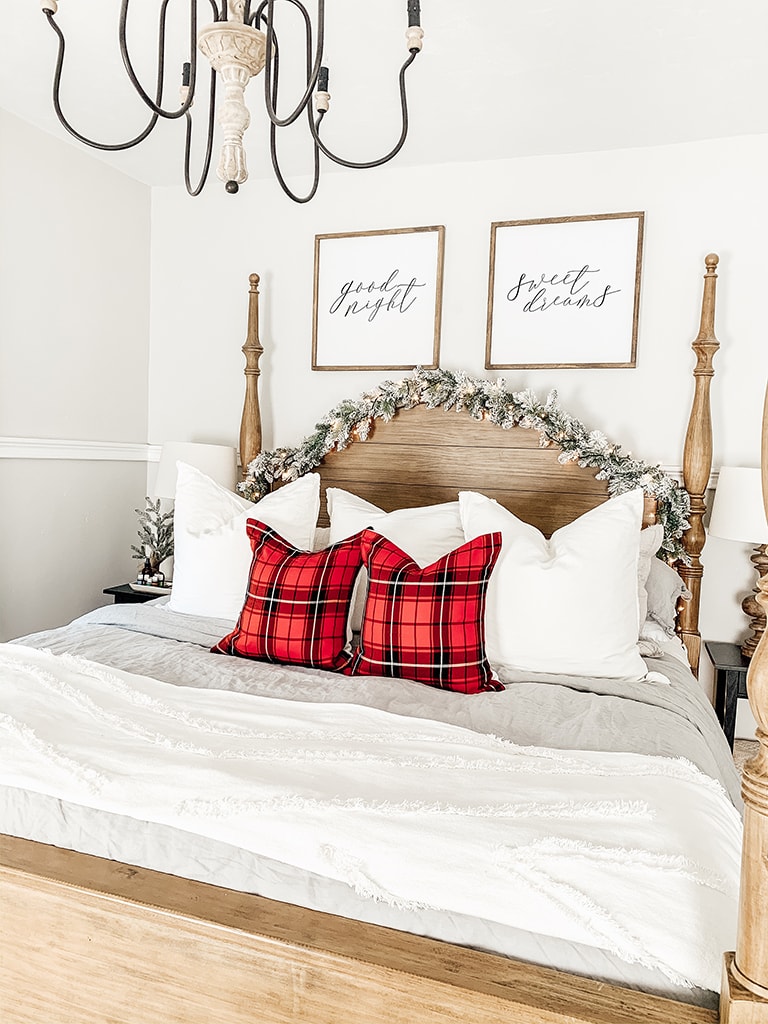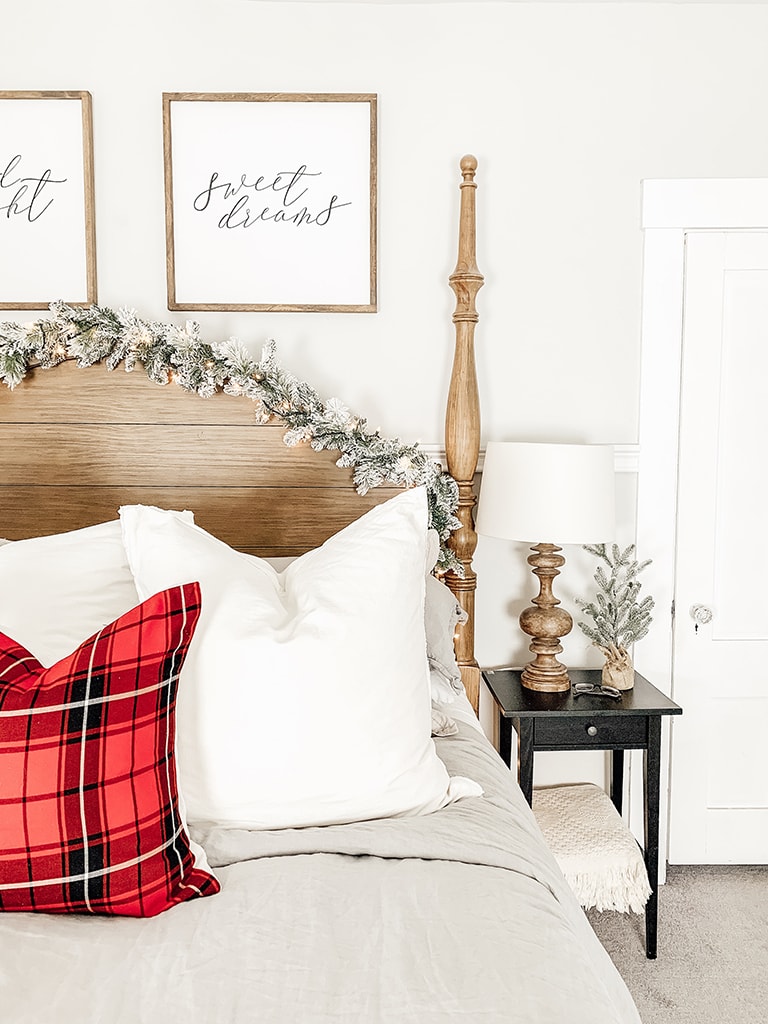 The first item that we added was flocked garland with white lights to the top of our headboard. We have a beautiful arched headboard and I was excited to see what it looked like with garland on the top. I love how it turned out and it is my favorite thing that we added this season.
I did not want to put holes or damage the front of my headboard. So to hang the garland we used string and then tacked the string to the back of the headboard. You could also use command strips, but this is what we had on hand.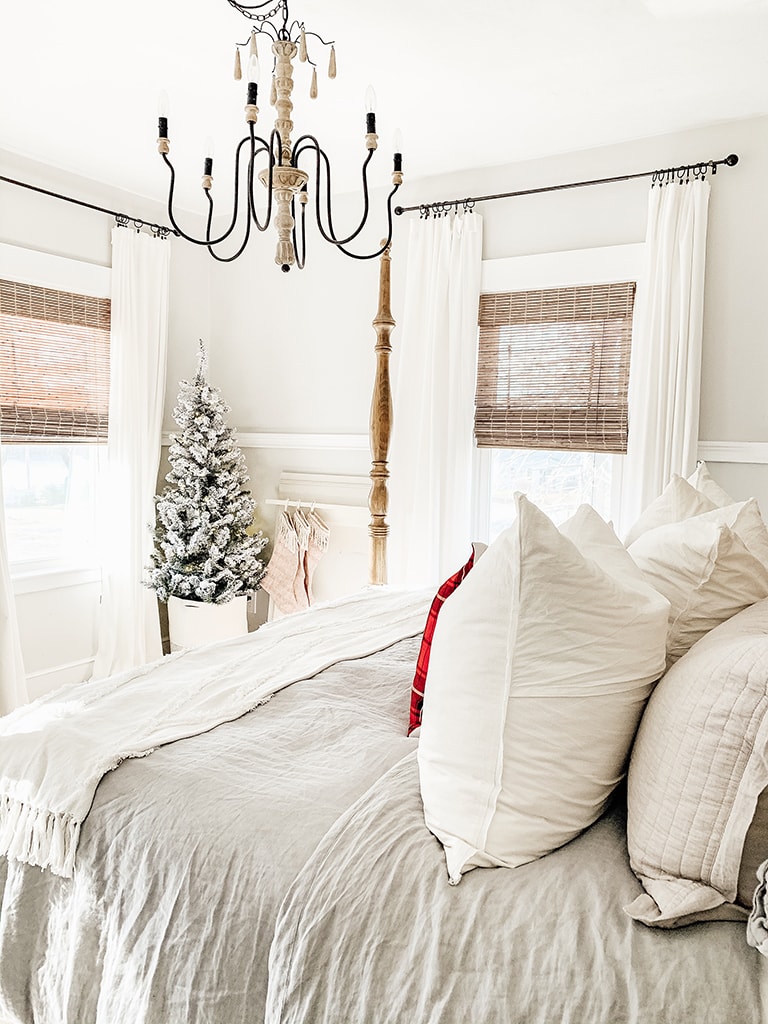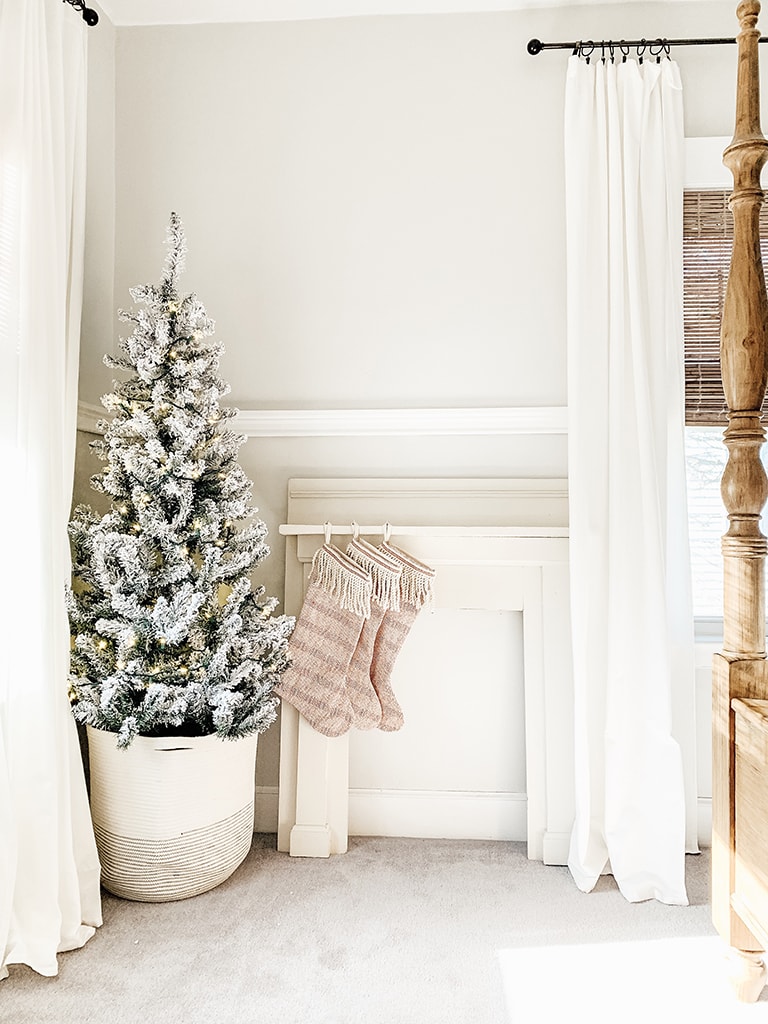 Another item that adds instant Christmas vibes to a space is a Christmas tree. I placed a 6ft tree in this cute basket in the corner of our room. I left it no fuss with just plain white lights. Next to that, I hung these red and white stockings to an antique mantel we had in storage.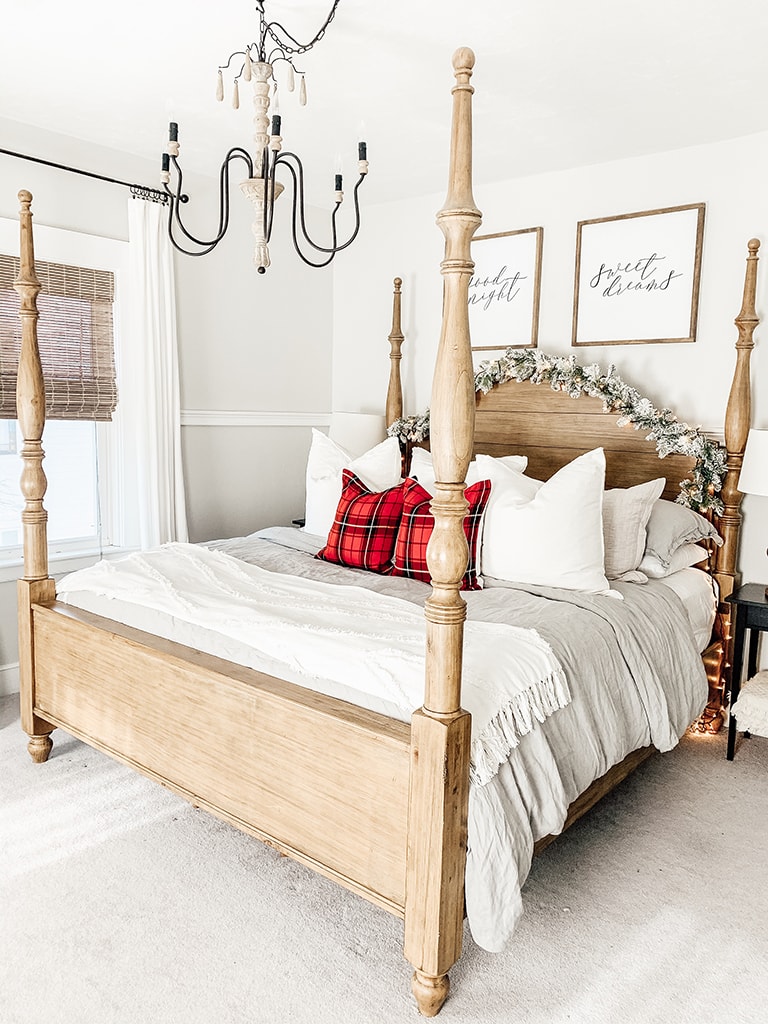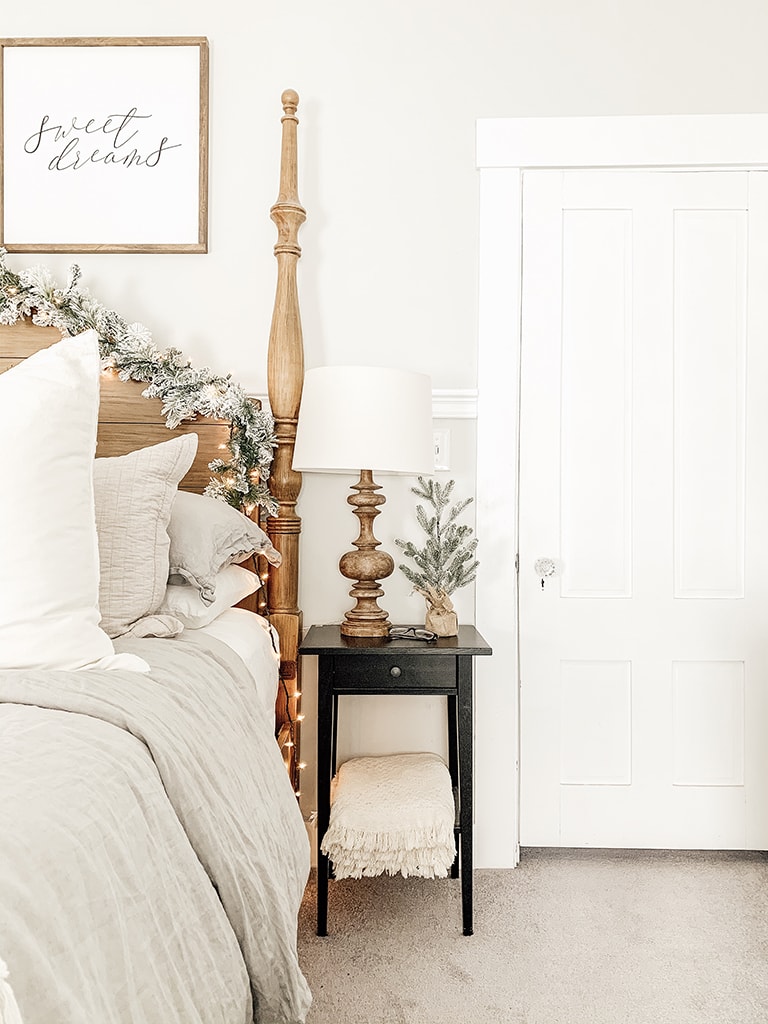 For our nightstands, I kept it super simple since we use them for glasses, water, and our bedtime oils. I placed a small flocked tree on each side.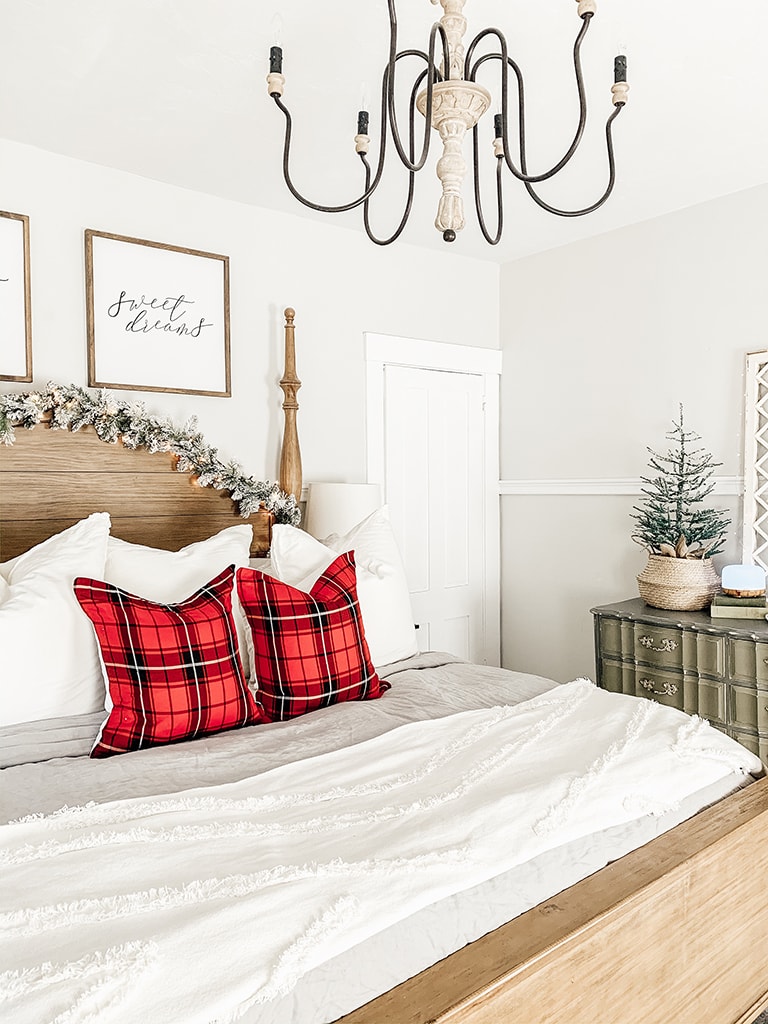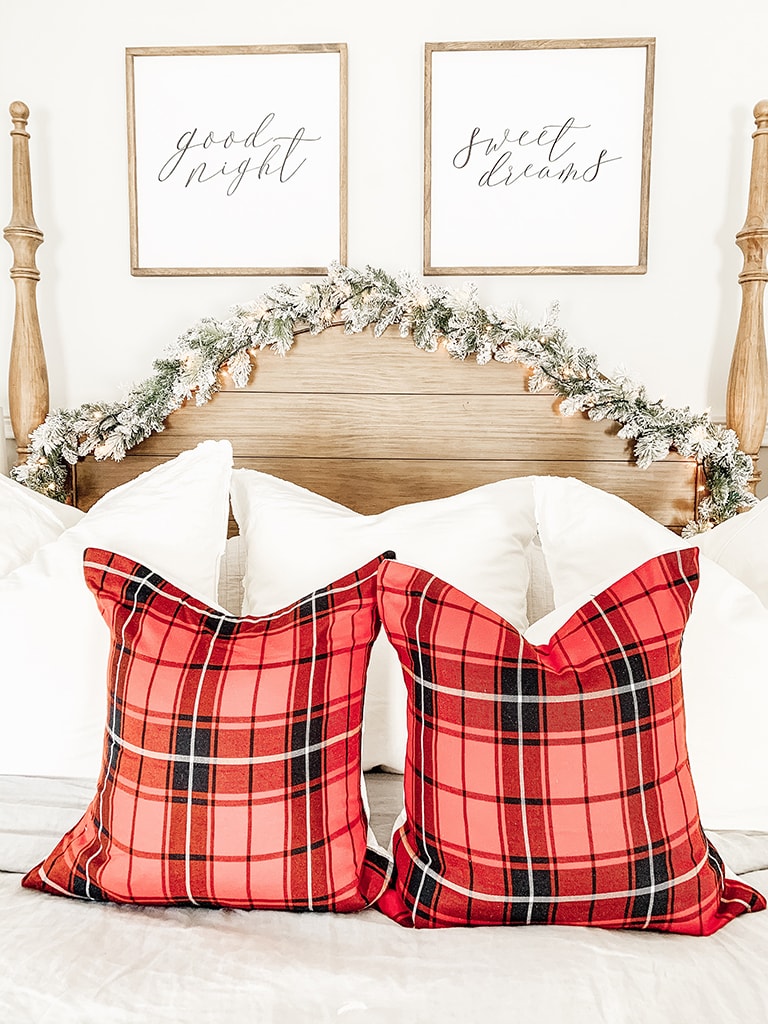 For a pop of Christmas color, I replaced our center throw pillow with two red, white and black plaid pillows. This is such an easy swap to make your existing bed set look holiday ready.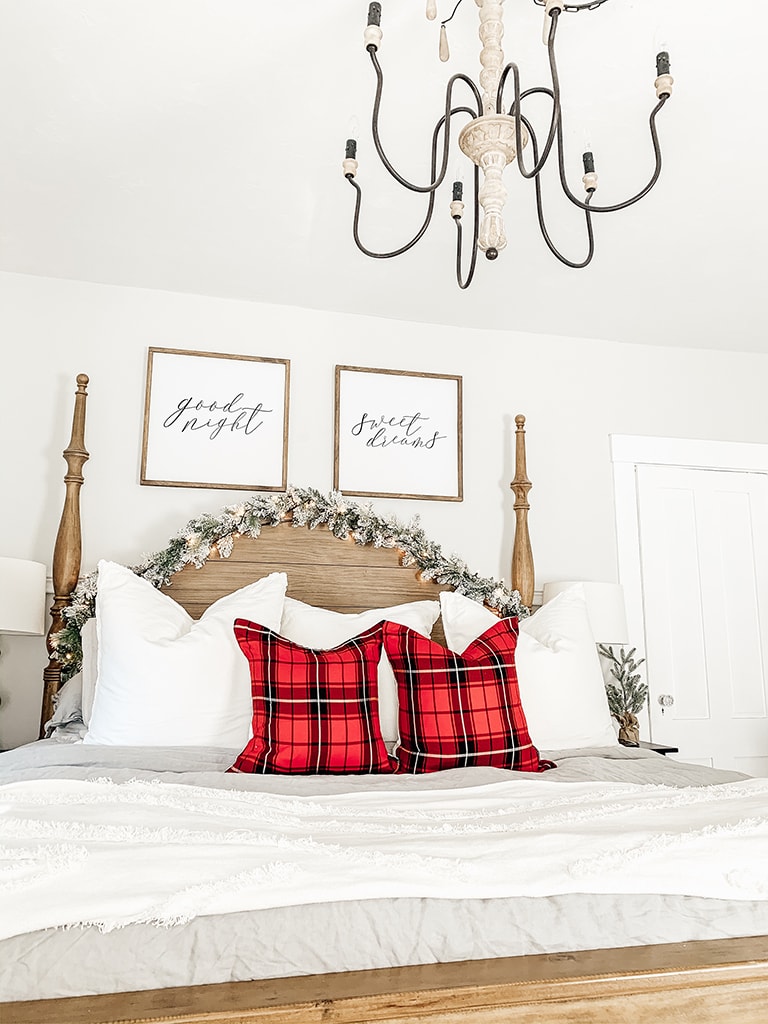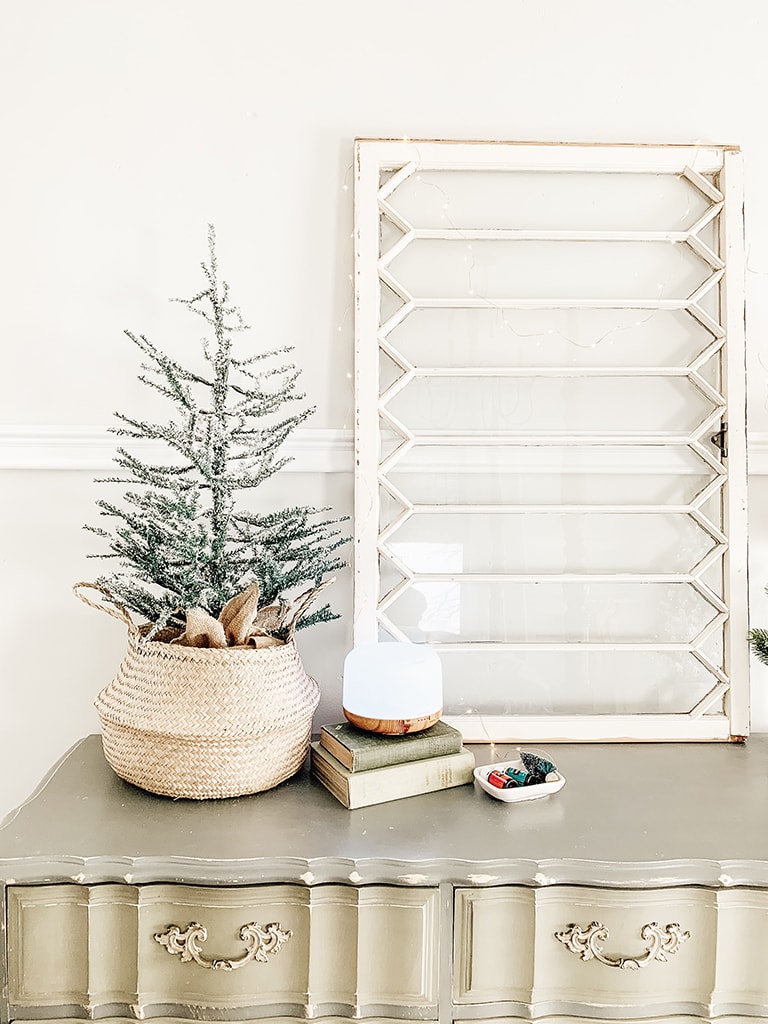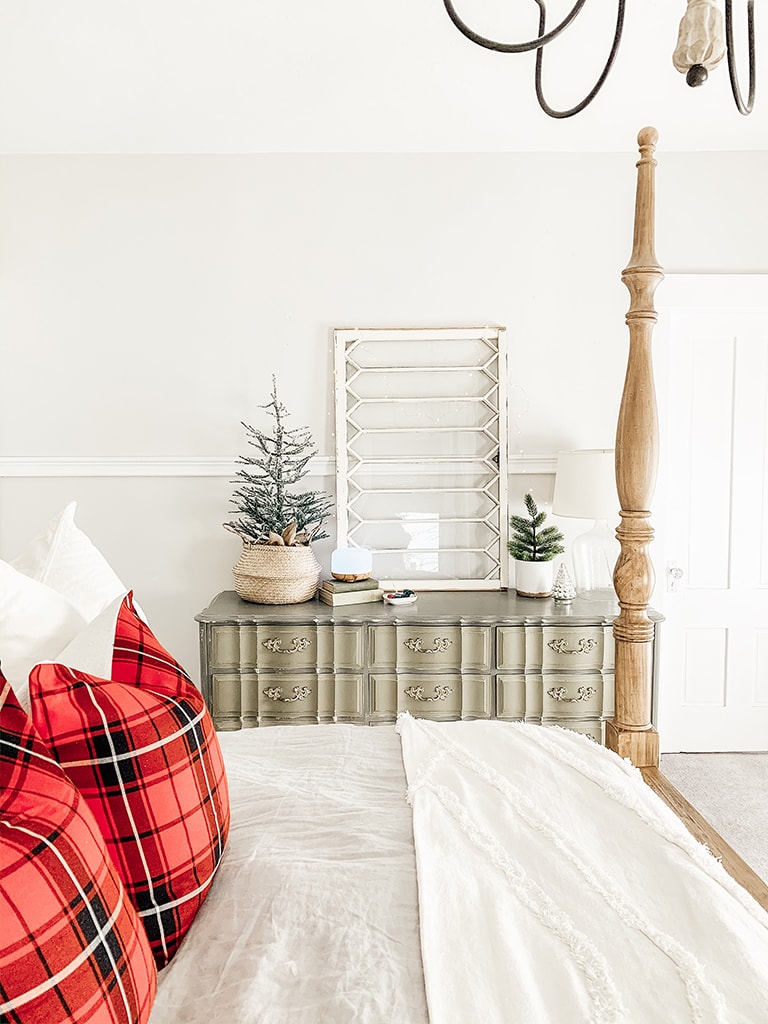 I took the plant out of the white planter we have and added a small tree. Then I strung a set of fairy lights across the antique window we have in the center.  These small changes make a big impact.
Related: How to Style a Dresser Top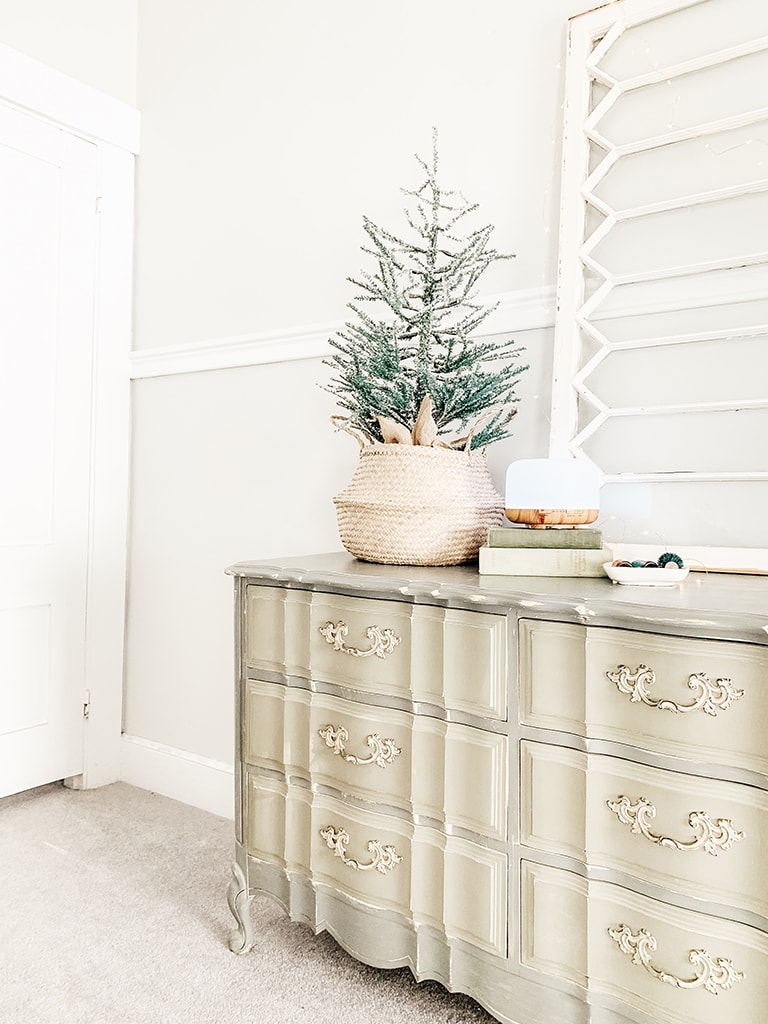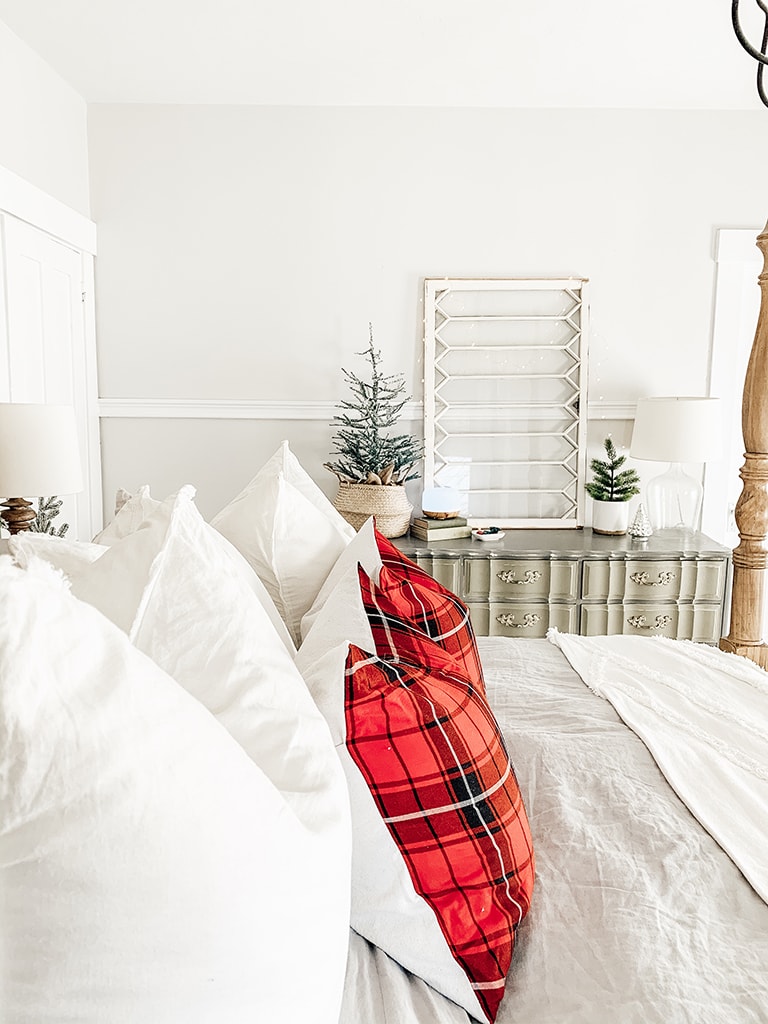 You can shop this post by clicking the links below!
Red, White, Black Plaid Pillow Covers (2019 version-Use code MICHEALADIANE for 10% off)
Diffuser | See this post about what essential oils we use!
Our bed is from Magnolia Home Furniture ( Here is one that is similar)
Duvet Cover- Target- In the Gray Color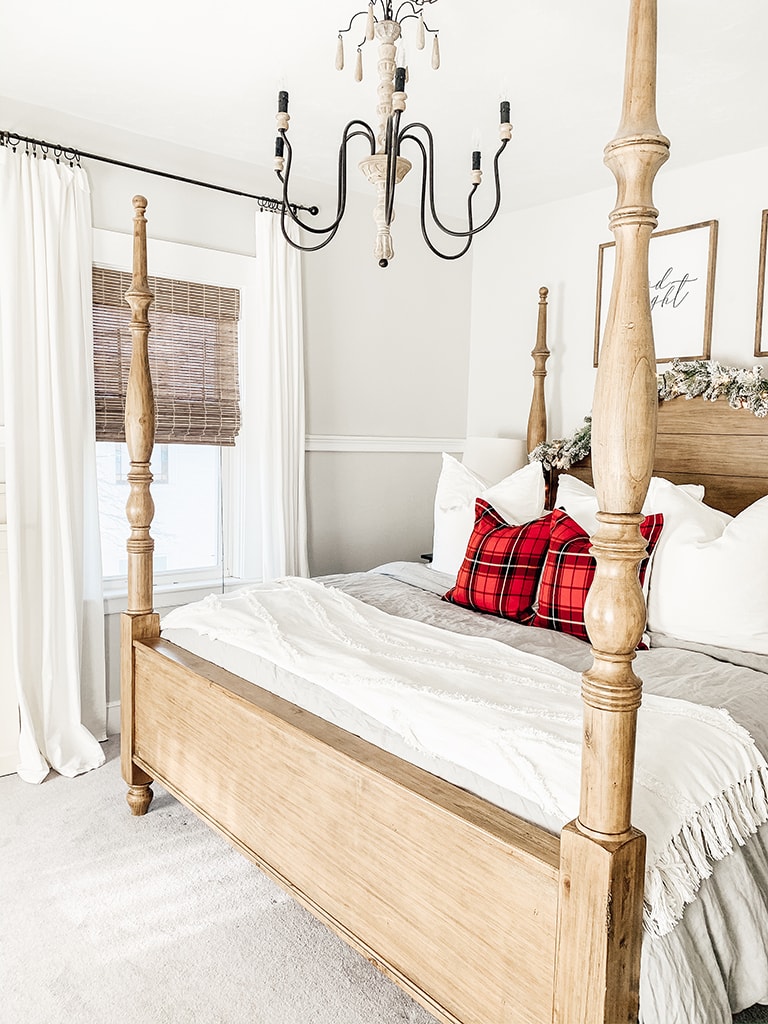 I hope you enjoyed this farmhouse Christmas tour and it inspired you to add a little Christmas to your bedroom. Be sure to check out Nicole from The Inspired Hive dining room and Diana from Diane Marie Home's bedroom below for even more Christmas decor inspiration. As always thank you for stopping by the blog!
Micheala Diane Designs | The Inspired Hive | Diana Marie Home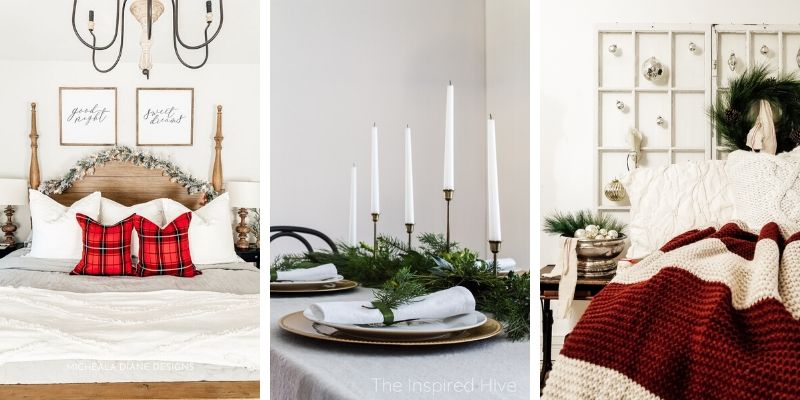 What to Read Next:
5 Christmas Kitchen Decor Ideas