Today I am sharing a full review of the new rug in our dining room from Boutique Rugs. They gave me a coupon code for my readers for 62% off any order. Use the code MDD62.
" Affiliate links provided for your convenience, please read my disclosure for more information."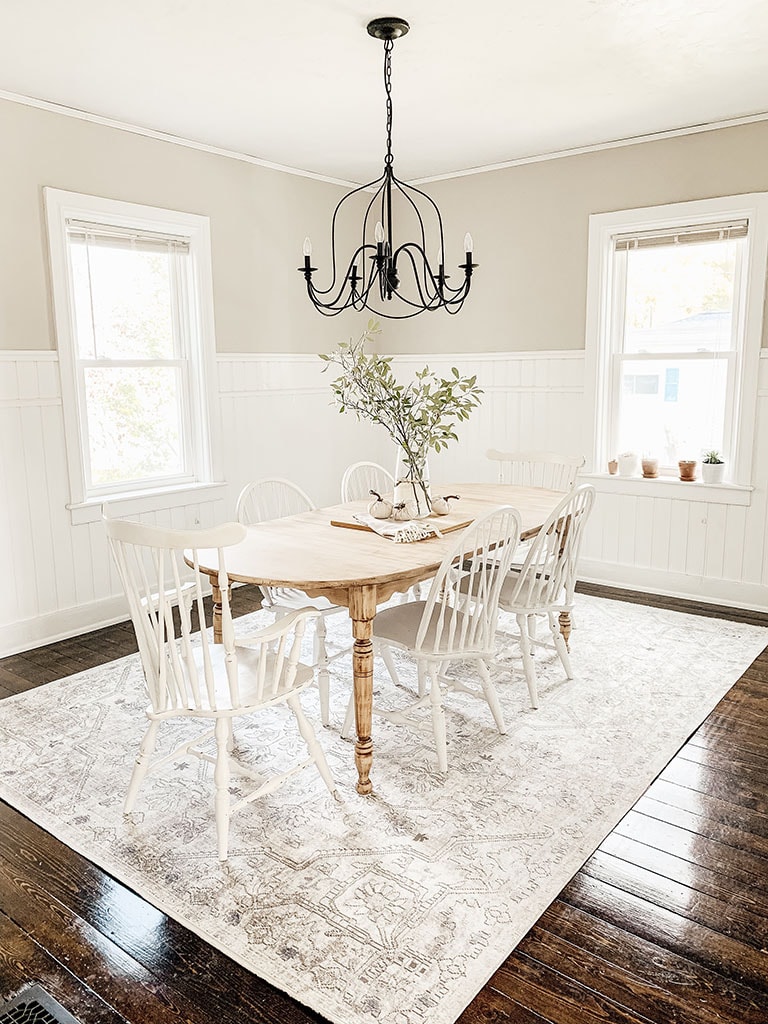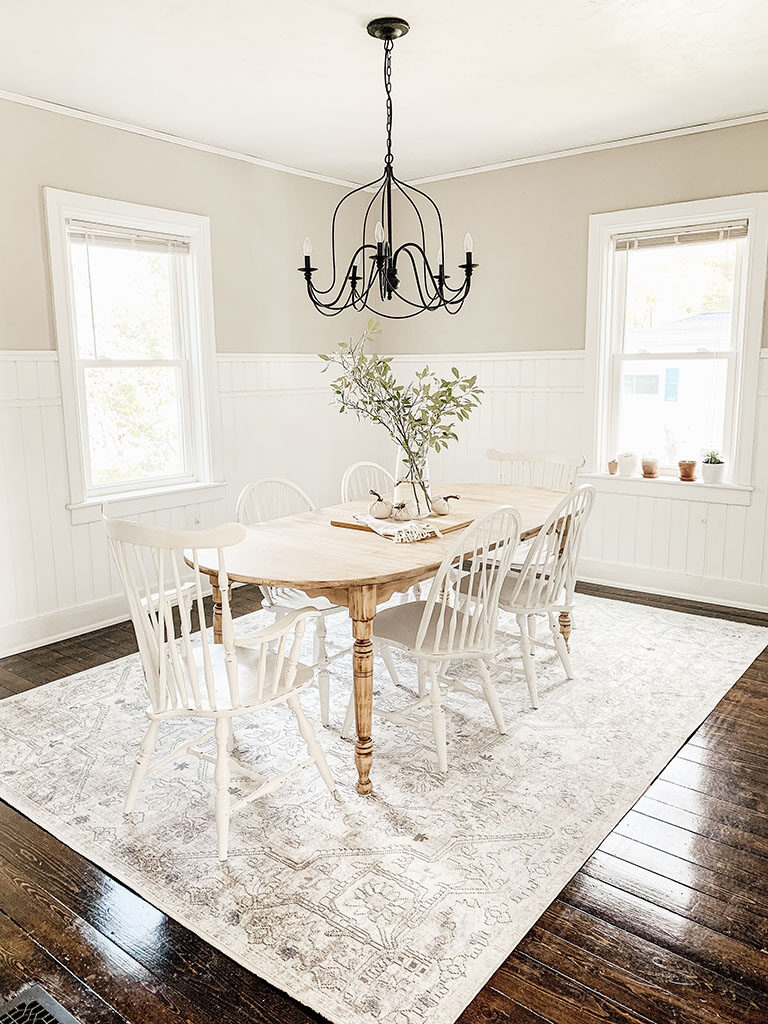 If you have seen my dining room before you know that we had a beautiful cream jute rug in this space. I still love it very much but I was ready for a change.
I have a slight obsession with changing out my home decor pretty frequently. No room is ever done. The fun part about that is I get to share it all with you in hopes that it inspires some of the spaces in your own homes.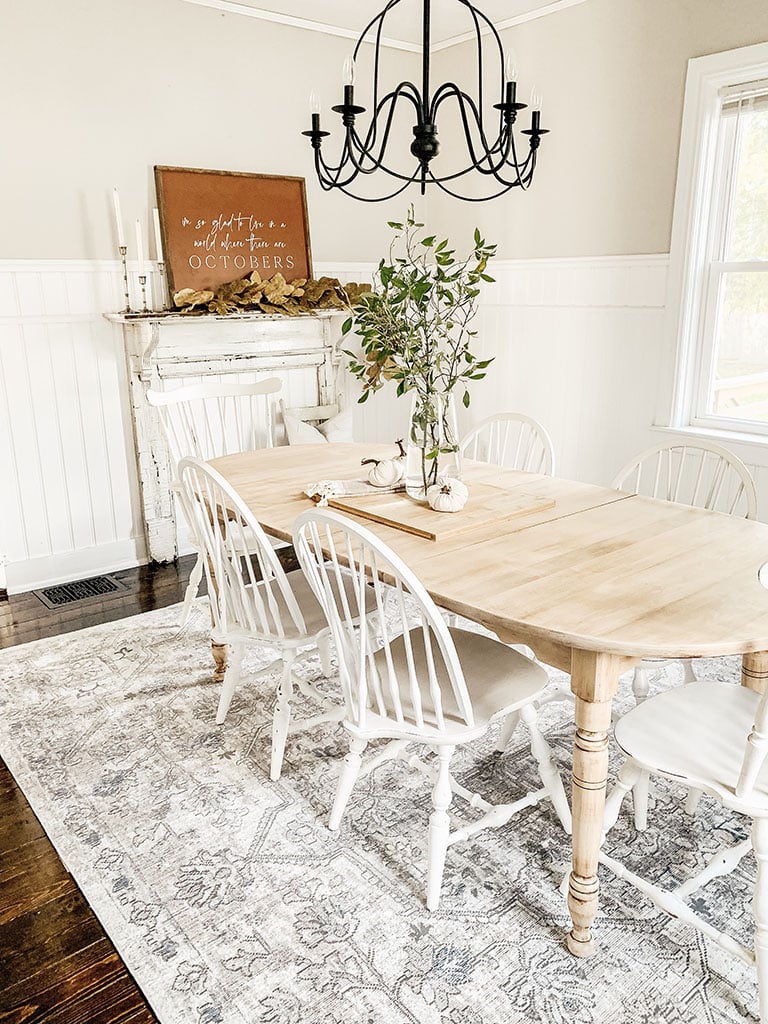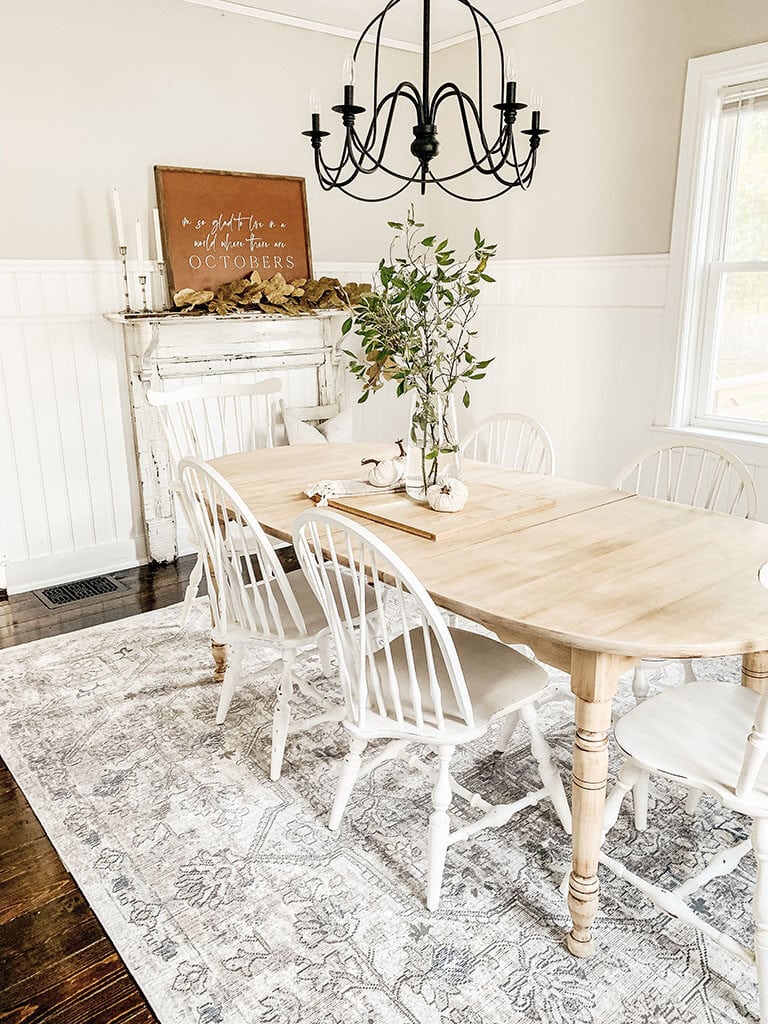 My new favorite place to shop for rugs online is Boutique Rugs.  If you have never shopped from them and are hesitant to buy a rug online check out this full review here. To sum it up I have been very happy with the quality and selection. They have rugs in every price range and offer generous discounts.  ( Use code MDD62 for 62% off your entire order)
After a long search for the perfect rug ( yes even I am indecisive 😂) I ended up getting this one called the Stidham Area Rug. I fell in love with the vintage-inspired pattern instantly. My one concern was the colors they had listed. Typically I am a neutral girl and wasn't sure dark purple and bright blue were going to fit my color scheme.
Vintage Inspired Area Rug
Stidham Area Rug | Camel, Dark Purple, Sky Blue, Bright Blue, Medium Gray, Charcoal, Navy, White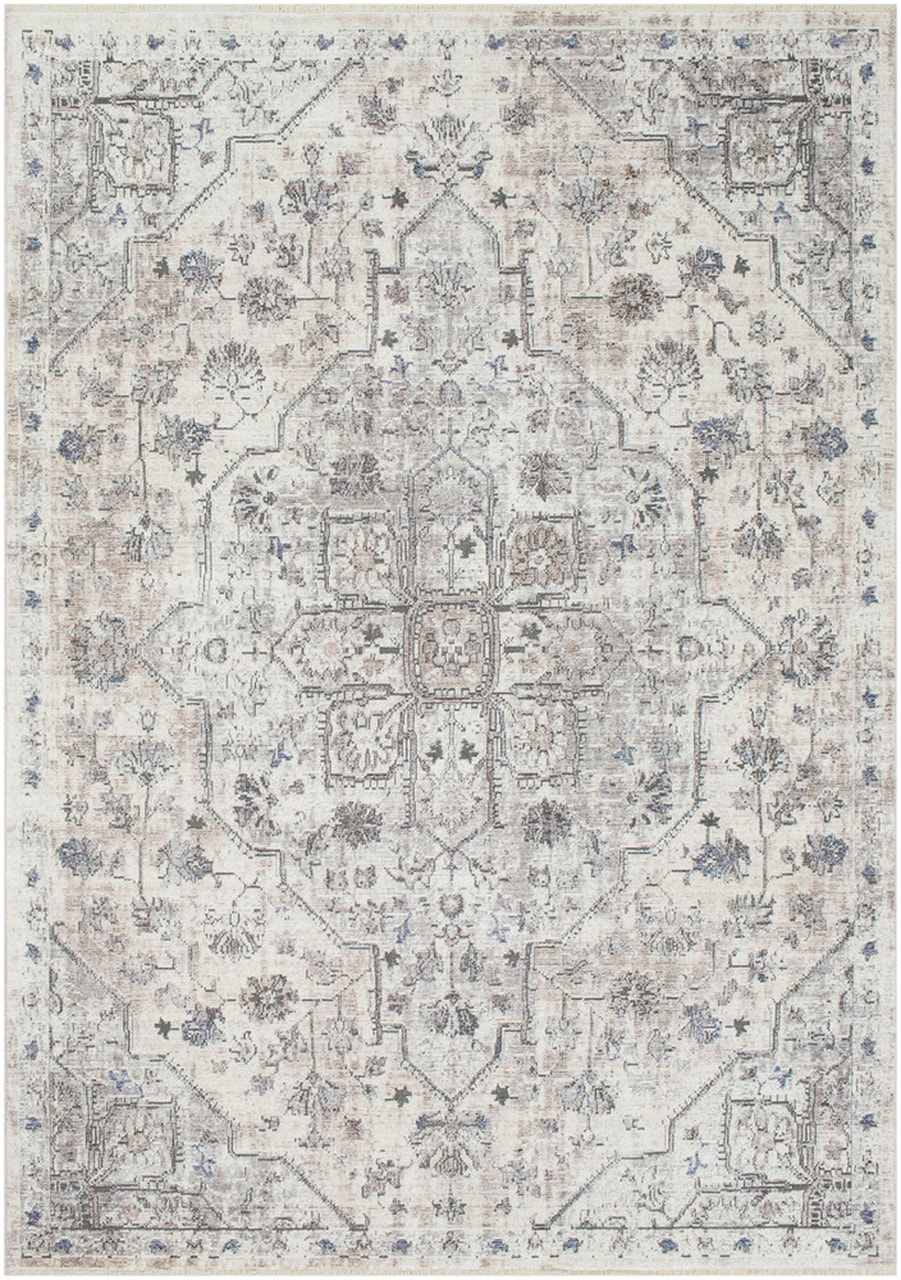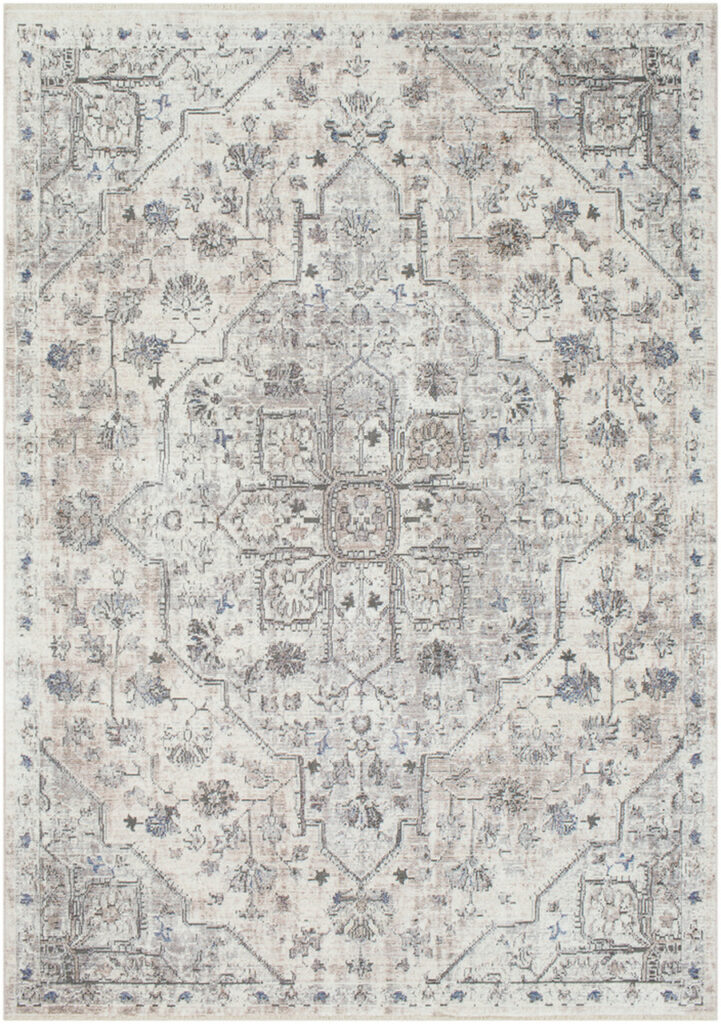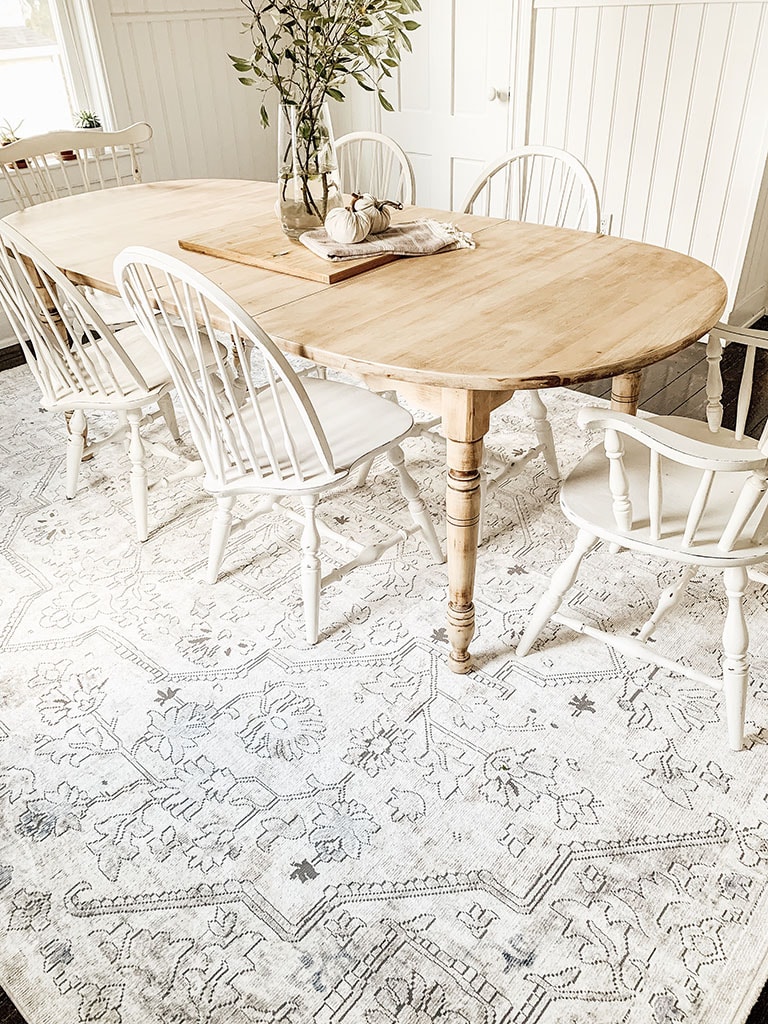 But one of the great things about their website is they have a short video of each rug. You are able to get a better look at the color and the pile height. After watching the video I fell in love even more. The colors are subtle enough that they were not overwhelming.
I was also able to get a good look at the pile height. If you have never heard the term pile it is the density of the rug fibers. The pile height is the measurement from the top of the rug to the backing.
This rug has a short pile height making it perfect for a dining room.  It makes it easier to pull chairs in and out of the table without snagging the rug. Short pile heights are also great when you are layering an area rug over carpet.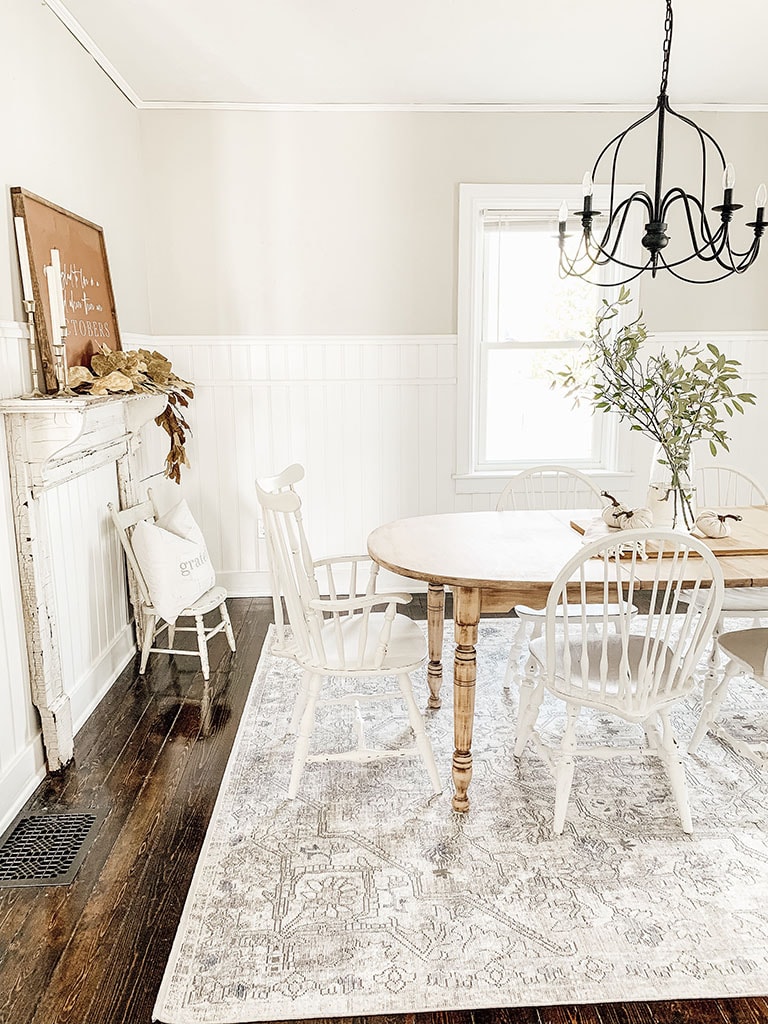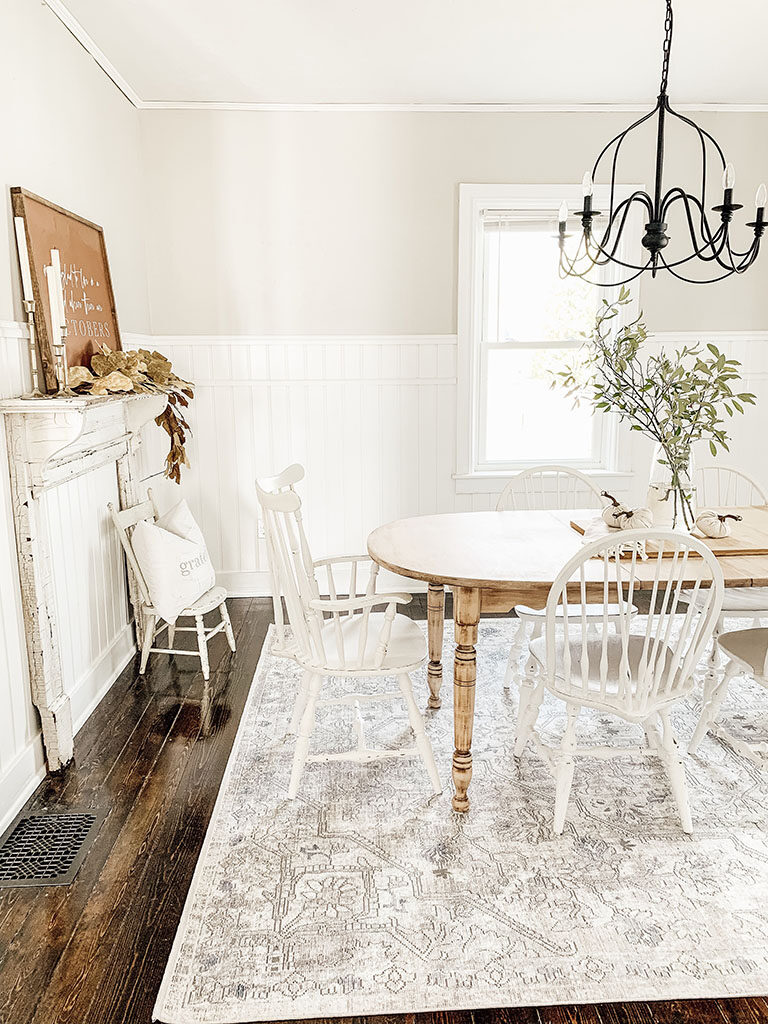 So I decided to order it and my rug arrived just a few days later. In-person the rug is even more beautiful than online. One thing you miss out on when shopping online is being able to touch the rug. I was pleasantly surprised at how soft this one is
I love the subtle pop of color it adds to my space and it adds a beautiful contrast against my dark wood floors. We have had a solid jute rug for so long that it is nice to see a pattern in this space.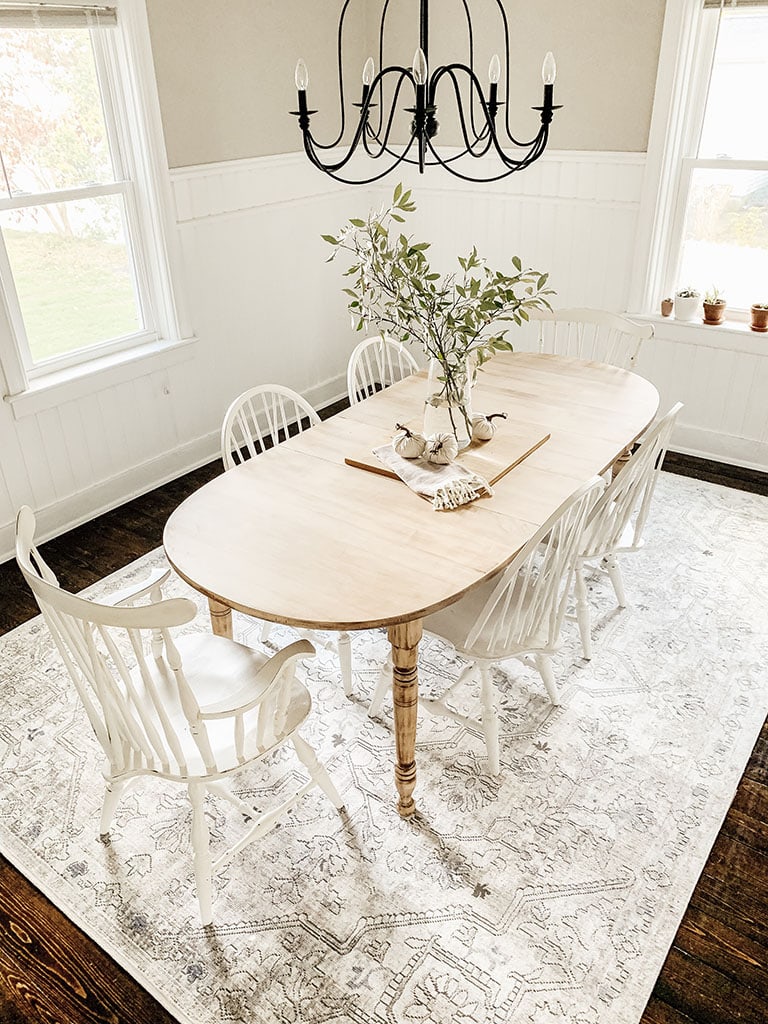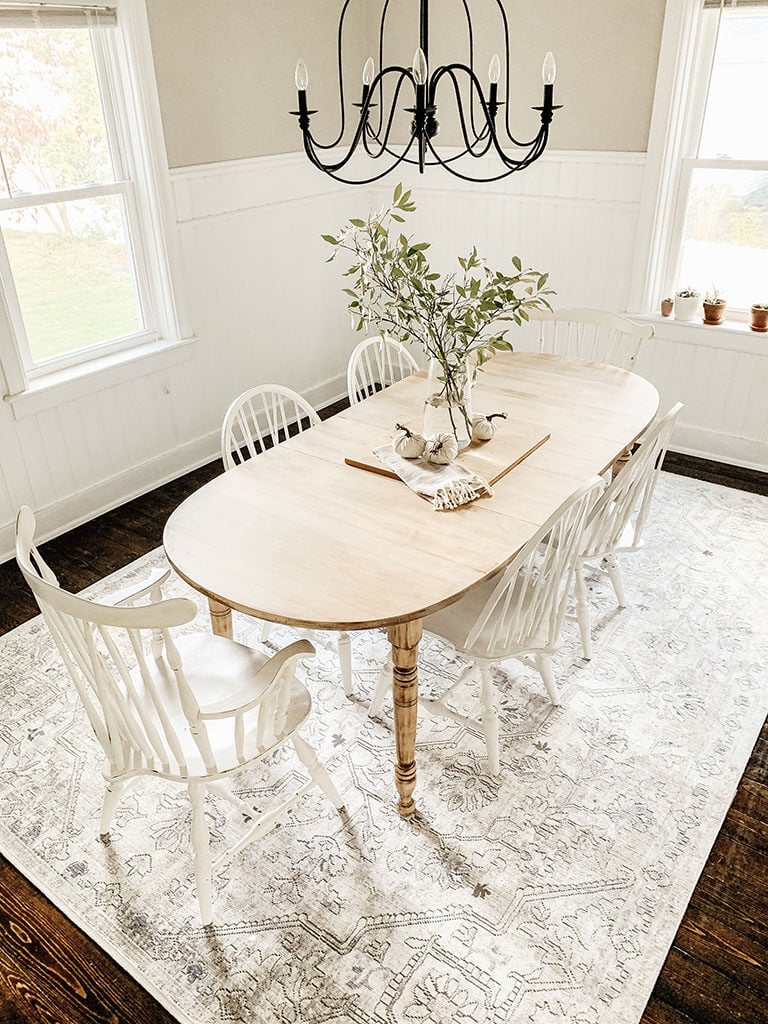 For the size, I  went with a 7′-10 x 10′-3 rug. One tip for selecting a rug size for a dining room is to make sure that all legs of the table and chairs are on the rug, not hanging off.
I recommend selecting a rug that is at least 24″-30 inches bigger on each side of your dining room table. Typically 8′ x 10′ will be the perfect fit.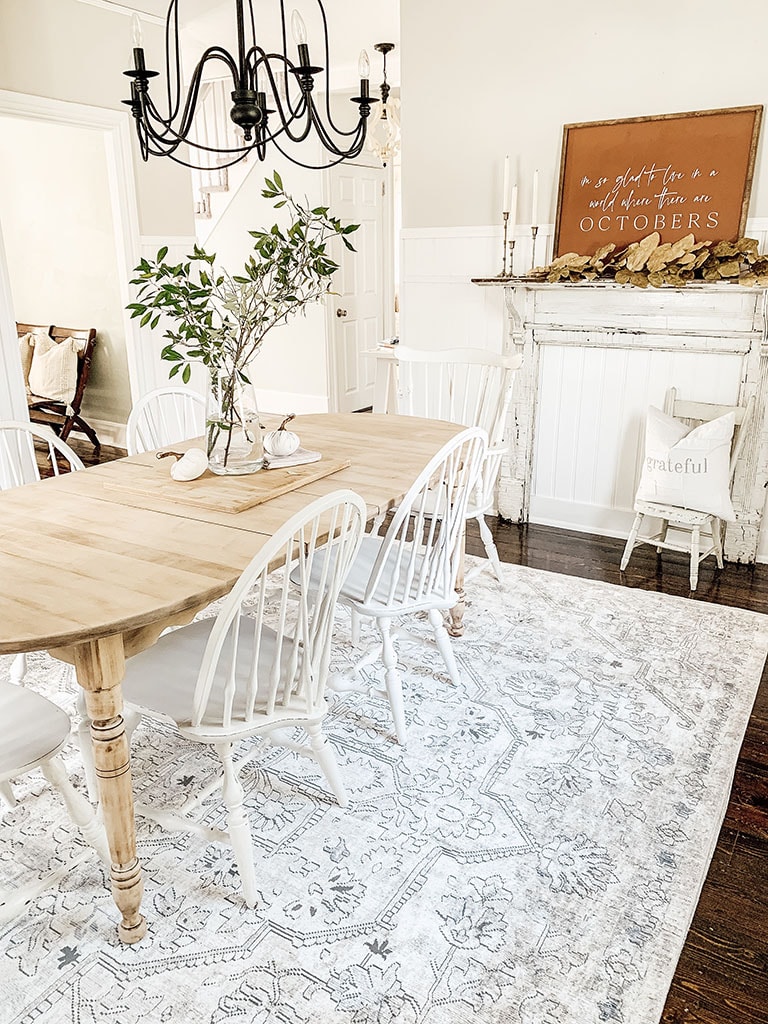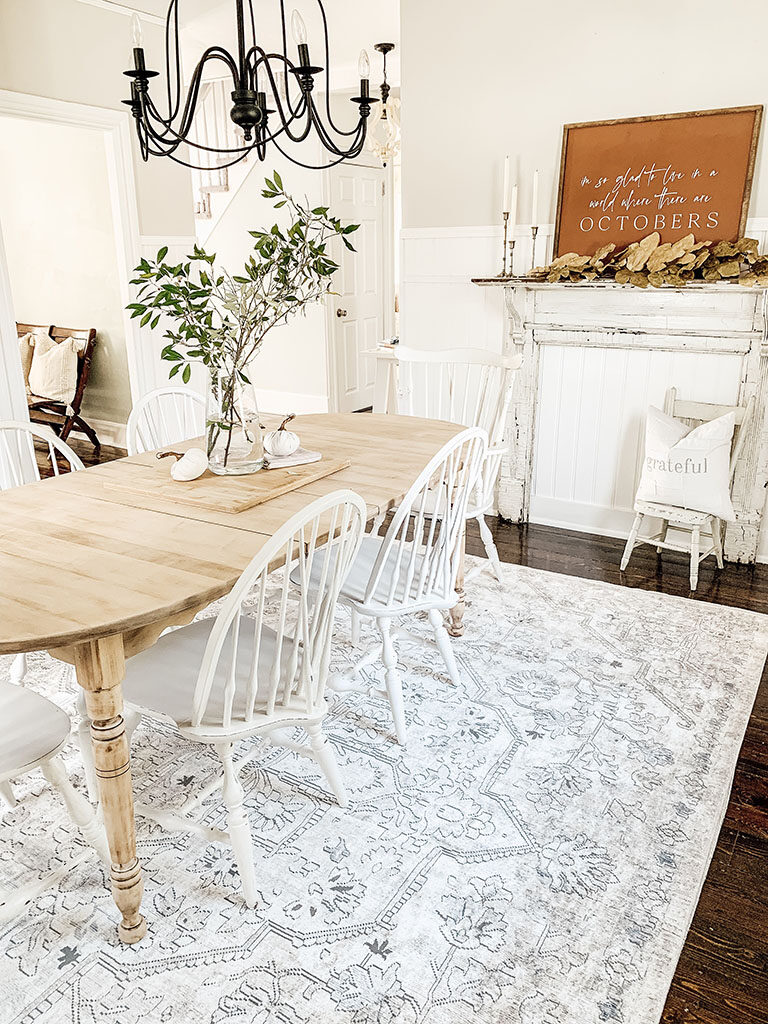 I do edit my photo for the blog. Here is an unedited photo of the Stidham Area Rug, so that you can see the true color.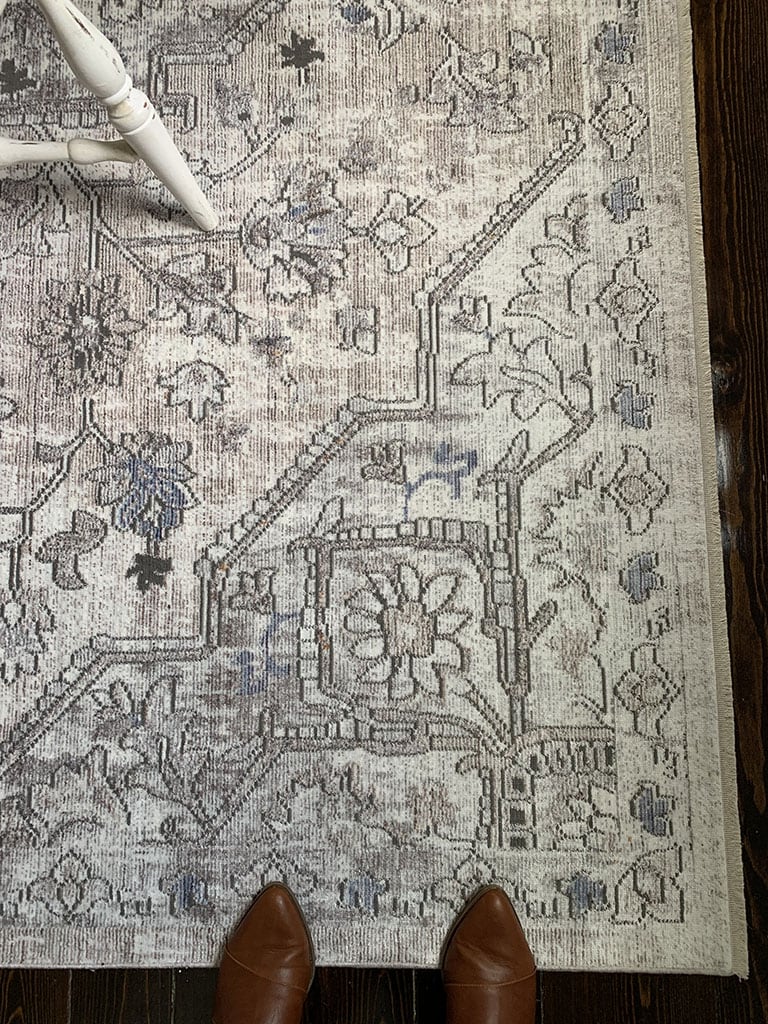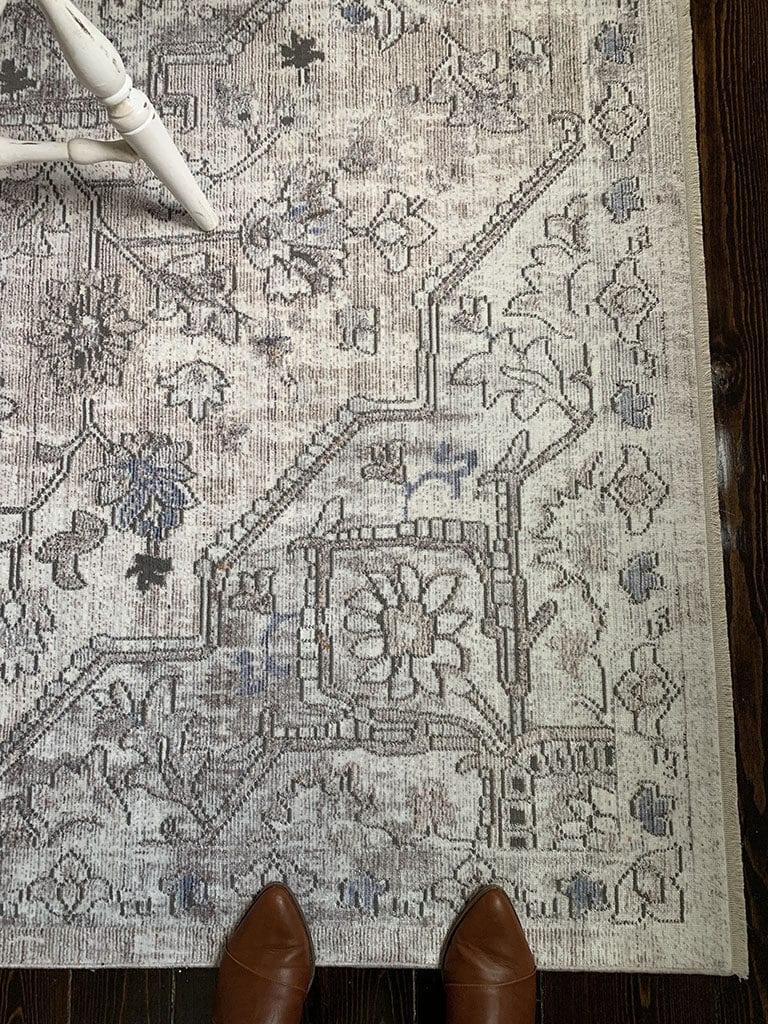 I hope you enjoyed this glimpse into our home. If you have any questions about this rug or my experience with Boutique Rugs please let me know in the comments. Below are some of my other favorite rugs from Boutique Rugs and be sure to check out the additional post below for even more.
Other Favorite Dining Room Rugs
You can shop these outdoor rugs by clicking the links and images below!
Use code MDD62 for 62% off your purchase at Boutique Rugs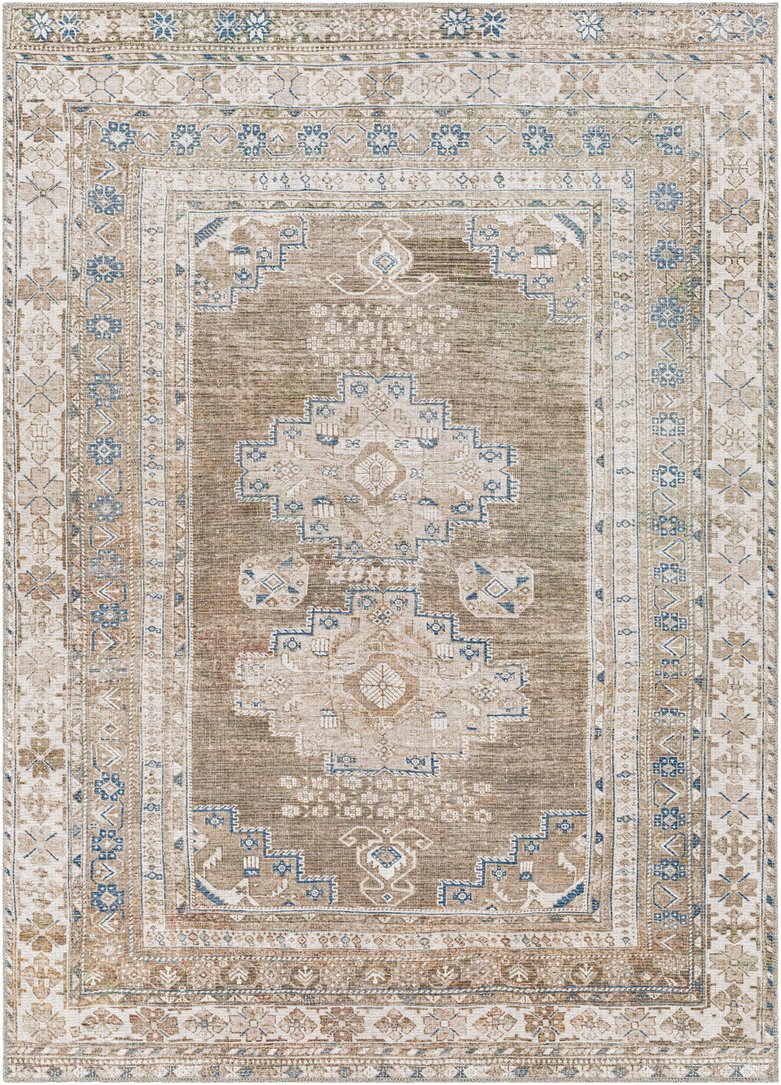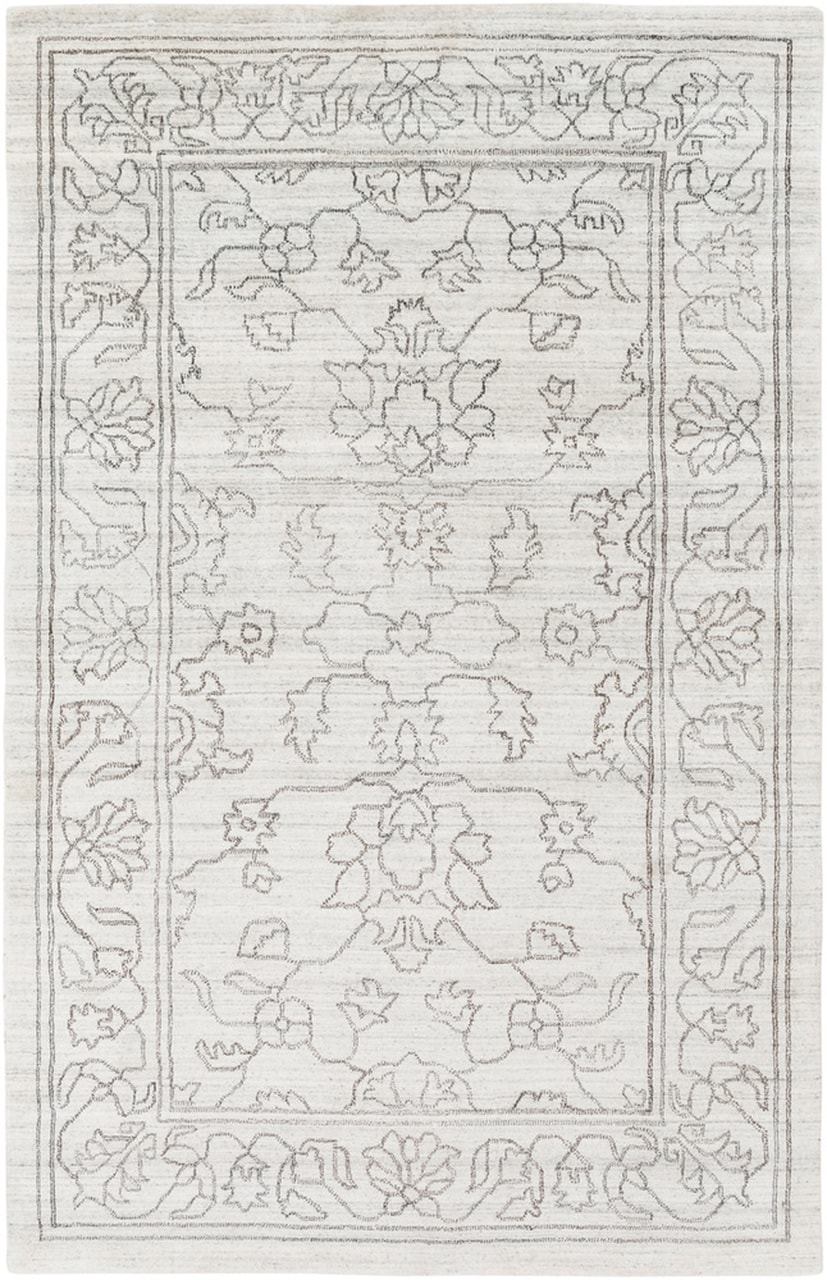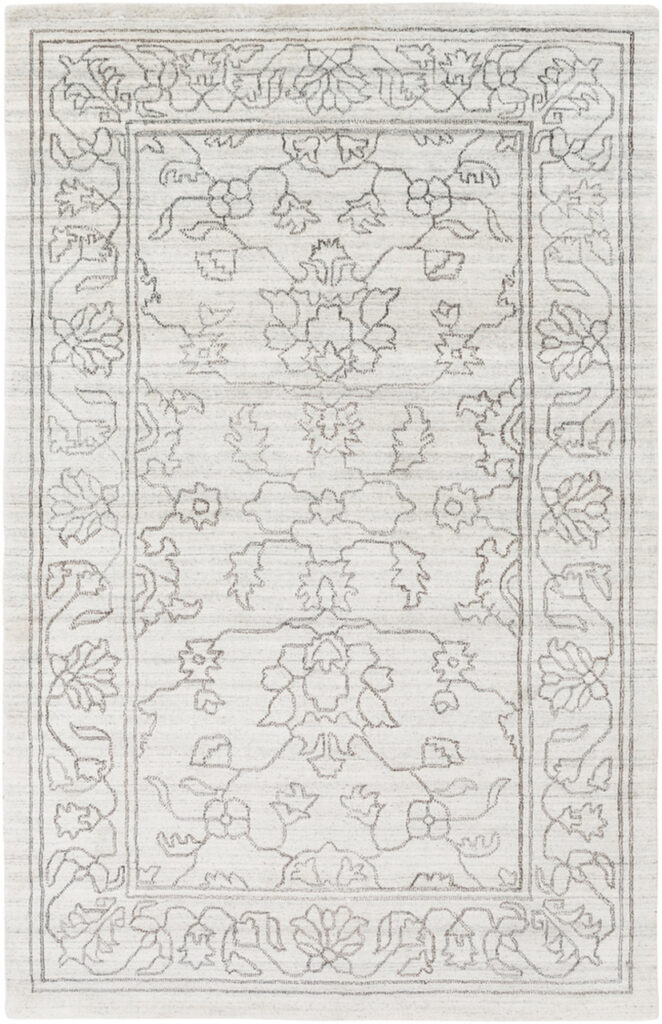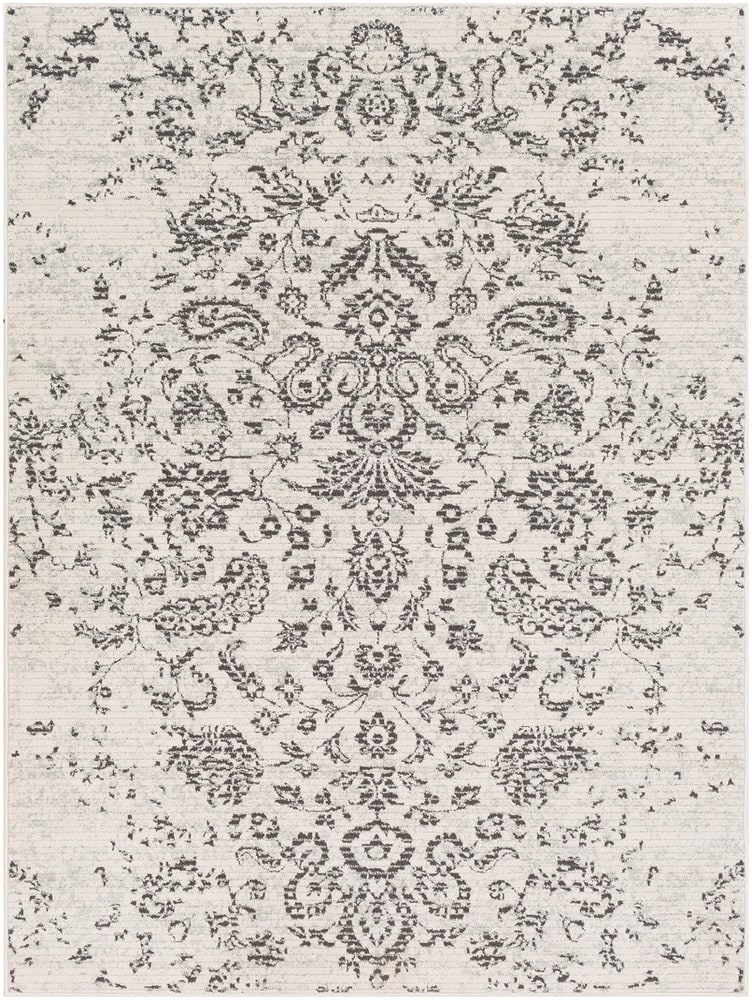 What to Read Next:
New Living Room Rug | Boutique Rugs Review
Affordable Farmhouse Style Rugs
Want to save this for later? Post this Dining Room Rug Reveal to your favorite Pinterest Board!