Sharing the 10 best warm grey paint colors for your home.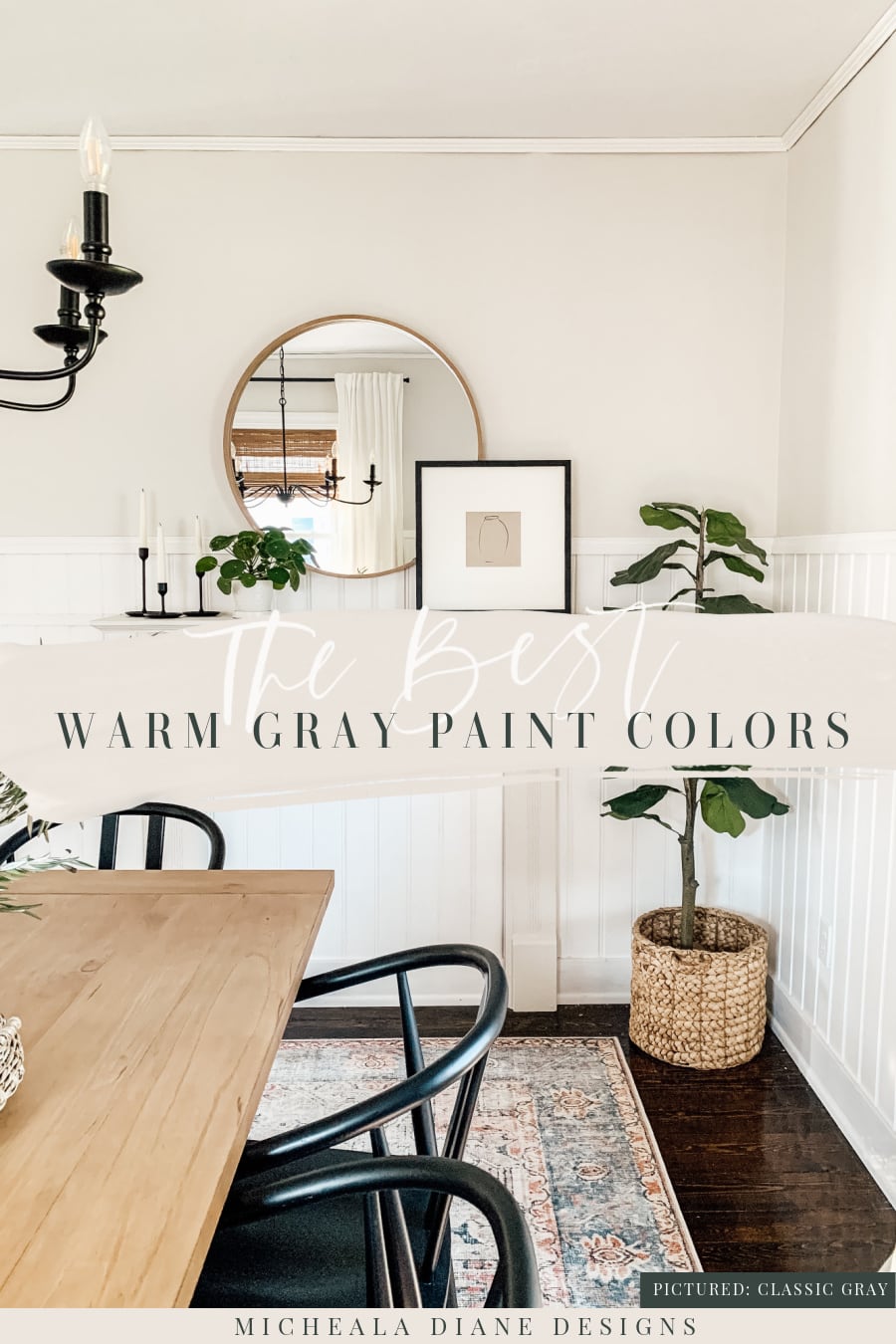 Why Choose Warm Gray Paint?
Gray is one of the most popular paint colors. It is a great color because it has the ability to go with any design style and gives you a neutral palette to add color to other areas of your home. Like area rugs, furniture, and accessories. It also looks great with a variety of wood floors.
Gray comes in a variety of shades, most leaning in the category of cool and warm gray. A cool gray is going to have undertones of blue, purple, and green, giving your space a more light and airy feel. Warm gray is going to have undertones of yellow, red, and brown, giving your space a warmer cozier feel.
You will also want to base your choice on your current surroundings. Do you use a lot of other warm colors in your furniture and accessories then a warm gray may be a good option.
What is Greige?
Greige is a blend of gray and beige giving you a warm gray. Greige has become the new beige. Beige once popular has now become really outdated and can make your space look outdated. If you are looking to freshen up your space but not have it feel stark or cold then greige is the perfect color for you.
Most Popular Greige Paint Color
The most popular greige paint color is Agreeable Gray by Sherwin Williams! I even have it in my own home. It is the perfect soft warm gray that has the ability to go with whatever other colors you have going on in your space.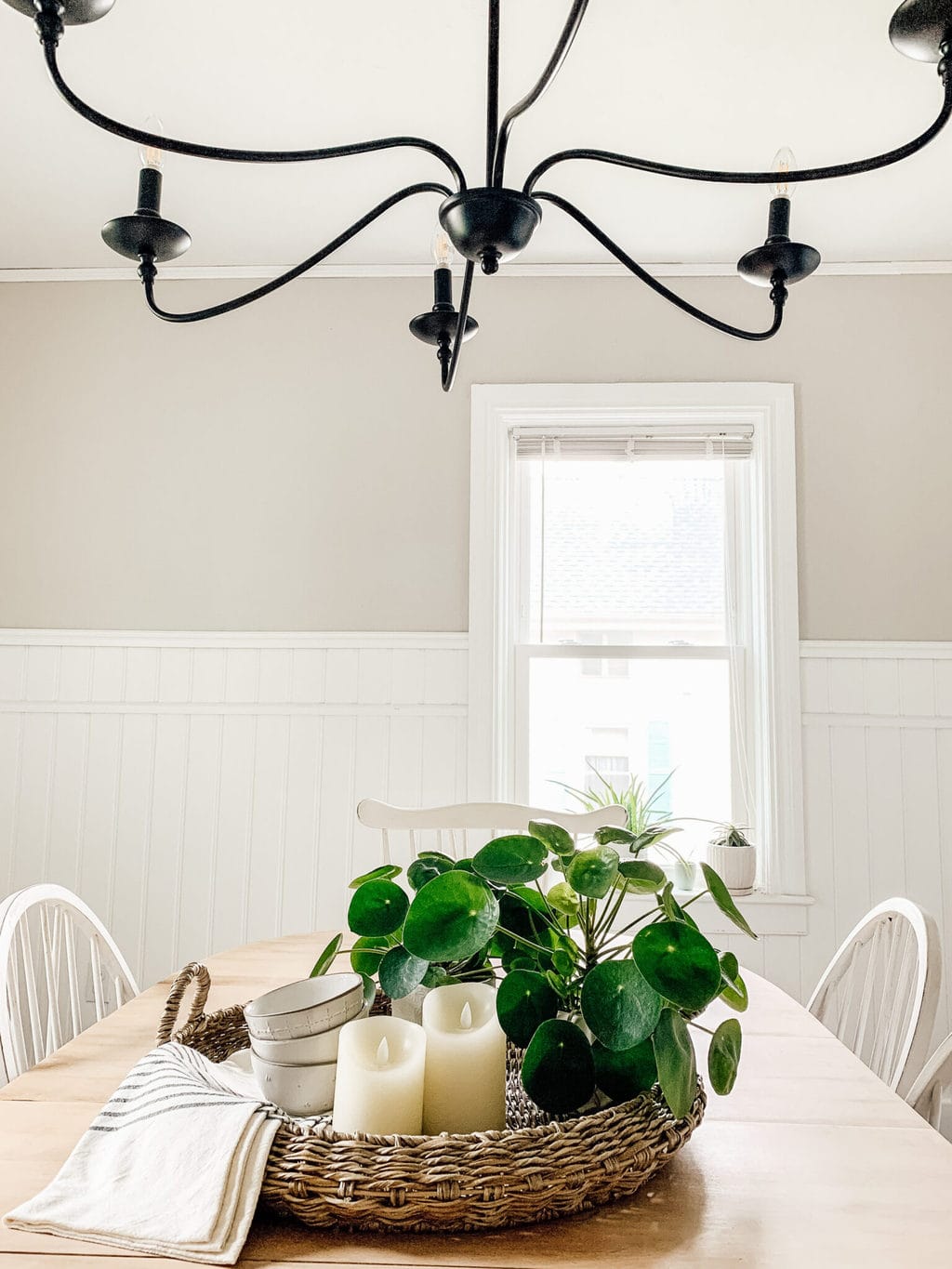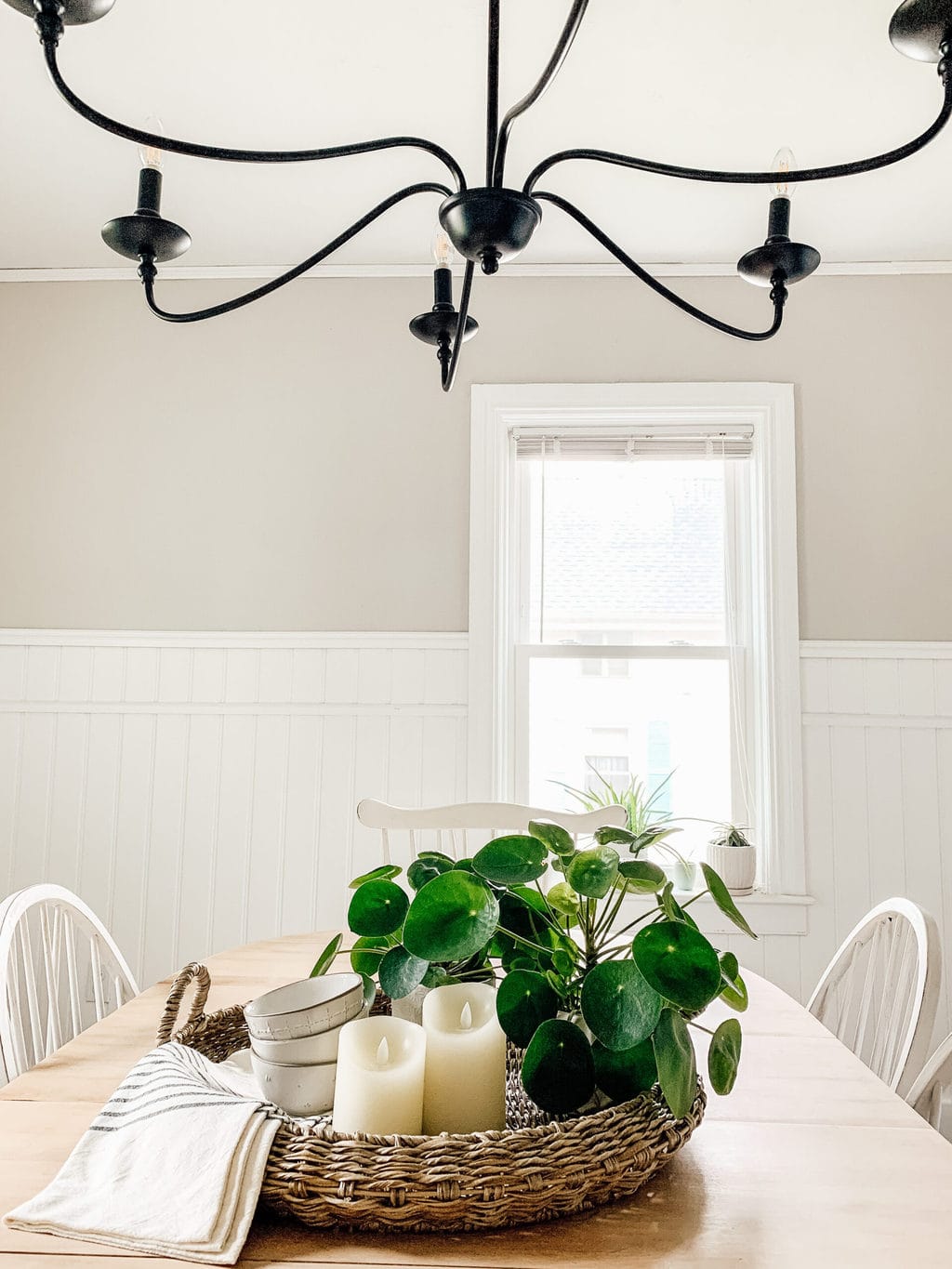 Picture of Agreeable Gray above trim.
Warm Gray Paint Benjamin Moore

Classic Gray is a light-muted warm gray. It is a very sophisticated and versatile paint color. It is one of my favorites. I love that it is very light but not white. It offers just a touch of the most beautiful warm gray. This is a great color for any exposure.
Pale oak is another beautiful neutral warm gray. This color does have a little bit of pink/ yellow undertones depending on your light and the other colors in your room.
If your space has a lot of southern exposure/ large windows or a lot of light you will get a light warm gray color. If your space does not get a lot of natural light this color can look a little darker and you have a higher chance of seeing some of those pink undertones. Both can be beautiful depending on the look you are going for.
Edgecomb Gray is a very neutral warm gray with minimal undertones. In some cases, it can have a very slight green undertone depending on the light. This color is great for a room that receives a good amount of natural daylight. If your room is darker this color will appear darker. It also pairs best with an overall cooler decor color scheme. Think grays, blues, and greens.

Revere Pewter is a light warm gray. It is one of the most popular Benjamin Moore paint colors. It has slight green undertones but in the best way. In a bright room, it is going to lean grayer. In a west-facing or a room that gets little light, you will see more of those warm green undertones.
Overall, it is a great whole-house color and perfect for an open floor plan.
Shale is a classic warm gray that has slight purple undertones. Although considered a warm gray it does pull cool undertones in a well-lit room. It has the ability to freshen up a space similar to a traditional gray. It pairs nicely with both warm and cool color palettes.
If you are looking for a color a little cooler and slightly darker than Revere Pewter, Shale is your color.
Warm Gray Paint Sherwin Williams

Agreeable gray is the most popular greige and a Sherwin Williams best seller. It is the perfect combination of gray and beige. It is a light/ mid-tone color that is neutral and doesn't wash out if your room has a lot of natural light. Agreeable gray does have a very slight purple undertone but it is very flexible.
In rooms with a lot of light, you will see this cooler undertone that leans more towards gray but it is always going to have warmth. It pairs well with any interior styling and is very versatile making it a great pick.

Worldy gray is a beautiful warm gray paint color. You have to be careful with this one though because it can change drastically depending on its surroundings. It is considered a bit of a chameleon. If your space does not receive a lot of natural light then this color can have purple undertones. If you do receive a lot of natural light Wordley gray will appear more warm grey.

Mindful gray is a warm grey with a slight purple undertone and in other lights a slight green undertone. They are very passive undertones so don't let that scare you. It is pretty neutral as far as warm gray paint goes.
This color is best for a space that has a lot of natural light. The darker your room the color can appear a little muddy and those green undertones will be more obvious. Overall it is a great option and can be very versatile.
.

Colonnade Gray is gray with a slight green undertone. It is very passive but it is still there. If you get a lot of light in your space it will read cooler closer to gray. In a darker room, it can look a little muddy and those green undertones will show a little more. It looks best paired with bright white trim.
This is a great option if you want something close to Benjamin Moore Revere Pewter but a little cooler.
Repose Gray is a warm gray that holds true to its gray roots. If you love gray but are looking for a bit of warmth to cozy up your space this color is for you. It is also what makes it incredibly versatile. The color favors a slight purple undertone but overall is very neutral. It is a great option for an open floor plan.
Paint Samples
As you may have noticed each one of these colors has different undertones. That can change depending on the amount of light your space receives and the surrounding decor/ finishes. That is why getting paint samples is so important. How a color looks in my home could be completely different in your home.
My favorite place to get samples is a company called Samplize. They are an online retailer that offers peel-and-stick paint samples, painted with the real paint color. This allows you to see what the actual color will look like without damaging your walls. I also love that you can move it around the room. You can save on all those paint cans, making for no cleanup and no waste.
If you do end up going the traditional route with small paint can sample, I recommend painting the color on a couple of different areas of the room. This will give you the best idea of what the paint color will truly look like in your space.
Paint Consultation
Are you having trouble deciding on the perfect paint color for your space? I would love to help! I offer paint color consultations. With years of experience selecting paint colors for a variety of interiors and exteriors, I can help you find the perfect color for your home. You can check out my design services HERE.
What to Read Next:
The Best Farmhouse Paint Colors
Neutral Paint Colors | My Home Paint Colors
Want to save this for later? Post this Best Warm Gray Paint Colors to your favorite Pinterest Board!