Hello October! Today I am sharing my simple Fall mantel. Mantels are a great place in your home to switch up your decor. Keep reading for a simple approach this season. " Affiliate links provided for your convenience, please read my disclosure for more information."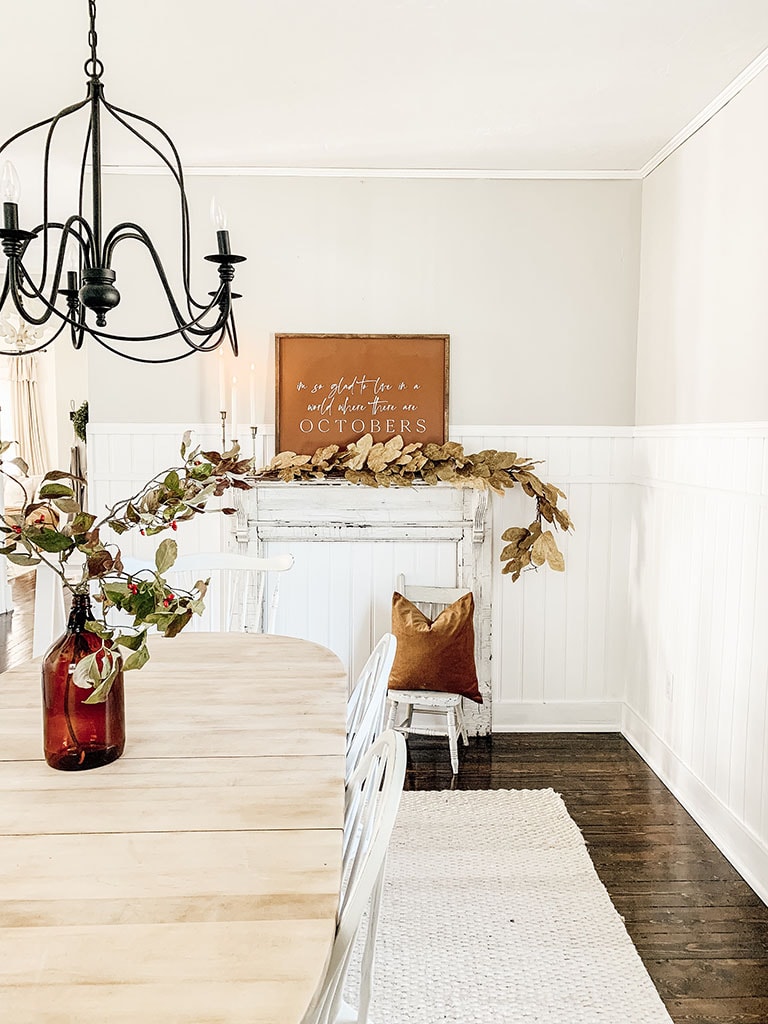 I love to sprinkle a little Fall decor through out the main floors in my house. One of my favorite spots to style is my mantel. As you can see even if you do not have a fireplace in your home you can still have a mantel. I found this one at an antique show a couple of years ago and it is one of my favorite finds.
Today I want to share my simple approach to styling a fall mantel. There are four basic steps I took to create this look and they are truly fail proof for styling any mantel.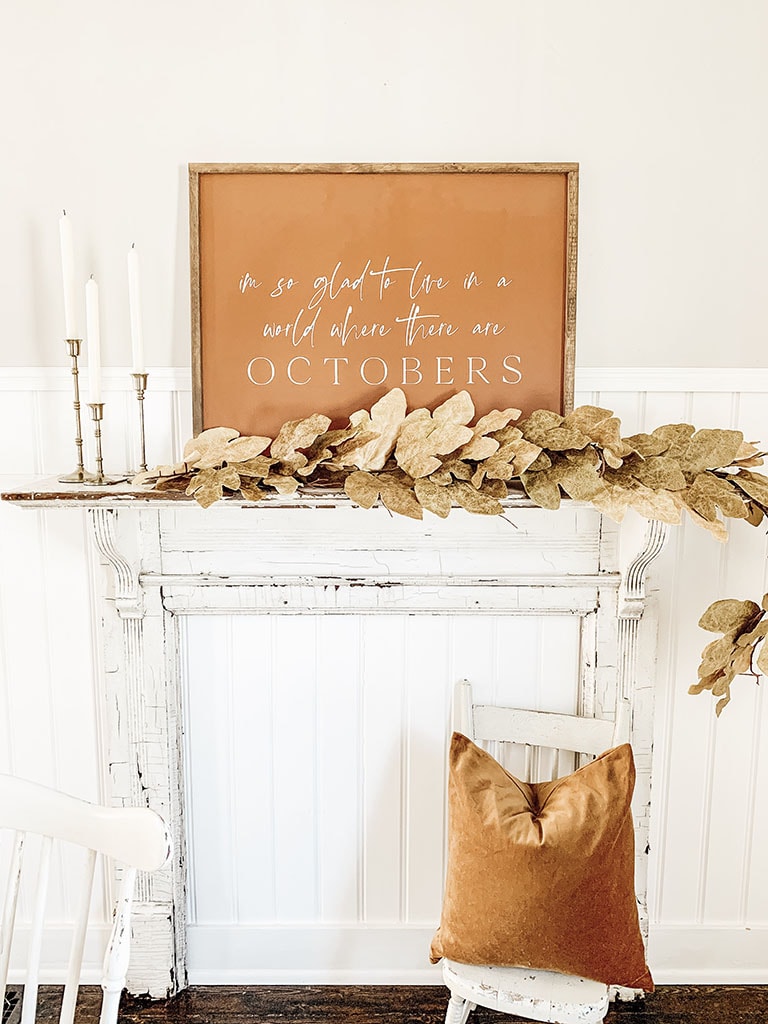 STEP ONE: START WITH A FOCAL POINT
The first item that you have to choose is your main focal point or the largest item you will be using on your mantel. This is key because if you only use a bunch of small items the space above your mantel will look empty and unbalanced. This can be a piece of art, mirrors, wreath, and architectural salvage. Think windows and shutters.
I went with the gorgeous wood sign with on of my favorite fall quotes. " I'm so glad I live in a world where there are Octobers".  This sign is the perfect size and the colors adds the perfect pop against my white and grey walls.  This sign takes up the right amount of visual space to be the focal point for my simple Fall mantel.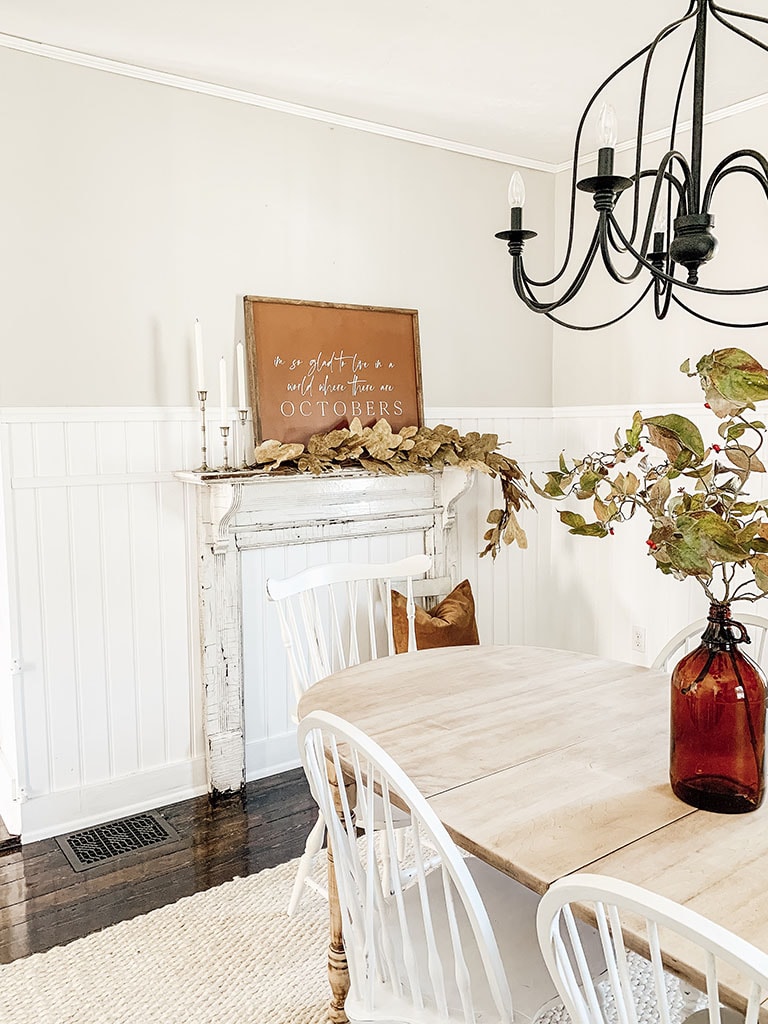 STEP TWO: ADD SOMETHING NATURAL
I am all about incorporating natural elements in my decor even if they are faux. This can be flowers, plants, garland, or stems. For this Fall mantel I used this gorgeous 6 ft olive green and tan fig leaf garland. It is perfect. The combination of Fall colors and the large leaves make for a dramatic design element.
If you are not using a large garland I recommend using a combination of natural elements to fill your mantel. You can see how I did that on my spring mantel.
It is also really fun to shop your own backyard. For my dining table I clipped some stems from a tree in my yard and placed them in an amber bottle. You can do the same for any spot in your home.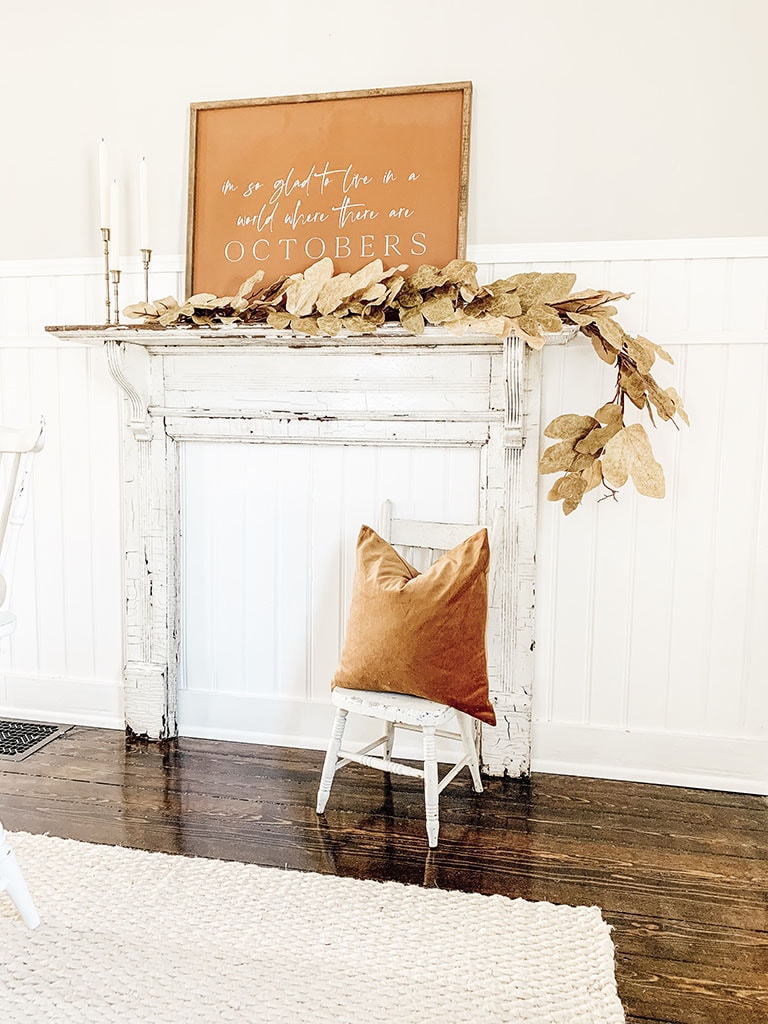 STEP THREE: FILL IN WITH ACCESSORIES
The next step is to fill in any empty holes. The options are endless. My go too items are typically vases, candles, corbels, seasonal decor ( think mini houses at Christmas) and my favorite item is candle sticks.
For my Fall mantel I used this set of  three gold candle sticks. I chose these because I needed something to balance out the left side of my mantel. The garland adds visual weight to the right side leaving a big whole on the left. The three candles on one side create visual balance. Balance is key when you are styling any part of your home.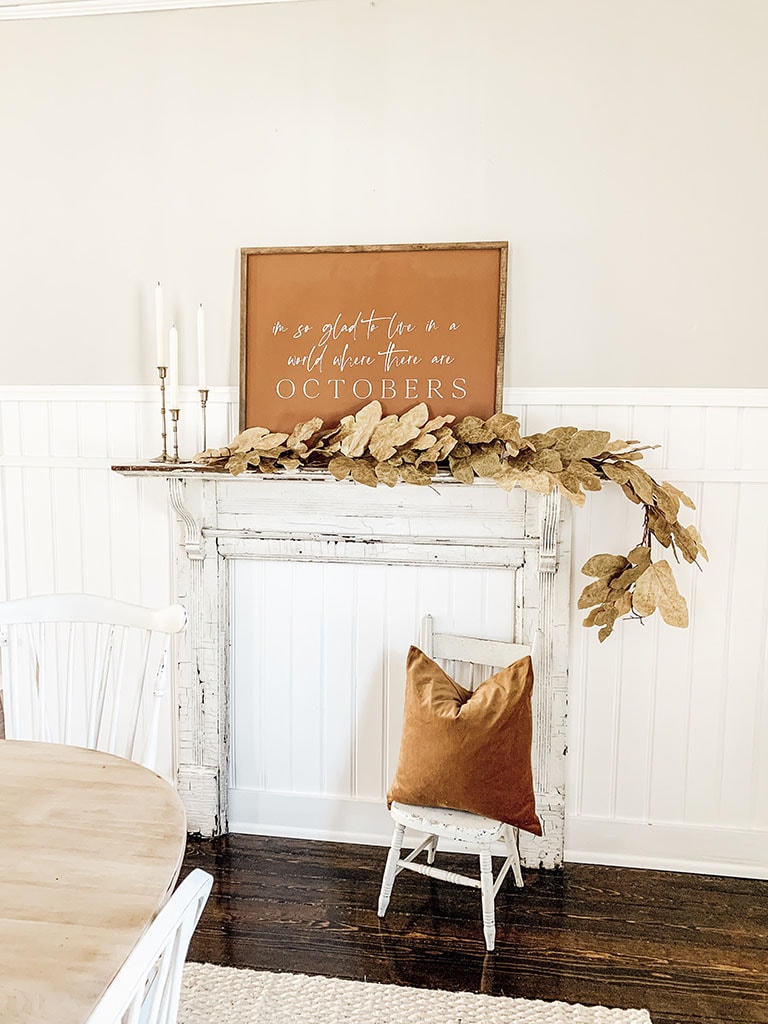 STEP FOUR: DON'T FORGET TO STYLE BELOW YOUR MANTEL
The final step is an area many people don't think about, and that is below your mantel. For this area you can use baskets, pillows, pumpkins, lanterns. I chose to use this vintage children's chair with a beautiful burnt orange velvet pillow. The pillow is the perfect compliment to the orange in my large sign.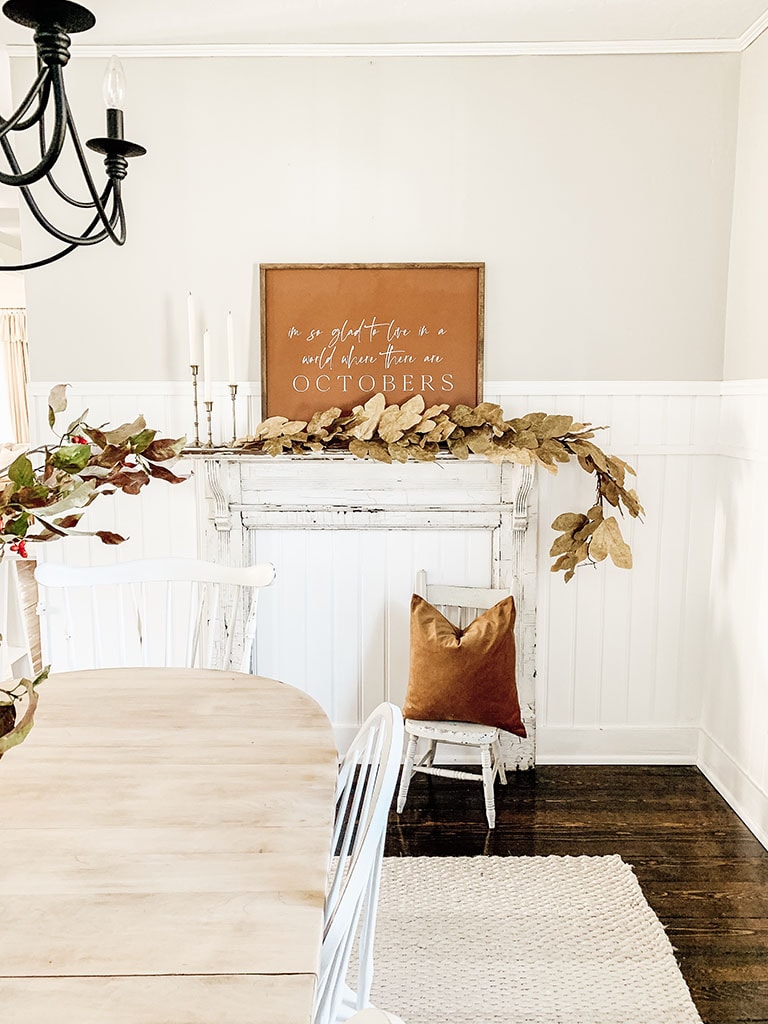 There you have it friends. Four easy steps to decorating your mantel this fall and really any time of year. I hope that you found this helpful and if you did please let me know in the comments. I would love to hear from you. As always thank you for stopping by the blog. Be sure to check out my other Fall post below. ❤
What to Read Next:
Fall Decorating Ideas- How to Add Fall to Your Home
Our Fall Home Tour- Fall Decor Ideas
Hearth & Hand with Magnolia Fall Decor- 2019