Today I am sharing quick and easy styling tips for how to decorate a mantel with a TV above it.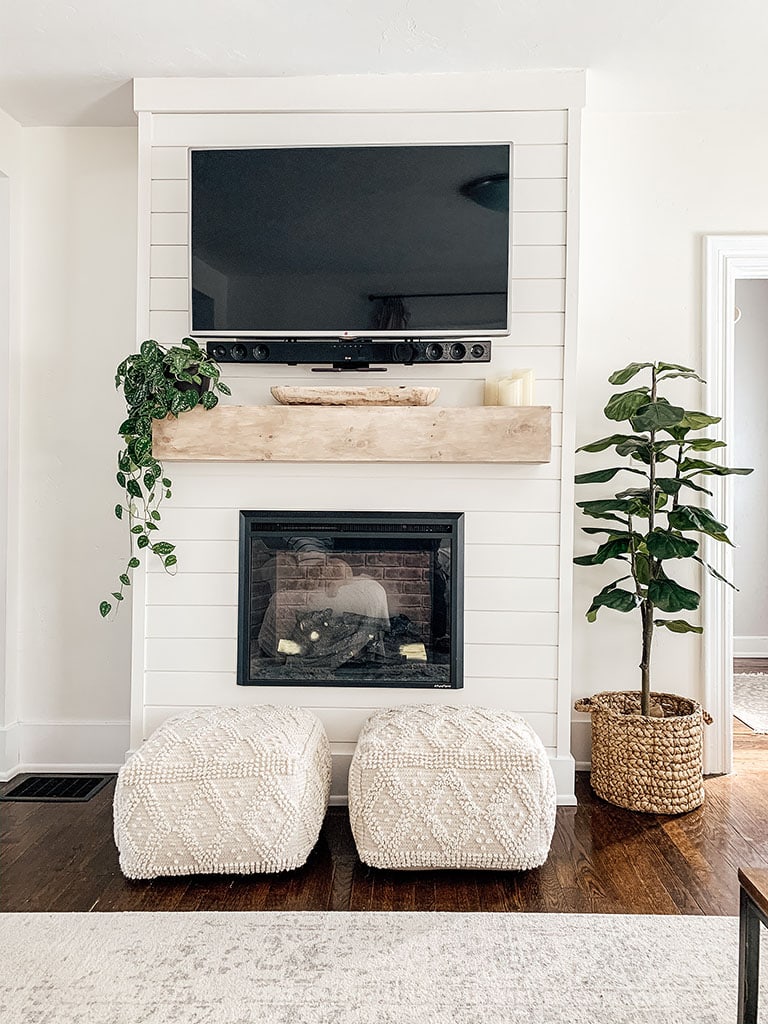 We have been loving our new fireplace, you can read all about how we built it here. One of the reasons why we built a fireplace in this room was to transform the wall we had our TV on. We were not loving the look of a media console and the fireplace was the perfect way to add a statement piece.
Adding a TV above your mantel can create a tricky design dilemma. A design question I hear often is how to decorate a mantel with a TV above it. Having a TV above your mantel leaves a limited amount of space and can be challenging to decorate.
Today I am going to share with you my tips for decorating a mantel with a TV. And how to style the entire space around your fireplace. With every space it is all about layering in the right elements.
Related: DIY Shiplap Electric Fireplace & Mantel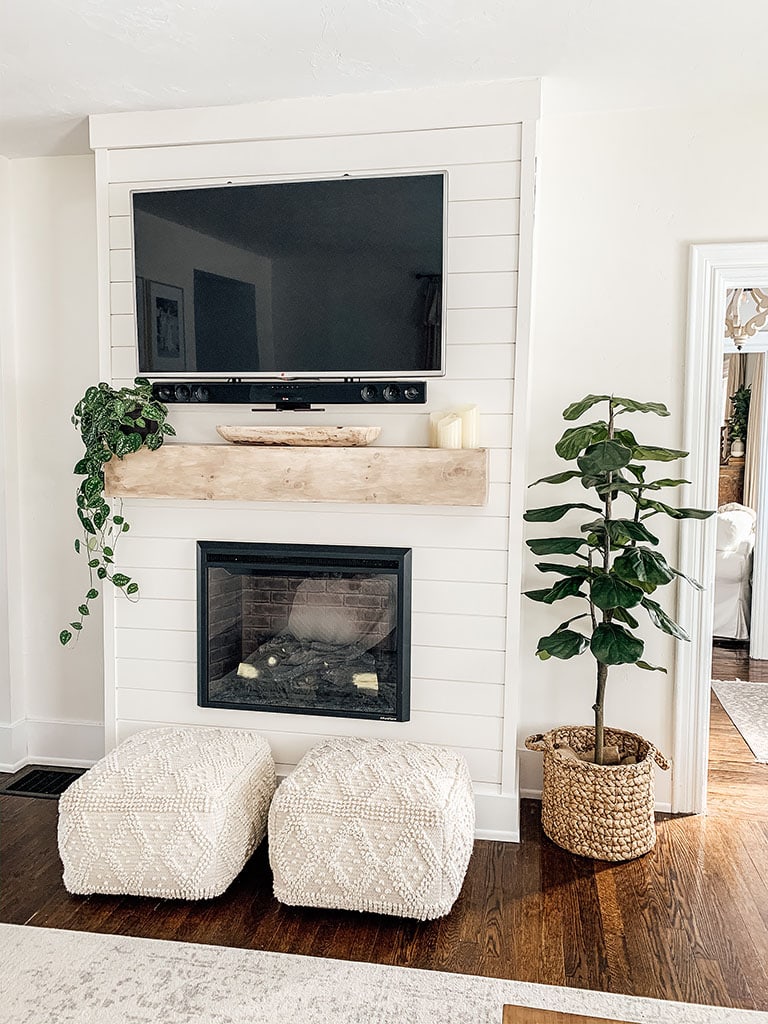 "Affiliate links are provided for your convenience, please read my disclosure for more information."
Decorating Your Mantel
Decorating your mantel can be broken up into three main areas. The middle right under the TV and the two sides.
The Middle
The middle can be the hardest area to decorate because you typically have the most limited space between the bottom of the TV to the mantel. My solution for this would be to place something with a low profile. I personally love the use of a narrow tray or long wooden bowl, like the one that I have shown here. I use mine to store the remote for my electric fireplace.
You can also use a long wooden planter, garland, or a long sign.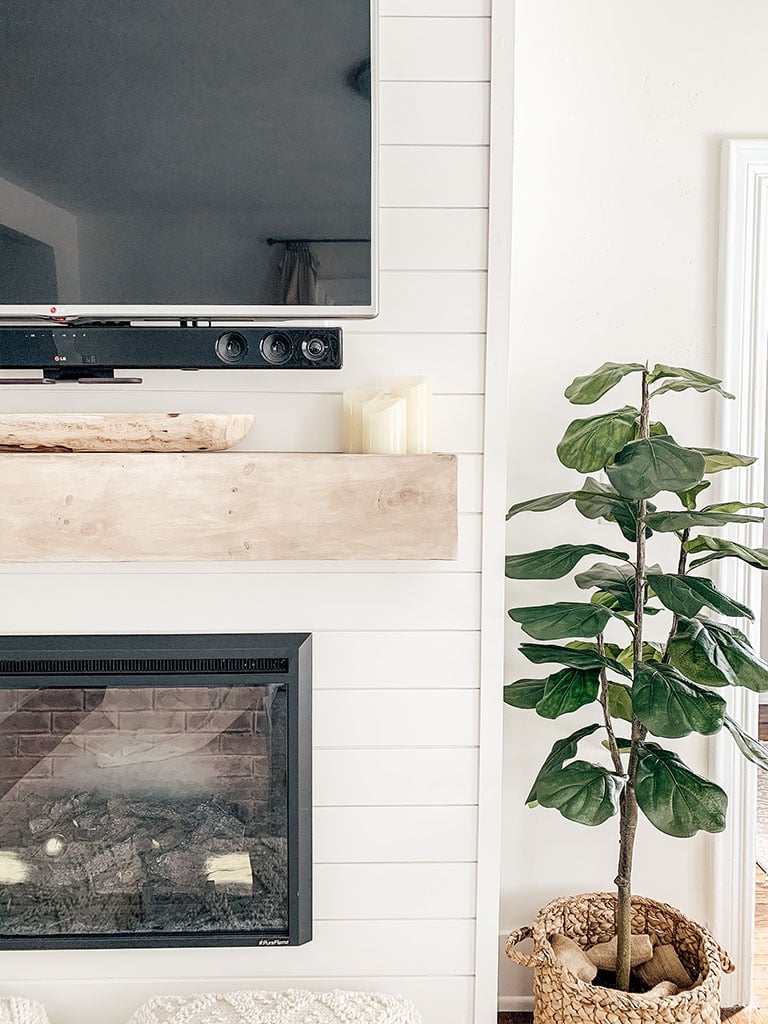 The Sides
On the sides you have a little more flexibility depending on how large your TV is you typically have some height to work with on either side. I like to add a different element on each side instead of using two of the same item. This allows for visual interest and a more visually appealing design.
For my mantel I used a live satin pothos plant on one side. Using an element of greenery whether it is fake or real is the perfect decor item for your mantel. I love using a pothos plant or any plant that vines. This allows it to drape down the side of your mantel. Another form of greenery would be to do a vase with florals. Be creative but one of your elements should be greenery.
On the other side some form of candles or candle stick holders are a great option. For my mantel I used a set of three battery operated pillar candles. The best thing about these is that you are not burning a real flame, but they look real and come with a handy remote control. A set of three at varying heights adds interest and fits perfectly on the side of my mantel.
Candle holders are also a great option because they are tall and slender. I recommend using three at vary heights. These can be metal or wood what ever works best with your style.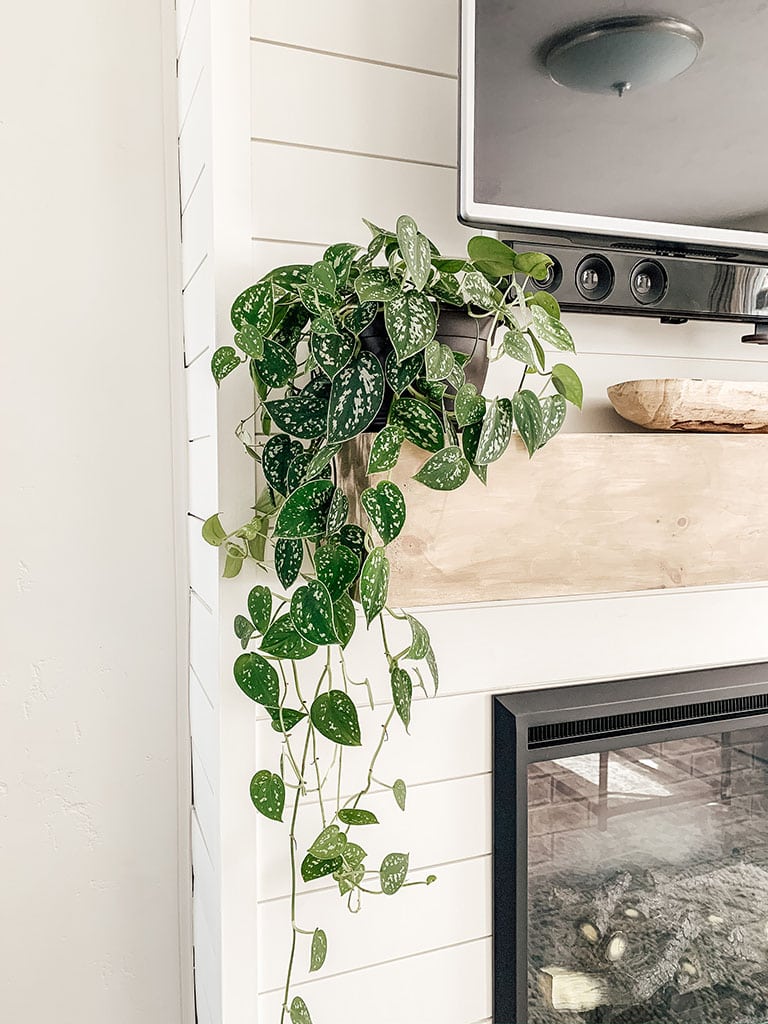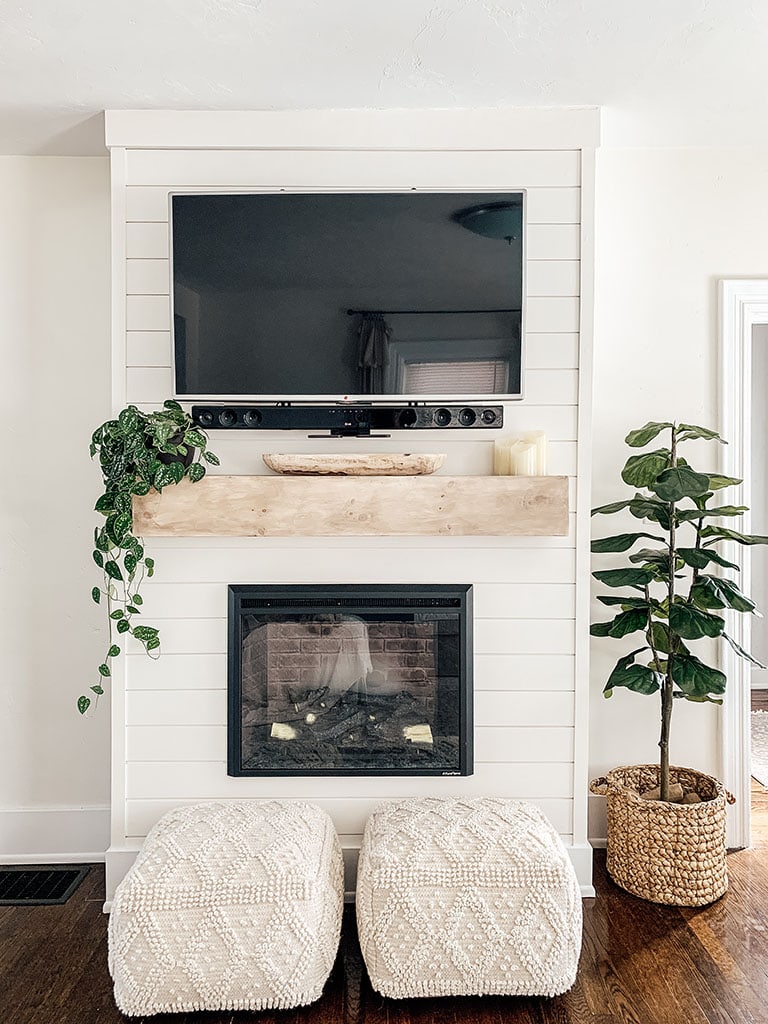 Decorating Around Your Fireplace
Now that you have your mantel decorated I have a few more tips for what to do below and on the side of your fireplace.
I love the look of a tall plant next to a fireplace. In our situation it was the perfect fit. We had just enough room on the side of our fireplace for a plant. I went with a faux fiddle leaf. This one was incredible inexpensive compared to other ones that I have seen on the market and it looks so real. You can shop this fiddle leaf here. I placed it in this woven basket. The contrast and the texture that it adds looks great against the white walls and shiplap.
I have also been loving olive trees lately and this would be the perfect one for the side of a fireplace.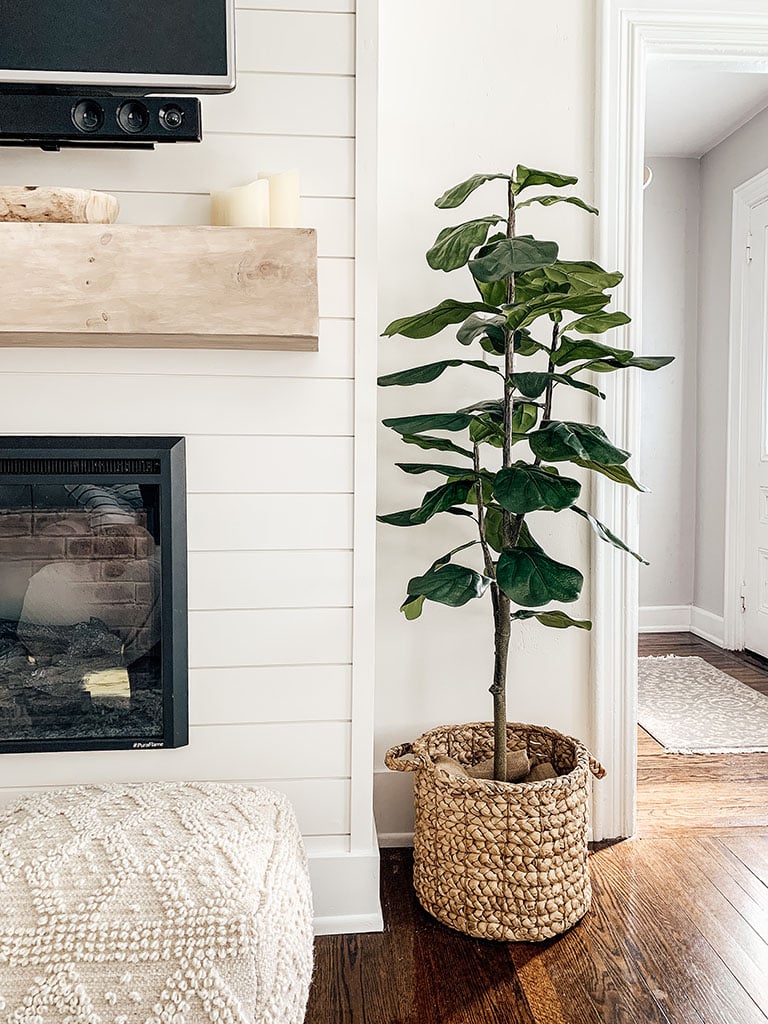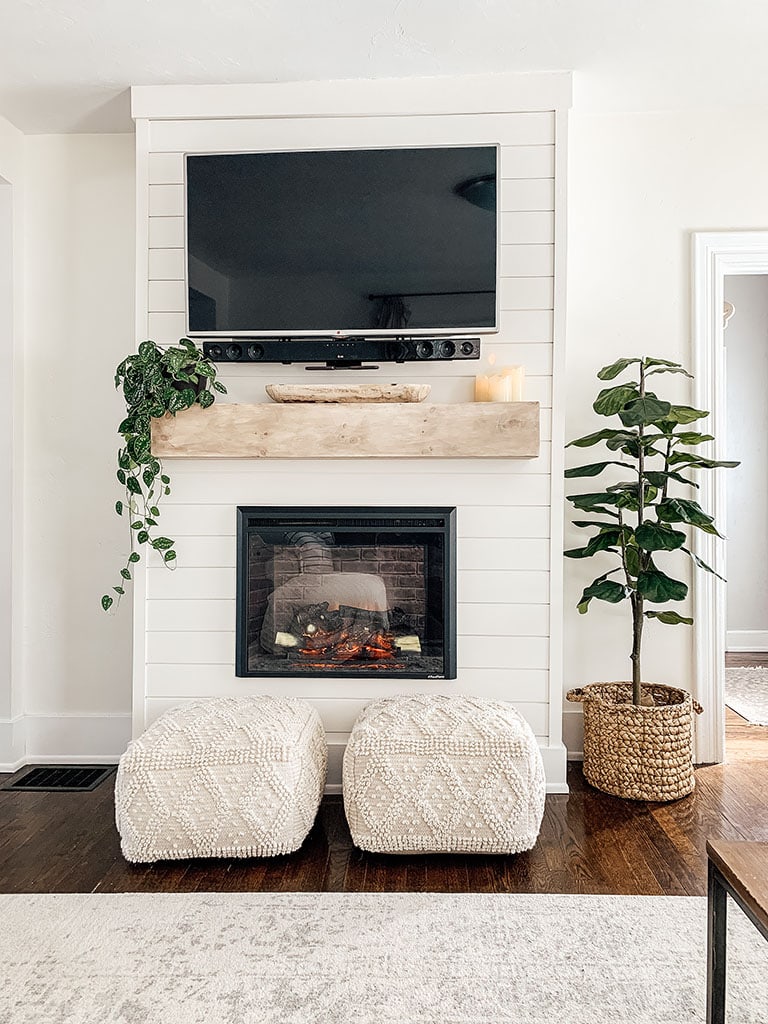 The area in front of your fireplace is another great place to add a little decor. If you do not have a hearth than poufs are the perfect item to place in front of your fireplace. I love the cozy neutral texture of these ones. They also add additional seating to your room.
If you have a hearth you could place a basket with firewood or throw blankets on one side and lantern with candles on the other.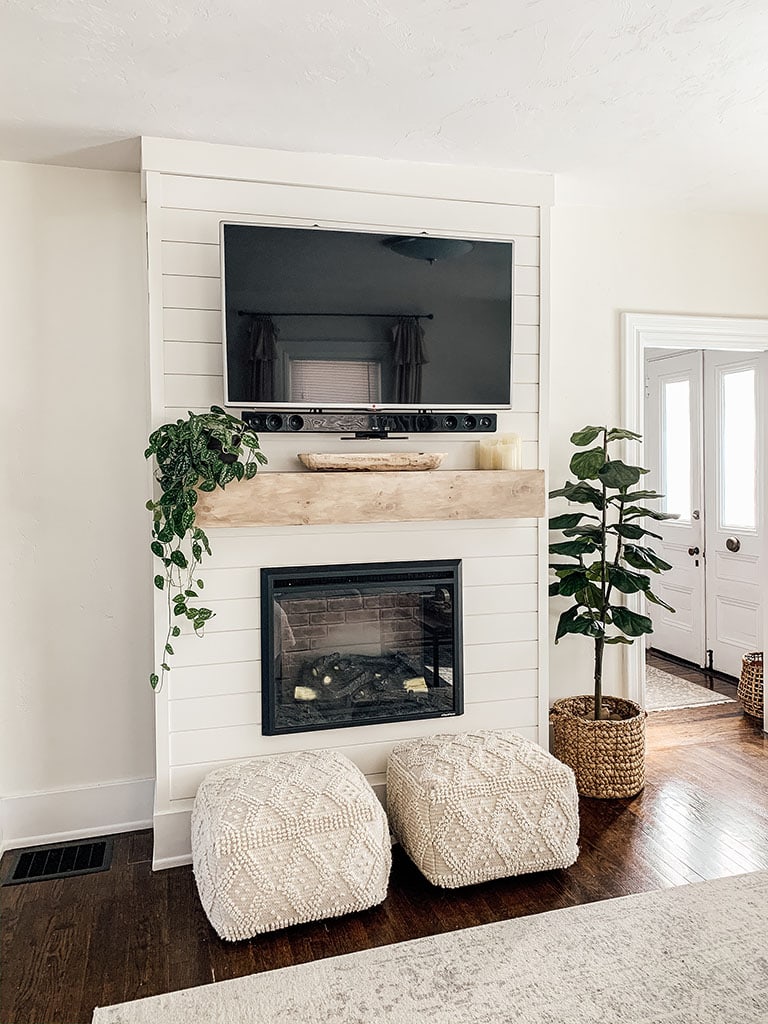 Decorating a Mantel With a TV Above Shopping Guide
Here are some great decor item for decorating your mantel and fireplace.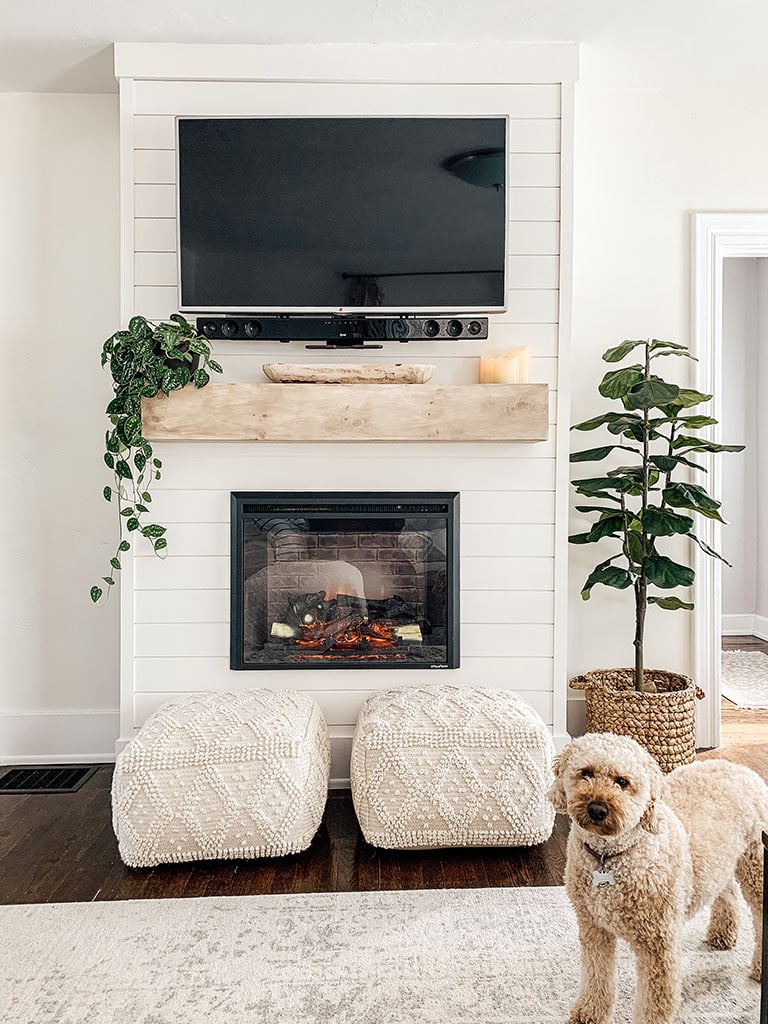 I hope that my fireplace inspires you to decorate your own. And that these easy styling tips help you with how to decorate a mantel with a TV above. As always thank you for visiting the blog. Be sure to check out my other mantel styling tips below.
What to Read Next:
DIY Shiplap Electric Fireplace & Mantel
Simple Spring Mantel & Dining Room